Winter Weddings: 40+ Heartwarming Ideas To Incorporate The Holiday Spirit
By Joyce S September 14, 2023
---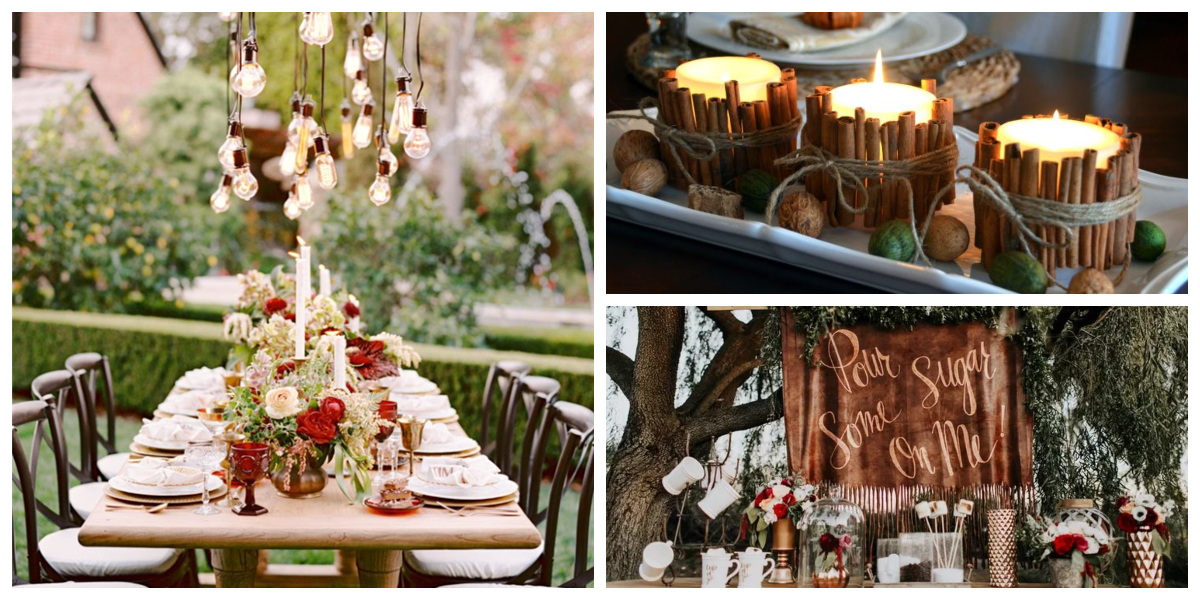 Christmas is the most wonderful time of the year, but you can always add extra joy to the season by celebrating a wedding at the same time. Make this special occasion even more magical by exchanging vows with the person who makes your heart sing. Are you considering a laid-back, charming country nuptials or an extravagant celebration in one of the most enchanting spots in towns? 
No matter your preferences, budget, or venue, the little touches will make your special day unforgettable for you, your spouse, and your beloved guests. A boundless array of vibrant hues and captivating designs await you in the realm of Christmas-themed decorations. We've handpicked a few inspirations to lend you that spark of creativity. Read on and get some ideas for your big day.
Play With The Celebrations
If you've chosen to have a wedding at Christmas time, it's safe to say that something about this enchanting season has captured your heart. Perhaps it was the glistening snow, the captivating hues, or even the joy of the holidays. That's the perfect excuse to have some fun with both celebrations.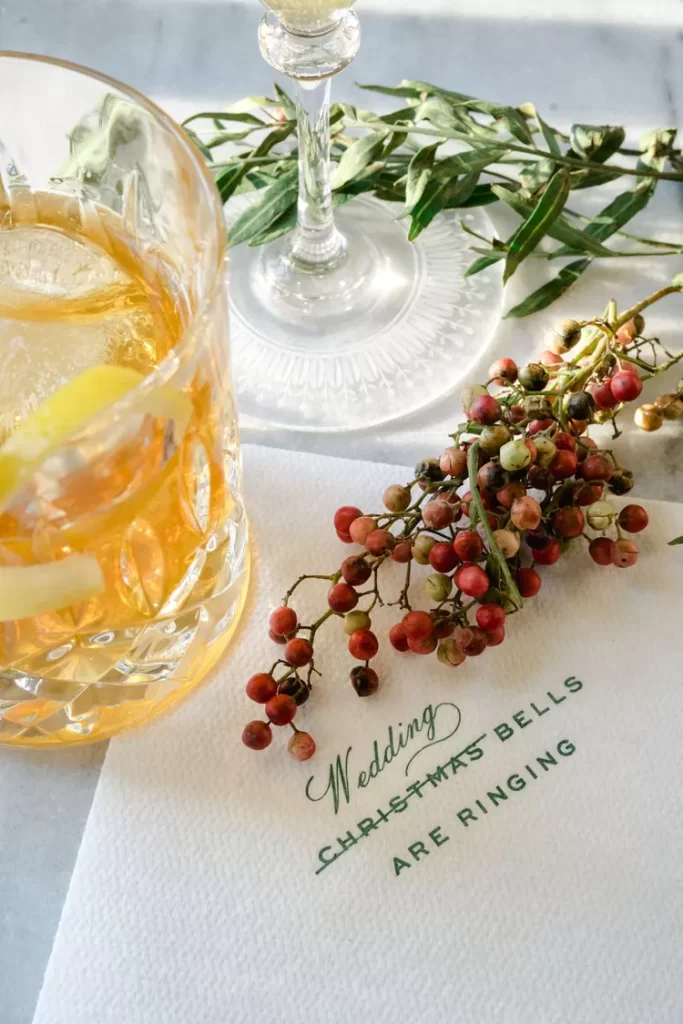 With intricate decor details, opulent hues, and delectable delicacies, this is the time to craft an unforgettable experience. If you're as obsessed with winter as we are, you'll be eager to flaunt the enchanting season in many delightful ways.
The Invitation
Just like a fabulous invitation sets the tone for your big day, it will also create a stunning backdrop for your wedding photo gallery and album. That's why it's the perfect spot to fully embrace the season by adorning paper goods with accents such as ornaments, ribbons, and lush greenery.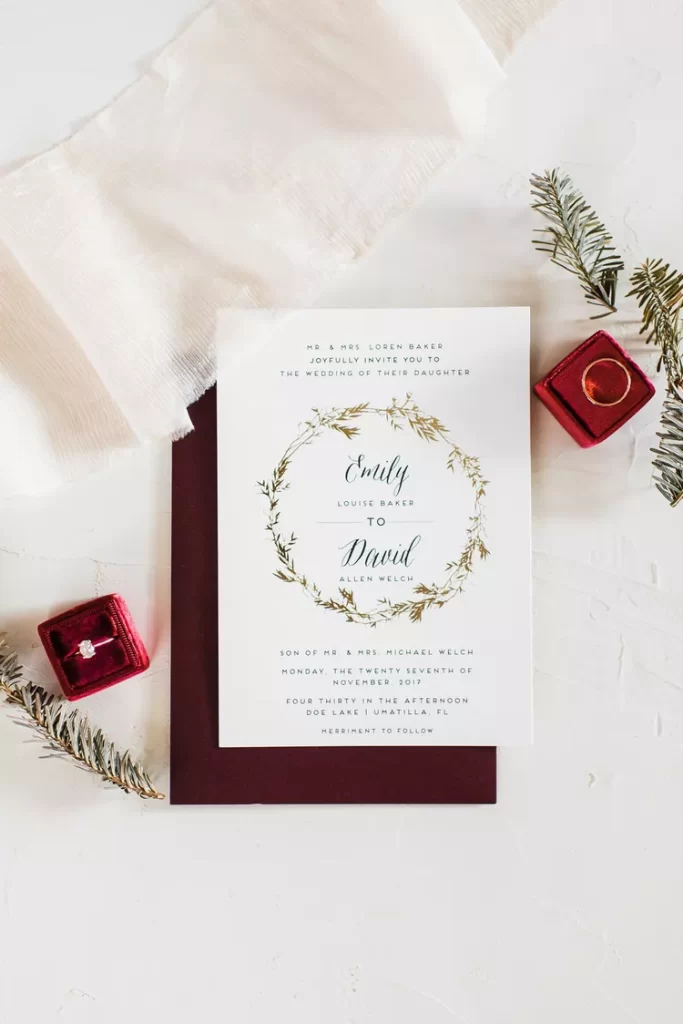 When it comes to invitation templates, the options are endless. But if you're seeking a touch of understated sophistication with a winter twist, why not consider one that features the timeless beauty of pine branches and pinecones? It's a delightful choice that exudes both simplicity and elegance.
Add Candles
Candles in unique containers are a great way to personalize your wedding centerpiece. Combining a wedding with a Christmas party is a great chance to mix and match festive and sentimental touches. Choose a vintage romantic aesthetic focusing on soft blooms, greenery wreaths, and pewter lanterns.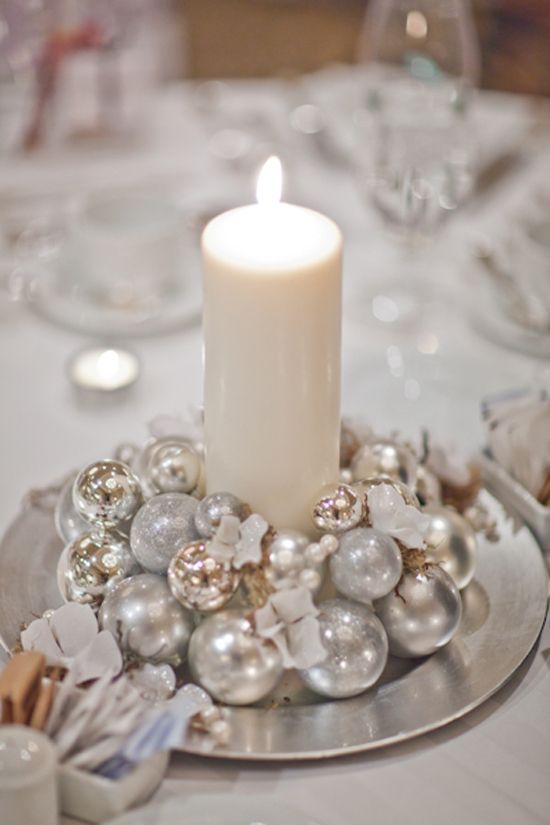 A winter wedding is a terrific way to add romance to the occasion. Set tall candles at the table's ends for subtle glamour, or surround them with show-stopping flowers for a more extravagant affair. Greenery, succulents, and birch wood candles can give any table an earthy, forested feel.
Winter Escort Cards
There are incredible possibilities when creating an imaginative escort card display. You'll be happy to know that any item that can be customized with a name has the potential to be transformed into a charming escort card.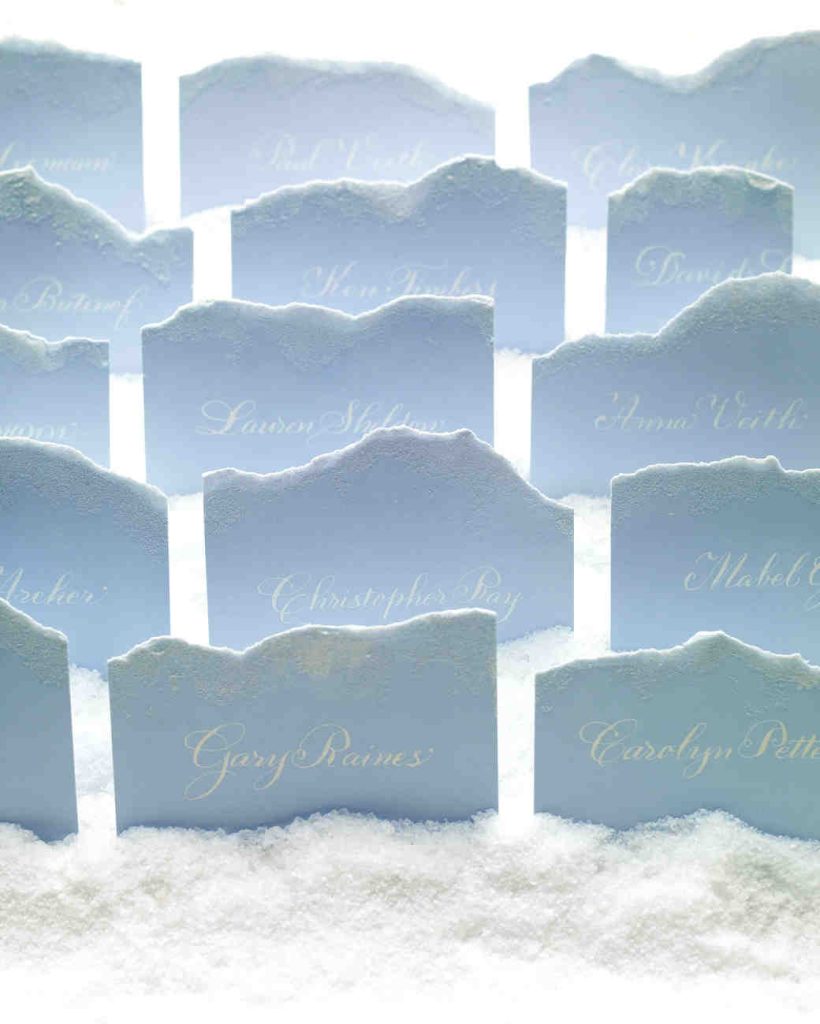 In the photo, you see cards made from torn paper dusted with glistening glitter, set against snowbanks of rock salt. It's essential to consider the arrangement in your reception area and how the look complements the overall theme and decor.
A Christmas Wedding Gift
Incorporating mini trees or seedlings as wedding favors is a lovely and meaningful idea you don't usually see at weddings. It's a charming gesture that guests will surely welcome. Anyone would want a heartfelt token that beautifully symbolizes the love joyously commemorated on an extraordinary day.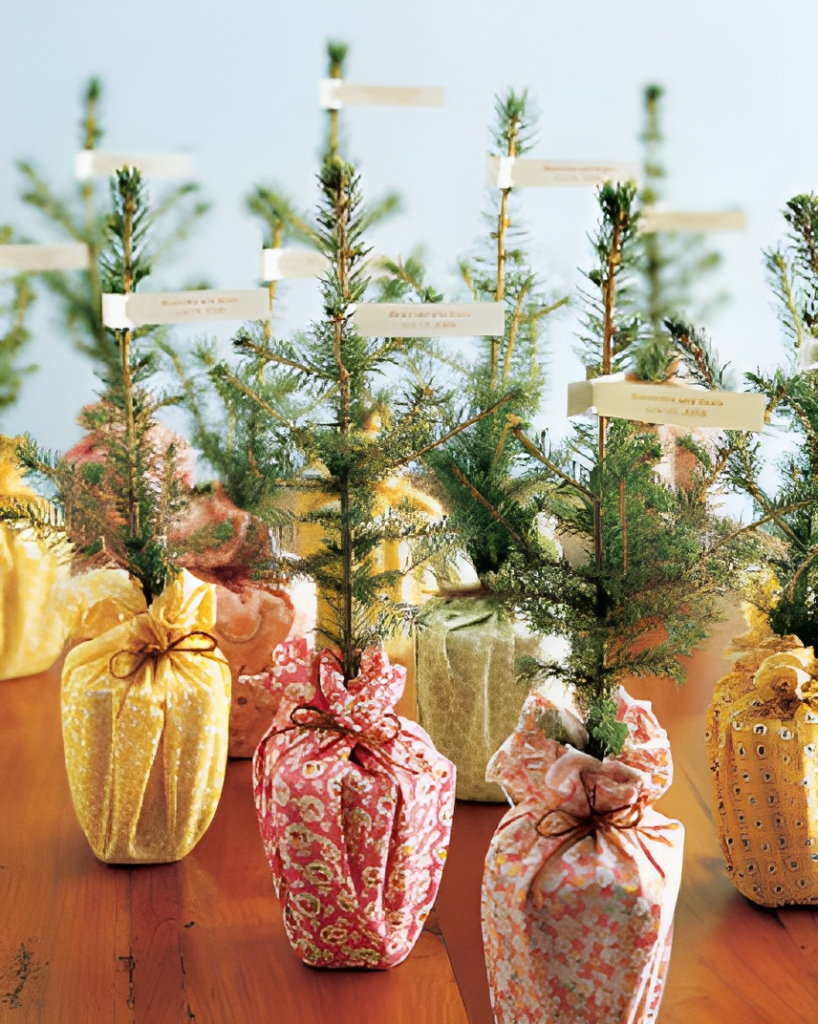 The majestic pine tree symbolizes wisdom and longevity, two essential elements for nurturing a love that stands the test of time. These adorable pine seedlings make for a one-of-a-kind and enchanting wedding favor, bringing a personal and authentic charm to your extraordinary day.
A Delicious Frozen Cranberry Cake
What could be a more fitting way to bring a celebration to a close than with a spectacular high-altitude cranberry Christmas wedding cake? Imagine layers of moist vanilla cake piled with layers of homemade cranberry jam, cranberry buttercream, sugared cranberries, and rosemary.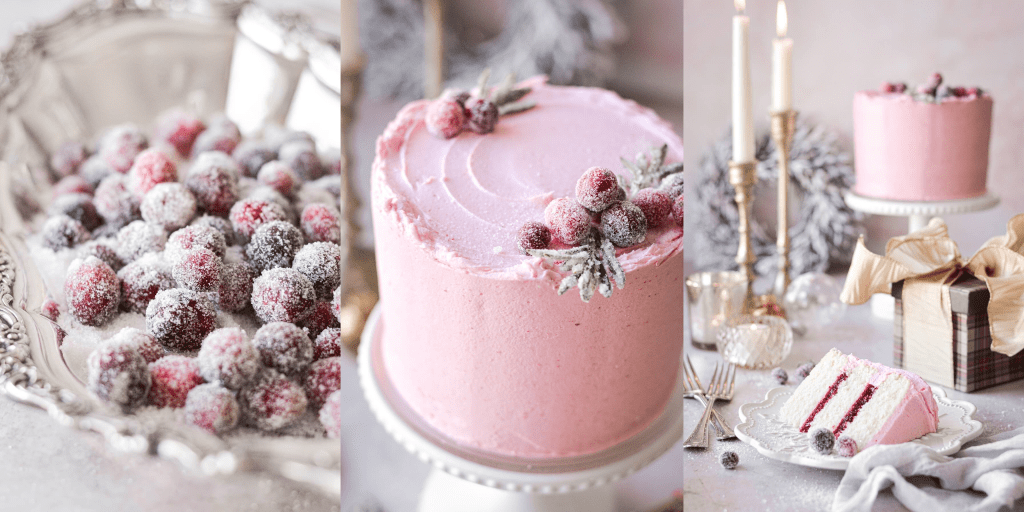 Who wouldn't want to sink their teeth into the vanilla cake's fluffy and light texture? It is perfectly complemented by the cranberry jelly filling's slightly sour flavor and the canned cranberry sauce's consistency and taste. You can serve this breathtaking dessert on any occasion.
Rosemary Wreath Place Card
Is there anything better than a house filled with greenery during the holidays? The appeal, the aroma, and the enchantment it evokes can be truly captivating. But, as you know, there are many ways to incorporate lush foliage into a Christmas wedding extravaganza.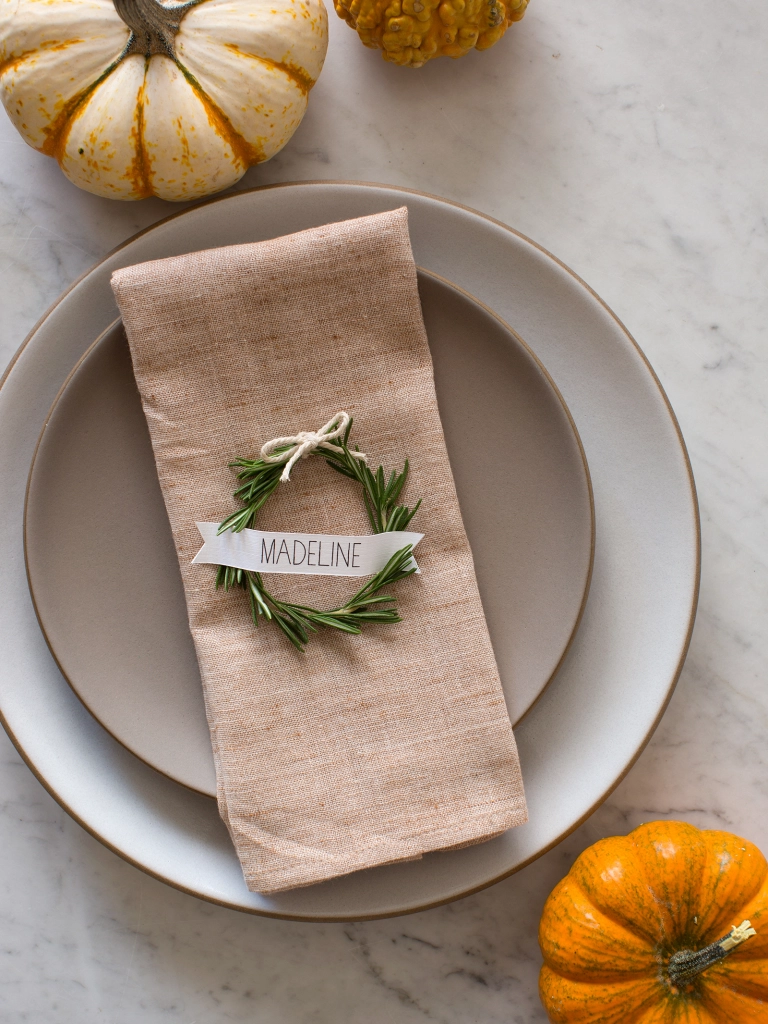 These stunning place card holders will effortlessly infuse your ceremony table with natural elegance. These beauties complement charming elements such as wheat grass centerpieces, rustic burlap accents, adorable pinecones, and elegant linen napkins. And, of course, don't hesitate to sprinkle in your unique flair to make it truly yours.
Messy Rope String Lights
When planning your dream wedding, remember to give lighting the attention it deserves. It's a crucial element that can elevate your decor and create a magical ambiance. Rope lights bring a warm and cozy atmosphere that is truly one-of-a-kind, whether illuminating an indoor gathering or an outdoor celebration.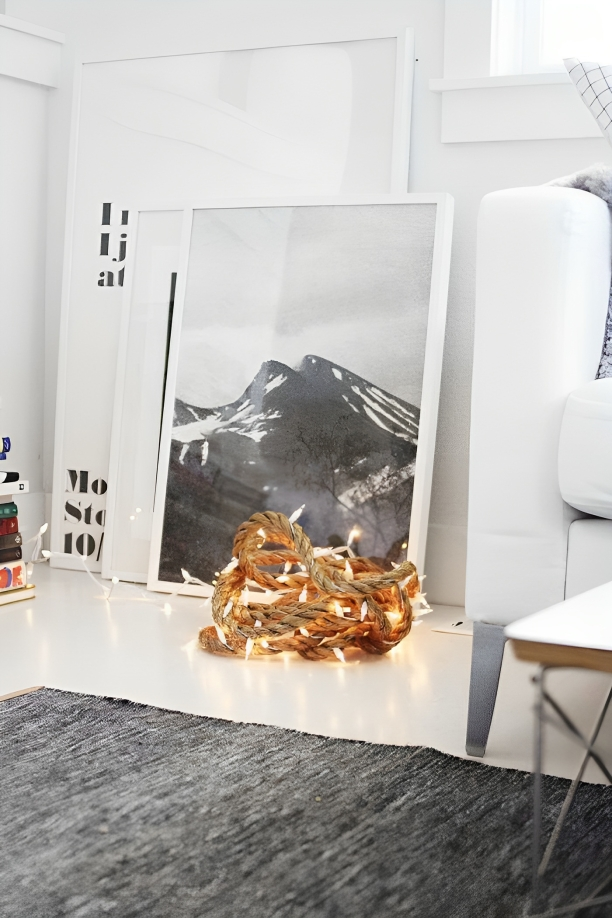 There's an impressive array of lighting choices, from the glow of romantic candles to the contemporary charm of Edison bulbs. However, string lights reign supreme as one of the most beloved wedding choices. Couples absolutely adore this enchanting look for its whimsical and fairytale vibes.
Snowflake Cookies Favors
These cookies are a real hit with everyone and look lovely on a holiday dinner table and as part of the wedding dessert table. Not only will the children grab them and marvel at how precious they are, but adults will also join in and take photographs.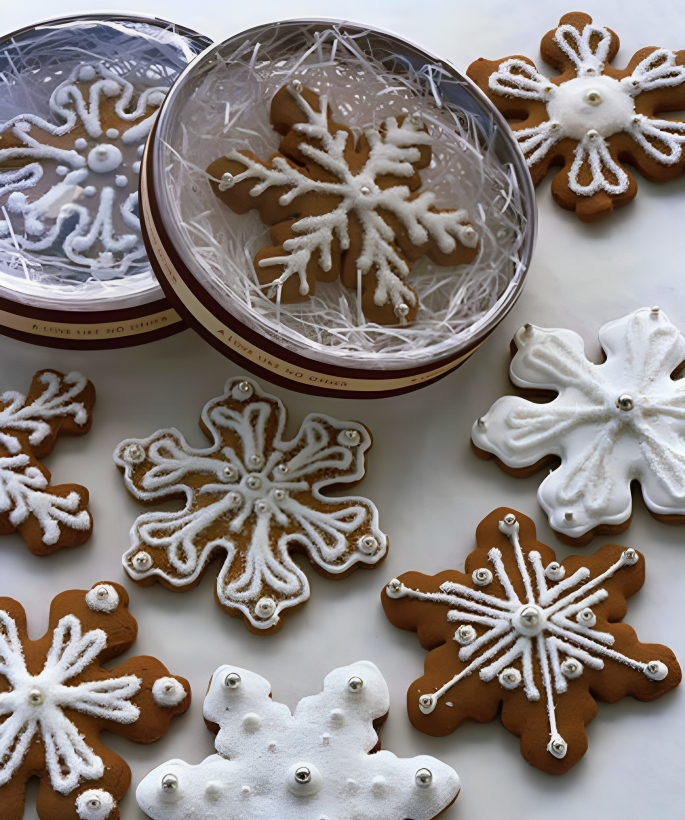 Add flavor, beauty, and elegance to these gorgeous cookies by piping frosting on top and lightly immersing the icing portion with the colored sugar for an even better finish. This is one of the many ways you can make your wedding menu mix with the warmth of Christmas. 
DIY Wreath Escort Cards
Wedding DIYs are an absolute blast. They're perfect for those looking to save some moolah or brighten their special day with personal flair. Those of us who don't have an artistic side might be intimidated to attempt any craft involving a glue gun.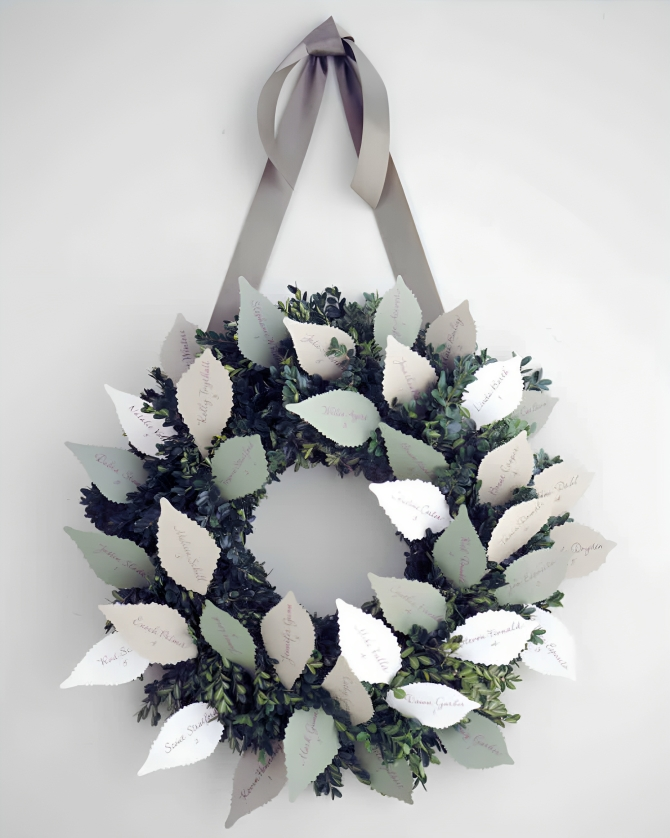 If you're searching for an easy DIY that adds charm and magic to your wedding celebration without breaking the bank, behold the power of a solitary rosemary sprig. This humble herb instantly transforms a plain place card into a work of art.
Pinecone Garlands
Pinecones, these famous winter treasures, effortlessly infuse your decor with Christmas cheer without overwhelming the senses. And the best part? They are incredibly budget-friendly. They lend your space a cozy charm everyone adores during winter.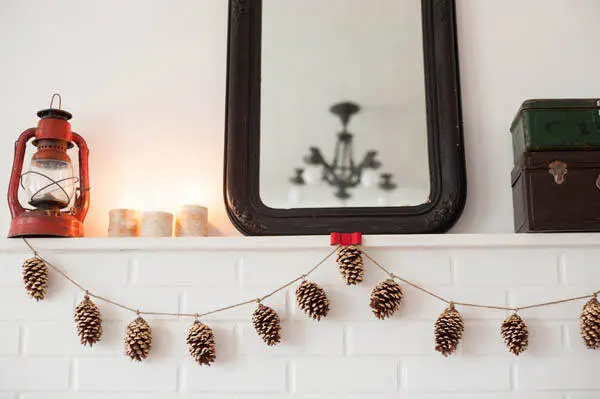 Enhance the charm of a winter wedding with these versatile beauties that can be easily incorporated into your decor. Consider crafting a splendid garland adorned with pinecones and fragrant rosemary, transforming the special event into an exquisite and unforgettable celebration.
Sparkly Ornaments
Silver is an absolutely stunning hue that adds a touch of elegance and radiance to your holiday decorations. It perfectly creates a magical winter wonderland; combining it with a wedding decor setup is a breeze. Pair it with white, grey, blue, pastel shades, green, and red.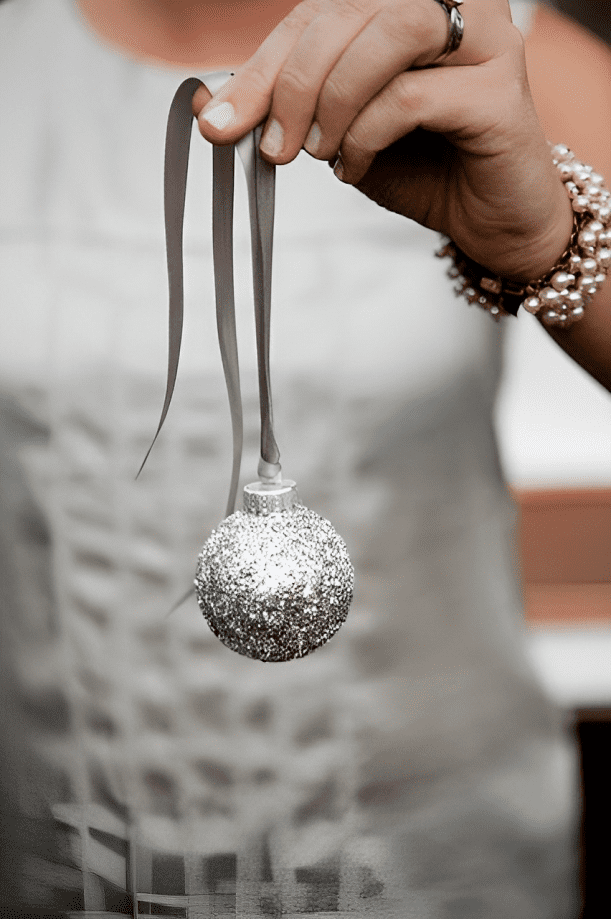 Picture the table set with exquisite silver centerpieces and gleaming cutlery. Spruce up the chairs with some glittery touches. To add a magic touch, sprinkle some glittery wedding favors to impress your guests. Get ready for an unforgettable celebration.
Eucalyptus Garland
Among the world of botanical aesthetics, one truly captivates our hearts: eucalyptus. Its appeal is simply irresistible. Effortlessly chic and quietly captivating, this greenery choice adds a touch of nature's charm to a wedding celebration. Plus, it's incredibly wallet-friendly.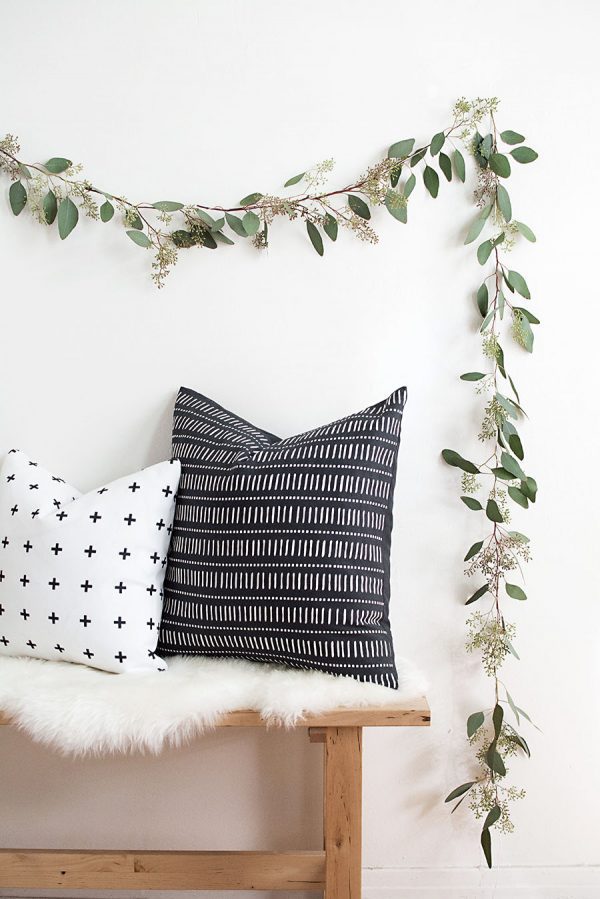 It boasts an array of shapes and varieties, ranging from the charming seeded and silver dollar eucalyptus to the captivating true blue and gunnii eucalyptus. It isn't just for bouquets and centerpieces – it adds elegance to any space with a minimalist garland. Feel free to let your imagination run wild.
Cinnamon Napkin Ring
Choosing the perfect table setting is all about capturing the essence of your ideal color scheme and style, but no matter the ceremony style, we can all unanimously agree that cloth napkins make any festive meal more elegant and stylish.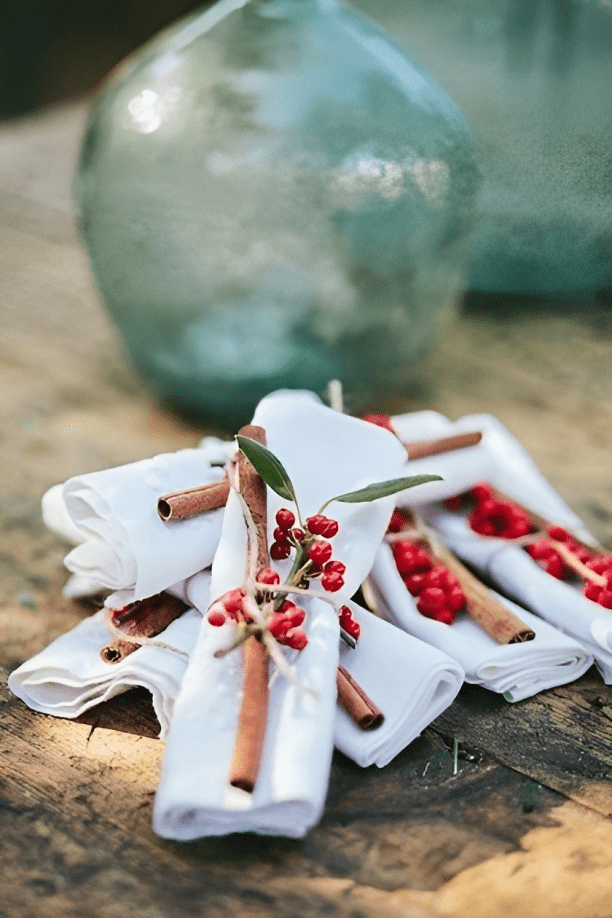 Let's get off the beaten track and wrap them up in a roll tied with thread or ribbon and topped with red berries and cinnamon sticks. Creating these napkin rings is a breeze and can be done in a jiffy, making them ideal for those spontaneous entrances.
A Fluffy Ring Bearer
We absolutely love this fluffy knitted ring bearer pillow. It's perfect for soon-to-be newlyweds who want to add a personal and heartfelt touch to their ceremony. Plus, it's a fun DIY project that you can easily tackle with the help of your bridesmaids.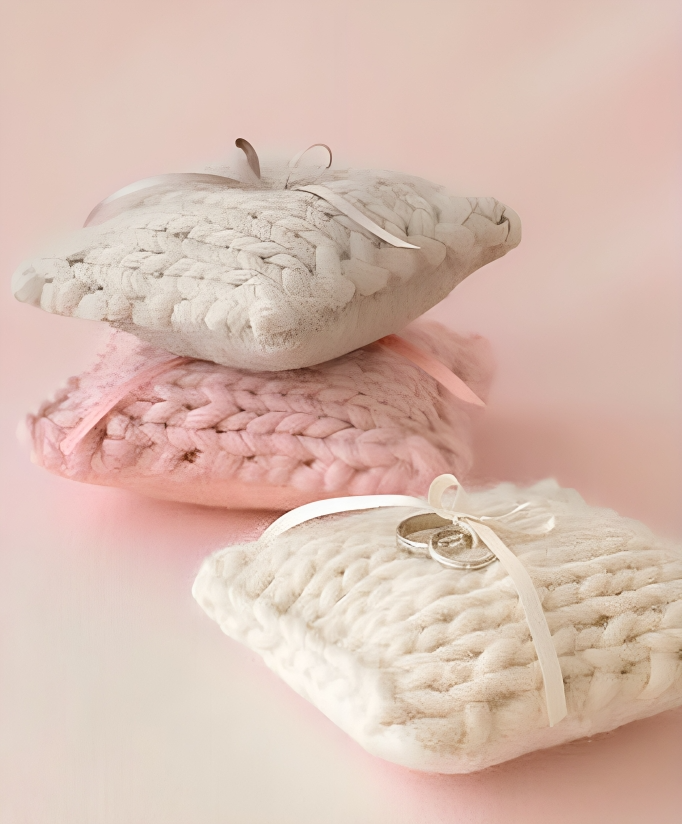 The charm of your wedding rings on a cushion that resembles a soft and snug sweater is beyond adorable. Once the celebrations are over, you'll have an exquisite item to display as a treasured memento lovingly crafted for an unforgettable day. 
Pinecone Place Card Holders
These cute pinecone Christmas decorations will add glam to your wedding table settings, ensuring that your guests find their seats. Perched on a charming wooden disc, every cone seems to be plucked right from the wintry wonderland outside.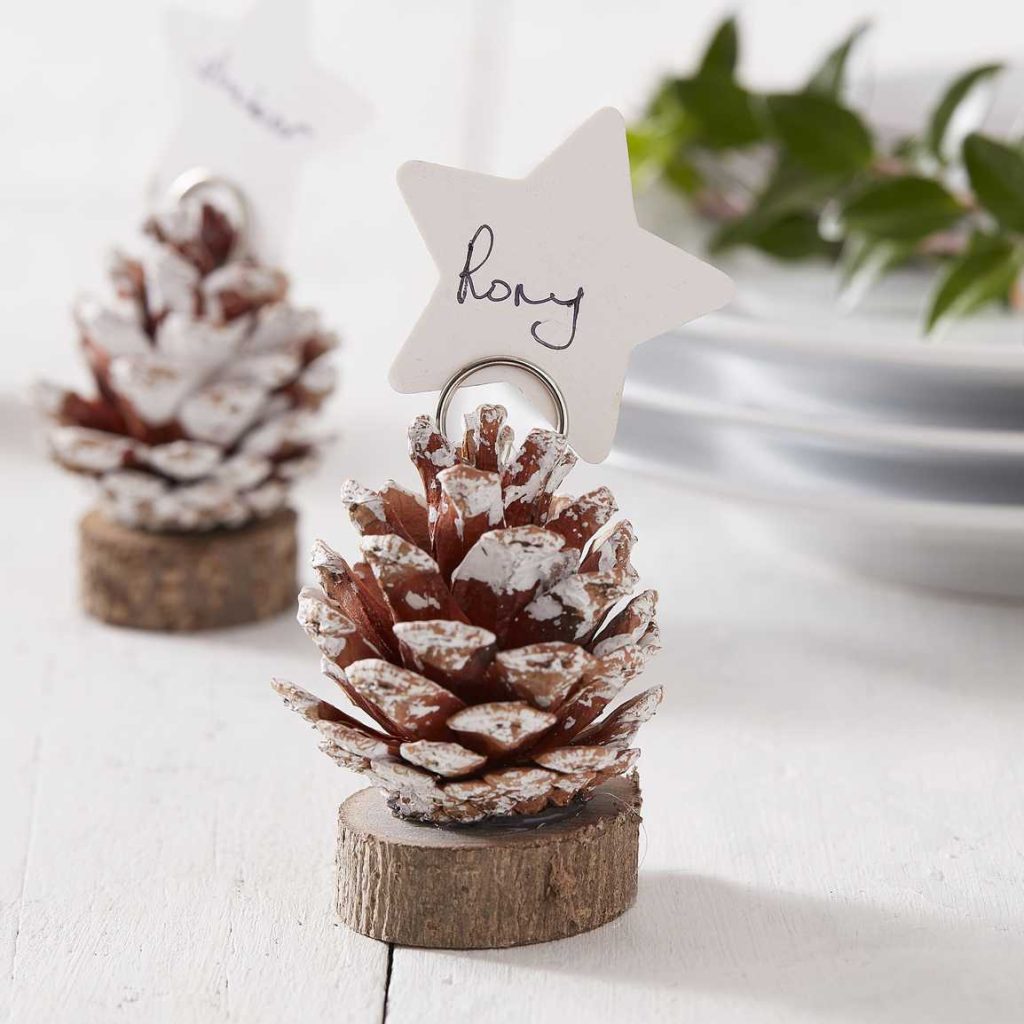 Each cone has a metal hoop at the top, making attaching the star-shaped place cards a breeze. Just jot down your guests' names on the front and place them at their designated spots, making it a breeze for everyone to find their seats. Ideal for a stunningly rustic-inspired Christmas celebration.
Tinsel Garlands
There are many simple and inexpensive ways to give your wedding a wintry feel during Christmas, making winter weddings practical to plan and decorate. You can never go wrong, whether you use gold accents or a classy claret and blue color scheme.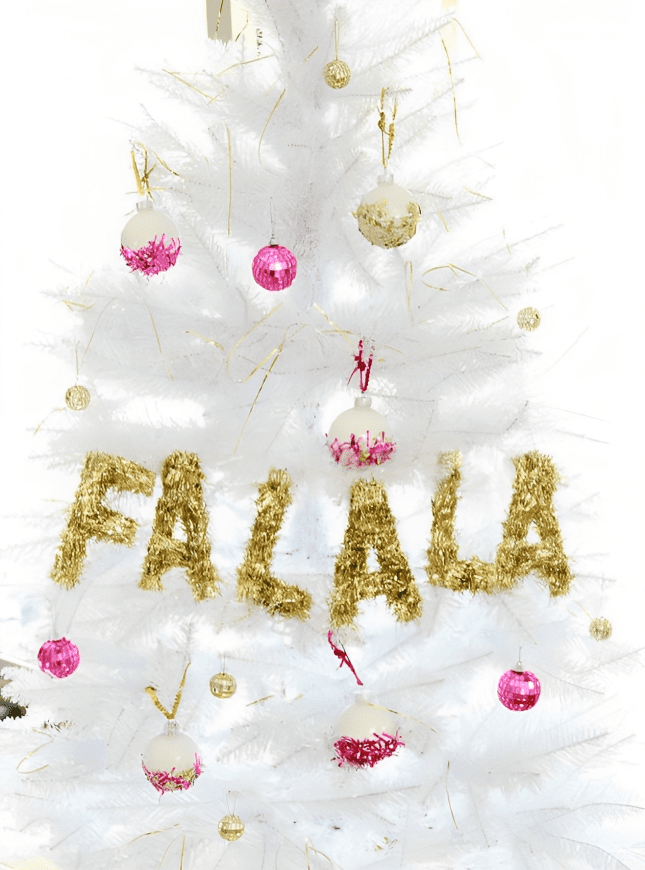 Silver tinsels with a touch of lush green, navy, or the softest pink color palette will surely be dazzling touches for the events. Tinsel is one of the most well-liked seasonal decorations. Adding these modest touches may provide a welcome dash of joy to your wedding.
Vintage Edison Bulbs
Have you ever thought of using Edison bulb lights to bring warmth to a celebration? Vintage-style Edison bulbs are absolutely fabulous. They steal the spotlight with their captivating, visible filaments, creating a mesmerizing, unmatched ambiance. They can easily make weddings more glamorous, romantic, and sophisticated.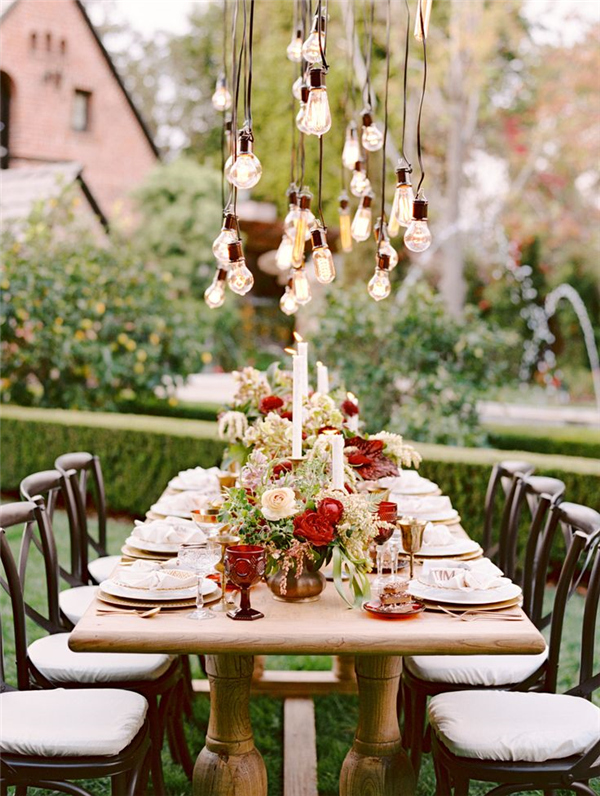 One fabulous spot to showcase these beauties is above the cake table, creating a dreamy look. Another idea is to place them in areas where your guests will be dining and enjoying their drinks. Trust us, these bulbs will elevate your wedding and make it unforgettable.
Christmas-Themed Wedding Cake
If you're getting hitched amidst fascinating mountains, why not honor the breathtaking landscape surrounding you with a themed cake? With an abundance of styles, your decor options span from charming, understated tiers with delicate accents to extravagant, opulent cakes that will steal the show at your reception.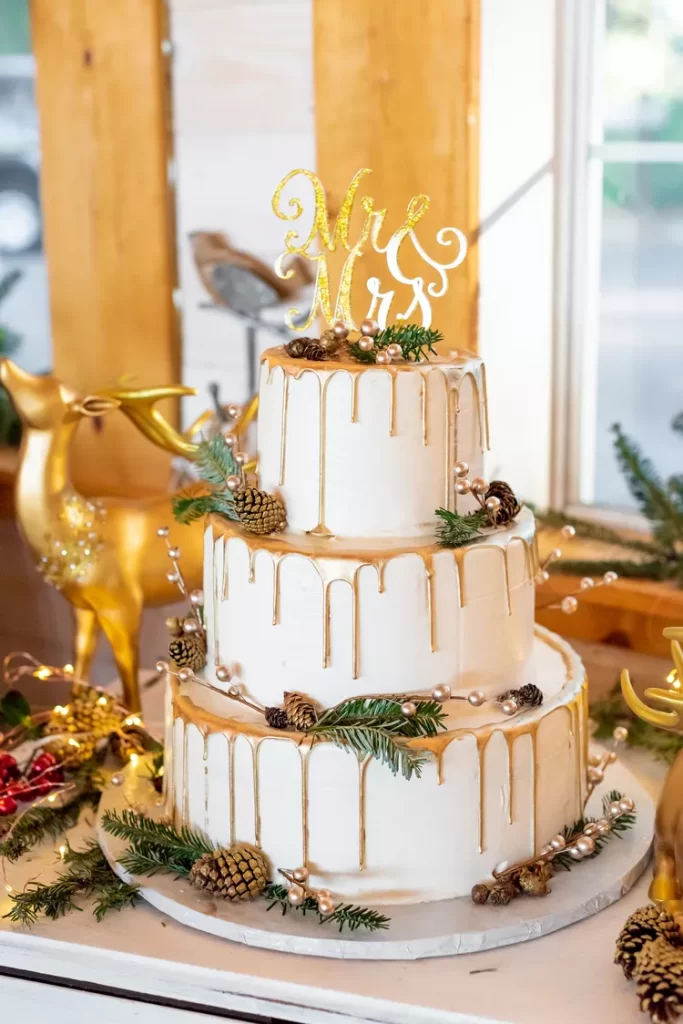 Gold is the epitome of elegance when it comes to holiday-inspired gatherings, and everyone goes crazy over the mesmerizing, dripping effect on every tier. Adorn the cake with pinecones and top it off with gold for a truly luxurious and stylish design. 
Birch Wood Accents
When lovebirds imagine their winter wedding, they often dream of a white color scheme, glistening crystals, and enchanting frosty decorations. One of the most traditional ways to infuse a wintry ambiance into your reception is by incorporating the enchanting appeal of branches or birch bark as a design element.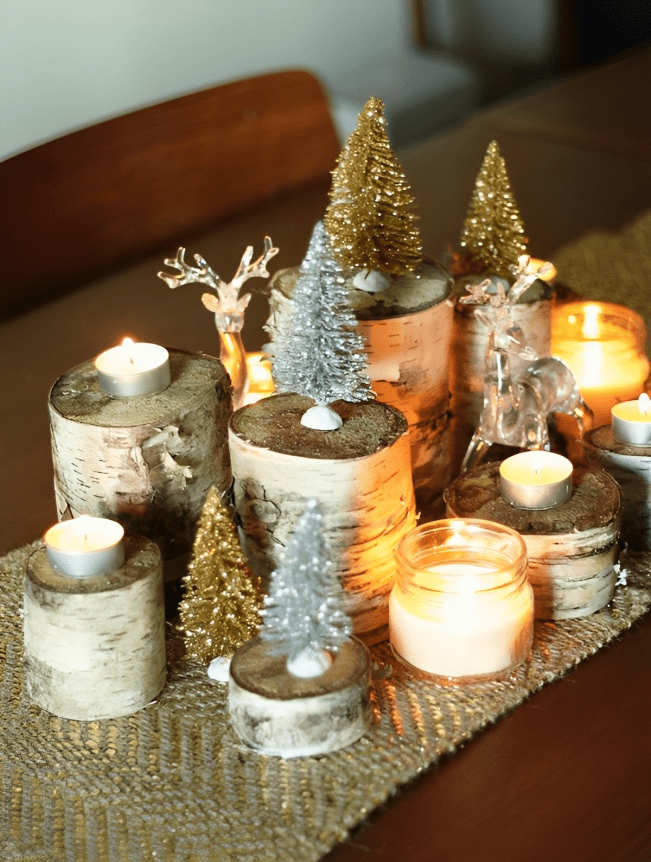 The exquisite look of natural birch lies in its stunning ivory hue with delicate hints of grey and light brown. These tones harmonize with the celebration's rustic and comfy charm, creating a captivating ambiance. Birchwood is also one of the most practical decor materials.
String Lights
With countless creative possibilities, these lights emanate magic into every aspect of your celebration. Consider covering the venue with string lights gracefully draping overhead in strategic spots if planning an outdoor wedding. This whimsical touch will create a romantic ambiance.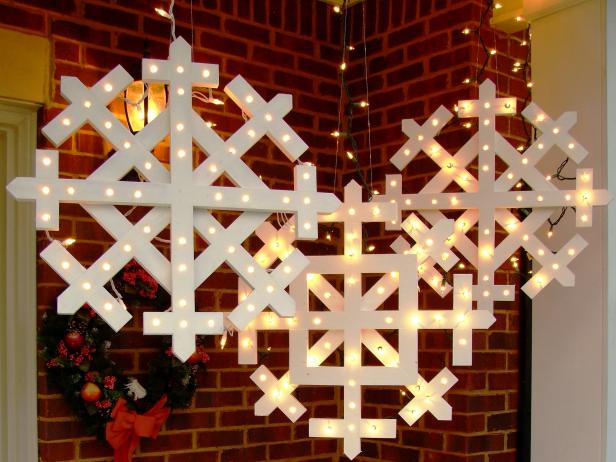 One way to go is by wrapping bare trees with coils of glowing rope lights. This strategy will transport your guests to a mesmerizing frozen wonderland. Another fantastic way to shine a light on a Christmas wedding is by filling lanterns with charming nests of tiny bulbs. 
Geode Luminaries
Don't fret if your wedding venue doesn't allow real candles. Just because open flames are a no-go doesn't mean you can't achieve the same stunning aesthetic. These fabulous DIY luminaries are perfect for adorning your ceremony aisle, guiding guests to the wedding reception, or even marking the dance floor.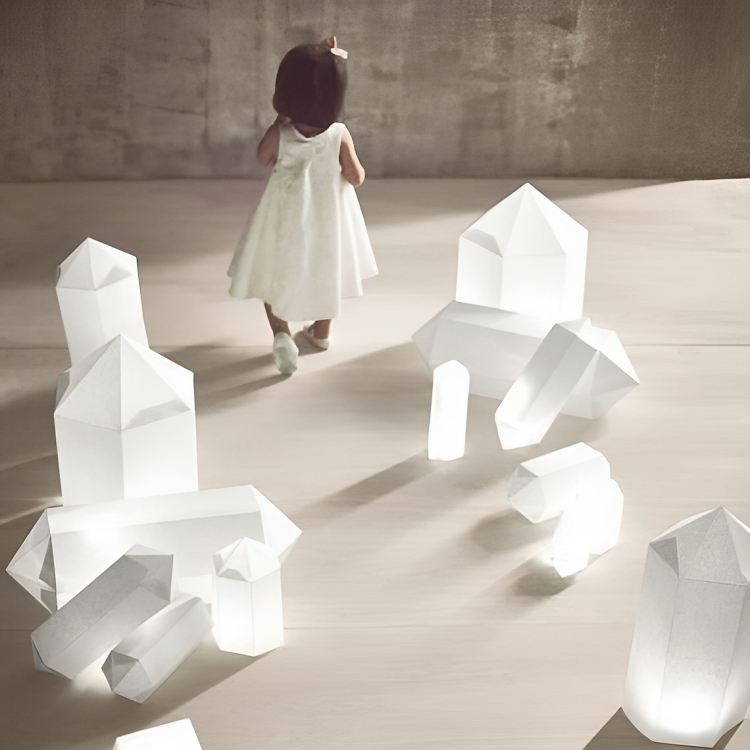 Not only are these lightweight beacons incredibly versatile, but they are also easy to assemble. Geodes are the perfect choice for soon-to-be-married couples looking for natural elegance for their ceremony. These luminaries are bound to leave a lasting impression, whether you opt for an abundant display or a more minimalist approach. 
Frosted Candle Holders
Imagine saying "I do" under a majestic tree at twilight for the most enchanting wedding backdrop ever. Your special day will be a fairytale come true. Couples should add a twist to the classic hanging mason jar backdrop when creating a charming atmosphere for a Christmassy wedding ceremony.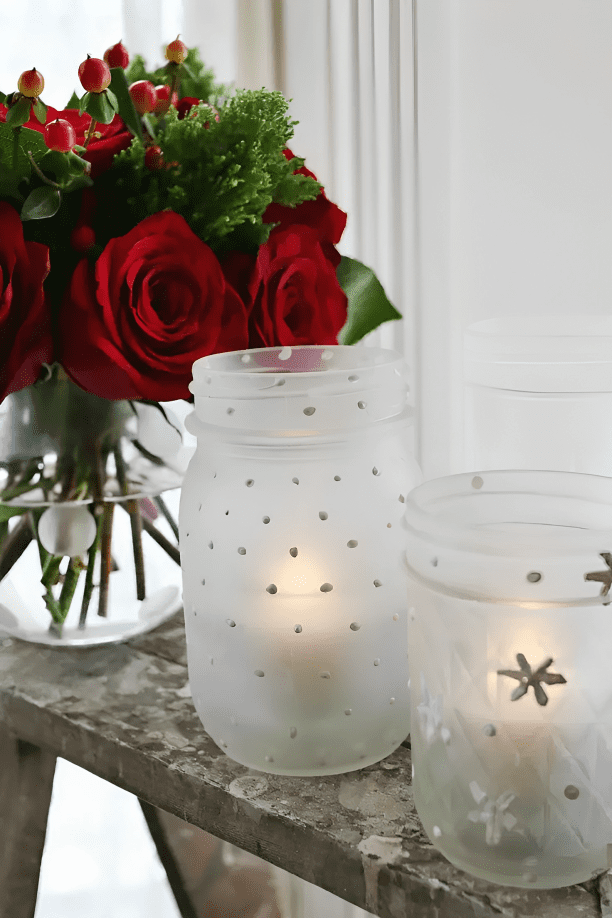 Opt for simplicity and elegance by using large mason jars as candle holders with a frosted effect to intensify the Christmas vibe. These wonderfully illuminate the ceremony aisle or the cocktail hour on the surrounding tables and will leave everyone in awe.
Wreaths
Greenery isn't just for the sunny season—it's a timeless trend that deserves to flourish year-round. Their beautiful symbolism makes them ideal for weddings, too. Since wreaths are typically circular, they symbolize unity, strength, and infinity, making them an excellent metaphor for marriage.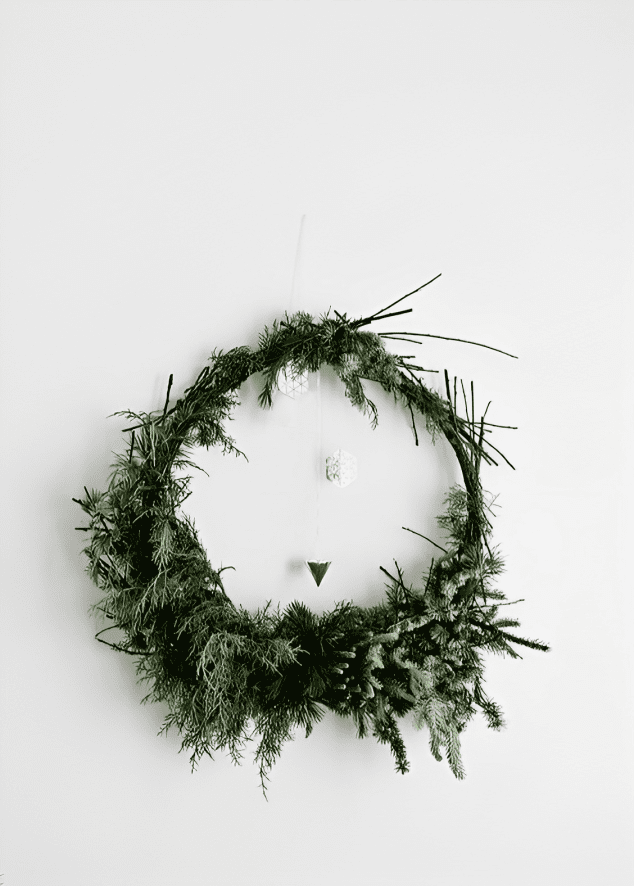 When the word "wreath" dances into your thoughts, it's only natural for your mind to twirl toward the Christmas cold-weather season. And it's no wonder why: Wreaths are stunning winter decoration pieces. If you consider incorporating these hoops into your holiday wedding, rest assured that you'll rock and melt everyone's hearts.
DIY Pillows
Let your imagination soar as you bring your craft ideas to life with charming cushions. You can transform jumpers or sweaters into charming Christmas-themed pillows to make a small home gathering more comfortable and inviting. As usual, red, white, and green fabrics are at your disposal and are the traditional go-to color hues.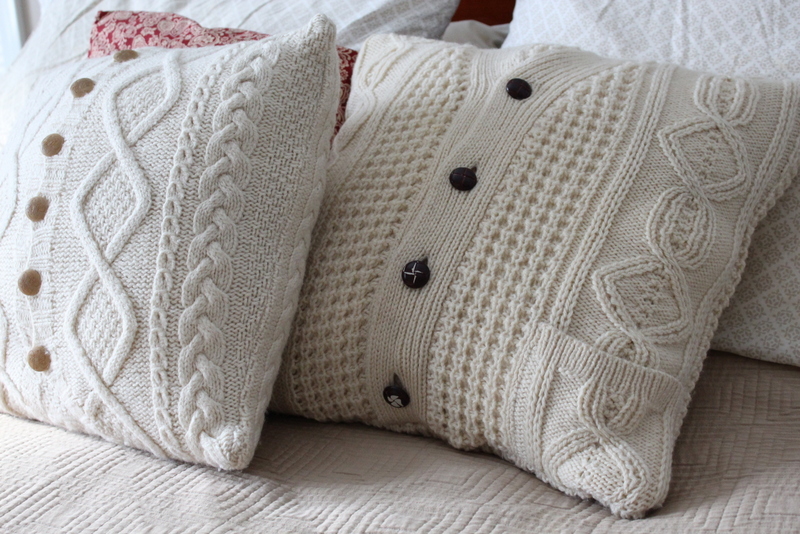 That doesn't mean you can't incorporate different tones into the decor. These pieces will be incredibly useful in bringing your vision to life. Also, some white or red ribbons will come to your rescue when crafting fabulous no-sew pillow ideas. 
Festive Cocktails
The charm of picking food and drinks with classic seasonal flavors is unmatched for winter wedding themes. Warm guests' hearts with delicious drinks during your nuptials, such as mulled cider, wine, or spiked hot chocolate. Boozy eggnog is another classic.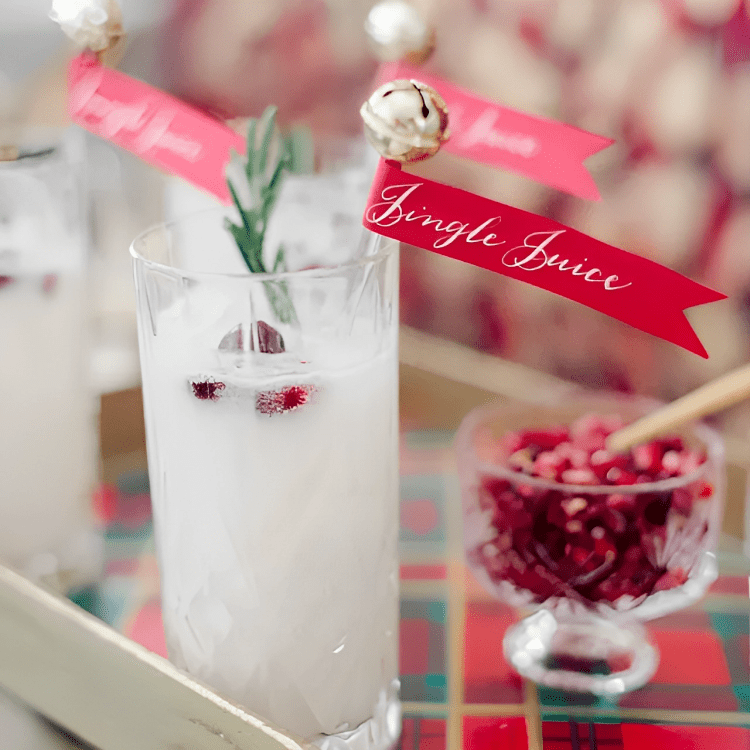 Amaze your guests with rustic trademark cocktails at a warm winter soireé or a surprising New Year's wedding with sparkling and festive beverages. Christmas wedding drink recipes reflect the passion and magic of the season. So, pick the right ones to celebrate your big day.
Ice Buckets
Adding buckets and pails to your wedding's aesthetic is a fun and easy project with unlimited potential. Some beautiful flowers, juicy fruit, fine wine, sparkling champagne, or even the mesmerizing sand and seashells for a beach-themed party may all be placed within these classic containers. But that's not all.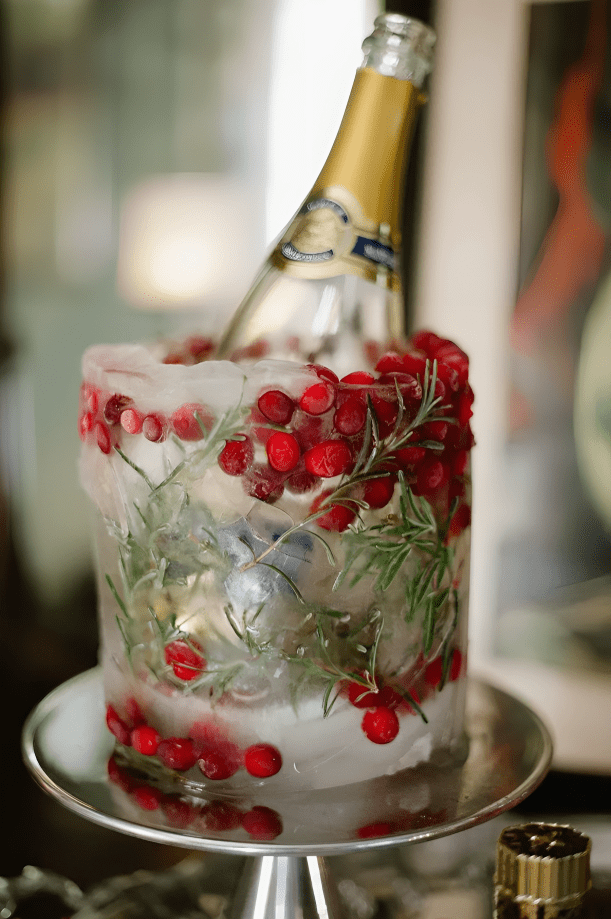 DIY ice buckets can have a striking aesthetic effect even in winter. Make your drinks look more sophisticated by freezing cranberries and rosemary sprigs as buckets. It's perfect for serving chilled champagne or white wine for celebrations or special occasions. The cold weather helps ice last longer, too.
Snowy Confetti
A wedding celebration would look as breathtaking as a snow-capped mountain if embraced by the frosty charm of a winter wonderland theme with white, grey, and icy blue hues. White flakes would look gorgeous in wedding photos and give the impression that snow is falling or being tossed over the lucky couple.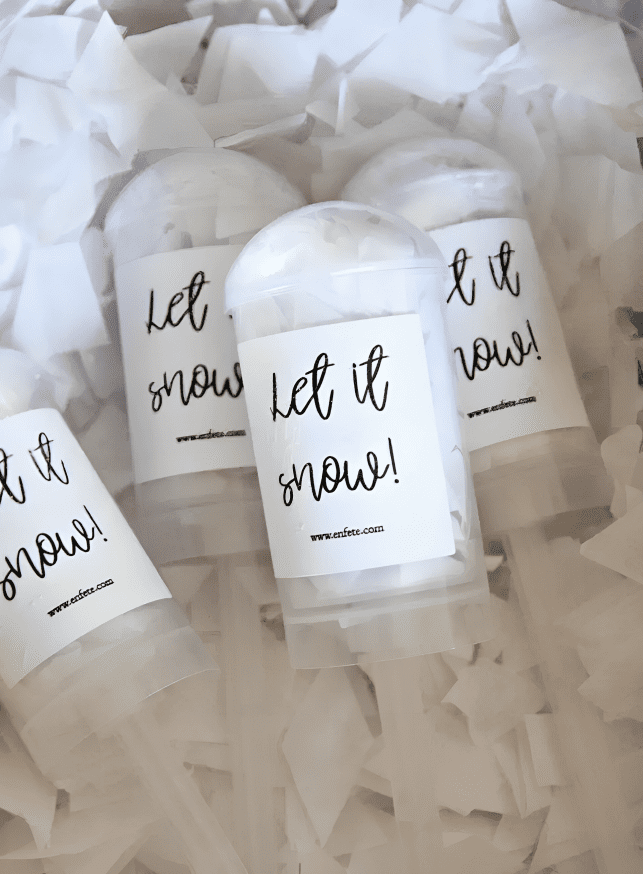 Since the dawn of rice confetti, a plethora of alternative ideas have sprouted like confetti-shaped mushrooms after a rainstorm. If you're not in the mood for confetti chaos but still want to capture some Instagram-worthy moments, these faux snowflakes can be your go-to choice.
Dried Flowers
Fresh flowers aren't the only options at weddings. Nowadays, many couples are embracing the exquisite allure and versatility of dried blooms. They surround the space with texture, romanticism, and an enchanting aesthetic. They can be just as charming as their fresh cousins.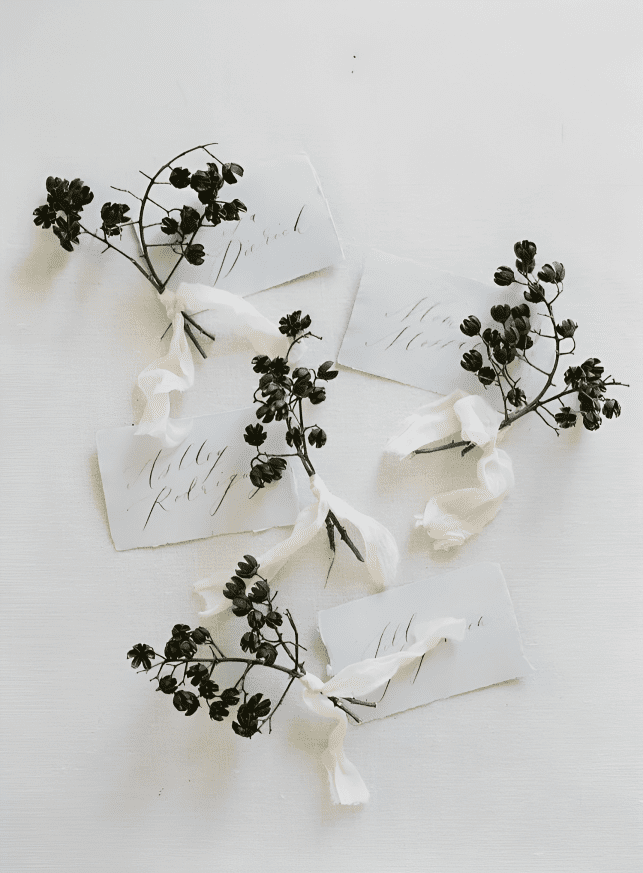 Whether it is a classic and understated or an opulent and extravagant ceremony, rest assured that there's an option to cater to every bride's desires. Dried flowers can occupy voids at an intimate ceremony or enhance the luxury of a dashing matrimonial celebration. Another remarkable benefit lies in their cost-effectiveness and effortless arrangement.
The Versatility of Pinecones
A pinecone centerpiece will help make your big day spectacular. You can easily make one by gathering pinecones and setting them in a pretty bowl, platter, or other containers. Add LED lights, candles, evergreens, moss, and tree stumps to make the table setting more elegant.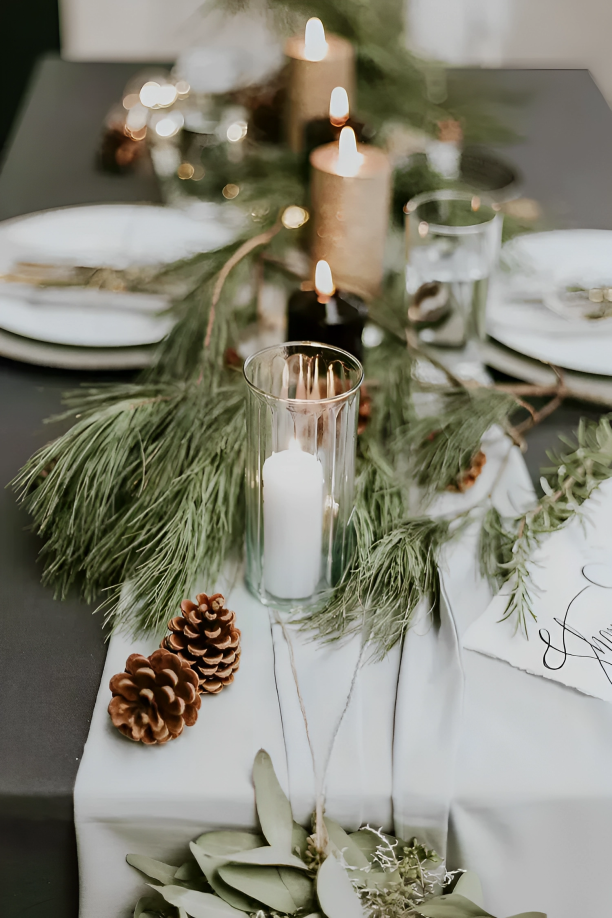 Pinecones are excellent for weddings of all seasons and themes, not only rustic or Christmas ones. They're flexible tiny gems that can make your ceremonies and celebrations particularly memorable. Let those pinecones work for your benefit. You'll be amazed at what you can create.
Velvet Accents
Thinking of adding velvet to your wedding decor? It adds elegance to any event. Its smooth texture elevates the scene with table runners, chair coverings, and napkins. Trendy hues include terracotta, cranberry, deep purple, forest green, emerald green, and golden yellow.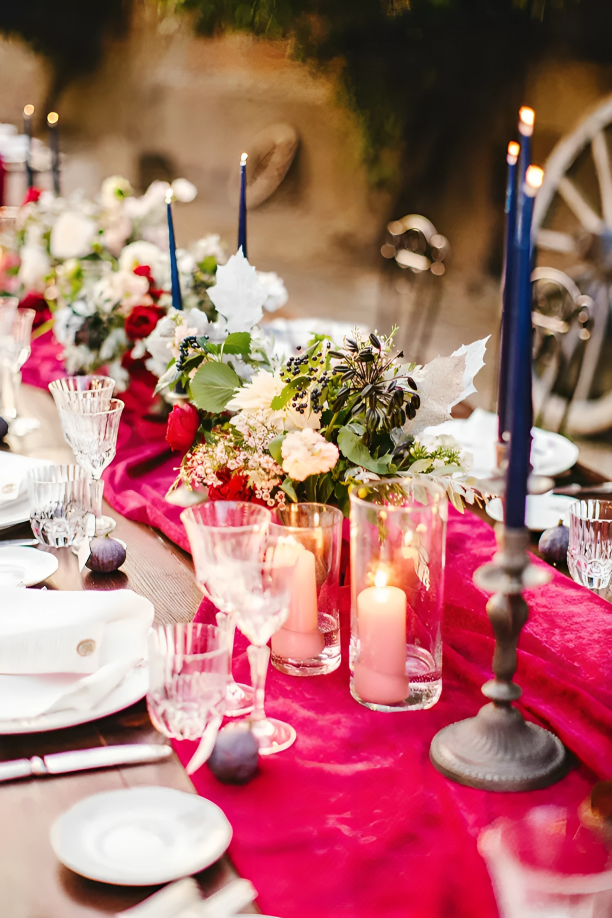 Choose blush pink, lavender, or light blue to create a romantic ambiance. Alternatively, you can consider rich jewel tones in deep crimson, navy blue, or forest green for a classic style. The possibilities are endless with velvet in your wedding celebrations.
Hot Cocoa
Hot chocolate is a tasty and affordable menu choice that can replace the traditional coffee service. Hot chocolate before the ceremony, spiked at cocktail hour, or served late-night to wrap up the celebrations is excellent. Serving the seasonal delicacy quickly upgrades the cozy feel.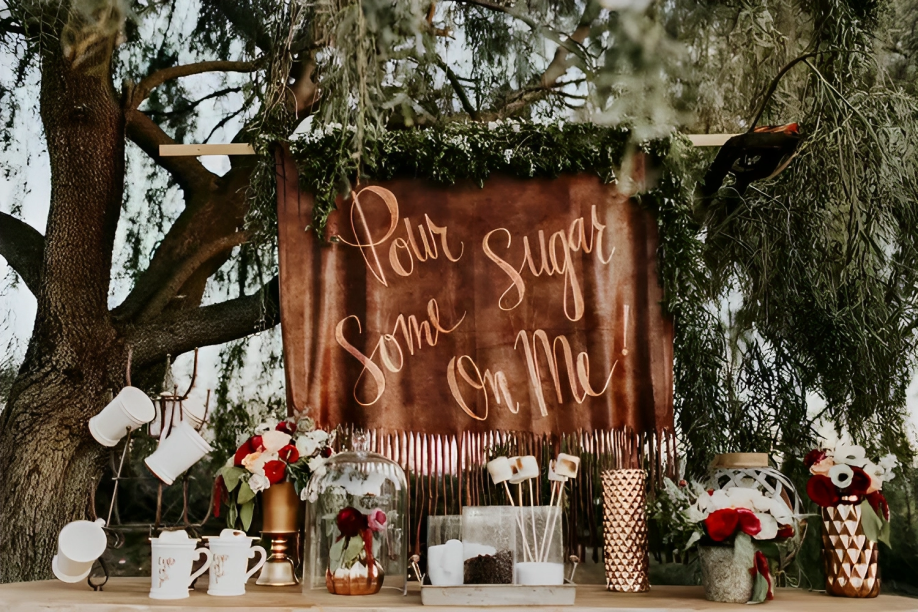 Try a copper mug or coupe glass instead of white porcelain cups. Next, add "extras," such as fun-shaped marshmallows or drink stirrers with a snappy phrase. Put together a self-serve drink station with a display of toppings like peppermints and candies to allow visitors to express their inner child.
Christmas Wedding Color Palettes and Themes
Choosing a color palette starts with visual inspiration. You can also look to your venue for ideas. Winter weddings lend depth and beauty to deeper jewel tones, whether you choose scarlet, burgundy, emerald green, or navy blue or opt for a mix of two or colors.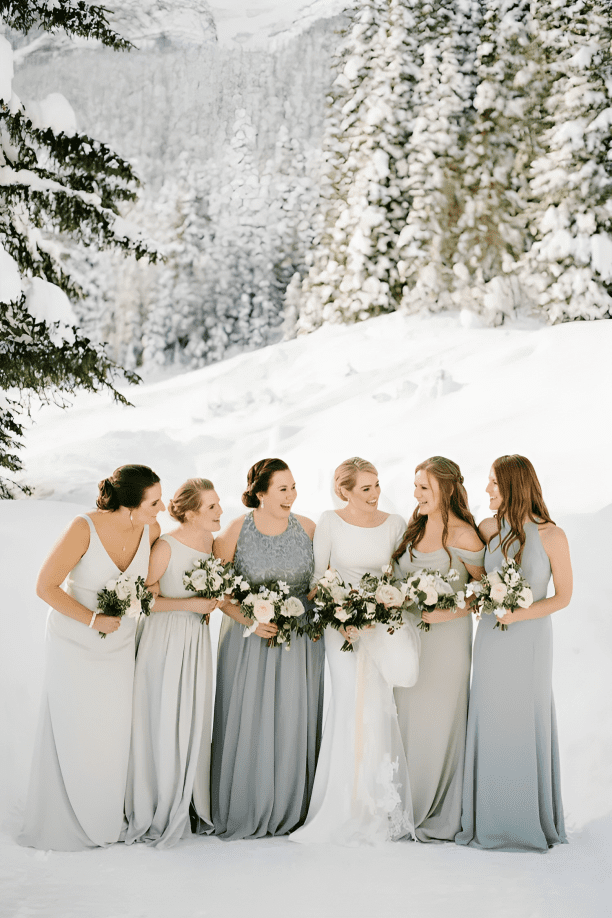 Think about colors if you're having problems picking a wedding theme. Old Hollywood glam, traditional black tie, or a rustic forest theme are all good winter event décor. Gatsby-themed weddings are great for shiny color palettes. You can create a seductive, romantic atmosphere for pinks, reds, and purples with candles and string lights.
The Magic of Fairy Lights
Sprinkle fairy lights like a sugar-high pixie to make your celebration memorable. There's no better way to make your wedding ceremony gleam like a disco ball on a dance floor than with these decorations. Who can resist a sparkling backdrop to take incredible pictures?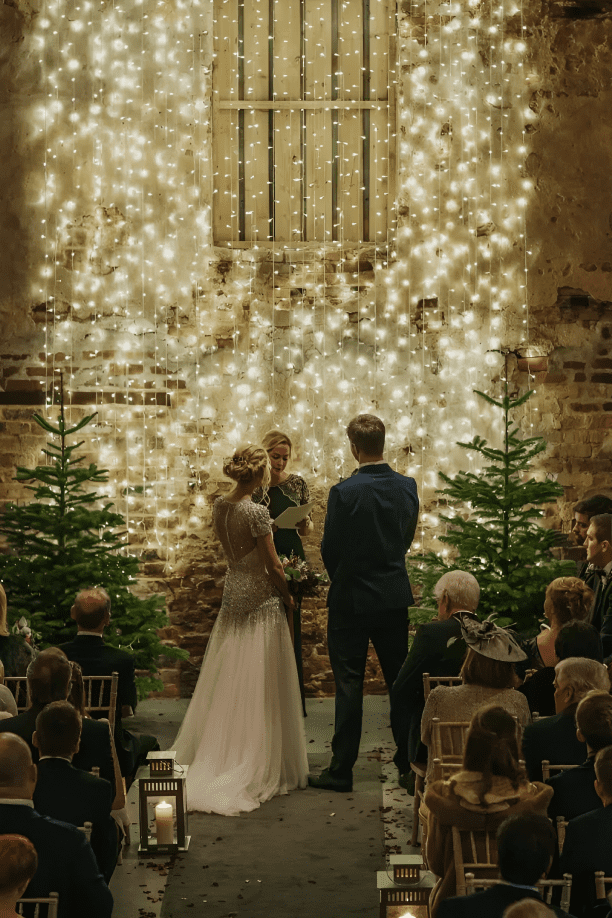 Fairy lights make special moments even more magical. Arrange them to form a nice barrier between the tables and the dance floor, like a beautiful velvet rope for your furnishings and dancing zone. Your guests will be mesmerized by a stunning display. 
Consider An Indoor Party
Most winter weddings must be held indoors if you don't live in a place with a warm climate. Banquet halls, ski lodges, and country clubs are popular venues during cold weather. These all-inclusive locations are perfect for all kinds of celebrations.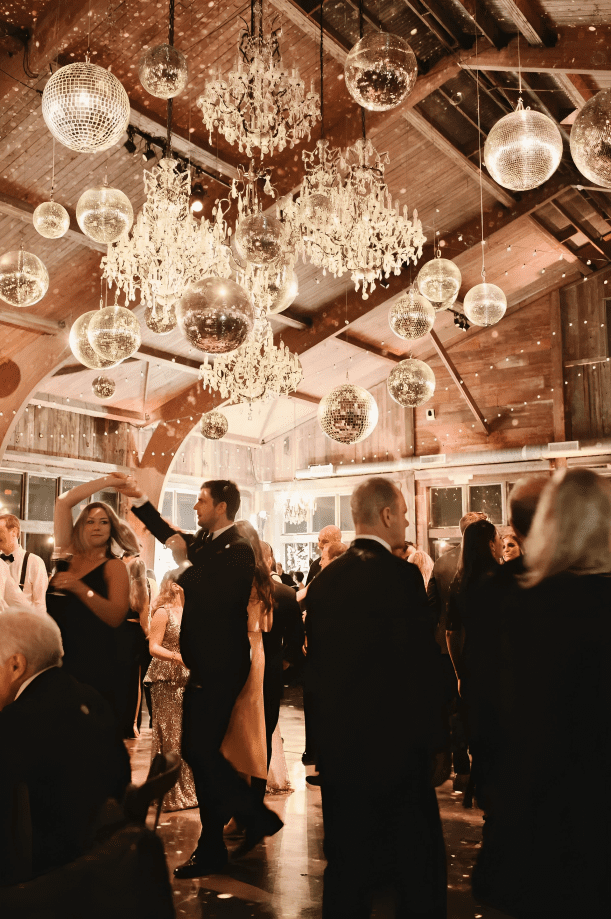 The idea of you and your guests staying overnight and relaxing in hot tubs and luxury spas pre-wedding couldn't be more exciting. Modern and chic winter wedding ceremonies can occur in renovated warehouses, rooftop lofts, and restored manufacturing buildings. Find an area with exposed brick walls or floor-to-ceiling windows to maximize decor impact.
Dried Fruit As Decor
Since fresh fruits can be scarce in winter, they're not the greatest choice for a wedding. What about adding some dried fruit to your centerpieces and place settings? Christmas wedding decorations with dried fruit are lovely. This often underappreciated decor item adds beauty and emits a fresh perfume reminiscent of candles.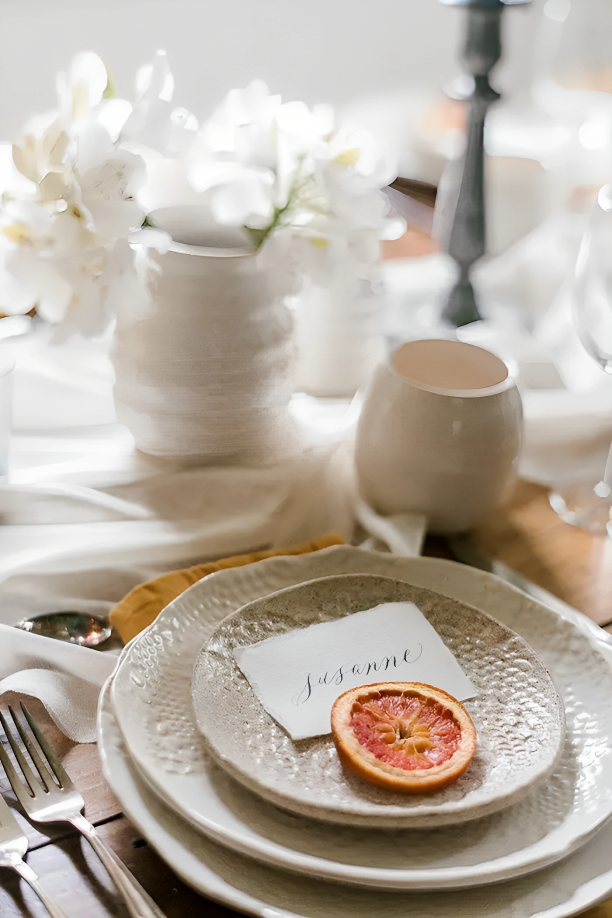 You can get creative using dried pears and apples or blood oranges. Mix them with fresh herbs and spices to overwhelm the senses with joy. Think of a sweet bundle of cinnamon sticks, rosemary, and dried orange slices. Such an idea will surely make anyone smile.
Sprinkle Some Sense Of Humor
Enjoy creepy and elegant themed parties instead of all-Christmas decor? The Nightmare Before Christmas wedding décor is the best pick for couples who embrace their dark and fun side. A bridal dress would look astonishing with a Halloween-themed dark bouquet.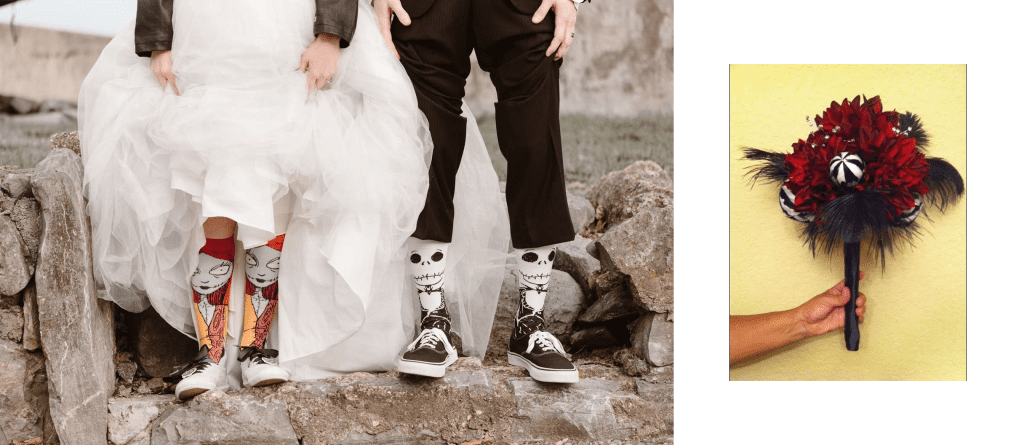 Imagine going down the aisle with a bouquet of deep red roses, black calla lilies, and dark purple dahlias dressed in black feathers. Dark crimson roses, burgundy ranunculus, and small skulls on sticks make an unusual arrangement. These flowers create a statement and enhance the wedding's mood.
A Neutral Winter Wedding Bouquet
Try a neutral and typical ceremony if Halloween-inspired wedding decor isn't your style. Winter flower arrangements are perfect for neutral lovers. Seasonal mainstays are white, matte cream, and pink accents because they mirror the snowy scenery. Green is also popular this time of year.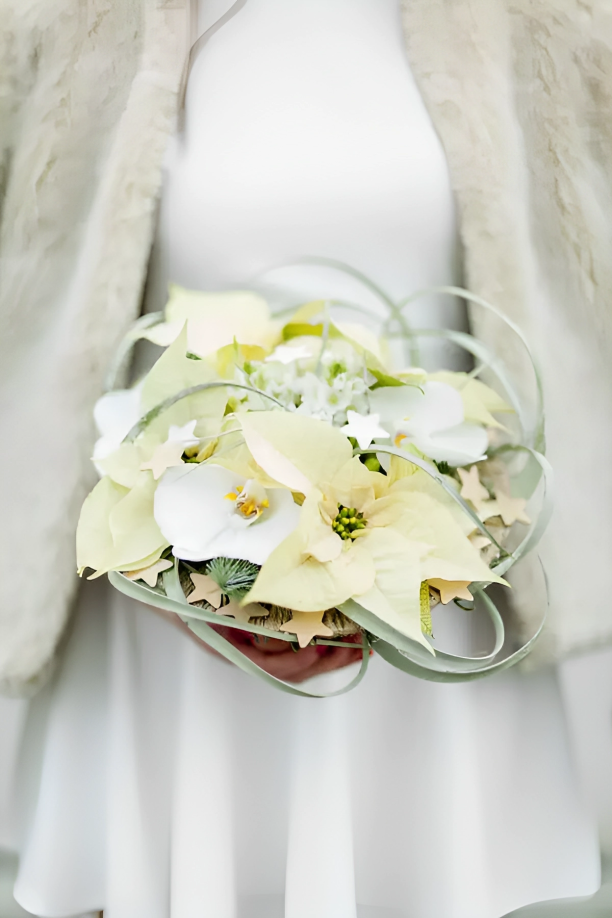 In winter's colorless backdrop, saturated flowers shine. Lastly, rich blues and jewel tones are popular too. Roses and bridal favorites like hellebores, tulips, and anemones are always welcome. Berries, dusty miller, and robust leaf sprigs can spruce up your arrangement.
Evergreens and Poinsettia
Any winter wedding will look better with seasonal flowers like dark pink, burgundy, white, green, and red. Berries, pine cones, dusty miller, and eucalyptus are classic winter bridal bouquets and centerpiece accents. Though it may seem old-fashioned, poinsettias are traditional Christmas flowers with many gorgeous wedding décor options.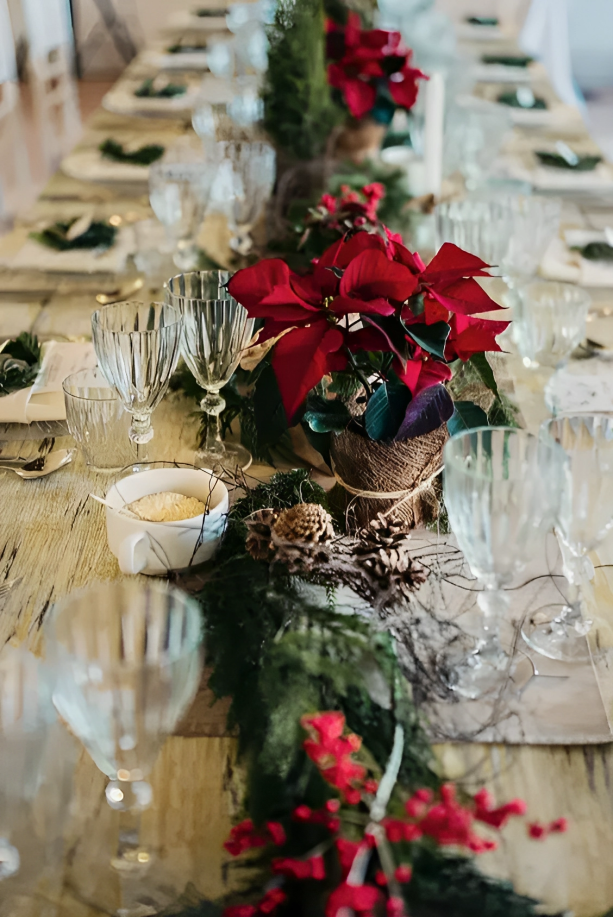 They come in different hues and are used to style modern and stylish weddings since they're fashionable and look amazing with different flowers, from roses and ranunculus to orchids and dahlias. Include greenery, evergreens, and berries in your arrangement for a more wintery look.
Special Cinnamon Candles
If you play your cards right, adding candles to your wedding decor can be a budget-friendly and fancy way to elevate the romance in your decor. All you need to create a charming DIY Christmas candle centerpiece is a few pillar candles, a touch of greenery, and cinnamon sticks. It's so easy it practically decorates itself. 
These wax creations are like little mood magicians, conjuring up an atmosphere as cozy as a bear in a sweater. And let's not forget, this DIY cinnamon-scented candle is the perfect solution for those tired of floral centerpieces that seem to multiply like rabbits and drain your wallet faster than a speeding bullet. 
Garlands And Their Classic Touch
To add to the beauty of your wedding, drape some garlands over the backs of reception chairs, wind them around an outside chandelier, or string them across a ceremony arch. Those made of flora add a homey, organic vibe to the ceremony.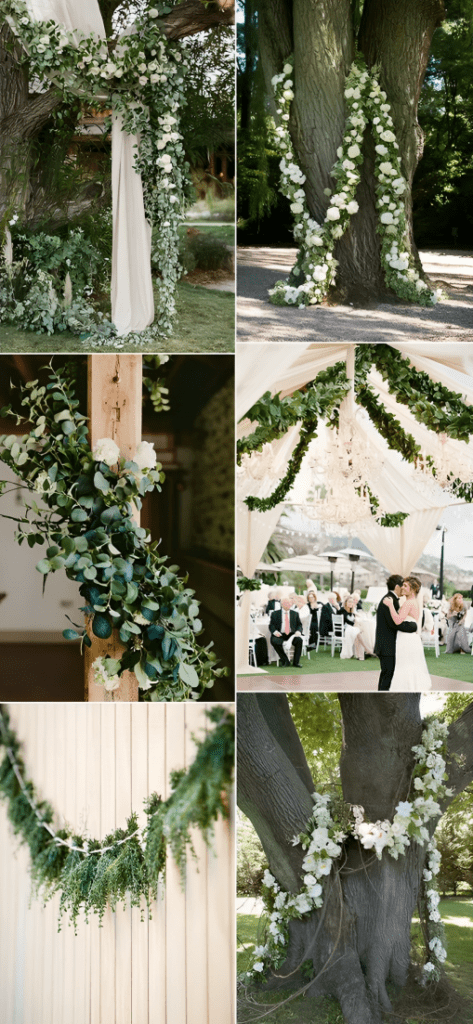 They can be used to design one-of-a-kind signage for the couple's names or a meaningful phrase to be shown at the wedding. They exude an air of effortless elegance when used as a table runner and look great alone, in groups, or as part of larger floral displays, whether hanging from the ceiling or between barn rafters.
The Venue
Take your theme into account while choosing a winter wedding venue. Snowy weddings are magical, but you must have a warm place for guests to escape the cold. Barns may be unconventional, but they have a rustic appeal and are incredibly functional.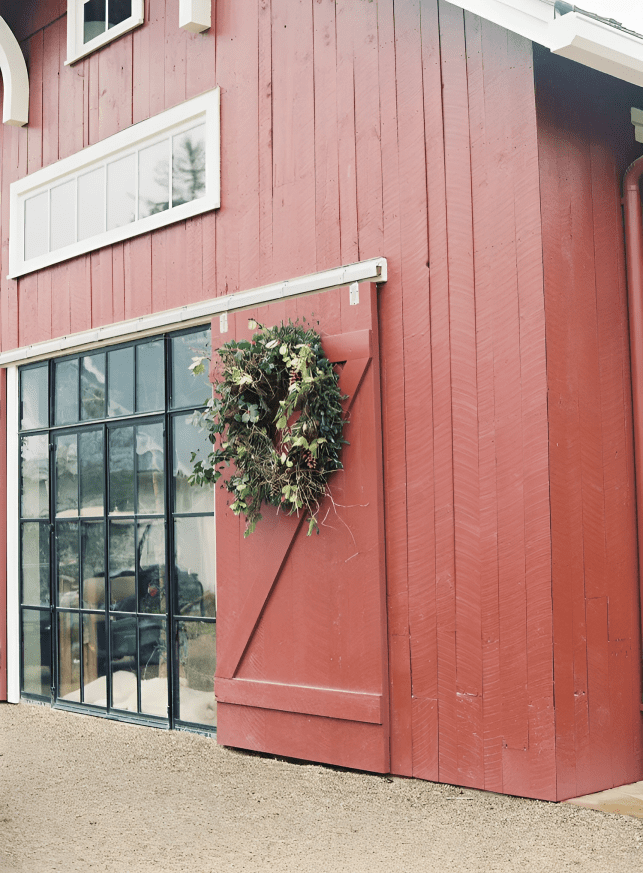 A comfy ski lodge offers unmatched beauty for mountain destination weddings, or try a botanical garden for your December ceremony for a magical setting. Both options offer picture-perfect elegance. Imagine a magical Christmas light show in these realms of wonder. 
The Wedding Outfits
In a cold winter dreamy wedding, snuggle up and wear warm clothes. Feel free to go for velvet, tweed, and wool. Choose natural and dense textiles for increased warmth. Layering is a must to stay warm. Under the blazer, wear a sweater or jumper. Bring stylish outerwear for outdoor photographs.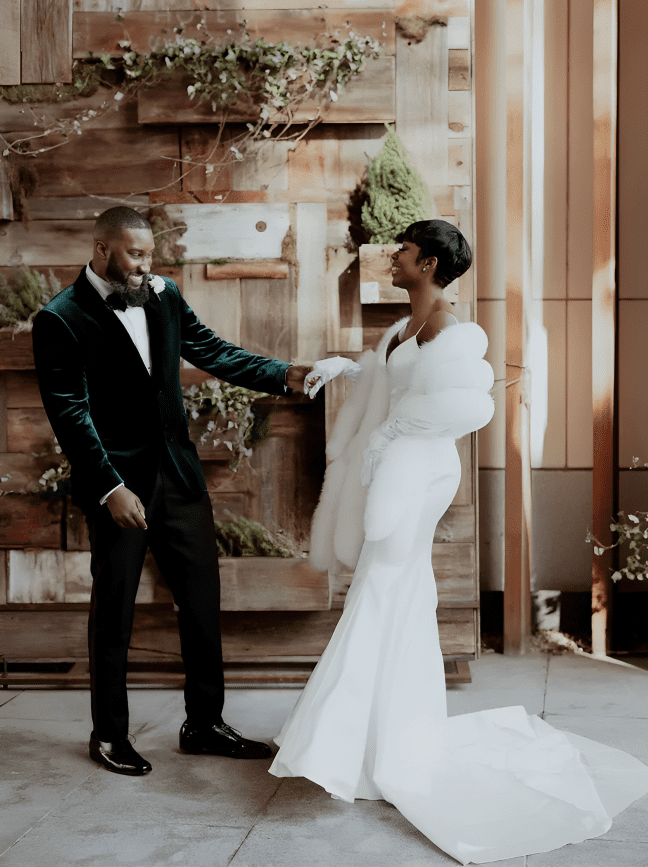 For the excited brides, faux fur and capes make a stunning winter wedding gown outfit. A bride who wants to exude elegance and warmth on her wedding day should choose a comfy but fashionable texture to wrap around her shoulders.
A Joyous Wreath
Evergreen branches, colorful blooms, ferns, succulents, and lovely berries come together beautifully in winter bridal wreaths. It should reflect your style, so feel free to choose any selections. Make a wreath out of your favorite materials and use it to decorate your wedding venue.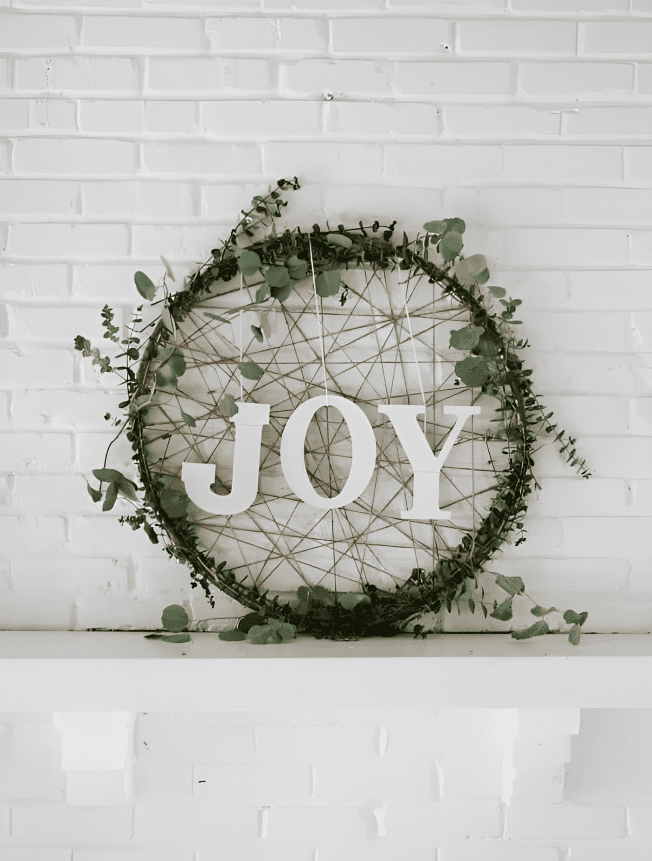 A large and majestic wreath hanging from the ceiling or little and delicate, perched above a cozy hearth and bathed in the soft candlelight light, couldn't look better at a wedding party. Their beauty is undeniable whether they are displayed indoors or out. 
Cozy Wedding Favor
If you're hosting a winter wedding and embracing the charming cold season, why not sprinkle some love with wedding favors that perfectly complement the theme and weather? There's nothing quite like snuggling up with a cozy blanket on a chilly day.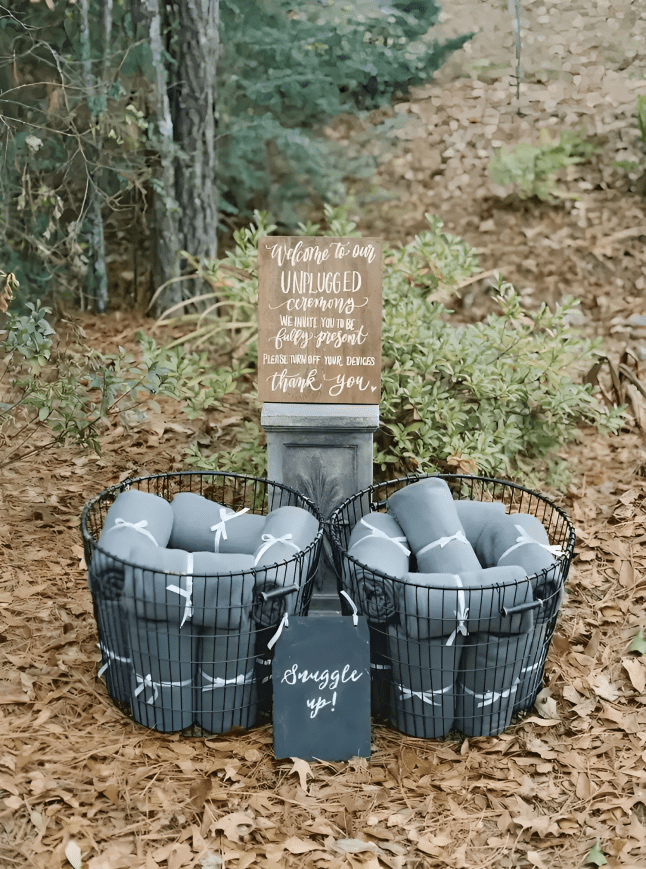 Personalized pashminas with heartfelt notes are the ultimate wedding favors for your closest friends and family members. You can offer these unique favors at the beginning of the reception. They can slip them on if the weather gets too chilly.