Brides Show Off Their DIY Projects, And The Results Could Rival Any Professional
By Harpreet K November 29, 2022
---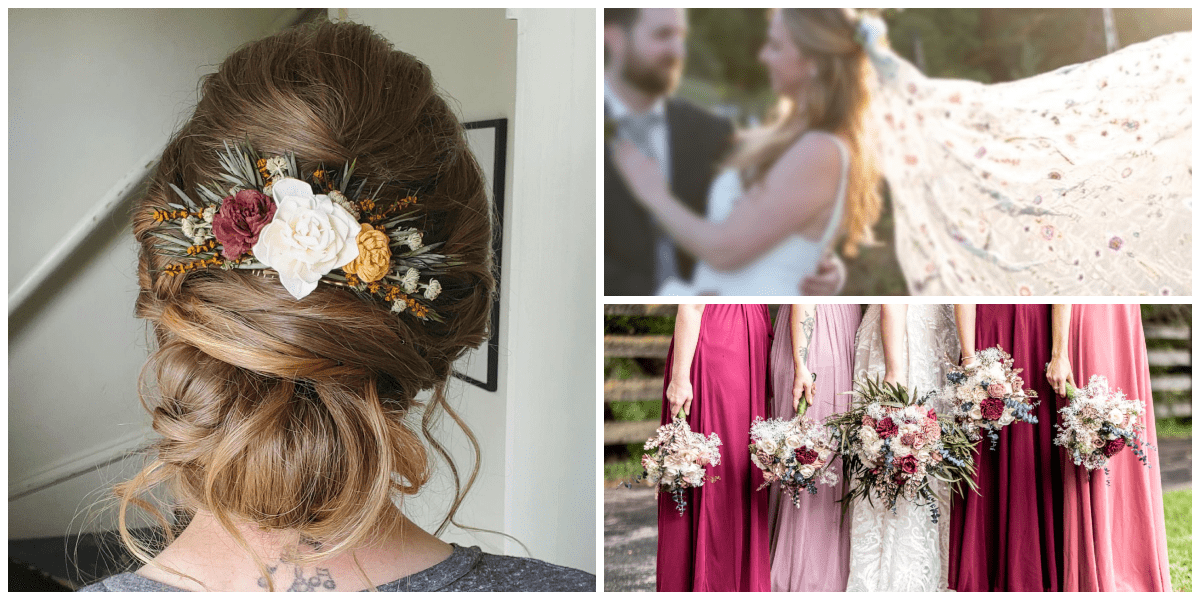 Weddings are expensive — there's no use in beating around the bush. There's the dress, the decorations, the cake, the venue, the invitations, and more. Even when the bride and groom, who usually foot the bill, opt for a smaller event, the costs still add up. Finally, after years of being told they need to suit their guests' needs, couples have learned that it's their special day! And that's where homemade projects come in.
One central plus point of these DIYs is you can save money on wedding expenses, but many have discovered the joy that comes with taking pride in your work and showing it off to your family and friends. If you're feeling inspired to craft something for your own wedding, or just want to see what masterpieces people have made, here are 45 DIY items people created for their weddings.
Now go ahead — give DIY weddings a try! They might just be the best decision you ever make.
1. Eco-friendly confetti
Many couples love the excitement a flurry of confetti brings. Though there's usually a specific image in mind with confetti — glittery plastic pieces — there's a more tasteful and eco-friendly solution. Best of all, it's virtually free and easy to do it yourself!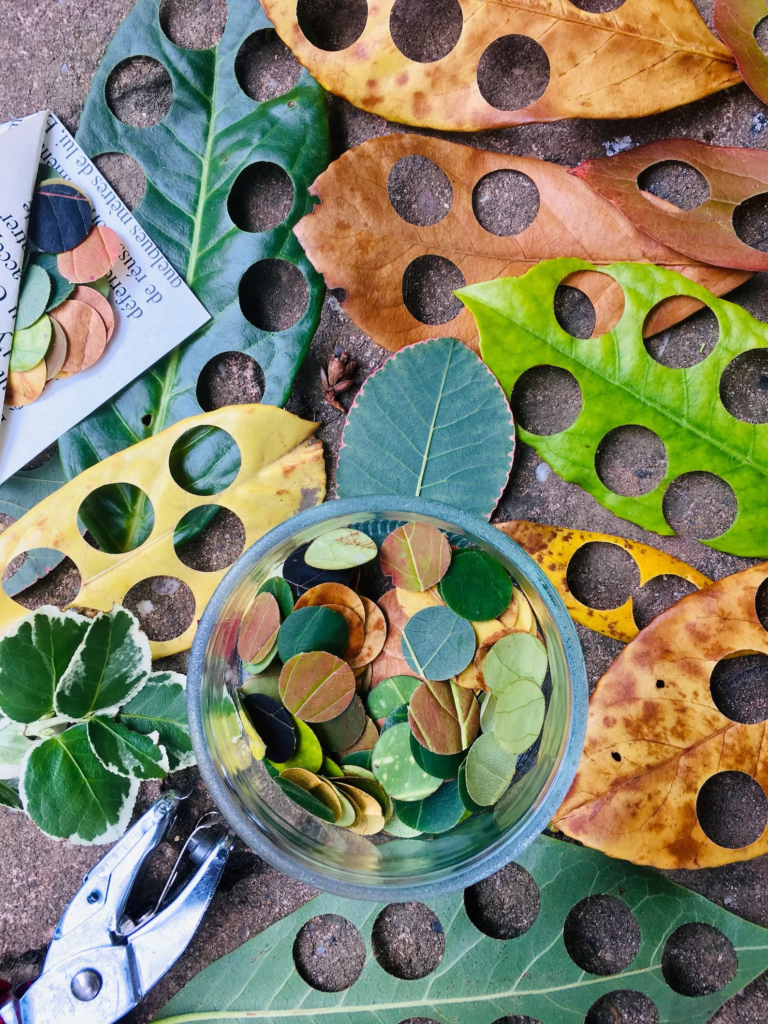 To make your confetti, gather some leaves of your choice, preferably in a variety of colors. Go for sturdy leaves; not the dry, brittle ones. Now, use a hole puncher to cut out perfect circles. Put them in jars around the venue and let guests go wild.
2. LED table numbers
A woman wanted lit LED table numbers for a wedding function, so her sister came up with an idea to create it. She 3D printed the bases to hide the wires and added the bridge, which she laser engraved into a clear acrylic to make it glow.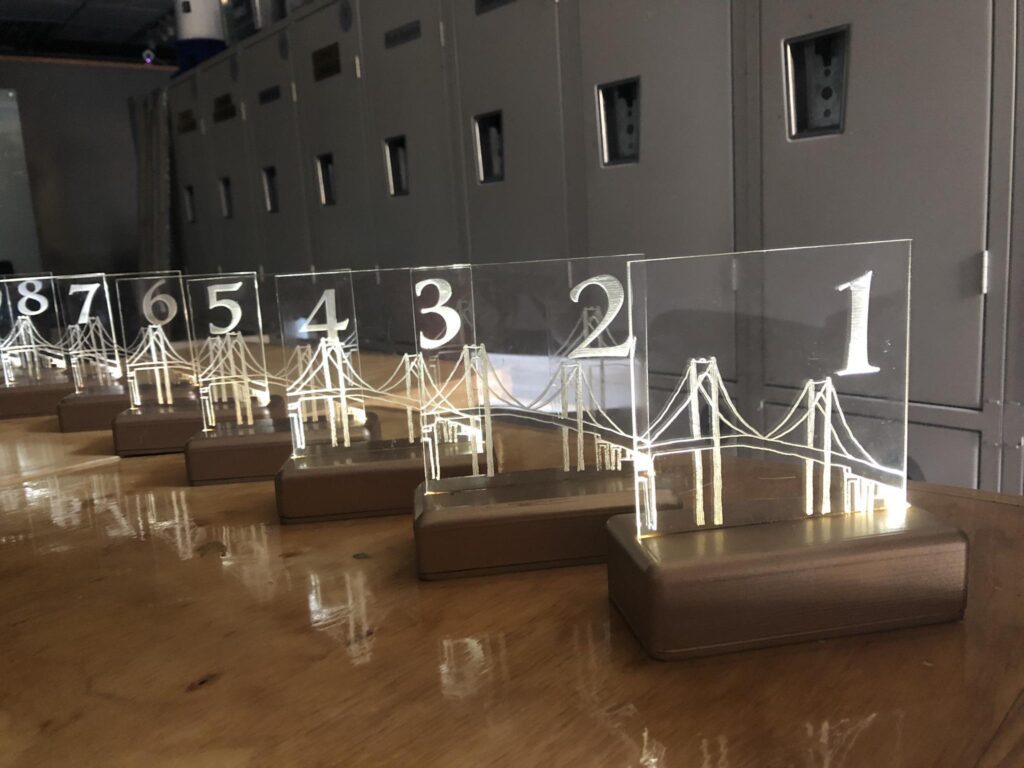 Using this same technique, anyone can come up with an alluring LED table number. While this may take specialized equipment, you might be able to find the tools at a local makerspace. So go with these handmade table numbers for a memorable addition to your wedding décor.
3. Wedding decor in the redwoods
You can start by picking a spot near some large trees. Make sure the area is well-lit, and choose fixtures that will cast enough light without being too harsh. For centerpiece pieces, try using natural items like branches or flowers.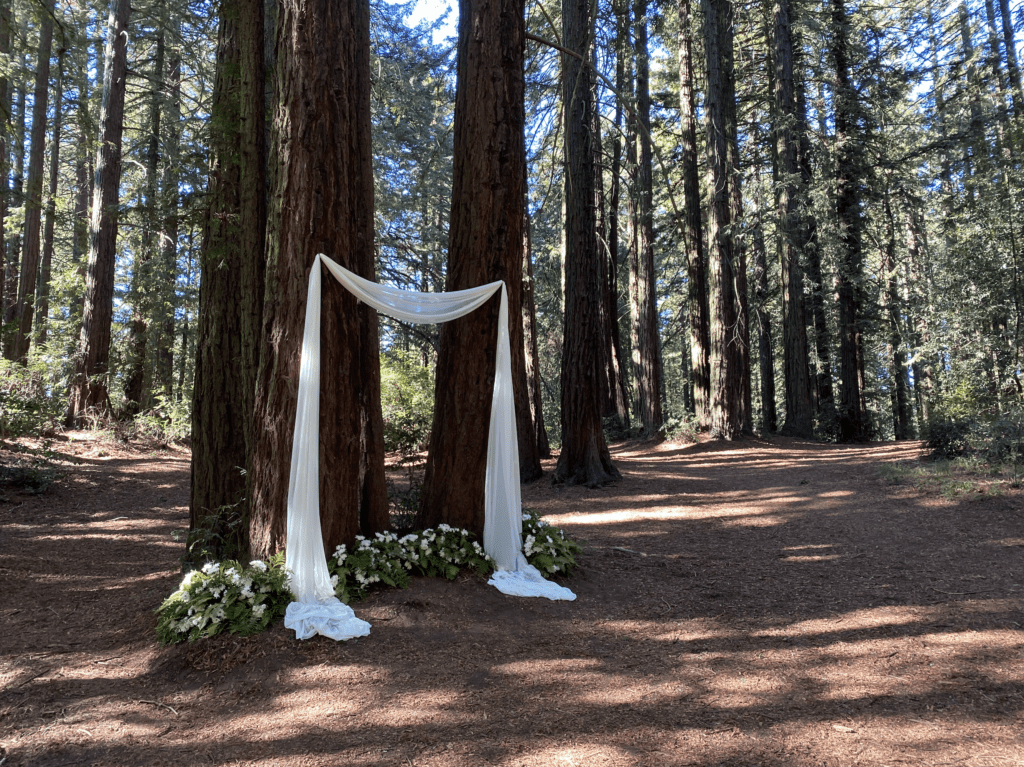 With all the various options available for decorating in these woods, there's sure to be something that will perfectly match your style. From rustic and country chic to glamorous and elegant, there's no shortage of options. So, if one of your friends asks for a suggestion, offer the redwoods as an option.
4. Embroidered table numbers
Table numbers play a crucial role in weddings, so try to make them as enjoyable as possible. If you want customized numbers for the centerpieces but don't have access to the tools for the LED ones, embroidery might be the perfect solution for you.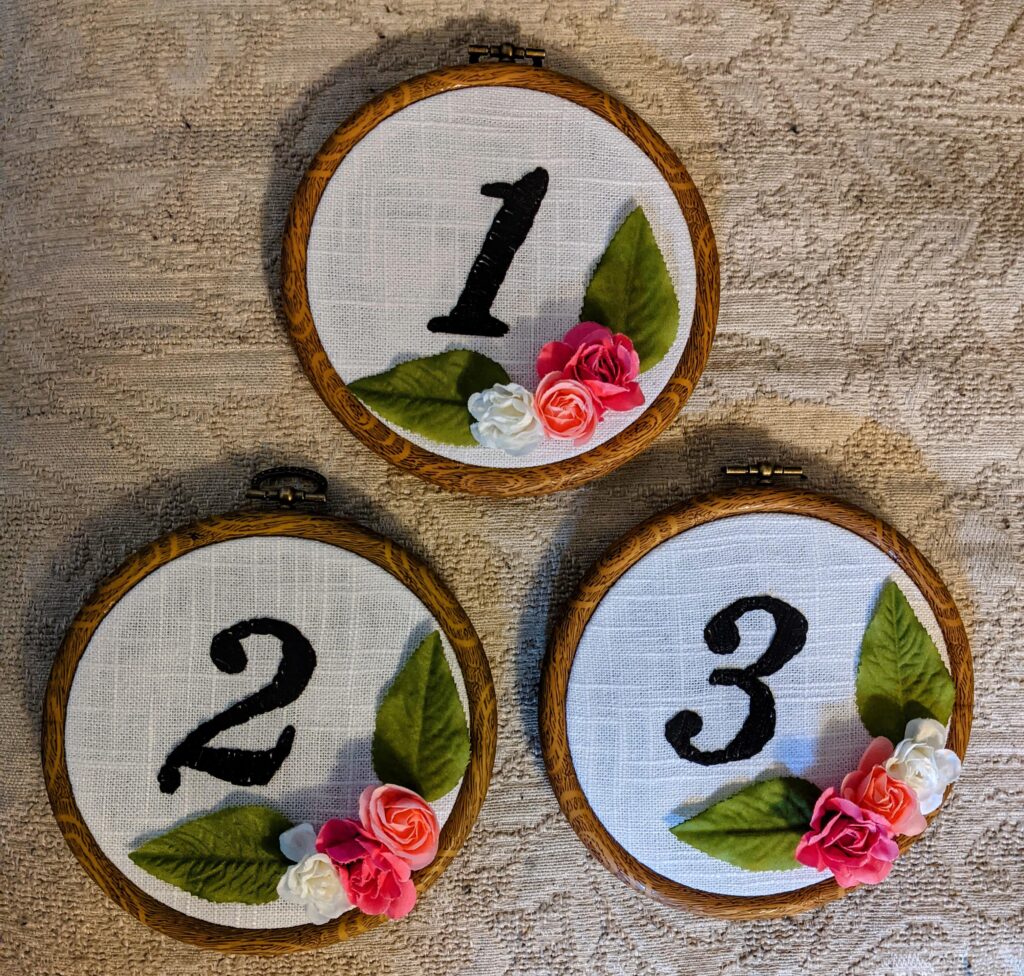 White cloth with black thread will match any color scheme. Added accents like leaves and flowers, as this person did, will make it look more appealing. If you like the idea but want to mix it up, try different fonts or accents other than flowers.
5. DIY backdrop
Even if you have a professional photographer, you can bet that half of the guests will have their phones out to snap their own pictures. But finding the sweet spot with the right lighting and background can be difficult. With a little DIY, you make the perfect photo-op spot.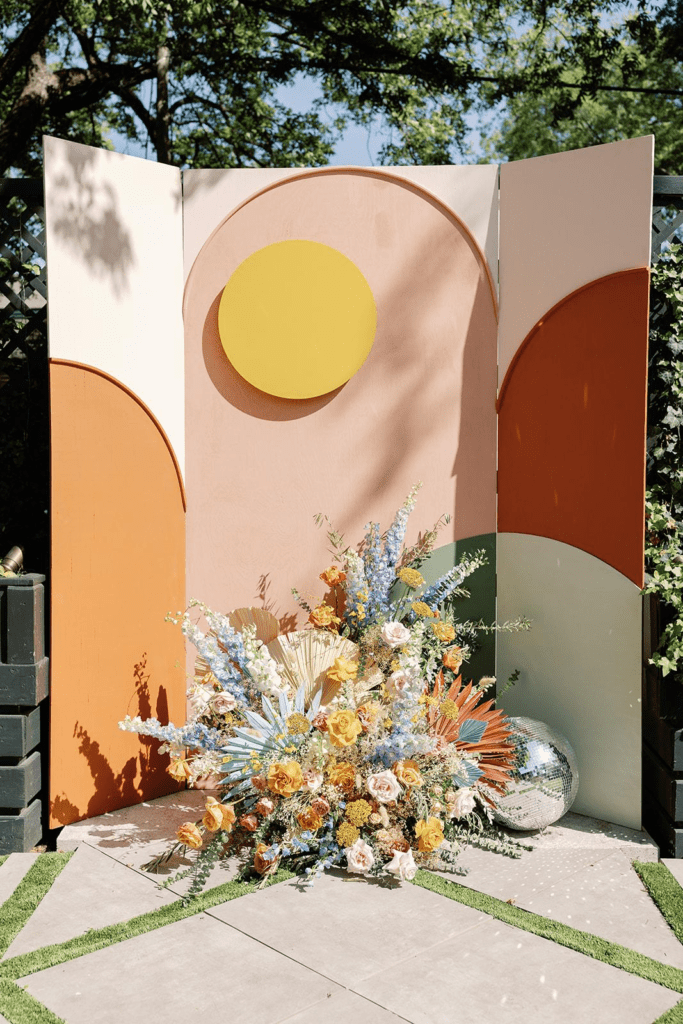 With just a few supplies and creative thinking, you can create the perfect backdrop for your wedding photos! Be sure to get vibrant and colorful while creating your perfect wedding picture spot. Guests will be thrilled to not need to search for "just the right spot" for pictures.
6. Embroidered sneakers
The new trend of the bride dressing down for the dance floor is brilliant. Finding clothes is easy, but what about the shoes? One woman chose to use her embroidery skills to make her dancing sneakers a bit more dainty and fancy.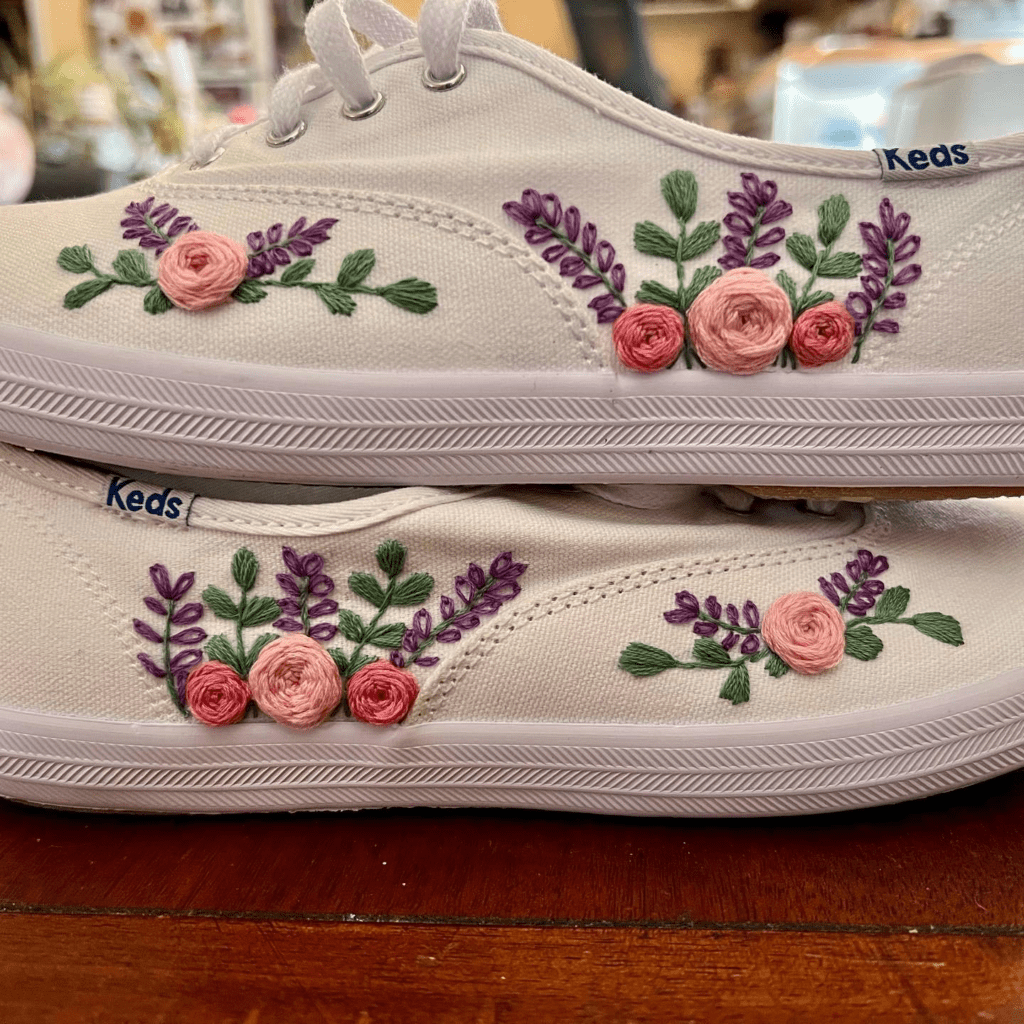 So, ladies, if you want to experience your wedding without achy feet and blisters, go and buy a pair of sneakers. You can either embroider the design yourself or ask one of your bridesmaids to spruce up the sneakers for you.
7. Crochet bouquet
We've seen a few embroidery projects, but what about other crafting styles? Crochet can be used to create beautiful and unique wedding decorations, like bouquets! Sounds cool, right? They are relatively easy to make. If you don't already know how to crochet, there are plenty of free tutorials online.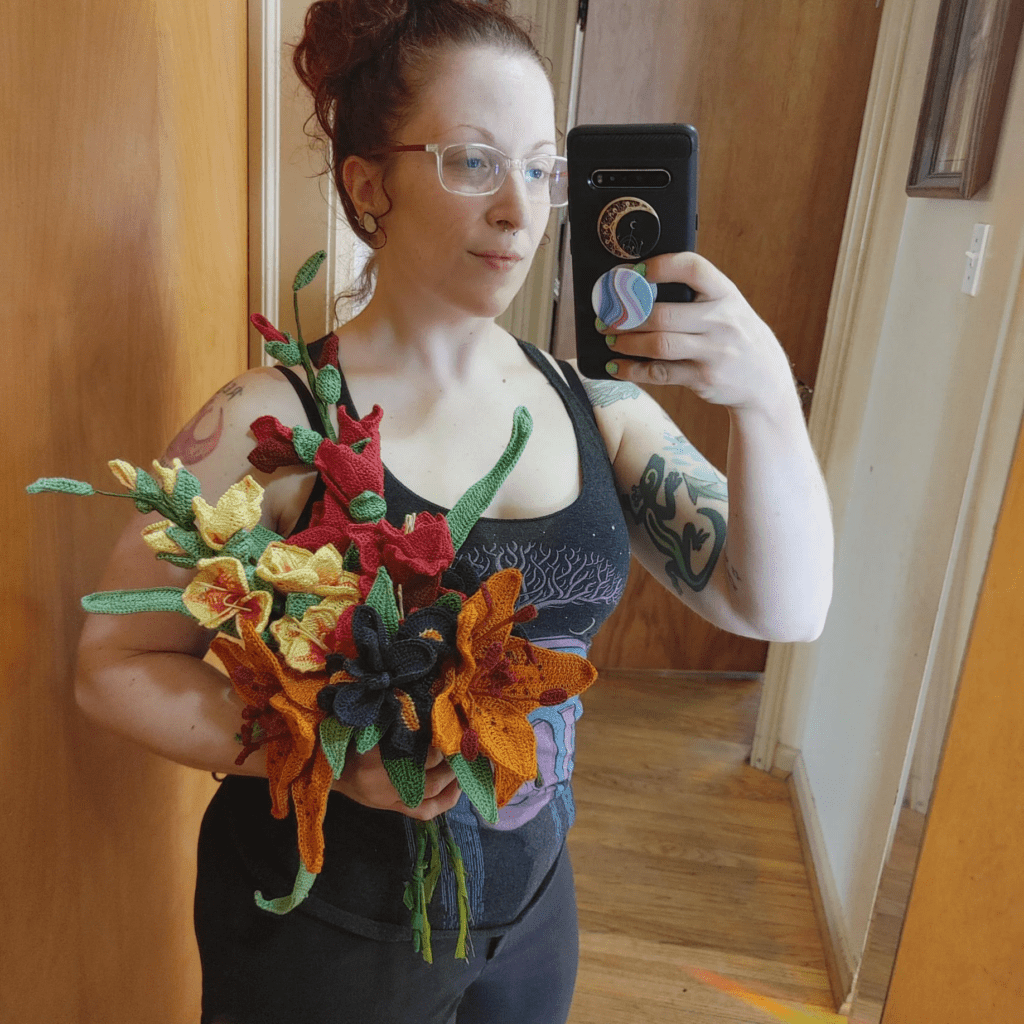 Before you start, choose a pattern that matches your vibe. You can either make a classic crocheted round or an oval bouquet or go for something more unique with a zigzag design. Plus, you can pick a variety of patterns to create a full bouquet, complete with different "flowers."
8. DIY arch florals
Do you want to show off your creative side in a place where everyone is guaranteed to see it? You can make your own arch florals just like this bride did. This DIY is a great way to get creative with flowers, and it can be cost-effective, too.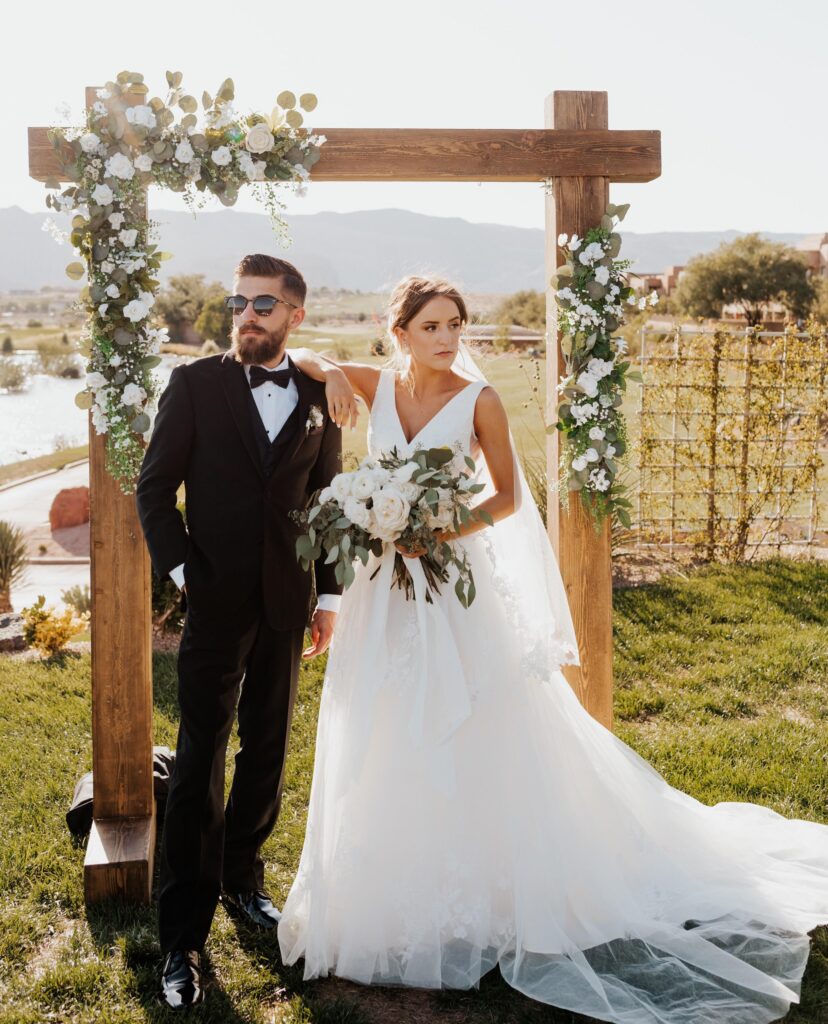 These arch florals are easy to make yet extremely beautiful. However, if you want to try something a little less understated, you could add embellishments such as ribbons or fur pompoms. You're sure to get plenty of compliments on the decor with a project like this one.
9. Pastel flower bouquet
There are so many color options to choose from when putting together your bouquet, so if you're stuck, consider picking pastel-colored flowers. You can't go wrong with softer tones; they are eye-catching but won't draw attention away from your dress.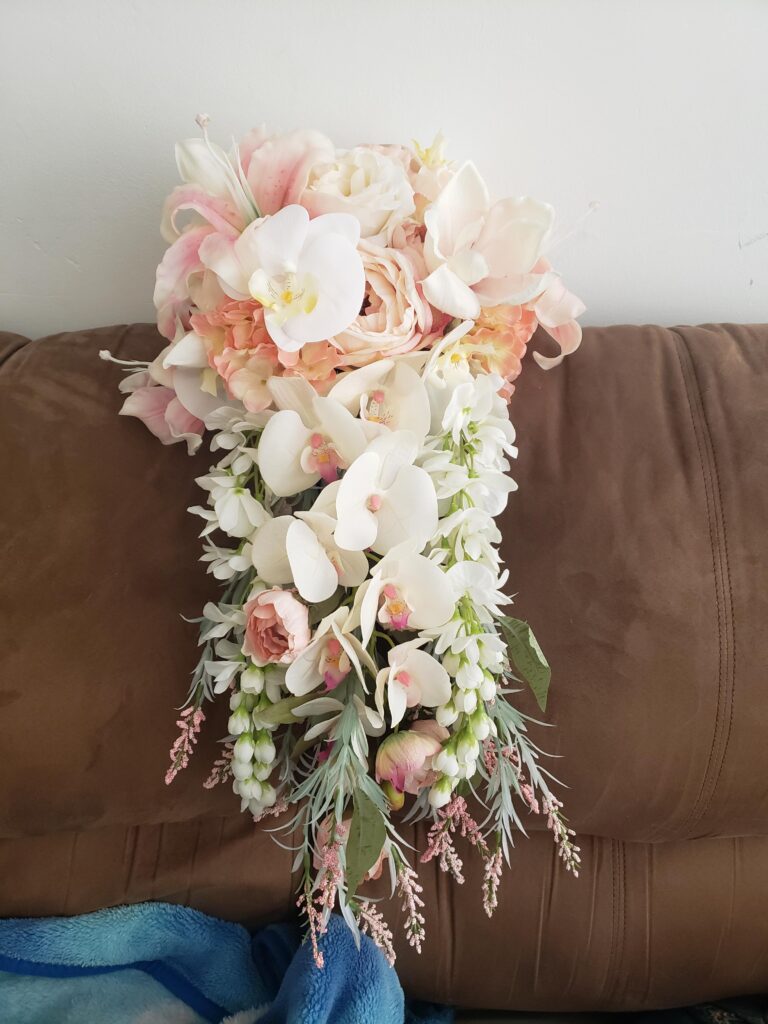 Try colorful dandelions, soft pinks, or bright whites for a natural and understated take on the trend. And if you want some extra colors, go with floral arrangements in shades of apricot, cream, or fuchsia — they'll set the mood for an elegant affair.
10. Party favors
Though it's not an expected or standard part of the wedding festivities, some couples like to provide little gifts for the guests to take home. Having a little piece of a lively evening is a wonderful way to say goodbye to your guests.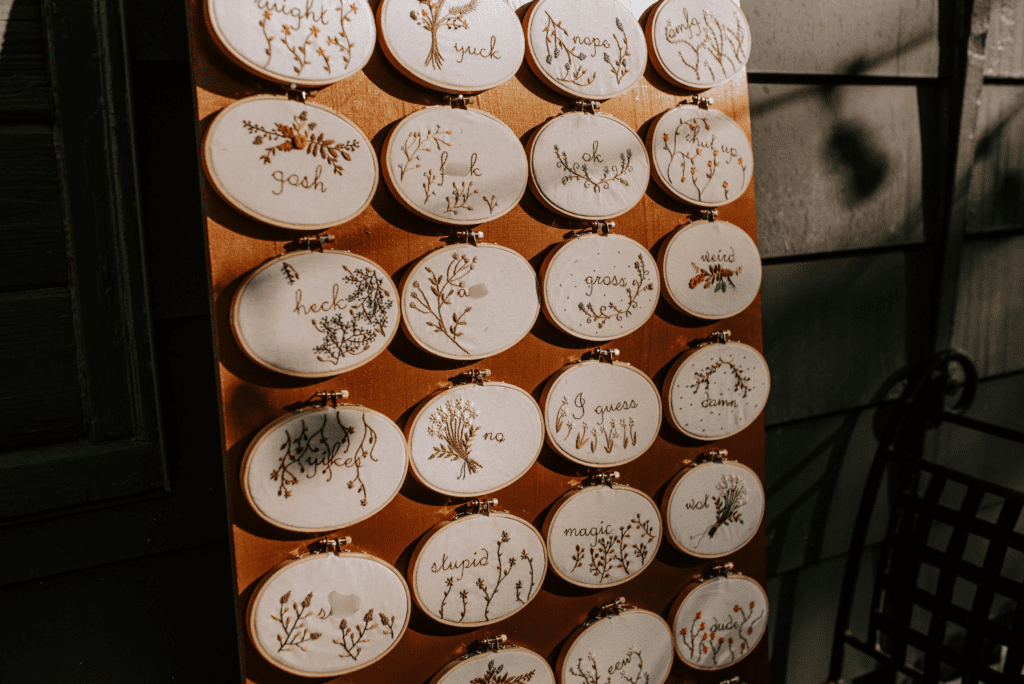 As you can see, simple embroidered patterns are cute and unique pieces your guests will be delighted to hang up on their walls. Have some fun with it and write messages, or simply add a design of your favorite flower.
11. Crepe paper flowers
If you want long-lasting flowers but aren't happy with the crochet look, you can give crepe paper a try. The texture makes them look more realistic, and there are plenty of colors to choose from to make a matching floral arrangement.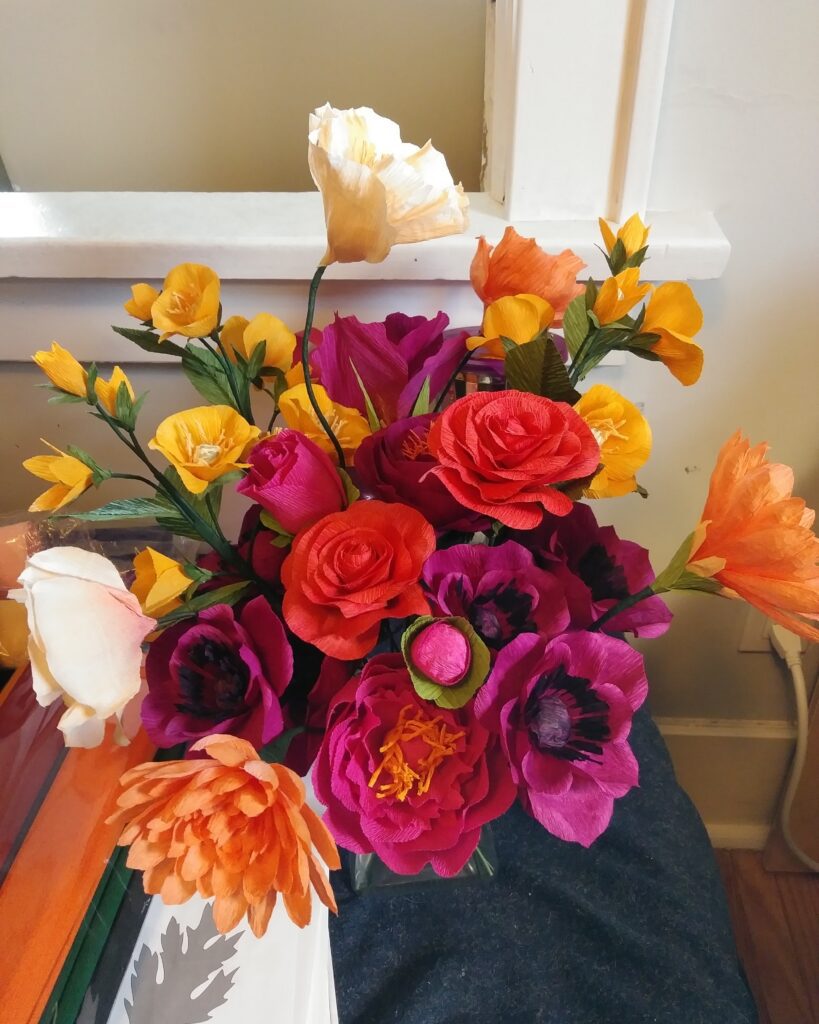 These delicate beauties are perfect for adding a touch of whimsical flair to any space and can set the mood for an elegant ceremony or reception. If the Redditor didn't tell us, we would never have guessed that this bouquet is not made of real flowers.
12. Rustic California beach wedding on a budget
A mother wanted to have a rustic wedding on the beach under a budget of $100. So her children made her dream come true by setting up a small wedding on the beach itself. This idea has given hope to all those who wish for a destination wedding under a small budget.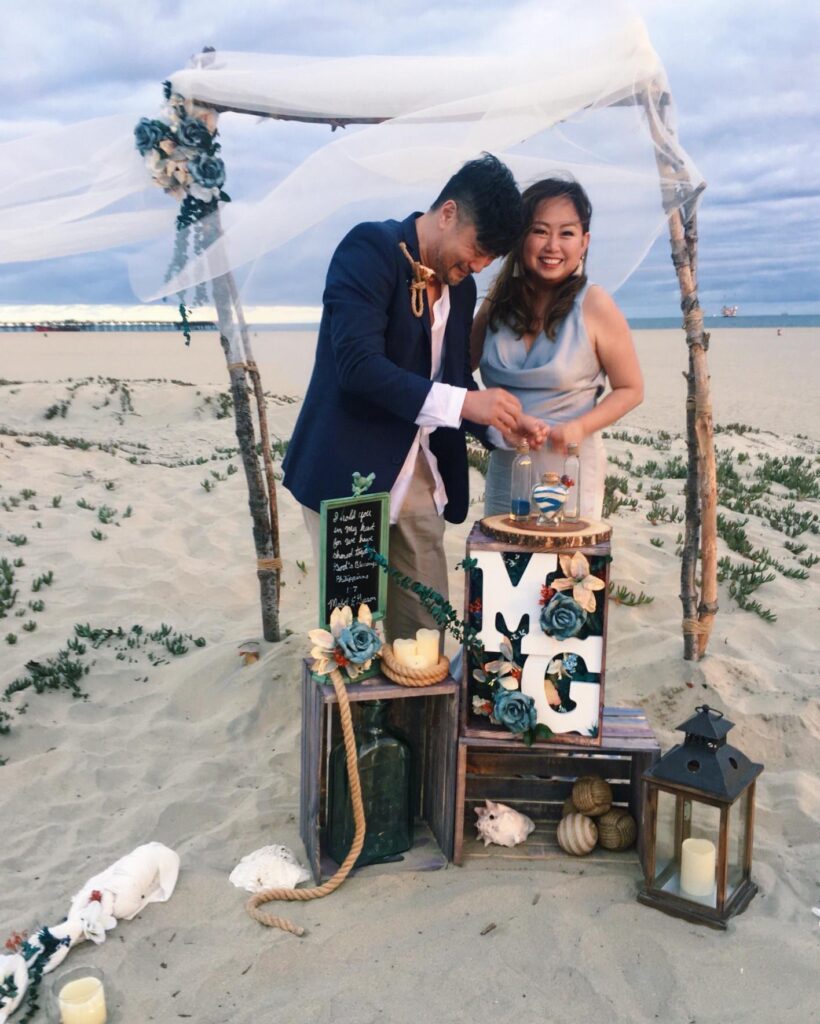 You can see in the picture that the decor is simple yet beautiful. So, if someone in your group or family wishes to have a big fat wedding and still afford a pleasant honeymoon, share this idea with them. This might work and help them have a sigh of relief.
13. Hand-crafted veil
Though wedding styles have changed throughout the years, one thing has remained constant: veils. Some brides love the look, while others keep it as part of a cultural tradition. However, there is no rule that says you need to buy your veil.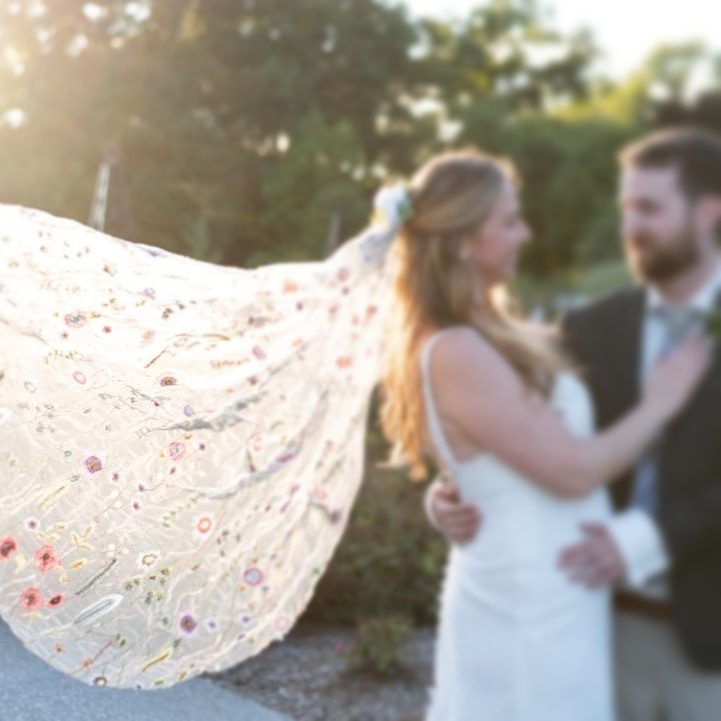 This woman DIYed her wedding veil as per her preferences, and it looks undoubtedly incredible. And the photographer did a great job of capturing its beauty. Creating your veil can be a fun and personalized addition to your wedding look.
14. Customized cake for the engagement ceremony
A couple wanted to make a beautiful red and white cake for their engagement ceremony. Rather than buy an expensive dessert that might not meet their expectations, they went to their own kitchen. As you can see, the results were absolutely incredible!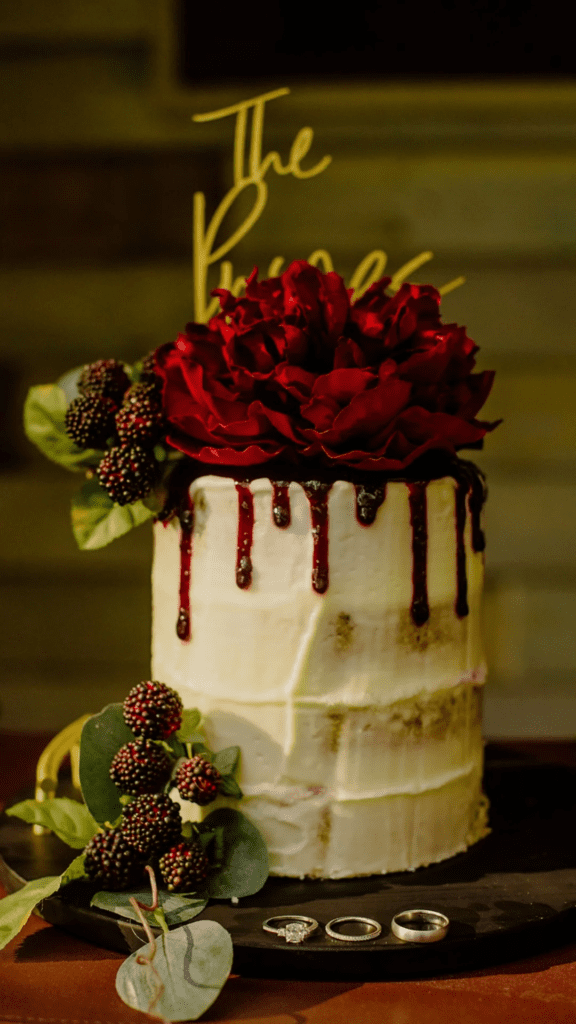 Baking a personalized cake is a great way to bond with your fiancé[e], and chances are that it'll taste better than any store-bought cake. You don't need to decorate the sides with anything fancy. Drizzle some jelly on the sides, and you're good to go.
15. Arbor with 1,000 paper cranes
The wedding arbor has to be beautiful. Considering this, the groom's sister decided to go with a handmade arbor. She used white paper to create 1k cranes and hang them on the wooden piece. For sure, this DIYed arbor must have been the topic of conversation at the wedding.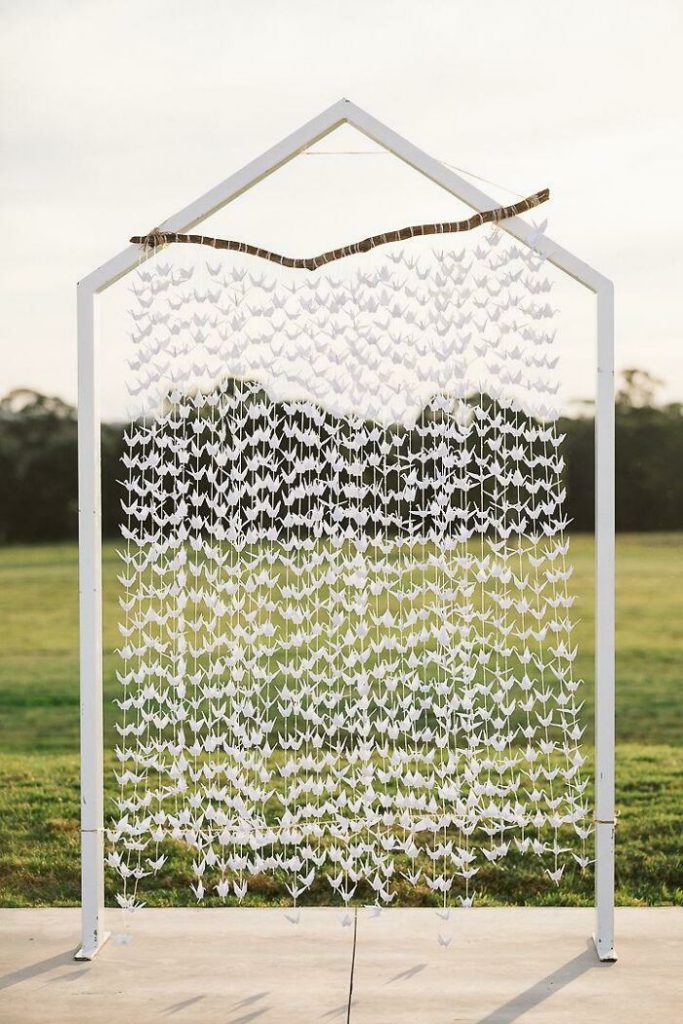 These beautiful creatures can be created from any paper and attached to any surface using simple adhesive. They make charming decorations for your wedding arbor or other outdoor areas and can be customed to go with your theme or color scheme perfectly.
16. A cake for the big day
Here we have another bride who wanted to bake her own wedding cake. She practiced over and over, but the results were worth it. We're glad she proudly shared it online because it looks absolutely amazing. We bet it tastes good, too.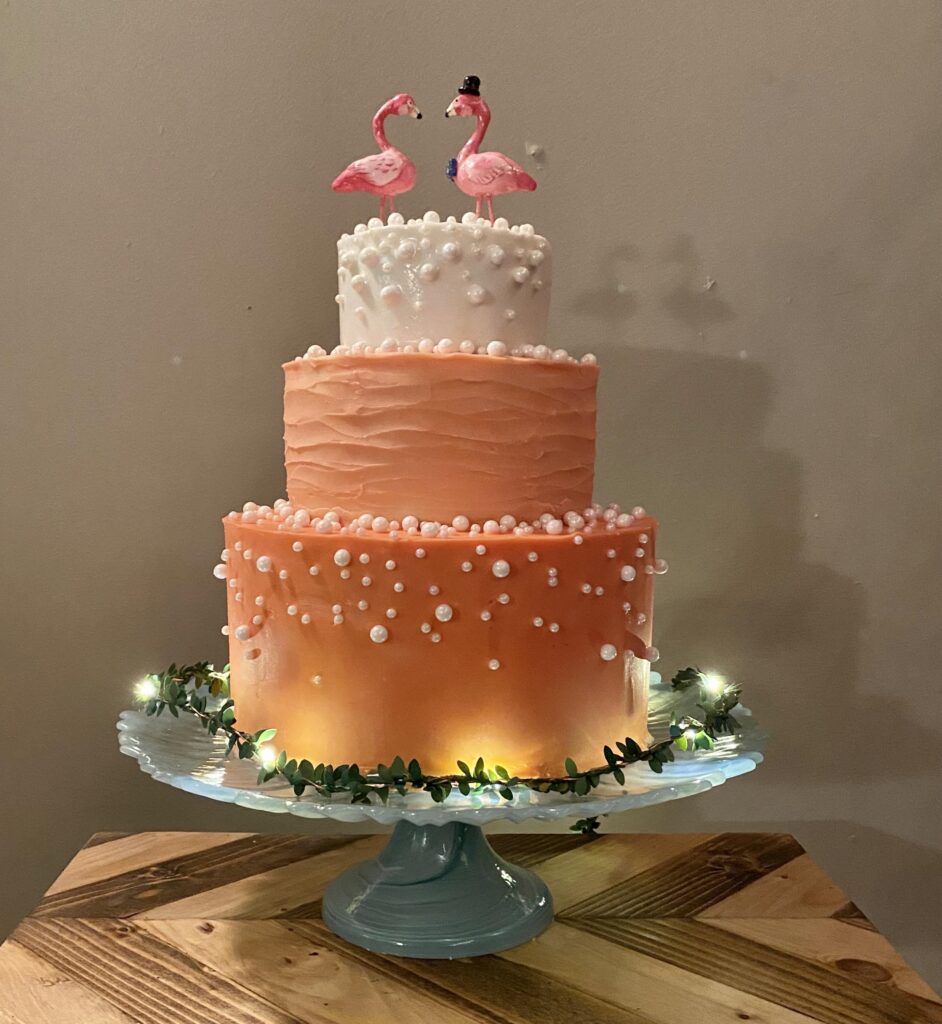 The orange and white colored icing gives it a more professional look, and the edible pearls solidify that image. We love the quirky flamingo cake topper. She definitely chose the right icing color to match the topper. Or, perhaps they found a topper to match the icing color.
17. Bride designed her outfit for the wedding
Before she got engaged, this bride didn't know how to work with the sewing machine. We were shocked to read that this was the work of a novice because it looks magnificent. Learning how to use a sewing machine is a great way to save money and still get your dream dress.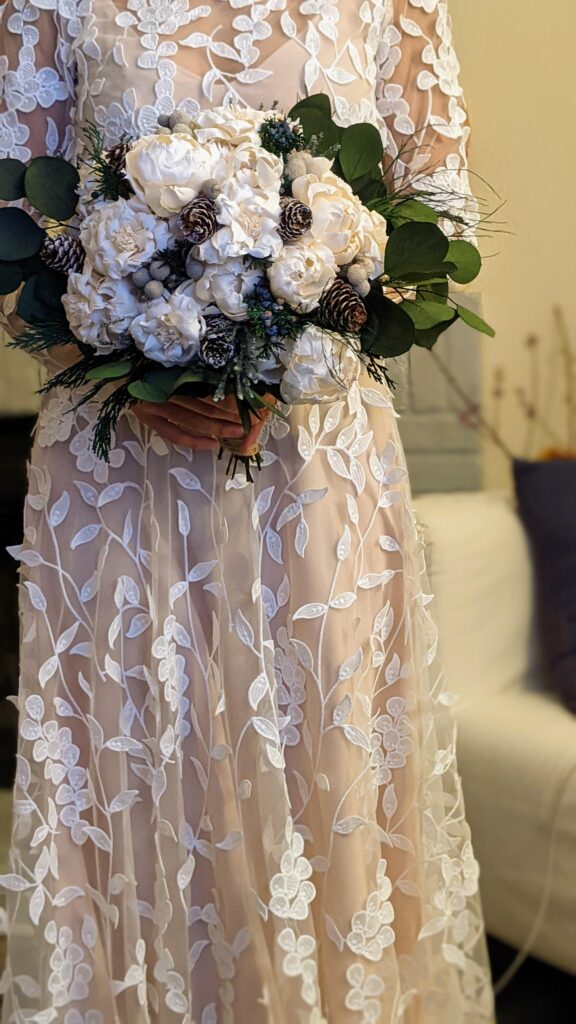 If you want to stay true to the traditional white wedding gown and make your wedding dress, you can take inspiration from this one. You can choose a classic lace dress or a more modern design with layers of fabric.
18. Someone decided to be his own florist
To make their centerpieces, this person bought some materials from eBay and some relatively inexpensive flowers. He used thrifty shop glasses as vases and placed them as centerpieces. After looking at his flower vase, it's clear he got fantastic results without wasting money on a florist.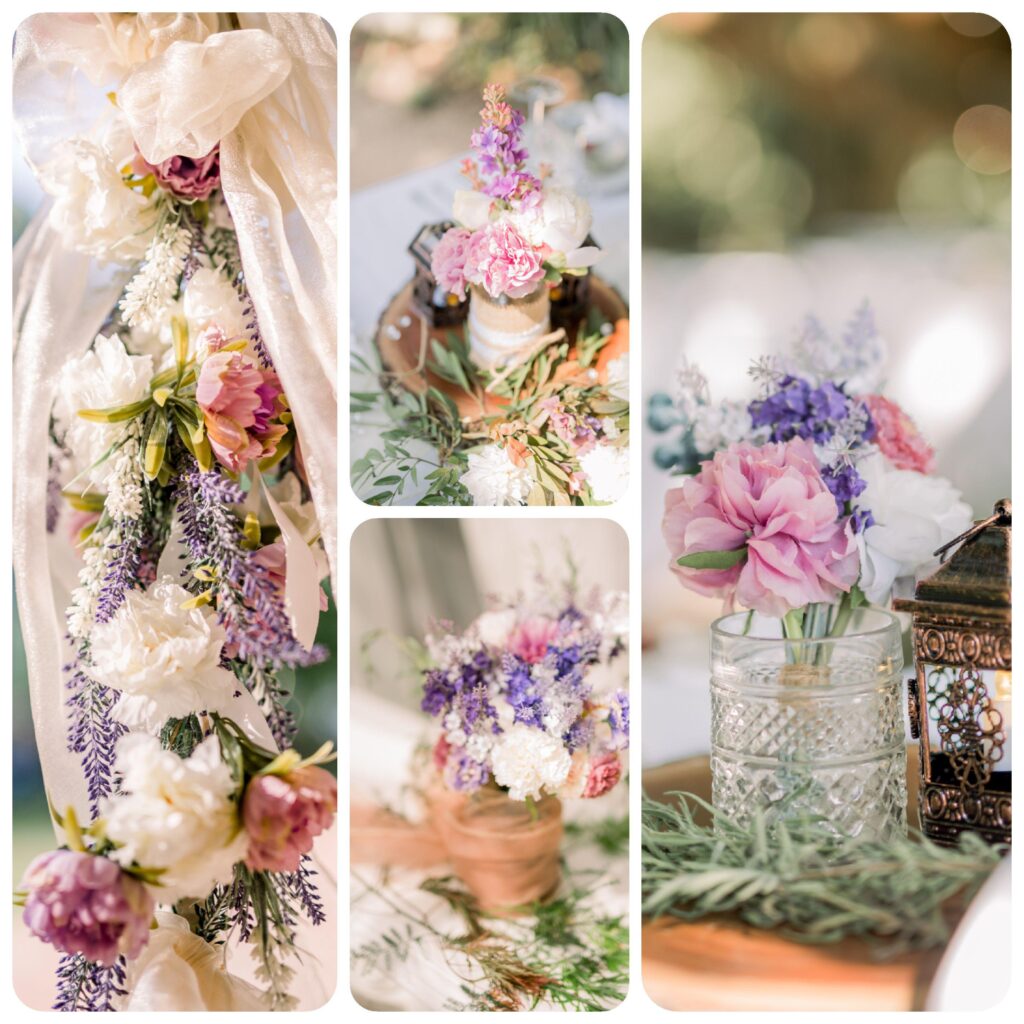 Making your flower vase is a great way to show your creative side and add some personal flair to your wedding decor. You can choose from many different materials and shapes, so there's sure to be a vase that suits your style.
19. DIY centerpiece floral arrangements
If any of you want to make at least one aspect of your wedding decorations, you can DIY floral arrangements. A combo of large, vibrant flowers with leaves hanging on a wooden stand will give life to your venue. Whoever made this has an eye for design.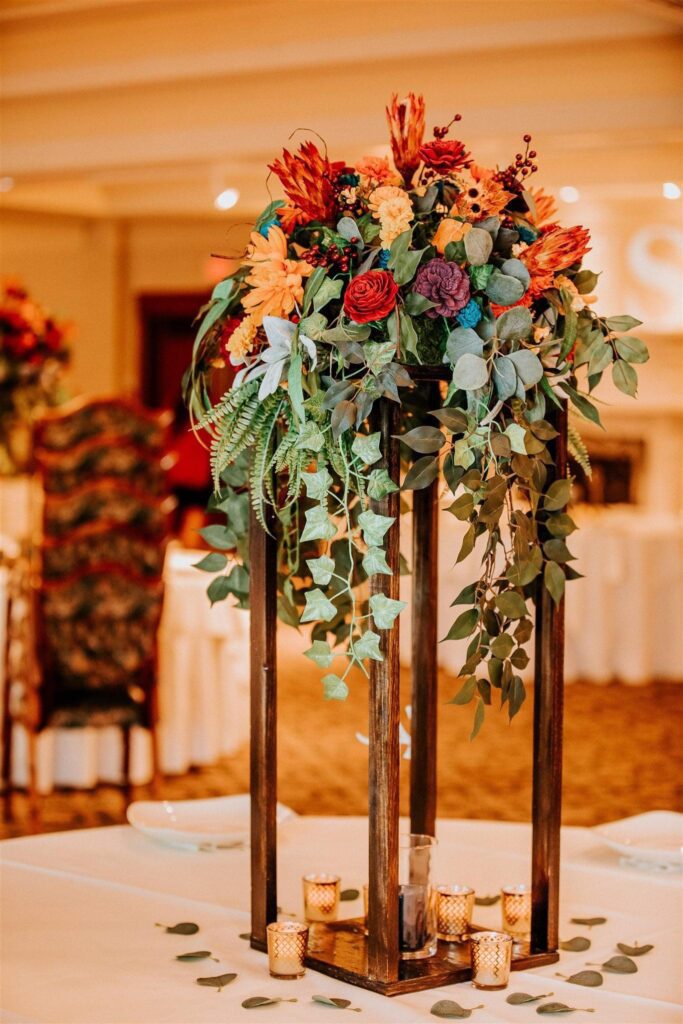 Floral arrangements fill up any space and create a beautiful centerpiece. Plus, they are easy to make and require minimal supplies, so you can get started right away. You just need some time, both to make them and to find the right flowers to suit your style.
20. Fireplace floral arrangement
Live fire can add an extra layer of warmth and intimacy to your special day, and flowers can help to create a romantic atmosphere. So, a girl made a floral arrangement for a fireplace to make her ceremony extra cozy.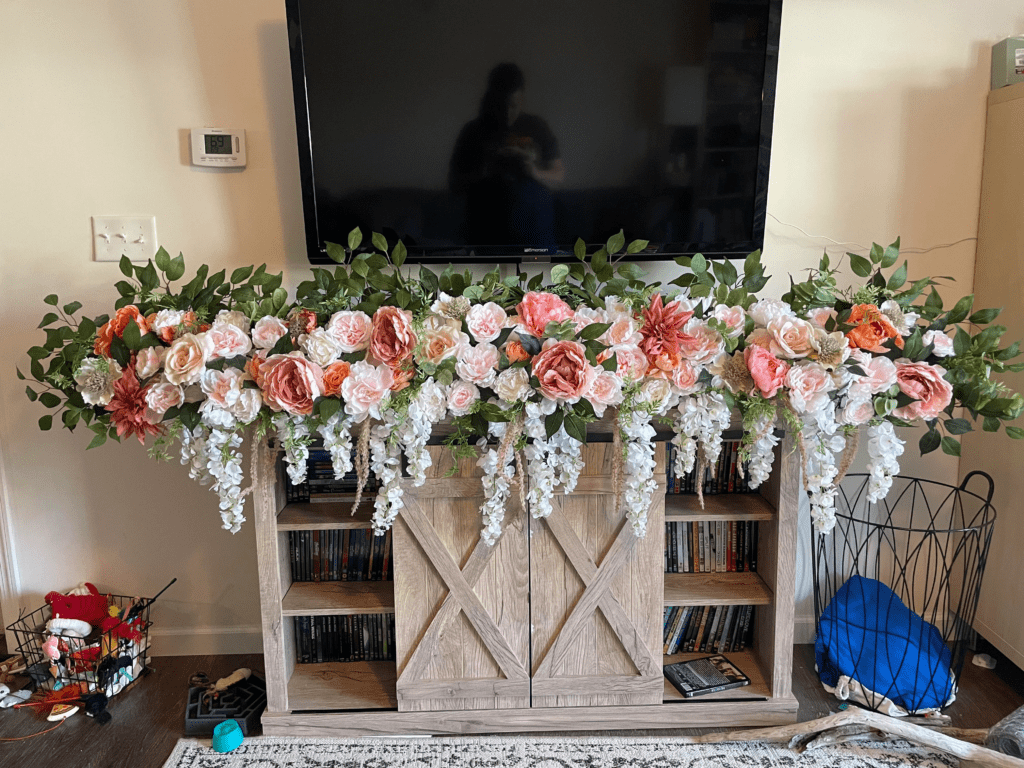 Some popular choices include eucalyptus or bay leaves bouquets, both known for their refreshing scent. Try roses or tulips in various colors and shapes if you want something more traditional. Alternatively, choose a mix of both types of flowers for an extraordinary arrangement.
21. Pretty bridesmaids' hoop bouquets
Embroidery hoops are good for more than embroidered fabrics. You can turn these simple wooden hoops into bridesmaids' bouquets. This is just one example of an inexpensive floral arrangement for your bridesmaids. As with most DIY projects, it's highly customizable, too.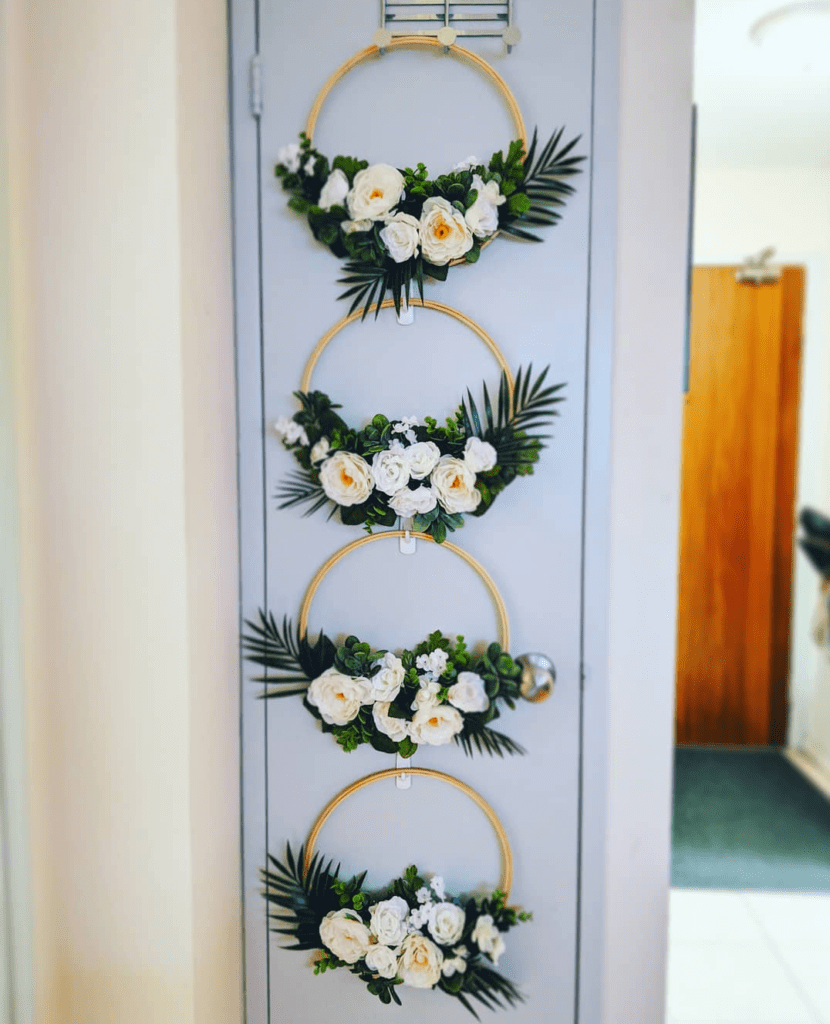 You could go with a classic look like this one featuring hydrangeas or try something more unique with materials like golden wires spun around the hoop. There's no wrong answer to go when it comes to creating your own special hoop bouquet.
22. Dino table number holders
This couple either be paleontologists or just huge fans of Jurassic Park. Either way, we know for a fact that whoever designed these table number holders is highly creative. The different color of dinos used in the making is everything to set up a funky mood at a wedding.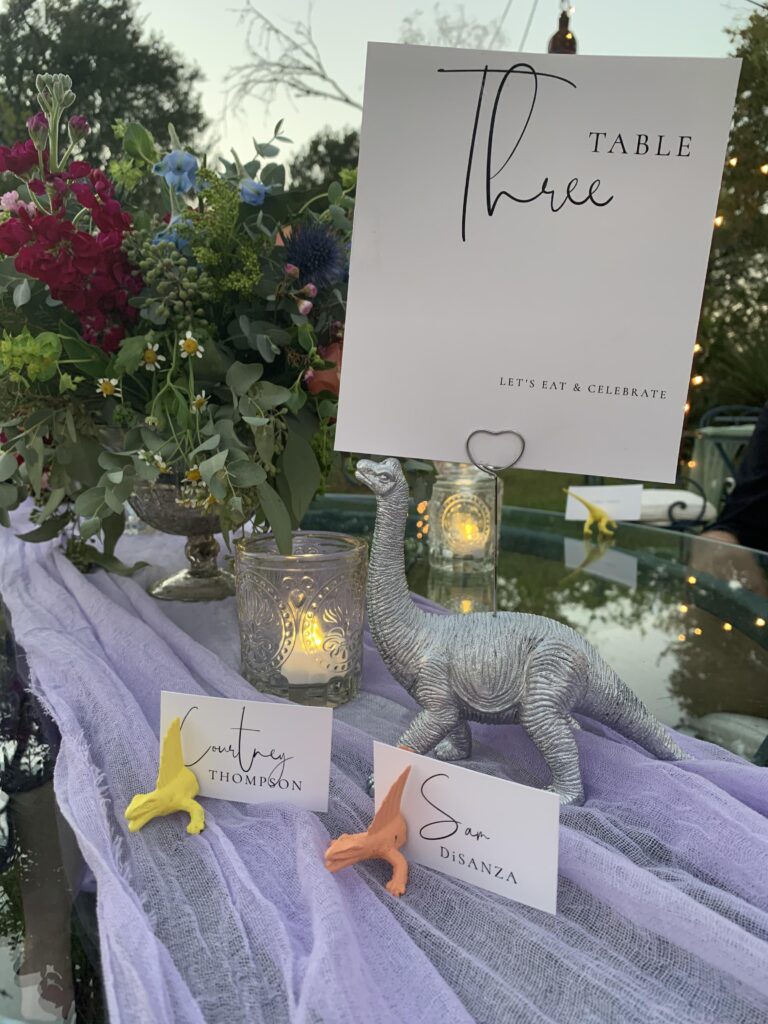 These fun and funky accessories can easily add some fun and excitement to your event while also helping to keep everyone organized. Additionally, you can add some decorations on the table where you place the number holders. Combine the quirky holders with some classic wedding decor for a perfectly balanced look.
23. The perfect sola wood flower boutonnieres
Did the idea of making sola wood flower boutonnieres at home ever cross your mind? Sure it didn't, because we usually prefer buying it from the market. But, a person made boutonnieres using these sola wood flowers and shared amazing results.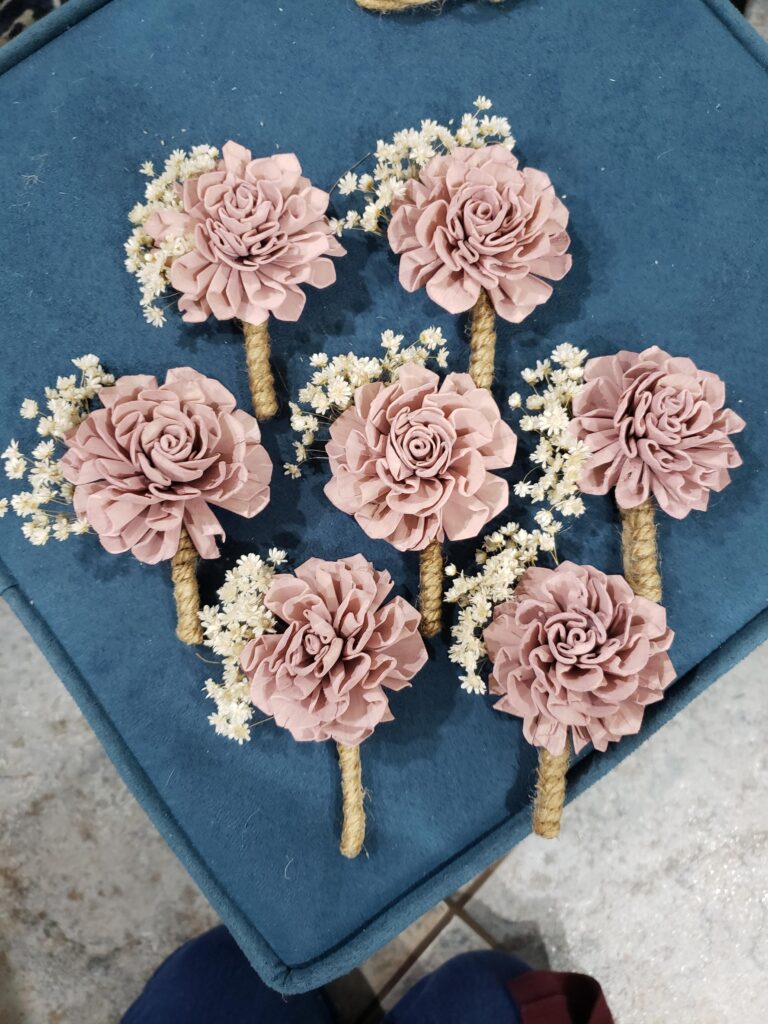 The person made these boutonnieres on the first attempt. When it comes to DIY bridesmaids' and groomsmen's flower accessories, there are endless options to choose from. You could even mix in some real baby's-breath to bring out the DIY flower. Best of all, the bridesmaids/groomsmen can keep them after the wedding — they won't wilt!
24. Stunning flower crown
The bride decided to make her own floral crown for the big day. She could have bought it, but we can see why she chose to DIY it. The off-white, pink, and red flowers she chose enhanced the crown, and since it's handmade, it's truly one of a kind!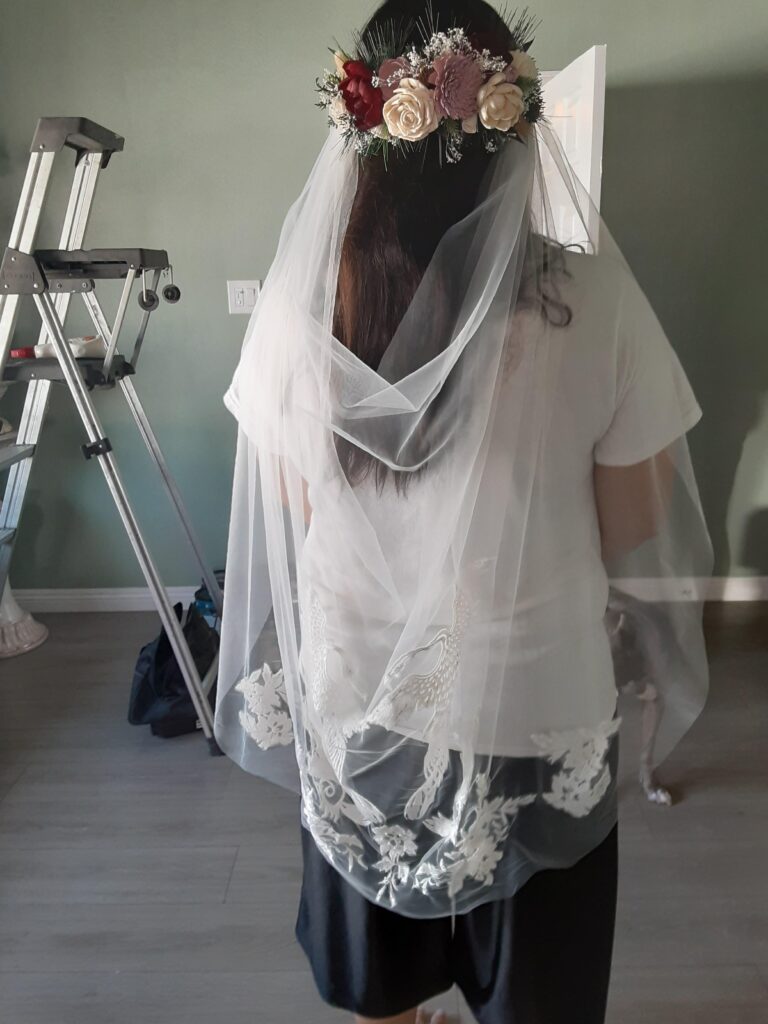 If you want a unique flower crown, making your own is the best way to go. Women want to stand out on their special day, and knowing that your accessories were made in a batch can put a damper on things. Whether you opt for a tiara, flower crown, or any headpiece, try making it.
25. DIY paper flower backdrop to set the mood
Flowers are the perfect accent in any aspect of wedding decorations, and this person proved it with their paper flowers on their backdrop. The striking set will work perfectly for your wedding photos. Some colorful paper, a netted stand, and some glitter, and you can save your money.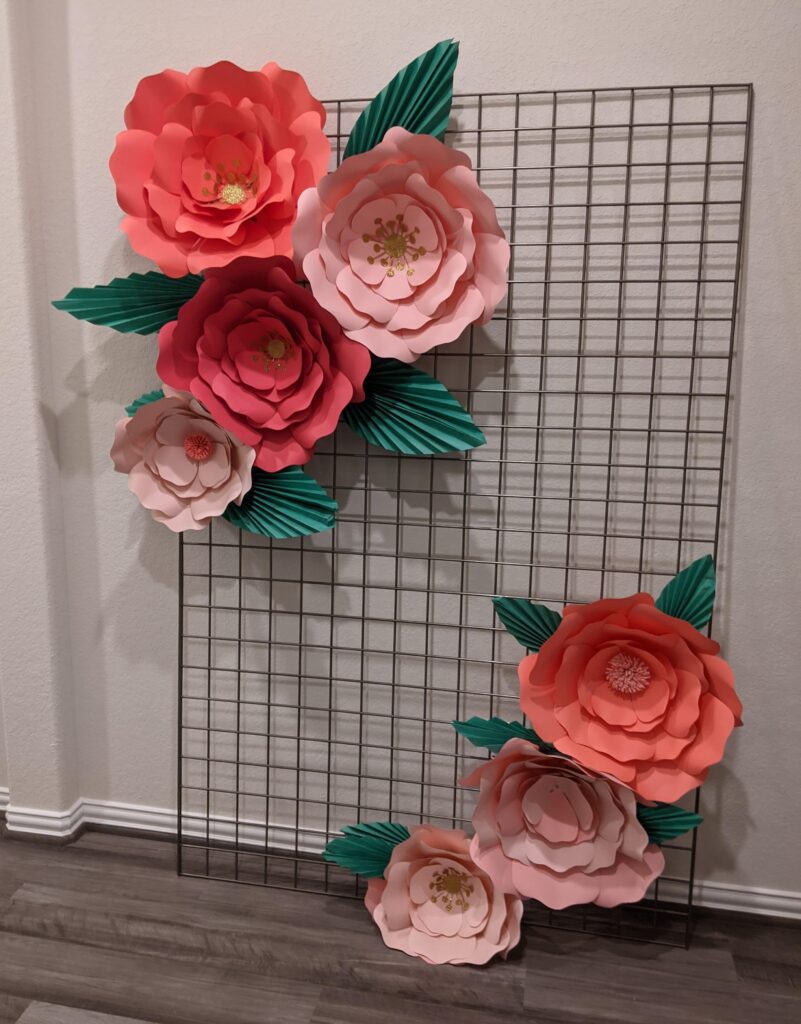 This backdrop is still a work in progress, but it's already very impressive. Just imagine how this will look once completed. Remember, no matter how simple or fancy your wedding decorations may be, using natural elements like flowers and leaves never hurts.
26. Rustic welcome sign
A couple used an old pallet along with some artificial flowers as the base of a welcome sign. The wood wasn't the color they wanted, to a little timber stain made it picture-perfect. The pallet didn't cost them much, and everything was already available at their home.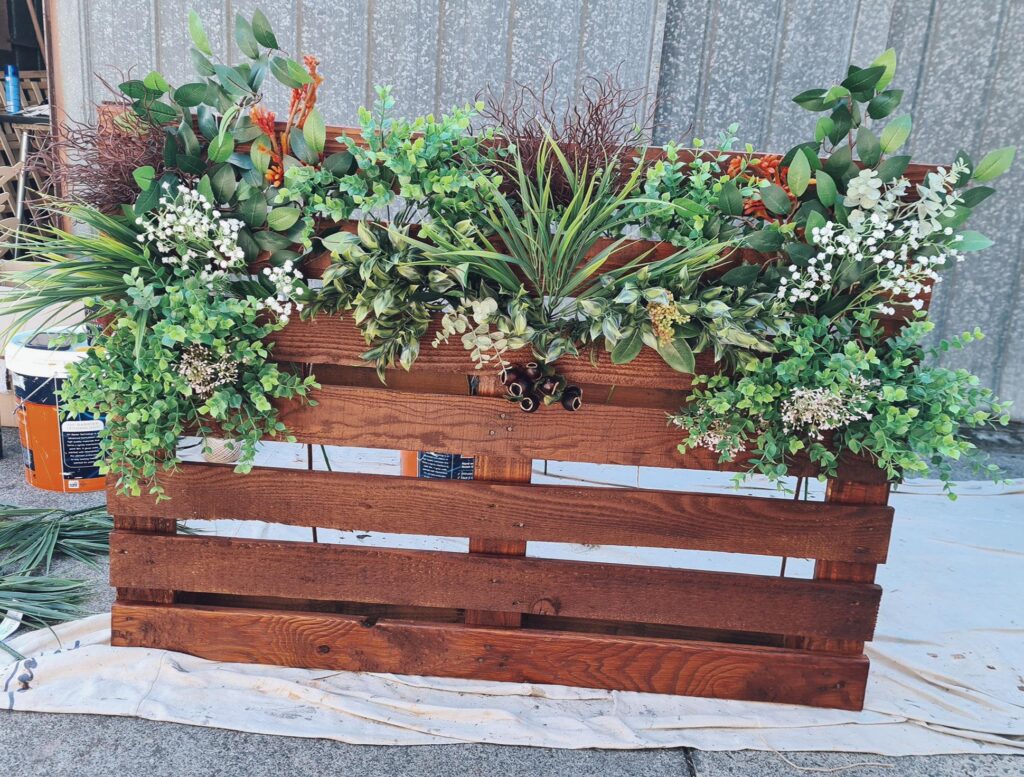 This darling addition can be made in no time and quickly transformed into a one-of-a-kind piece of art for your special day. With just a few supplies, you can create your very own wooden welcome pallet that will impress guests of all ages.
27. Neon sign at an affordable price
Neon signs are trending these days, and considering this, a woman made a neon sign for her special day. Interestingly, this was much less expensive than she could've found at a bridal shop. They're also relatively easy to make yourself, thanks to the wide variety of online neon tube supplies.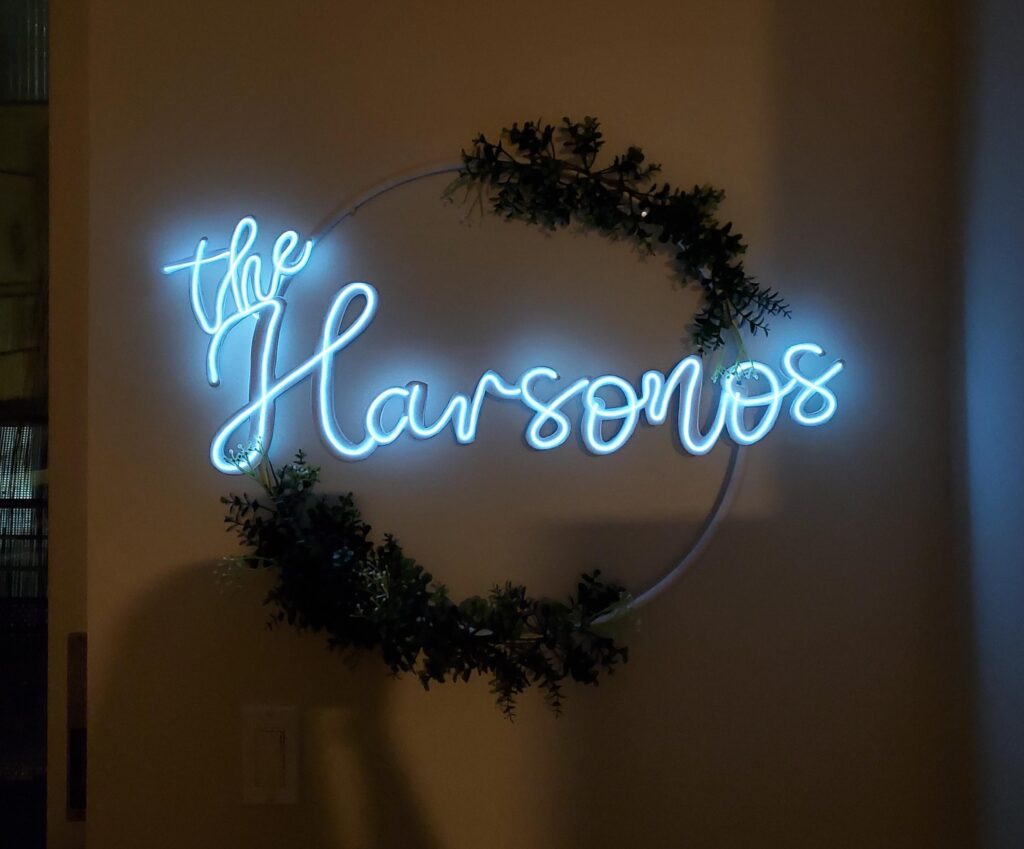 When you look at the picture, you'll see how she used artificial leaves to give a pop-up look to her neon sign. Even if you try making this, relatively you'll easily install it yourself — so if you don't have any DIY experience, you can still manage to do it on your own.
28. Wedding cake that a florist decorated
When you order a cake from a baker, it's sure to cost a fortune. You're paying for the cake as well as the embellishments. Fortunately, there's an easy and inexpensive way to have a beautifully decorated cake without spending too much.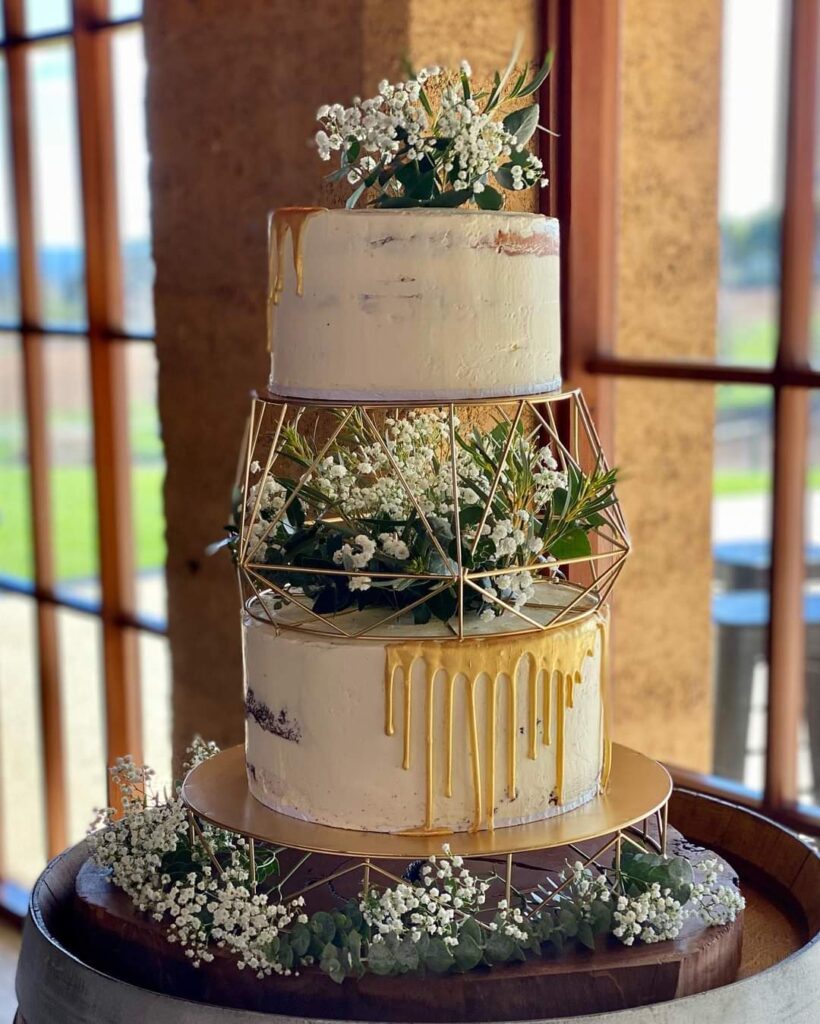 This lady baked her own wedding cake — a basic one. Once it was ready, she passed it on to the florist who gave it a makeover. And when you look at the picture, you see how the florist used his skills to jazz up the cake.
29. A centerpiece trial that passed the test
No matter where your wedding is held, a colorful and memorable centerpiece is the perfect finishing touch. With so many creative ideas available, you're sure to find one that speaks to you. This person was trying their hand at making a centerpiece.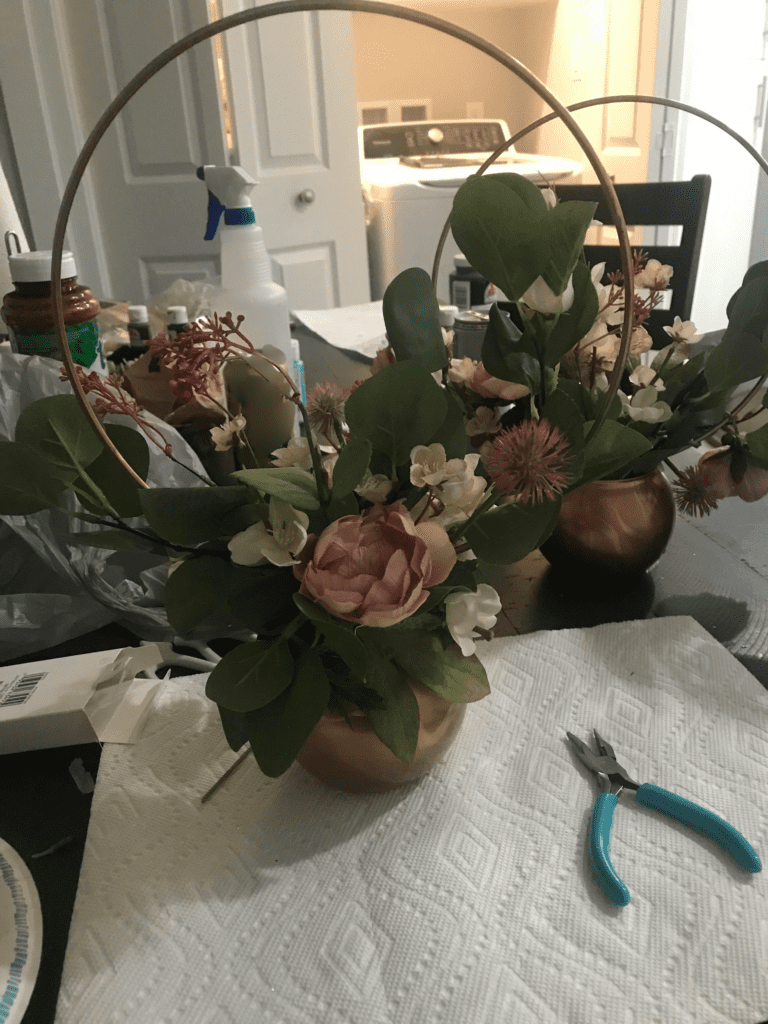 They shared the practice trials, and the results look like completed works of art. This is for sure going to work for many people out here. Whether you prefer something rustic and natural or something more ornate, this centerpiece will perfectly fit your wedding theme.
30. Dried flower centerpieces
Dried flower centerpieces sound like ideal wedding decor. Usually, we see either fresh or artificial flowers for floral decoration. However, the person who made this dried flower showcase used their creativity to the fullest. Undoubtedly, it has turned out to be incredible.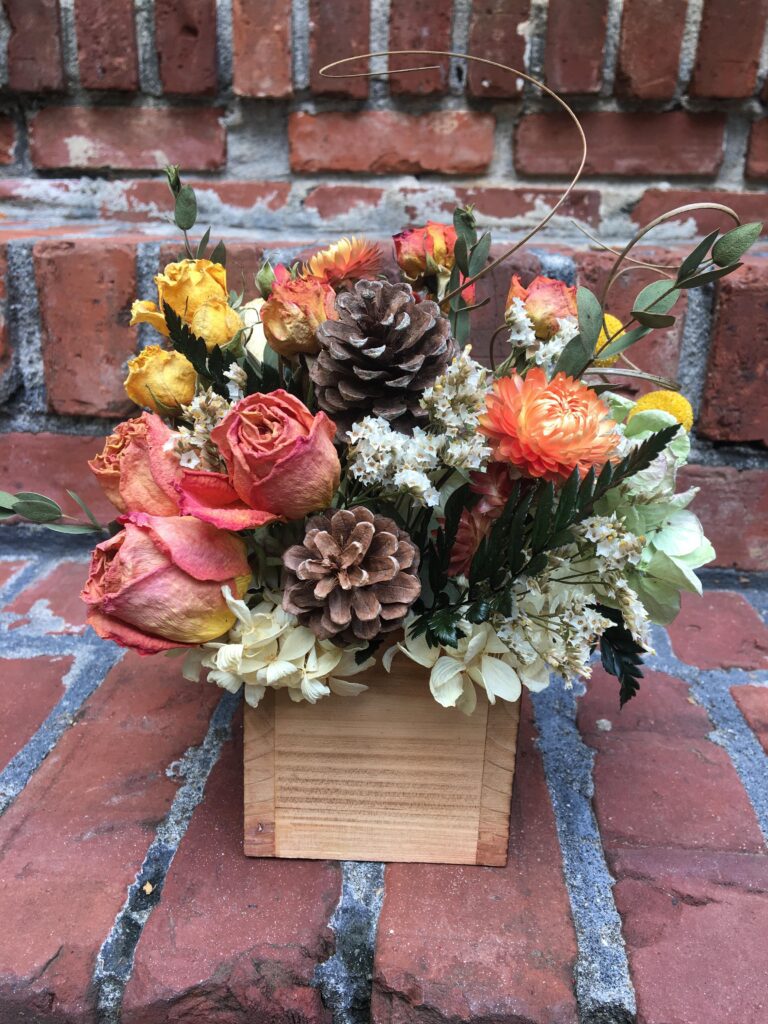 The use of different kinds of flowers, including yellow and pink roses, really enhances the vase's look. Moreover, the pine cone added to the arrangement completes the look of a dried flower centerpiece. So go ahead, and add this to your wedding arrangements for a rustic look!
31. Ring cushion cover made of the bride's father's t-shirt
A bride was heartbroken that her father passed away before he could walk her down the aisle. To fill a bit of that aching hole, she made a custom ring cushion from something he owned — one of his old shirts.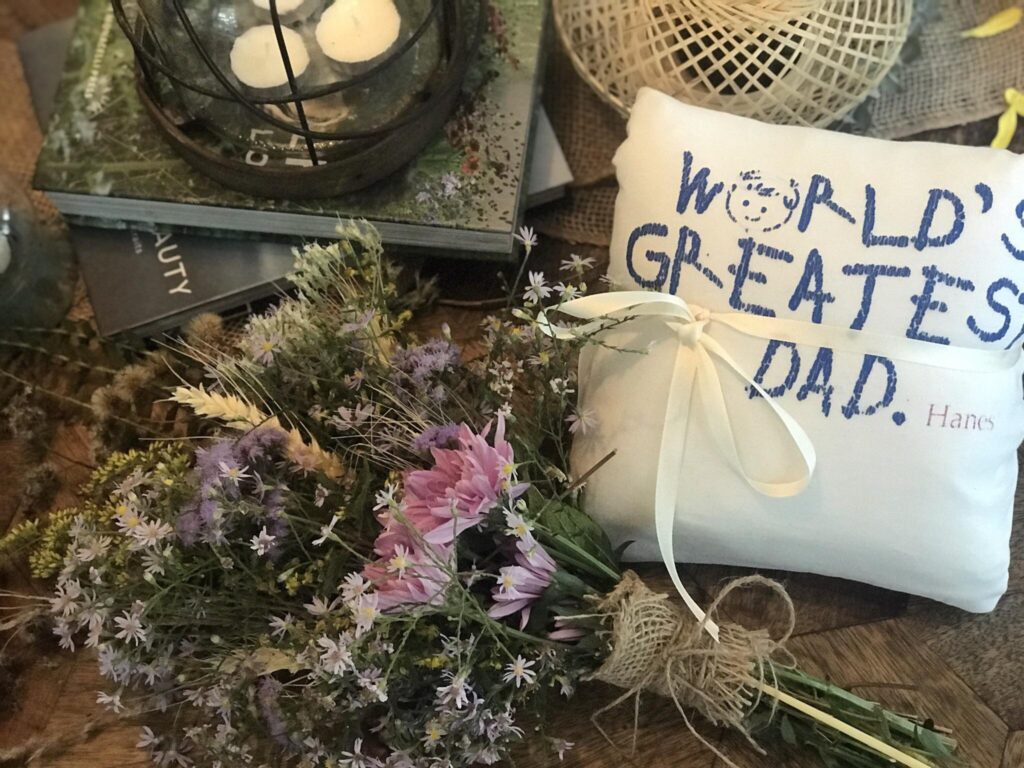 We're sure everyone who attended got teary-eyed once they read the ring cushion. Though it's no replacement for a loved one, having something that belonged to them incorporated into your wedding is sure to make the day a little brighter.
32. DIY centerpiece for a yellow-themed wedding
A couple wanted a sunflower/honey bees wedding; to make it happen, they needed to incorporate yellow into the decorations. To fit the theme, they made their own centerpieces using the perfect shade of yellow. And, as a bonus, did you spot the little beehive trinket?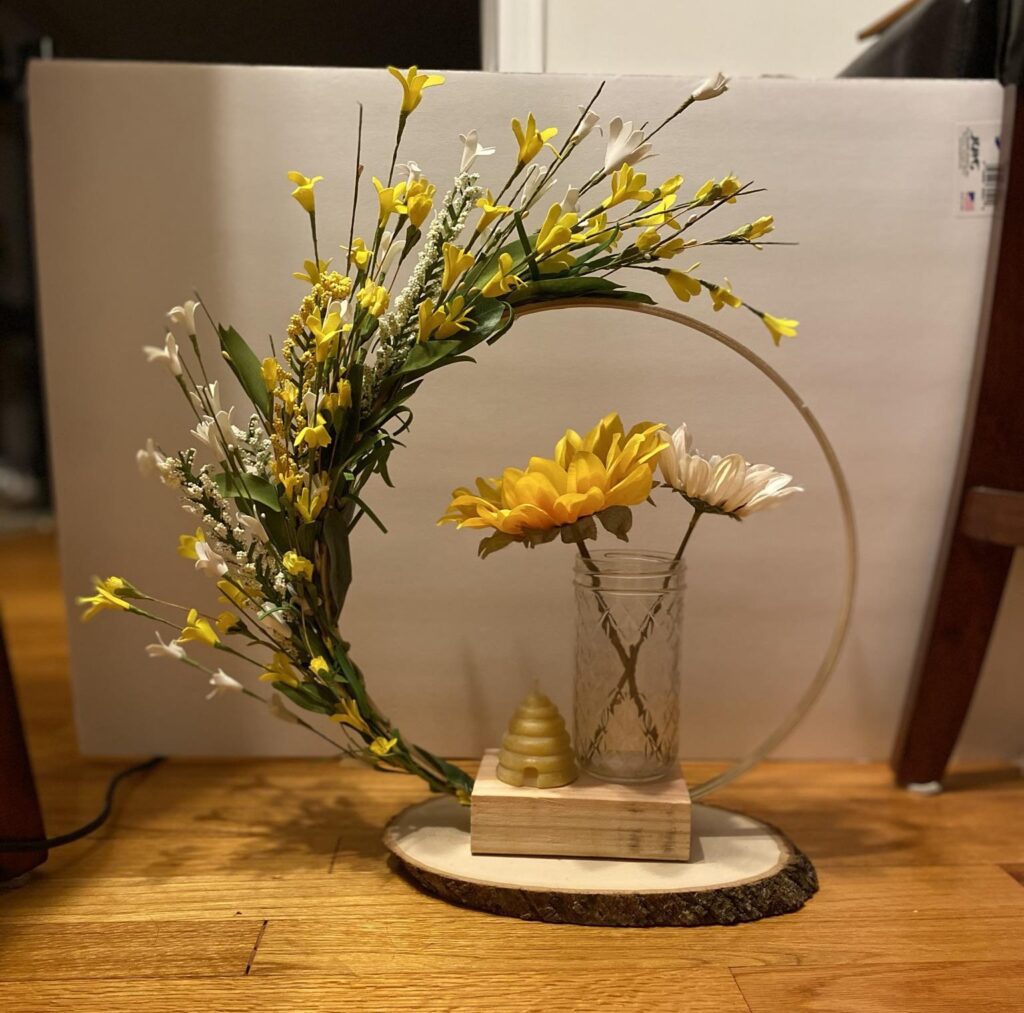 The poppy color combination of yellow and white is the best one to go for decor pieces. If you plan to do the same, use a tall vase or jar to hold your flowers, or opt for something more substantial, like some cut flowers in an arch.
33. Hand-dyed and painted sola flowers
Hand-dyed and painted sola flowers were a unique addition to this person's wedding for sure. She hand-dyed and painted a box of 250 sola flowers. Not only do they look beautiful, but each flower is special and unique in its own way.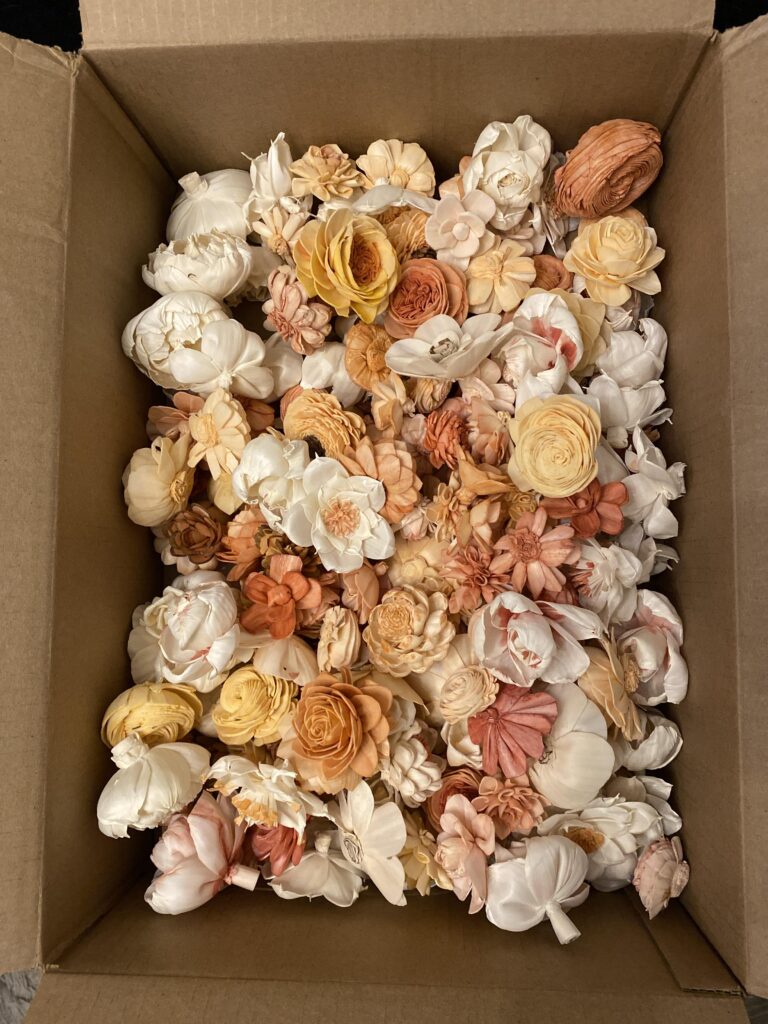 This type of floral arrangement can be the perfect touch of originality for your big day. They add a delicate touch of color that can brighten up a drab ceremony setting. In addition, they'll be way cheaper than the traditional ones you'll find at bridal shops.
34. Swing set wedding arch
If you're having your wedding in a backyard, why not incorporate the existing structures into the decoration? This couple shared a picture of their swing set-turned-wedding arch that has a unique aesthetic look. Making arches like these are easy to put together since the base is already there!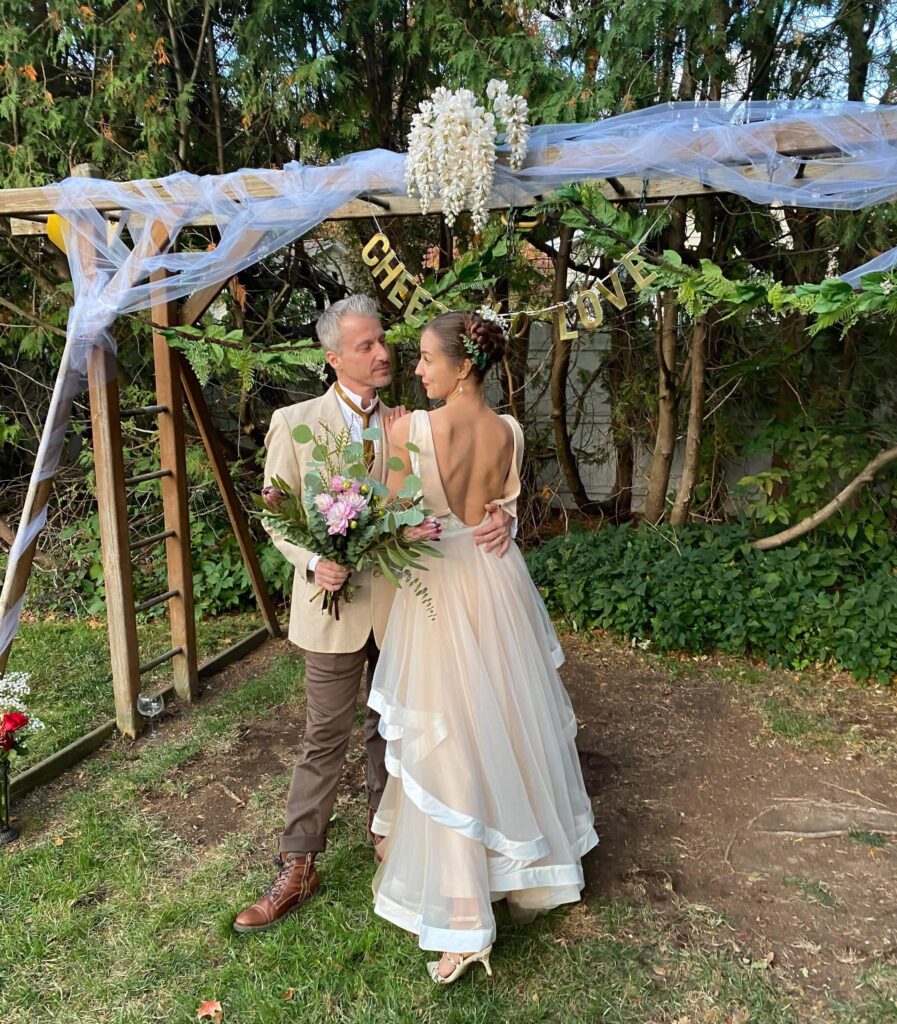 Though they didn't share how much the adornments cost, we bet that it was relatively inexpensive. A large piece of tulle and some flowers surely don't cost much, yet the results could rival any wedding arch you'd buy from a bridal supplier.
35. Best DIY sola wood flowers bouquet
Instead of ordering the flower bouquet, a girl made a sola wood flowers bouquet for her bridesmaids' that turned out to be beautiful. Made with natural materials like flowers, leaves, and branches, these little creations are a fun and easy way to show your creative side.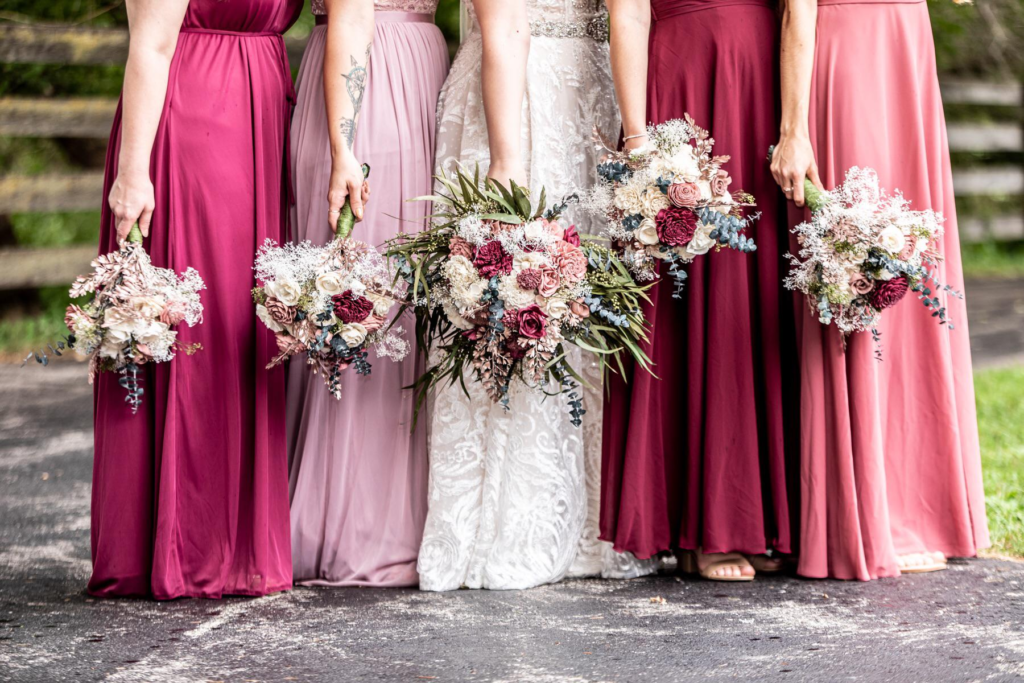 If you don't want to buy bouquets from the market, you can refer to the picture above and make your own. This unusual gift can be created in just a few minutes using materials that you likely have on hand.
36. A crocheted garter
None of the guests could see that this bride had a lovely handmade garter under her dress. The delicate crochet adorned with lace and pearls tie the piece together very nicely. She made it for herself, but a project like this might be a fun project for the maid of honor.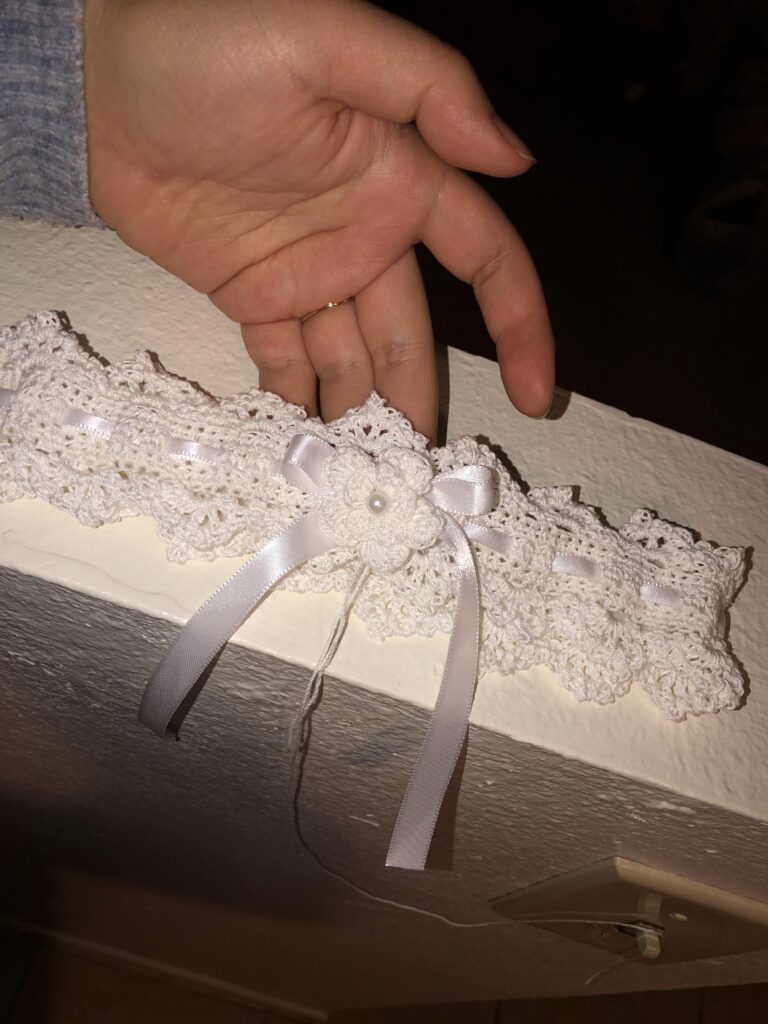 A crocheted garter is a perfect addition to any wedding outfit, and it will make the bride feel extra special. You are free to do whatever you want to do with that garter you make. Keep it simple and classy, or fancy and eye-catching.
37. Her fiancé created their invitations
Having an artist for a fiancé comes with so many perks, and this man proved it with his handmade invitations for the wedding. A bride shared the pictures of beautiful DIY invitations that her partner created. This is undoubtedly better than the ones available in the market.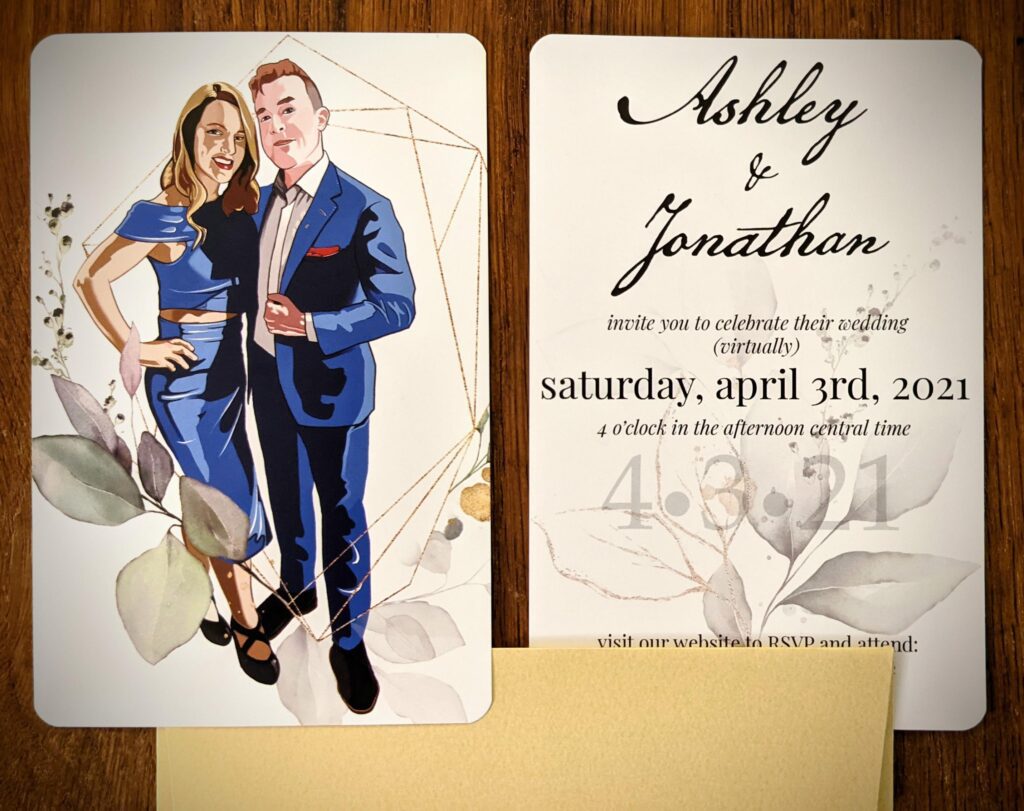 The couple's picture in blue on the card looks fantastic, and the floral touch gives life to the image. You can make something like this for your big day. The best part of creating your invitations is that you can customize them as per your preferences.
38. Zip tie crown
We often see flower crowns and tiaras as bridal headpieces, but there are other options available. For example, did you know that you can make a crown out of zip ties? Yeah, we didn't either. It took one brilliant bride to show us that it's possible…and looks good.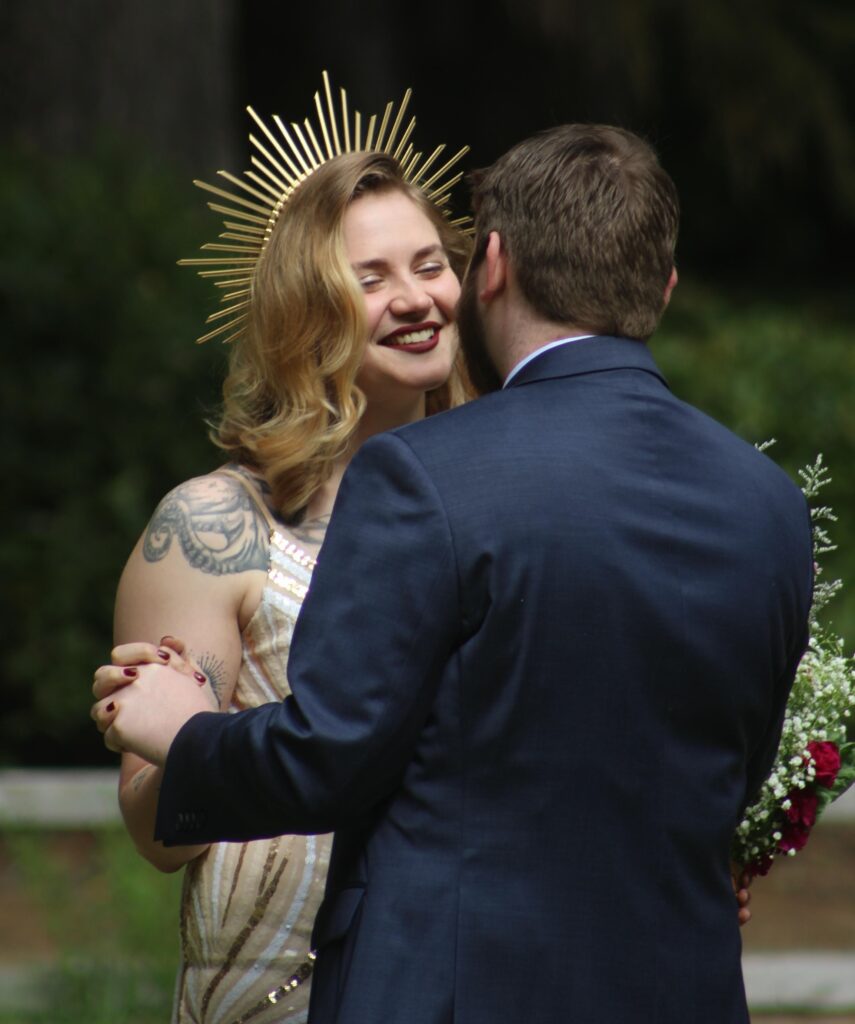 The big golden crown would surely have been the talk of the evening. Don't even think twice if you want to go a bit unique with your crown for the occasion. You can make it by yourself just like she did.
39. The table numbers will make you go 'AWWWW'
It's obvious how much this person loves his dog; he went so far as to use the pupper's picture for the table numbers. These numbers looked adorable on top of every table. If you own a dog, you can use this idea.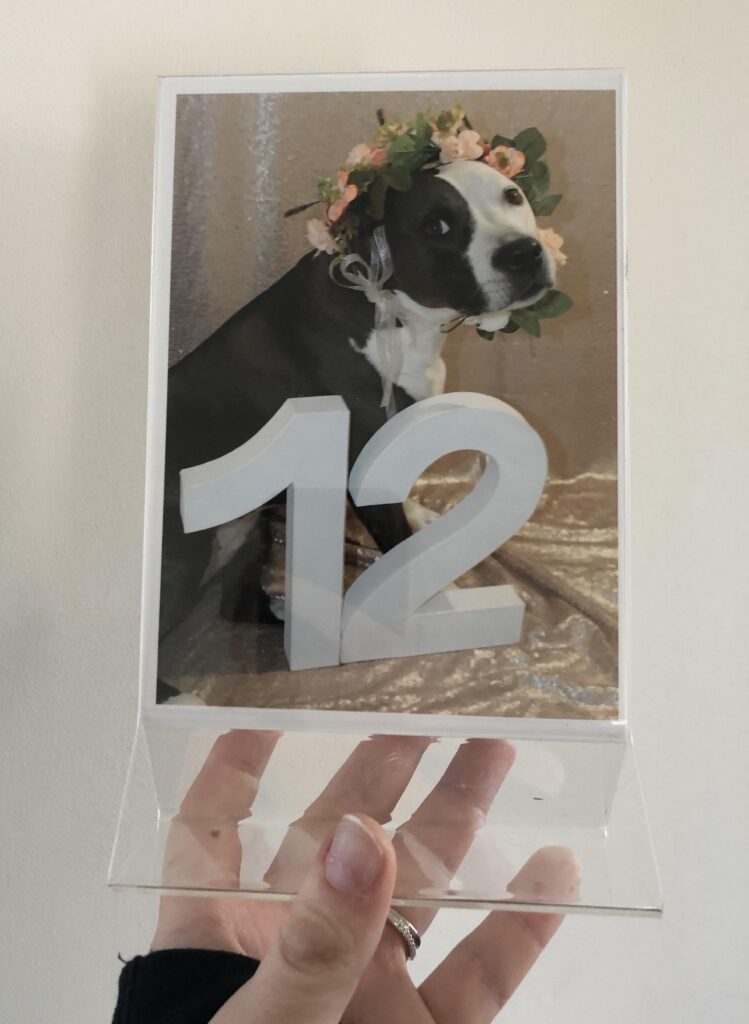 Make every table number unique by dressing up your beloved pet in different accessories. Just look at the cute flower crown the dog is wearing. You can give this a try with any pet, so don't feel jealous of this person if you only have cats.
40. Paper dahlia that looks real
Instead of ordering dahlia flowers for the wedding decoration, this bride made them herself. And no one could figure out that they were made of paper until the bride told them so. These delicate blooms look stunning displayed in clusters or as single flowers on glass or silk stands.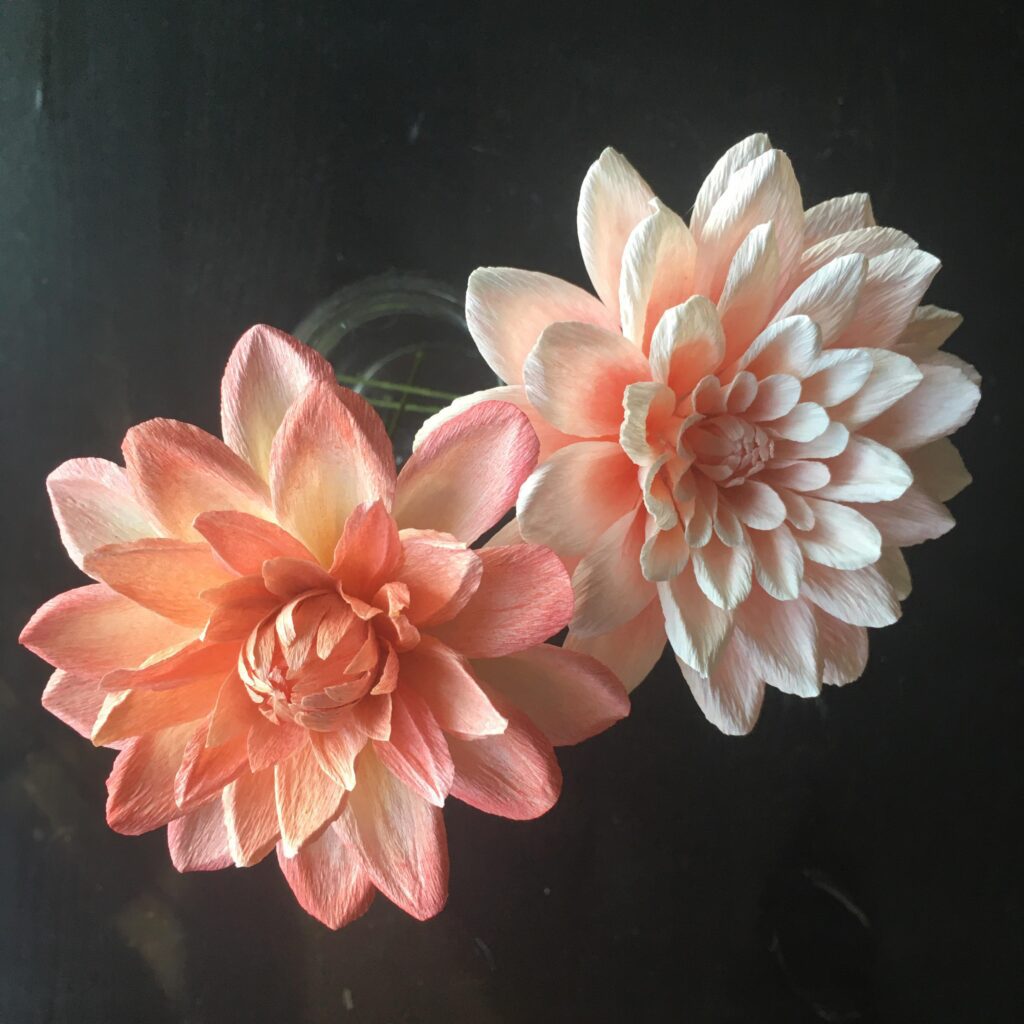 This unique flower has a beautiful and delicate appearance that is sure to impress. The paper-like petals create a truly unique look, and the vibrant colors are sure to brighten up any decoration. Whether you're looking for a subtle addition to the decor or something more eye-catching, the paper dahlia is a great option.
41. DIY toppers for wedding cheese wheel cake
Wedding cakes have to be huge and eye catchy. For that, you can use various toppers that you get from a bridal shop. However, as we are discussing the DIY things people make for weddings, these cute tiny creatures must be included.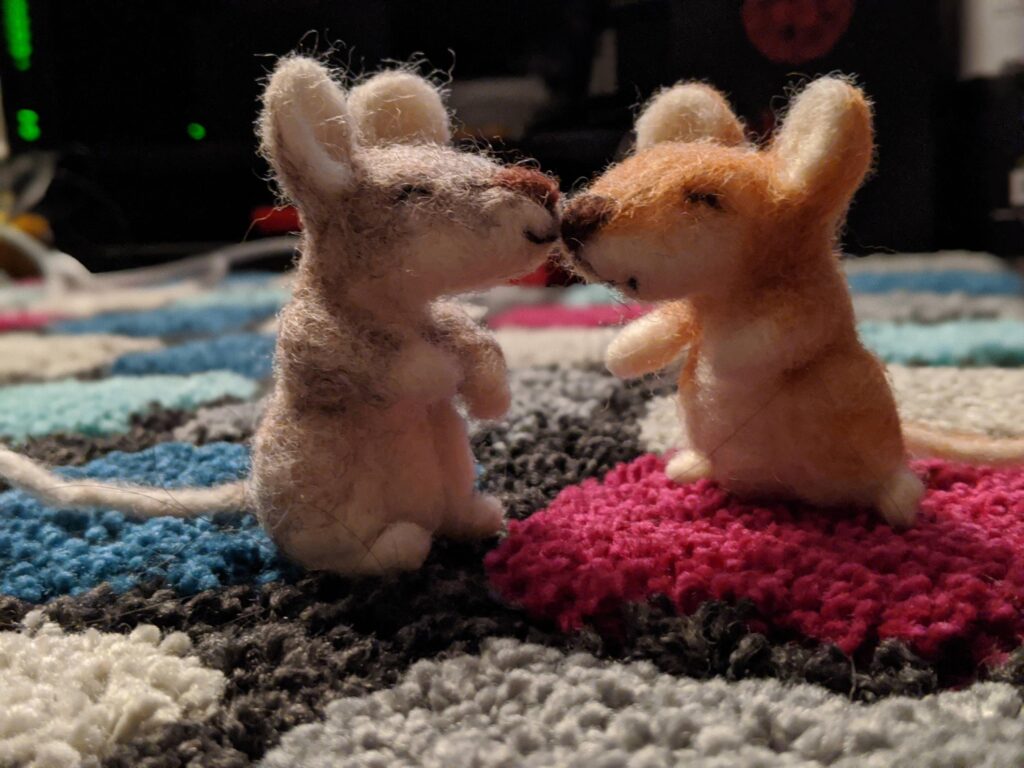 With just a few supplies, you can create personalized soft toy toppers that will be sure to delight all in attendance. Once you make your toppers, just place them over your cake and see how beautiful and adorable they look.
42. Beautifully designed white dress
These DIY projects are proof that women are more creative than men, especially when it comes to designing and making outfits. This woman made her wedding different from an ordinary white gown. The dress is white in color, so it just needed some flair to become a wedding dress.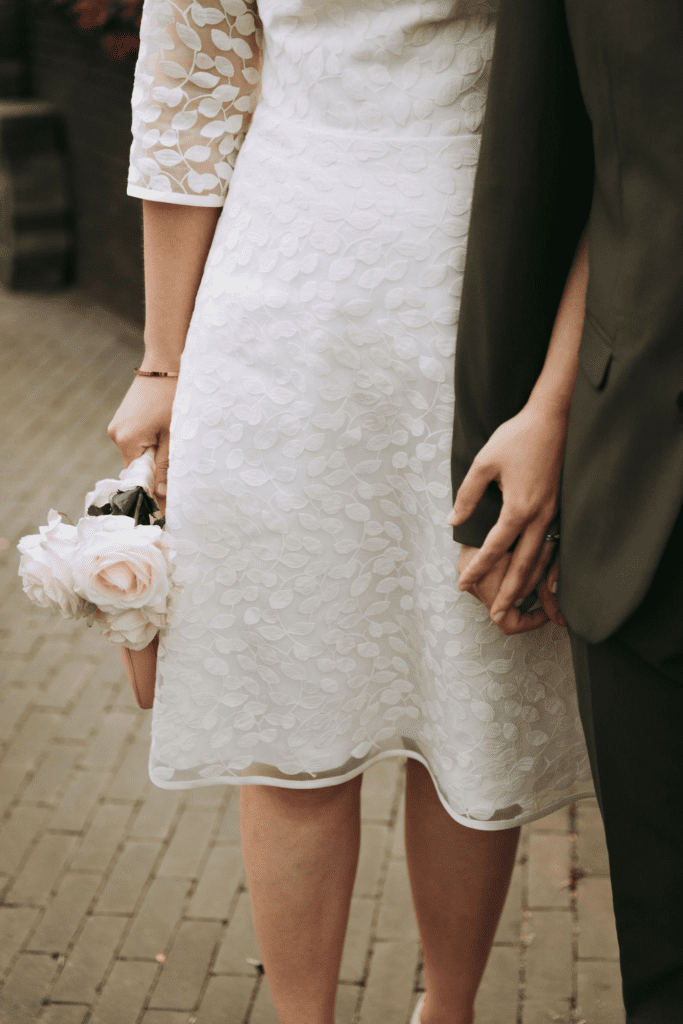 Making the wedding dress saves money and allows the bride some control over the quality and style of their clothing. If you're looking to make a self-made court marriage dress, look at this, and you might have an idea of what to do.
43. Crocheted cake toppers
There are so many Crocheted cake toppers out there; it's hard to choose just one. But this person crocheted a girl and a boy holding hands for cake toppers. Made from wool and acrylic yarns, it didn't cost them much to make.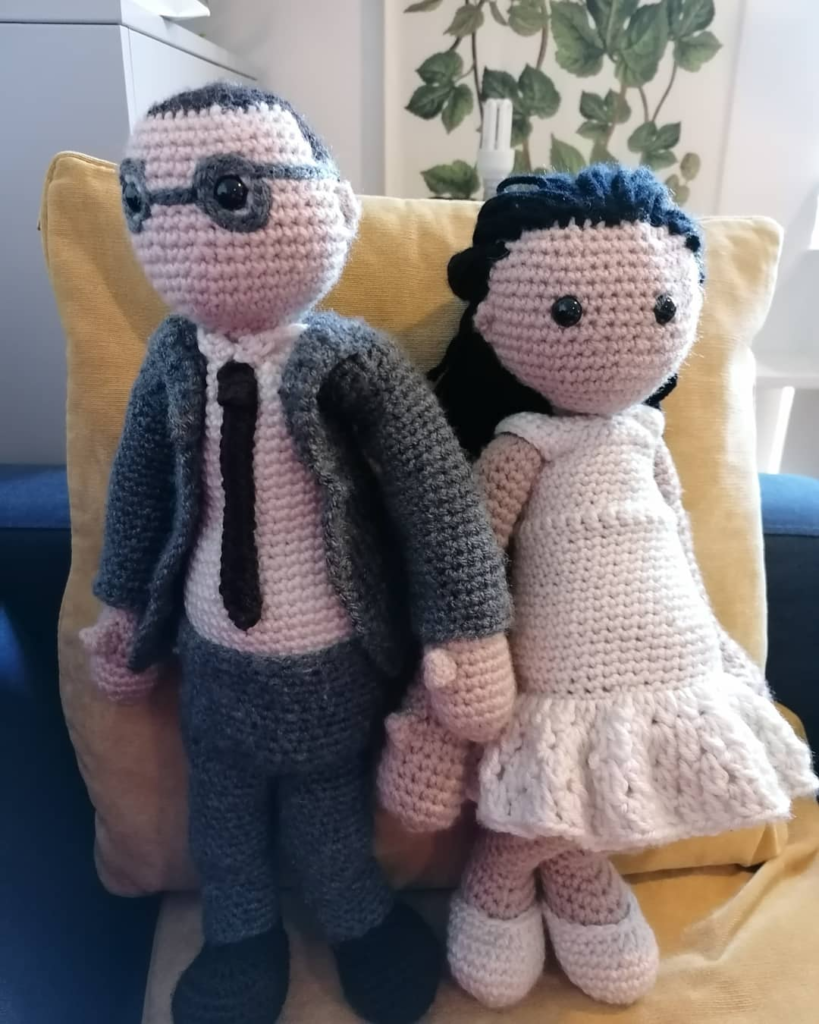 If these aren't to your liking, you can crochet something else from similar materials. So whether you're ready to take your crocheting skills up a notch or just looking for a fun new way to add some personality to your cakes, these crochet cake toppers are sure to delight!
44. DIY trial hairpiece that was a success
Getting your hairpiece ready for your big day is easy with a bit of DIY. This bride-to-be used a hair clip and flowers to make a perfect hairpiece for the ceremony. The best part of making your hairpiece is choosing whatever you want.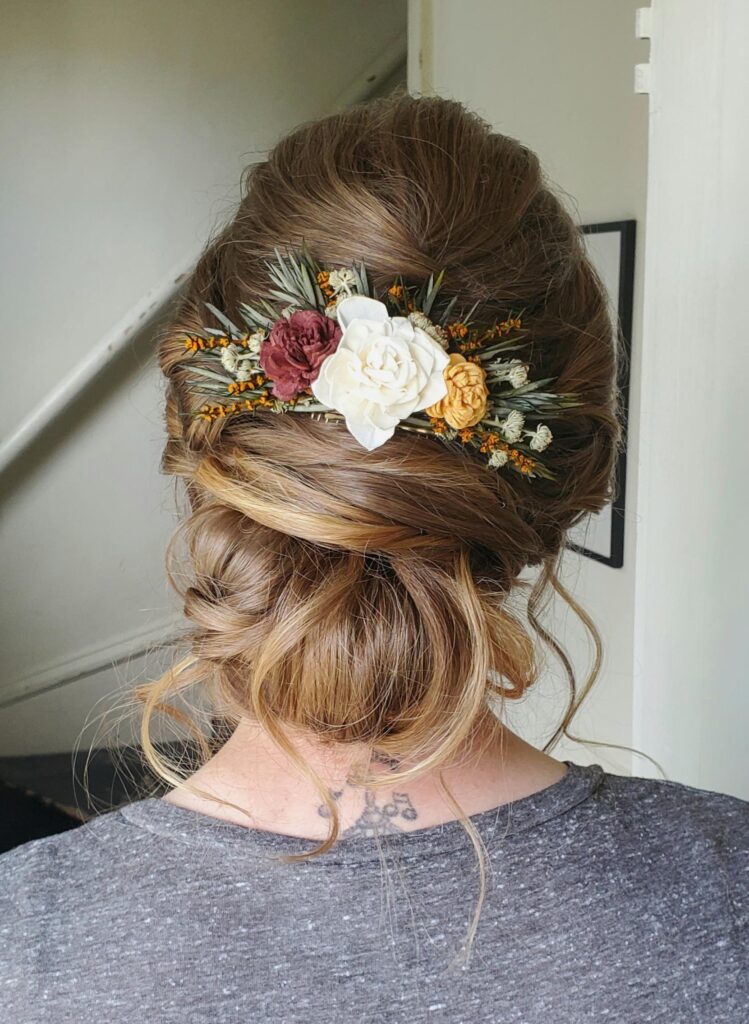 So, now you know her secret. Plenty of tutorials are available online, so whether you're a novice or an experienced hair weaver, you can create one in no time. If you find one that really stands out, don't be afraid to copy what you see, especially with tutorials!
45. The couple who designed the cape for the big day
Bride-to-be and the groom-to-be worked on the bride's beautiful long cape. Sounds like "couple goals," right? So, you can ask your partner to help you out with the cape you are planning to wear at your wedding. You can take ideas from the internet, too.
No one can deny that this star-decorated train is a dreamy cape for every woman out here. Not only does it make a statement, but it's perfect for a wedding set at dusk. There's nothing wrong with matching your style to the atmosphere around you.