From Bouquet Bars To Pineapples On Suits: 40+ Cute And Unique Wedding Planning Ideas
By Jhoana C February 10, 2023
---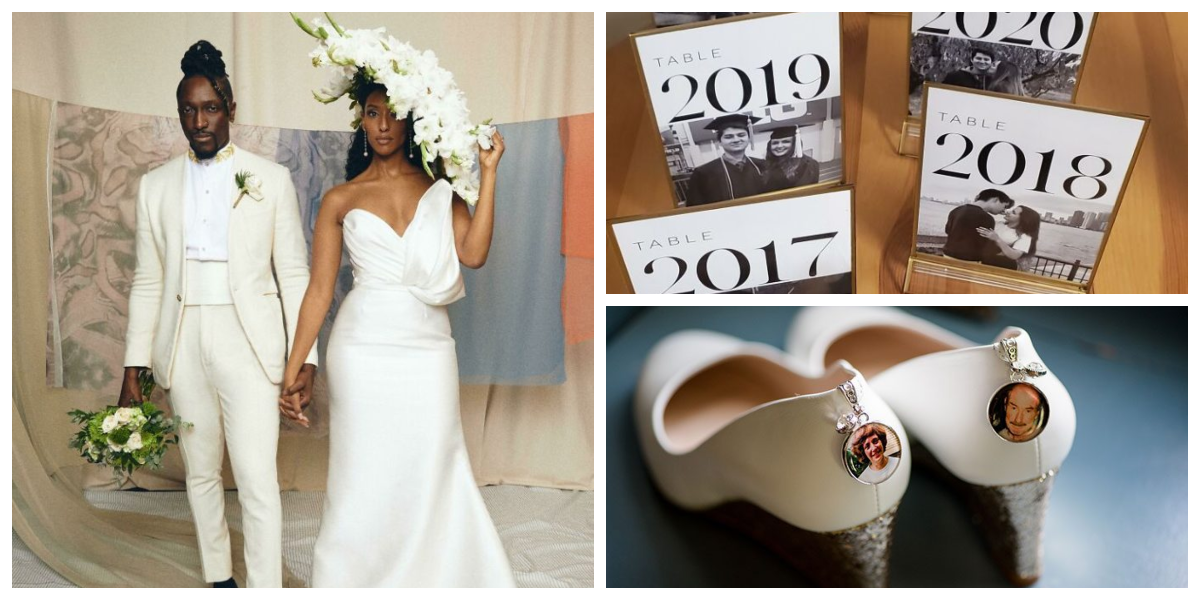 Weddings have a well-recorded history, and the earliest ceremonies have been traced way back to 2350 B.C. Since then, they have gotten more extravagant and expensive, with people spending an arm and a leg for ceremonies in the church, beach, or even on a secluded tropical island.
However, weddings are more than just the price tag, the extensive guest list, or the Michelin-chef-prepared menu. They are also about the union of two people who are in love with each other and want to build a life together. But planning one can be an uphill task for the bride and groom.
If you're getting married soon, know someone who is, or you just adore weddings, you'll love this article. We have featured 44 brilliant wedding ideas that will not only help you save money but also make your big day that much more special. So, let's dive in, shall we?
#1 Don't be afraid to wear someone else's wedding dress
You don't have to spend all your money on a wedding dress, especially if you can't afford to do so. You're not doing this to show people just how much money you can spend without going bankrupt. So, don't be afraid to wear a loved one's wedding dress.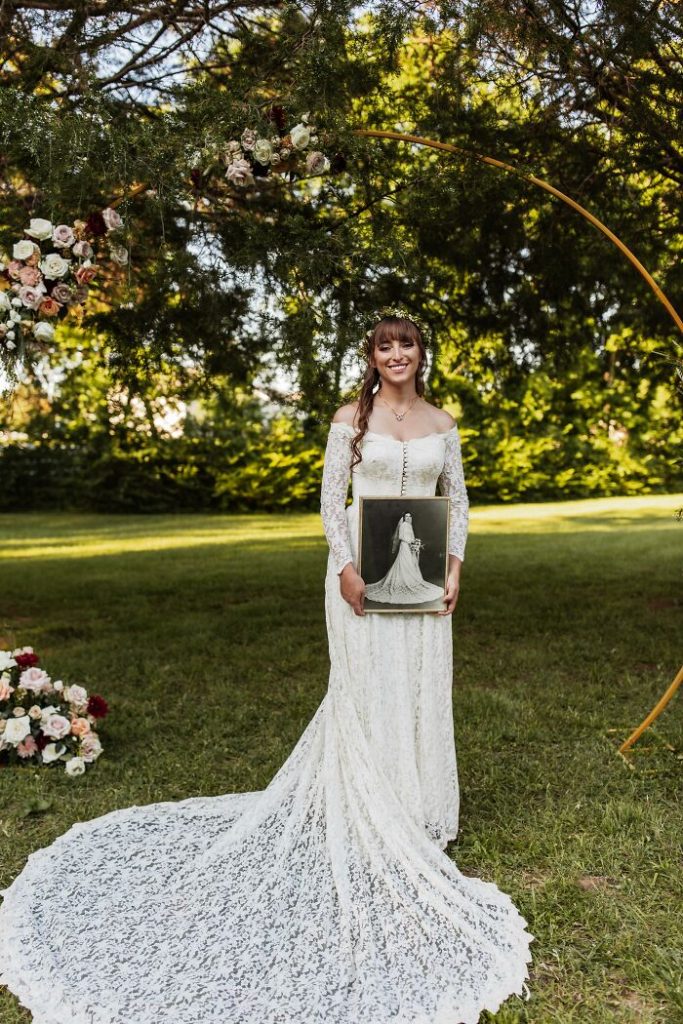 You can easily update your wedding dress to make it more modern and alter it in case it doesn't fit right. Not convinced? Just look at the stunning wedding dress in the photo. You'll never guess that it belonged to the bride's grandmother!
#2 Go with a burst of colors
The practice of using white for weddings dates back over 2,000 years ago. It became popularized thanks to the idea that white symbolized purity. Nowadays, it is still the most prominent color, but some people are steering away from it.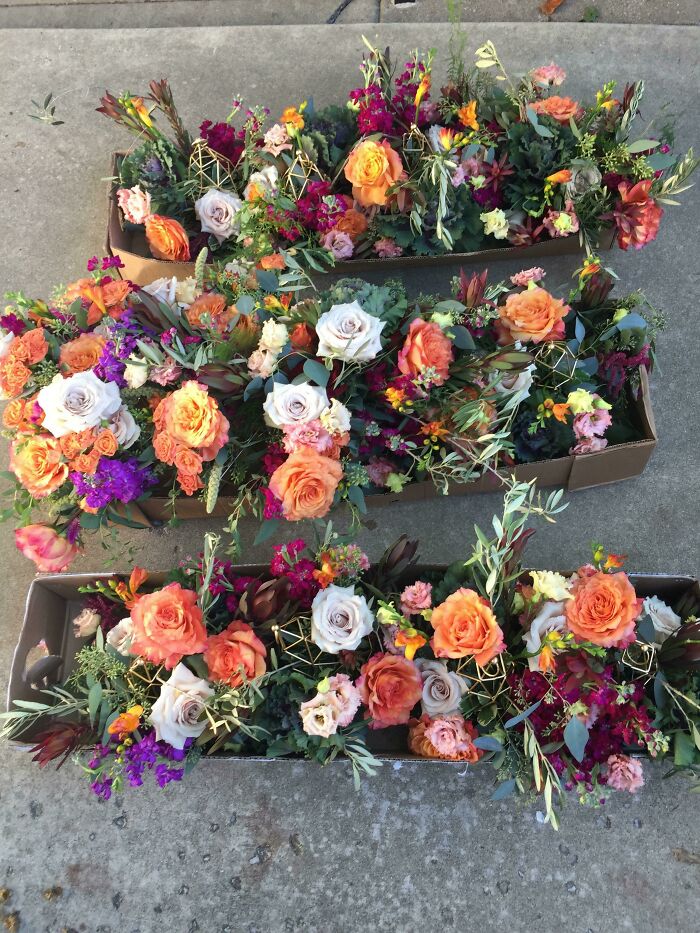 Don't be afraid to go with a burst of colors because it will only make your wedding more vibrant and give it more character. Just look at these festive flowers! They would make fantastic floral arrangements on the tables and make an impression on the guests.
#3 Pick a unique cheap venue
Traditionally, couples got married in the church, but the list of venues has grown longer and longer as time has gone by. Nowadays, you can get married in a hotel, a restaurant, a beach, the city hall, and even your own home.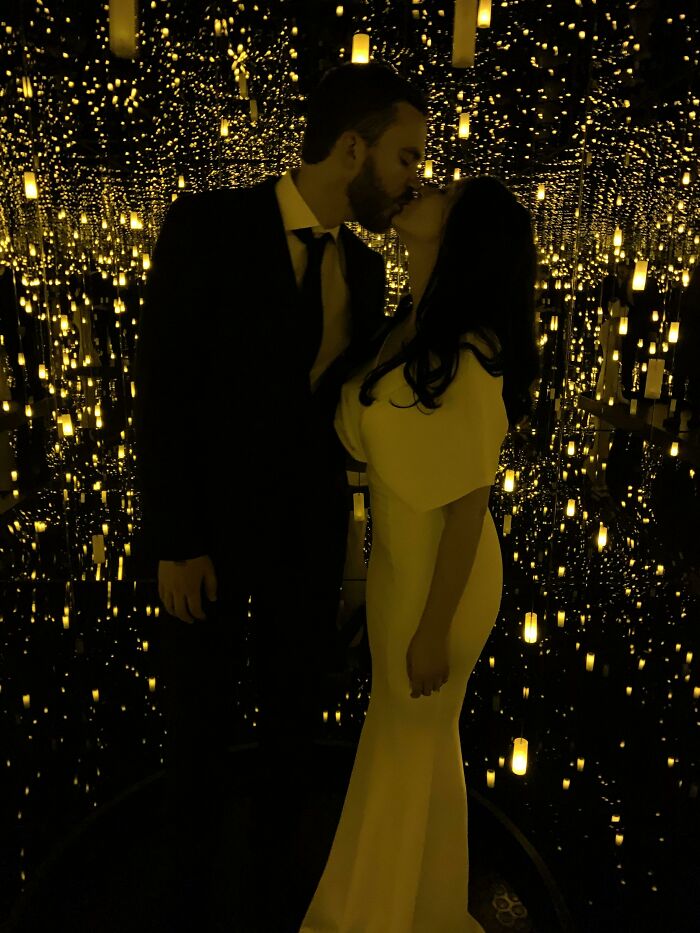 The list of venue options is endless, and if you want to make your wedding ceremony truly unique, why not give museums a chance? This couple got married in Yayoi Kusama's Infinity Mirrors exhibit! It definitely made their wedding one of a kind.
#4 Decorate your wedding shoes
High heels can make you look taller and, well, sexier, but they can also be quite uncomfortable when you're on your feet for hours. The last thing you want to end up with during your wedding day are cuts, calluses, bunions, and ingrown toenails. That would certainly put a damper on the honeymoon!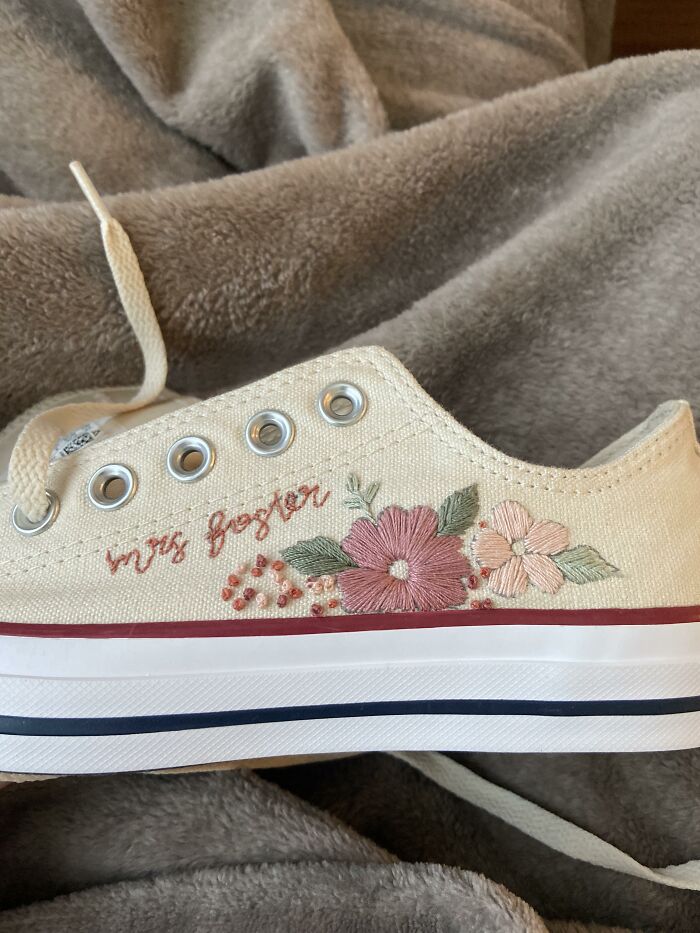 Brides today prefer to wear more comfortable shoes like sneakers after the ceremony. But that doesn't mean they have to be boring. You can decorate them any way you want, especially if you want them to fit the day's theme. For example, this woman now has personalized shoes that remind her of her special day.
#5 Think of unique wedding favors
When it comes to wedding favors, there are no strict guidelines to adhere to, but the more unique they are, the better. You want people to have something to remember your wedding by, so if you're getting married now, you better start researching.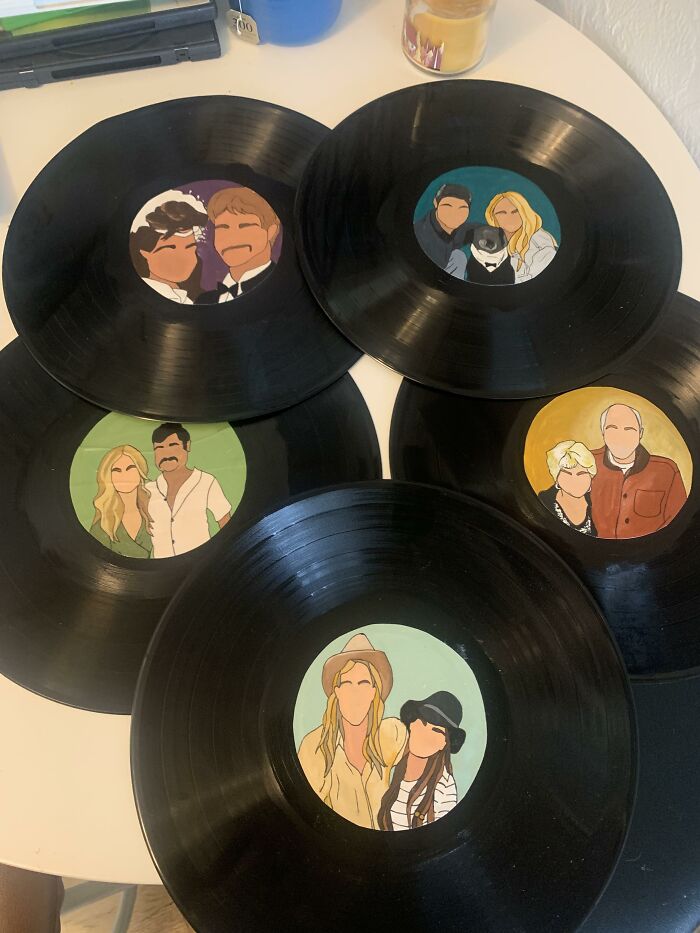 This couple happens to be very talented; one is a musician, and the other is an artist, so it's only fitting that their wedding favors were portraits of them on vinyl records. This is a cute and truly unique gift for wedding guests, so if you're looking for ideas, try something personalized.
#6 Have fun with your invitation card designs
The Harry Potter books are extremely popular, and aside from inspiring successful films, they also gave birth to millions of fans who we now know as Potterheads. As certified Potterheads, this couple picked something that represented this for their save-the-date.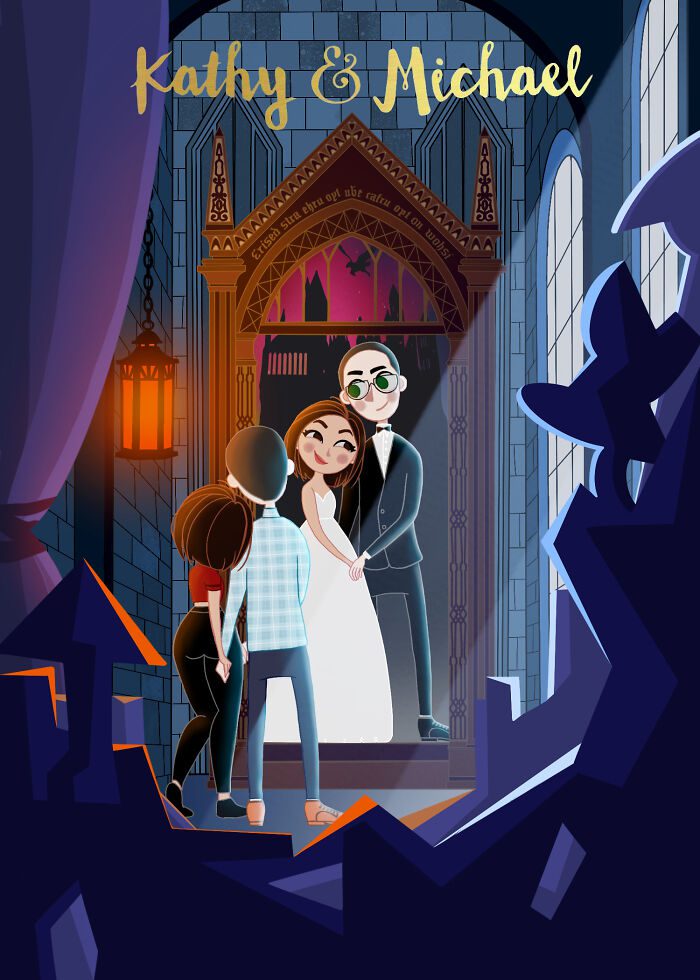 They also chose Alnwick Castle, where the Harry Potter movies were filmed, as their venue. With such an obvious theme, we expect no less than for guests to wear cloaks and carry their magic wands for the wedding. There better be a sorting hat too! It's just too bad we couldn't apparate there.
#7 Improvisation is your friend
Your wedding is the perfect occasion to bring your ideas to life. It's your event, so you get to say what goes and what doesn't. This lady had a vision of what her wedding dress was supposed to look like, but she almost didn't get what she wanted.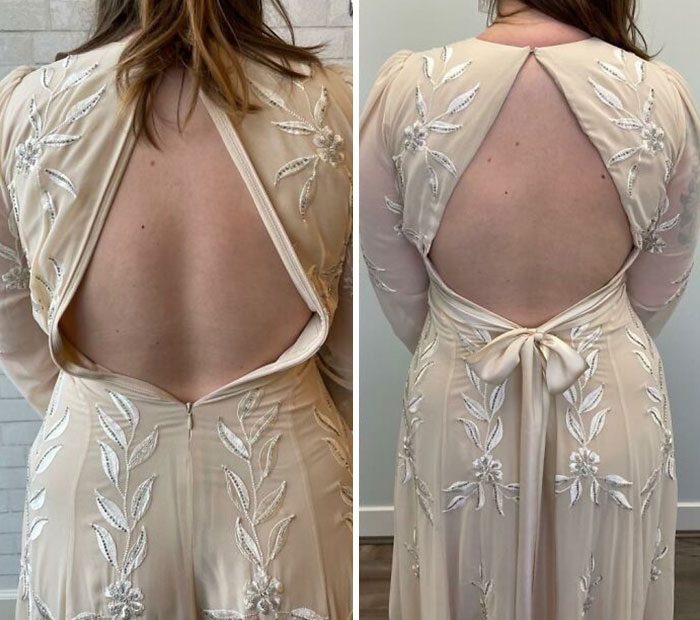 The back of her dress was a bit small, and it quickly became clear that it wasn't going to fit, but she stuck to her vision and improvised. If this was ours, we'd stick with it, too, because the color and fabric are simply gorgeous. Truth be told, the dress looked so much better backless.
#8 Lean into your ideas as much as possible
Another aspect that's usually a source of stress during planning is decorating the venue, so we have a few tips for you with regard to that. While it's good to listen to other people's opinions, especially if you asked them for it, don't forget that you call the shots, and it's YOUR wedding.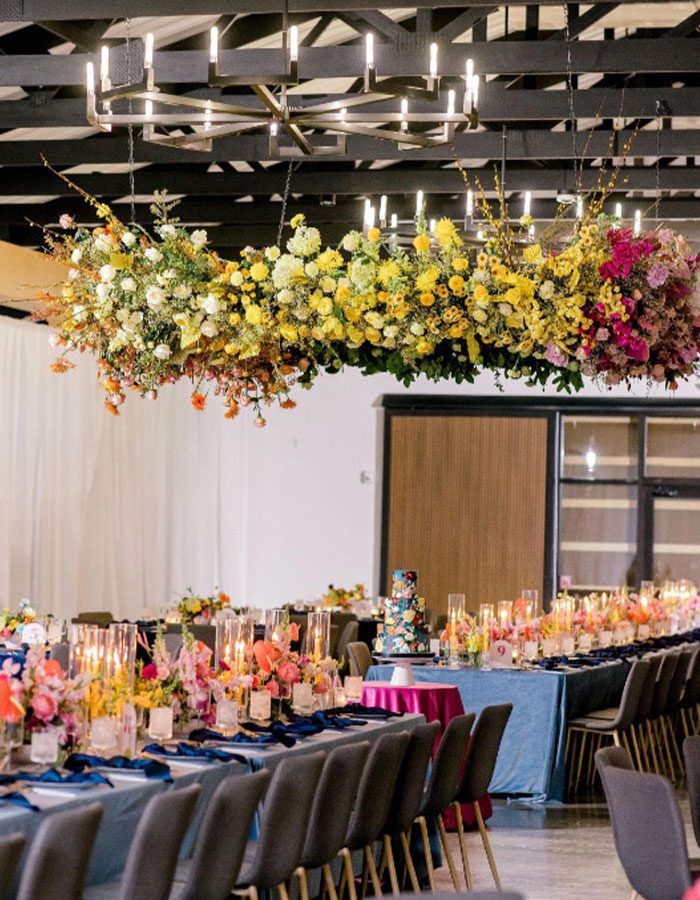 If you want lots of color, find a florist who'll provide the freshest, most beautiful, and brilliantly colored flowers. If you want round tables and lots of space for dancing because you love a good party, go for it! After all, it's probably only going to happen once, so give it your best shot.
#9 Make your own wedding dress
Speaking of wearing the wedding dress of your dreams, don't fret if you can't find one that suits your style. If you have talents in sewing or even crochet, you can take matters into your own hands and walk down the aisle with the perfect custom outfit.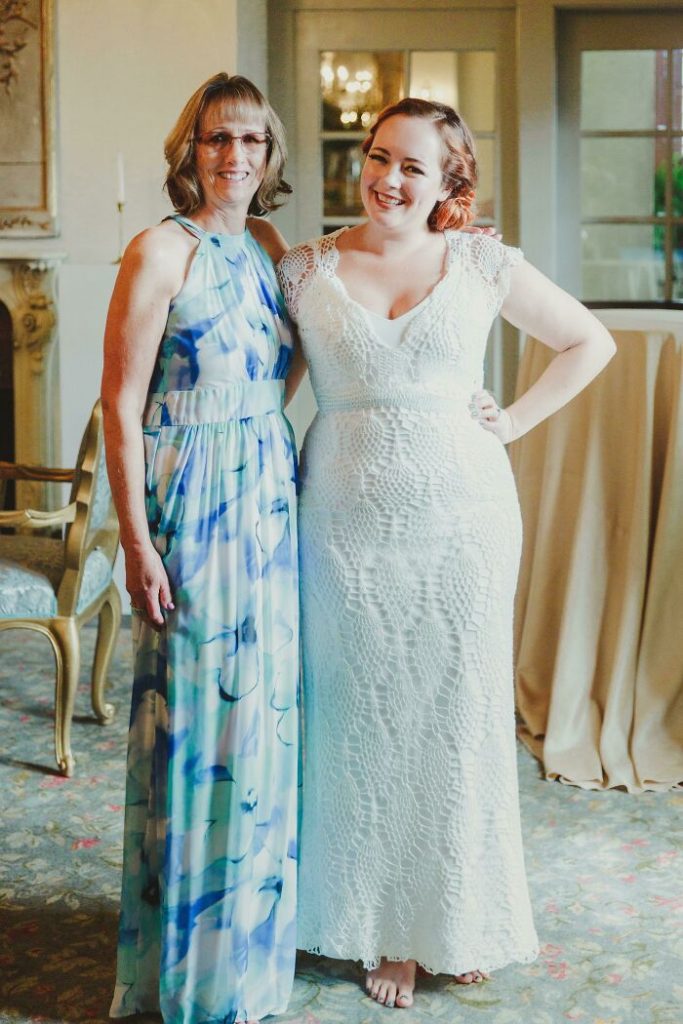 This woman crocheted her wedding dress, and we're sure she got no complaints about it. It is a different experience to walk down the aisle wearing your own creation, and we are sure that it made the experience that much more special. Would you wear a crocheted dress to your wedding?
#10 Splurge on things that matter most to you
Each couple is different, and what you may consider priceless might be unimportant to others. To each their own, we always say. Your style will not always be other couples' style, and that is completely fine. You just need to know and do what makes you happy.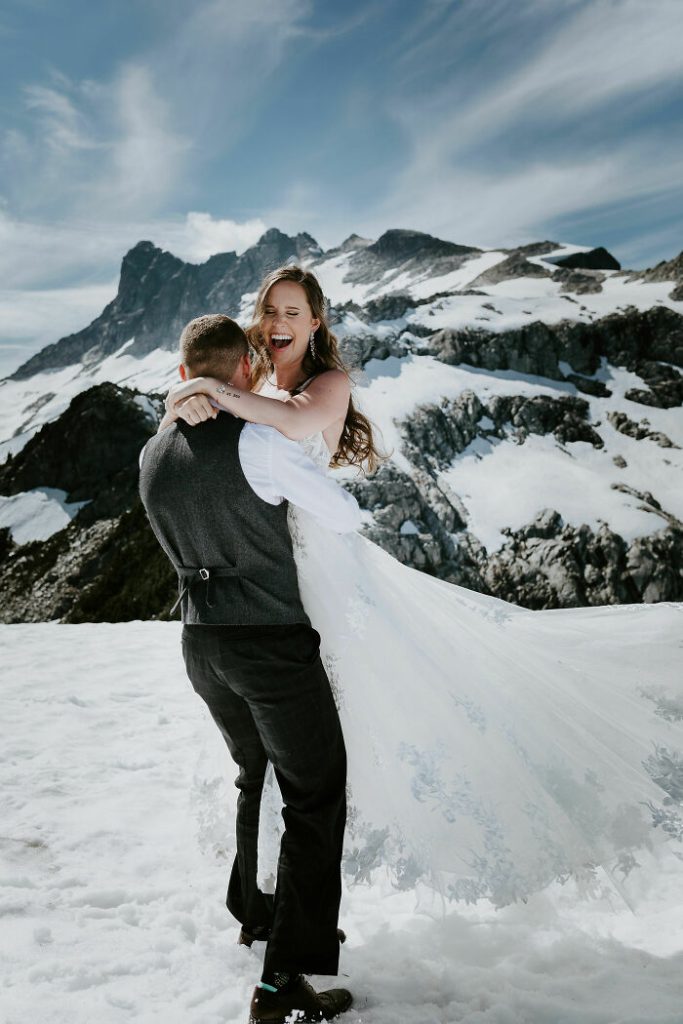 This couple decided to go with a smaller wedding ceremony and spent their money on a helicopter ride just to get pictures on a snow-capped mountain like they always wanted. As you can see from the picture, it's money well spent because they look very happy.
#11 Wear that big hat!
Are you the kind of person who loves dramatic fashion statements? If you answered in the affirmative, you could find a way to incorporate that into your wedding. After all, it's your special day, so find ways to make great memories that you will look back on fondly.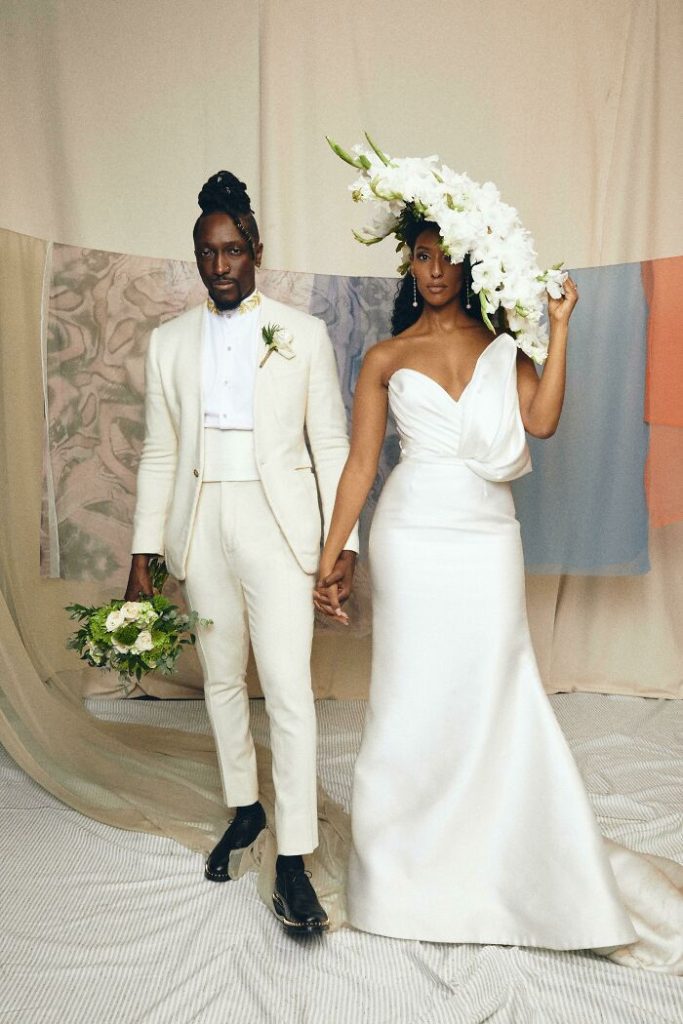 Who says you can't wear a big hat on your wedding day? This bride did just that, and now we're kicking ourselves for not having thought of this sooner because we know plenty of girlfriends who would totally rock such a hat.
#12 Roast, not toast
Although toasting the bride and groom is still being done today, a lot of people choose to roast the couple instead, and this is completely acceptable as long as it's within the spirit of fun. No mean comments and nothing too embarrassing.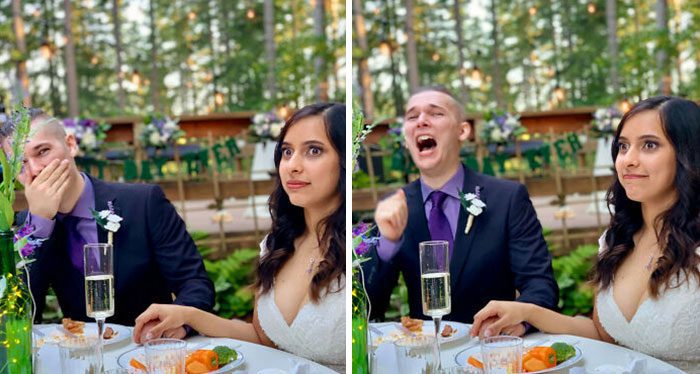 So, if you're going to make a speech during a close friend's wedding reception, perhaps you should go with the roasting fad. Who knows, it might just bring a smile to everyone's face. Again, choose to be classy with what you say. We can't emphasize this enough!
#13 Go thrifting
Thrifting is something we advocate for, not only during weddings but even when you need something unique, or you're on a tight budget. When you do this, you not only save money, but you could also find a truly one-of-a-kind item with a lot of character and history.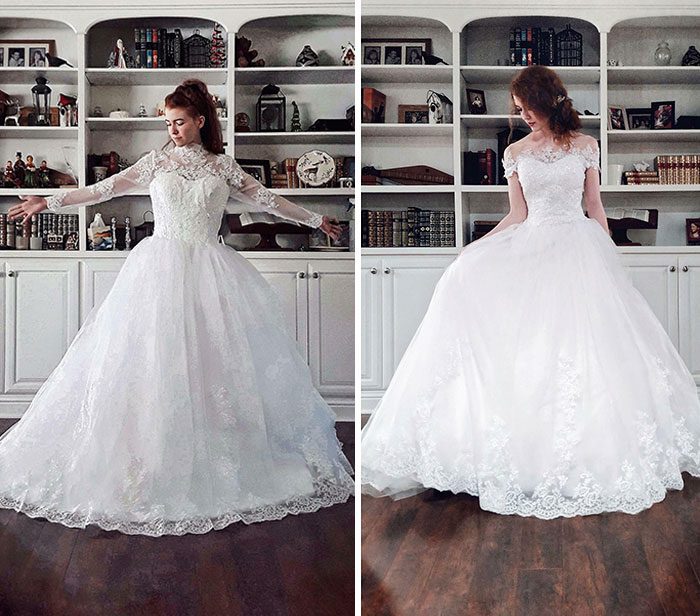 You'll also be doing the environment a great service because instead of going to the trash, some things can be used over and over again. If this wedding gown doesn't convince you that thrifting is where it's at, we don't know what else will.
#14 Consider wearing a suit instead of a dress
Traditionally, brides are expected to walk down the aisle in a wedding dress. But with the numerous options available today, you might want to rethink that, especially if you are one of those people who's not comfortable in a dress.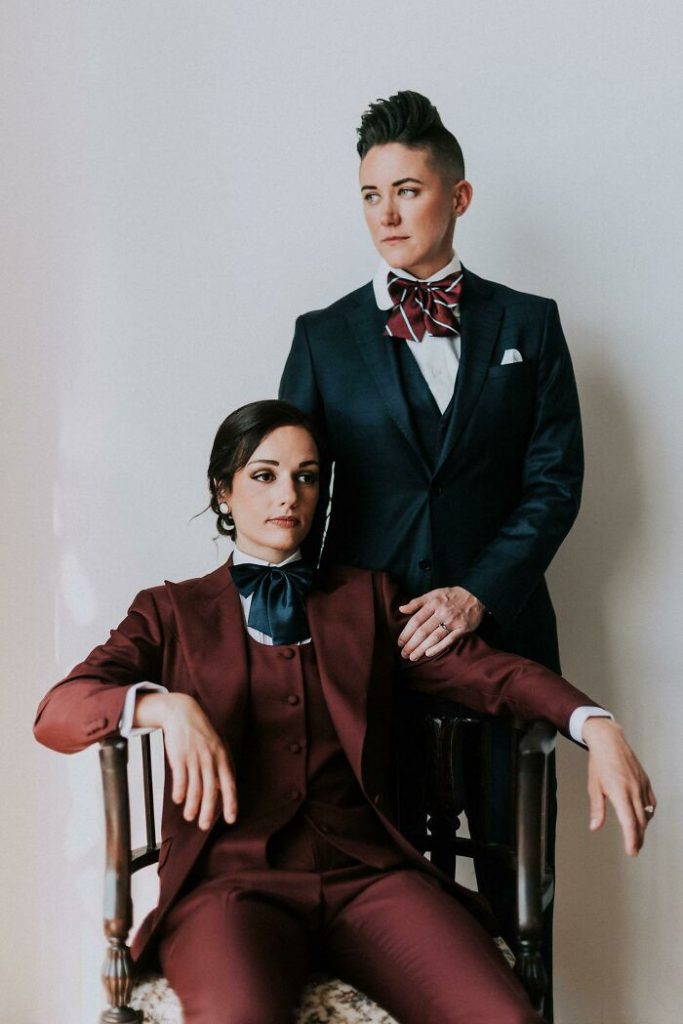 This bride and her wife both decided to wear suits, and we can't say we blame them for foregoing the frilly and lacy dresses because they look phenomenal. We also love this wedding portrait. We're actually very tempted to ask where they got the suits.
#15 Go the DIY route
Aside from thrifting, DIY is also an excellent way to come up with unique wedding favors and decorations while saving money at the same time. If you're on a tight budget but have plenty of time and talent, you should consider it.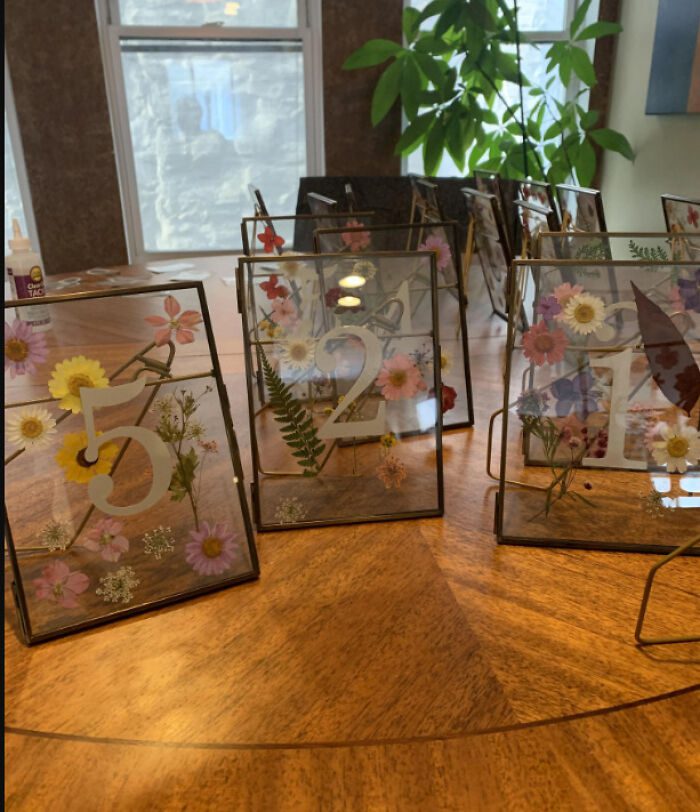 The OP said this project took about 5 hours, but we can say with confidence that it was 5 hours well spent because look at what she came up with! Need some craft ideas? Sites like Pinterest are there to inspire you and get your creative juices flowing, so get to it!
#16 Be unique
Uniqueness is always valued, especially when it comes to celebrations. We are all different from one another, even though we may share many similarities. So, don't be afraid to bring those specific aspects and preferences to life with your wedding.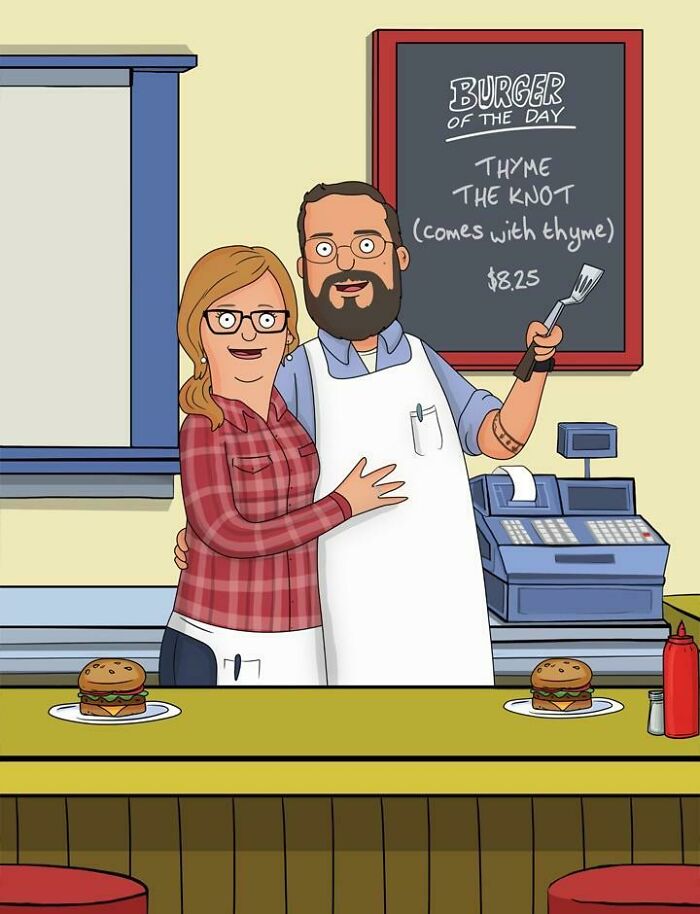 Take these Bob's Burgers save-the-dates as your cue. The American sitcom first aired in 2011 and is still running today. This soon-to-be-married couple loves the show so much that they found a way to incorporate it into the most important day of their lives.
#17 Be quirky
It's important to RSVP to weddings and other celebrations so that whoever is celebrating knows exactly how many people will come. Nobody likes to be surprised with extra guests they hadn't planned for, so whatever you do, don't forget to RSVP.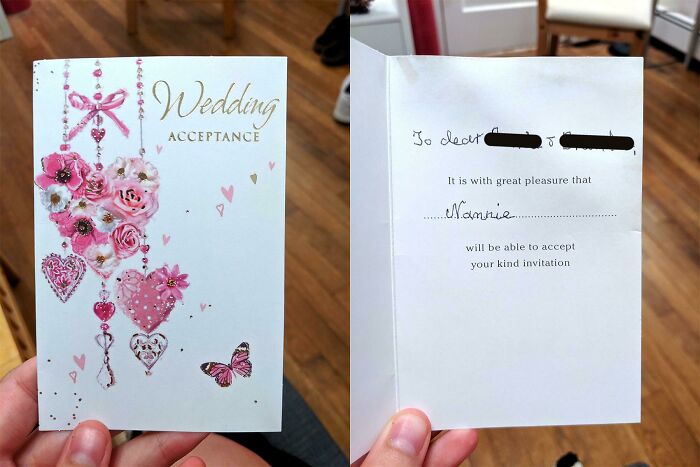 Be like this grandma and do it in your own unique way. Make your own RSVP and wow everyone with it. The obviously lovable woman didn't trust the online RSVP her granddaughter used, so she found another way to let her know she was going to attend her wedding. How adorable!
#18 Wear bridal tracksuits
Weddings are one of the most special events in a person's life, and naturally, aside from looking your best, you also want to be as comfortable as possible. There are numerous things you should take into account during your wedding, and one of them is the weather, especially if it is going to be outdoors.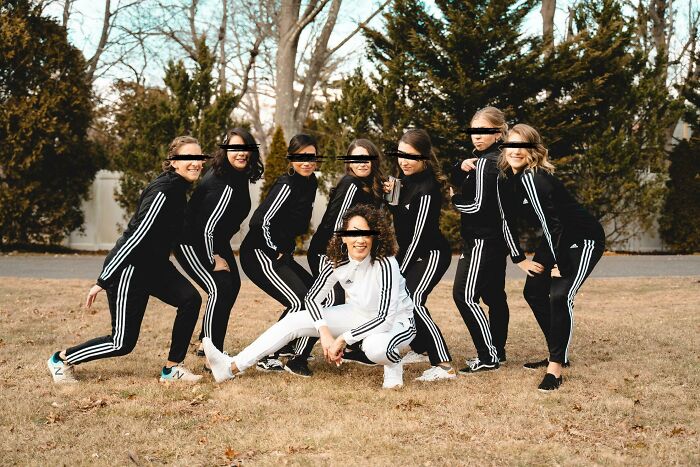 This bride's winter wedding was going to be bitterly cold, so instead of a dress, she decided to go with tracksuits! She and her entire entourage were warm and toasty, and we can already picture the dance battle that undoubtedly happened between the groom's and the bride's friends.
#19 Give the gift of tip money
This kind of gift might not make it to the top of most lists, but it was a thoughtful idea that was appreciated by this couple. $5 bills are a blessing when you're going places where tips are required. How else are you going to tip the bellboy?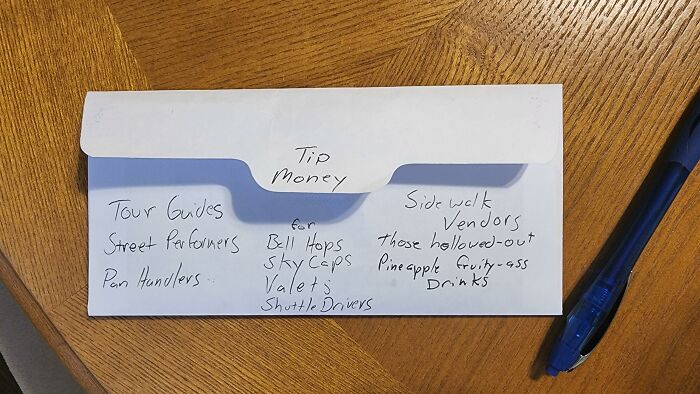 But what we love most about this is the part about 'hollowed-out pineapple fruity-A#$ drinks' written on the envelope. The couple is going to want a lot of them during the celebration and the honeymoon as well, so overall, this was a fantastic gift.
#20 Don't be afraid to cross stitch
Let your artsy side shine through during your wedding. This bride is into cross stitch, and what better occasion to make good use of her talents than her wedding? So, she whipped out her threads, needle, and fabric and stitched place names for her guests.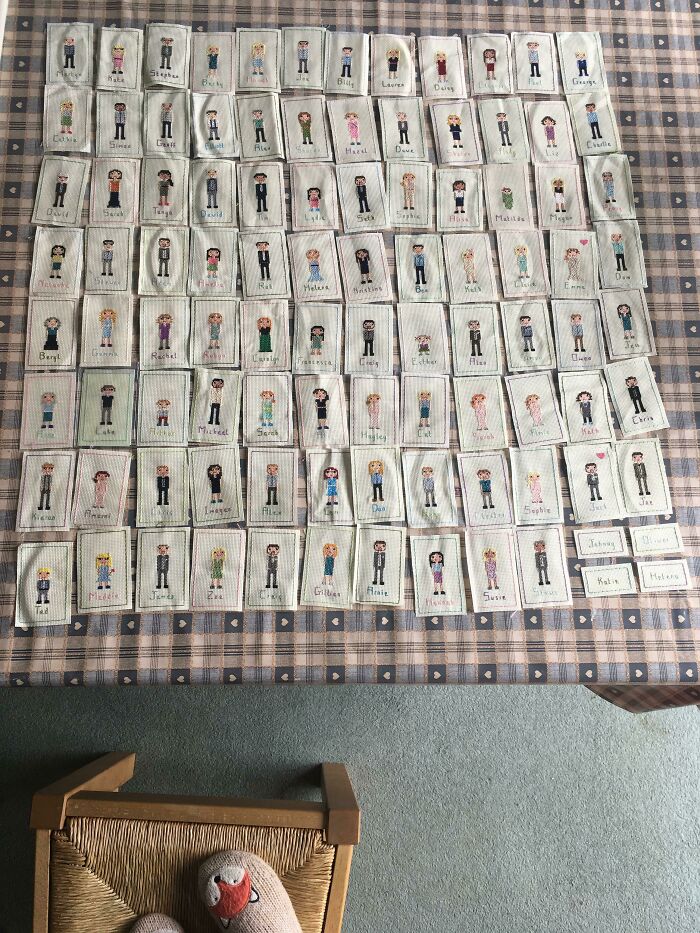 Seeing a cross-stitch version of yourself is surely bound to put a smile on your face. We were not even included, and we're still delighted to see these things! This might take a long time to complete, but they make the perfect souvenirs.
#21 Don't be plain
Plain is boring, and weddings should never be boring. This bride got that memo and decided to design a high-low wedding dress in a way most people wouldn't think of. She changed the boring white lining to a colorful one.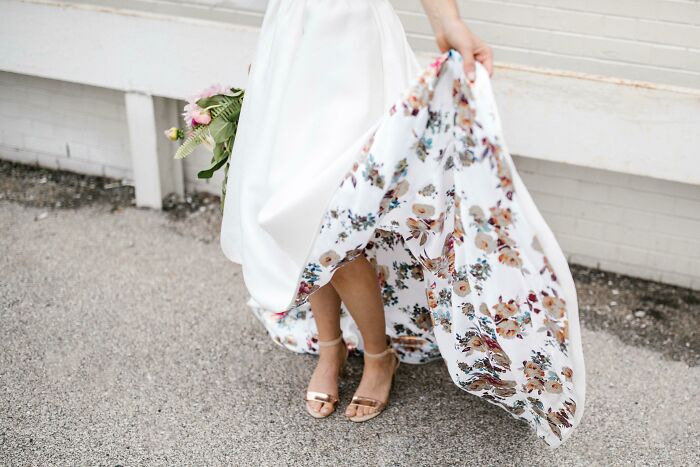 Looks like she had a lot of fun during her wedding, thanks to the obvious attention her dress got. If this was us, we would own the dance floor in moves that made sure our handiwork was on full display!
#22 Wear purple
Purple is not the first thing that comes to mind when you think of wedding dresses. Most people would think it's more appropriate for the entourage but never the bride. This woman, however, didn't believe in that, and we're so glad she didn't.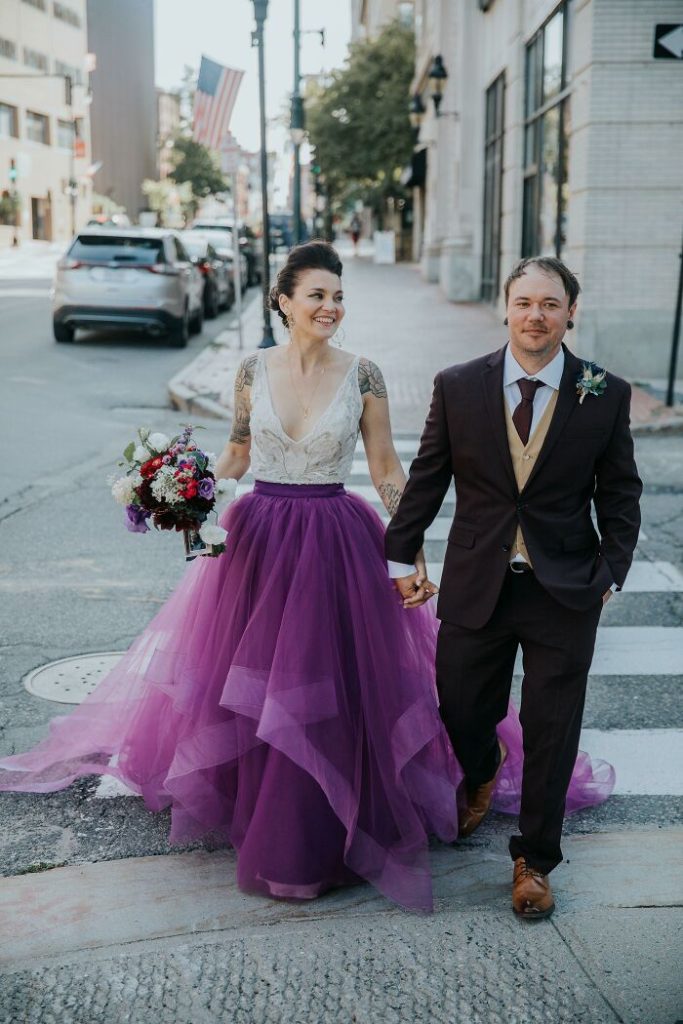 Her giant purple skirt makes us jealous since we'd love nothing more than to wear something similar to it. Now, if we could only find ourselves a groom, everything would be complete! The best thing about it is that it could be removed when dancing since the dress had a silk sheath underneath.
#23 Take candid photos
If you ask us, candid photos are the best because they convey people's uninhibited emotions at the very moment they are taken. Though staged photos might look more presentable, it's impossible to tell how the person is truly feeling in them.
We love these candid engagement and wedding photos. They exude happiness and the promise of a lifetime of togetherness, and isn't that what weddings are all about? Kudos to the photographer for capturing the raw emotions of this young couple.
#24 Don't be afraid to wear a pineapple
Tropical fruits are all the rage, especially for beach or island weddings, but who's to say you shouldn't bring a bit of the beach to your wedding, even if it's not on an island? This baby pineapple is exactly what the groom needed to complete his suit.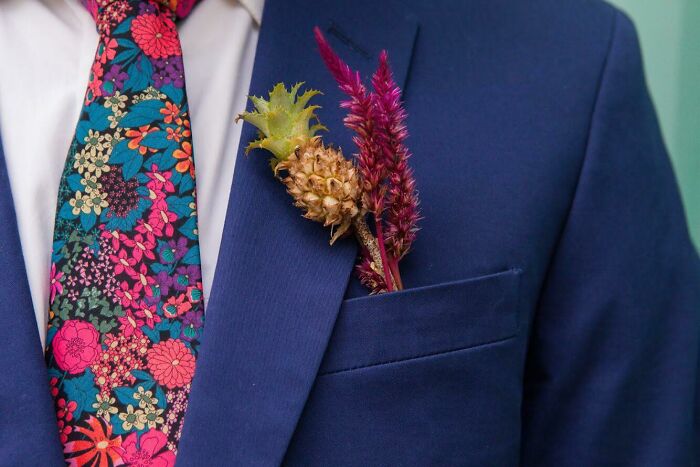 Now we're jealous and want all grooms everywhere to wear baby pineapples, too. Now the only pressing question is where exactly he found this pretty thing. People who have seen the picture want to know, and frankly, so would we.
#25 Go for a colorful wedding cake
Who says wedding cakes have to be immaculately white? If you want another color, by all means, tell your baker. You might just be pleasantly surprised when they take your idea and run with it. Then, your cake might just be the one we feature next time!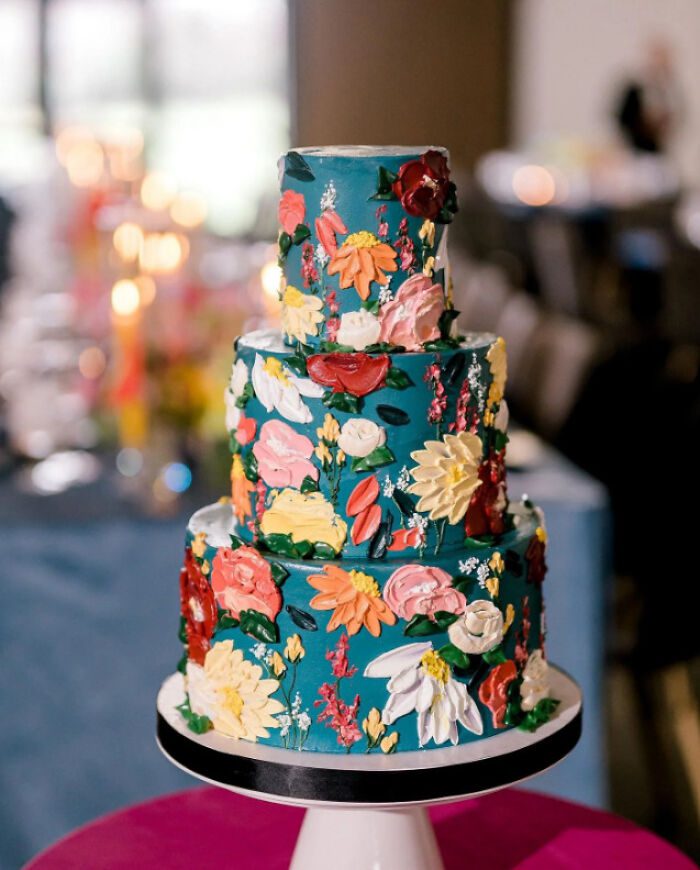 Look at this colorful wedding cake. Isn't it just gorgeous? It's got to be one of the most beautiful wedding cakes we have ever laid our eyes on. Save this photo since it might just come in handy on your wedding day if you need some inspiration.
#26 Gorgeous flower backdrop
Evidently, weddings are a great opportunity to let your creative side out to play, as we have seen on this list so far. You don't always have to rely on the expertise of professionals since sometimes, you can surprise yourself with just how wonderful a personal creation can turn out.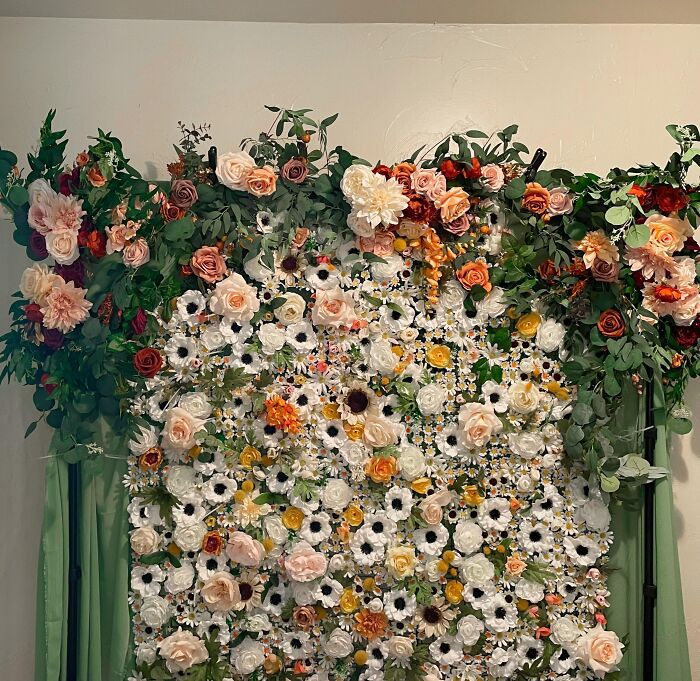 A good example of that is this phenomenal flower backdrop. Just think of the time and effort it took to put this whole thing together, but in the end, it was worth it. We bet everyone was gunning for the chance to take a photo in front of it.
#27 A perfectly crafted thoughtful gift
After the wedding, couples go on their honeymoon and later return to normal life, then they start to navigate the world as part of the married population. Aside from birthdays, the next big celebration most of them have after the wedding is the first anniversary.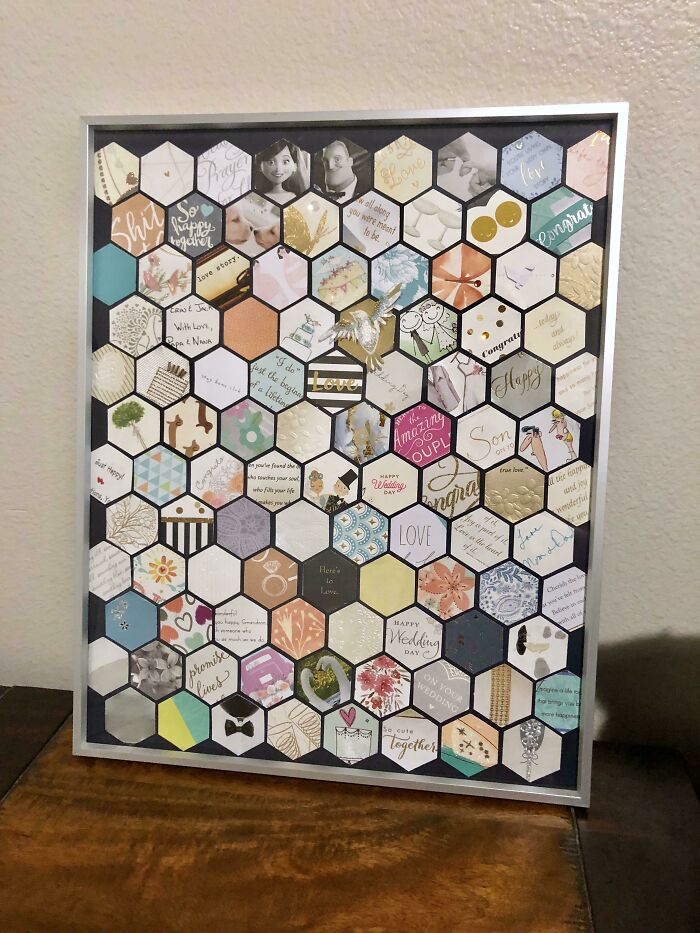 As such, there's usually a certain kind of pressure to get the perfect gift to mark the first year of marriage, and we have to say, this person nailed it. They made a framed gift out of cutouts from all the wedding cards they received at their wedding, and honestly, it looks amazing.
#28 DIY series-inspired cards
Fans of Law & Order will love this next one. Sometimes you have all your ideas down and know exactly what you want, but then you get stuck because you can't find what you're looking for in any store. You even try searching online, but you still can't find it.
This woman searched high and low for Law & Order-themed save-the-date cards, but she was not successful. Instead of giving up and changing her theme, she decided to make them herself, and the result, as you can see, was impressive.
#29 Decorate taper candles
Candles and romance have gone hand in hand since candles were invented. Even with modern light fixtures, we still find ourselves favoring dim lights that mimic the ambiance provided by candlelight. As such, brides and wedding planners often include them in the deco of the day.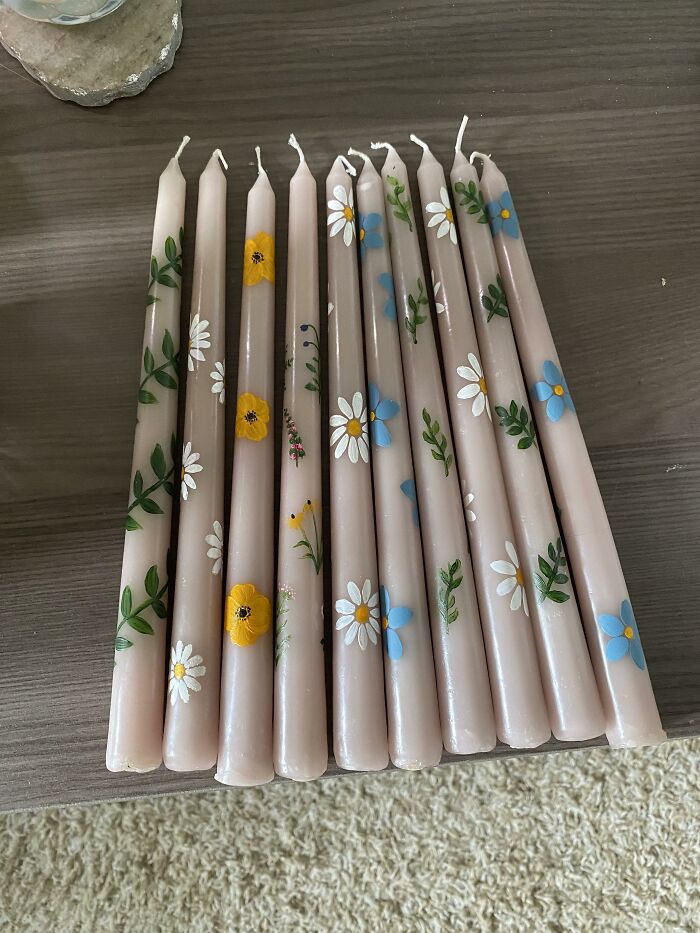 Taper candles are especially popular, but sometimes they can be a bit plain. However, you can fix that quite easily with a bit of hand-painting like this person did. The best thing about these is you can still use them even after the wedding is over for something like an intimate dinner with your person!
#30 Nailing that soap opera fierce look
Wedding photos are all smiles and fun, but if you want yours to be different from the millions of wedding pictures out there, you might want to try the soap opera fierce look. If you're an avid fan of soap operas, you know what we're talking about.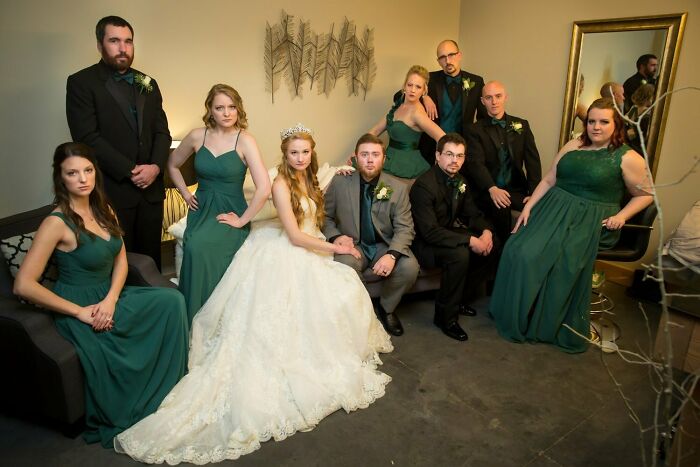 If you haven't watched any, just look at this photo. Try not to smile, or worse, laugh, because soap operas aren't about being happy. You have to look like you're going to kill someone with your eyes, or else you'll ruin the aesthetic! We really wonder how many takes it took to get this one.
#31 Save those pretty wedding flowers
Everyone can contribute to the wedding to make it memorable. If you have brilliant ideas that the groom and bride have not thought of, you might want to get them out into the open. Who knows, they might just make the wedding even better.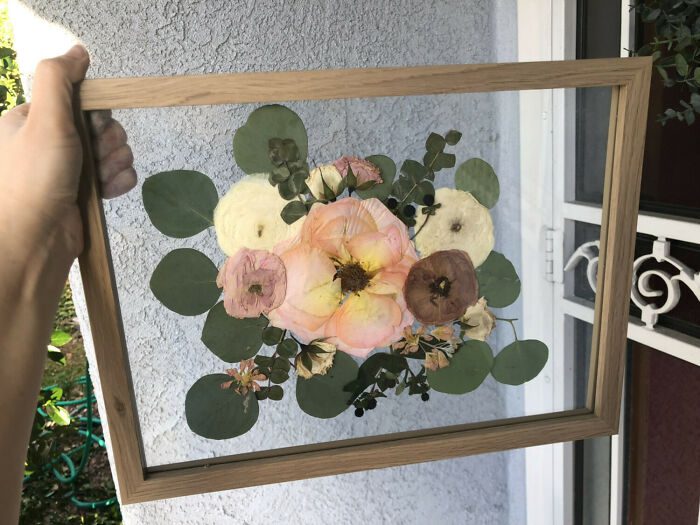 This maid of honor decided to save the flowers from her best friend's wedding bouquet. She had them pressed and framed, and we are certainly loving the result. This would make a great keepsake to remember the momentous occasion by.
#32 Cartoon wedding invites
People spend a lot of time thinking about their wedding invitation design and spend a lot of money on it too. But if you're a designer or illustrator yourself and have time on your hands, why don't you challenge yourself by making your own wedding invites?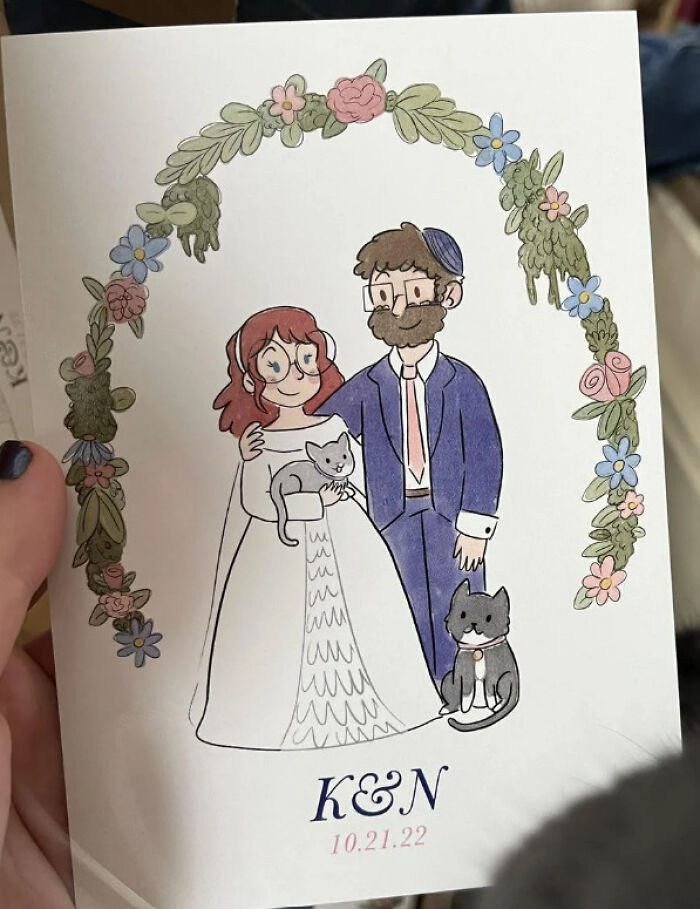 Wedding invites don't have to be very formal. Let your talent, creativity, and personality shine through and create cartoonish wedding invites like the one you see above. Truth be told, we like this more than the overly formal type, and we know we're not alone on that.
#33 Put those flowers and braids in your hair
Want some flowers in your hair on your wedding day? They don't have to be the usual flower crown you see everywhere these days. The internet has plenty of inspiration, and we have a bonus one just for you on the next one. Don't you just love it?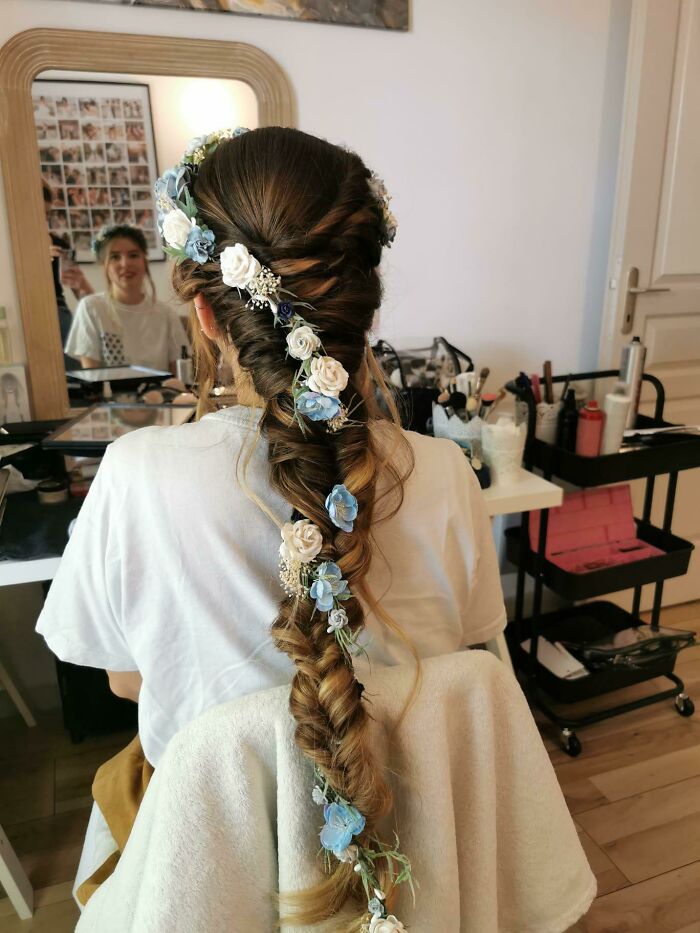 We want to get this hair stylist's contact, and we are sure that many of you right now want the same style for your big day. In addition, we love the colors and flowers used here. Honestly, you can never go wrong with flowers.
#34 Forget cake and go with pie
If you have a talent for baking, you can certainly use it in weddings. You can bake something special for someone you love, be it a friend or relative. And no, it doesn't always have to be cakes or cupcakes. A pie will do just fine too.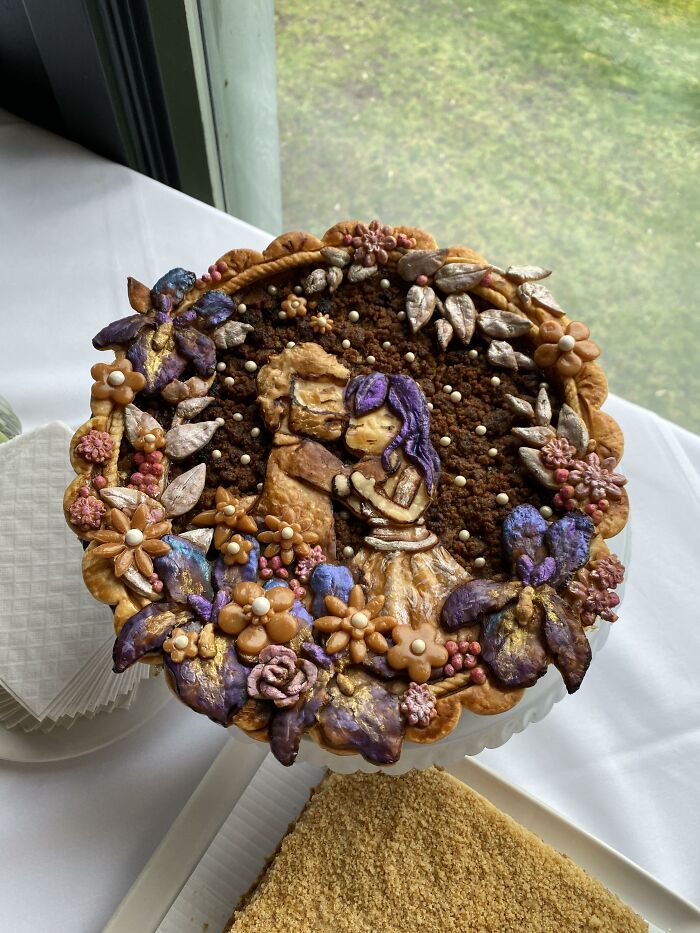 Though we admit we haven't seen that many wedding pies before, we have to admit that this is the most beautiful one we've seen. If it was gifted to us, we'd never be able to eat it because we'd spend countless hours just admiring it.
#35 Table decorations people wished they thought of
Table decorations don't have to be limited to flowers and a few trinkets. You can certainly incorporate your love story into your table decorations like this couple did. They had 8 tables, and they named them after each year they were together.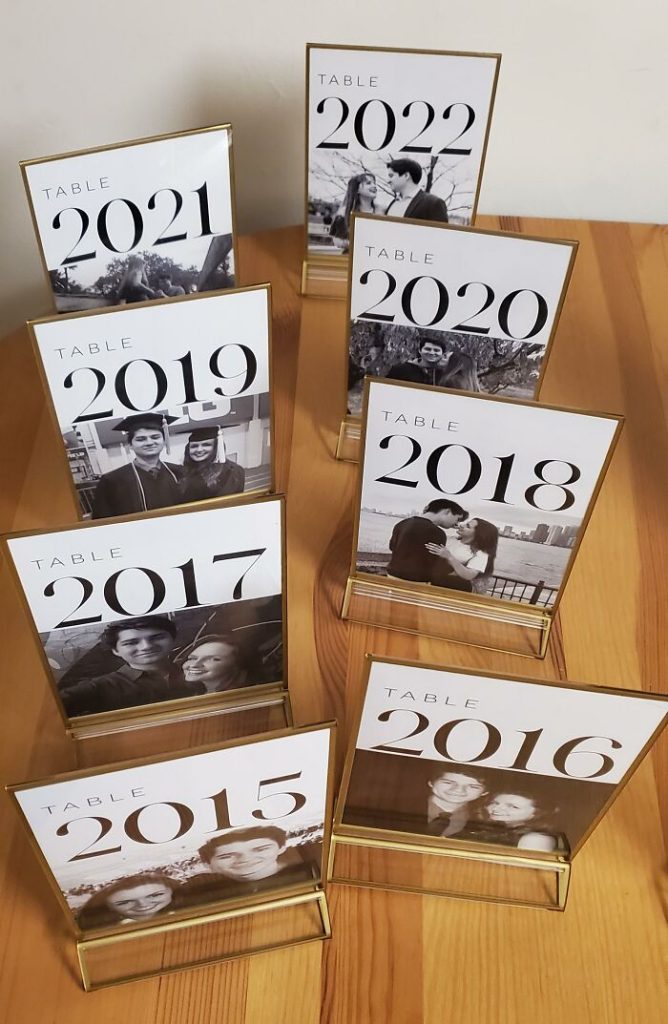 Since they had been together for 8 years before getting married, it made sense for them to showcase each of those wonderful years. This way, people also got a good idea of just how far they had come as a couple.
#36 Grow the flowers for your wedding bouquet
If you have a green thumb and love growing flowers, we've got an idea for you. Why not grow the flowers that you would want to be included in your wedding bouquet? Not only will you save money, but it will also make the bouquet more meaningful.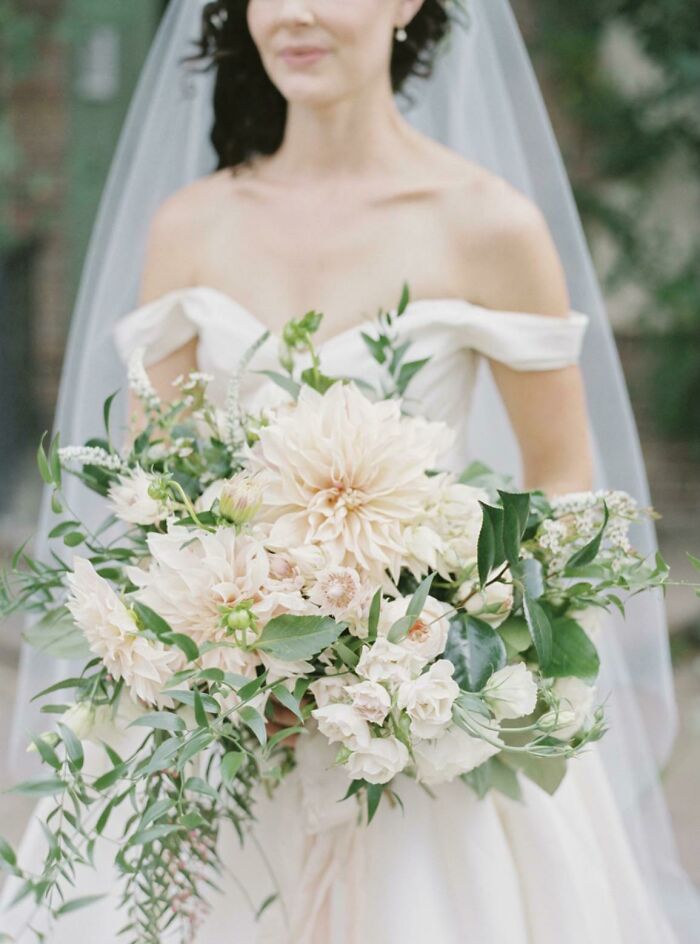 You just have to make sure you're up to the task, though, because the days leading to the wedding can get really hectic, and we don't want you to be overly stressed and anxious. You could end up with a gorgeous bouquet like this one.
#37 Pay respect to your parents
Lucky are those who have the chance to get married with their parents in attendance. Some don't have good relationships with their parents, while others have parents who have long gone to the afterlife. If that's your situation, you can still honor them some way.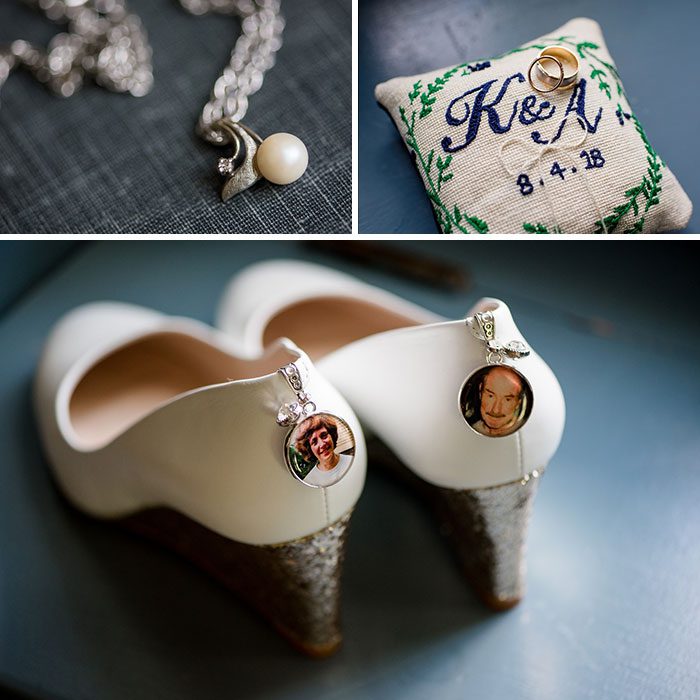 This bride's parents may not have had the chance to walk her down the aisle, but they were with her in spirit, thanks to these wonderful keepsakes she had. She put her parents' pictures on her shoes and also used a few items they owned in the deco.
#38 You don't always have to wear white
Just like you don't need to have a white wedding cake, there's also no rule about having to wear a white wedding gown. Go with what makes you happy and wear what makes you feel special on your big day. It's your day, after all.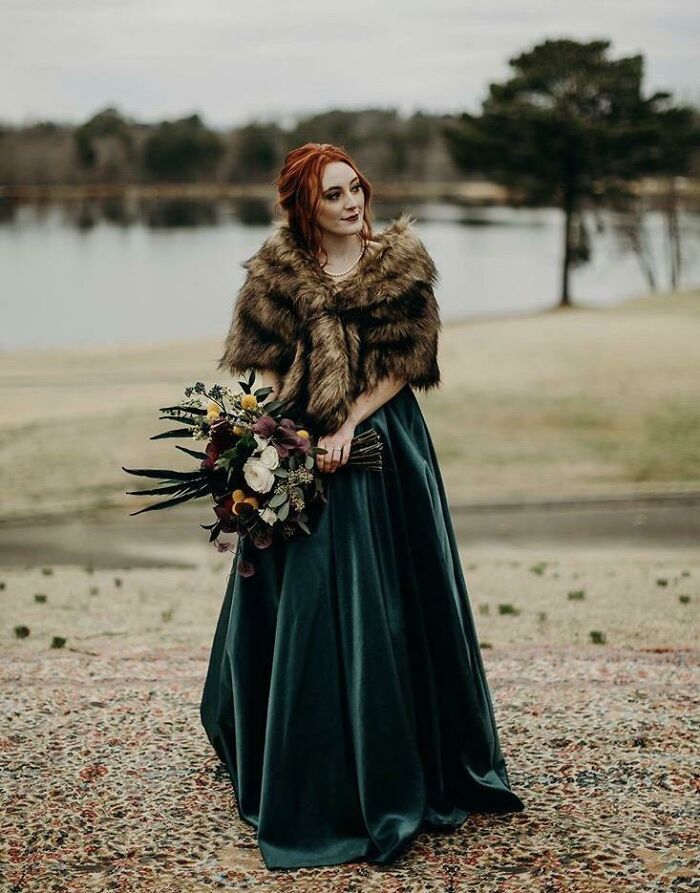 This non-traditional bride wore a green wedding gown, and from the looks of it, she must have been the envy of everybody. We love her dress, her wedding bouquet, and this photo. Though we're certain it came as a surprise to most people, we also can't deny that she completely nailed it.
#39 Think out of the box
Many brides feel the need to preserve their wedding bouquet for sentimental reasons. But aside from pressing and framing them, what are the other options? You can add this to your list of choices when it's your turn to get married.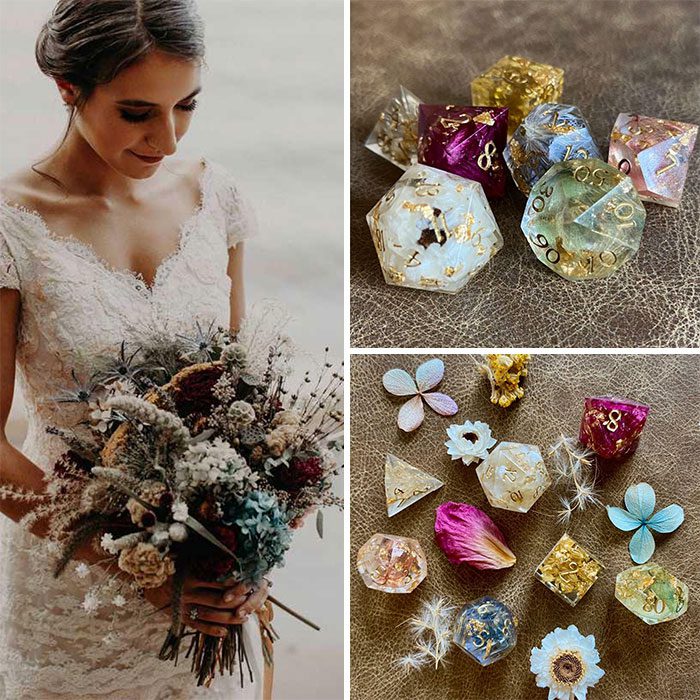 Two years after her wedding, this bride cast her wedding flowers into dice. Why haven't we thought of that before? We could have made a killing in the wedding business! We love this idea, and we're certain that you do too!
#40 Upcycle whenever possible
Weddings are the perfect opportunity for upcycling, especially if you're someone who's creative. There's no shortage of moments where you can show off your work, from wedding invites to table decorations. But only do this if you have ample time on your hands.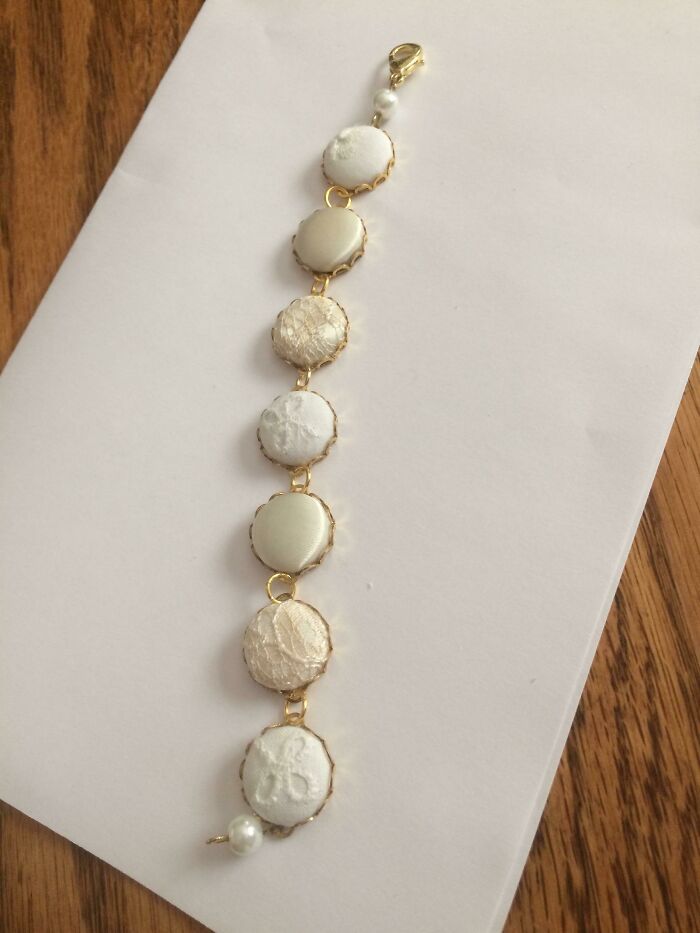 To honor her mother and grandmother, this bride made bracelets out of their wedding dresses, and frankly, it is one of the most beautiful and meaningful bracelets out there. It's something you can't buy off a display rack which makes it even more special.
#41 Framed for posterity
Here's another example of how a bride chose to preserve her bouquet. This is a very popular practice among women who have recently gotten married since they provide a cheap way to remember the wedding and can also be used as part of your home decor.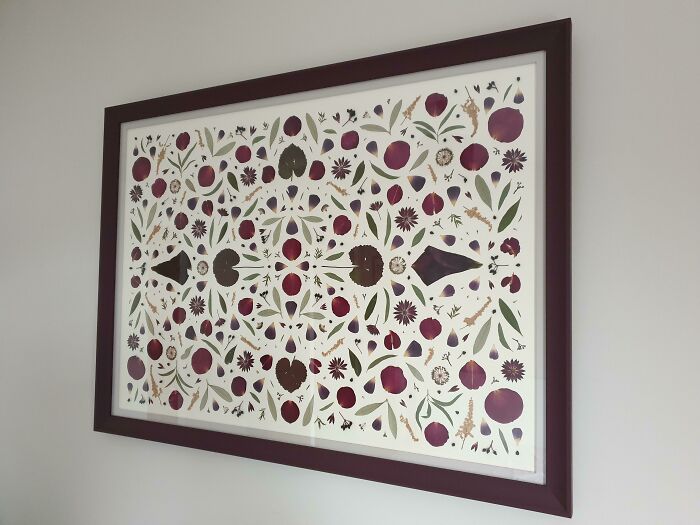 If you are in the mood to start a creative project to generally love them, creating a gorgeous frame like this is something you can do from the comfort of your home. All you need is the internet and some creativity, and then you'll have your frame in no time.
#42 DIY bouquet bar
We have mentioned flowers several times on this list as part of the decor or when we talked about the bride's bouquet. Aside from that, you can also incorporate them into your special day by making a bouquet bar like the one pictured here.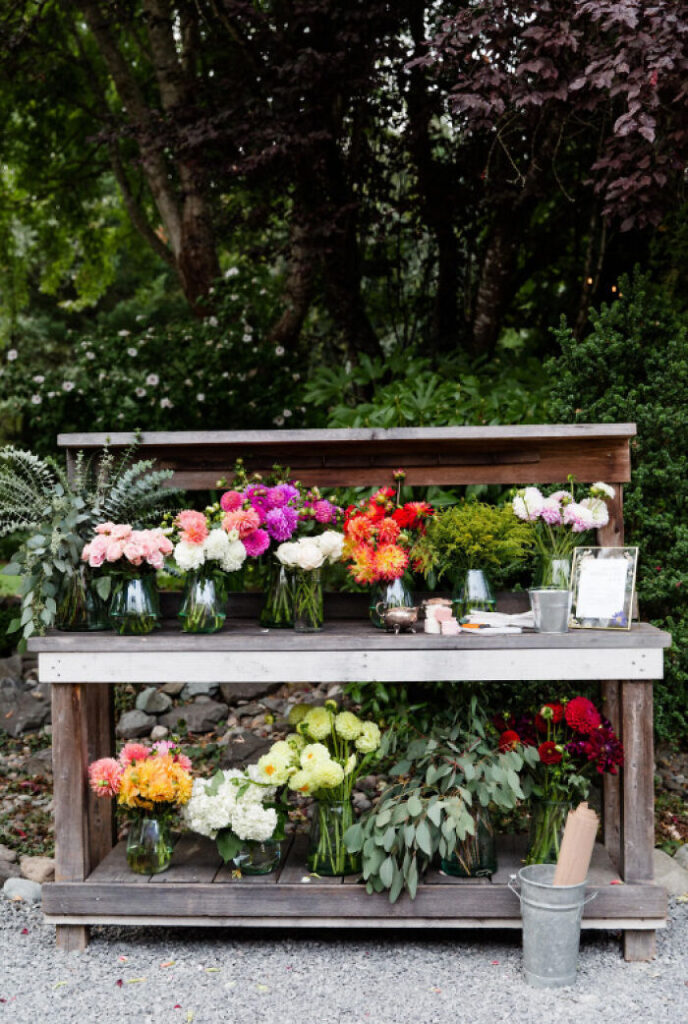 This would work perfectly as a wedding favor for your guests since all they need to do is pick a few flowers from the collection and make a bouquet of their choice! Just ensure that you provide essentials like rubber bands, water, ribbons, and decorative paper, and we guarantee they'll be a hit.
#43 Captured at the perfect time
See what we meant when we mentioned the importance of candid photos? With this adorable collage, these two now have one of the happiest moments of their lives framed in their home. We bet you're wishing you had something like this too. We know we are.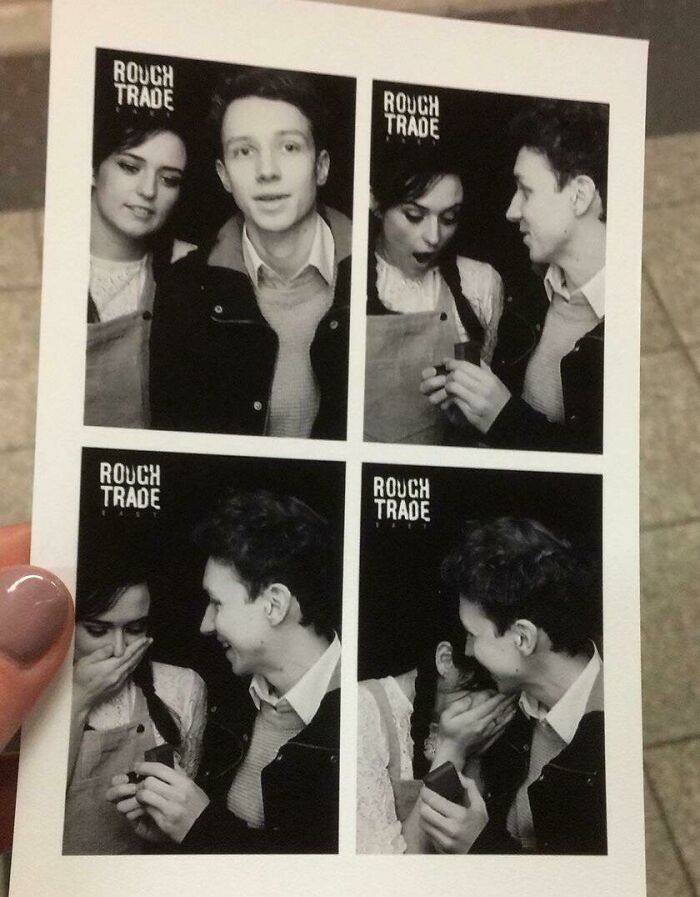 Proposals are generally very precious moments, and the fact that they had the whole thing captured with these shots is incredible. We even dare say that we would prefer this to having a video of the moment on our phones! Which one would you pick if you could only have one?
#44 Turn your flowers into dice
We know we have mentioned this before, but these things are so pretty we thought they deserved another slide! Who would have thought that delicate flowers could be turned into such beautiful dice? We certainly had no idea that was possible.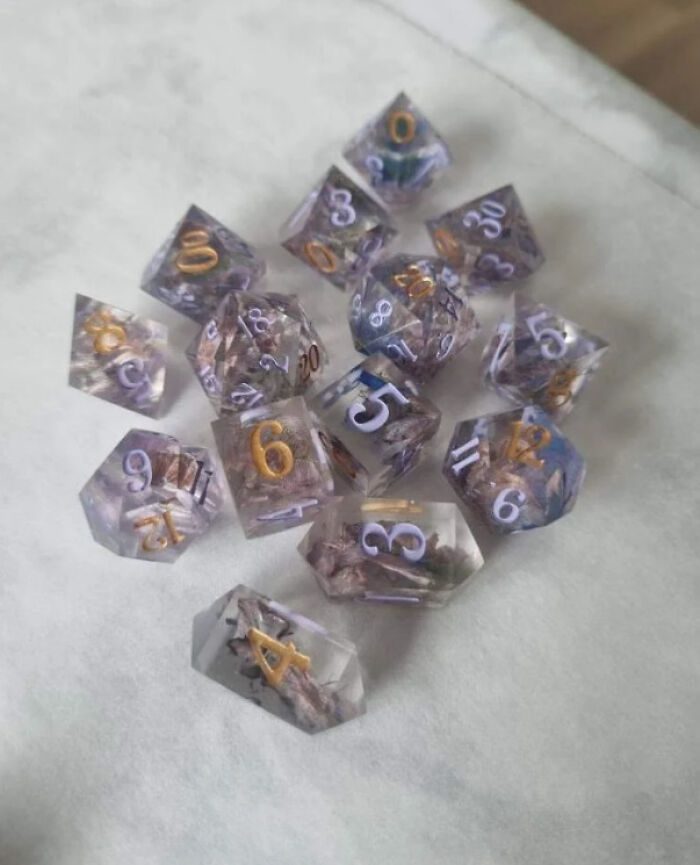 So, thank heavens for brides like these who were willing to share with the internet how they preserved their bouquets. With a set like this, you won't need to go to the store looking for dice to play Dungeons and Dragons, so it's a win-win.