We Say "We Do" To Cakes That Would Make Any Wedding Day Even More Memorable
By Harpreet K November 25, 2021
---
There's so much prep to do before your wedding day. Picking up the perfect white dress is one of many tasks that come with getting hitched. But it's not as simple as just picking something off the rack and hoping for perfection. Many of us hope to create a sparkly atmosphere with carefully chosen invitations and color schemes. In addition, the essential thing that will definitely be on every guest's mind is the delicious wedding cake. They're what will be prominently displayed in the center of the reception hall, and they're often a centerpiece for photos. But sometimes you want something different than the traditional round cake with fondant daisies, something more unique to reflect your personality as a couple. So, get ready for 45 of the most creative custom cakes that we have ever seen. These are so creative, you won't even believe they're real.
1. Such An Aww-Worthy Wedding Cake
This cute dog owner's wedding cake is the perfect way to include your furry friend in the festivities. This one is unique and stunning because it has three layers with flowers on top and you can't miss the adorable puppy.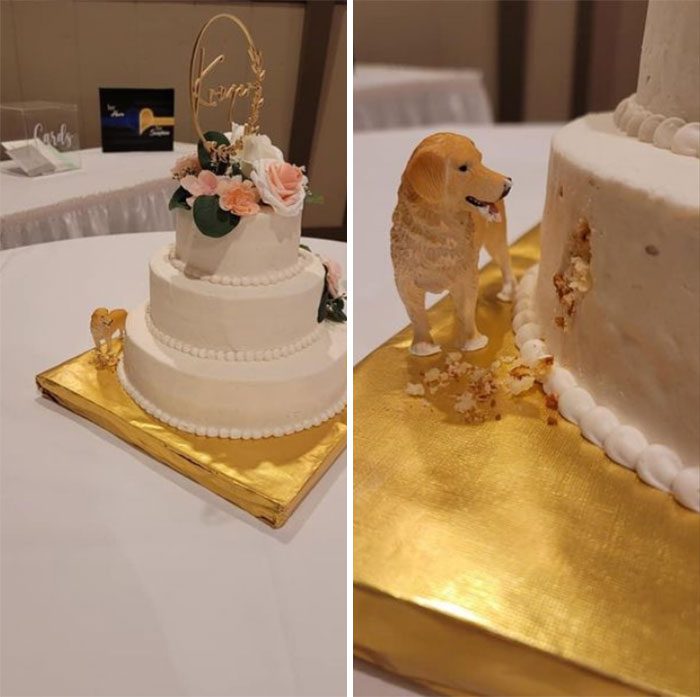 You can have your doggo be the star of the show when you get married with something like this. Additionally, you can choose a different style that you want. The dog, on the other hand, looks really excited about the cream cheese frosting.
2. The Classic Wedding Cake For Pup Owners
Cuteness overload! Maybe you don't have a golden retriever known for digging but want to include your dogs too. These three loyal and loving pups got a nod in the celebration of their owner's wedding by way of adorable "peek-a-boo" fondant models.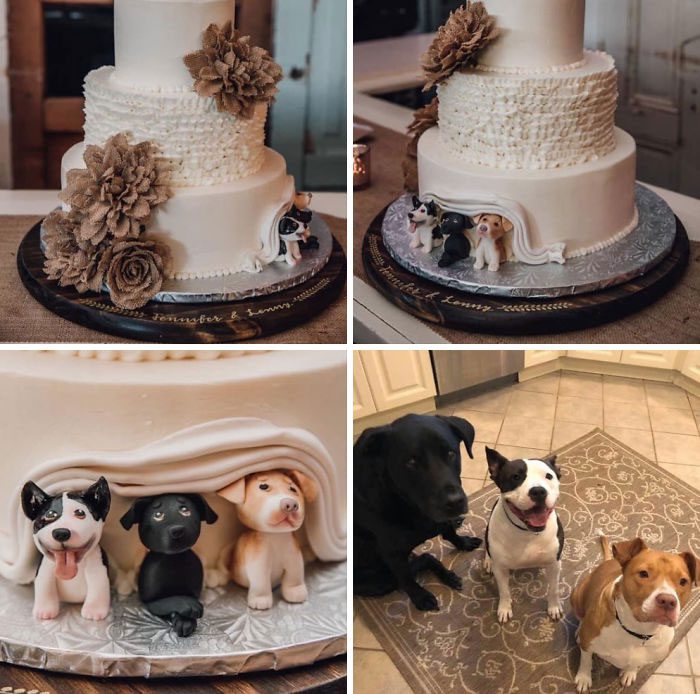 The cake is impressive, too. It looks like it's made out of cream-white icing covered in tasteful brown flowers. Plus, the front of it is so pristine and flawless, we bet you would not want anything less than this for yourself.
3. The Jagged Crystal Wedding Cake
This is a masterpiece in the art of baking. The baker carved out chunks from this dessert and filled each with edible crystals made of rock candy or isomalt shards. Then, she painted it blue to mirror its natural crystal-like appearance.
The cake looks so real that you might think it's not actually edible. But if you ate it, you'd be surprised at how delicious it tasted too. The cake is soft and fluffy; your fork would get lost in sugar crystals while eating.
4. Amazing Combination Of Flavors
What a sight! The owner of this masterpiece is not one to settle for anything less than perfection. It has layers, and every amazing flavor was included, from pumpkin to apple spice to maple cream cheese frosting with fresh fruit on top.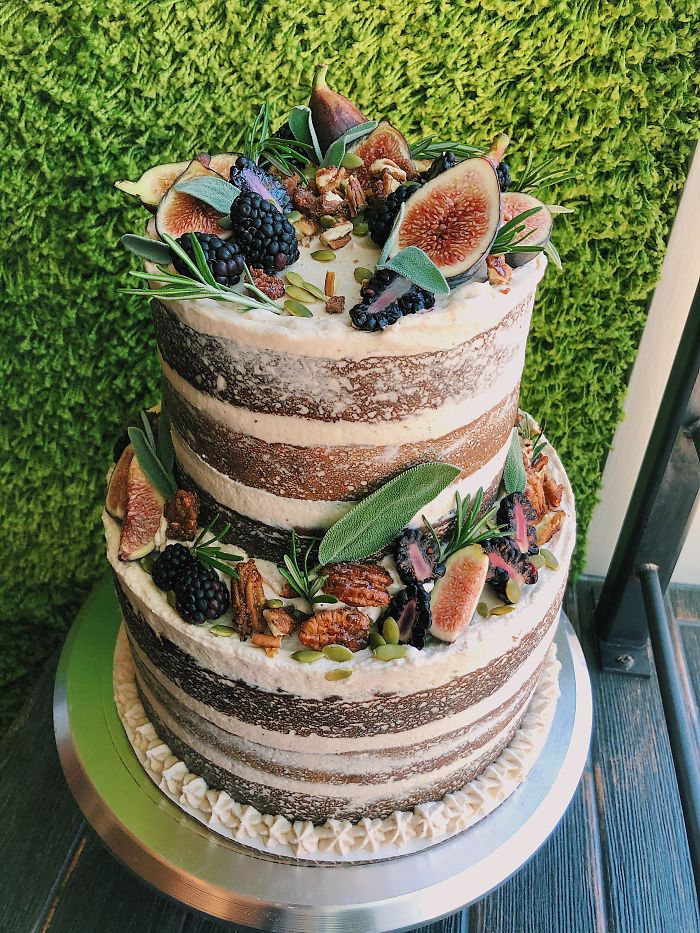 This is a cake that anyone would be proud to serve. Imagine cutting into this stunning delicacy. The decoration may even make your mouth water just admiring it! We can just imagine how delicious this treat will be once you cut into its rich goodness.
5. That's A Truly Magnificent Cake!
This is a picture of the wedding cake a man made for his granddaughters on their wedding day. He must have been really proud of himself when we saw how happy she was when she saw it. From the flowers to mind-blowing structures, it's simply wows us.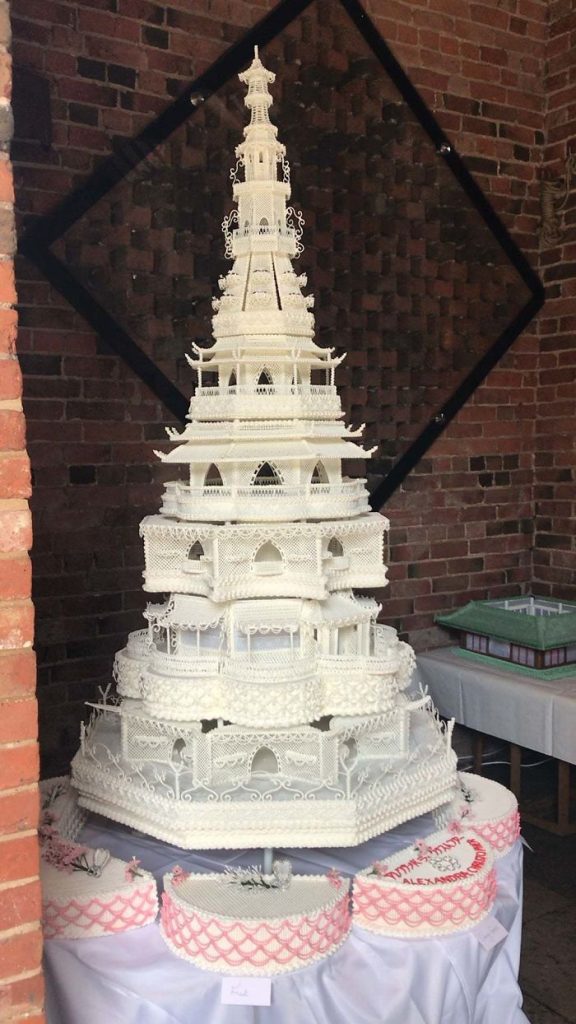 The cake looks mouthwatering. It is hard to imagine eating it. It seems like it took a lot of skill and patience to make that beautiful thing. The detail in it shows how much love he put into it for this special day.
6. LEGO Wedding Cake
The Lego-themed cake is a fun way to make your delicious dessert stand out. With the perfect balance of edible bricks combined with custom-made Lego characters on top, this quirky masterpiece has an interesting aesthetic that every guest will love.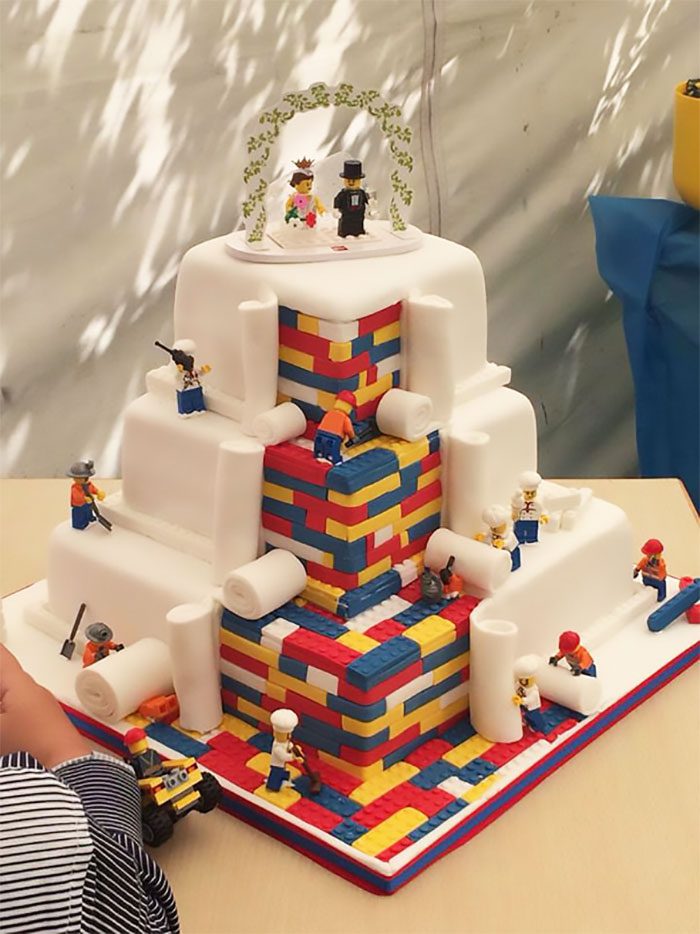 This three-tier gem is an absolute joy to behold. The bride and groom, as well as the workers, are made from real Legos, while every other part is edible, from the bricks to the carpet being rolled out. This would make your guests laugh in delight with each bite.
7. Embroidered Wedding Cake
As the trend for elaborate weddings keeps going, it is now possible to have an embroidered wedding cake. The brush-stitched design looks like the bakers that make this kind of cake create them by passing their whole creation through a sewing machine.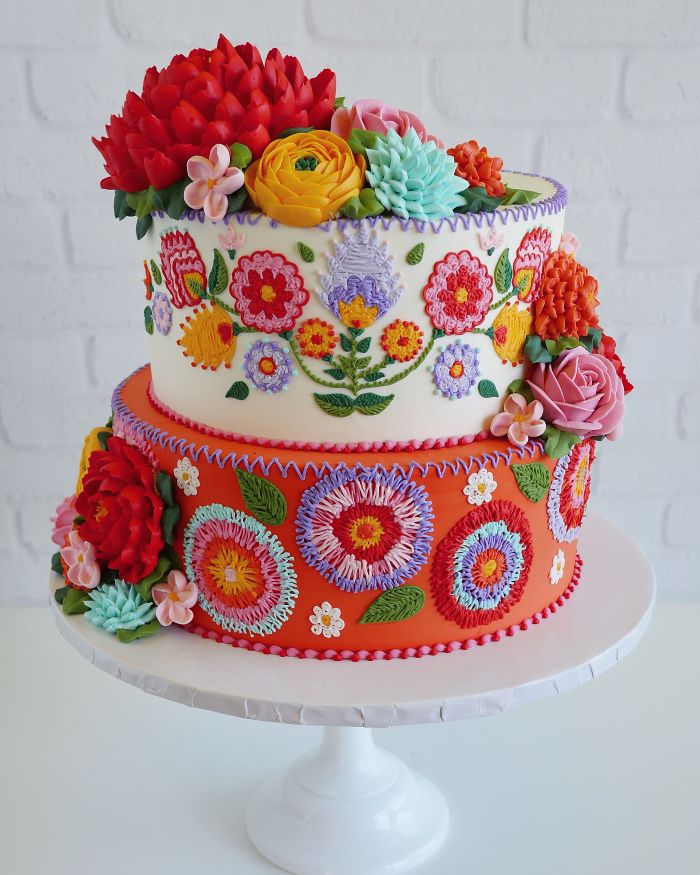 If you want a cake with the most intricate and colorful design, this is it. These always look like something an expert seamstress would make. This choice would add that special touch to your special day that would surely wow your guests.
8. Peacock Cupcakes
The bride's love of peacocks is the inspiration behind this cake, which is delicious and beautiful. The cupcakes are blue and teal with a simple white-frosted cake. Some people might not even be able to tell that this is edible and not just for show!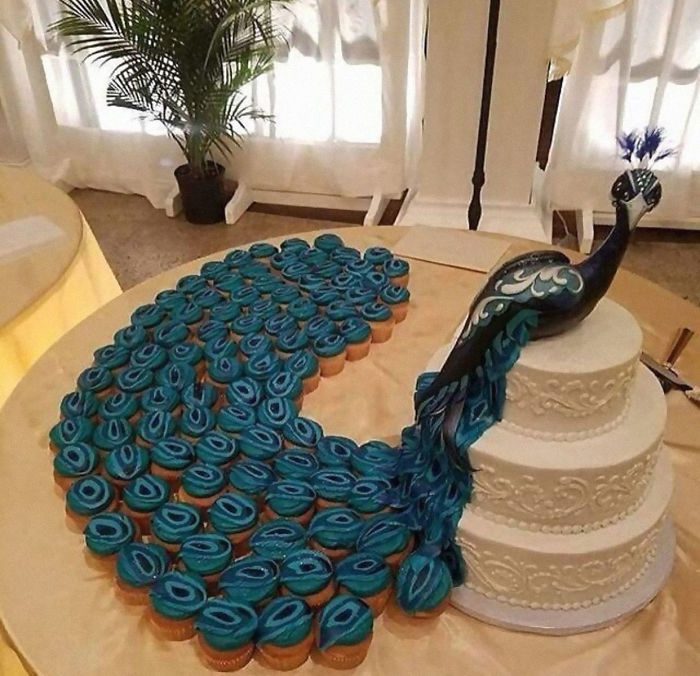 A peacock with brightly-colored tail feathers was a perfect cake topper. The colorful plumage stretched down from the top tier all throughout cupcakes, making them look like each on e was an individual feather. An excellent way to do cupcakes.
9. Astonishing Detail On This Castle Cake
A castle cake that's so intricately detailed, it will take even the most skilled of artists months to create it. This masterpiece deserves all your attention and admiration. Just look at how beautiful those flowers are. And the "stained glass" window!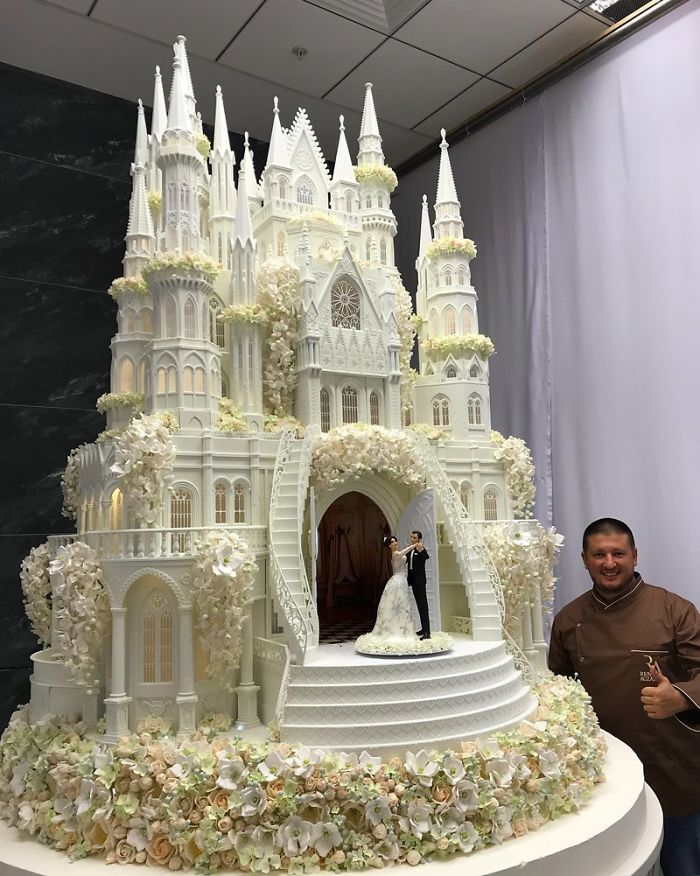 We can't even imagine what it would be like to cut into such a beautiful and elegant cake. The amount fo detail put into this work of art should not go unnoticed. Besides, those figures dancing in front are so captivatingly romantic.
10. Another Beautiful "Embroidered" Cake
Another beautiful "embroidered" cake. We have to admire the time and patience it took for this one. Unique and attractive, these are works of art, each and every one. One might say they're the icing on the cake that is your wedding day.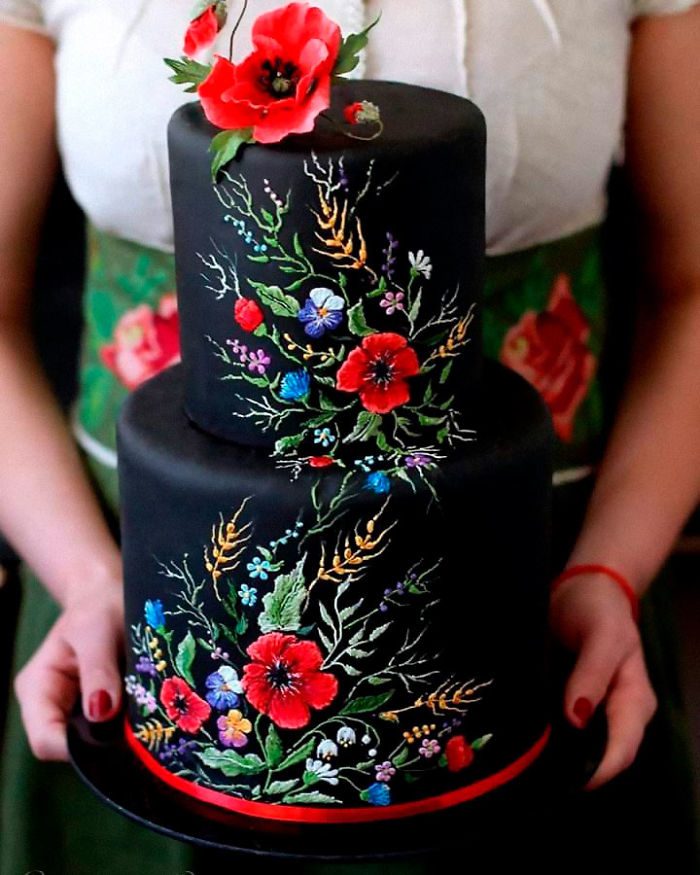 The black background really makes all of those colors pop, which is bold yet elegant in its simplicity. You can find embroidery patterns on the internet and pick one you see or you can design a pattern that will mean something to you.
11. Princess Bride Themed Wedding Cake
Do you have a favorite movie from your childhood? A film that made you laugh and cry but also gave you hope for the future? Well, if it's The Princess Bride, then this is the perfect wedding cake for you.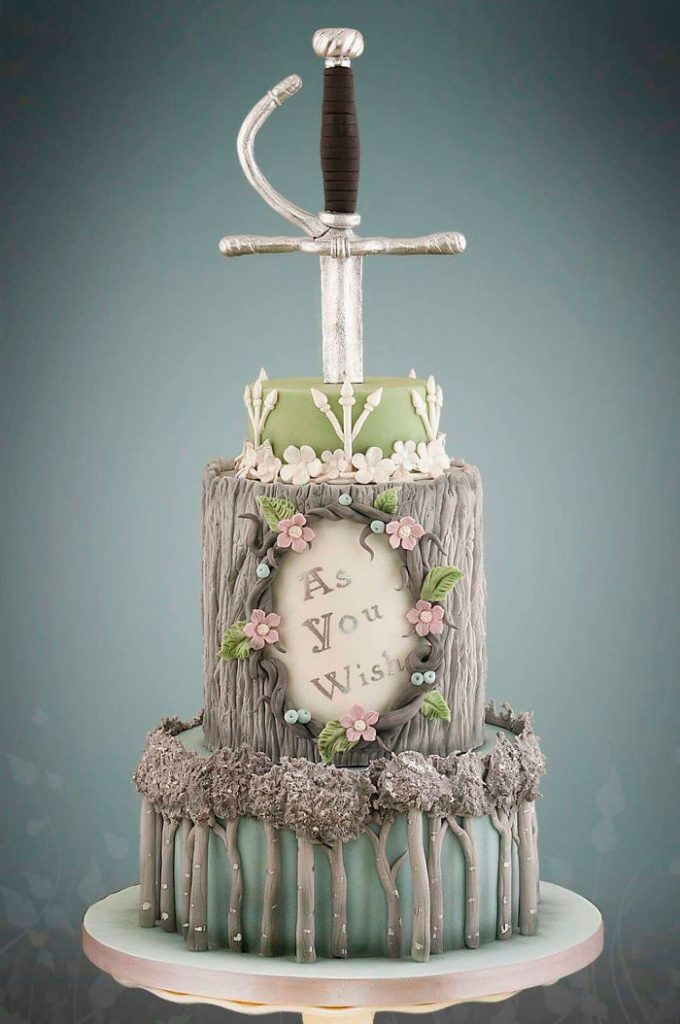 This is a delicious-looking dessert that will transport your guests back to their younger days as they enjoy this whimsical treat. The pastel shades, flowers, and swords used in this masterpiece really set off its beautiful design. This one is flawless.
12. Stunning Book-Lovers Cake
Beautiful and unique, this is a stunning representation of two people's love for reading. The stacks of books (with real titles!) on the top, paper flowers below them, and some white buttercream frosting make this delectable treat look more than appetizing.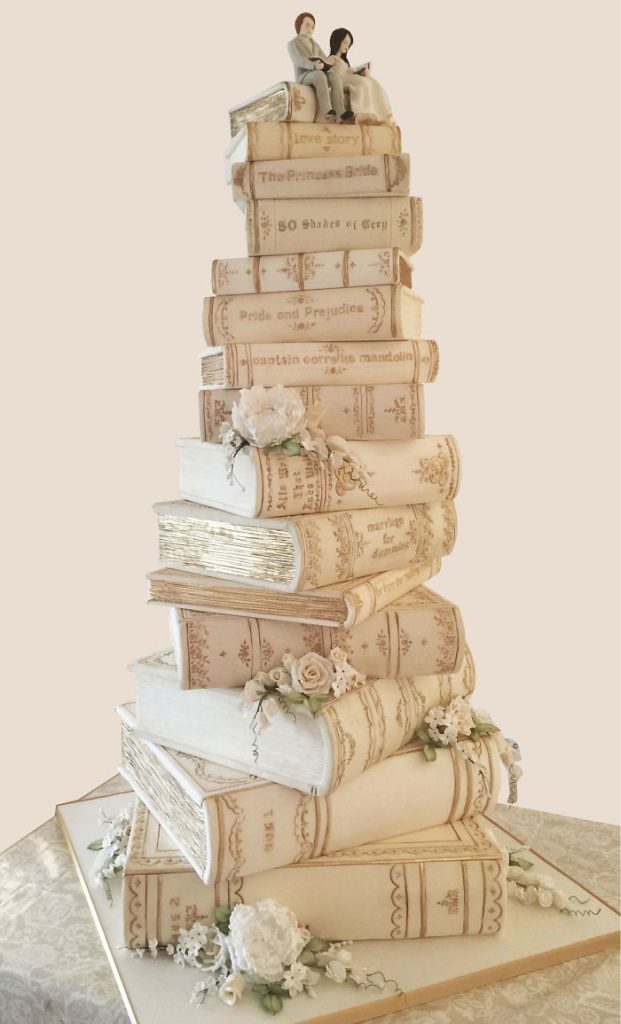 This is the perfect way to tie your love for books and writing into the love that will last forever. With this fantastic cake, you can show off all of those favorite authors who have impacted you both with their work.
13. Adorable Otter Wedding Cake
Adorable otters that are edible? This is such an exciting and cool idea. This two-tier blackberry chocolate flavored delight will have you feeling like a king or queen on your special day. The baker deserves applause for the attention to detail.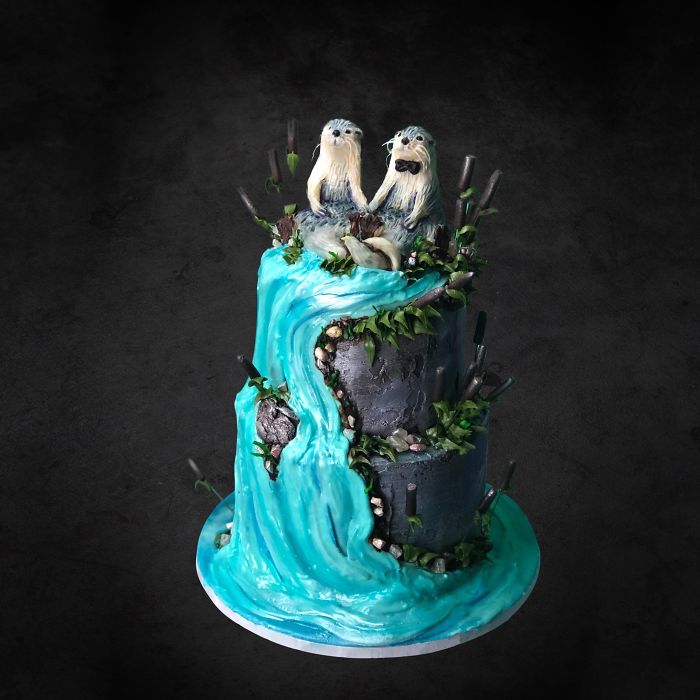 We bet this otter wedding cake is bound to be a hit at your next celebration. Just imagine biting into one of those sweet little paws before indulging yourself in this decadent wedding cake. It's too beautiful not to enjoy every bite.
14. The Actual Poodle Cake
Dogs are the best animals to have in any marriage, and this cake proves it. In addition to being beautiful, the details on this cake will blow any animal lover away. It's always exciting to see a cake that has so much of the the couple's personality in it.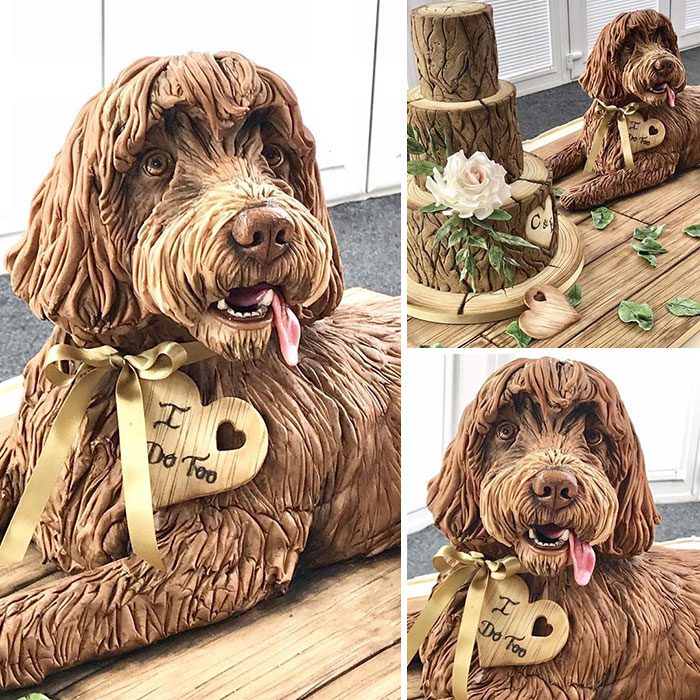 This one is no exception. The poodle looks so life-like that we bet you couldn't tell from a mile away if it's a cake or a real pup. The brown frosting looks just like dog hair, making us think about all our favorite furry friends.
15. Harry Potter Wedding Cake
You've already fallen in love with the one, so why not have a cake that is more magical than anything even Dumbledore could have whipped up? This stunning and subtle Harry Potter-themed cake will be sure to impress your guests.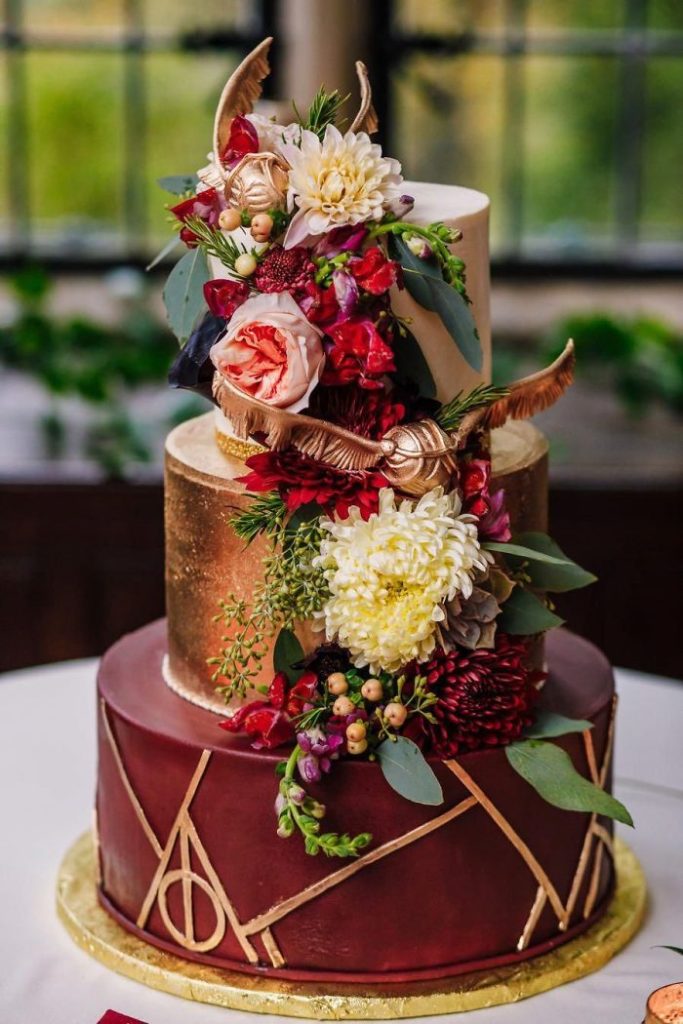 This wedding cake is so beautiful; it really captures the magic of Hogwarts. The fondant has an enchanting color combination, and the placement of flowers on top gives off that perfect vibe for any Harry Potter fan on their wedding day.
16. Tree Stump Cake
For people who like nature and beautiful things, the tree stump cake might work for them. The bottom of the cake is made up entirely from thinly sliced bark that has been covered with fondant to give it an authentic look.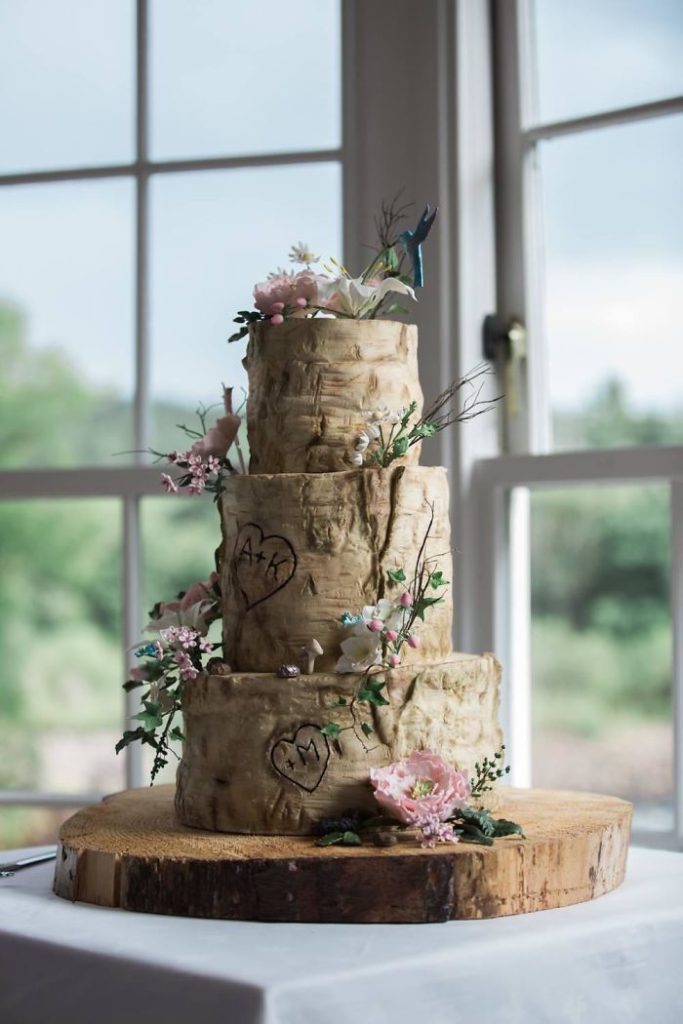 This cake is an excellent example of how buttercream can be used to create an elegant, rustic texture. We love how fresh blooms and greenery are mixed in with the carved initials for added sophistication. It really rounds this display out beautifully.
17. Enchanted Forest Vibes
The genius behind this masterpiece is a true visionary. The detail and creativity are awe-inspiring, as are the colors used to make it even more richly textured than we could have imagined. The designer is talented beyond belief to create something this awesome.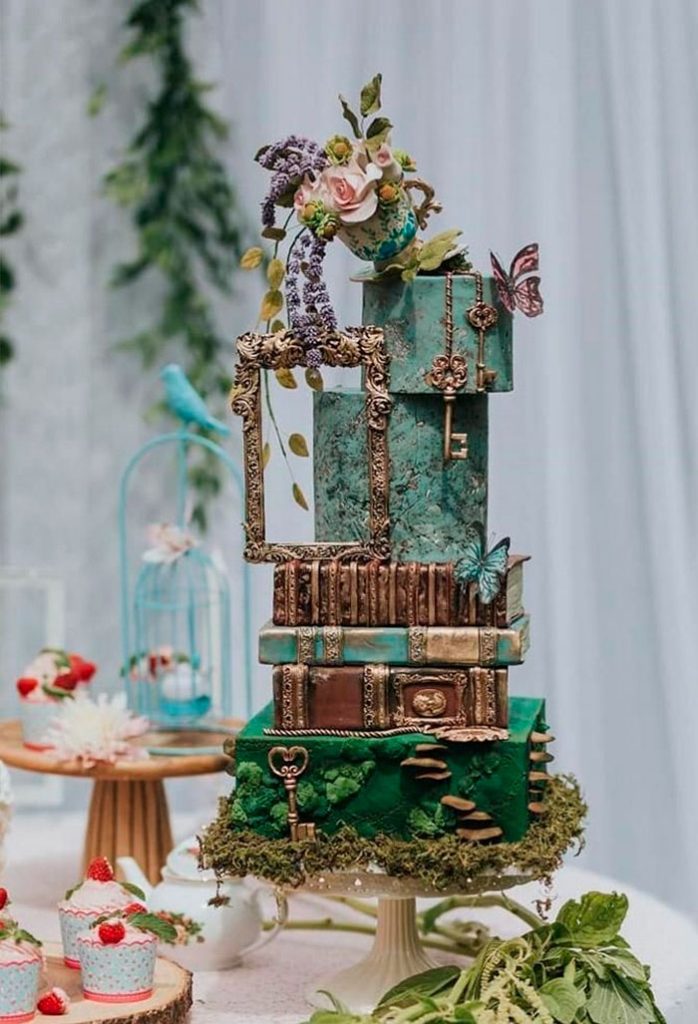 The intricate, detailed design of this cake is sure to make everyone drool. We also love how the arrangement offers a delicate touch of flair. It's giving us Secret Garden vibes that are perfect for any romantic celebration or woodland-themed party.
18. Pretty Cable Knit Wedding Cake
If you're looking for the perfect winter wedding cake, look no further than this cable-knit design. These adorable and edible details can be made with fondant and certainly add that extra touch of coziness needed at this time of year.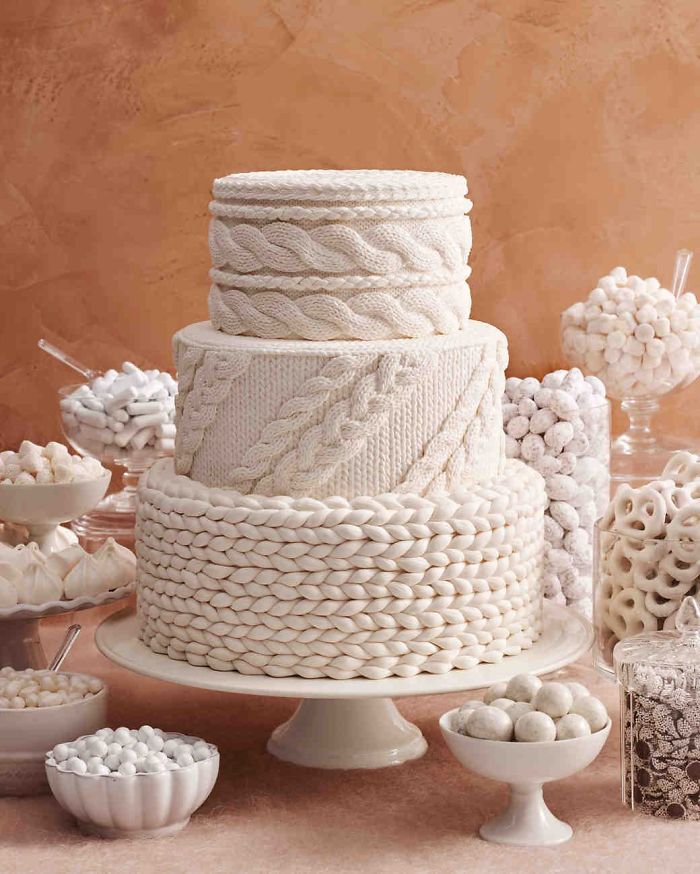 The tiered confection will have you dreaming of a romantic ski chalet and hot toddies by the fire. It's snug on the outside, more scrumptious inside, thanks to vanilla buttermilk cake with espresso, swiss meringue buttercream, and butterscotch-toffee crunch.
19. Modern Wedding Cake
One of the best ways to make a classic cake even more elegant is by playing with shape. The gilded and squished coffee three-tier wedding cake was designed in such an ingenious way; it's no wonder why this creation is trendy.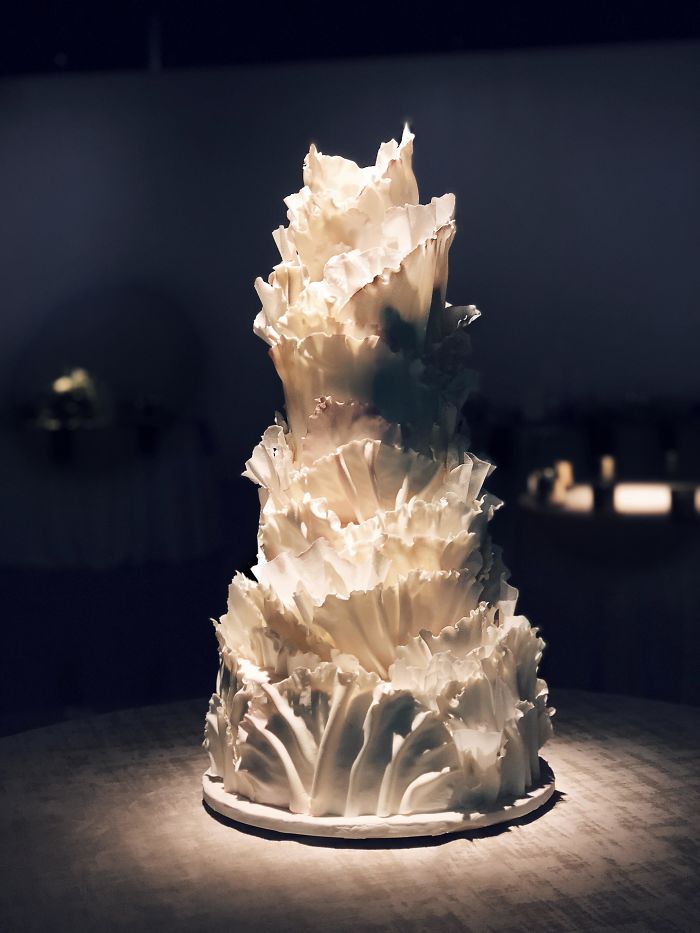 The way the fondant was made into waves bring an edgy vibe to the dessert table that would surely turn heads. In addition, the cake itself is strawberry vanilla and rose water buttercream. That sounds delectably scrumptious! It's pure bliss.
20. A Little Tradtion, A Little Batman
When the groom gets involved with wedding preparation, stuff like a Half-Batman Wedding Cake is bound to happen. This cake has become super popular among fans and would make an ideal gift for a specific occasion like a wedding.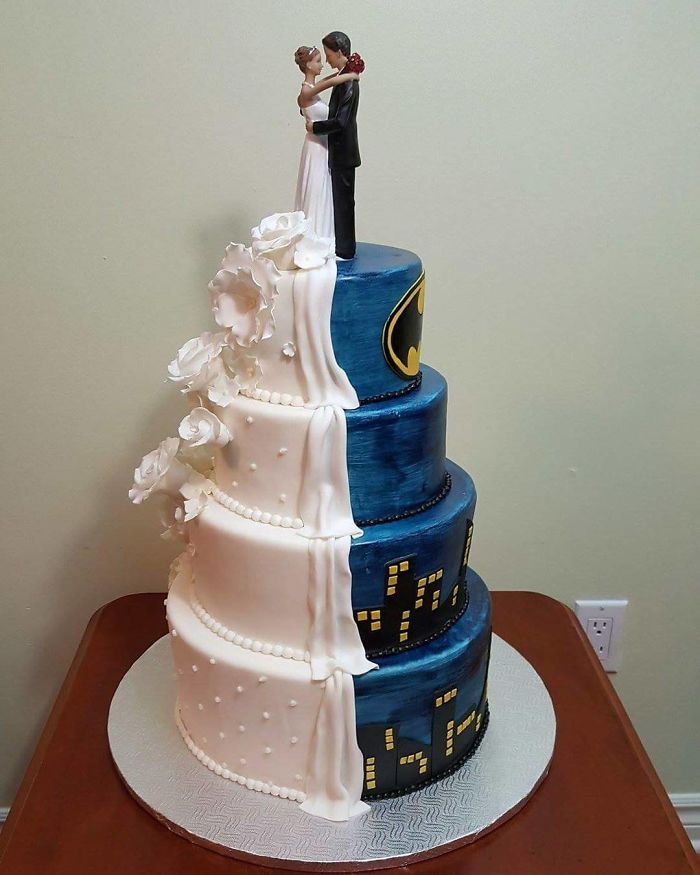 On the right side, you see a Batman symbol lit up above Gotham City, and on the left, there are flowers surrounded by flawless fondant. This design is perfect for any bride who wants something simple but elegant for her special day and is willing to split the theme.
21. Iconic Geode Cake
Geode cakes are the way to go if you're looking for an out-of-the-box style. From boho-chic weddings to glamorous receptions, these cakes will allow your guests table some color inspiration without compromising on flavor or breaking tradition on the tiered shape.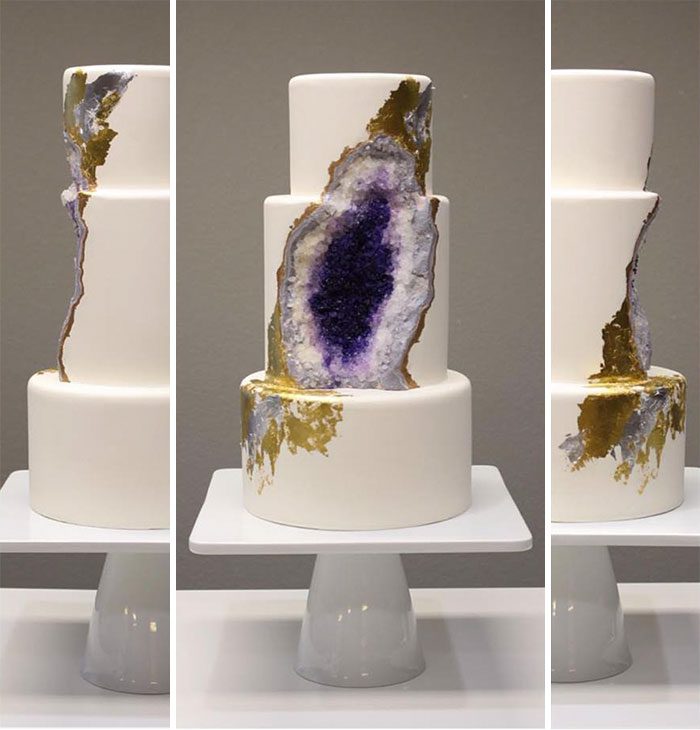 This stunning cake stands out and is the ideal example of the bling-tastic style that had cropped up. Multiple colors are combined to create a life-like geode, paired beautifully against the gold detailing extending across the entire top of this masterpiece.
22. Gorgeous Garden Of Flowers
This little forest of a cake is positively drowning in flowers. The dark-hued blooms on this romantic, elegant cake give it the perfect touch for your event. This means no more boring white weddings or generic fondant roses ever again!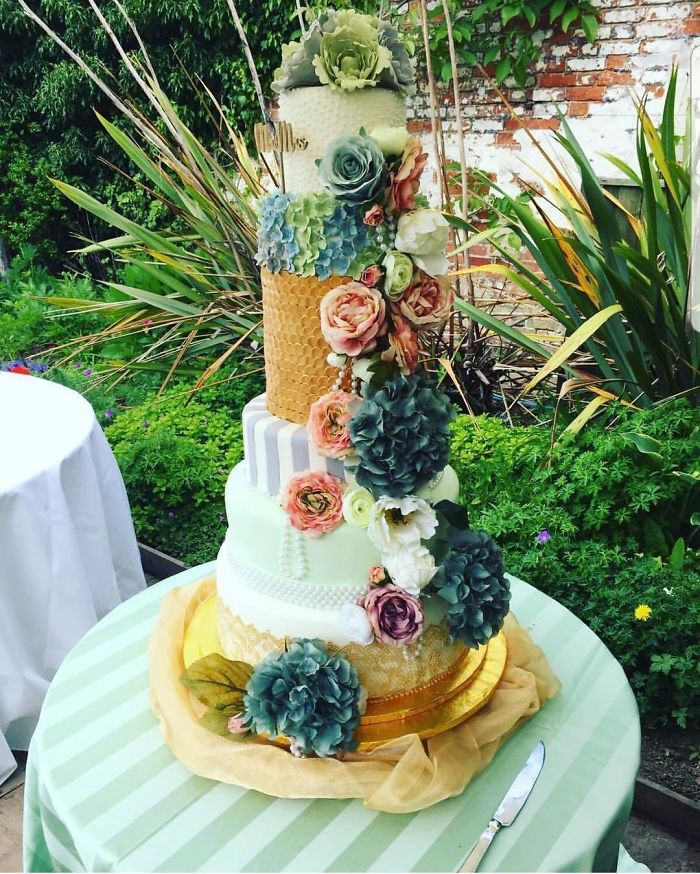 The colors of this flower wedding cake just shout springtime. It's so vibrant and pretty that it will convince anyone who sees it to get married (just kidding – we know marriage is about more than the cake). The florals make it an absolutely gorgeous design for any season.
23. Wedding Cake With A Secret Identity
A wedding cake with a secret identity? That's too cool for school. The superhero wedding cake is also beautiful, mild-mannered by day but its true nature is revealed at night. It has an elegant white exterior that hides the fudge filling beneath it.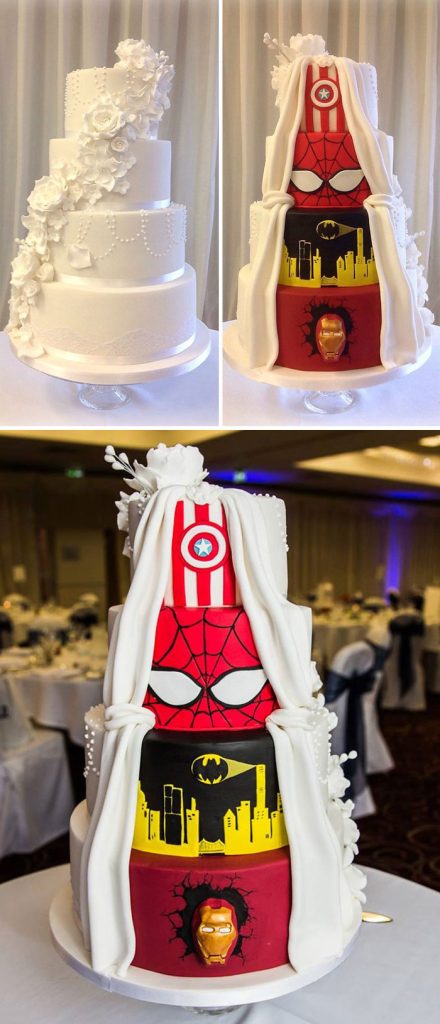 In addition, it features Marvel heroes like Captain America and Thor in various flavors to suit everyone's taste buds craving. Mixing in DC's Batman is a daring move! Plus, the white icing and beautiful flowers on teh other side give a nice nod to tradition.
24. Dainty Floral Wedding Cake
A stunning floral cake will make your wedding reception an exquisite experience. Why not spice up the flavor of that vanilla or chocolate layer with gorgeous blooms? You can have pastel peonies, jewel-tone roses, and dahlias on top for extra flair.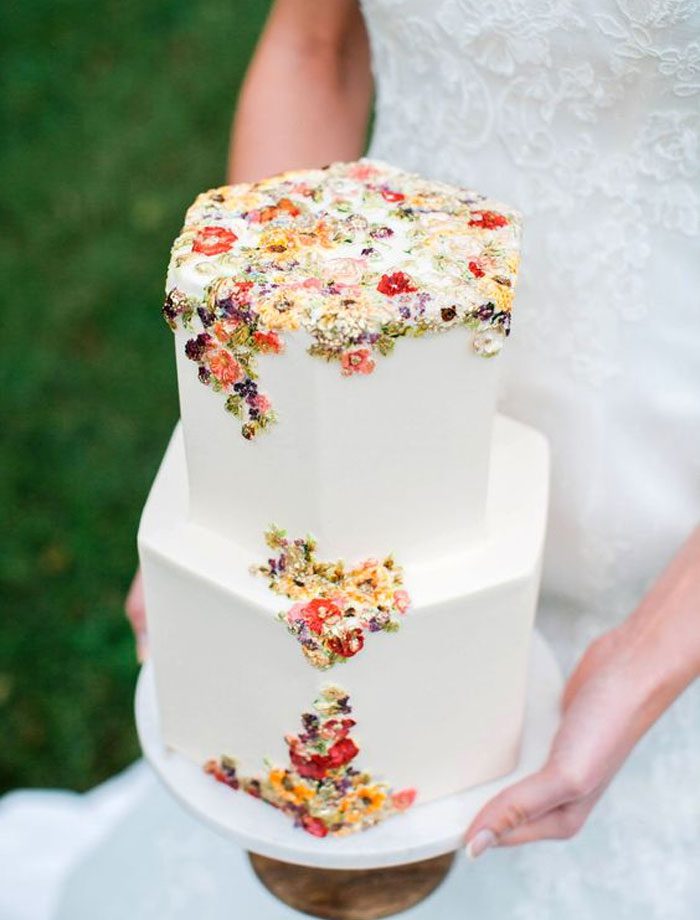 The perfect combination of romance and tradition, this wedding cake is both elegant and fun. With this cake, you are sure to leave guests speechless. It features hexagonal tiers that will make your special day stand out among all others.
25. Aladdin Wedding Geode Cake
For a truly magical and memorable experience, how about including the hottest new wedding trend? One way to do this would be with an Aladdin wedding geode cake. If you're wondering whether it can actually all be eaten, the answer is yes!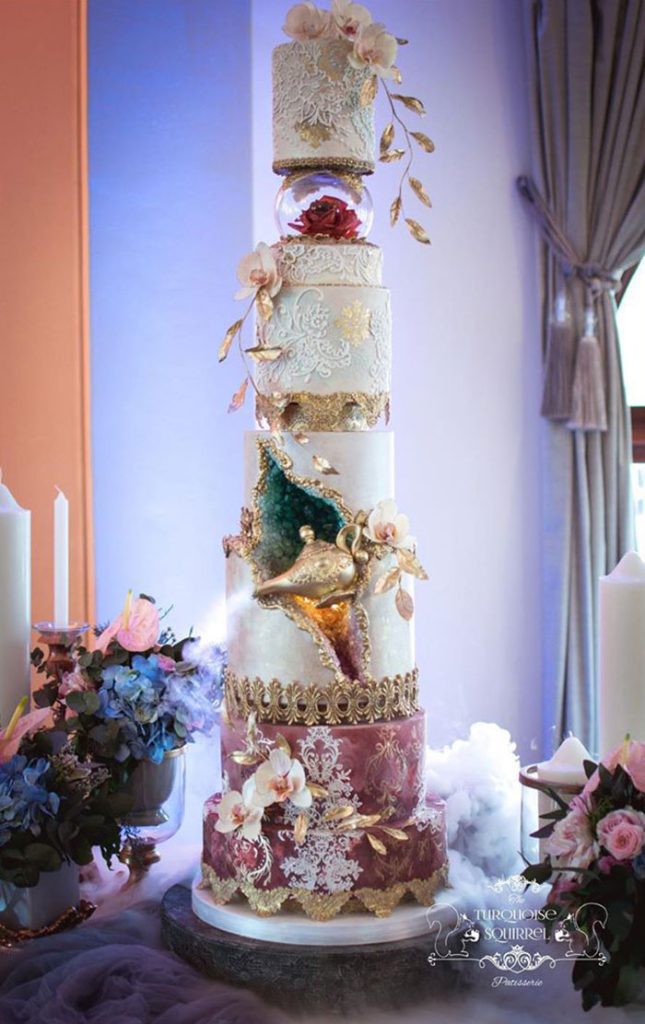 It's all totally edible, from Genie's lamp to that deep turquoise crystal. With layers upon layers of rich cream cheese frosting with lace designs sprinkled all over for extra magic, this cake is a guilty pleasure for the eyes and stomach.
26. Literary-Themed Wedding Cake
A wedding cake with the theme of literature is not something that everyone would expect to see. But if you are a book-lover, this one makes yours more than just an average slice. Having to choose only a few of your favorite titles might be the only hitch to this design!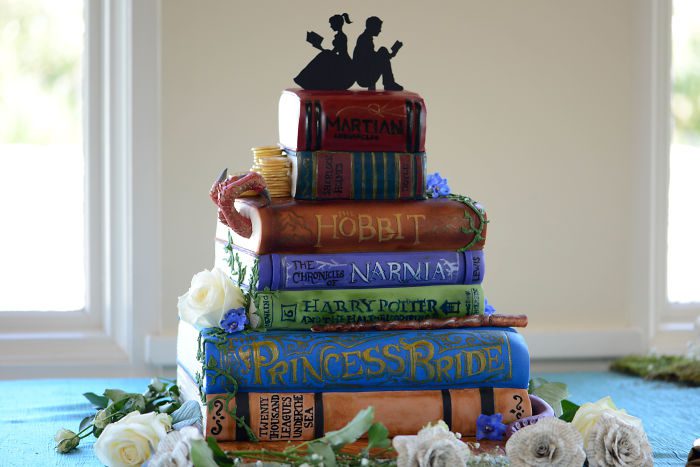 It's hard not to be impressed by baker's imagination. And this topper is our personal favorite. This cake has bright colors that pop off each piece, showing creativity at its finest hour. Not everyone wants a white cake, so we're thankful for artists like this!
27. Incredible Forest Themed Wedding Cake
A forest-themed wedding cake is a wonderful idea for anyone who loves nature. Woodland-themed weddings have recently become one of the hottest trends, and they make perfect sense if you want to throw an outdoor party with trees as your backdrop.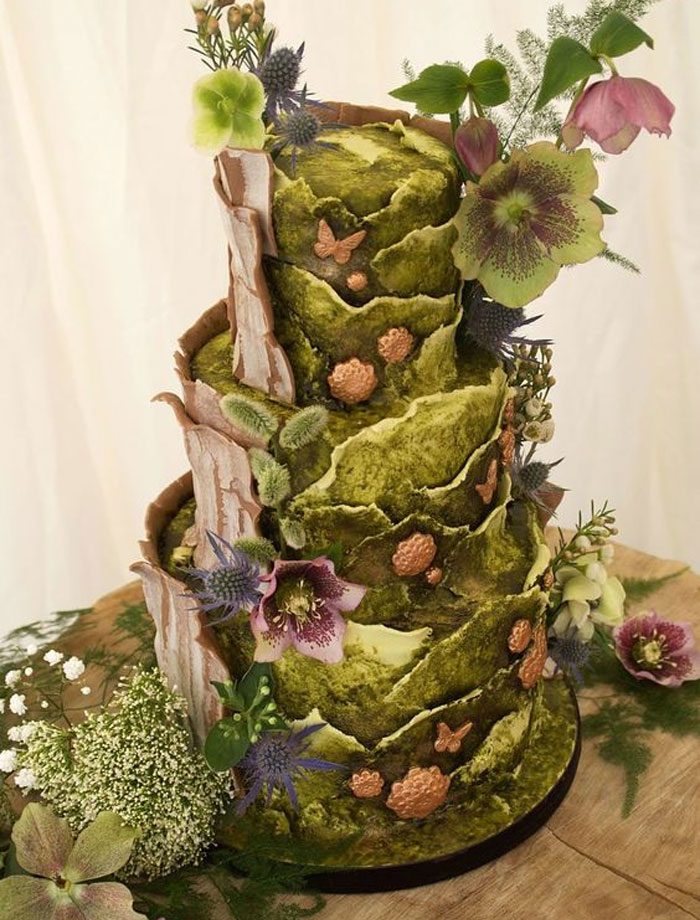 A slice of deliciousness awaits you in the form of this custom-made confectionary masterpiece. It's designed with all edible details, including flowers, leaves which will make it absolutely breathtaking, and we can't forget about that moss green icing on top.
28. Huge Beautiful Wedding Cake
Maybe you don't want to have a regular-sized wedding cake. You need the biggest and most extravagant one for your big day. A giant, towering custom confection with layers of buttercream frosting will make people go gaga over how amazing it looks.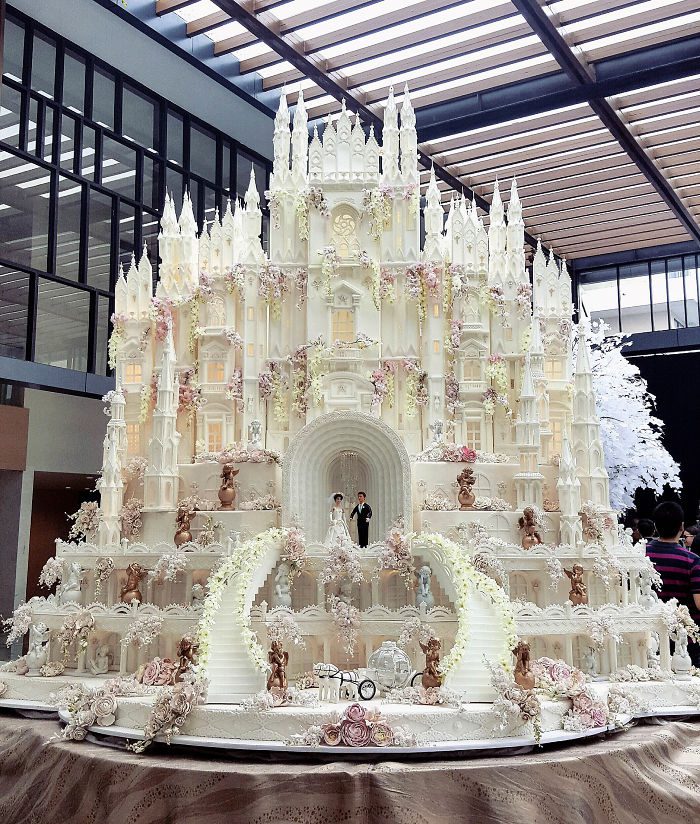 This lavish cake is not only huge, but it's also gorgeous. The sheer size of the fondant creation will make your jaw drop. There are a lot of delicate flowers on top and decorations for extra flair, making it more charming.
29. Glowing In The Dark Cake
Here's a cake that will decorate your wedding sky with glowing stars. This cake is so creative and fascinating to look at. You won't be able to take your eyes off it! Besides, it'll add more excitement and shine to your reception.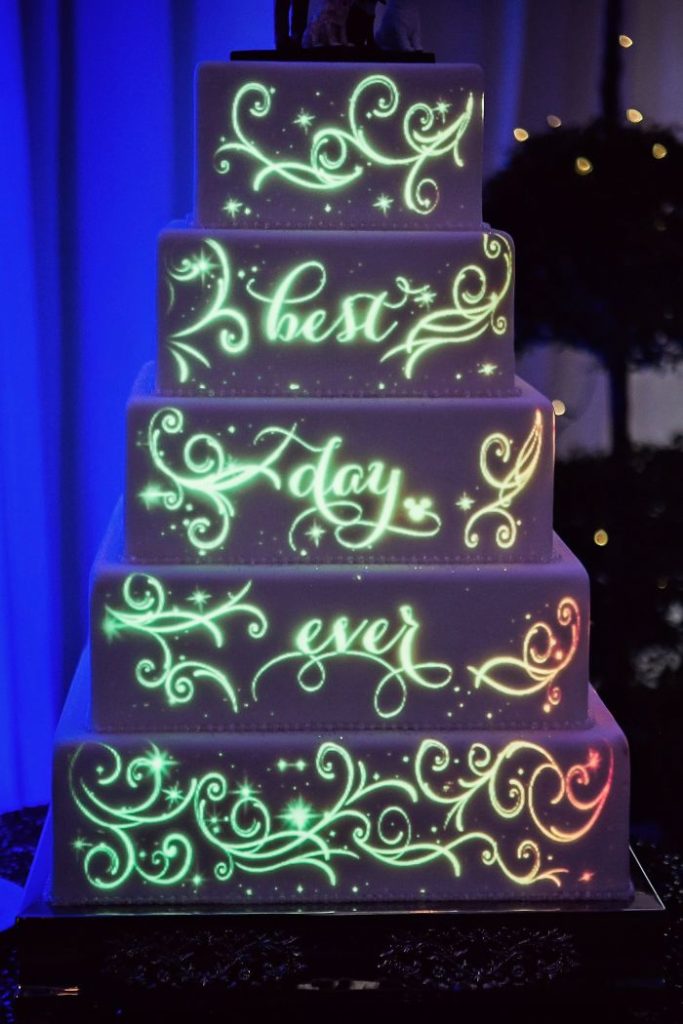 You can have a sky full of stars for your wedding with this creative cake. Wondering how they made that cake glow? There is a food coloring powder for it which makes your desserts turn into something magical. Alternatively, you can use a projector on a white cake!
30. Forest Wedding Cake
It is hard to believe that such a delicious-looking cake could exist. The visuals alone are enough to make your mouth water, and now we are famished. It also has the feel of warmth and sentimentality that makes it perfect.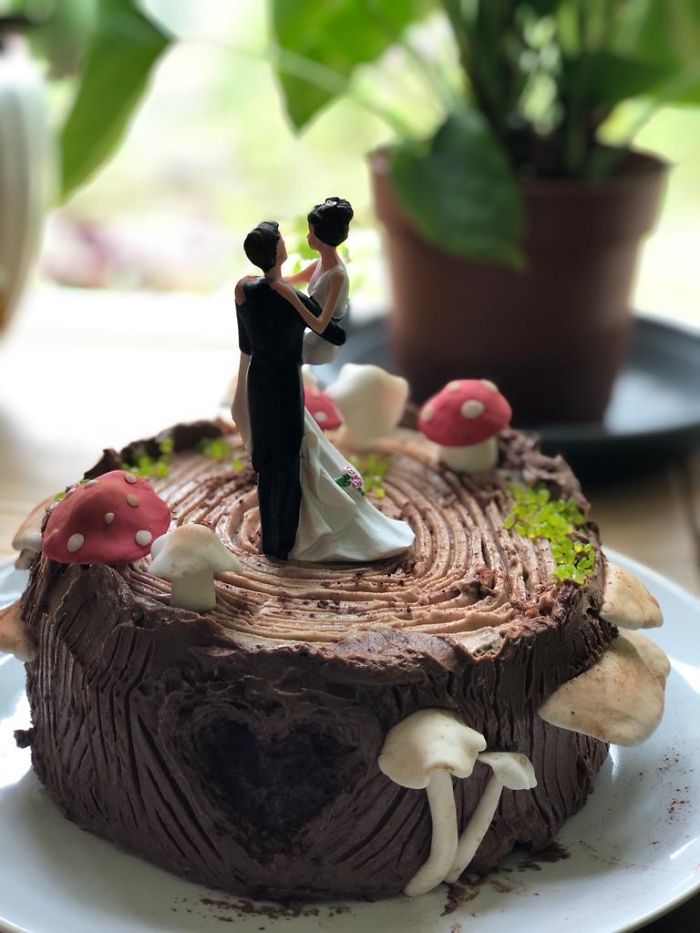 We bet it tastes delicious too. A single-layer pie is artfully embellished with mushrooms and heart carving, adding to its rustic perfection. The whole feel of this outdoor fête is so effortlessly organic, making it an excellent addition to any celebration.
31. Adorable Pillow Wedding Cake
Pillow cakes; the perfect way to bring elegance and grandeur to your reception. This beautiful cake features multiple layers with gorgeous embellishments that are very intricate in design and can't be missed. It's the perfect addition for your big day.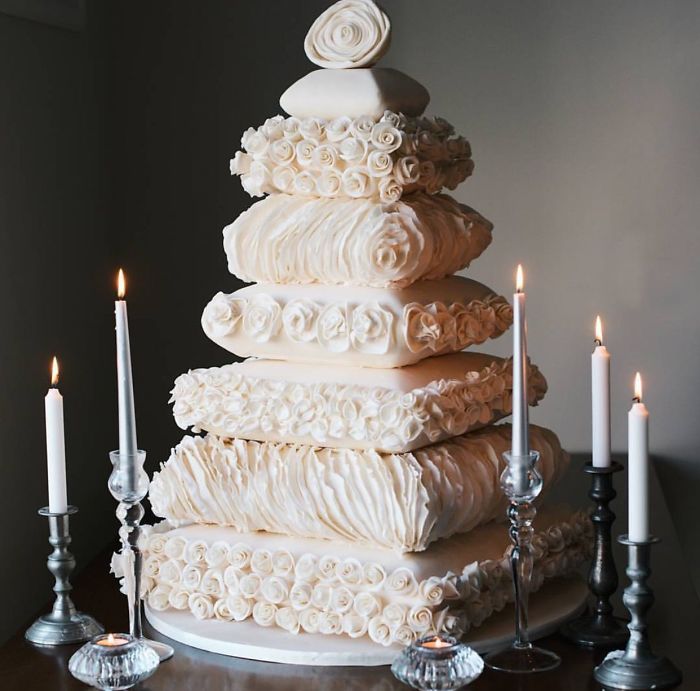 The cake looks like a work of art made using a vanilla sponge layered on top of each other covered in cream-filled edible flowers for an extra touch of charm. It's hard not to fall head over heels for this rich and luxurious dessert.
32. Wedding Cake With Skull
A perfect way to add some pizazz and wonder to your event is with this sugar skull cake with black icing. The stunning design gives new meaning to "Until death" while also looking absolutely gorgeous. Does anyone else get Día de Muertos vibes?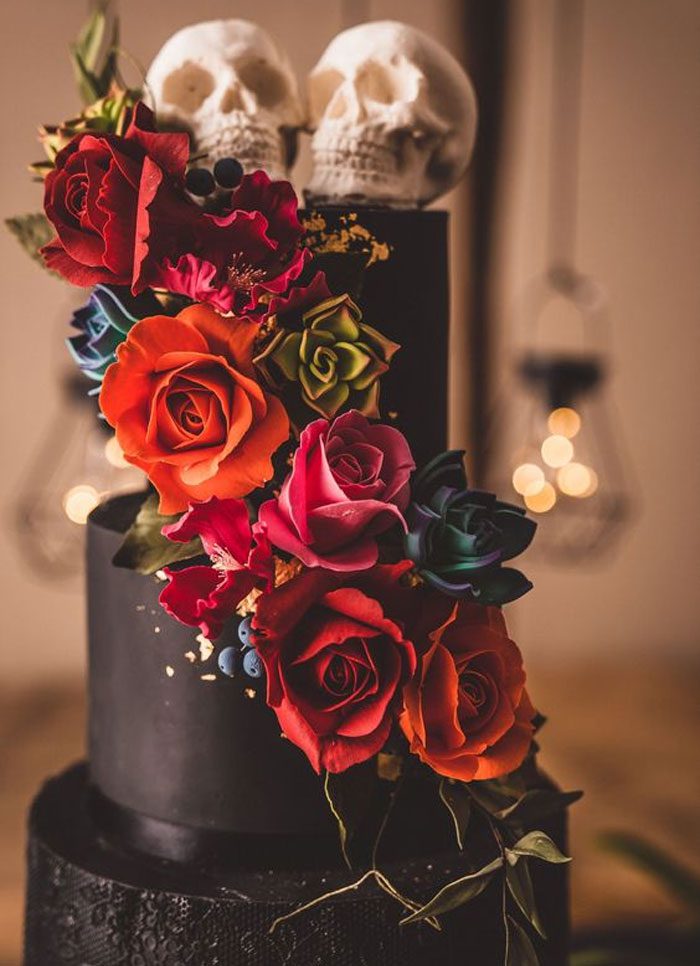 But what really makes these cakes stick out from other ones available elsewhere? Those flowers draping down from above; they're just magnificent. This cake is prepared with dark chocolate and buttercream frosting, which will make any sweet tooth happy.
33. Cartoon Cake
This cartoon-themed wedding cake is the ultimate choice for your special day. It has the best of both worlds, with the wacky and colorful design elements that will make it one-of-a-kind — this is sure to please any fan.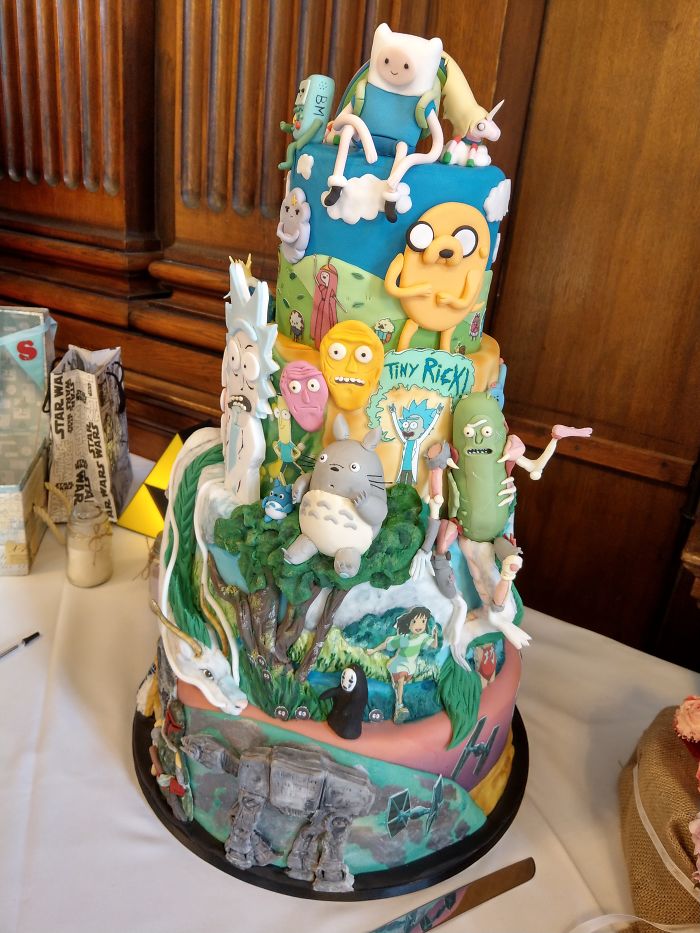 When you see these cakes with their bright colors, it's hard not to get inspired by what you'd like to see at your event. The fun and exciting details would add some extra oomph to a themed party or even a wedding that needs a little something different.
34. Pretty Pink Floral Cake
Pink is the new black! This pretty cake features a stunning flower arrangement on top. Plus, it's a perfect addition to any bride's celebration. The peach-pink frosting reminded us of nymphs in a fairy tale with its magical wildflowers and delicate coloring.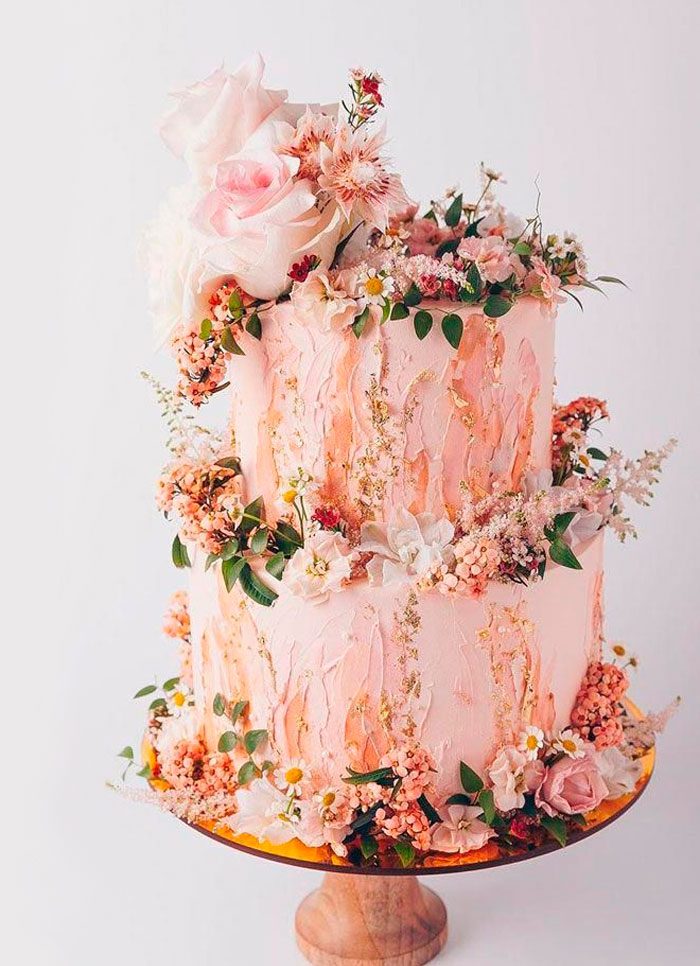 Plus, with this delectable treat's texture designed on top, it will feel like you've stepped into another world. The top layer might look tempting enough to eat in one go; however, there are so many different flavors packed into these petals.
35. Disney Wedding Cake
When you think of an extravagant wedding, what comes to mind? A watery paradise with endless views and dancing royalty, of course. This Disney-inspired cake by a unbelievably baker might provide just the right tone for your big day.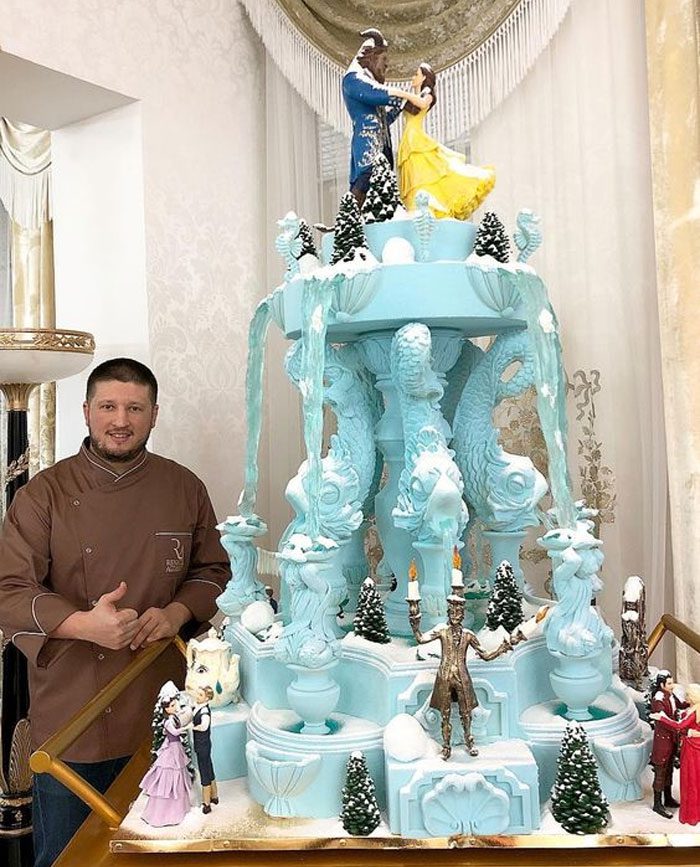 The immense, magnificent castle is made from delectable cream cheese frosting and decorated beautifully with sugar work. It's clear that so much work went into making sure every detail is just so, making it all the more enjoyable to look at.
36. Dragon Theme Cake
This five-tiered Smaug cake was made for a beautiful Lord of The Rings themed wedding. The hand-sculpted chocolate modeled onto its lacewings makes this an edible delight that would be an unmatched centerpiece on any dessert table. We love the simple color theme too!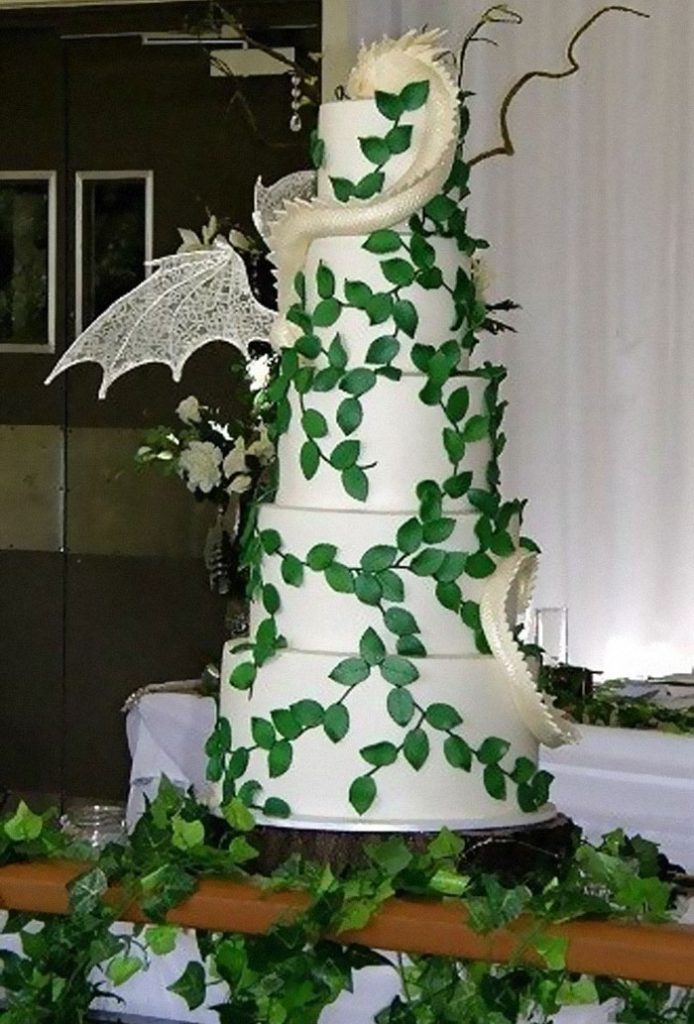 You'll be blown away by the features of this impressive confectionary beast. It features an innovative design and top-quality craftsmanship. And don't forget about those gorgeous green leaves. They're beautifully draping from top to bottom, giving off the right vibe.
37. The Elegant Wedding Cake
With their pastel hues and delicate petals, these beautiful sugar flowers are perfect for creating an elegant-looking wedding cake. It features a gorgeous bride and groom in the center hugging each other, making this beauty stand out from any other cake on display.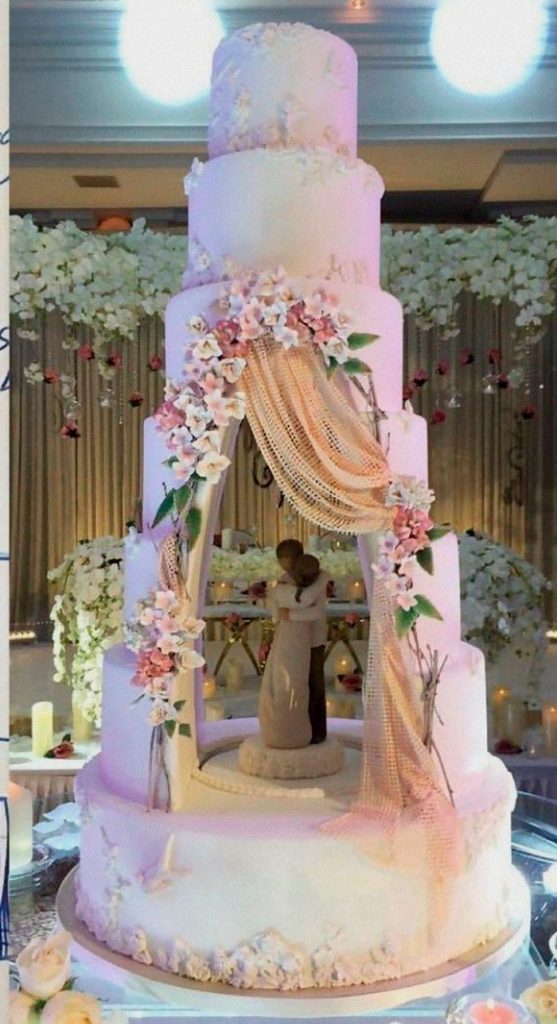 The curtain detail is so precious and adds just enough whimsy and lightheartedness to make everything seem less heavy. Your guests would be delighted by this piece of art on your big day and the photos of you with it would be stunning!
38. Wedding Cake Forest Design
Do you want to wow your guests with an earthier cake than the typical vanilla white or ivory, but want to keep it classy? Well, you've found your inspiration. It'll be hard for them not to sink their teeth into this scrumptious treat after sampling just the sight.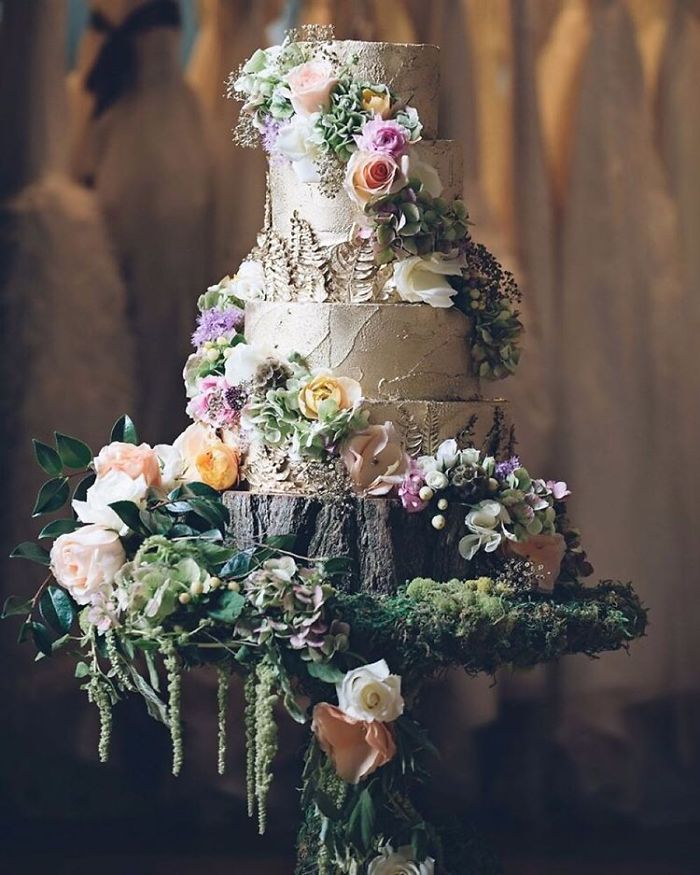 The cake is decked with blooms and other natural touches such as crawling vines, twigs, and hanging moss. You can even add gorgeous leaves tied together with threads adorning frosting designs for an extra touch of wildness to your special day.
39. Wedding Cake Befitting A Queen
The wedding cake, a bull's eye at the royal party held by Queen Elizabeth II in Buckingham Palace, consisted of an Australian fruitcake with dried fruits preserved using rum and brandy from South Africa. This earned it the nickname "10,000 Mile Wedding Cake."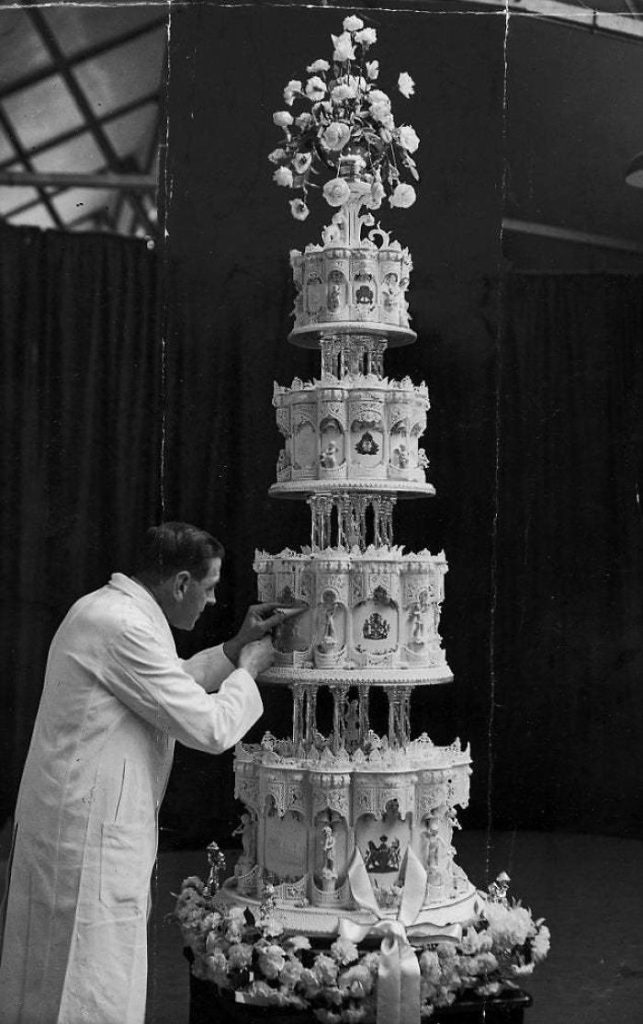 This cake was 9-feet tall and 500 pounds. Additionally, it had 80 oranges, lemons, 660 eggs, and 3 gallons of Navy rum. We have never seen anything so decadent. Would you like to have this fantastic cake for your special day?
40. Awesome Star Wars Cake
This is the most unique and creative Star Wars cake we have ever seen. With a custom design in shades of green, this wedding treat would be perfect for your soon-to-be partner for life to cut into as their first food as a married person.
The best part about it? The epic space design lies beneath traditional white frosting draping beautifully around it from all sides. The flavor is also something that everyone at the event will fall in love with at first bite.
41. Wedding Cake With Pressed On Flowers
A delicate, ethereal wedding cake is the perfect way to celebrate a magical event. The pressed flowers on this sweet treat are romantic and elegant with their elegant beauty and seem like they're straight out of the garden, just for you.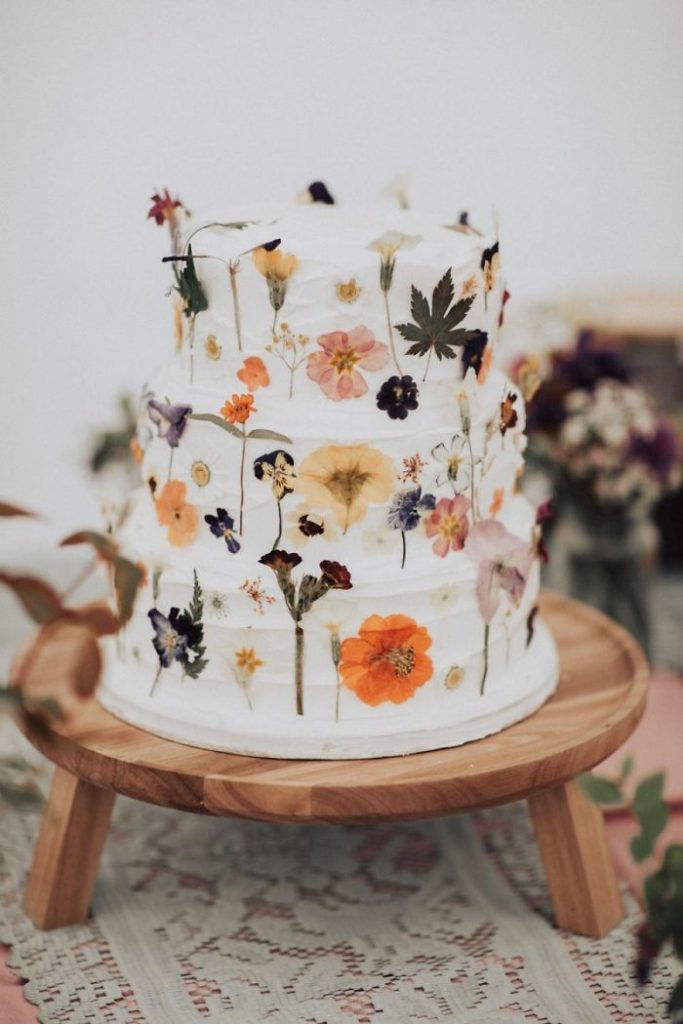 This lightweight divine beauty will attract all the eyes in the room and can serve as the centerpiece during your big day. What is wonderful about this design is that you can tailor it to your color scheme very easily.
42. Beauty And The Beast Themed Wedding Cake
What's more romantic than a Beauty and the Beast themed wedding? If you and your significant other love all things Disney, this is one of those that will make for an unforgettable celebration. You can go as bold or subtle as you please.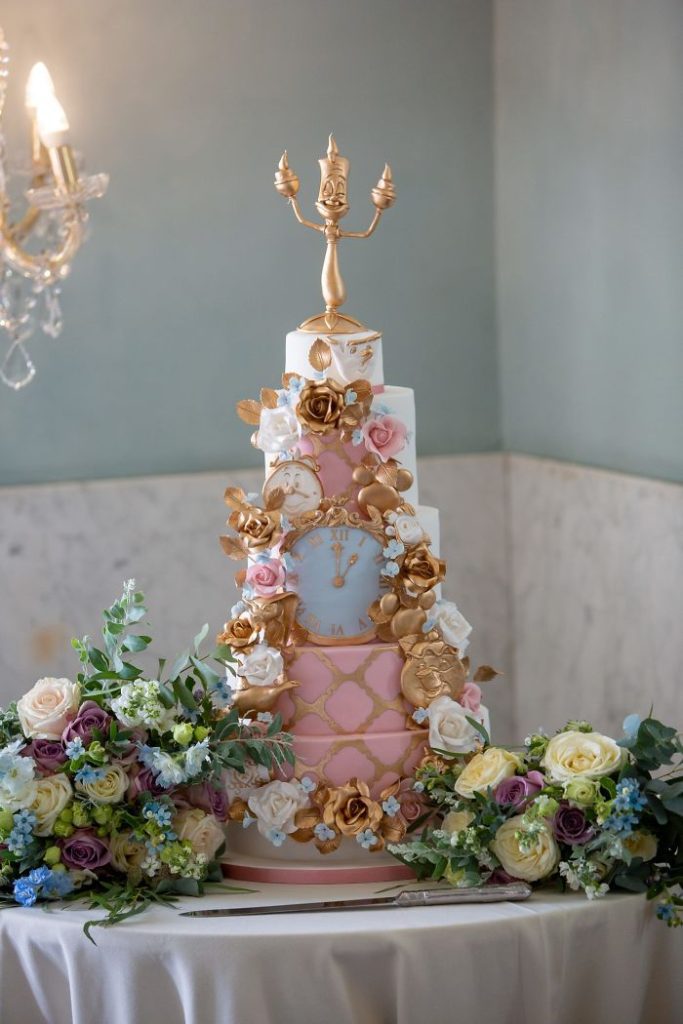 Guests will be wowed by how much thought went into creating such incredible detail. With gold touches and the iconic Lumiere from the film as the topper (though you can choose whatever character you wish), you have an unbeatable confection for your special day.
43. LOTR (Minas Tirith) Wedding Cake
This LOTR themed wedding cake is perfect for any couple who wants their guests to feel like they've been transported into the world of Middle Earth. The delicately handcrafted design consists of white chocolate fondants decorated with edible details, giving it an artisan quality.
The intricate details and placement will make any fan proud to show it off to any and everyone. This looks like it was made from clay, and is a perfect replica of the city in the movie. It's absolutely stunning in every way possible.
44. Princess Wedding Cake
For a princess-inspired wedding, there's no better way to do it than with the Disney logo. The classic all-white design and pretty castle topping will remind guests of their favorite childhood fairytales while relishing this stunning dessert on your big day.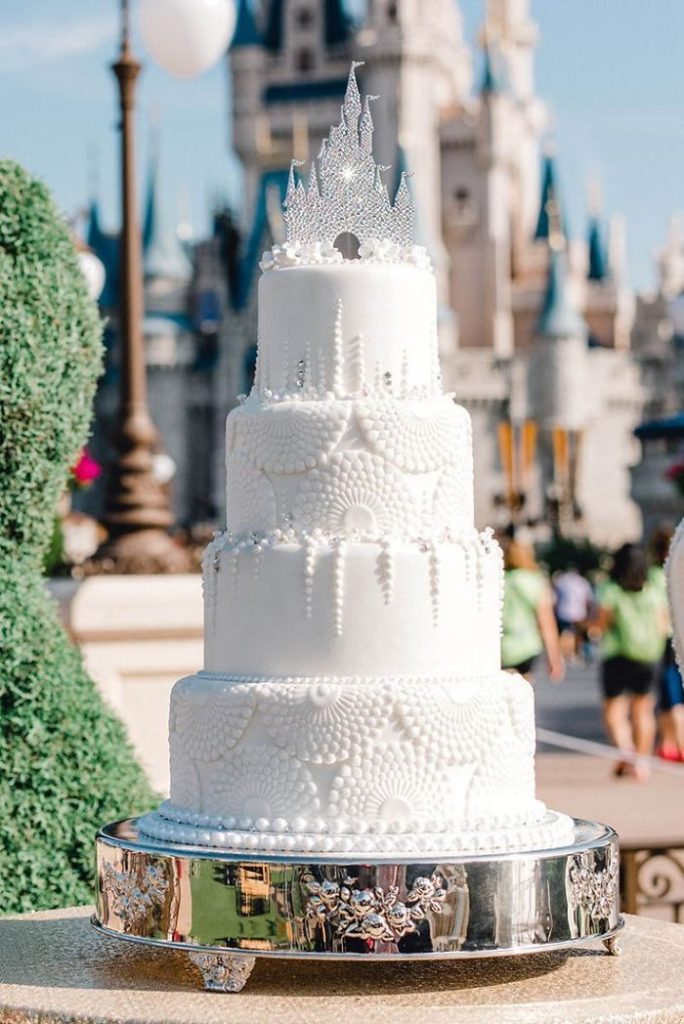 Keep things chic and elegant with this gorgeous white and silver color scheme. Opt for extra special touches such as embellishments, including an enchanting castle as the topper. It will make your big day unforgettable. This may be one of the most elegant cakes we've seen.
45. The Little Prince Wedding Cake
You'll be sure to make an enduring impression on your guests with The Little Prince wedding cake. The colors are perfect for any bride or groom's style, and their childhood memories will come alive with this beautiful scene on top.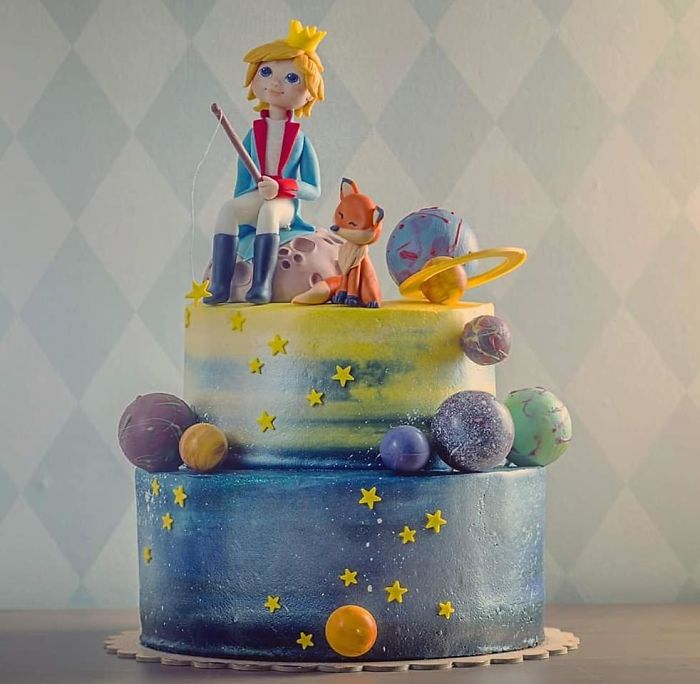 The most romantic cake for your favorite couple. This elegant yet simple design includes blue frosting in the shape of galaxies surrounded by purple stripes and has yellow stars throughout, making each slice feel special as you indulge yourself in it.