Dream Bigger While Spending Less: 35 Thrifty Wedding Plans For a Cost-Efficient Celebration
By Harpreet K May 22, 2022
---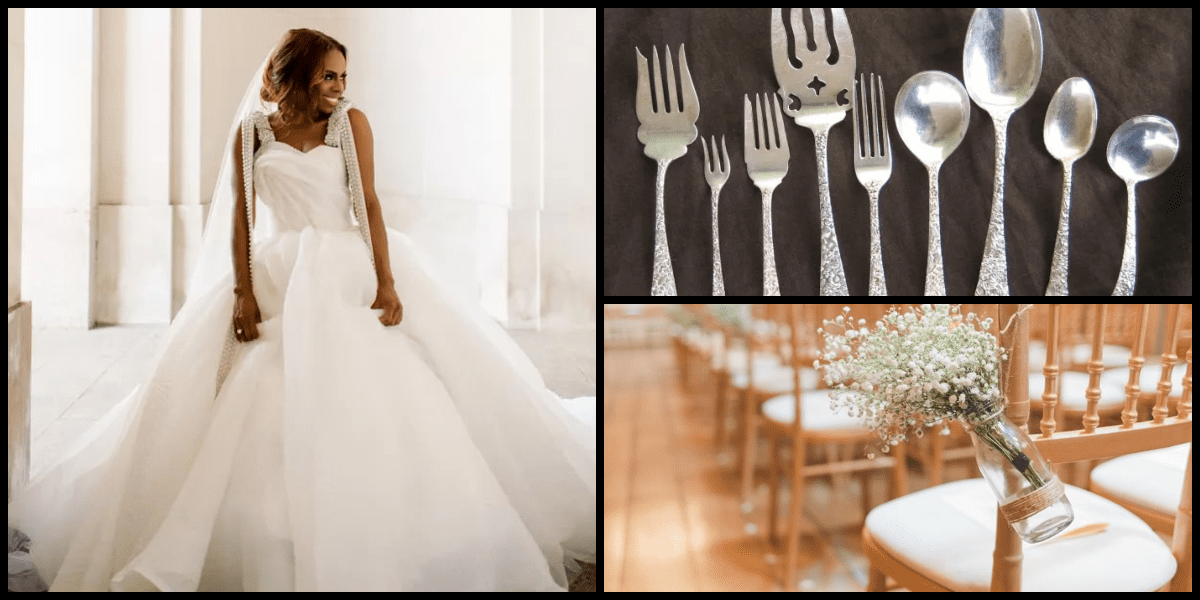 Planning your wedding is fascinating, but it can also be pretty daunting. There are so many details to keep track of, and it feels like every decision could end up being a huge deal. To take some pressure off of yourself, save money wherever you can — don't let post-wedding bills get you down. And there's no way to save money than by thrifting. You may choose to scavenge the Dollar Store, nearest second-hand store, and budget salon to get great deals for your big day. From dresses to decorations, you can find it all without needing to pay full price. There are tons of great finds in these shops, just waiting for you to put together a masterpiece. Here are 35 thrifty ideas to plan your dream wedding on a budget. 
1. Grab the sample size
You can buy a sample size designer wedding dress at a low cost. Most wedding gown designers will have a few select styles that they use as "sample" gowns for the brides to try at the store, which means they will wear out quickly.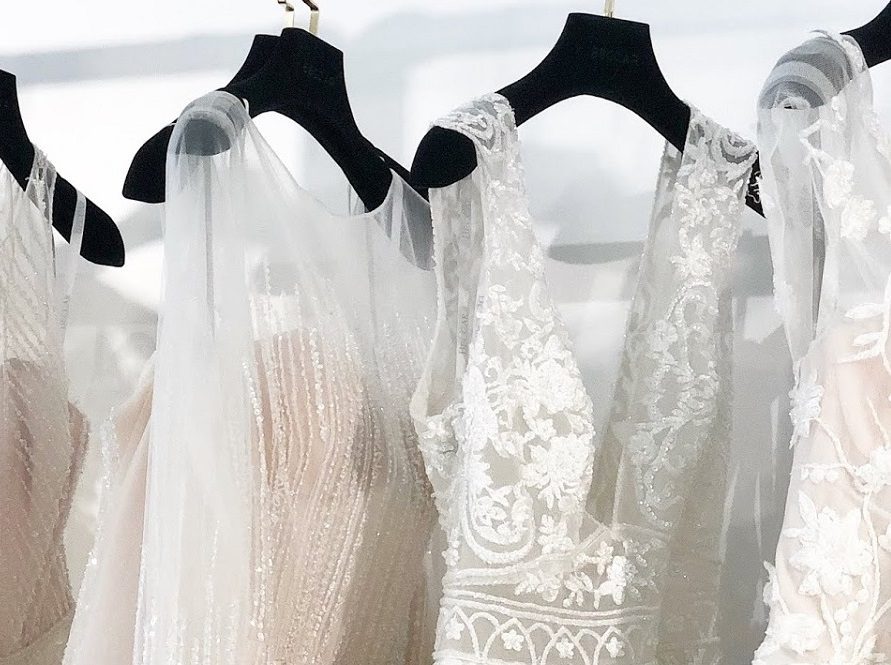 Moreover, this particular style that they've made may be an old design, or they're slightly irregular. So for those on a tight budget, buying a sample-size designer wedding dress is the way to go. Just be sure to ask your local bridal salon about their selection of sample gowns before you go.
2. Second-hand jewelry
Take into account a few essentials when buying second-hand jewelry for your wedding. First, consider the style of your wedding. For a less formal wedding, buying second-hand jewelry can be a great way to save money. Second, take into consideration the quality of the pieces.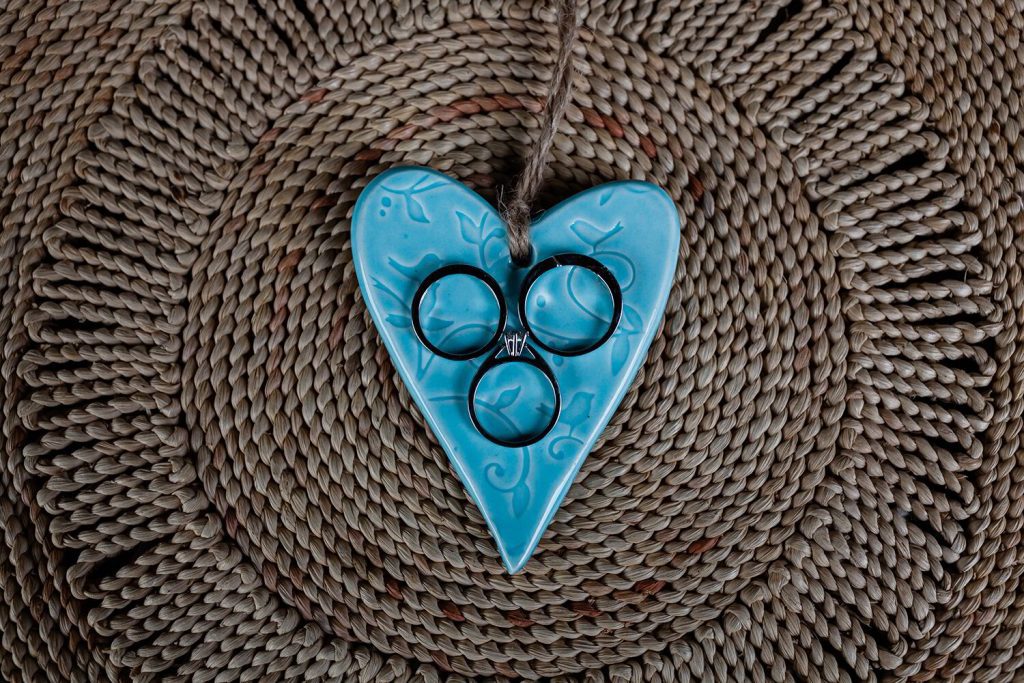 If you're on the hunt for something truly unique and high-quality, you may not find it in a second-hand store. However, if you're willing to sacrifice some quality for saving some money, buying second-hand jewelry can be great. Lastly, make sure to inspect the jewelry carefully before buying.
3. Don't forget to upcycle
Here's an easy way to decorate chairs for your wedding using supplies from the local dollar store. You can buy tablecloths for a couple of dollars each and then use them to upcycle chairs into beautiful, unique wedding decorations. Also, get faux flowers, ribbons, and twine for embellishments.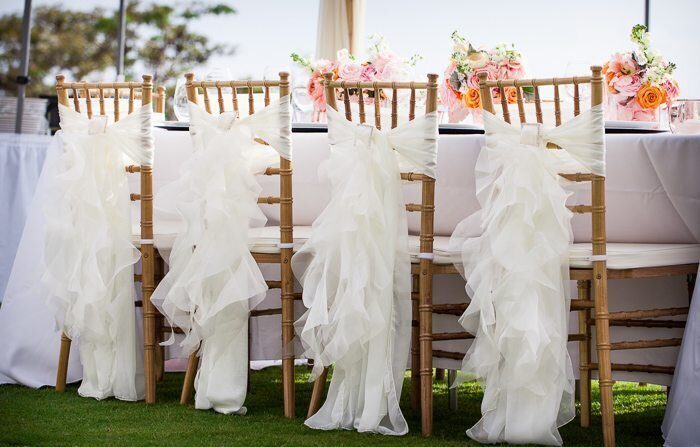 To get started, simply wrap the table cloths around the chairs, securing them with some twine. Then, use some scissors to create a fringe along the bottom of each cloth. Finally, add some faux flowers, and ribbon around the edges for a finishing touch.
4. Buy on Etsy
To add some vintage charm to your wedding, consider shopping on Etsy for stamp and postcard invitations in a budget-friendly way. Or you may use vintage stationery to set up a station for guests to write wishes for the couple.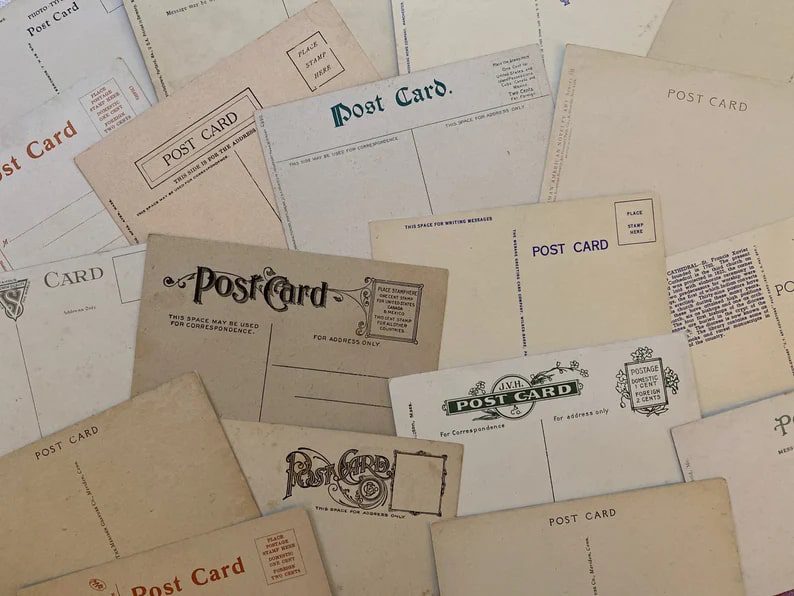 You'll find a vast selection of beautiful designs, all available at a fraction of the cost of traditional invitations. Plus, you can personalize your invitations with text and photos to make them truly unique. Start browsing Etsy today and find the perfect invitations for your big day.
5. Look for furniture rentals
Affordable furniture rentals that fit your budget as a must-have for budget-friendly weddings. First, search for discounts and coupons from furniture rental companies. But don't buy in just yet. Make sure they're reliable. Check online, or by word of mouth from friends and family.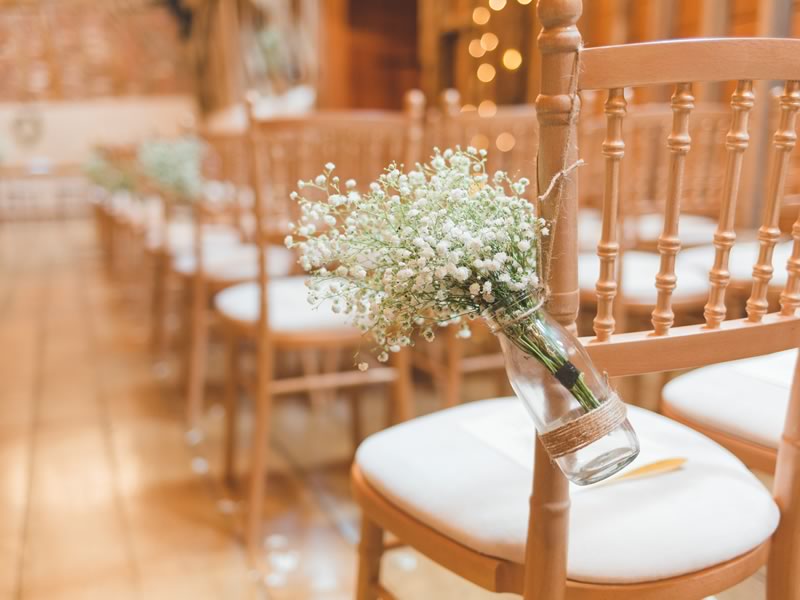 Once you've found a few potential companies, be sure to compare prices and services before making a final decision. Also, be sure to ask about any bundle deals, hidden fees, or surcharges to be fully prepared for your budget wedding.
6. Fancy Costco florals
Costco is an excellent option for budget-minded brides looking for gorgeous flower arrangements. The best part is that you can usually save quite a bit of money and get fresh flower arrangements from Costco, compared to an overpriced traditional florist.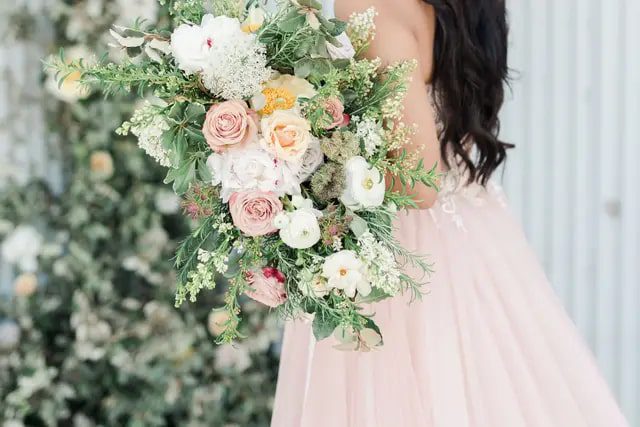 Just ensure to order well in advance, as the selection at Costco can sometimes be limited depending on the time of year. You may choose from bouquets, corsages, floral table runners, green arrangements, boutonnieres, and centerpieces at a low price.
7. Facebook marketplace deals
Many brides sell their wedding decor items, jewelry, and gowns on the Facebook marketplace. Buying second-hand will help you get wedding items for cheaper. Just make sure to set your budget and stick to it. It can be easy to get caught up in these virtual shops.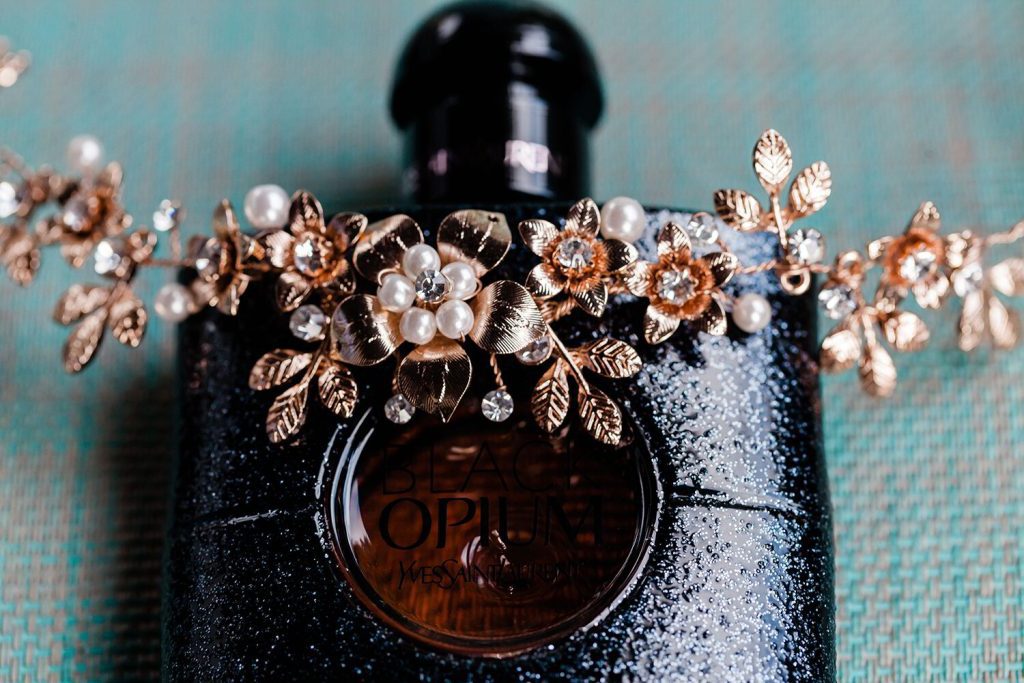 Just use the right words while looking for the items and narrow your search to nearby areas for easy delivery. If you find a seller you like, but their price isn't entirely within your budget, don't hesitate to negotiate. There's no harm in asking.
8. DIY flower decor
Skip shopping at a professional florist to cut the cost of your wedding flowers. With a bit of a creative approach, you can create beautiful floral arrangements yourself. Take a look at your venue and decide what vibe you want.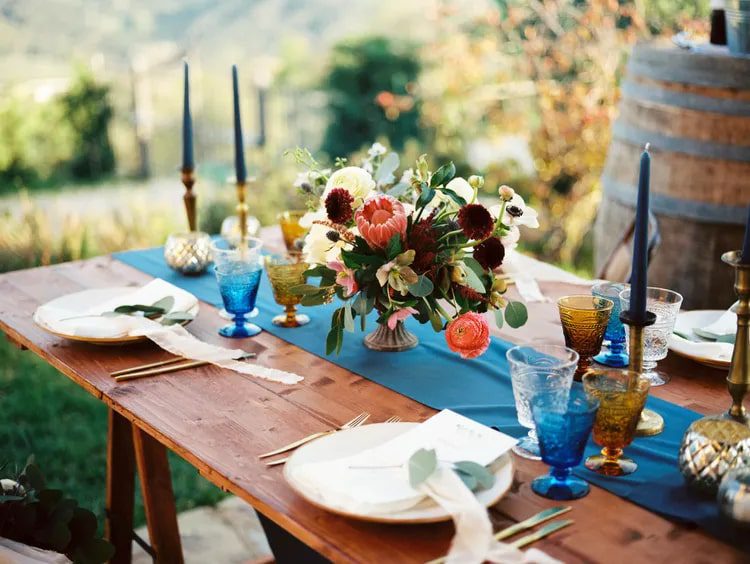 Before you start, figure out what style you want. Then, consider which flowers would best suit that vision. There are many good online resources that may help you choose suitable blooms for your arrangements. You can try shopping at Whole Foods or Target for flowers, too.
9. Ditch the flowers
Flowers are lovely, but they can also be expensive. Consider going with a vintage-inspired theme instead of using flowers for your special day. You can quickly DIY many of the decorations and centerpieces using things like old books, jars, and bottles.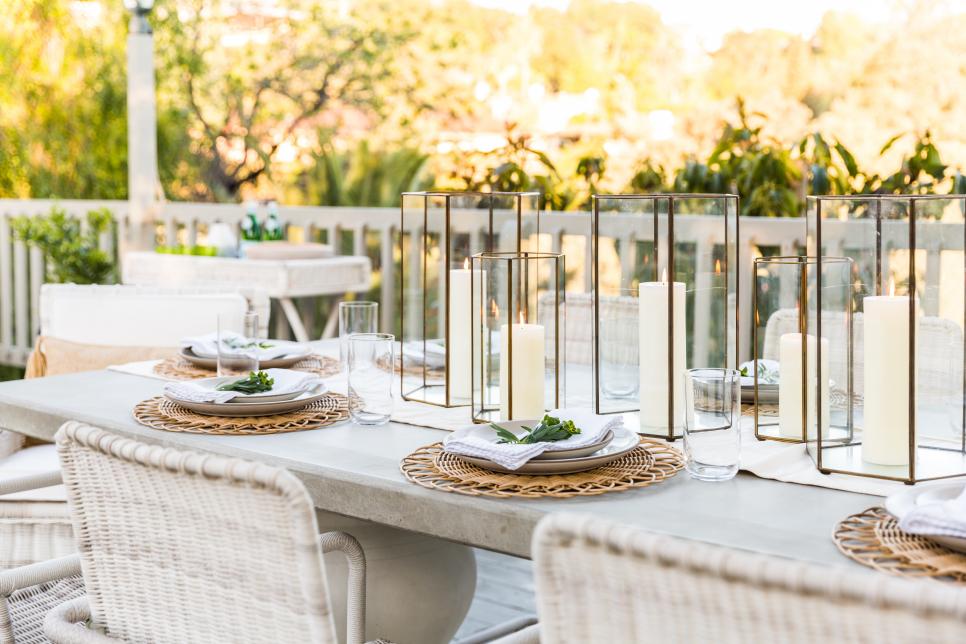 There are plenty of affordable vintage decor items available online or at flea markets for those tight on cash. You can also try to find some deals on Facebook Marketplace. So why not go for a unique look that won't break the bank?
10. Thrift the frames
Add a few personal touches to your budget wedding without going overboard. A great way to do that is to buy old frames from a thrift store and use them as part of your decor. You can easily repaint or refinish these frames to match your wedding colors.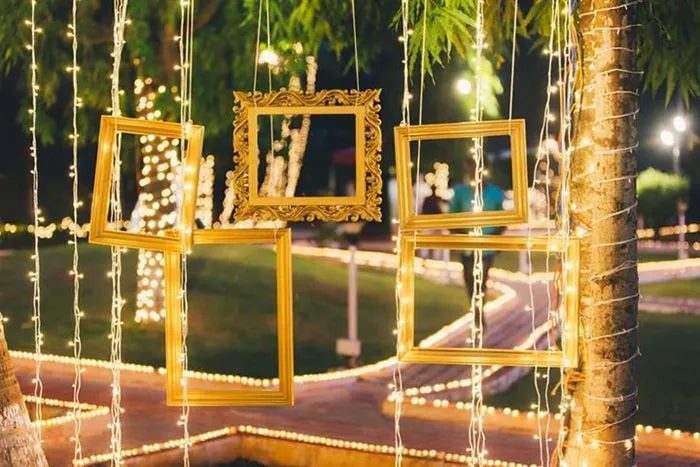 Use these to display table numbers, photos of the bride and groom, or even sentimental quotes about love. Just make sure you pick a frame that's big enough to make a statement along with smaller ones — after all, this is your big day!
11. Gold theme for the win
You can give your wedding decor a luxe look on a budget by spray painting dollar store items with gold paint. Some great items to start with are glass bottles, vases, candleholders, picture frames, and even chargers for your place settings.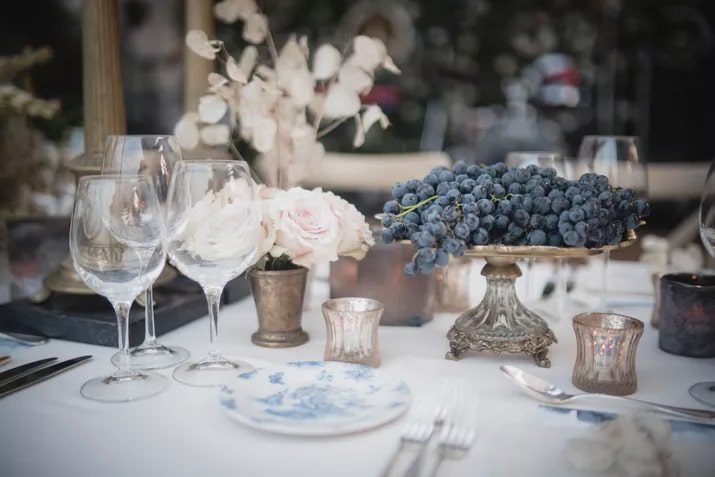 This is a great way to add extra glamor to your big day. One of the best-tested products is Rustoleum's Imagine in Metallic Gold. Just be sure to apply several coats of paint for best results, and let everything dry completely before using them.
12. Expensive looking fake cake
Your wedding is an occasion to celebrate with your friends and family, not build up debt. Cut costs without sacrificing too much of the elegance and ambiance by ordering a fake cake. A fake cake is an affordable way to keep your wedding sophisticated.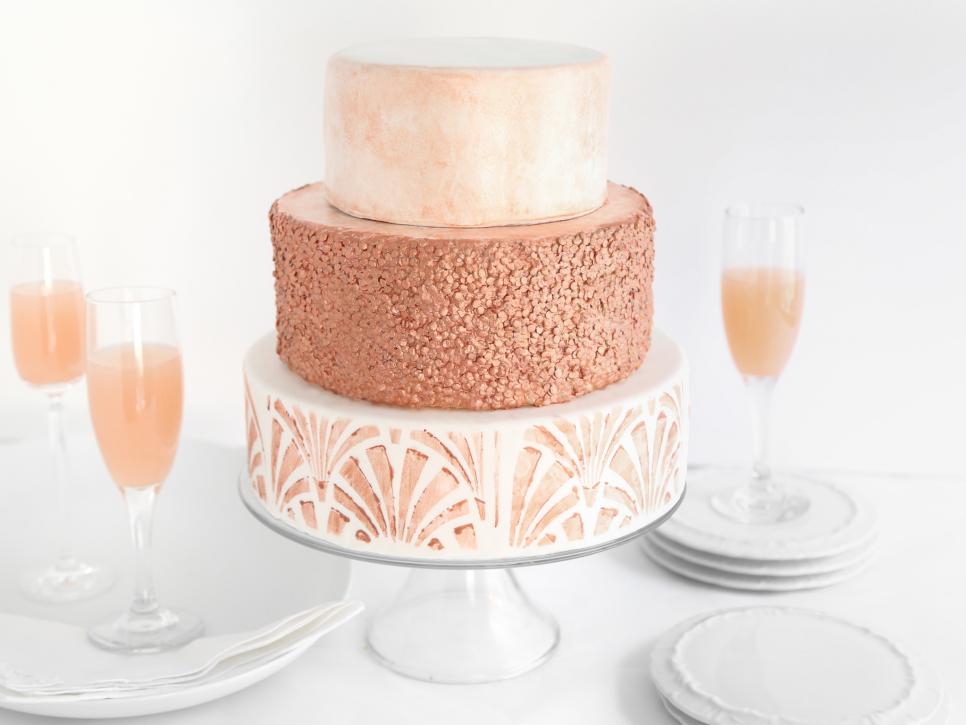 Plus, it can be tailored to match your style. Just be sure to order a sheet cake for serving guests. They'll never know the difference, and chances are it'll taste better, too. This is a great way to save yourself a lot of money on dessert.
13. Poshmark deals
There's no shame in being a budget-savvy bride! And one of the best ways to save money on your wedding is by shopping for pre-worn items, like gently used wedding heels. You may find great deals on designer shoes at online marketplaces like Poshmark.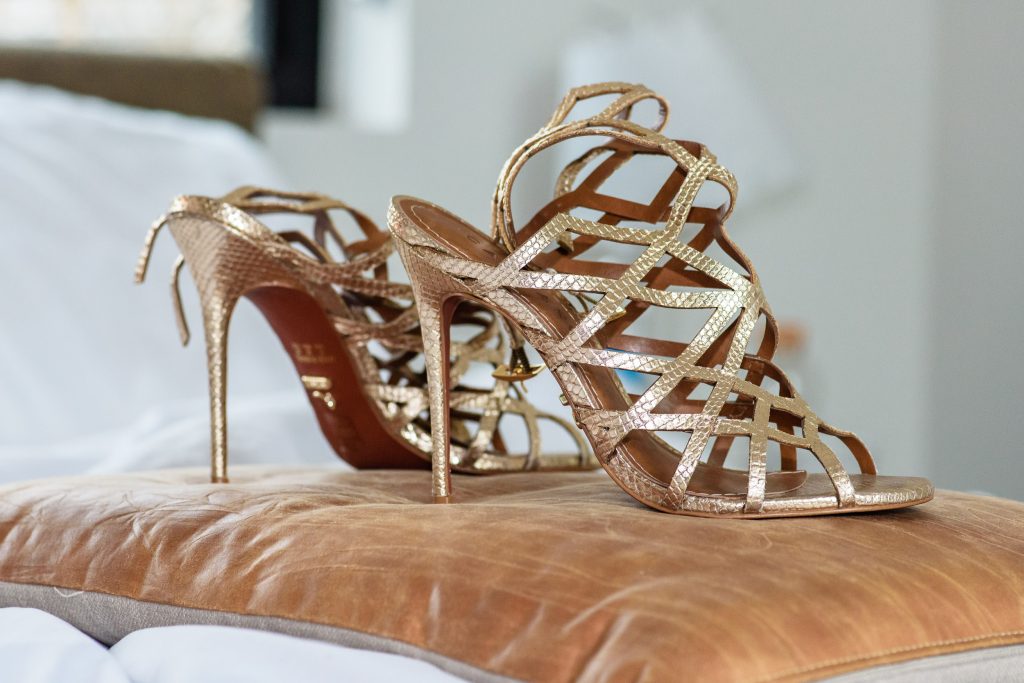 Your wedding shoes will not be so visible under the long wedding gown, so spending too much money on a designer item can be a waste anyway. Before you buy, try them on to make sure you can move around comfortably.
14. Mismatch plates
Want to add some individuality and personality to your wedding dinner table? Thrift store mismatched plates are a creative and budget-friendly way to do that! Simply select various pretty patterns and colors that coordinate well together, then place them on each guest's plate at random.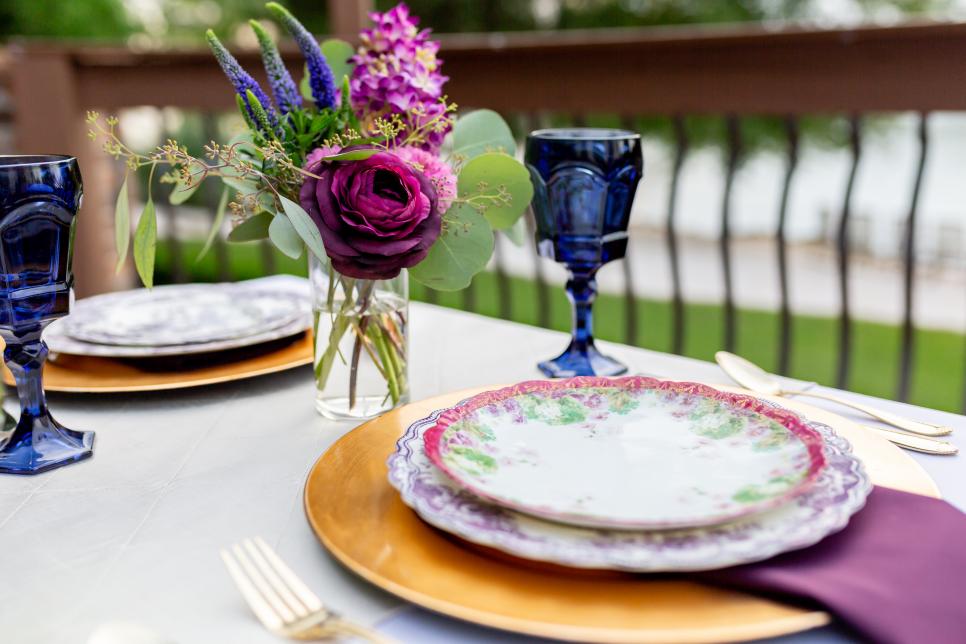 Another thing to consider is to follow a single theme and a color shade even when the plates have different patterns to ensure cohesiveness. This creates an eye-catching, one-of-a-kind look that will start conversations and add interest to your event.
15. Everlasting faux foliage
Between the venue, the catering, the dress, and all of the other little details, it's easy to see how costs can quickly add up. There are a few ways to cut some corners and still have a beautiful wedding; one of them being the use of faux foliage for decor or photo backgrounds.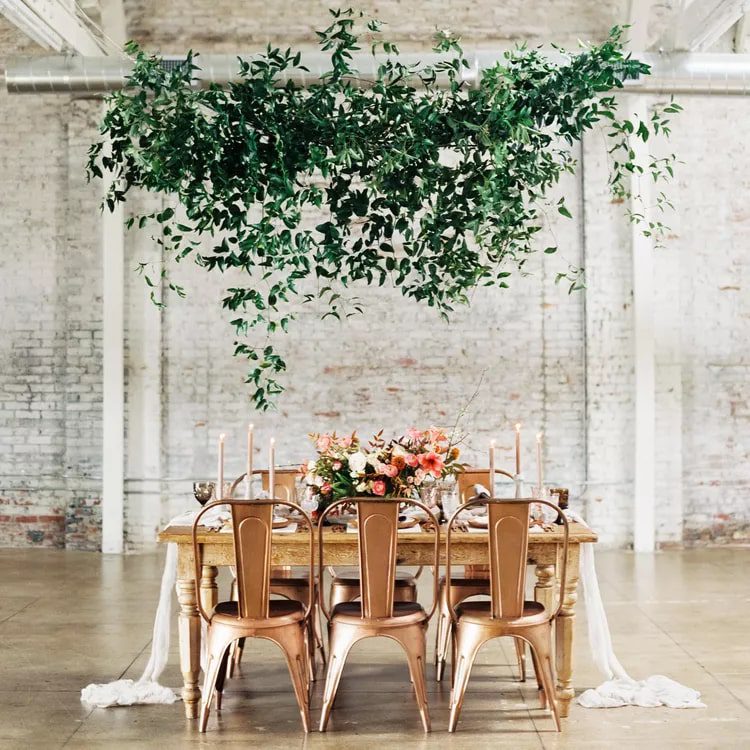 Faux foliage is an inexpensive way to add some greenery to your wedding decorations, and it can be used in a variety of ways. For example, you could use it to adorn your ceremony space by draping it over archways or hanging it from lanterns.
16. Thrift store vases for decor
Using thrift store vases priced at just a dollar is an affordable way to decorate your wedding. Not only will you save money, but you can also create a unique look that'll set your wedding apart from others. To get started, pick up a variety of vases.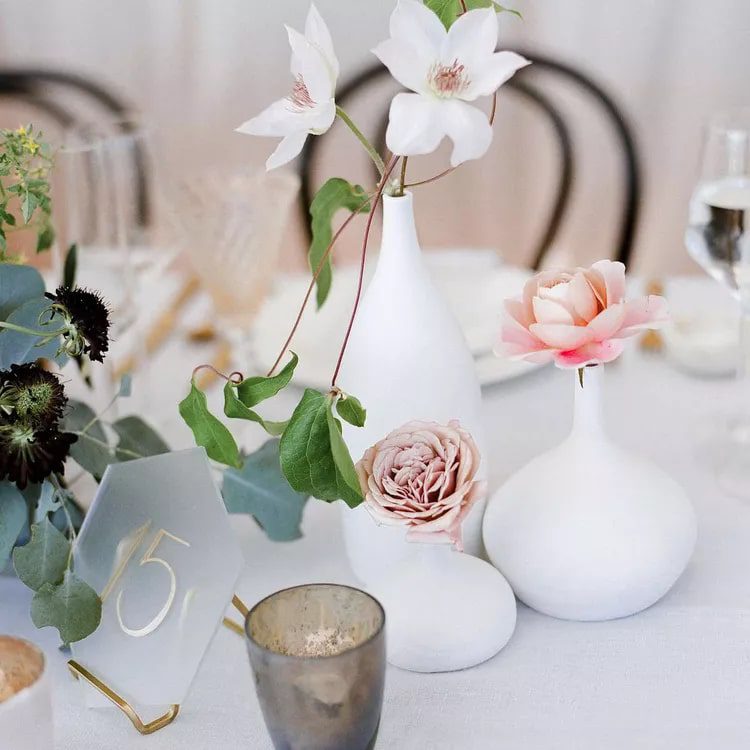 You can then fill them with leaves, flowers, or other natural elements. To add a pop of color, you can use a ribbon or tulle to wrap around the vases. Whatever route you go, make sure that the decor matches your wedding theme.
17. Turn barrels into tables
If you're following a strict budget but still want to have stylish furniture for your wedding, consider turning old barrels into tables. This is a great way to keep trash from ending up in a landfill. Moreover, it can also be a lot cheaper than buying new furniture.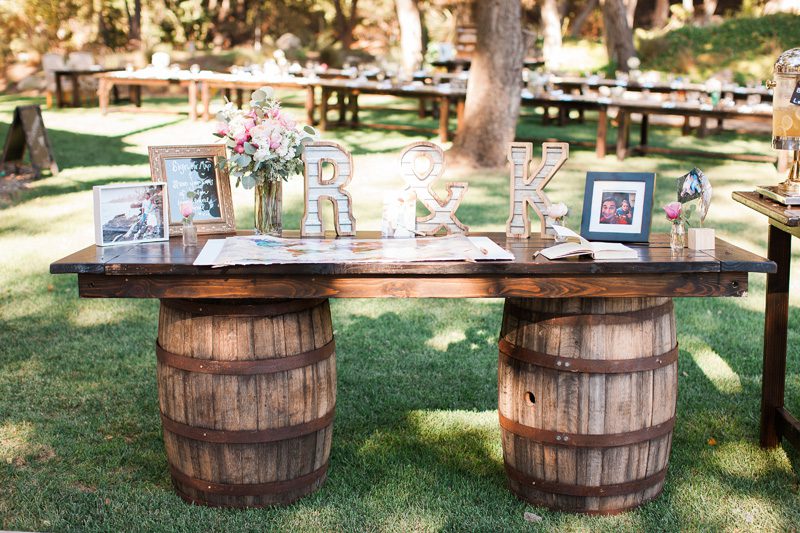 With some DIY skills or getting a professional to attach the top of the table base, you can quickly add a rustic element to the decor. You can even paint these in pastel shades for a romantic look. To top it off, add varnish to make them last longer.
18. Go for plastic chargers
You can make your wedding dinner budget-friendly by using plastic chargers instead of expensive silver or gold pieces. It'll allow you to save money while adding a festive touch to your table. Be sure to choose ones that complement the colors of your tablecloth and napkins.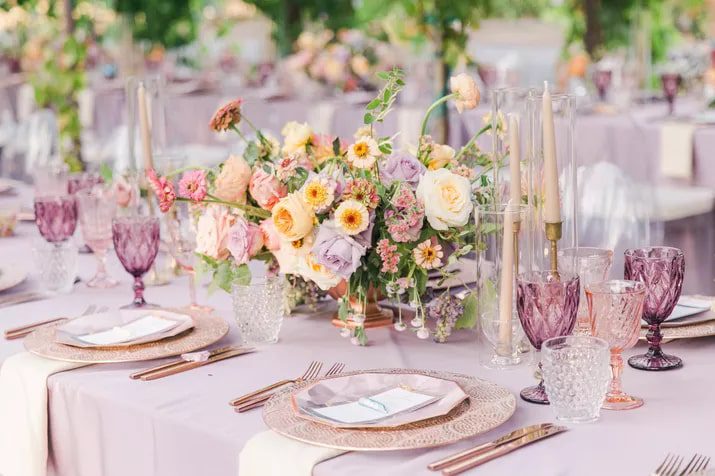 You can also pick gold and silver plastic chargers that almost look like real ones. Shop for these inexpensive plastic chargers at most discount stores, online retailers, and Dollar Stores. Now, use the saved money on other essentials for the wedding.
19. Ditch the DJ
Why not ditch the DJ and ask a relative to play the music? It's cheaper, and they'll probably be happy to do it. Plus, you can avoid all those awkward moments when the DJ is playing a song that no one knows how to dance to.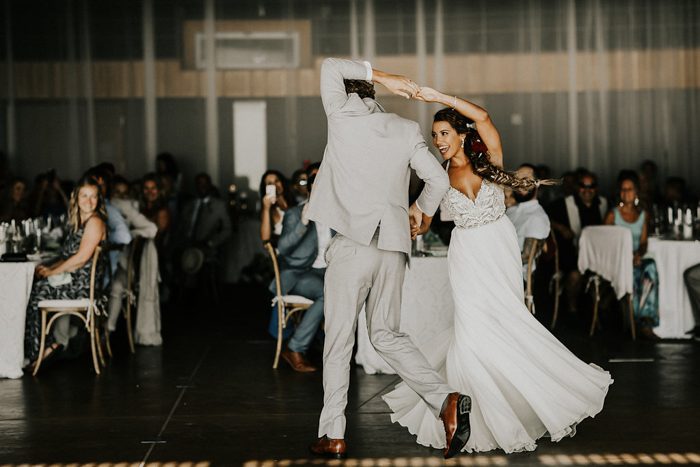 Just make sure your relative knows what kind of music you and your guests will prefer. Try starting them off by giving them a list of songs to play at different times of the ceremony. When in doubt, there are several wedding playlists to choose from on music apps.
20. Spruce up plain napkins
For many brides, the details are what matter most when it comes to their wedding table settings. Napkins are one small detail that can make a significant impact. Buy plain napkins from a local store and spruce them up as per your theme.
One quick and convenient way to dress up plain napkins is to add a monogram or initial. This adds a touch of elegance and can be done relatively inexpensively. Another option is to sew on some lace or trim around the edges of the napkin. This gives the napkin a more finished look.
21. Dollar store bubbles for guests
You can add a touch of playfulness to your wedding by using affordable bubbles from the Dollar Store. They will be fun for guests of all ages and also create a beautiful effect as they drift up into the sky.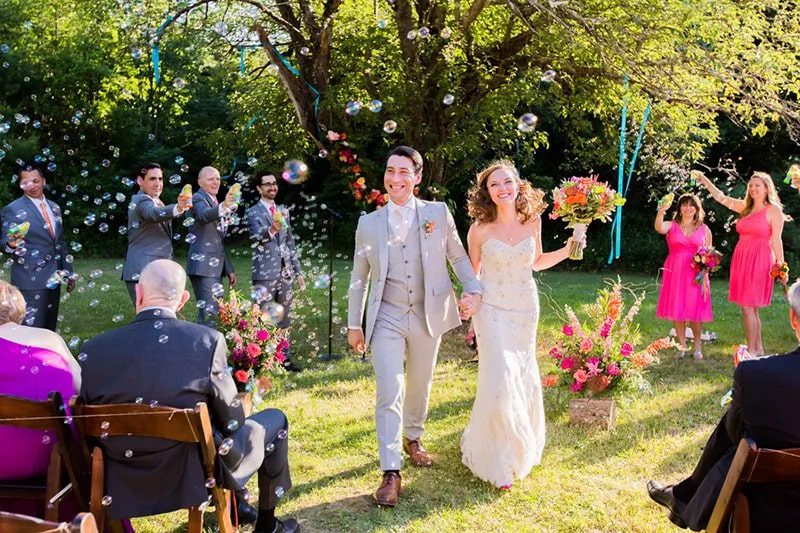 And since they're so inexpensive, you can let kids go wild with them without worrying about breaking the bank. For an extra touch, buy some paint and glitter while you're shopping for bubbles. Then, spice up the bubble containers as you please!
22. Bulk order wedding favors
Wedding favors may add up to a considerable sum if you have too many guests. Bulk order wedding favors to save money and customize them with your touches. It is easy to personalize your wedding favors to reflect your unique style and stay on budget.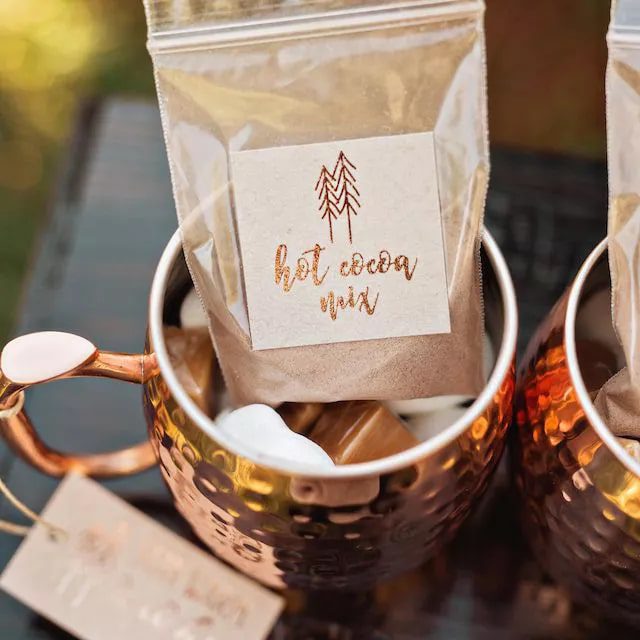 You can choose from various affordable options from the Dollar Store and thrift stores. Add a special touch by making customized labels or tags. You can even print them yourself using free software or online tools. Or, if you have a little more time, you may paint them and use fancy stickers.
23. Mason jars for centerpieces
Mason jars are a great way to add some rustic charm to your wedding décor on a budget. You can use them to create charming centerpieces by filling them with flowers and stacking them together. Or, use them as vases for displaying candles or other decorations.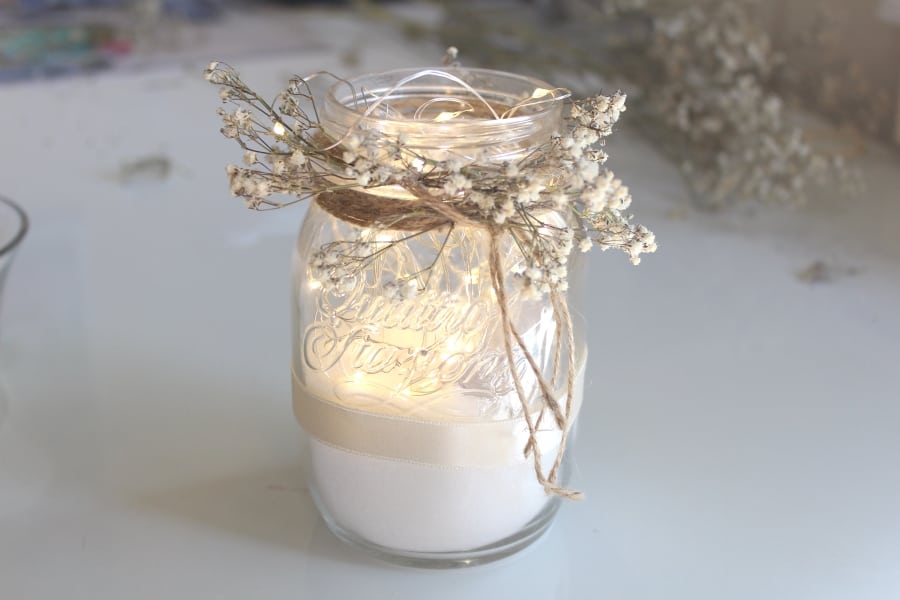 You can also use Mason jars to create DIY wedding favors. Simply fill the jars with candy, cookies, or other small treats and tie a ribbon around the neck of the jar. Guests will love receiving these unique and personalized gifts.
24. Buy during estate sales
Looking to add a touch of simple elegance to your budget wedding? Why not consider shopping for antiques, brass decor, and glasses at estate sales? You can often find beautiful pieces at a fraction of the cost that retail stores would charge.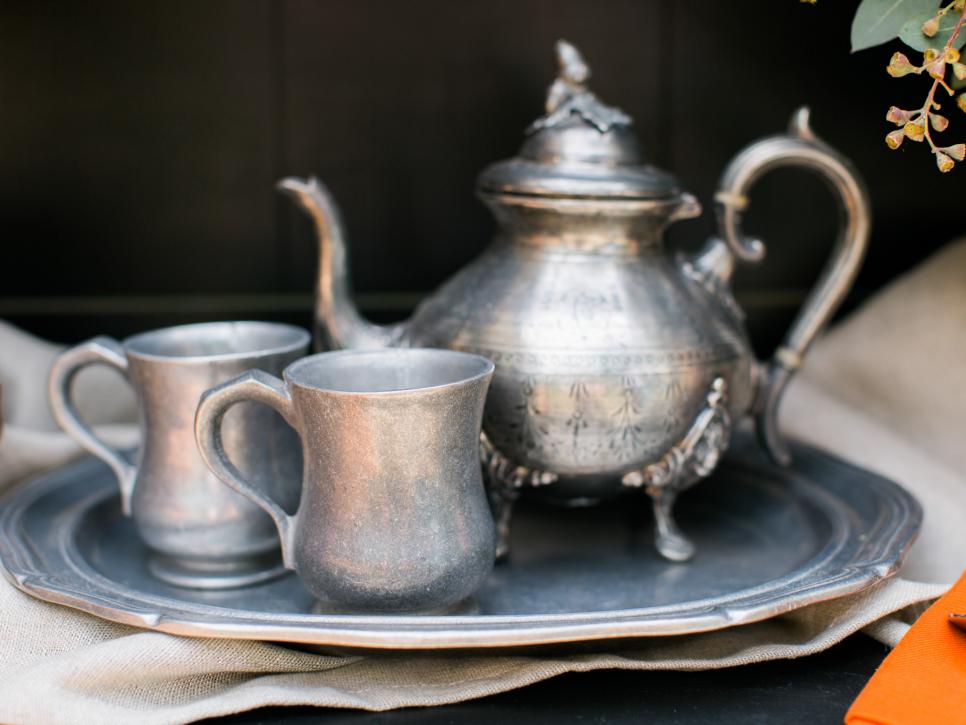 Plus, shopping for these items can be a fun way to add a personal touch to your big day! Make sure you know what you're looking for before you start shopping. Estate sales can be chaotic, and it's easy to get caught up in the excitement and you might buy something you later regret.
25. DIY invites
Designing and printing fancy invites for the wedding can get expensive. Instead, use free online design tools to create an invite and email it to the guests. Or, brides and grooms who would like to add a personal touch to the invites can pick some crafting supplies and get started.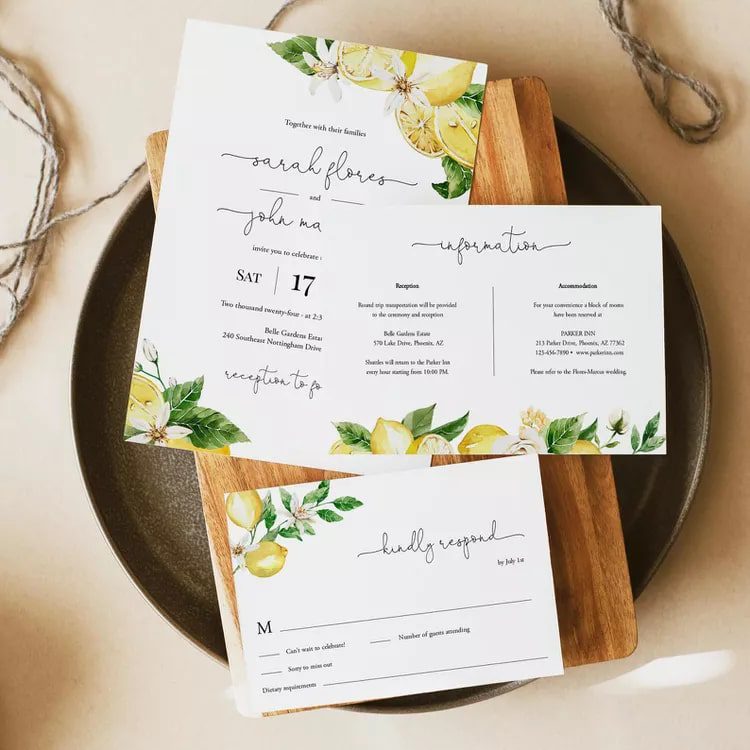 Use tutorials or your own art skills to DIY the invites; use glitter, ribbons, stickers, twine, and different colored sheets. Lastly, use wax and a stamp to seal the invite envelopes before sending them out. This will make your invites personal and memorable.
26. Do your own makeup
Getting makeup and hair done will add a lot to your wedding expenses. Find online classes or YouTube tutorials to learn how to do your makeup for the big day. While saving money, it'll also ensure that your wedding look is uniquely and perfectly tailored to you.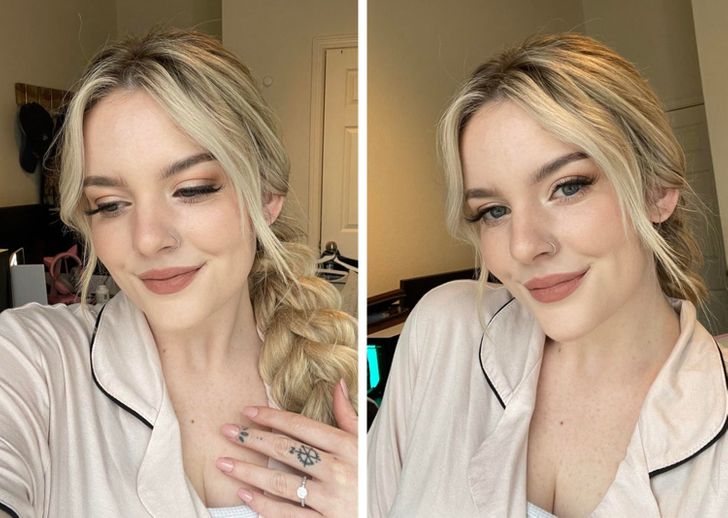 Remember, wedding makeup can be heavy and dramatic, but often less is more. A light layer of foundation, some blush, and a touch of eyeliner, dark mascara, or lipstick will usually do the trick. You can also ask a bridesmaid to help you with your hair while you work on your makeup.
27. Use Dollar Store candles
Candles are versatile decorations that can be used in various ways; they come in all shapes and sizes and can set the mood for your big day. But there's no point in buying expensive candles for your wedding and they're relatively inexpensive at the Dollar Store.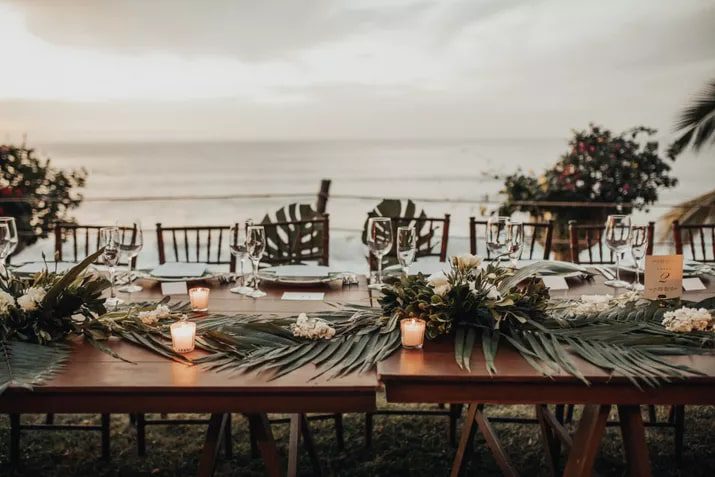 Arrange a few candles of varying heights on each table, and surround them with greenery or other decorations. You can also put tea lights in mason jars as floating centerpieces. Decorate the ceremony space with them, line the aisle with votive candles, or hang them.
28. Shopping at bridal outlets
You can score a new, never-worn dress for your big day at a fraction of the original cost. But be careful — some salons don't carry newer styles, or some may have discontinued lines, and you may end up with an outdated garment.
Look also in nonprofits such as Brides For A Cause, which takes used wedding dresses donated by the brides. This ensures the brides get something more affordable than buying a new pricey dress. These dresses are sold heavily discounted, so they are a great purchase.
29. Shop for second-hand linen
You may not be willing to use Dollar Tree tablecloths and linens, but the rental and purchase cost of linen on the market is too high. Why spend a fortune renting linens for your wedding when you can buy them second-hand for a fraction of the price?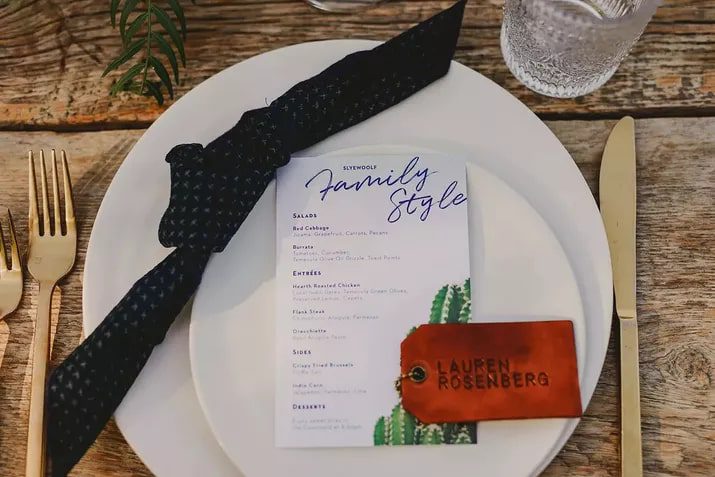 While saving your hard-earned money, you will be doing your part to help reduce waste by upcycling linen. Thrift stores usually have a linen section. You can also scour online stores such as Poshmark and Craigslist. Another great option is the Facebook Marketplace to look for pre-loved linens and napkins.
30. Thrift store silverware
One way to save money on your wedding is to use mismatched silverware from thrift stores instead of buying new ones. This is a fantastic idea for bohemian weddings. You may pick different sizes and designs that go together. This will add a unique touch to the dinner table.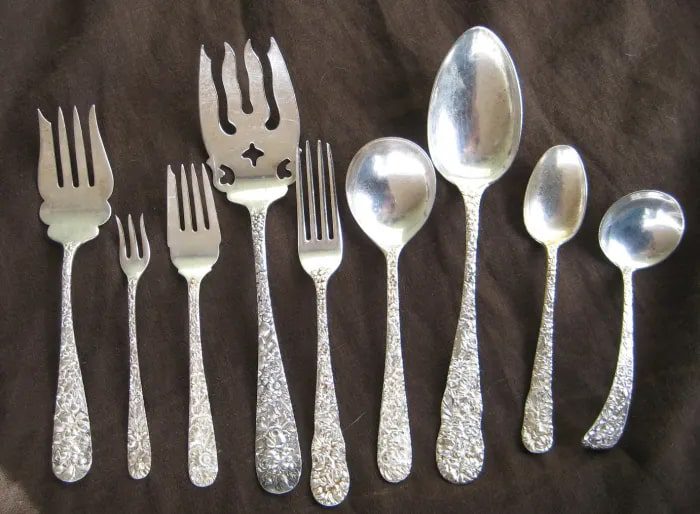 Just be sure to clean the silverware thoroughly before using it, and make sure there aren't any sharp edges that could cause injury. And if you're worried about the mismatched look, you can always dress it up with some colorful ribbon or flowers.
31. Go the rental way
If you're looking to save money on your wedding dress, one option is to rent it instead of buying it outright. If this is the right option for you, keep a few things in mind. First, be sure to do your research and find a reputable rental company.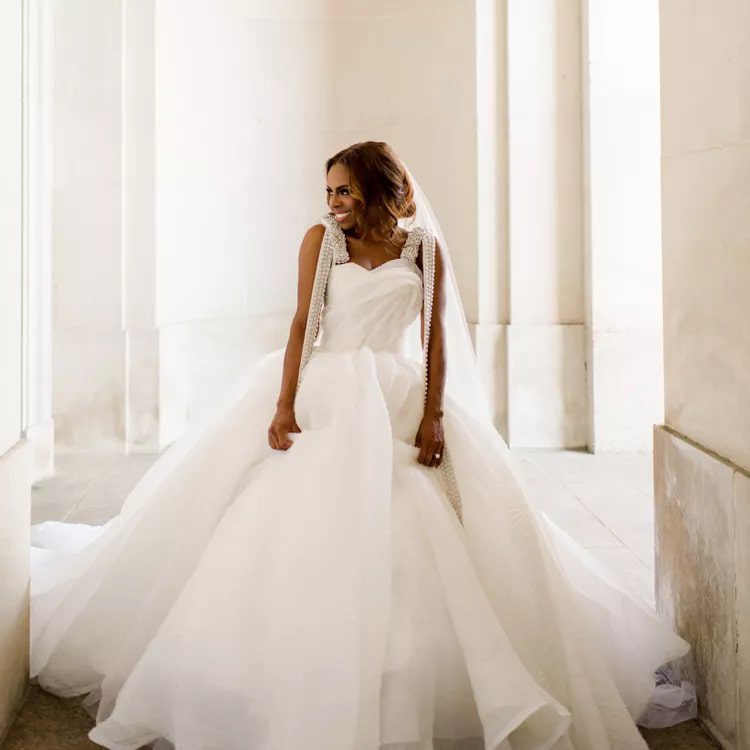 It's essential to find a reliable source to ensure your dress arrives in good condition and as advertised. Besides, be aware that you may not have a wide selection of dresses. However, if you know what style you're looking for ahead of time, this shouldn't be an issue.
32. Put your wedding outfit for sale
Earn some money back by selling your wedding outfit and accessories such as veils, shoes, tiara, and jewelry. You could potentially make a nice chunk of change this way — you'll still get to keep the memories of your big day.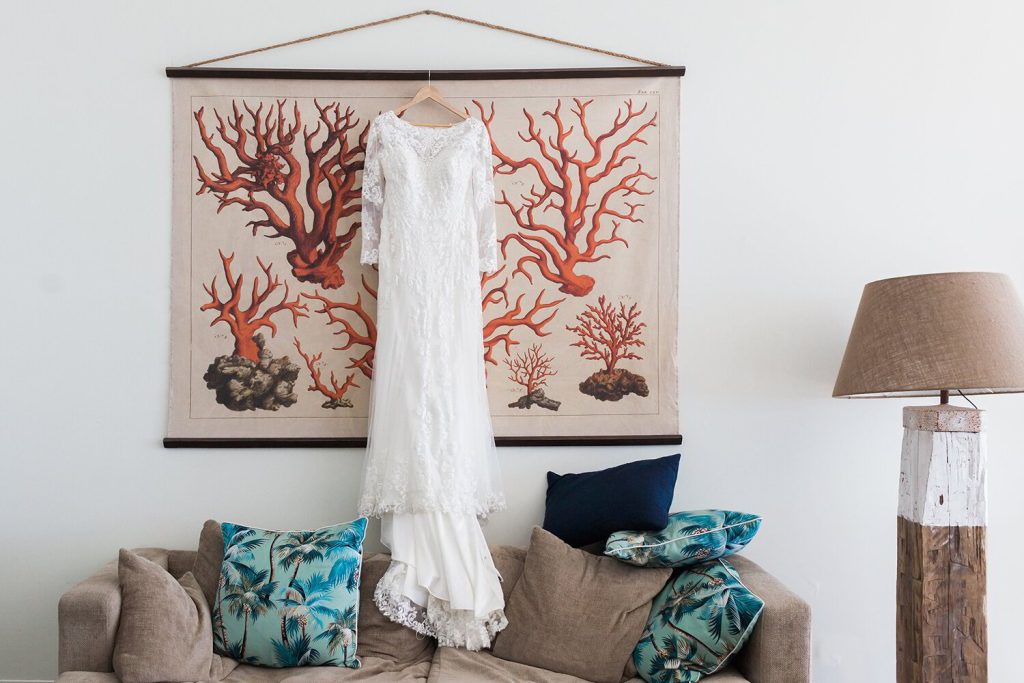 Try selling on Still White, Nearly Newlywed, and Poshmark. Make sure to list them accurately and honestly, and be upfront about any damage or wear and tear. Be prepared to answer any potential queries buyers may have, and be patient while waiting for the perfect bride-to-be.
33. Score Costco deals
Costco is a great place to start for a budget-friendly option. You can find high-quality tents, tables, and bistro lights at a fraction of the price you would pay at specialty stores. Plus, the customer service is usually excellent if you have any questions or problems with your order.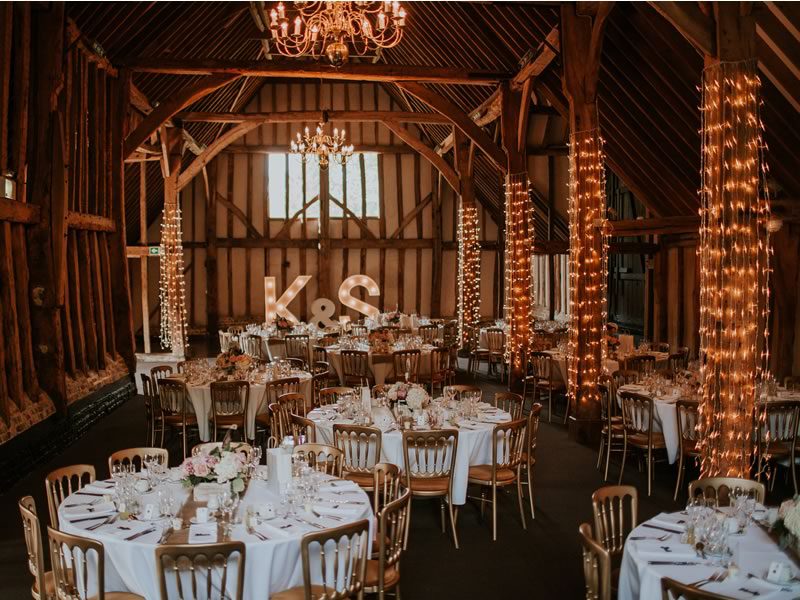 Just be sure to order well before your wedding date, as shipping times can vary depending on the item. And don't forget to factor in shipping costs when calculating your total budget. After the wedding, you can use the lights in your backyard and furniture on your patio.
34. Dollar Store decor ideas
Dollar store gold and silver trays can be a great way to add vintage-inspired decor for your budget wedding. Make sure to take into account the quality of the tray before making your purchase. These retail for just a dollar and may be used for centerpieces.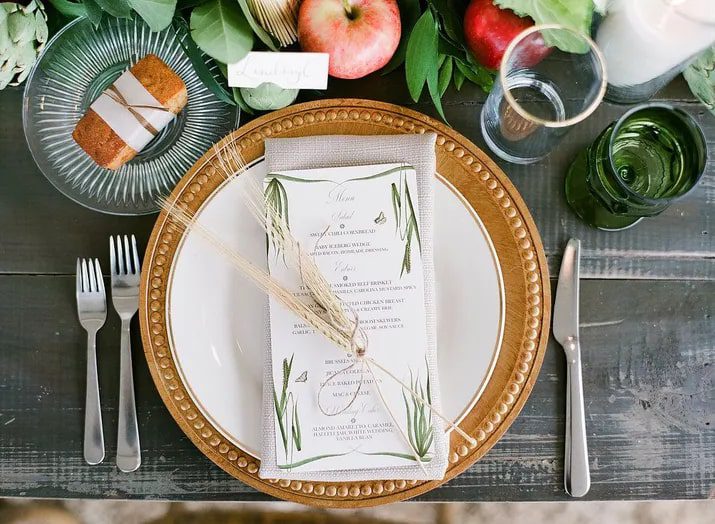 Some dollar-store silver and gold trays may not be as sturdy or well-made as more expensive trays, so you'll want to make sure you're getting what you pay for. Also, if you're using the tray for food service purposes, make sure that it's food-safe…and dishwasher-safe.
35. Outdoor decor from vintage finds
Creating a rustic wedding theme may get challenging when looking at your set budget. You may not be able to pay for a trendy rustic venue as it's expensive due to its popularity. One way to get the same theme is to visit your local salvage yard.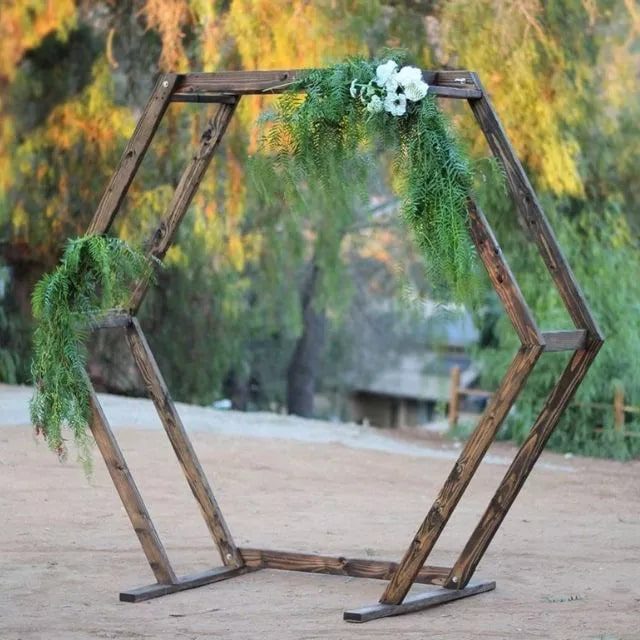 You can also try an antique store that sells second-hand items. Look for large pieces such as an old door, vintage tin squares, and windows. These items are perfect for creating a vintage rustic theme. Moreover, you can paint them for a cohesive look.