A Mother's Love Worn With Pride: 40+ Brides Who Radiated Beauty In Their Moms' Gowns
By Farah J May 19, 2023
---
There's something special about a bride who wears her mother's wedding dress on her big day. It's a beautiful way to honor past unions and carry on family traditions. When a daughter dons her mother's gown, it's like she's stepping into a time machine and continuing a legacy that began years ago.
It's hard to replicate a sense of nostalgia and sentimentality with a brand-new dress. Also, wearing your mum's gown is a sustainable and eco-friendly option and a way to connect with family and create a truly unique wedding day. It's a beautiful trend that we hope is here to stay!
So, read on to see how these young ladies gave their mums' dresses another chance to shine on their own big day. And who knows, maybe it will give you ideas for your own. Just remember to ask first before altering anything!
Trust the simplicity
When a girl slips into her mother's gown, it's not just about the fabric and the design; it's about honoring the legacy of love passed down through generations. The dress becomes a bridge that links the bride to her mother's own journey down the aisle.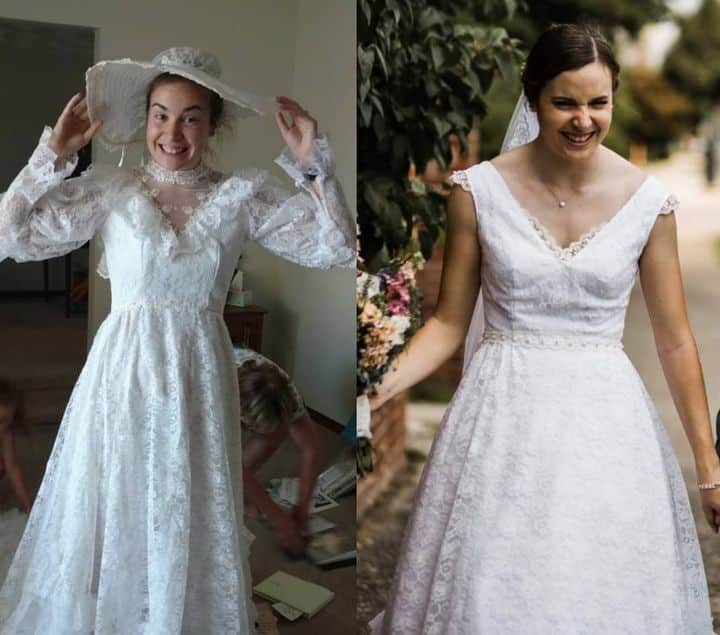 This girl is one of those lucky ones who chose to wear their mothers' gowns on their big day. She customized the dress according to her liking, and frankly, she nailed it. Her smile and happiness tell us that she dreamed of wearing her mother's dress one day. 
3 generations, 1 dress
This is a magnificent gown that holds the memories, dreams, and love of not just one but three extraordinary women. It all started when the grandmother donned the dress on her wedding day. Years later, her daughter slipped into the same ethereal gown.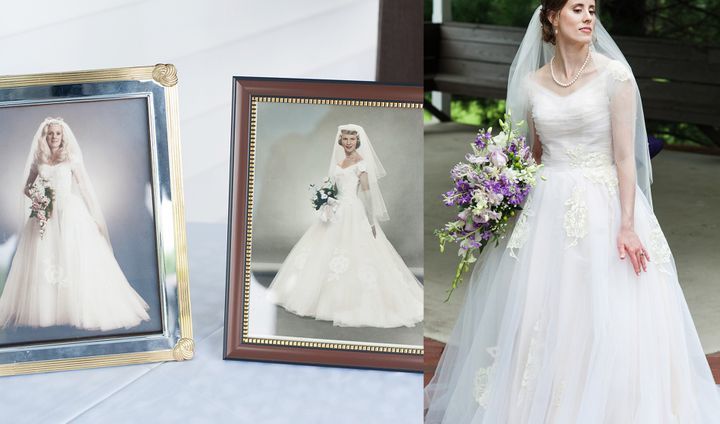 And then, when the granddaughter's turn came, she too had the honor of wearing the same dress that had now become a family heirloom. You can never turn away from a beautiful, timeless gown like this one. It served as a beautiful reminder of the unbreakable bond of three generations. 
34 years and 1 day later
This picture has a very sweet story behind it. These two photos of mother and daughter were taken almost on the same date, with 34 years between them. The mother got married on December 11th, and the daughter on December 12th. How cute is that!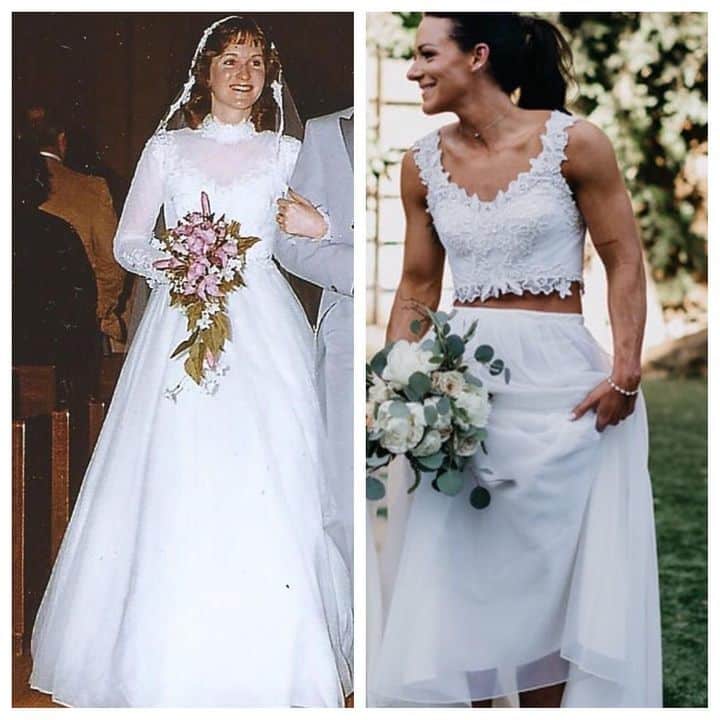 This mother took great care of her dress for over three decades in case her daughter wanted to wear it someday. Luckily, she did. The daughter made some changes to make it more into her style, and the results were astounding.
A few necessary adjustments
There's something truly captivating about high-neck wedding dresses and how they frame a bride's face and exude an air of grace. But, it seems that these majestic gowns have become somewhat less common in recent times. As trends come and go, we find ourselves embracing more modern looks.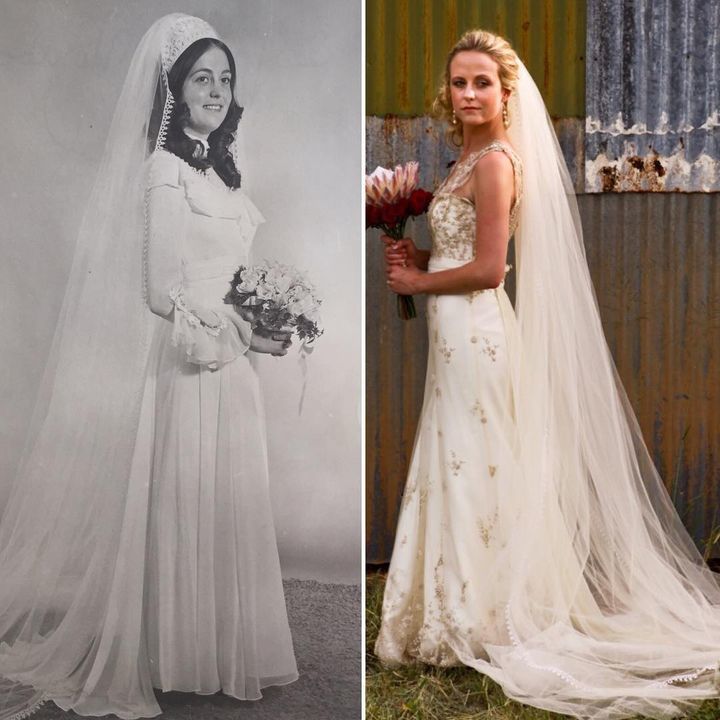 Although the mother's wedding dress was a little bit old-fashioned for the new bride's taste, she modified it beautifully and turned it into a new gown. She removed the high-neck design and the sleeves and added some embroidery to give it a new modern look.
Never go out of style
Although every period had different fashion trends and favored styles, some things don't go out of style for generations. Wedding dresses hold a significant place in society and never go out of fashion. That's why this girl wore her mother's wedding gown on her special day.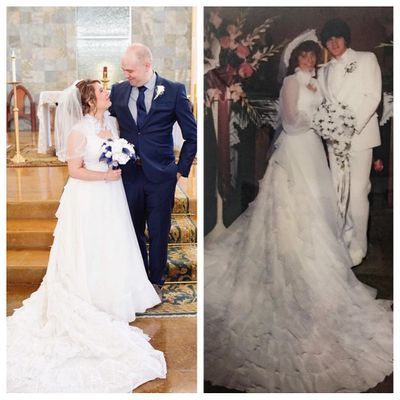 She didn't change much about the dress before wearing it. In fact, she only adjusted the sleeves and fit according to her physique, and that was it. We can only imagine the beautiful entrances of these two brides with that lengthy dress at their respective weddings.
The uncanny resemblance
You know, it's truly remarkable how much a mother and daughter can resemble each other. It's like nature sprinkled a dash of the same magic into their genes. In this picture, the girl looks just like her mother in her stunning dress.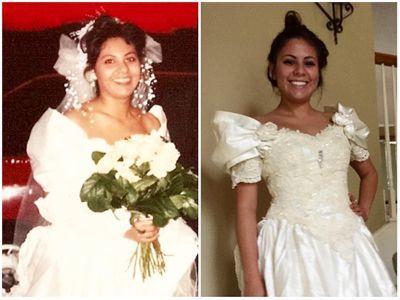 If the girl has any plans for marriage, then she should definitely choose her mother's wedding gown for her big day because that dress would get the job done! Though it seems like she was only trying it on, it looks like it was made just for her.
A sparkling pearl
Is this a game of who wore it better? This bride-to-be was super busy making arrangements for her big day. During this time, she decided to have some fun by trying her mom's wedding dress. Her mom was telling stories about her own wedding, which happened in 1992.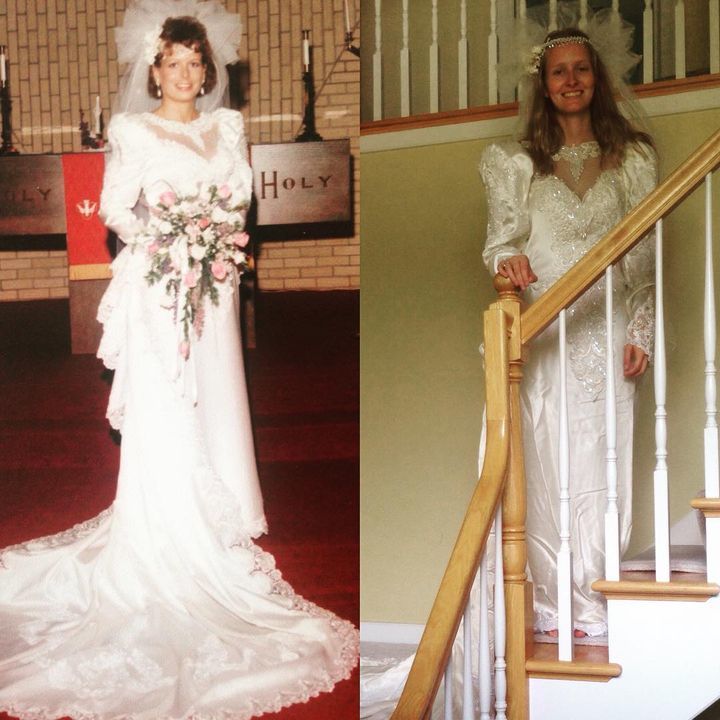 The daughter looks so happy in her mother's wedding gown, and her smile tells it all. Unfortunately, the design was not trendy anymore, so the bride decided to go for another option. But she loved her mother's dress as it held a sentimental value for her.  
Like mother, like daughter
Could you have been able to tell the difference between the mother and the daughter if the mother wasn't wearing the veil? This girl is the spitting image of her mama. She looks so identical to her that if a Photoshop expert was to brighten this picture up, they would be confused as well!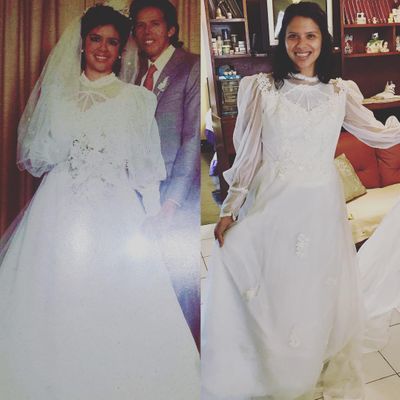 This wedding outfit still looks like it's a new piece from the boutique. The newer bride's daughter can wear this as well if she keeps it in the same condition. This makes us wonder; have you ever seen your mother's gown?
She's her mother's daughter
Victorian-style wedding dresses are truly something to behold with their intricate details and timeless charm. Puffed sleeves, a voluminous skirt, and a fitted bodice often characterize the silhouette of these gowns. The end result is always a sight to behold.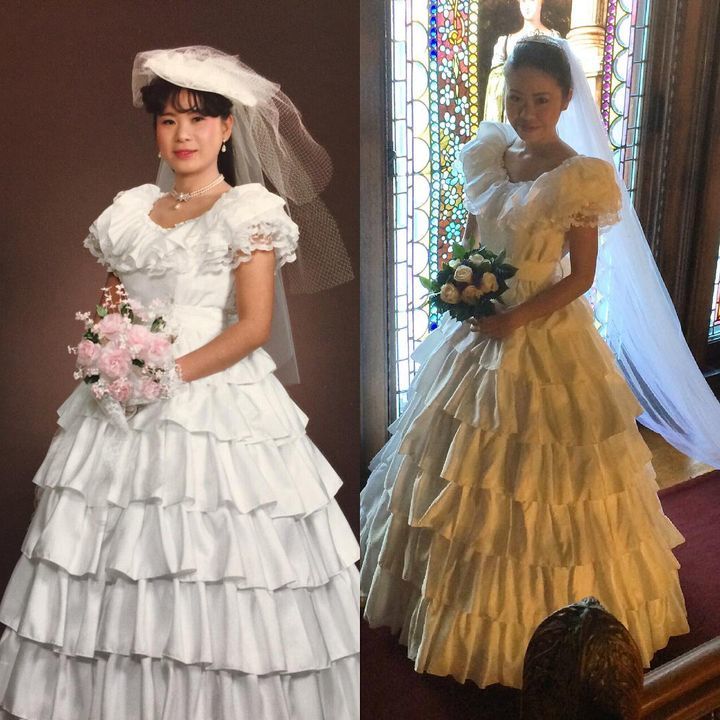 Who can tell the difference between these girls? Who's the mother, and who's the daughter? We are in awe of how beautiful they both look! Surely, the mother was so happy to see her little girl walking down the aisle in her wedding dress. 
Timeless and priceless
Most girls these days choose lavish and expensive wedding gowns to wear on their big days, but some still prefer something simple, defined, and elegant for themselves. Some like heavy and exquisite appearances but some like minimal and refined looks.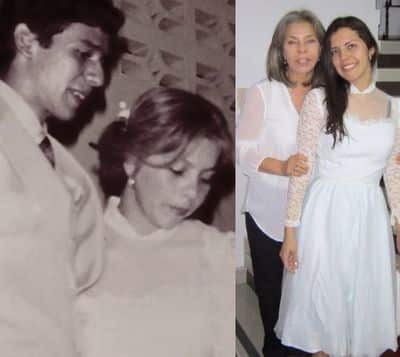 Looks like this girl got what she wanted. A simple and short wedding dress that her mother wore at her wedding. The best thing about such simple and elegantly designed dresses is that they can be worn anytime. They are always trendy and look very decent.  
A classic
Leonardo Da Vinci once said, "Simplicity is the ultimate sophistication." These words prove to be true in every period. Simple wedding dresses are like a breath of fresh air, capturing the essence of purity and grace. They are all about celebrating the bride herself.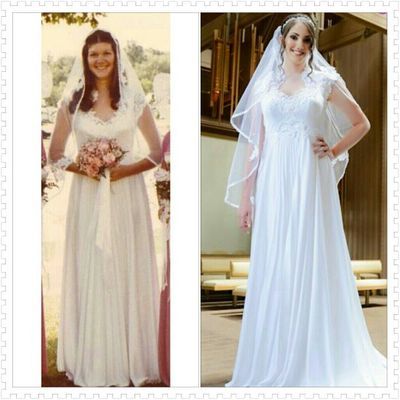 This beautiful girl was looking for something simple yet elegant for her special day and was overjoyed to find that in her mother's wedding dress. It literally fit her like a glove. We can already picture how beautiful she looked, gliding down the aisle in this classic gown.
Heart-touching gesture
The journey of finding the love of your life and saying your heartfelt wedding vows is one that fills the heart with warmth and hope. It makes you feel like the universe weaved a beautiful tapestry of love. What made this bride's big day even more special was her mother's wedding dress.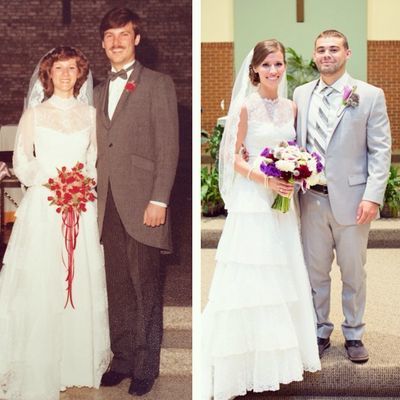 When her mom learned that she was wearing her wedding dress, she was over the moon. She customized the dress according to her daughter's desires and was greatly touched by this beautiful and heart-warming gesture. It must feel amazing sharing something like that with your offspring.
Two mermaids in the same pearl
Classic mermaid-shaped wedding dresses are still in fashion these days. The mermaid silhouette, with its fitted bodice, figure-hugging shape, and dramatic flare at the bottom, creates a captivating hourglass shape that accentuates the bride's curves in all the right ways.
The mother wanted to wear a dress in this mermaid style to flatter her figure decades back at her own wedding. Her daughter's dream also came true when she wore the fitted dress with a big bow at the back on her own big day.
Old but gold
Vintage and retro-style gowns transport us to a time of old-world charm and timeless sophistication. These dresses are like treasures discovered in the attic, waiting to be brought back to life. Each tells a story of love, laughter, and unforgettable moments.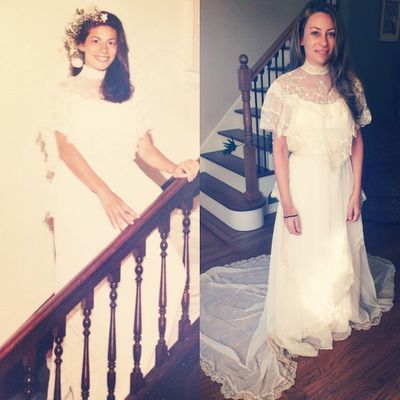 This beautiful girl is one of those people who have a thing for vintage-inspired outfits, and she immediately fell in love with her mama's wedding dress. She was just trying the dress on, and suffice it to say, she looks fantastic in this timeless piece, just like her mother.
Modernized a classic piece
In this next one, the bride tailored her mother's wedding gown according to her style. She was not a fan of big and puffy sleeves; hence, she asked her seamstress to modernize this dress and make it more in today's fashion. No doubt, the seamstress did an excellent job!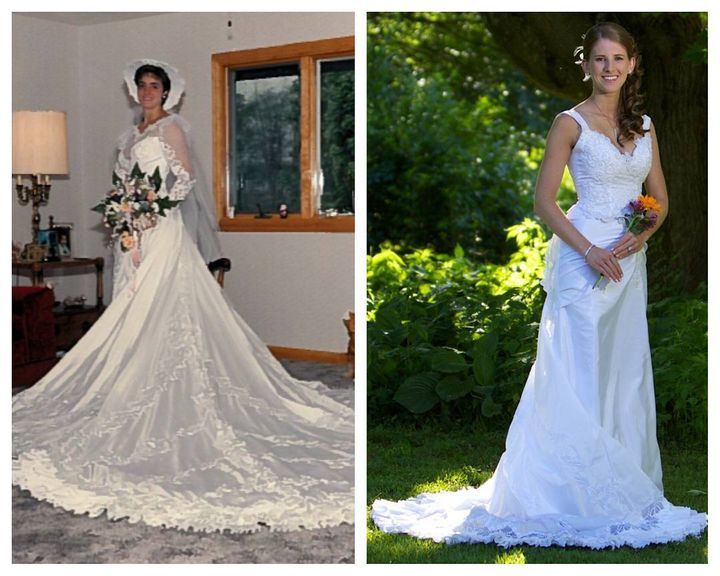 Interestingly, the bride's mother didn't know that her daughter would be wearing her wedding dress at her own wedding. Though she was surprised, she was so happy and excited when she knew. She would have never imagined her little girl would look this exquisite in it after so many years.
A legacy passed down.
From a young age, girls often find themselves lost in a world of shimmering tulle, delicate lace, and sparkling diamonds. They imagine themselves walking down the aisle, a vision of grace and beauty with eyes fixed on their beloved waiting at the altar.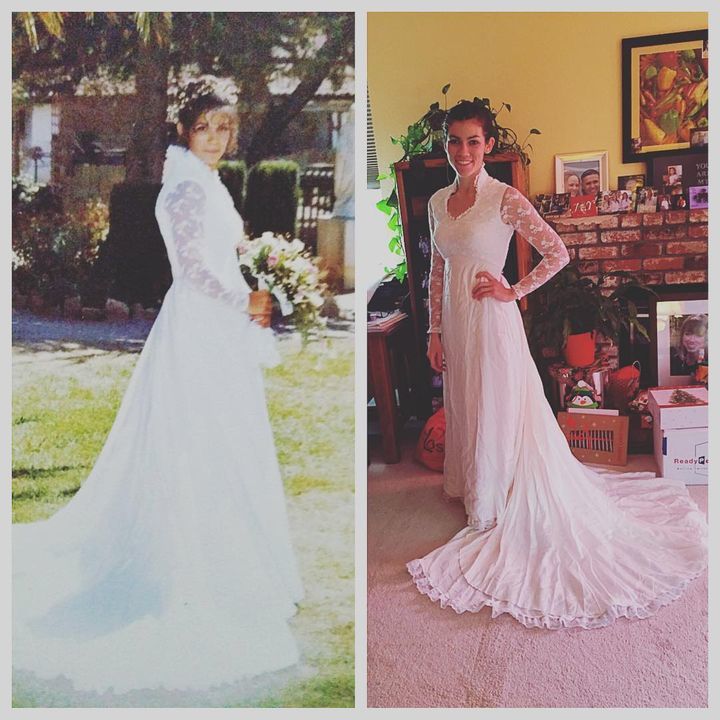 This young girl is also dreaming of her big day by trying on her mother's wedding dress. The most heart-warming thing about this dress is that her grandmother lovingly sewed it for her mother. Consequently, we feel that she has no intention of buying a new one.
A perfect remake
A lot of people sell their wedding dresses after the event nowadays. However, others take care of them as a beautiful memory of their big day. If you are one of those people who found their mother's wedding dress in great condition, then you're among the lucky ones!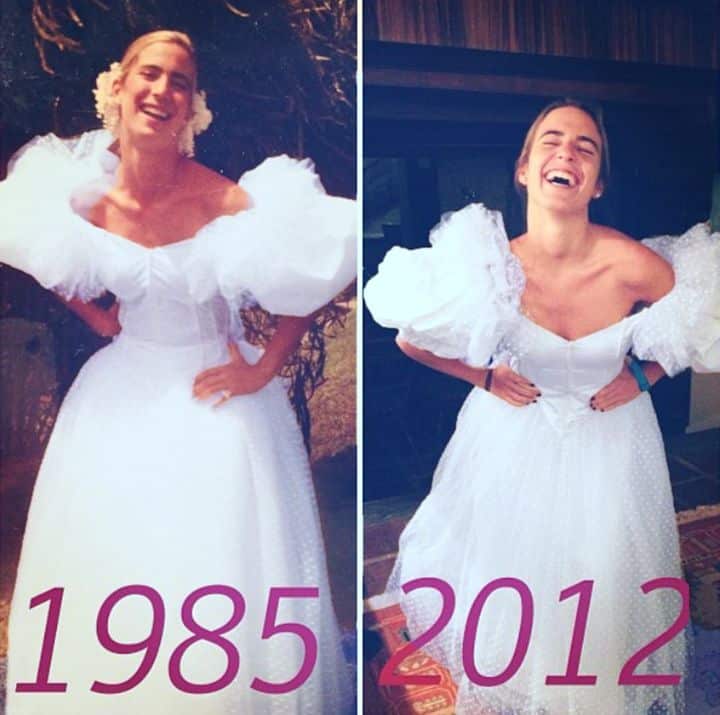 Seems like this girl was overjoyed to see her mother's wedding gown with its puffy sleeves, so she decided to remake her wedding photo. Look at their open joy and cute smiles! It's quite surprising that the dress was in such good condition almost 30 years later.
"I will carry your love with me."
This picture and this wedding dress hold a sentimental story. This young girl named Marisela Guajardo says that she used to dream about her wedding dress and one day, she asked her mom about hers. Unfortunately, her mom told her she didn't have it anymore.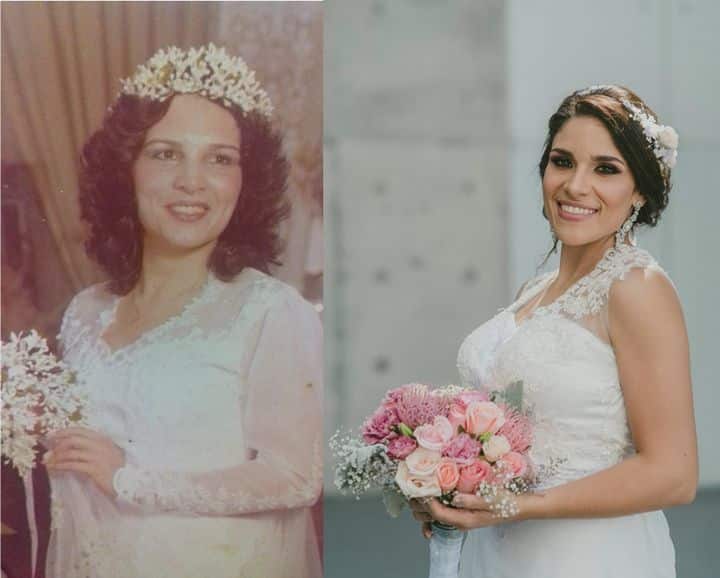 After her mother was diagnosed with breast cancer, she quit her job to take care of her, and she loved doing it. Then her mother's last day came, and she left this world. The daughter then created a similar wedding dress to her mom's as a way to remember her and her big day.
The hat and everything
Do you see brides wearing hats on their wedding days? This was an old trend that, unfortunately, doesn't exist anymore. But as you can see in this picture, the daughter didn't change anything and wore the dress the exact same way as her mother.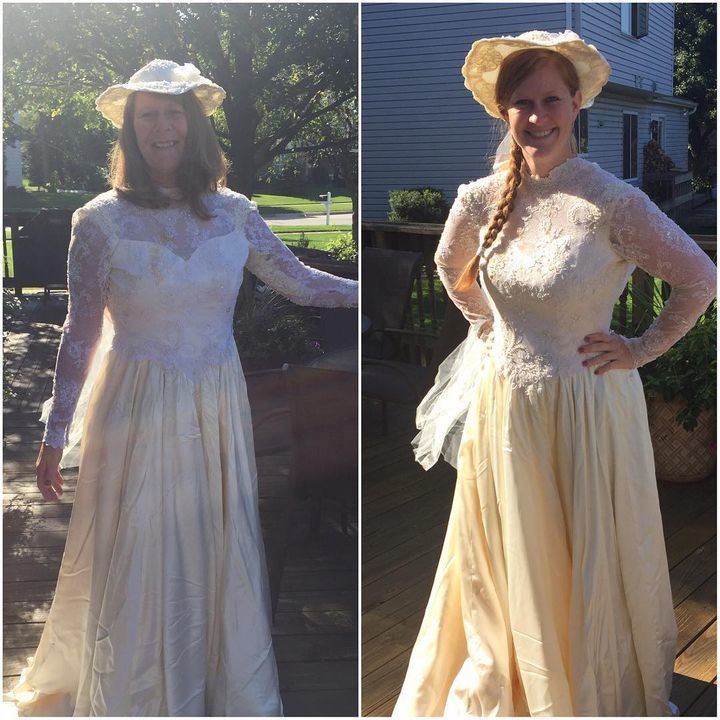 Her red hair styled in a braid goes perfectly well with this champagne-colored dress, and she looks stunning, no doubt. Like most other brides on our list, she made the gown look like it was originally made for her. Because of the hat, we would say this was a summer wedding.
A vintage treasure
While a wedding is a time filled with joy and love, it's no secret that it can also bring about a touch of stress for the bride-to-be. Also, let's not forget about the worry of finding the perfect dress! Despite that, it's important to remember the bigger picture!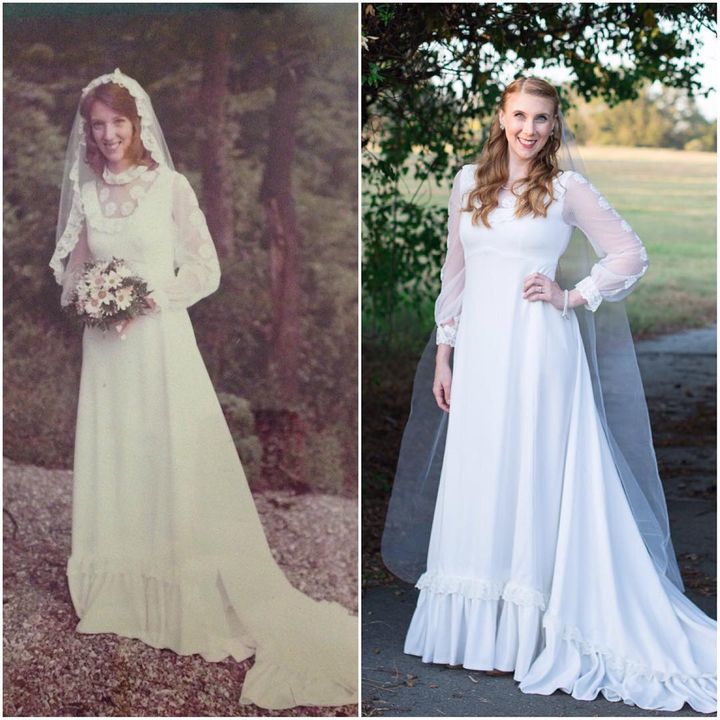 This girl skipped the stress of hopping from one store to the next and instead chose to wear their mother's wedding dress on her big day. She wore the classic gown just as it was, without any modification. She looks breathtaking in this vintage piece with soft curls and natural makeup.
Slaying a 1973 pantsuit
A wedding pantsuit is a rather chic alternative that exudes confidence and modernity. These suits offer a refreshing twist on traditional bridal attire, combining elegance with a touch of androgynous charm. They can be paired up with stylish blazers or jackets as well.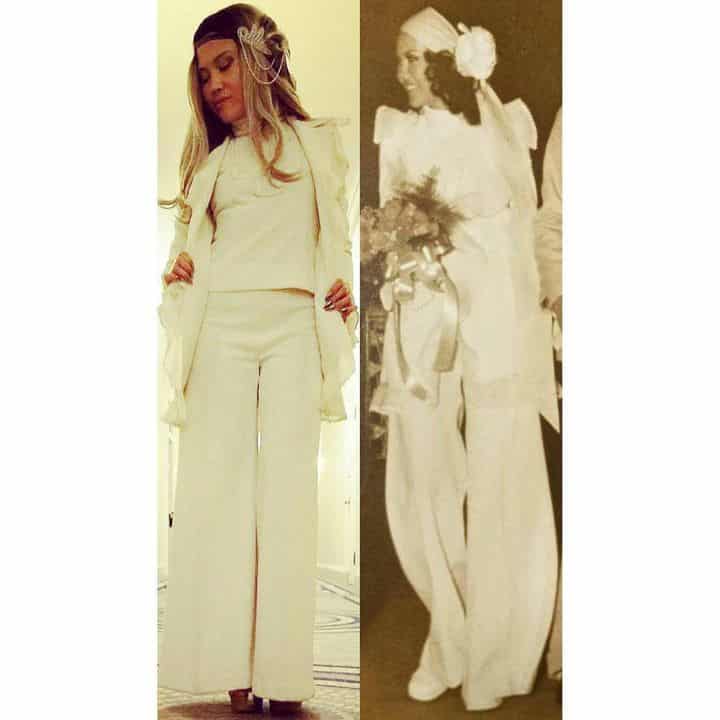 This mom-and-daughter duo decided to change the rules, and we love how they turned out. The outfit was a 1973 vintage pantsuit worn by the mother at her wedding. Years later, her daughter pulled off the same look! They look so happy and radiant in it.
Gown designer: grandma
Prepare to be swept away by a heartwarming tale that spans generations! The dress in this picture was designed by a loving and talented grandma. She poured her heart and creativity into crafting a one-of-a-kind wedding gown. Little did she know that it would create a timeless tradition!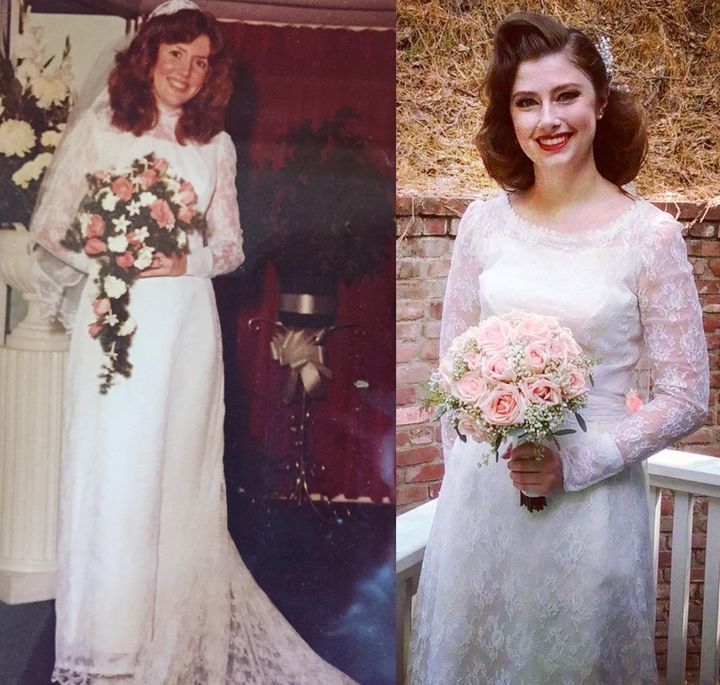 Years later, when the granddaughter's wedding day arrived, she opted to don the gorgeous classic gown she'd designed years ago. And you know what? Her grandma was also present at her wedding, so she witnessed her piece of art steal the show one more time!
Almost half a century later
Vintage-inspired gowns are a delightful blend of classic charm and timelessness. Each dress tells a story of being lovingly passed down through generations. The same is the case with this mother-daughter duo. This dress is 41 years old, can you believe it?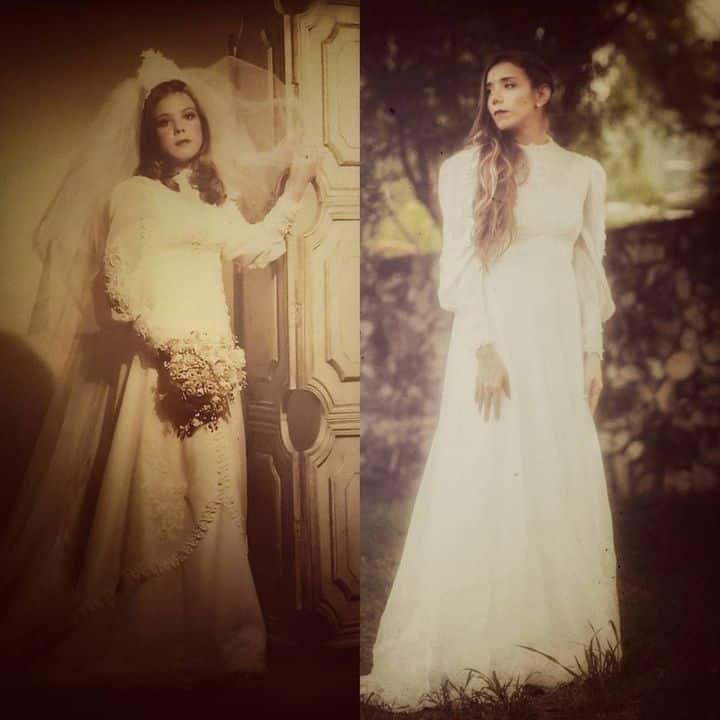 Maybe her mother stored it carefully in the hope that her daughter would wear it one day, and she was right. The girl happily wore the dress on her special day and even captured a vintage-inspired photo to look like her mother. How beautiful is that!
Carrying the family legacy
If they could, we know many girls love to wear their mum's dresses to their weddings. We have seen a couple of cute pictures so far, and some even got us teary-eyed! For some people, whether they are from the upper or middle class, family always comes first, and they prefer to follow traditions.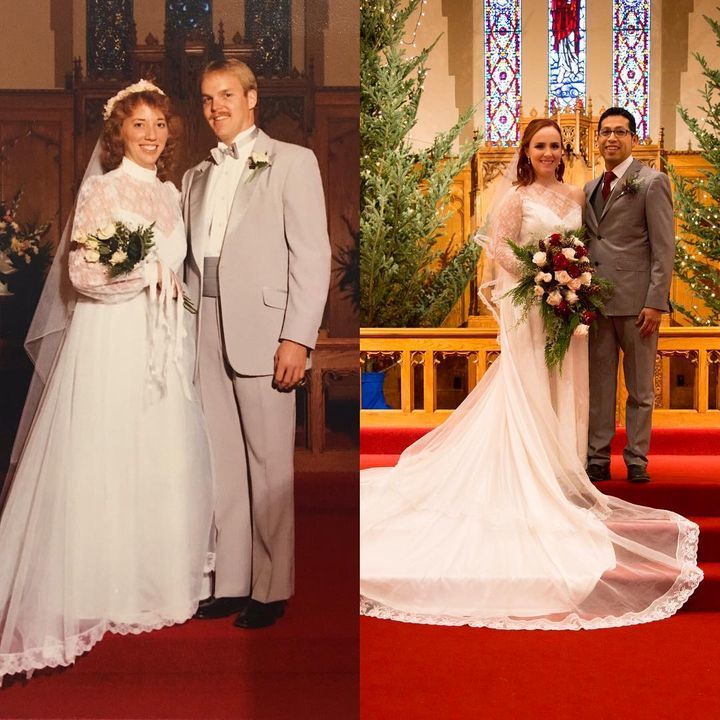 The smile and satisfaction on the face of the newer bride here tell us that she proudly wore her mother's gown on her big day after minor adjustments. She looks magnificent in the dress at the same altar her parents got married. How cute is that! 
Ditto copies
Are you one of those girls who would imagine wearing their mother's wedding dress as a kid? We are sure that this girl was one of them. She witnesses her dream of wearing her mama's dress on her own special day come true.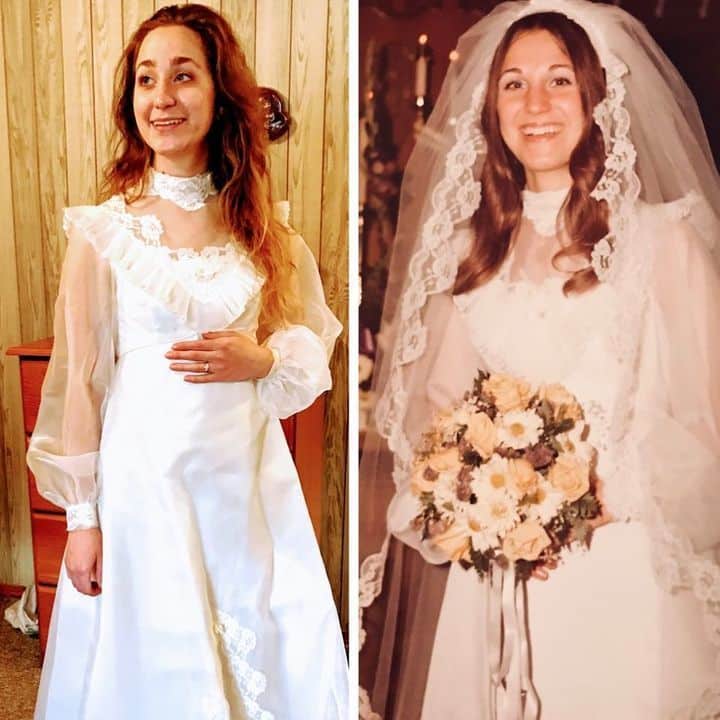 If it wasn't for the picture quality, could you tell the difference between this beautiful mother and daughter? They are literal copies of each other, and this wedding dress multiplied the synchronization. They both look so perfect in this gorgeous gown.
Just some tiny tweaks
Some brides like to customize their dresses according to their own preferences. Here's another bride who wore her mother's gown at her wedding but in a different style. Honestly, both the mother and daughter look stunning in their distinct versions.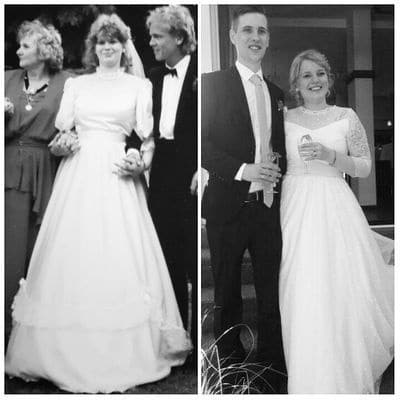 We marveled at the still-new condition of the dress after all these years. The mother wore it with a high-neck design and puffy sleeves, while the daughter adjusted the top design with a beautiful see-through net fabric, which added a bit of modern elegance to the gown.
Worth the wait
The story behind this picture is that the mother kept this dress for more than three decades hoping that her daughter would wear it one day. And her dream came true. The girl wore her mother's dress as it was, without any change or customization.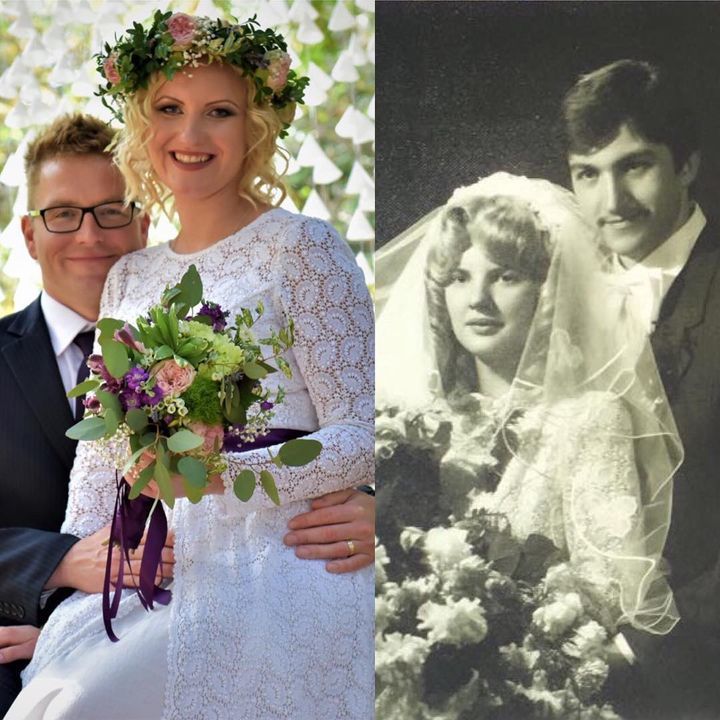 The dress looks absolutely regal with beautifully crafted net sleeves and an overall net theme. The only difference is that the mother wore a veil, while the daughter went with a beautiful flower tiara. Her soft curls and the purple ribbon complete the look.  
26 years later…
Another stunning masterpiece that has gracefully withstood the test of time for a whopping 26 years and still manages to exude an aura of freshness. Look at the pristine condition of this gown when the daughter wore it after more than two decades!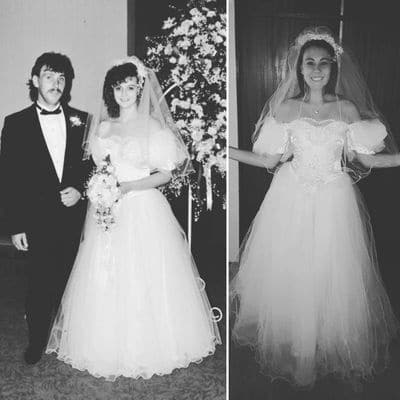 The dress fits her so well that it looks like it was tailor-made for her. The delicate net and frills are still intricate and flawless as if the dress has never been worn before. It has its own timeless magic, preserving the memories of her mother's wedding day.
A classic piece of art
Many girls these days love to wear sleeveless gowns. Puffy sleeves are not trendy, and as a result, not many brides would be caught dead wearing them. This girl is also one of those people. She customized this wedding gown according to her own liking.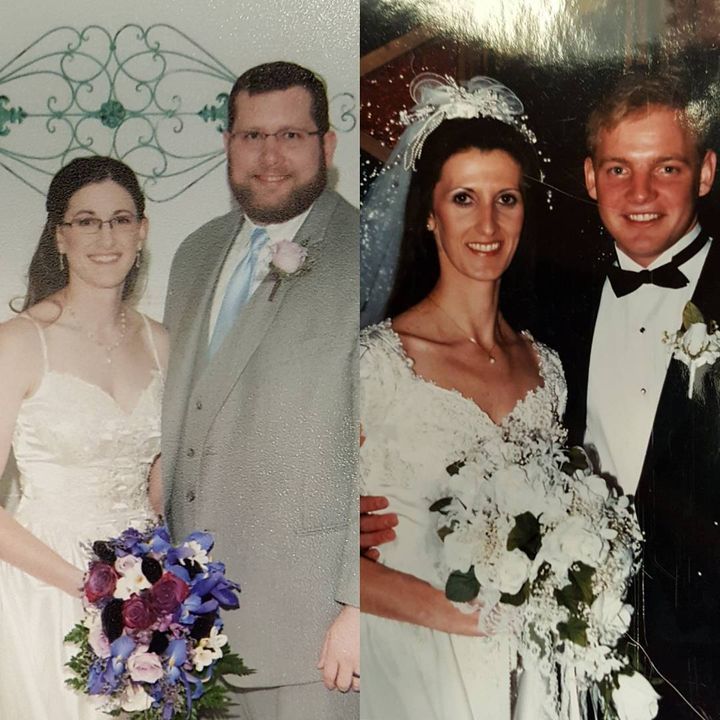 Both mother and daughter look stunning, and their smiles show their happiness, and we are all here for it! The daughter looked so elegant in her glasses, and the little jewelry she was wearing definitely elevated her entire bridal look.
Minimal yet classy
Here is another case of a wedding gown where the bride ditched the puffy sleeves and opted for a sleeveless look for her special day. Overall, the gown looks the same, and its minimal design is what makes it so beautiful and elegant.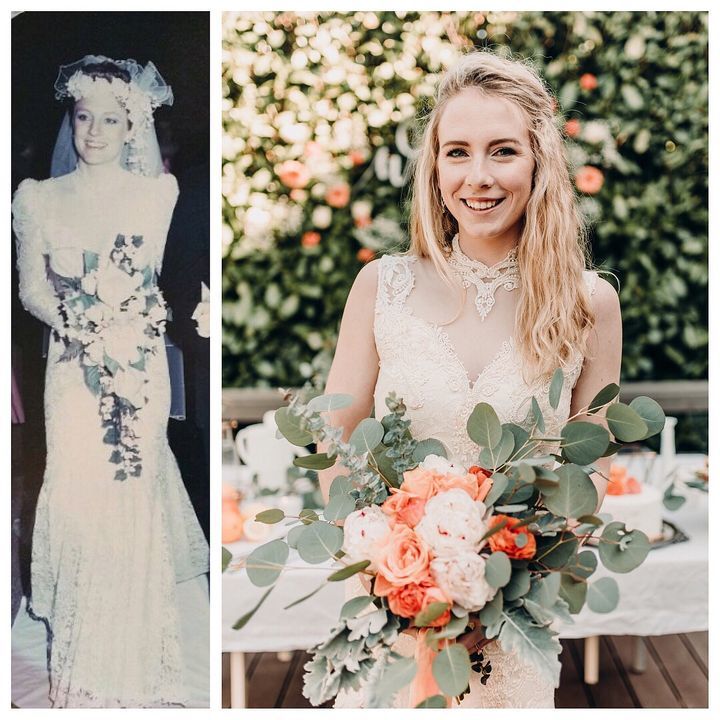 These types of sleeves are not a fashion trend today. Hence, most brides redesign their gowns if they feature these dramatic sleeves. The bride's wavy hair and simple no-makeup look complement her whole wedding ensemble, and she looks absolutely fantastic.
A sentimental tribute to mom
Do you want to hear a teary-eyed, happily-ever-after story? After this girl's mom passed away, she chose to wear her wedding dress at her own wedding as a sweet, sentimental tribute to her life and one of her happiest days.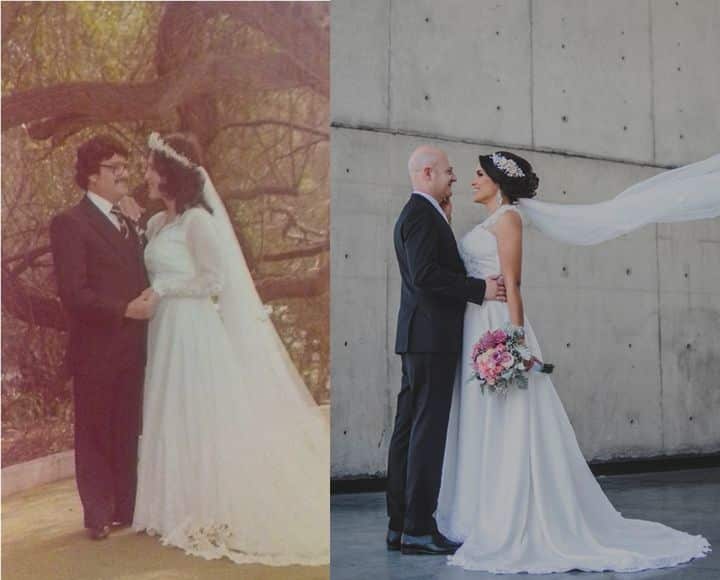 This dress is 35 years old, and when she was trying it on, her dad, tearing up, said to her, "Your mother will always be with you." She was so elated on her big day because that statement was so reassuring. Every girl deserves to have their mom with them at their wedding.
A timeless wedding dress
It can be difficult to spot the difference between the 'mother bride' and the 'daughter bride' in this picture. Not many dresses maintain their elegance after years in a closet or box. Such an elegant and timeless wedding dress deserves to be worn generation after generation.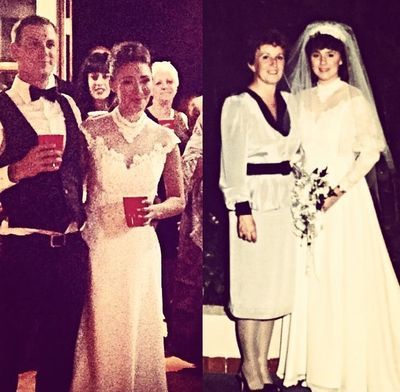 Look how happy the daughter looks wearing her mother's beautiful dress on her big day. She chose to wear the dress sleeveless and without the veil, and still, she looked like a queen. People need to invest in such elegant pieces that can be passed down through generations.
She's excited, and it shows.
Can you imagine this girl's excitement about wearing her mom's wedding dress at her own wedding? From the moment she laid eyes on that stunning gown, she knew that one day it would be hers to wear, and she was right.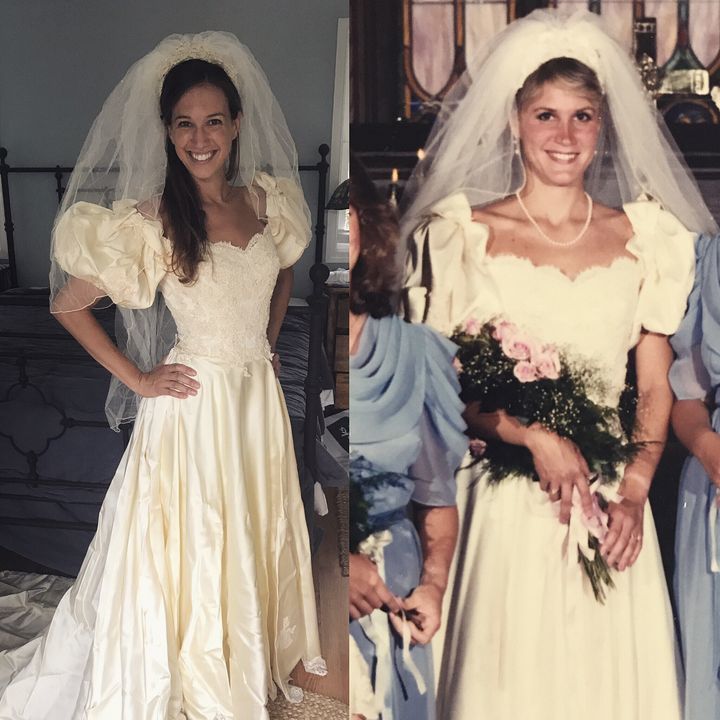 The dress, with its intricate lace and puffed sleeves, seemed to hold the very essence of her family's history. She didn't change the design even a little bit. It was a beautiful reminder that her own love story was intertwined with her mother's.
Mesmerizing and elegant
Can you decide who looks better in this beautifully designed wedding dress, because we can't! That goes to show that the mother took great care of her gown since it was just as new when her daughter wore it for the second time.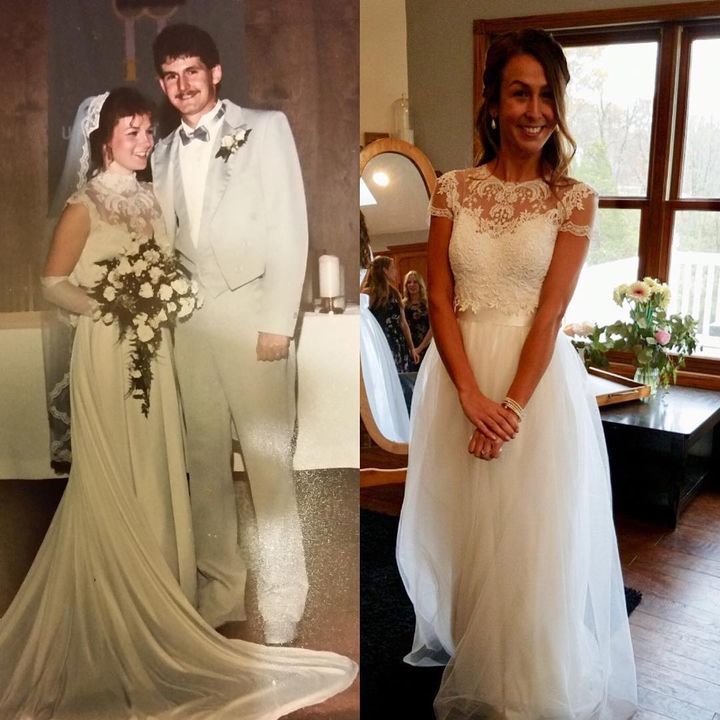 It was a surreal and joyful moment for the daughter, and her excitement radiated like sunshine on her wedding day. She chose not to wear the sleeves and the veil, but still, she felt like she was wrapped in her mum's warm embrace.
Perfect modifications
Wedding dresses are the epitome of elegance, grace, and sheer beauty. They can undergo delightful transformations tailored to the bride's style and personality. With each stitch and alteration, a unique and extraordinary piece that makes the bride's dreams come true emerges.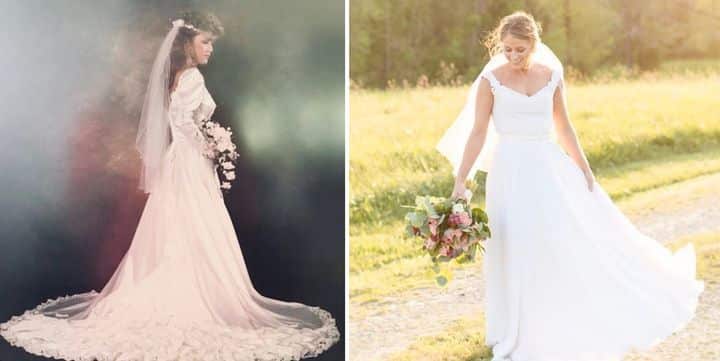 This beautiful bride, who had dreams of wearing her mother's dress on her special day, got hers modified. She has a professional seamstress for a cousin, and she made it more special with little changes according to her style. In the end, she made a beautiful bride in that dress!
Imagine the joy of this grandma.
Can you imagine the happiness of a woman whose two daughters both wore her wedding dress on their own wedding days? This lucky mother witnessed this heartfelt occasion twice. And just imagine the joy of their grandma when she learned that her three daughters wore the same dress!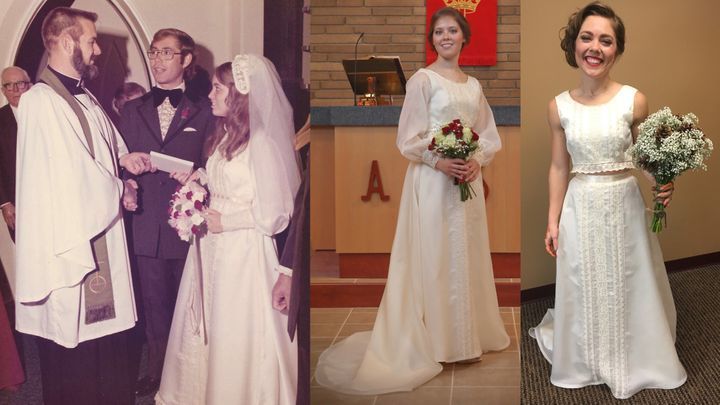 The first daughter wore the dress without any alterations or changes, and she looked just like her mother. However, the second one made some changes and gave it a modern touch, which though different, looked gorgeous. These moments were definitely pure magic for this family. 
Joys of motherhood
This picture alone is enough to describe the beautiful bond between a mother and daughter. This lovely bride always wanted to wear her mama's dress on her own special day, and she gave a remarkable tribute to her mother's love by doing exactly that.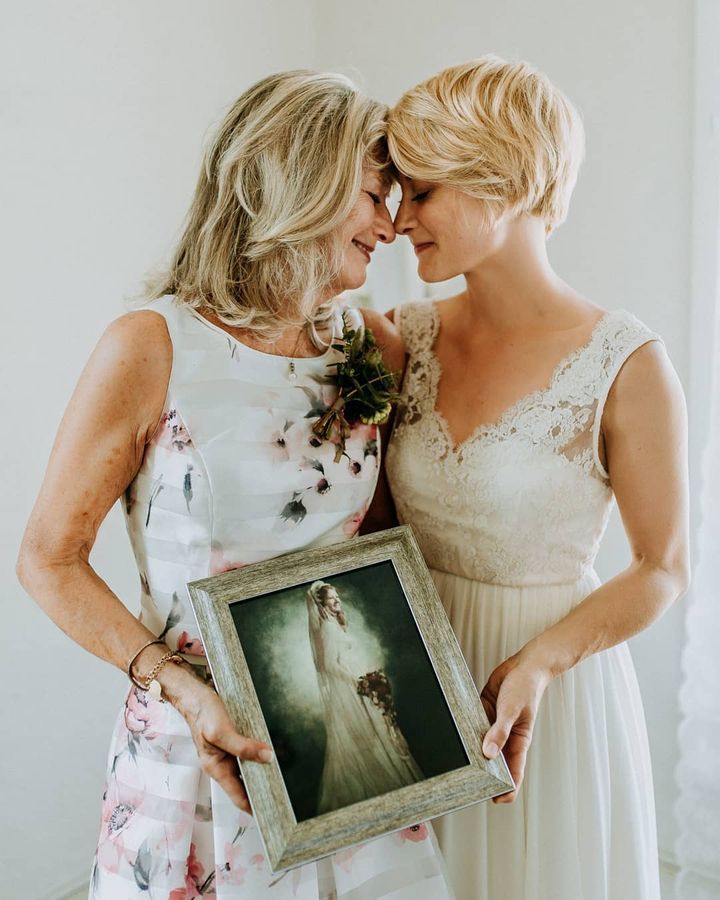 They both look so wonderful as they pose for a photo together, along with the mother's wedding photo that was taken two decades before. The delicate lace and beautiful embroidery that once adorned the mother now grace the shoulders of her daughter. 
Same dress, same confidence
There's something truly magical about the tradition of wearing your mom's dress on your special day. It's like stepping into a time capsule where love, memories, and cherished moments intertwine. There's a sense of nostalgia that makes it feel like the dress holds the whispers of historic vows.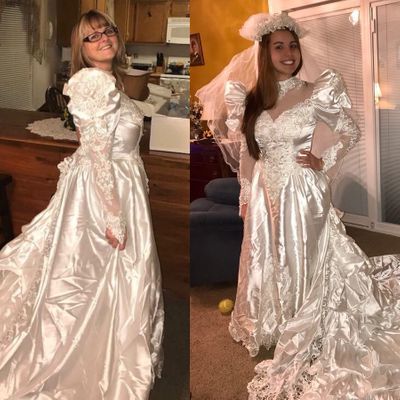 This mother-daughter pair looks almost identical, minus the different time and place. The long tail on the princess gown makes the brides look ravishing. Both of them looked fantastic in the same dress with the same smile and confidence. We wouldn't be surprised if it was worn a third time!
Same dress, different styles
We are sure that when you first looked at this photo, you thought that these were not the same dresses worn by a mother and her daughter. But as you look closely at the gown, you'll get to see that it is literally the same dress.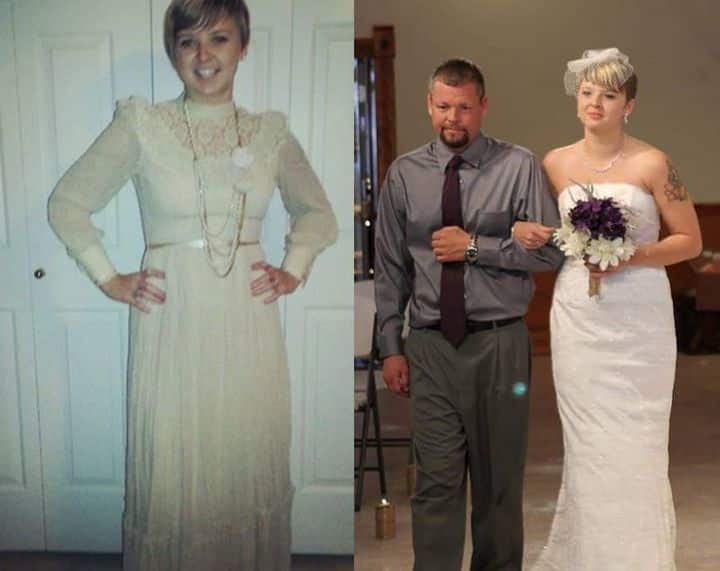 Of course, her daughter customized it according to her liking. She wanted to go with the strapless style to show off her physique and that beautiful necklace. Additionally, her haircut makes her look ravishing, just like her mother's looked on her special day. 
Mom's pride and joy
Is this a 'spot the difference" game of the picture of a mother and a daughter? This woman wanted to wear her mother's dress as it was and didn't change it a bit. She even went the extra mile and included the headband and her mother's old veil.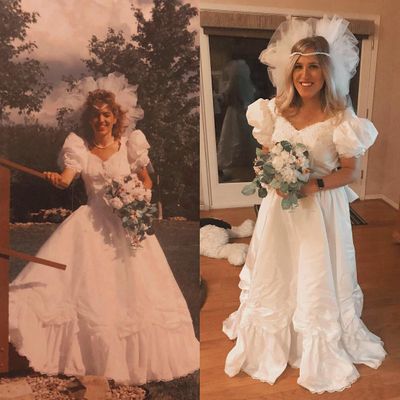 Do you know what's even more exciting? The fact that she is holding a flower bouquet that really resembles her mother's. It was truly a proud moment for her mom as they celebrated the bond that connected them as a family. 
A perfect fit
It has been decades since this woman wore her wedding dress, but now years later, look how incredible her daughter looks in it! We are in awe! Seems like her mother took great care of the gown so that her daughter could wear it one day.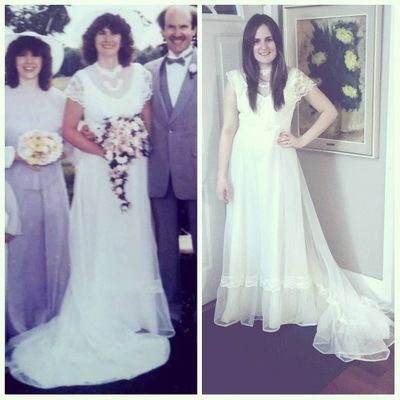 The design of the dress is simple yet stunning, with net sleeves and a lengthy flowy bottom. It exudes beauty and elegance at the same time. Her daughter will be the luckiest girl if she chooses to wear the same gown on her special day. 
An honor
Each bridal photo has its own touching story. In this picture, the daughter is wearing her mother's wedding gown made by her grandmother. She was helping her sister with her wedding when she promised herself that she would wear her mama's dress on her own day.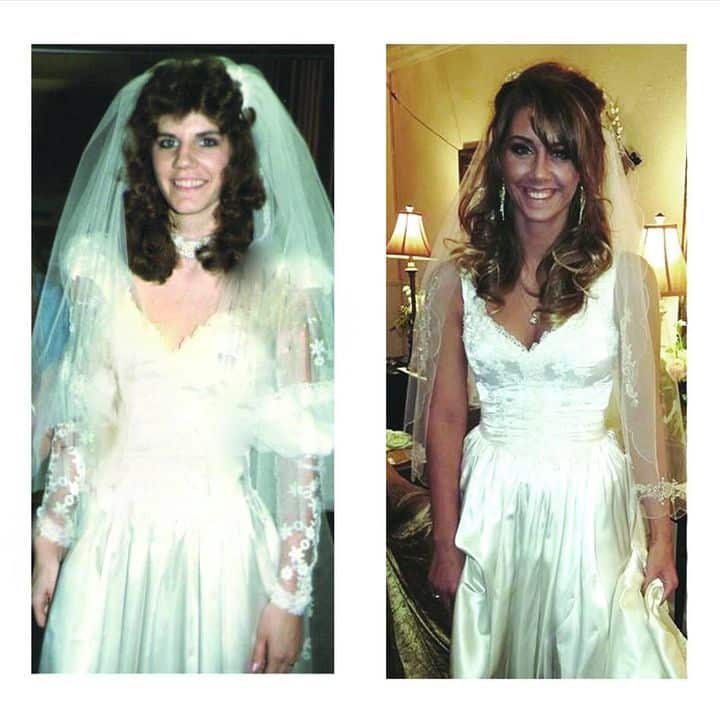 She got so emotional on her sister's day that she decided to make her proud mother prouder by wearing her dress. Because she wanted to wear a sleeveless gown, she made some changes. But overall, she looks so beautiful and happy in this photo.
A classic never goes old.
This mother's classic vintage dress looks like it was made for her daughter. The dress fits her so beautifully, despite the fact that fashion trends have changed and not many people wear old dresses today. Not unless they have an appreciation for vintage trends.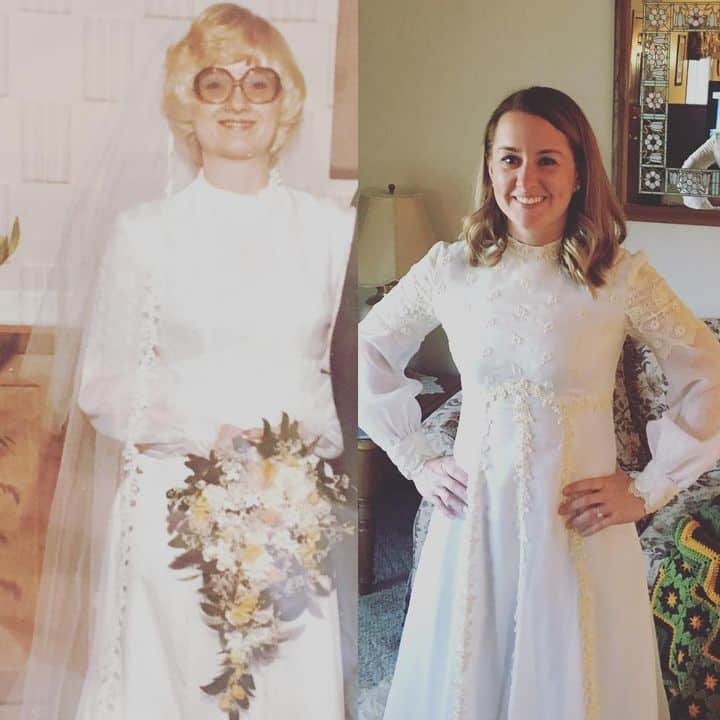 This girl firmly belongs to that group seeing as she loved wearing this classic piece. For such people, it is an honor for them to wear such clothes. It's almost like good luck for a girl if she fits in her mom's dress, and this daughter certainly did!
The dress waited for 38 years
We are sure that this new bride is one of those girls who were very keen to wear their mother's wedding dresses when they were kids. She must have decided a long time ago that she would do that. Though the dress had to wait 38 years, that day finally arrived.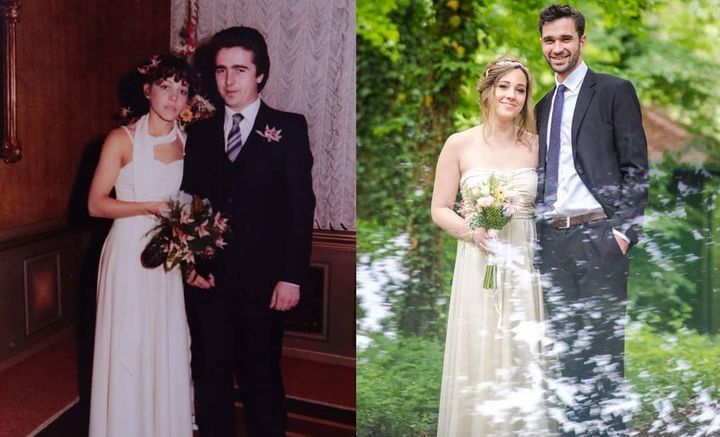 The woman made her dream come true by wearing that beautiful dress after adjusting it a little bit according to her preference. She simply removed the neckerchief and wore the gown. The cutest thing about this is how both couples seem to be posing the exact same way.
A perfect wedding
A romantic beach wedding is a dream that dances in the hearts of countless girls around the world. There's something enchanting about exchanging vows amidst the crash of waves with a gentle sea breeze caressing your hair. We'd be lying if we said we haven't thought of it too!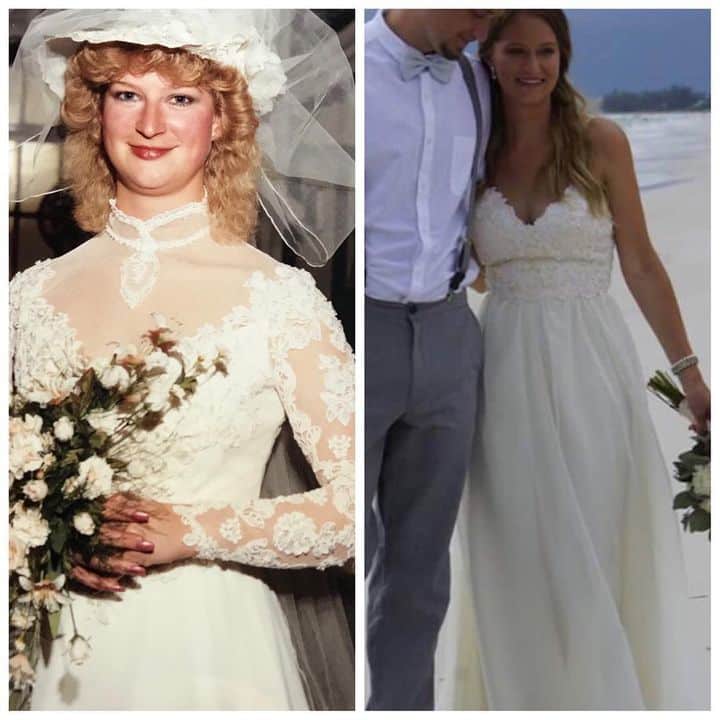 This girl's dream came true when she said yes to her beau! One thing she knew for certain was that she was going to wear her mama's dress on that day. Her mom's classic wedding gown, the breathtaking views, and the seashell decorations made everything perfect.