Til A Dress Do Us Part: 45 Questionable Wedding Gowns We've Seen On TV Shows And Movies
By Anni K November 9, 2022
---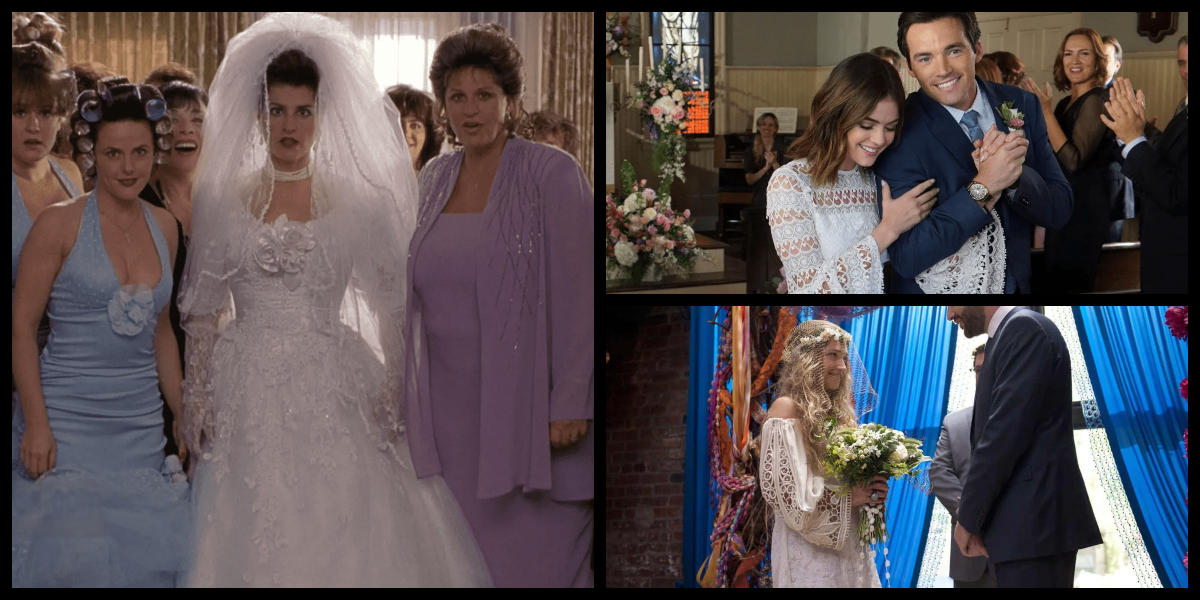 Every bride dreams of their perfect wedding. They think of the flowers they'll pick for their bouquet, the kinds of foods that will be served…and, of course, they think of their statement wedding gown! These dresses usually are made months before the big day. While some women buy custom dresses, some choose to alter a hand-me-down dress that has been cherished and kept in the family.
They say life imitates art, and art literally has depicted every aspect of life – both good and bad things. As such, we've all seen a fictional wedding or two on our favorite TV shows and movies. Hollywood literally has fashion designers working for them, but does that mean that all the wedding gowns on TV look good?
Not necessarily. Some wedding gowns we see on TV make us question what the costume designers had in mind when they decided to use them. As long as the fictional bride is happy, who are we to judge, right? Well, we'll judge them anyway.
In this list, we're going to show you some of the most unusual wedding gowns we've seen on the big screen. Keep in mind that there'll be plenty of spoilers ahead, so if you haven't watched some of this stuff yet, you'll probably want to wait until you do before you keep scrolling down!
That '70s…Dress
This dress, worn by Jackie from That 70s Show, isn't too bad. But even for the era, this dress is very outdated and not suited at all for the character, which was pretty young in this series. Well, the actress was also really young at the time.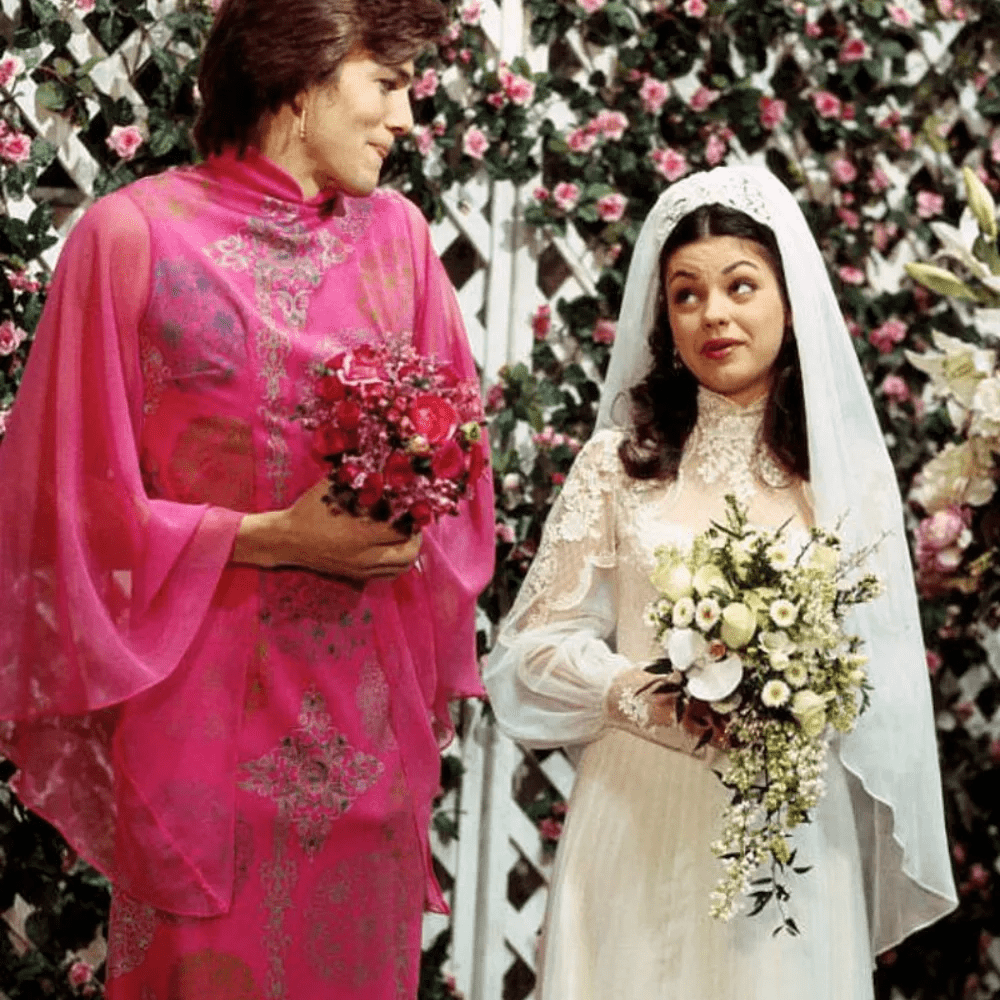 The dress' bell sleeves, neckline, and veil are gorgeous – but they're better suited for a Victorian wedding, not a 70s wedding where the characters are all hip and young. At least it's not nearly as bad as the outfit Michael (Ashton Kutcher) is wearing.
Miserable Dress
Okay, it is a bit harsh to say this dress is miserable, but the pun is fitting for Cosette's overly puffy pink dress from the film version of Les Misérables. We're aware the movie is set in the 1800s…but we're glad we weren't born in that era.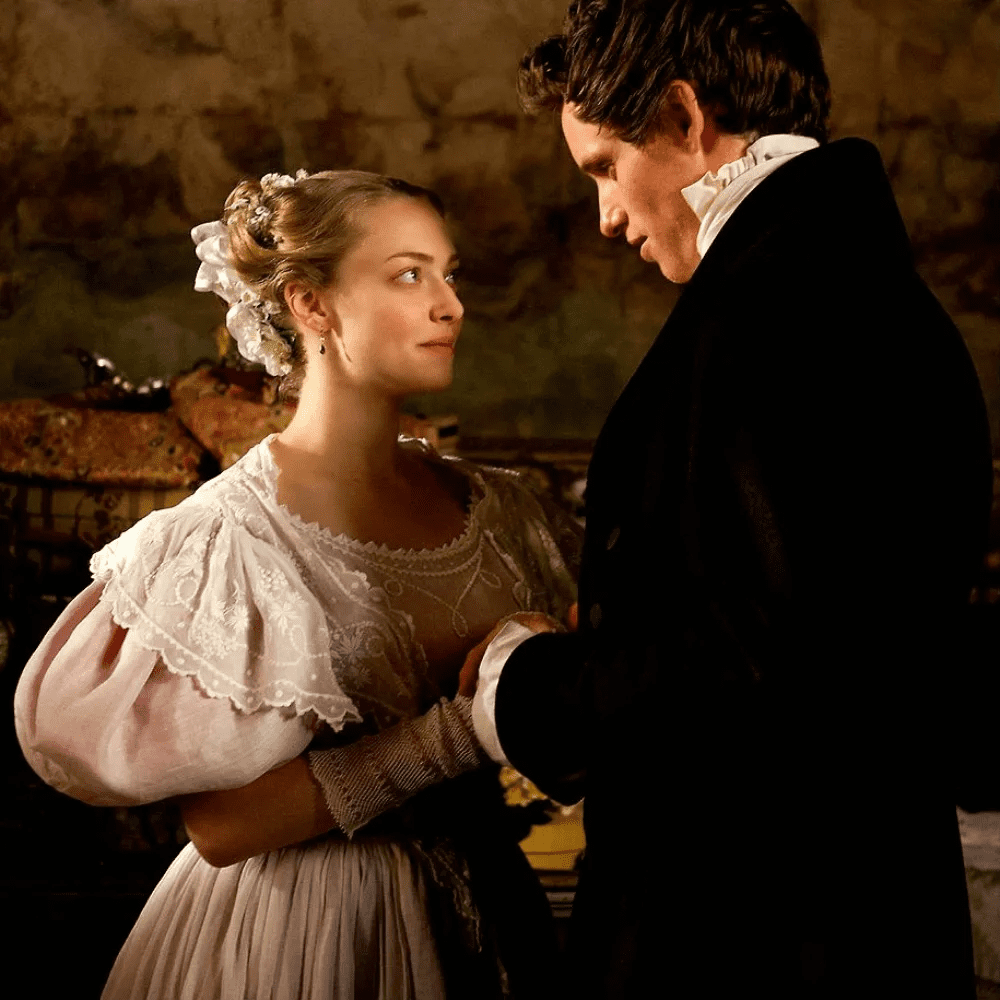 This gown comes in an awful color, and it also has puffy sleeves, a frill that looks like a tablecloth, and band-aid-styled gloves. We're not sure if this dress would look better if it were white, but somehow Cosette looks like a little girl and an old lady at once!
Candyland Catastrophe
If you know anything about Kimmy from the show The Unbreakable Kimmy Schmidt, you understand why this wedding dress perfectly fits her over-the-top personality. If we look at it from her perspective, it's perfect and cute. But that's her perspective.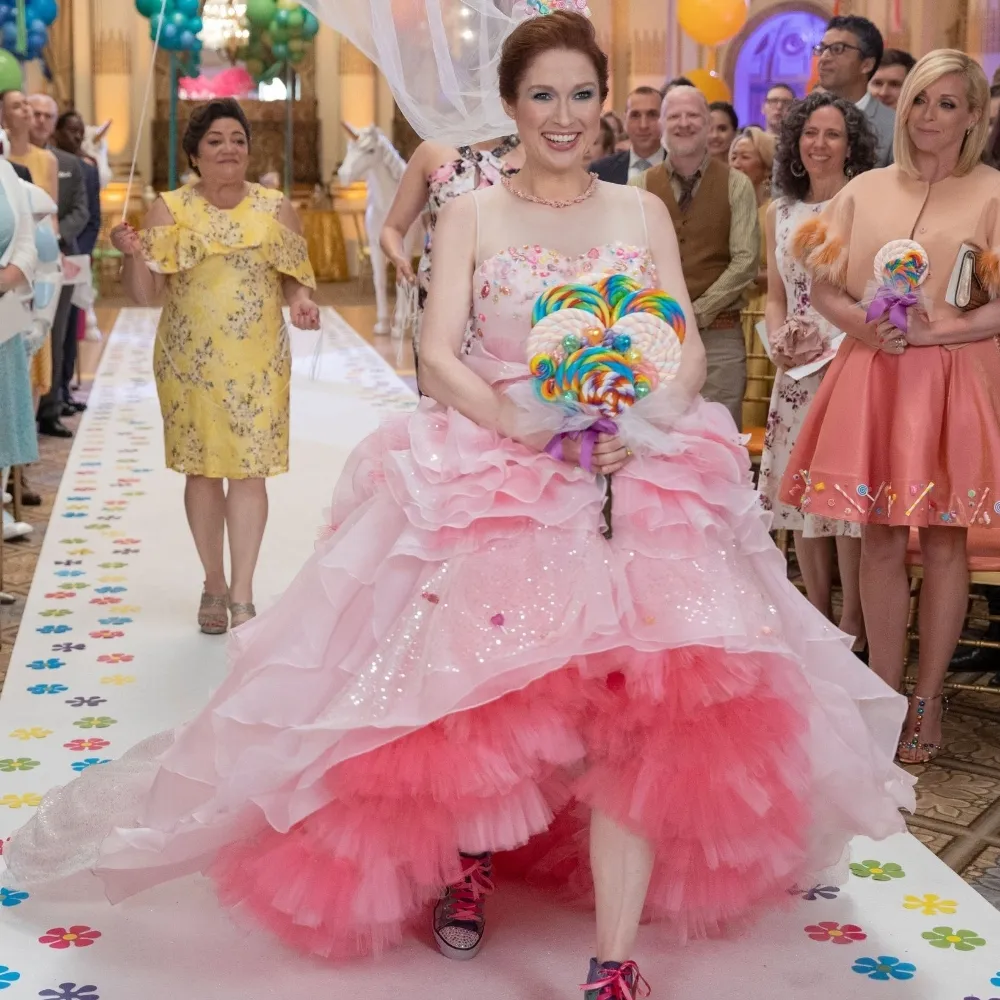 The truth is that this isn't the fictional world that Kimmy lives in. In this world, this dress looks like she stopped by Candyland and rolled on a candy-covered floor. To make things worse, she paired the dress with glittery sneakers! We doubt anyone would want to wear this in real life.
Why Do This To Her?
One of the show's beloved characters, Hayley, has always been a fashionista and even pursued her dreams of becoming a fashion designer. But what happened when it came to her wedding dress? We expected an iconic dress but were let down horribly.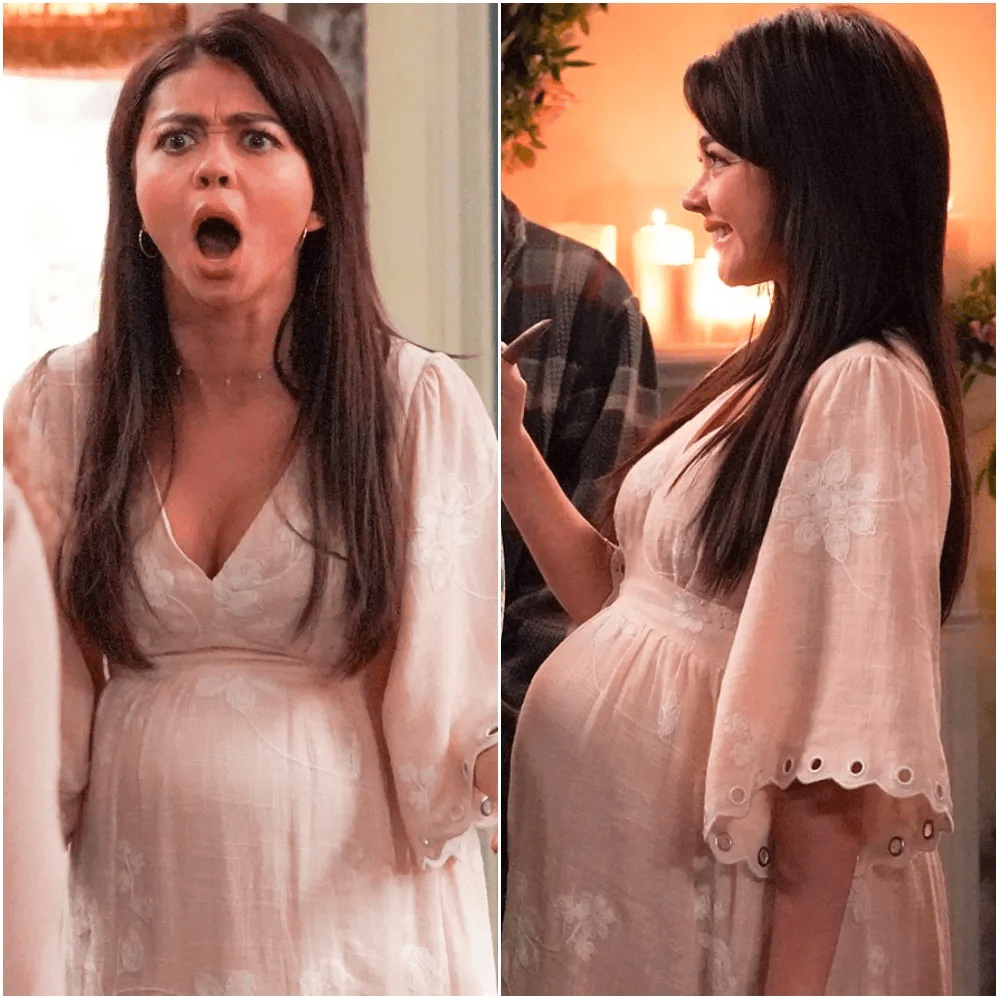 We get that the character is pregnant, but a pink boho dress? We just had higher expectations for this character. Maybe the pregnancy got to her head, and she had other priorities than choosing the perfect wedding dress. Our final comment is that we're glad this is just a TV wedding.
Unfriendly Dress
In Friends, Rachel Green finds herself running away from the altar in the first episode. She looks far from good, as anyone would if they had just left their husband-to-be. We won't comment on the wet hair, but we have a bit to say about this dress.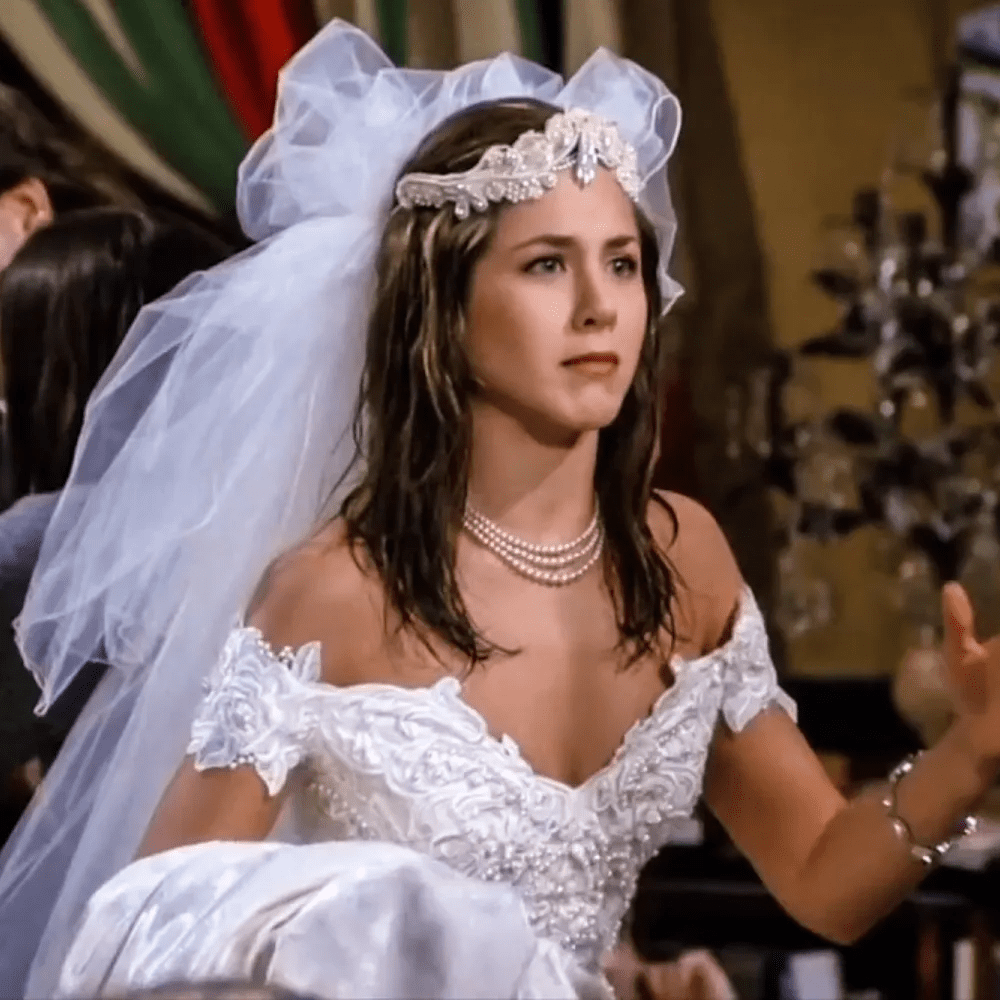 The show is set in the 90s, yet this dress seems very 80s – which is just a bit outdated for Rachel, especially because she's a fashionista. And the piece on her head? It kind of looks like an inverted crown, but it still doesn't look good.
Oh, Marie
"Oh, Marie" is what one of the characters of the movie When Harry met Sally said to Marie when she saw the character wearing her outdated, 80s-inspired wedding gown. And you guessed it: we are interpreting that reaction as a disappointed one.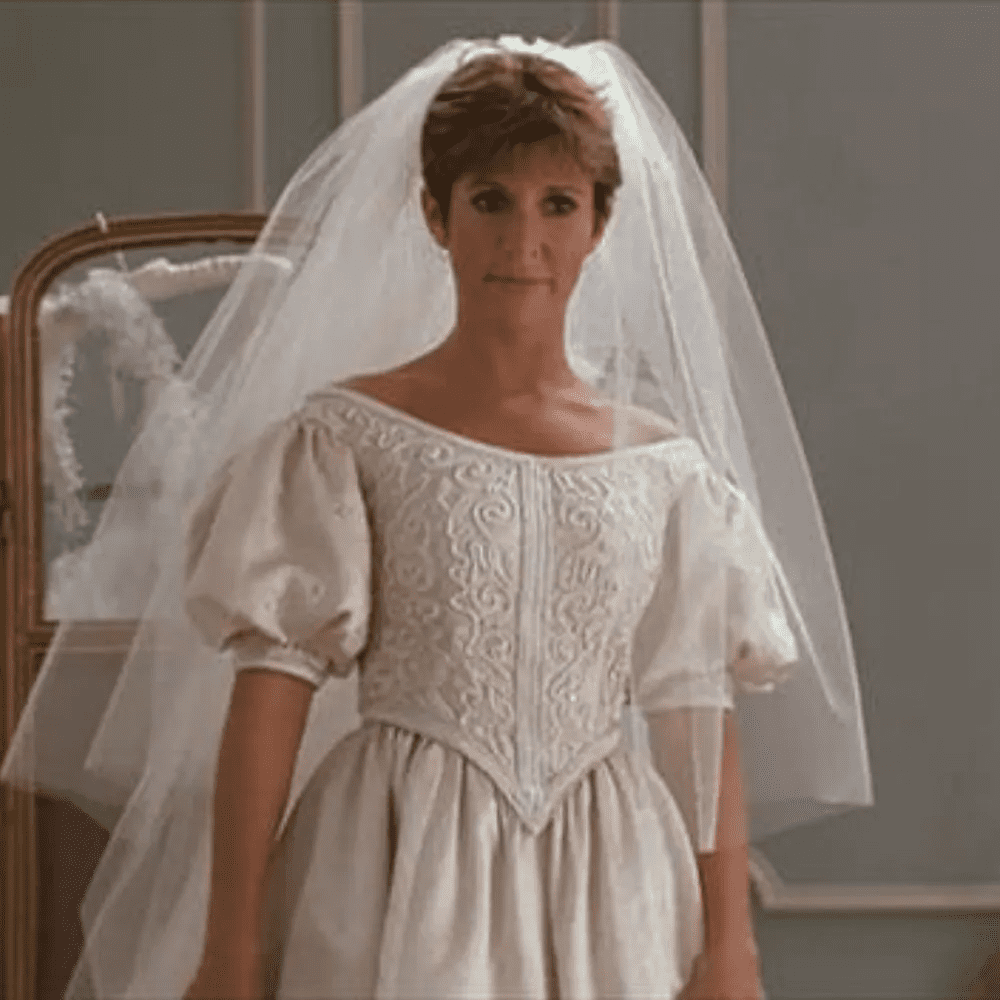 We are not in love with this dress that Marie, played by the late Carrie Fischer, has to wear to her wedding. But we suppose Marie doesn't look too unhappy with what she is wearing. Hey, if the bride is happy, then all is well.
Fit For A Villain
The movie Mirror Mirror received quite a lot of praise for its clothing design and outfits. With that said, there was a lot of effort put into making this dress, but the design is definitely questionable. Perhaps we need to keep in mind that it was designed for a villain.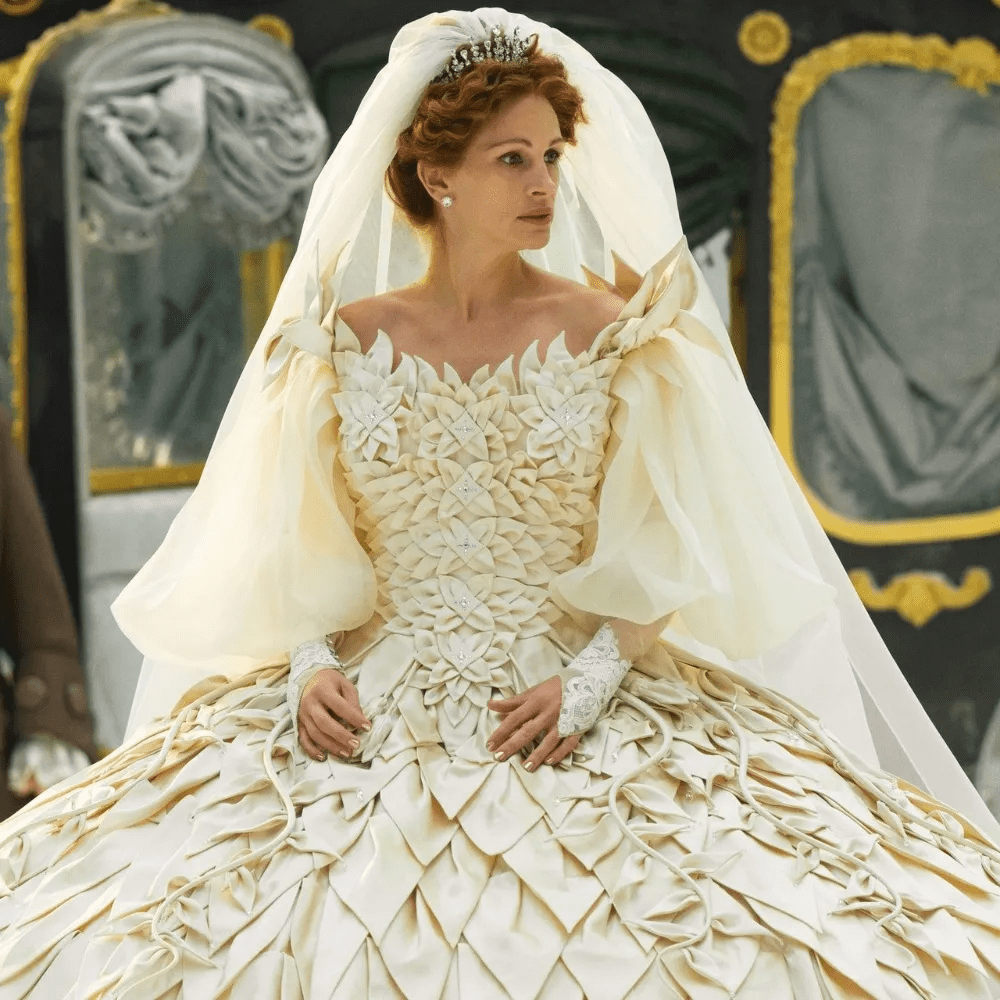 It is overly detailed with what probably should have looked like petals. However, considering this is a dress for a villain, maybe the designers decided to make the dress look like it was made of scraps of fabric. The execution is great, but we can't say we love the design.
The Nottie Dress
If you remember anything of the movie The Hottie and the Nottie, you know that the story revolves around the looks of two girls: one who's considered very beautiful and one who's thought to be not-so-beautiful. But irony struck when they revealed the Hottie's, Cristabel, dress.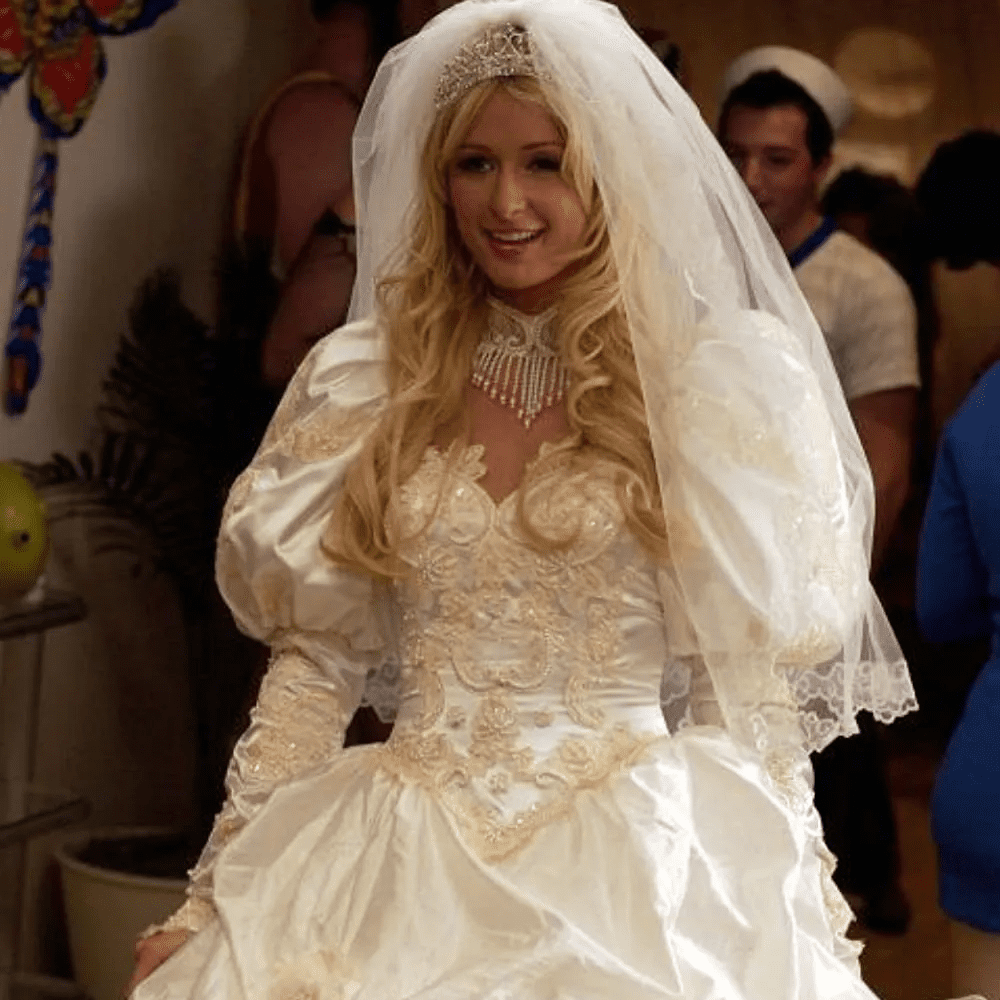 Cristabel is considered the beautiful girl in the story, but her dress seems destined for the dumpster instead. It is very outdated, even for the time the film was produced. However, this was a part of a costume, so we'll let this one slide.
This Is Not As Bad
Tamra, one of the nurses in The Mindy Project, is played by Xosha Roquemore, and she makes a beautiful bride. But when it comes to her dress, we can't help but think the seamstress ran out of time to get it ready. Or maybe she decided to call it a day halfway through.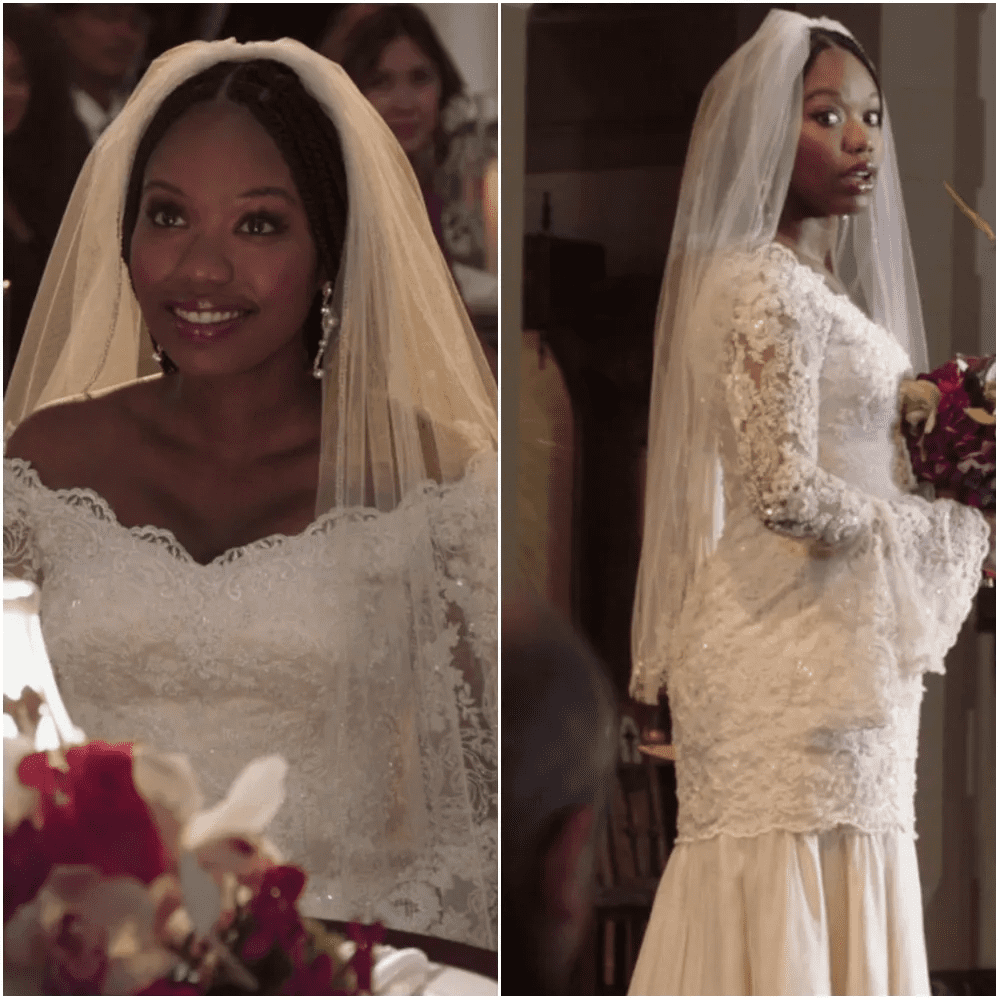 The dress isn't awful at first sight, is it? However, when we look at it from the side, it looks like the bottom half was added as an afterthought, or they ran out of material to make a whole dress. Well, at least everything else looked great.
Run, Jenny, Run
In the movie Forrest Gump, Jenny is the kind of gal that would wear a boho dress at her wedding because it perfectly showcases her personality. But the execution of this dress did Jenny wrong on many levels. We can't help but want to shout, "Run, Jenny, Run!"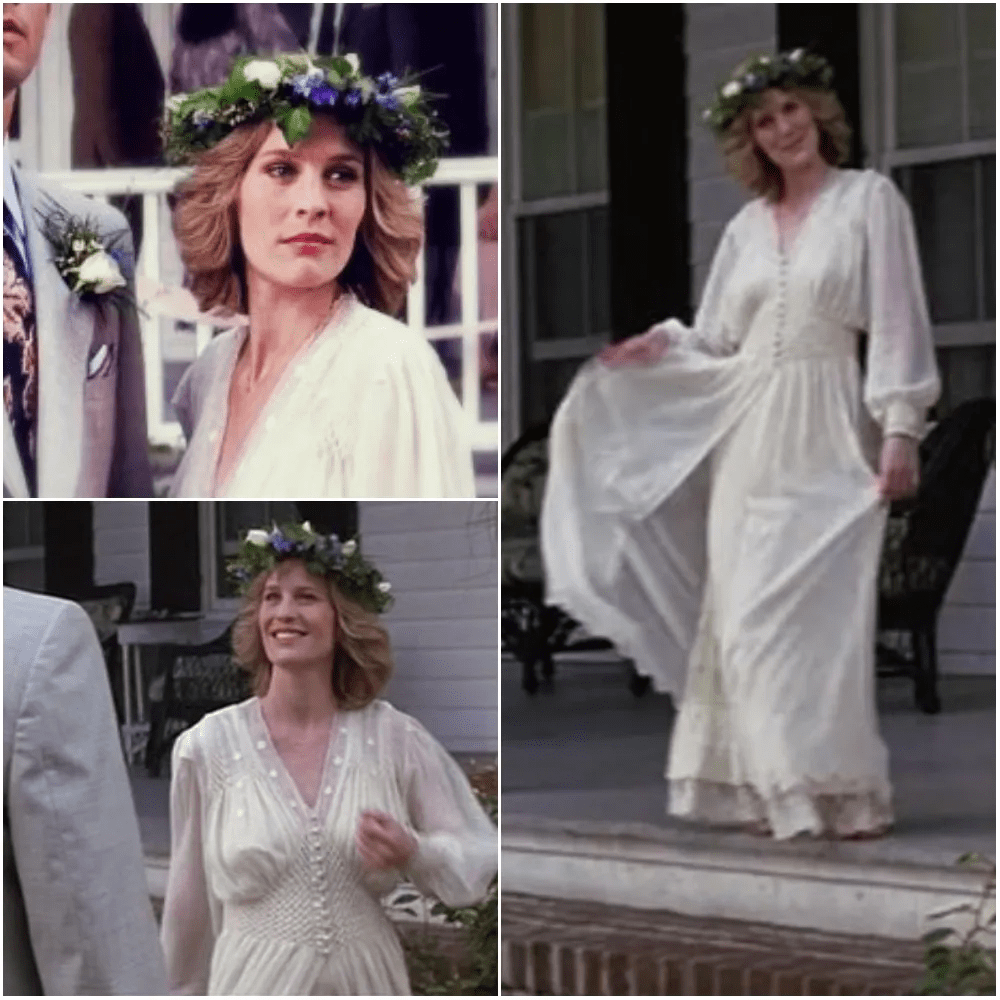 Robin Wright, who plays Jenny in the movie, has a great figure, and her dress does show it off – but in a questionable manner. The corset-inspired waistline is not only awkward, but it also causes her chest to look saggy, which could have easily been avoided.
Stay In Vegas
They say that what happens in Vegas stays in Vegas. And this should have been the case for Joy's dress! Cameron Diaz plays Joy in the movie What Happens In Vegas, and while her figure is stunning, the dress does not complement it whatsoever.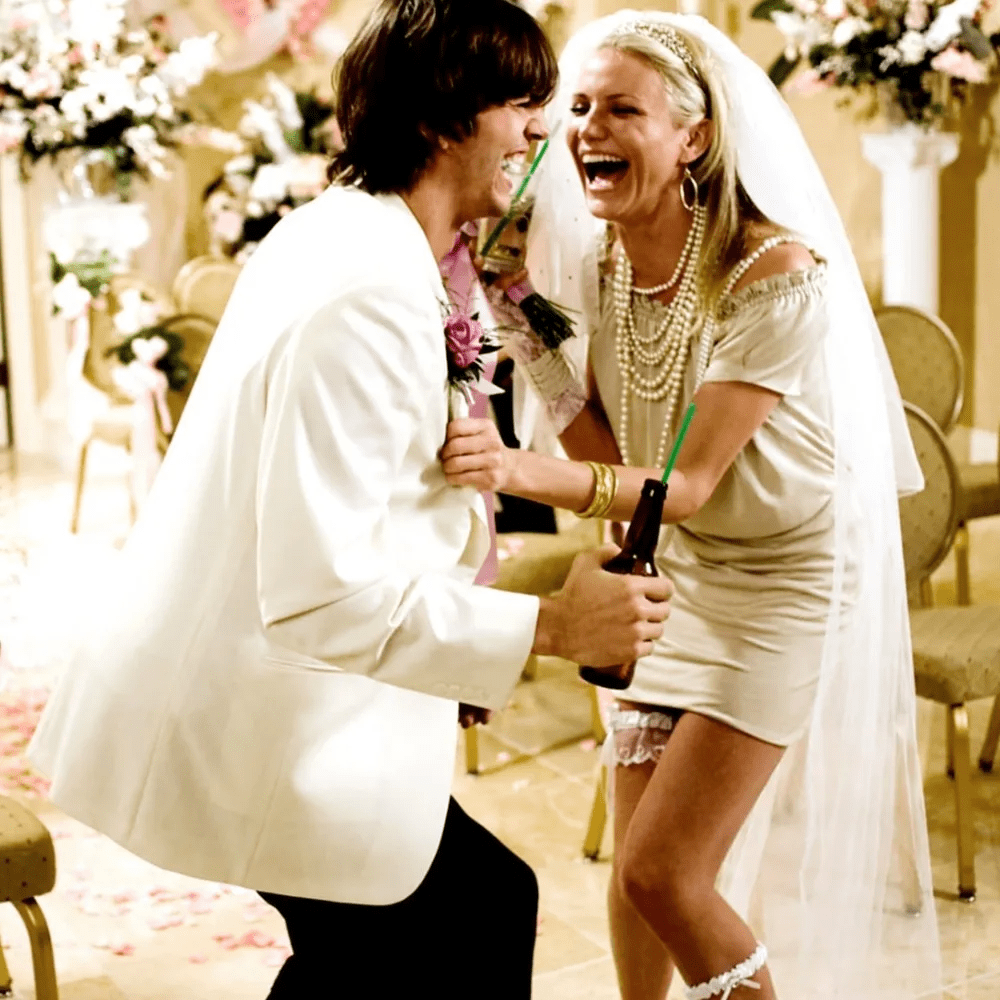 This was an impulse wedding, like many of the weddings that happen in Vegas. But that doesn't mean Joy will get away with this dress and outfit. We understand there was no time to look for a better dress and accessories, but this certainly isn't the best dress for a wedding.
Hand-Me-Down
It is a beautiful tradition for a mother or grandmother to hand down her dress to their daughters and granddaughters, sometimes even to their soon-to-be daughter-in-law. But the problem is that the dress is sometimes outdated and not always a good fit.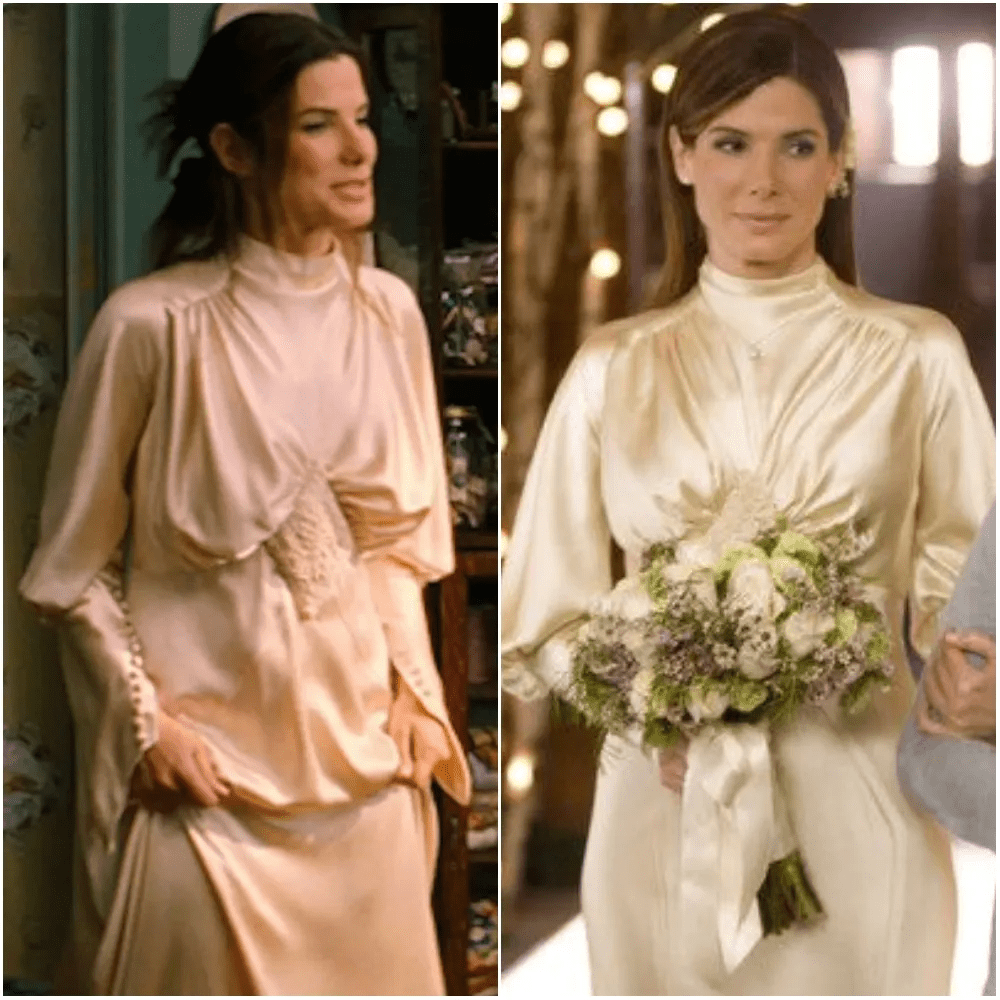 Margaret, Sandra Bullock's character, was gifted her soon-to-be husband's family heirloom dress, but it is not outdated enough to be considered vintage. It just looks old. The poor choice of a diamond-shaped waist does nothing for Margaret's stunning figure. And she can't even refuse to wear such a meaningful dress!
Because We Say No!
The wedding dress that Diane Keaton wore when starring in the movie "Because I Said So" is downright awful. Made of silk, the stiff skirt manages to look even worse because the costume designers decided to pair it with a peplum jacket.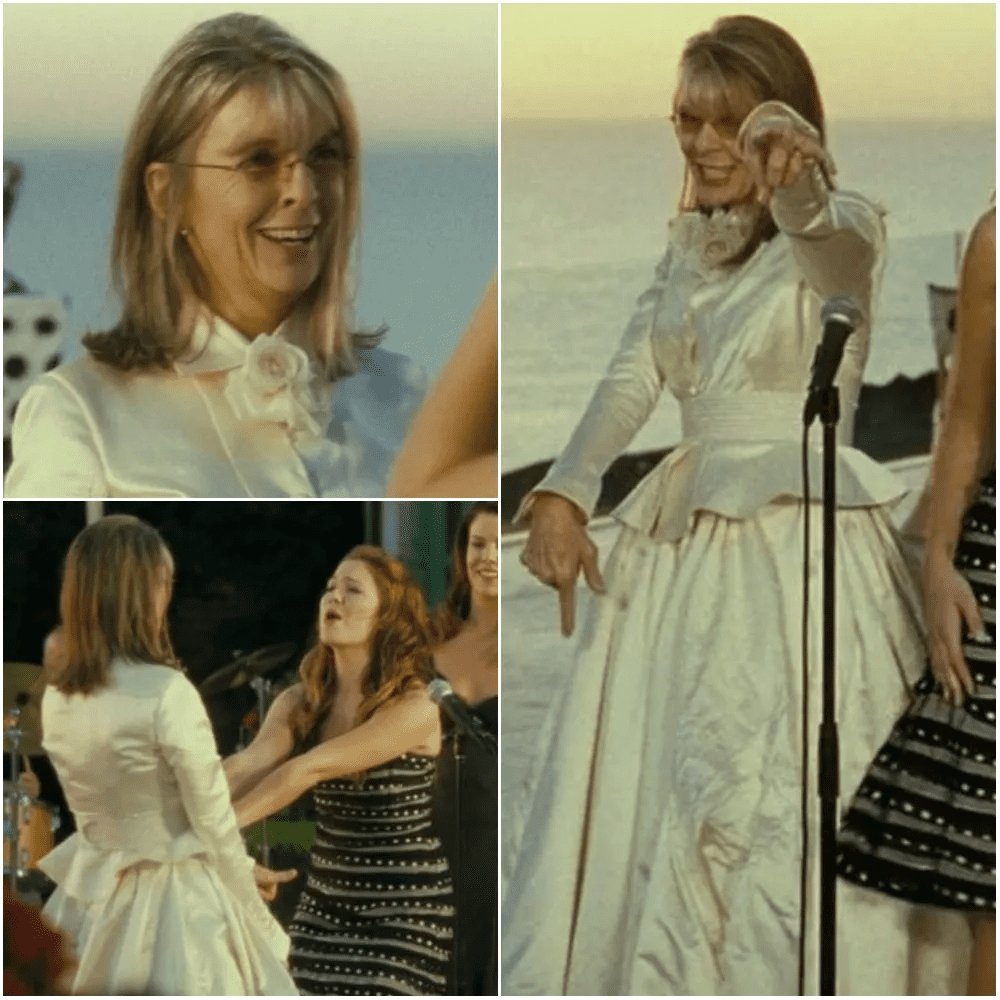 Both the character and the actress are quite fashionable, so we couldn't believe the injustice when she walked out in a puffy and stiff skirt and jacket. She could have looked incredible in a classic pantsuit, but they decided to give her this awful look!
Rough Ruffles
Maya Rudolph's character in the movie Bridesmaids is set to wear her dream wedding dress, but in reality, it is the stuff nightmares are made of. It is supposed to be comedic, considering this is a comedy film, but we're a bit confused anyway.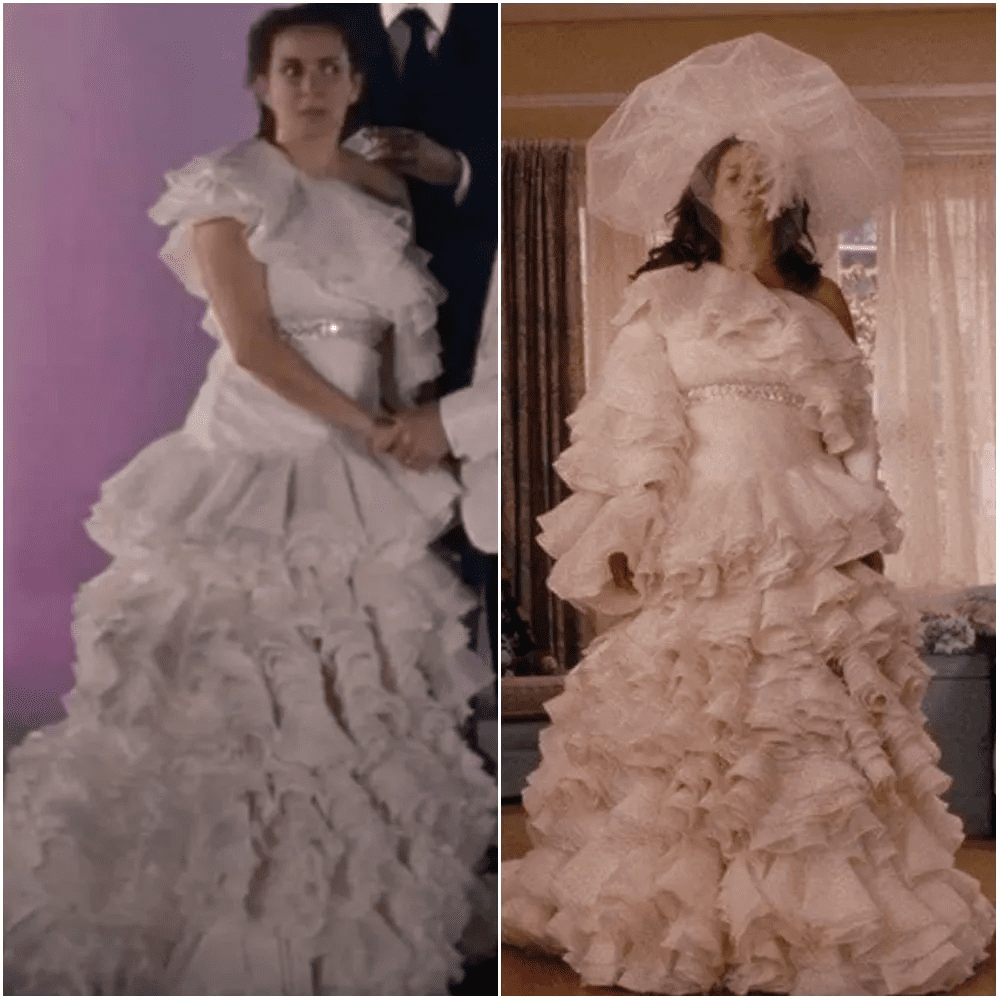 This dress is perfect for a horror movie, given that the ruffles are not only overbearing but also make absolutely no sense. It looks like someone got a bunch of wet toilet paper rolls and stuck them to the dress, then put on a price tag.
Teen Drama
We know the 2000s was an era of excessive layering, thin nonsense scarves, and way too many collars, but you would at least expect the trends to stay out of the wedding parties. Shailene Woodley, who played Amy Juergens, didn't get the memo.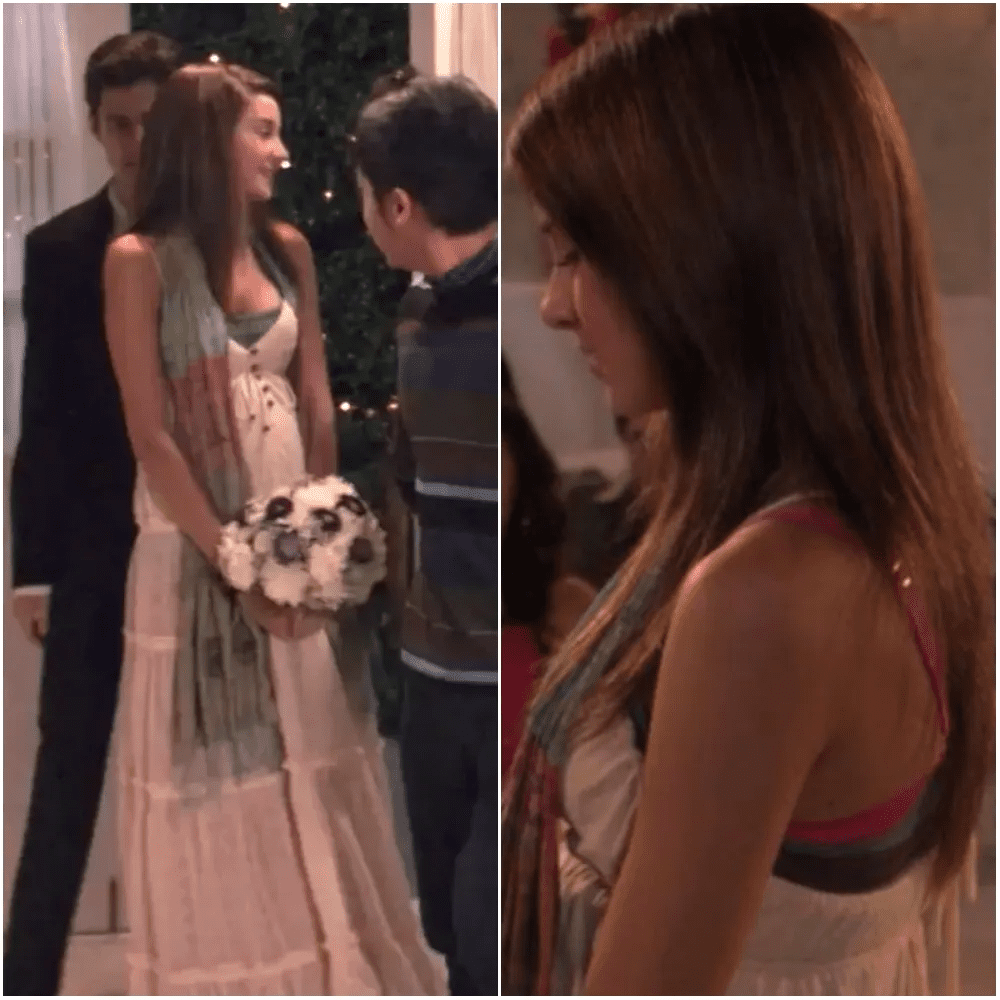 The Secret Life of the American Teenager's Amy is seen in what seems to be a cheap sundress layered over tank tops, complete with the cliche 00s scarf on her wedding day. Seriously, were there no adults around to help this teen out?
Big Fat Disaster
My Big Fat Greek Wedding is a classic rom-com that, of course, features a big greek wedding. Toula, played by Nia Vardalos, has a big extra-puffy dress to complete the theme. We're not going to say too much since the dress speaks for itself.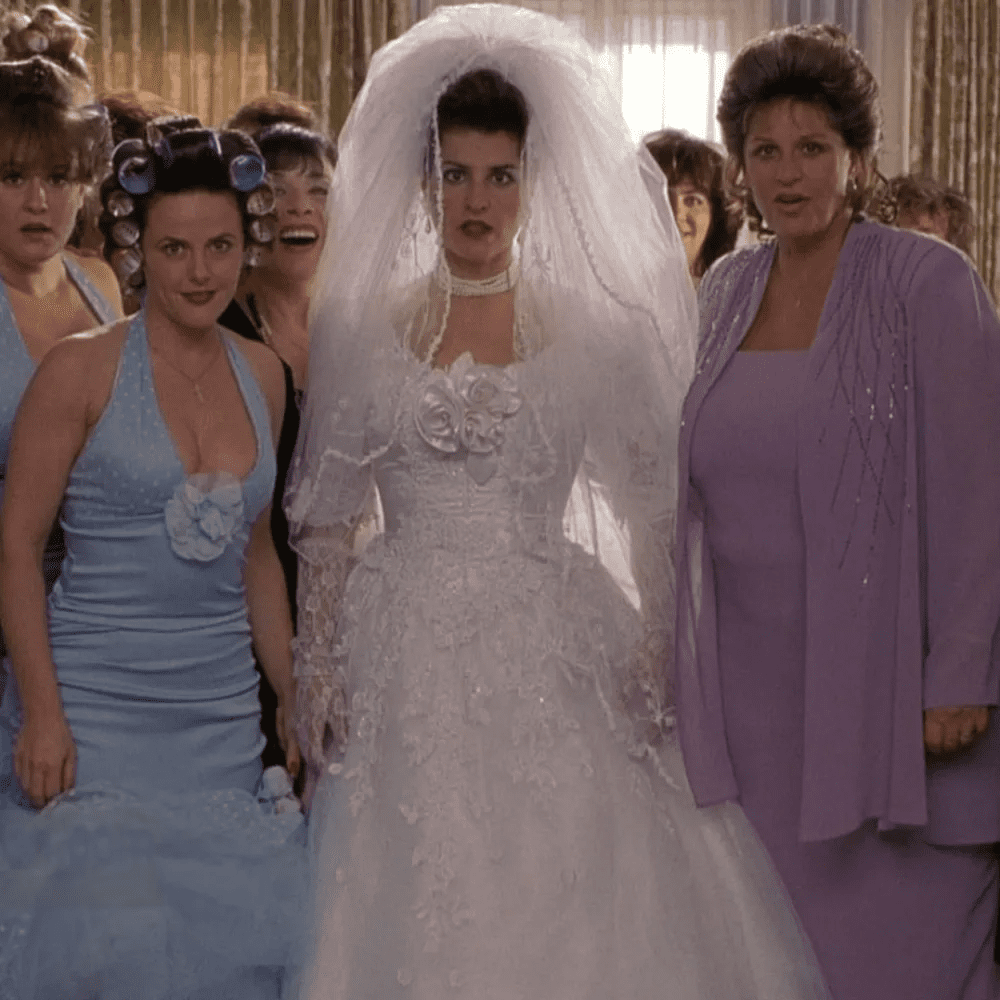 Even Toula herself thinks this puffy, embroidered, over-the-top dress looks like a snow beast when she first sees it. Luckily she had some adjustments done before walking down the aisle, but whoever this designer is, they need to put their pencils down.
More Effort Please
April Ludgate is a moody and edgy character in the series Parks and Recreation. While it isn't shocking that April wouldn't have a traditional wedding, this isn't what we expected either. Nobody thought the edgy girl would wear a simple white frock.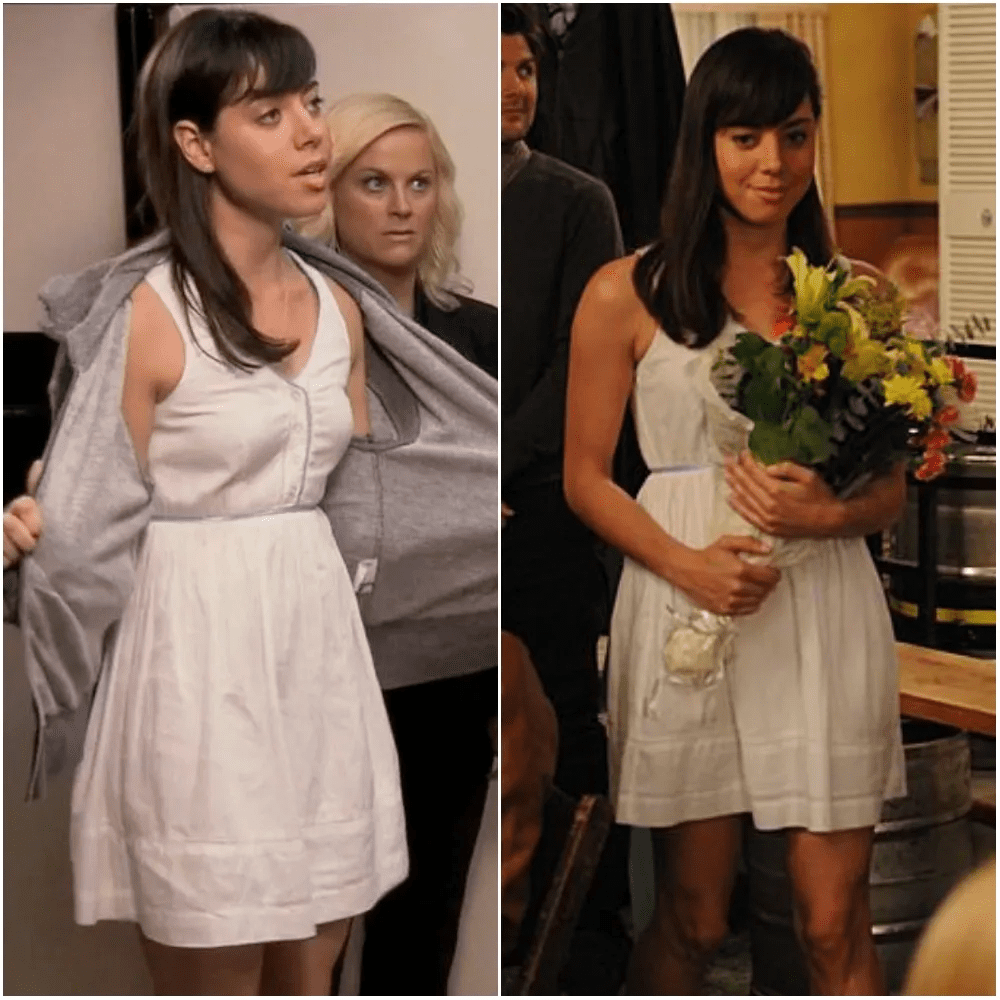 Did the wardrobe staff not get the memo that April wouldn't be caught dead in such a basic gown? It kind of looks like this was a garment that was meant to be worn under the actual dress. We wonder why the designers made such a bold decision when picking this dress for the scene.
Fairy…Fail
You would think that with magical fairy-tale weddings in fantasy movies, the costume designers would put in a lot more effort. Unfortunately for Snow White in Once Upon a Time, her fairy tale wedding dress was actually a fairy fail.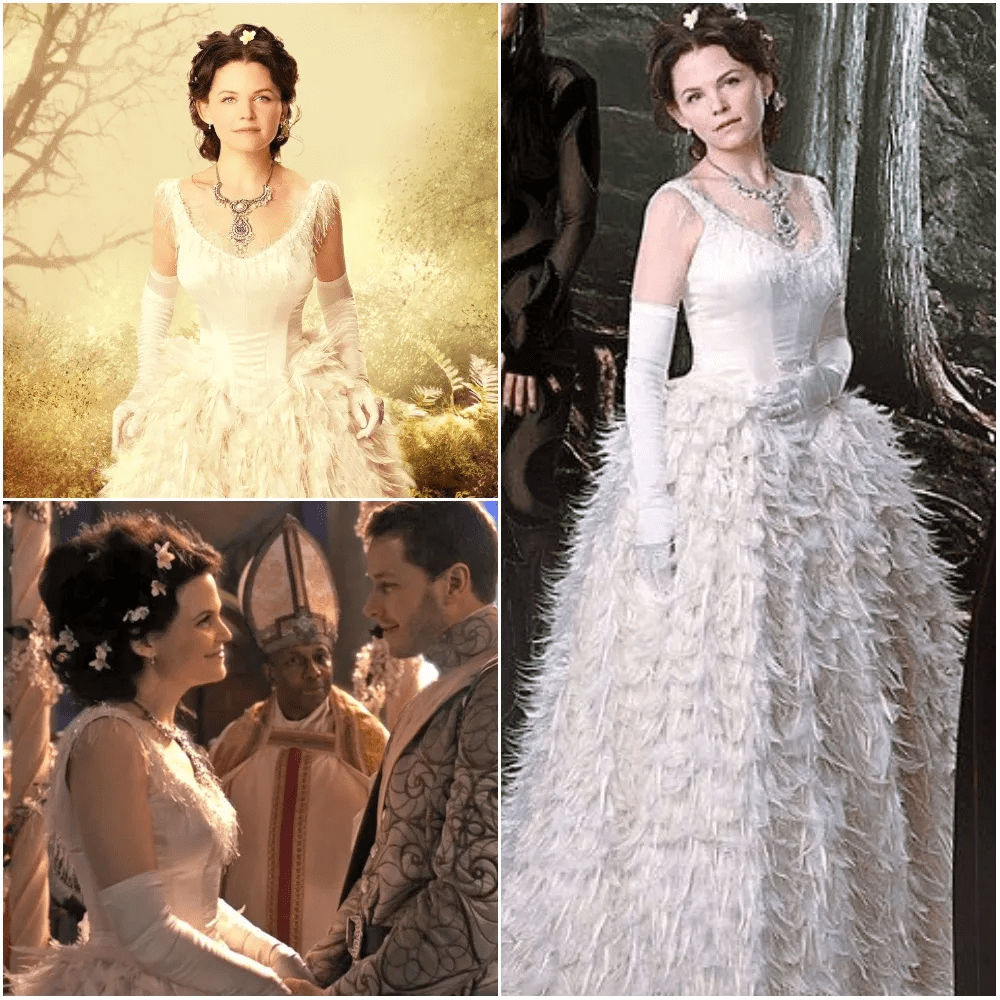 Although Snow White is a classic character, this dress just doesn't seem to match the fantasy world or a classic princess' style. The gloves make this dress look even worse. Maybe they should have gone back to the drawing board one more time before airing the scene.
Fussy Dresses
Cameron Diaz stars as Kimmy in the movie My Best Friend's Wedding, and her character's dress fits her personality to a tee: fussy and over the top. Cameron is a stunning woman, but the dress is a big no-no for us.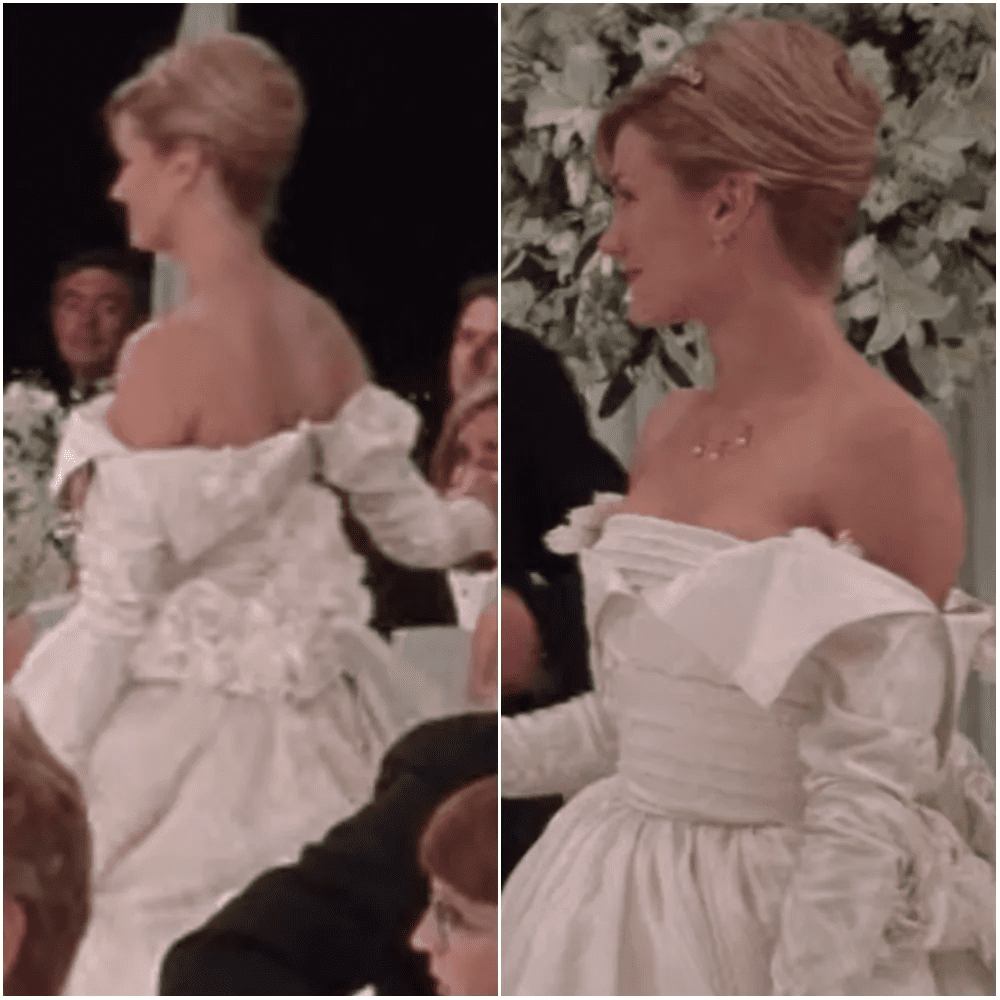 The dress has all sorts of details, and the designer wanted to incorporate a little bit of every trend at the time into the dress. Ruffles and layering and puffiness all around – it's probably appropriate for the 90s, but we truly dislike it.
Feathery, Actually
Keira Knightley, who plays Juliet in Love Actually, is seen wearing an underwhelming dress paired with the questionable choice of feathers delicately sewn into the dress. Why can't we let the feather trend go, especially when it comes to wedding gowns?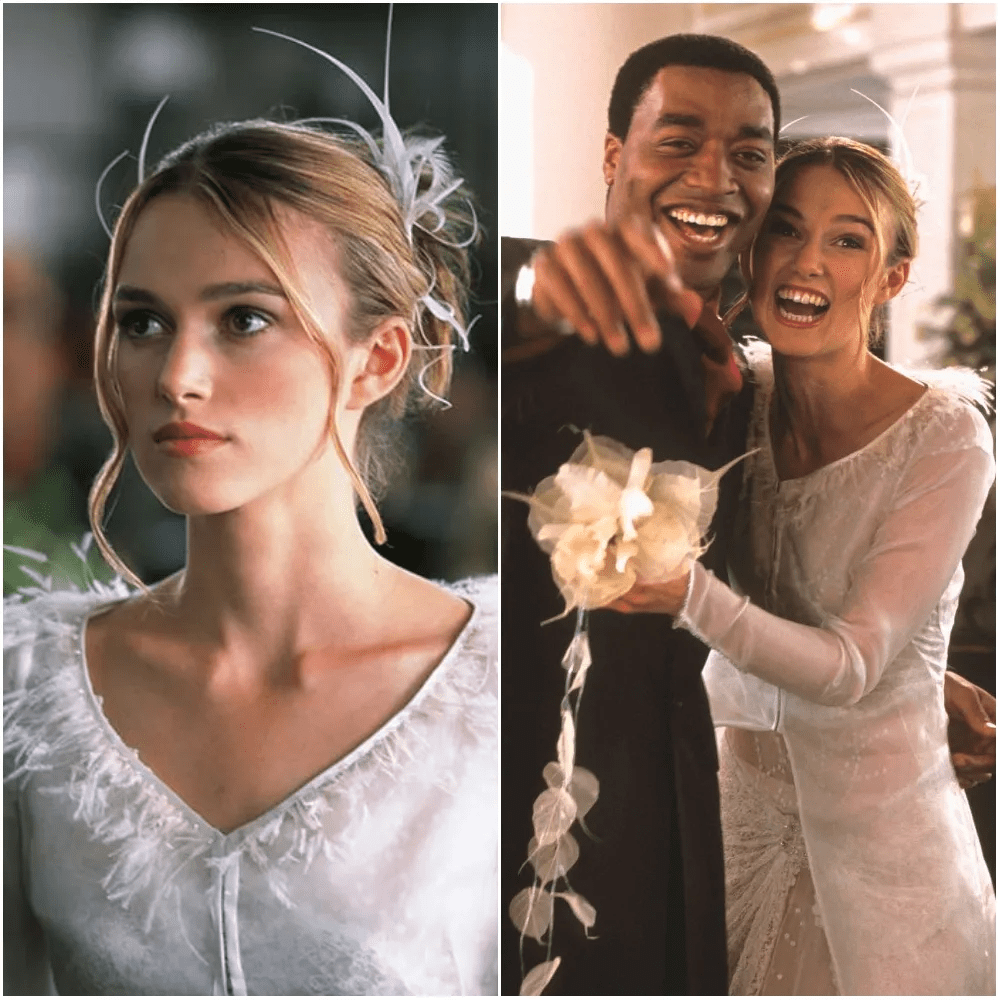 We get that transparent outfits were all the rage back in the day but did the character really have to wear this underwhelming dress? Her hair also incorporated some feathers, yet the whole ensemble remained so basic. We're not angry, just disappointed.
Four Weddings And A…Fail
This is not the worst fictional wedding dress fail, but it is a worthy mention. Poor Carrie from Four Weddings and a Funeral is seen in a dress that looks like it was bought from a Halloween costume store and with a last-minute decision on the accessories.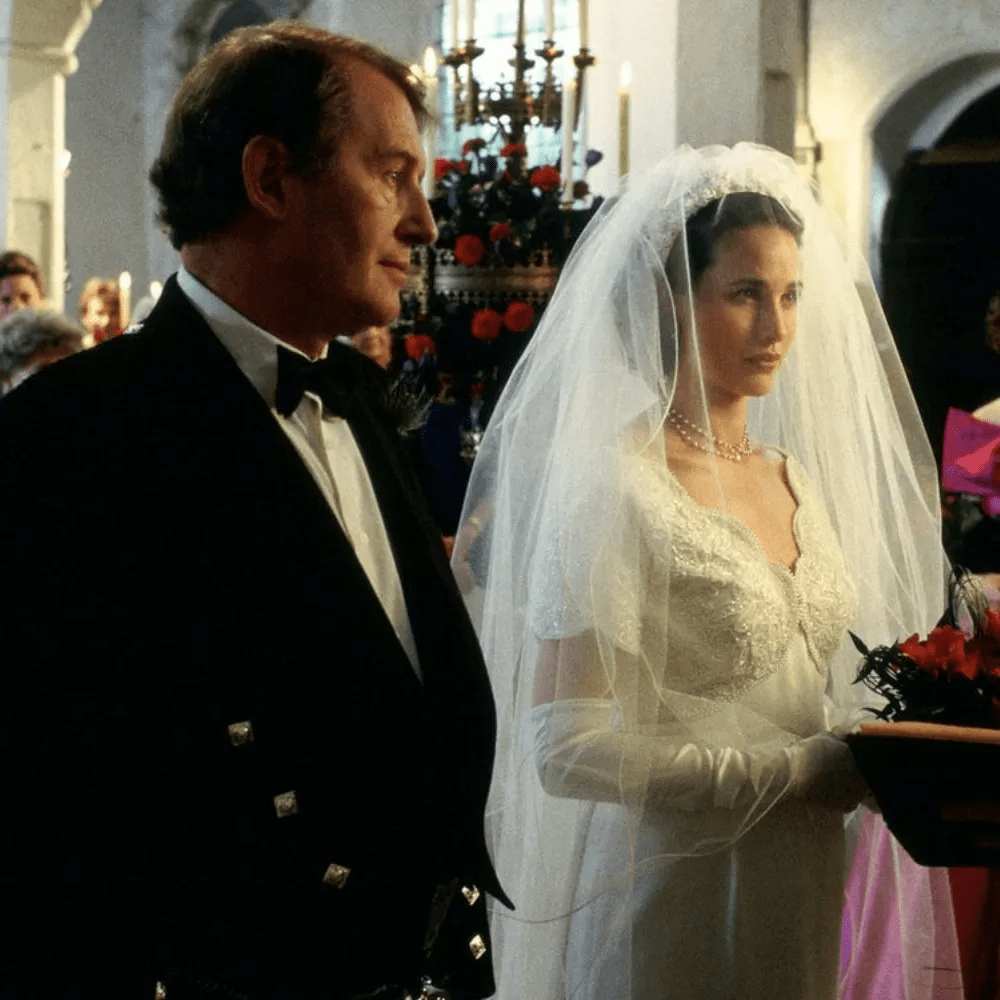 The mish-mash of styles in this outfit is worrisome. The dress isn't even tailored to Carrie's body, her gloves are way too large, and the veil is just a bad decision all around. Get rid of the gloves and the veil and make some adjustments, and the dress will look much better.
Not Her Golden Moment
Every bride dreams of her perfect wedding gown, regardless of her age. Dorothy, one of the Golden Girls, wanted something less hideous than this dress. Did the designer just hate Dorothy, or was there some weird reason behind this dress?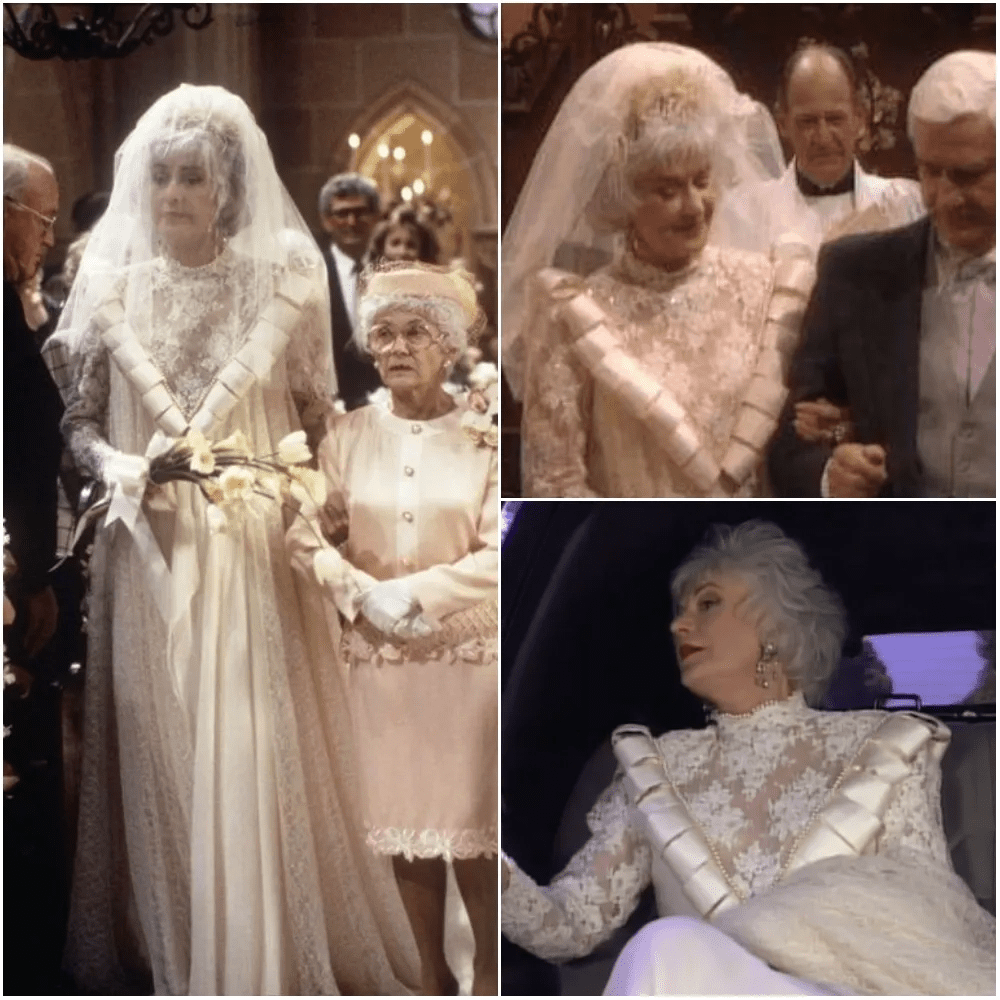 At first glance, it looks like someone stuck rolls of toilet paper to her dress and called it fashion. We would like to think that this kind of dress was popular at the time, but that still doesn't justify why the costume designers made Dorothy wear this.
Swap Dresses
Betsy, what have you done? This dress is nothing short of absolutely awful. Betsy's Wedding is a film that follows the life of Betsy, a fashion student. Maybe she should have studied a bit harder before she designed her own wedding gown.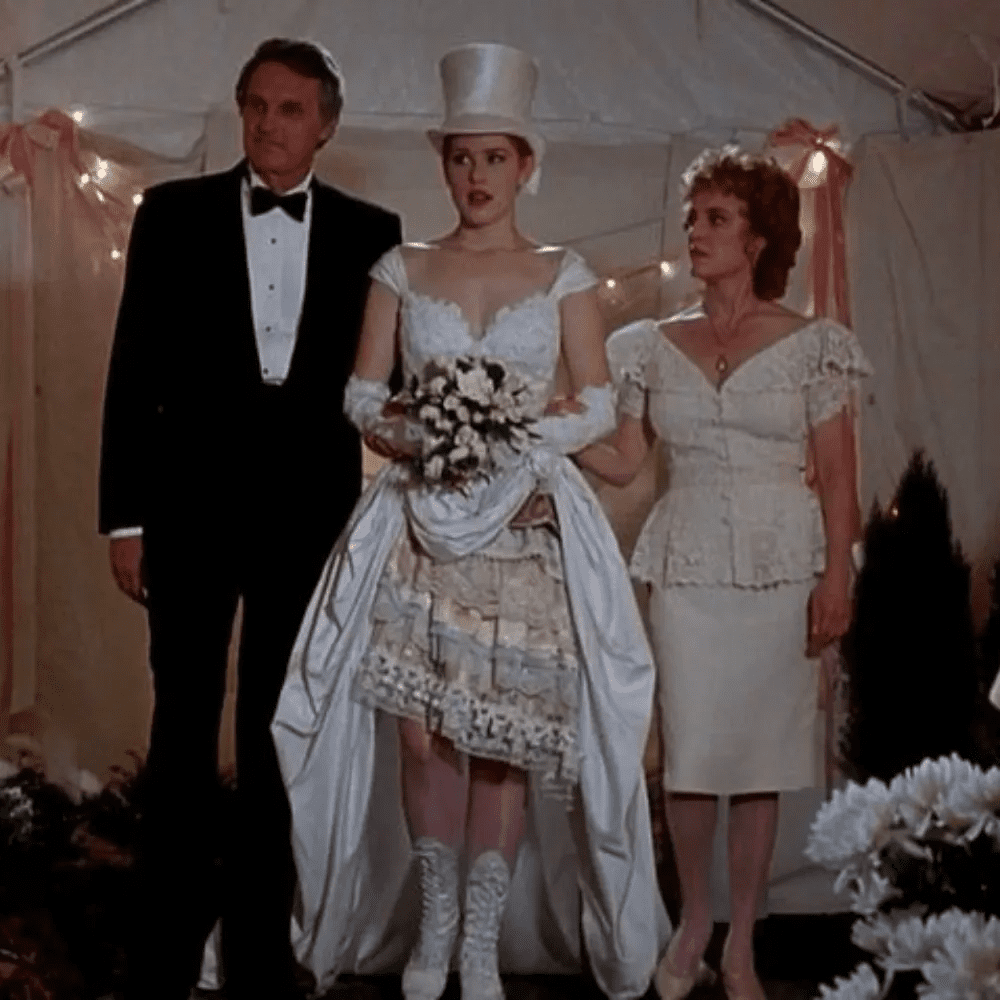 The character insists on designing her own wedding dress, and it's a major failure. It's excessive, with its angled frills, lace-up boots, and a top hat. Even the mother's dress looks better than hers, and that says enough about this unflattering gown.
Great Disappointment
With a title such as Great Expectations, you can't blame us for having some high standards and expectations for Miss Havington's wedding gown. However, we have to admit that the costume designers did nail the "greatness" of this dress because it's huge!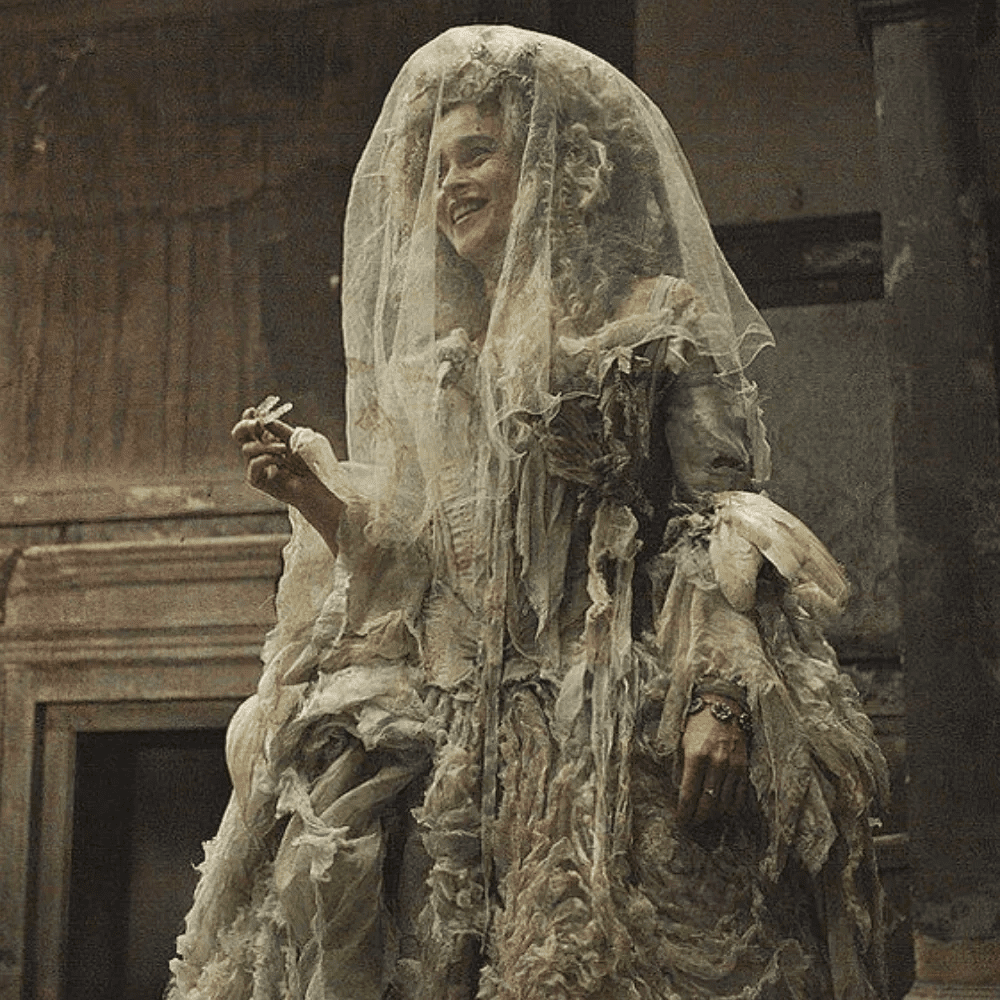 Helena Bonham-Carter is often seen portraying Gothic and moody characters, and she suits the part perfectly. But you probably agree that the designers could've put a little more effort when creating this gown. It's a wedding, not a trip to the thrift store!
Tone It Down
Fairy tales are tricky to watch because we expect extravagant fairy-tale dresses, but not the kind of extravagant that makes a dress look like a giant cream puff! Gisele, the main character in Enchanted, definitely seems like she would love this dress, though.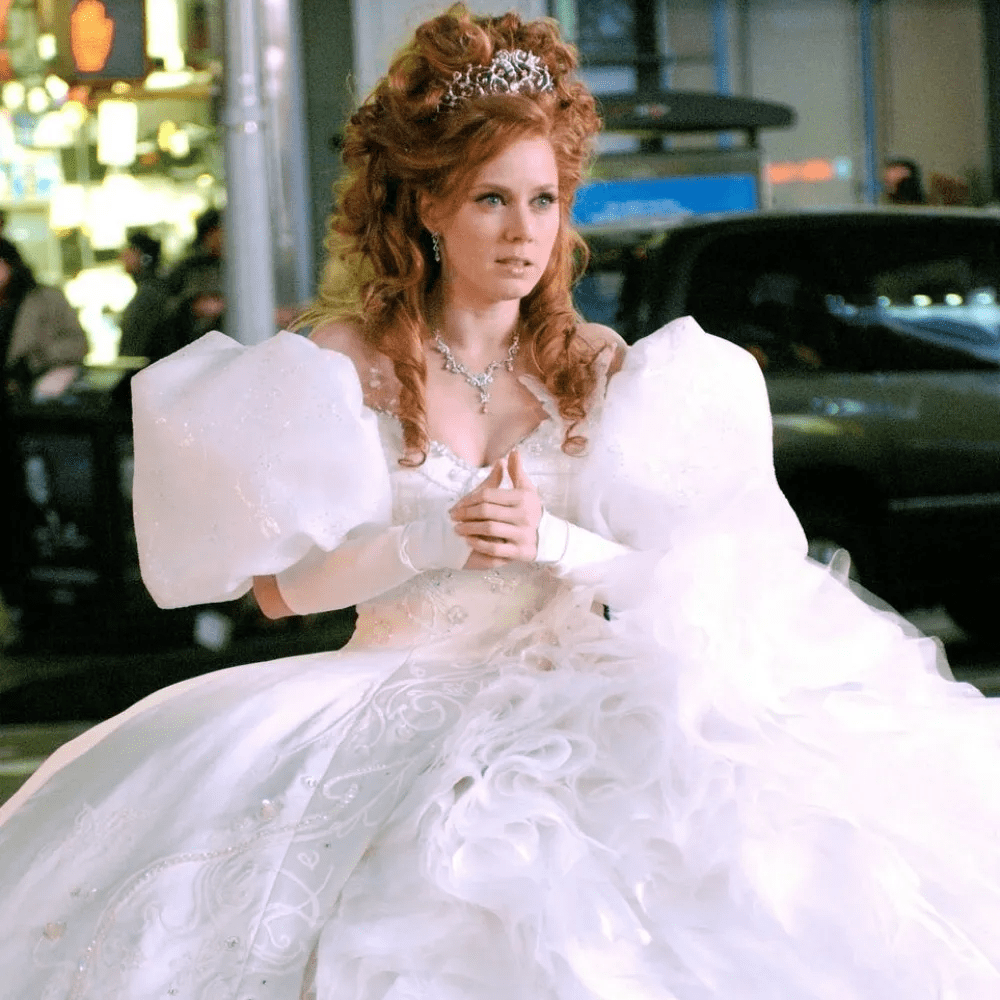 The woman was probably feeling suffocated by all this dress's tulle, frills, and puffiness. Her hair obviously matched the gown as well. We suppose we can't judge this dress – it's still better than the one she wore during the ball scene!
Costume Party
Luckily for Kate Beckett in Castle, she wears a few different wedding gowns on set, which allows us to forgive her for this fashion mishap of a gown. It honestly looks like she is going to a Halloween party as a runaway bride.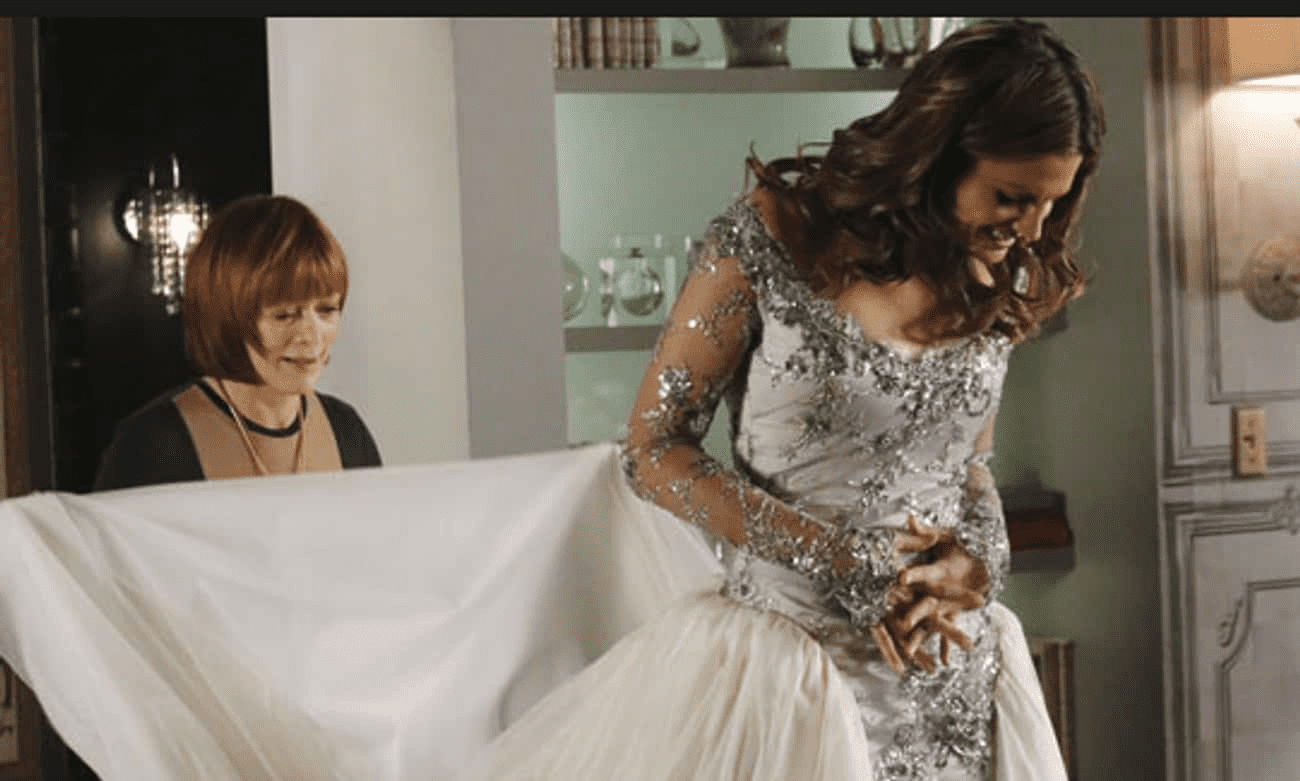 The embroidered top with a few diamond motifs should look great, but it comes out looking very tacky, and that bodice line is just super awkward! Yikes, this one didn't go over well with us at all, but luckily the character wears a different dress later on.
Bride or Bridesmaid
Paige, Rachel McAdams' character from The Vow, certainly looks good in this dress, but we're unsure if the costumes got mixed up. Why? Because even though this dress is pretty, it is way better suited for a bridesmaid than the actual bride.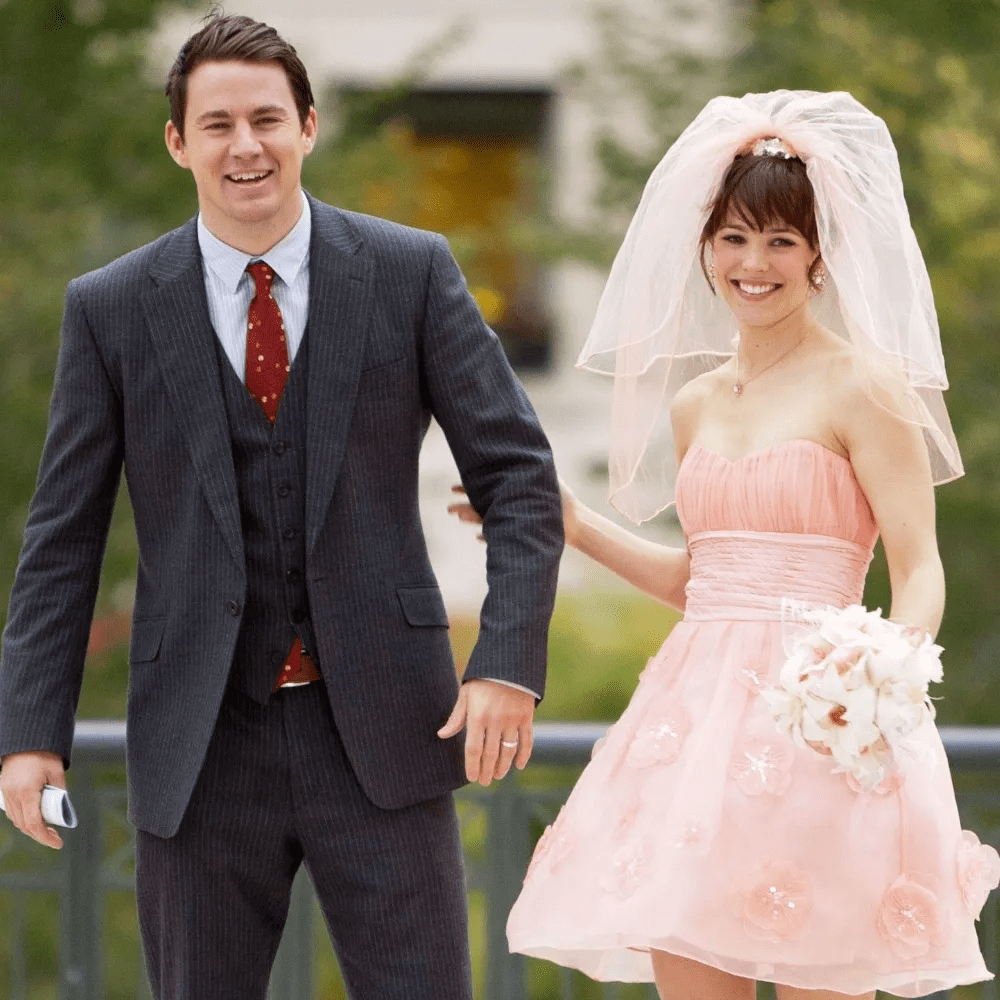 We're all for breaking some rules and pushing the boundaries of old, boring traditional wedding gowns, but this dress isn't cutting it. It's blush pink with flowers, and it's short, which are two characteristics of most bridesmaid gowns. Plus, the veil is just triggering at this point.
Age Inappropriate
This movie was set in the early 2000s, and we understand that it was a wild time. Just take a look at awards shows and see what celebs were wearing back then. However, this dress looks so outdated that it seems like it got pulled straight out of a black-and-white movie set!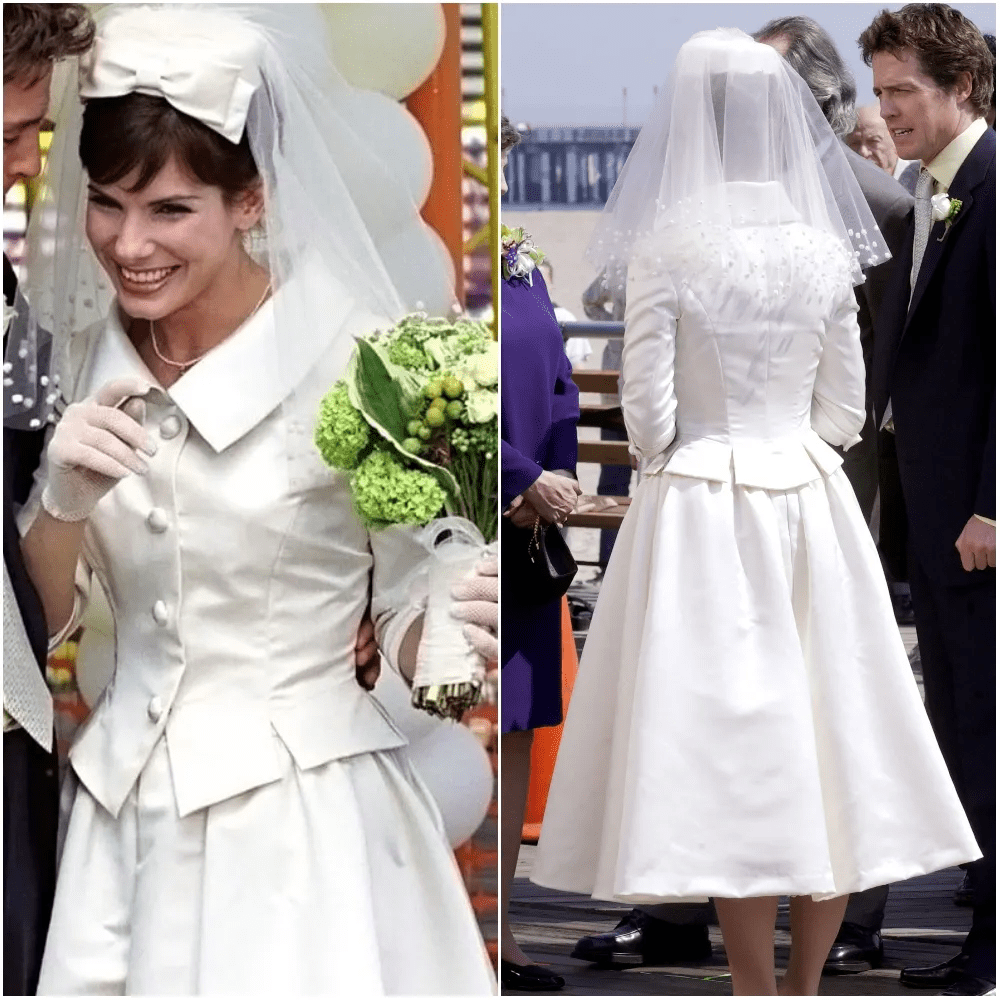 Sandra Bullock does an amazing job at acting, and she almost distracted us from this monstrosity that is supposed to be her wedding gown in the movie. We're pretty sure the costume department could have put a little more thought into designing a fitting dress for the beautiful actress.
Great, Scott!
Hannah, in Made of Honor, marries a handsome Scottish man, but we're confused by the choices made when deciding on the character's wedding dress. The dress is beautiful, but why is the character wearing a sash that doesn't match the gown at all?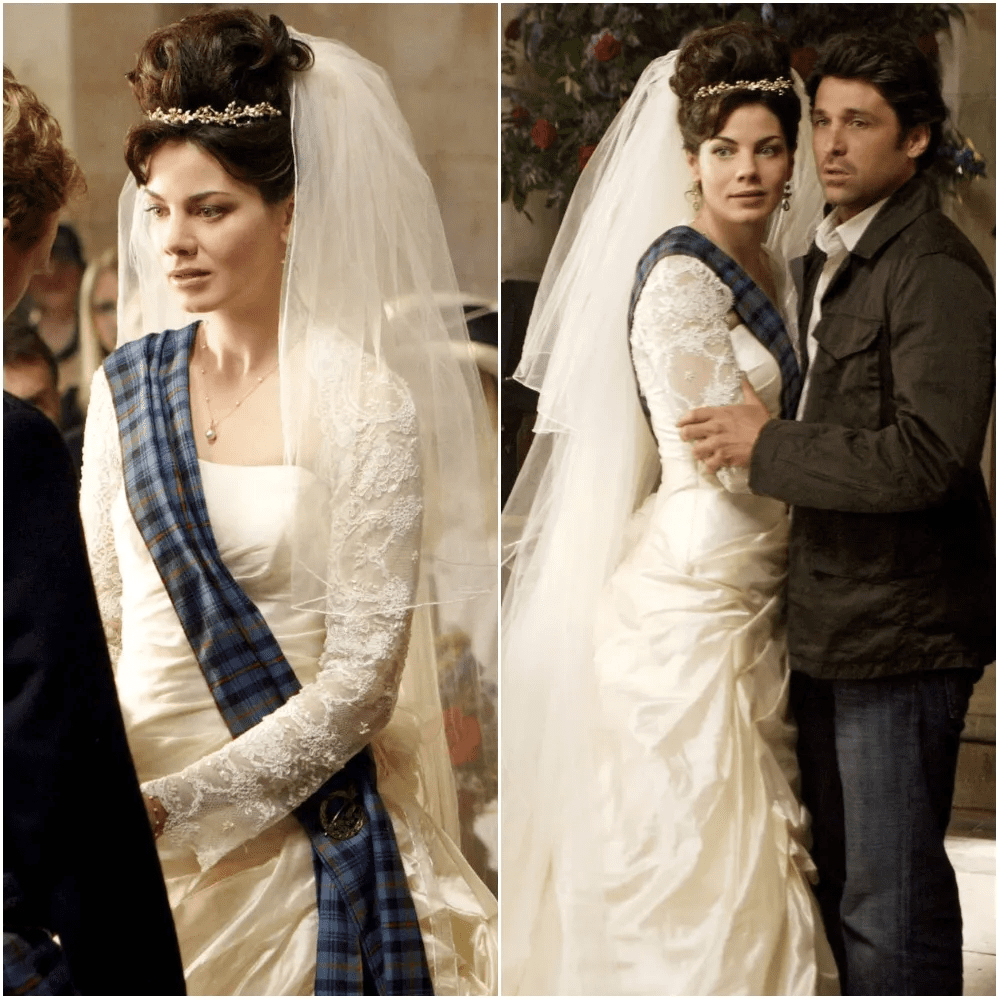 It's not the norm to wear a sash with a tartan pattern on it at a Scottish wedding, so we're wondering why the design team decided to include it. If they wanted a simple token of heritage, it could have been added in a much classier way.
Desperately Bad
Not many people are a fan of Susan in the series Desperate Housewives. The woman didn't get married many times, but the one time she did, she managed to pick one of the most underwhelming dresses we've seen so far.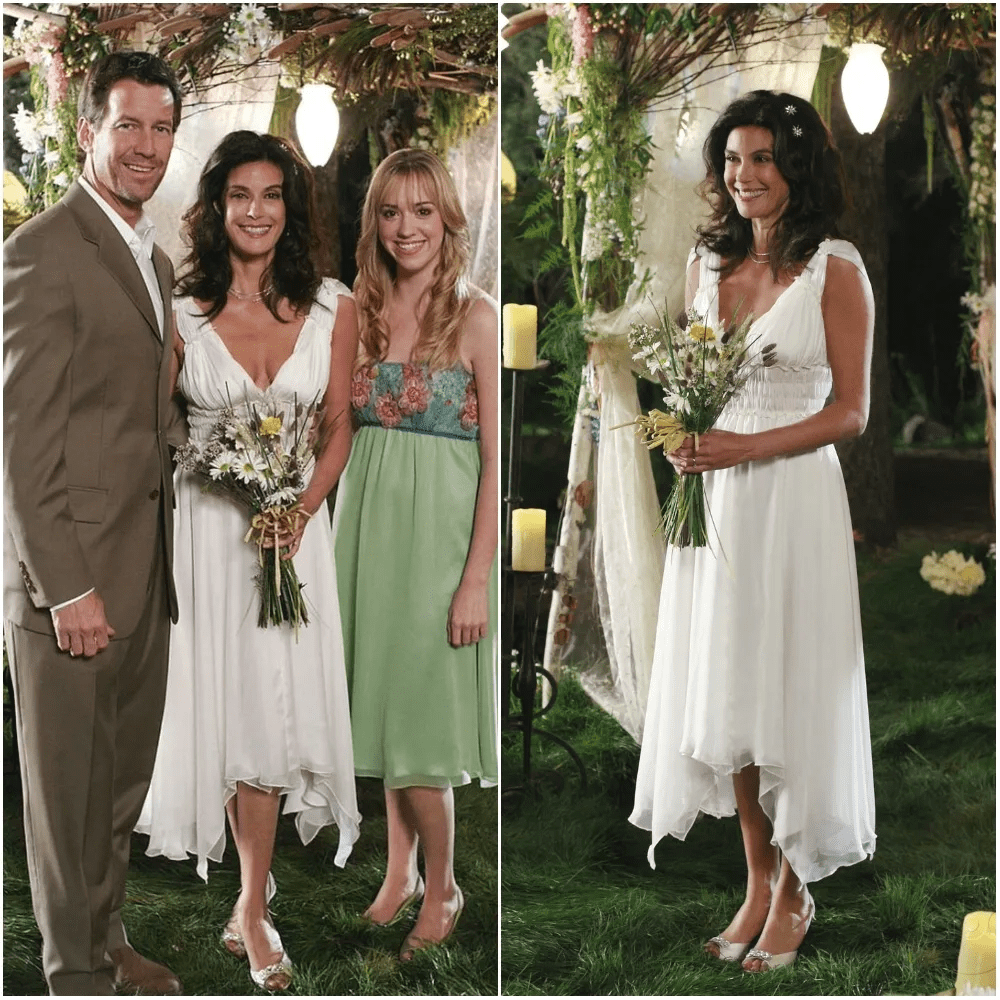 Okay, we are maybe being a bit too harsh on her. But in all honesty, the actress has such a beautiful body – she deserved much more than this gown! At least it was a backyard wedding, so it's not like a bunch of people saw Susan's dress in the series.
Pretty Little Mistakes
This next dress is not that bad, really. It is a very beautiful dress, and it would be perfect to wear at festivals like Coachella. Or maybe even to a casual date – but it is not ideal for wearing at your own wedding. W expected more from Aria!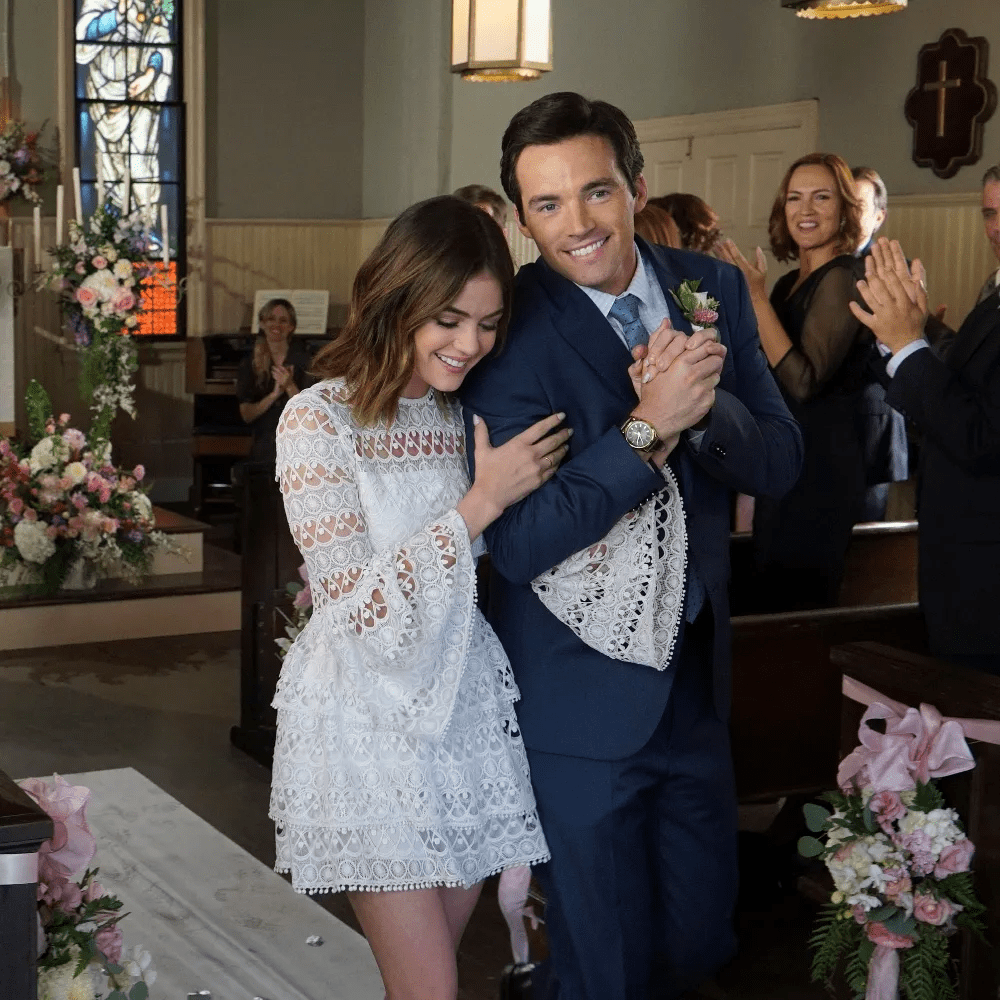 Aria is a fashionable woman, but this dress seems more suited for the after-party or even the bachelorette party before the wedding. She definitely could have worn something just as beautiful but much better suited for her wedding. Well, the dress fits the relationship, we suppose…if you know, you know.
Gossip About The Dress
If you watched Gossip Girl, you know that Blair is a fashionable character who only wears iconic outfits. We expected nothing short of fabulous for her wedding – but the gown wasn't suitable for this character. This is a Vera Wang dress, and it looks beautiful…but Blair deserved more.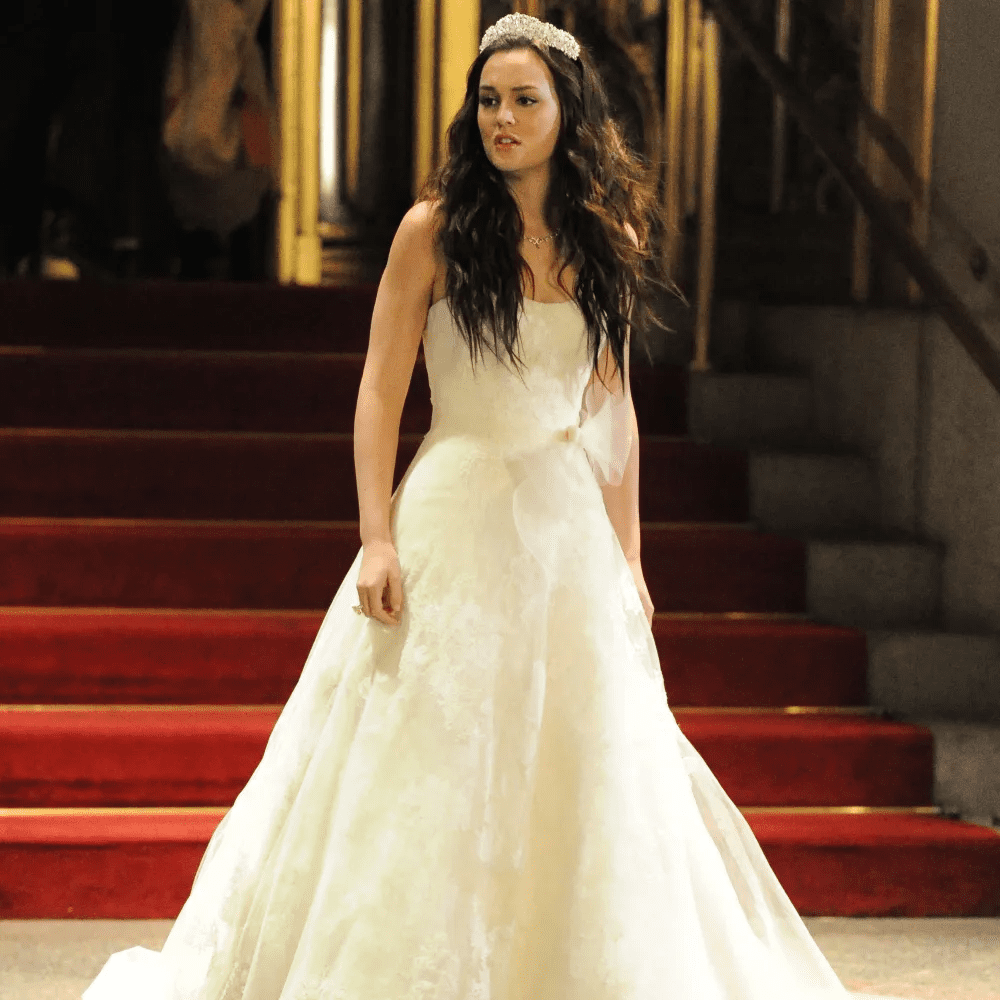 The costume design team clearly didn't look into the character. She wouldn't be caught dead in this dress, especially because it's a shiny, ruffled dress with a massive bow! We all know Gossip Girl will say something hurtful about Blair's fashion choices now.
Patch Job
Okay, if you look at just the top part of Gilmore Girls' Lorelai's dress, you'll see that it's actually incredibly beautiful. If you look at the bottom part, it's not too bad, either. But when they're put together? It seems like this dress was patched together.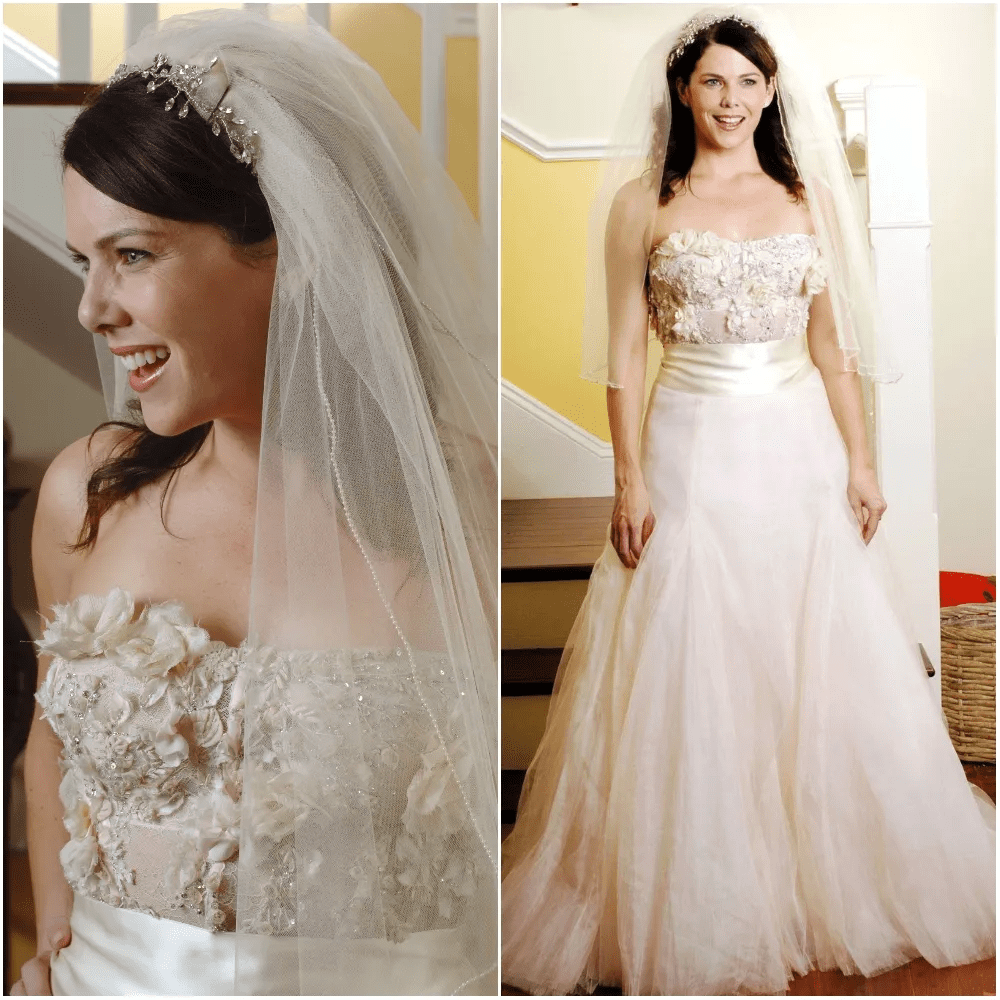 We wish the designer had stuck to the delicate embroidery of the top rather than adding a huge sash in the middle and just a plain but oddly-bunched skirt at the bottom. This fierce mama deserved much more, but who are we to judge?
Leslie, Nope!
Leslie Knope is a beloved and eccentric character from Parks and Recreation. To be honest, this wacky dress suits her character well, but even if she is weird and quirky, surely she deserves a prettier dress to wear on her special day!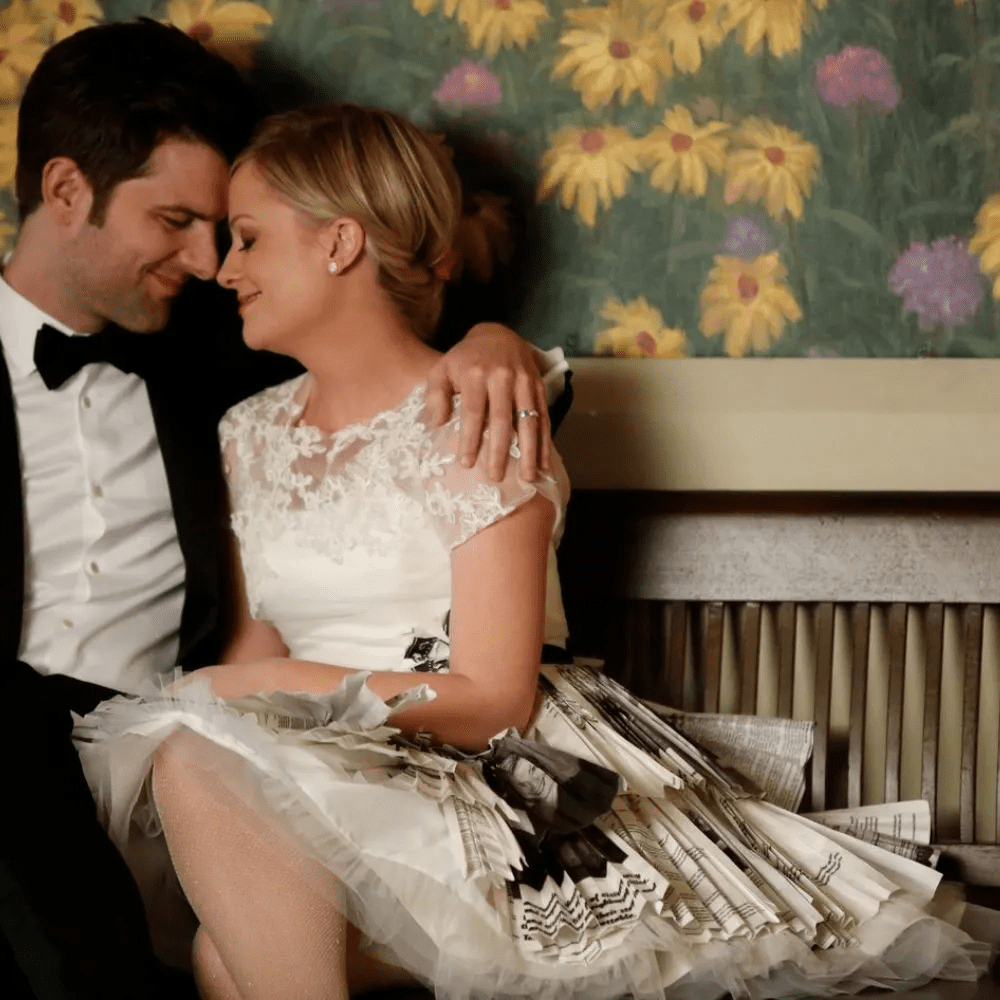 When you first see the loving couple, you think, "aw, they're so in love!" But then you lay your eyes on her dress, and you can't help but wonder what is going on at the bottom. Is that actually newspaper clippings covering the bottom of her dress? Only the fans of the show can tell!
Vintage Fail
Vintage may be beautiful if tailored correctly. But Allison, from Grace and Frankie, didn't quite get there. Her hair and makeup look beautiful and modern, but her dress looks plain old and outdated. But we guess the character was happy with the dress, given that huge grin plastered on her face.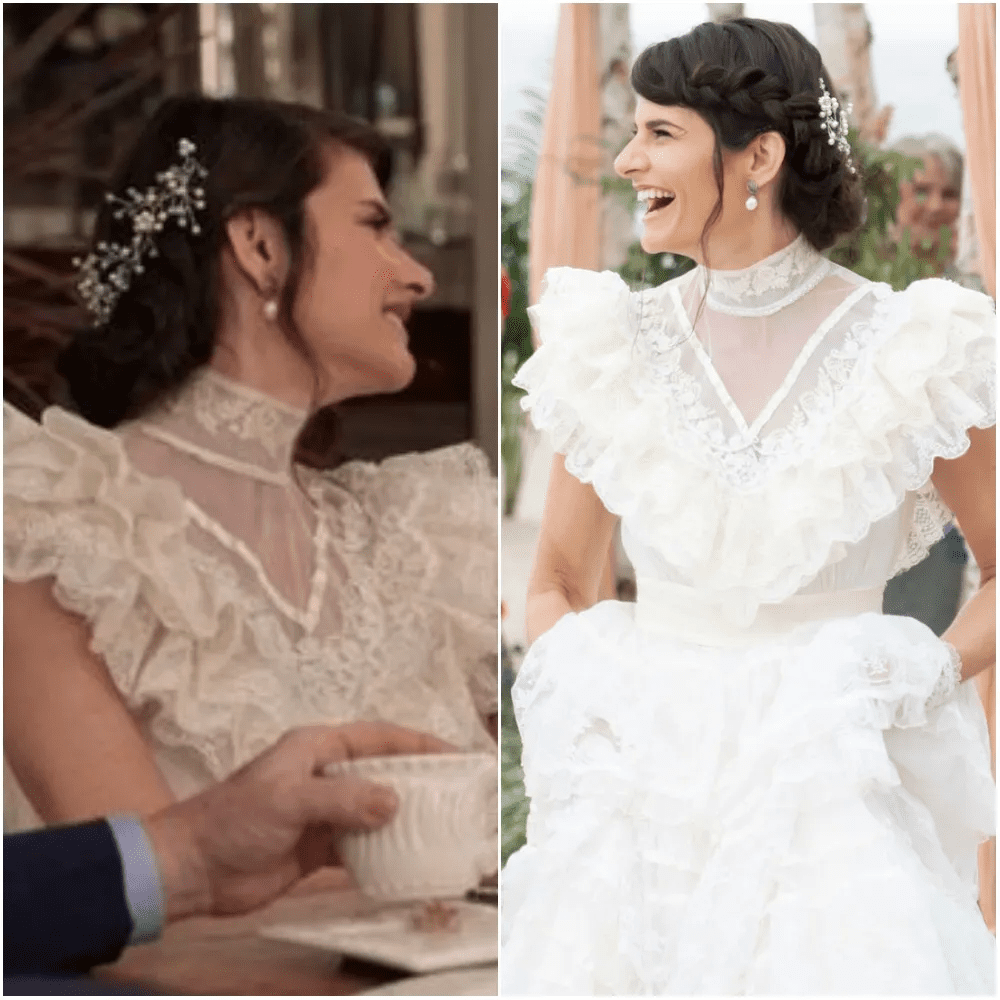 The neckline, ruffles, and waist are all vintage but in an outdated way. No hair and makeup can save the character from this wardrobe disaster. Perhaps her saving "grace" (get it?) is the excuse that this dress was a family heirloom.
Left At The Altar
Now we understand why Carrie got left at the altar. It is probably because of this dress! Okay, that was a bit harsh, but the dress is just awful. Carrie's wedding didn't go as planned, but it surely didn't happen because of this extravagant dress.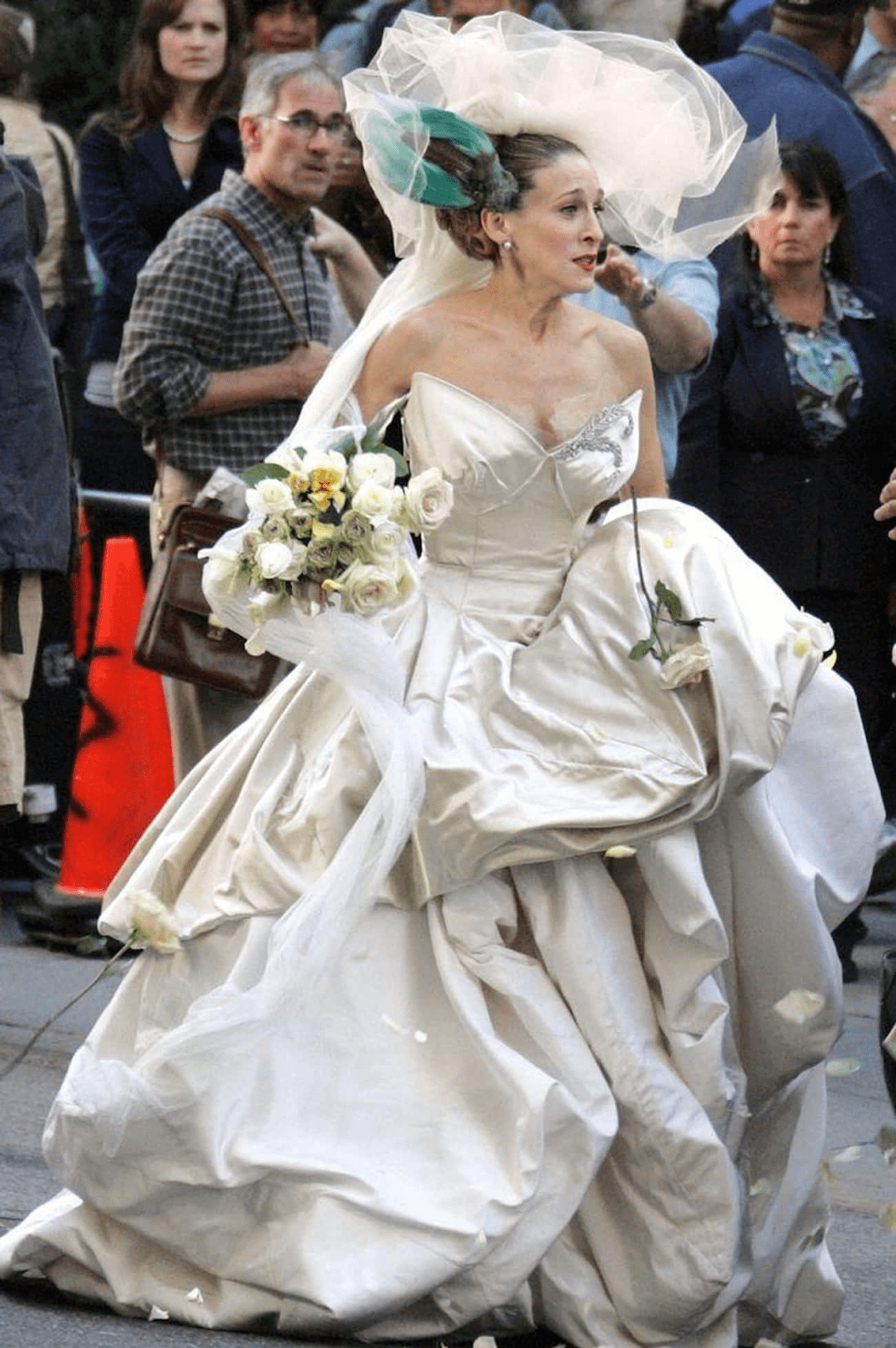 The thing is, Carrie is such a fashionable woman in the series that we were left wondering what happened when it came to choosing her wedding gown! The bust is awkwardly-shaped, and the rest of the dress is just as bad and way too puffy.
It Fits The Personality, If Anything…
Girls is a popular TV show that highlights the different personalities and issues of the main characters, who are a group of friends. Jessa is a free-spirited woman who does things in the spur of the moment, and it seems to have happened again when she had to choose her dress.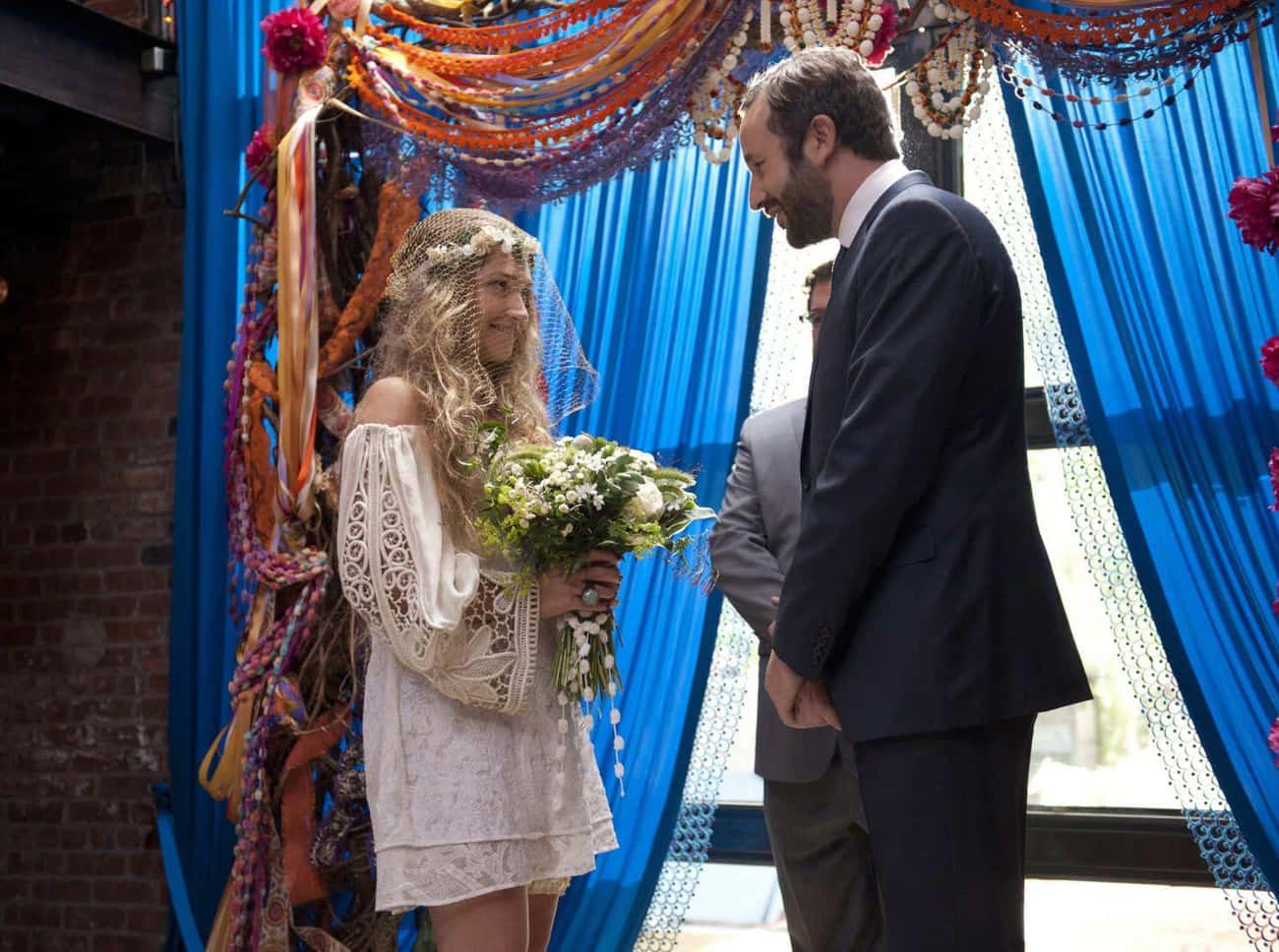 Her style is very bohemian, but the problem is that this dress looks like a summer dress she got on sale somewhere. Not to mention that it was too big for her. Jessa needs to learn how to slow down when it comes to making important choices, like picking her wedding dress.
Wedding Cake Topper
Luckily for Katniss Everdeen, she gets away with this dress because she didn't wear it at an actual wedding. Well, that and the dress literally burns when she swirls. How can we not let her get away with this questionable yet iconic dress?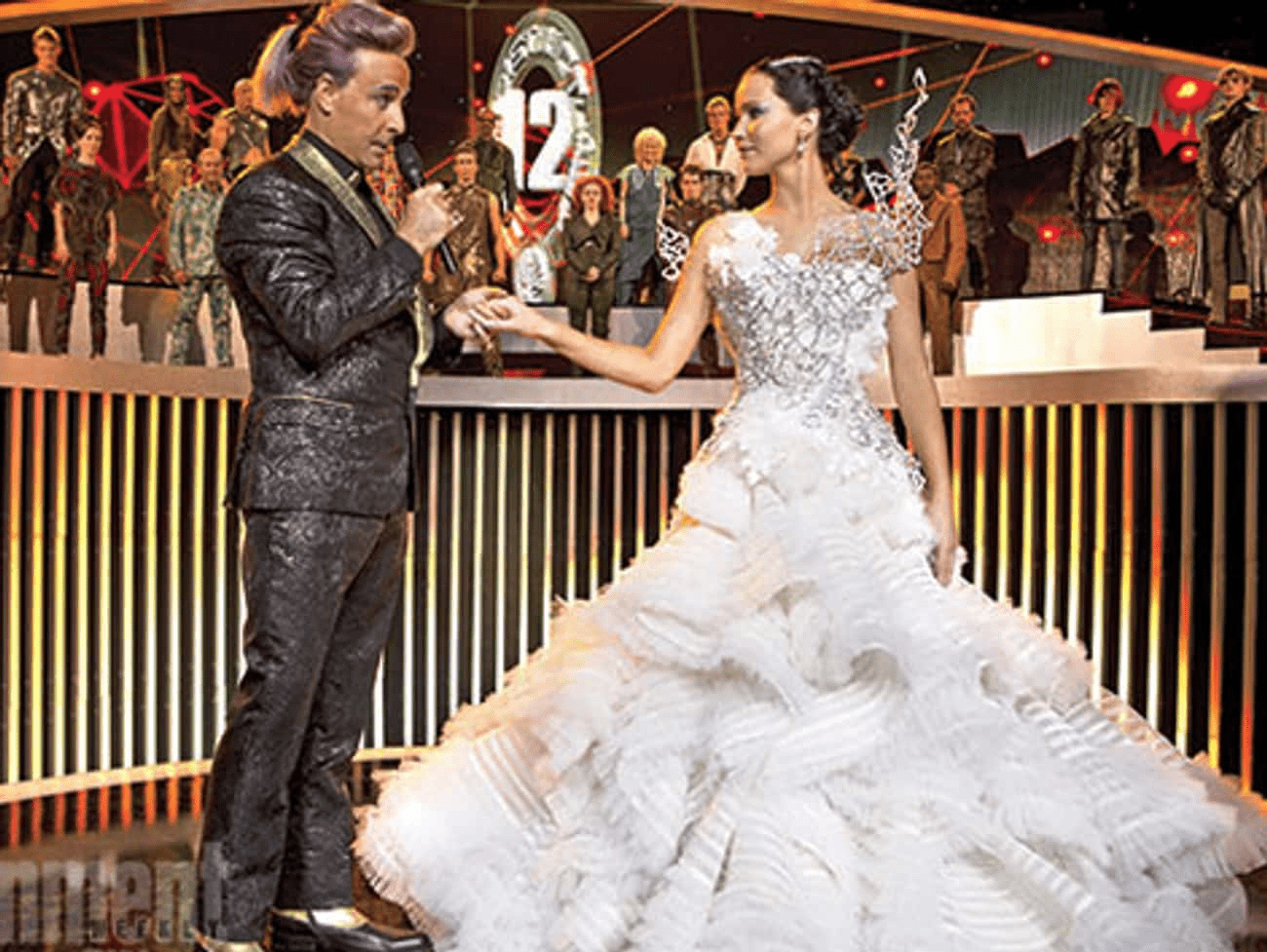 This gown was meant to put on a show, so we get it. The people expected her to wear that to her staged wedding, so Katniss had to give them what they wanted. The dress looks insane, but let's not forget that this is Panem, and there is nothing normal about that universe.
Fairy Flop
Just like the other princesses in Once Upon A Time, Cinderella's dress also disappointed those who love fairy tale weddings. Although the dress is quite similar to the dress seen in the animated version of Cinderella, we're not too impressed.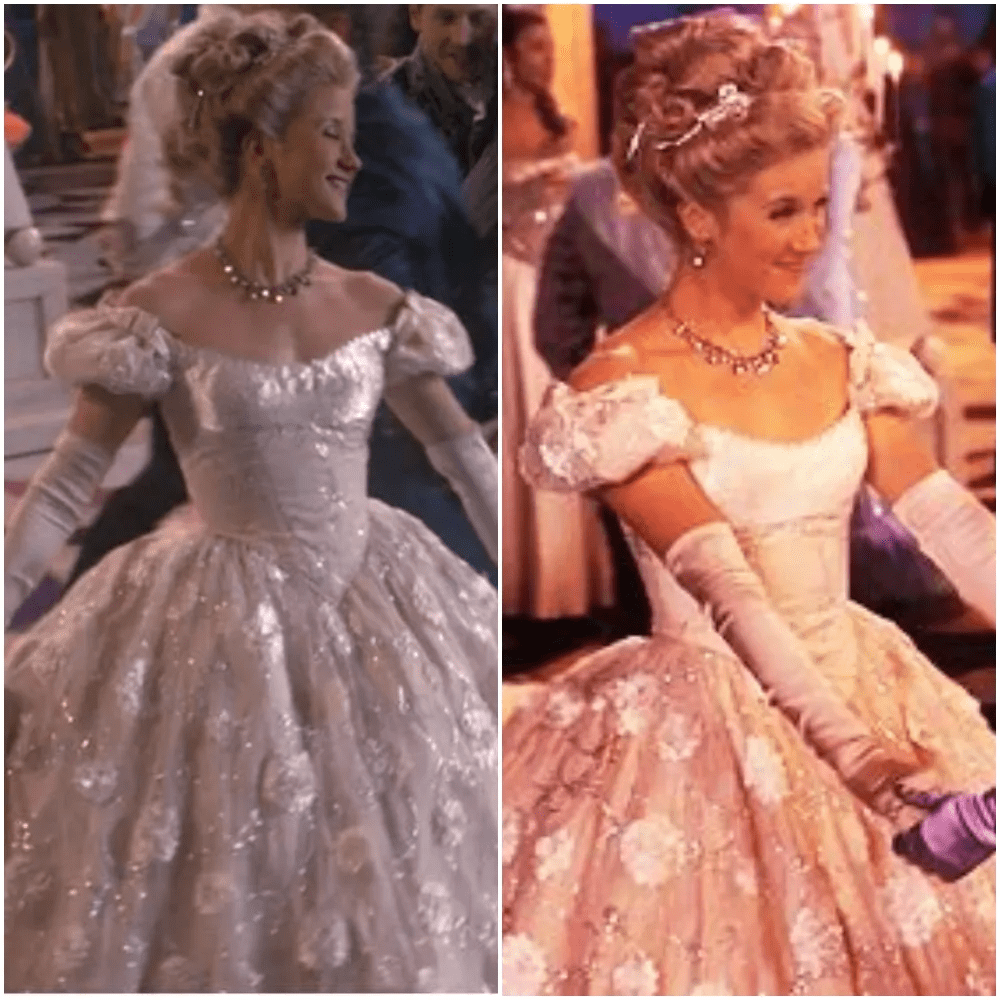 It comes across as a bit cheap since the glitter on the dress looks like the handiwork of a creative toddler who got a hold of some glue and glitter. Poor Cinderella deserves so much better after she went through the stuff she did.
Crying Bow
Lily is a stunning and lively character in How I Met Your Mother, and we were so happy when she married the love of her life, but the dress wasn't a happy moment for us at all. It looked a bit underwhelming, actually.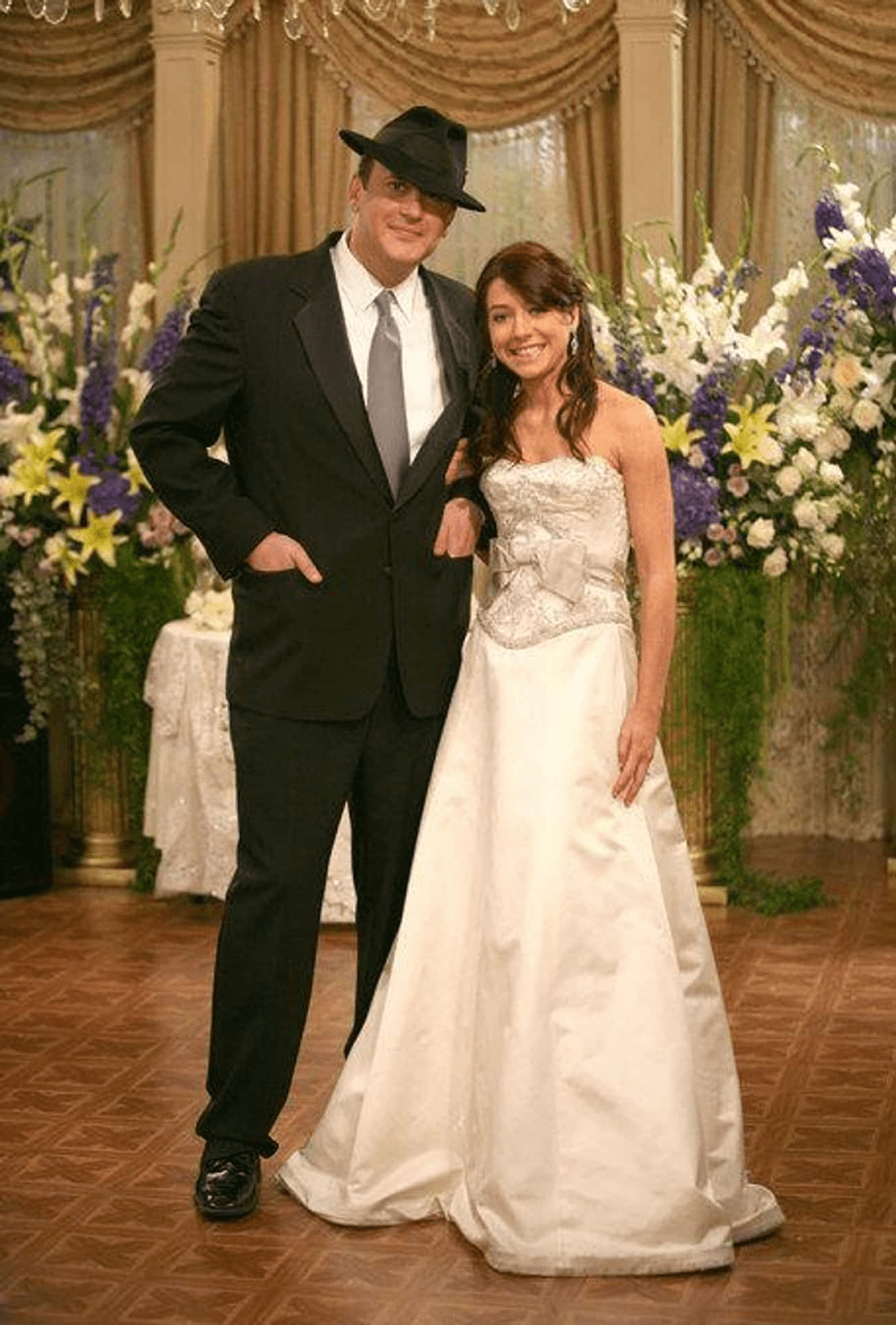 The character probably had the opportunity to pick any dress, and we're so disappointed she chose this ill-fitting dress with a sad bow attached to it. The bodice was also an awkward fit, making this dress memorable in the worst way possible.
Finally
If you're a fan of The Office but haven't completed the series yet, look away now! The two most beloved characters, Pam and Jim, finally tied the knot, and we couldn't be happier for them. But there's just one problem: Pam's dress.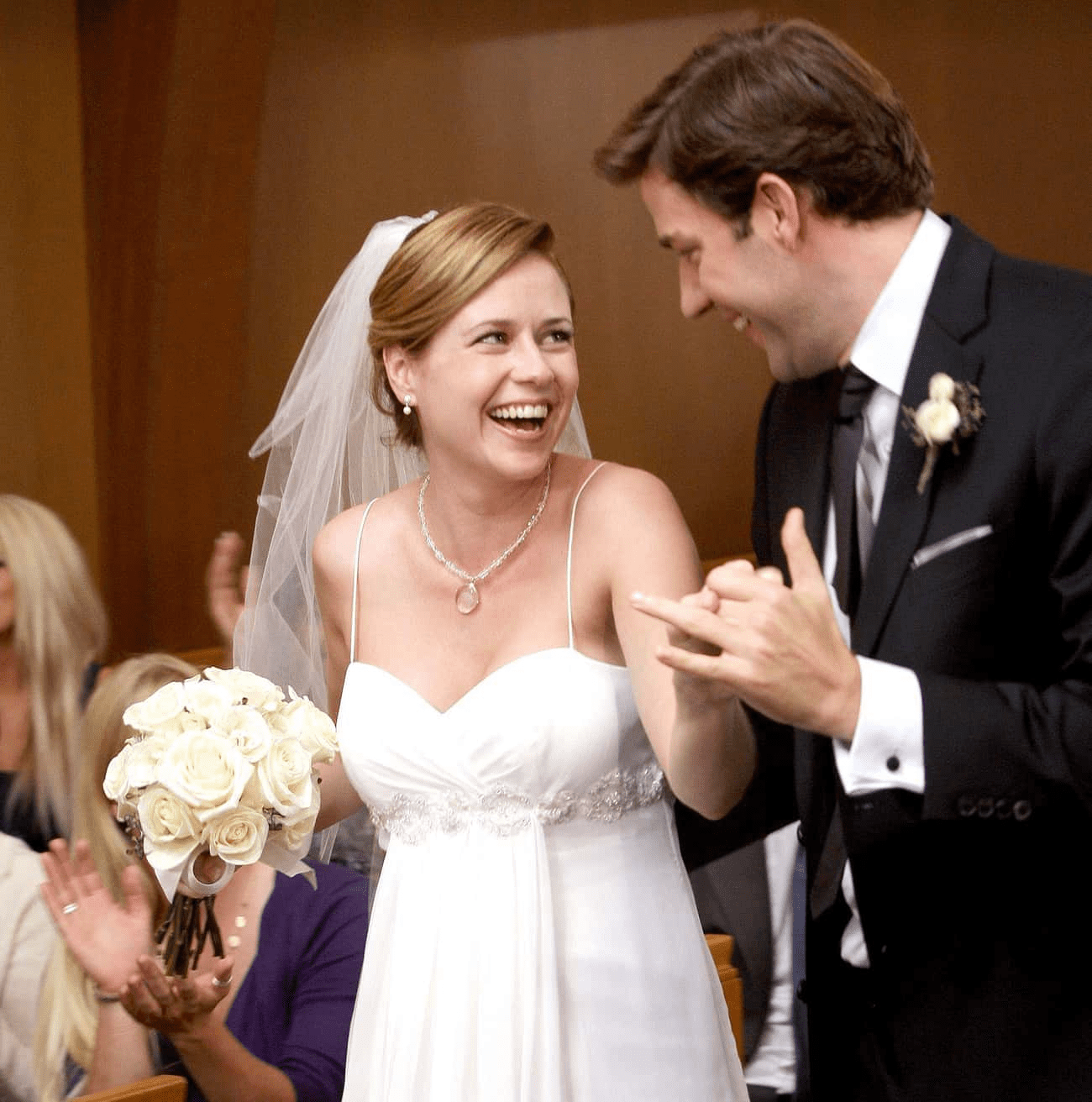 We have to say that the A-line dress is flattering to Pam's baby bump and hides it rather well. But that's not enough to make it look beautiful. The viewers expected more after seasons of watching Pam and Jim's seemingly endless will-they-or-won't-they.
Yikes!
Being Mary Jane's main character, Mary Jane finally gets married to her on-and-off-again love on screen, but we can't help the fact that we didn't love the dress she wore to the wedding. It looks cheap and very unflattering to Mary Jane's stunning figure.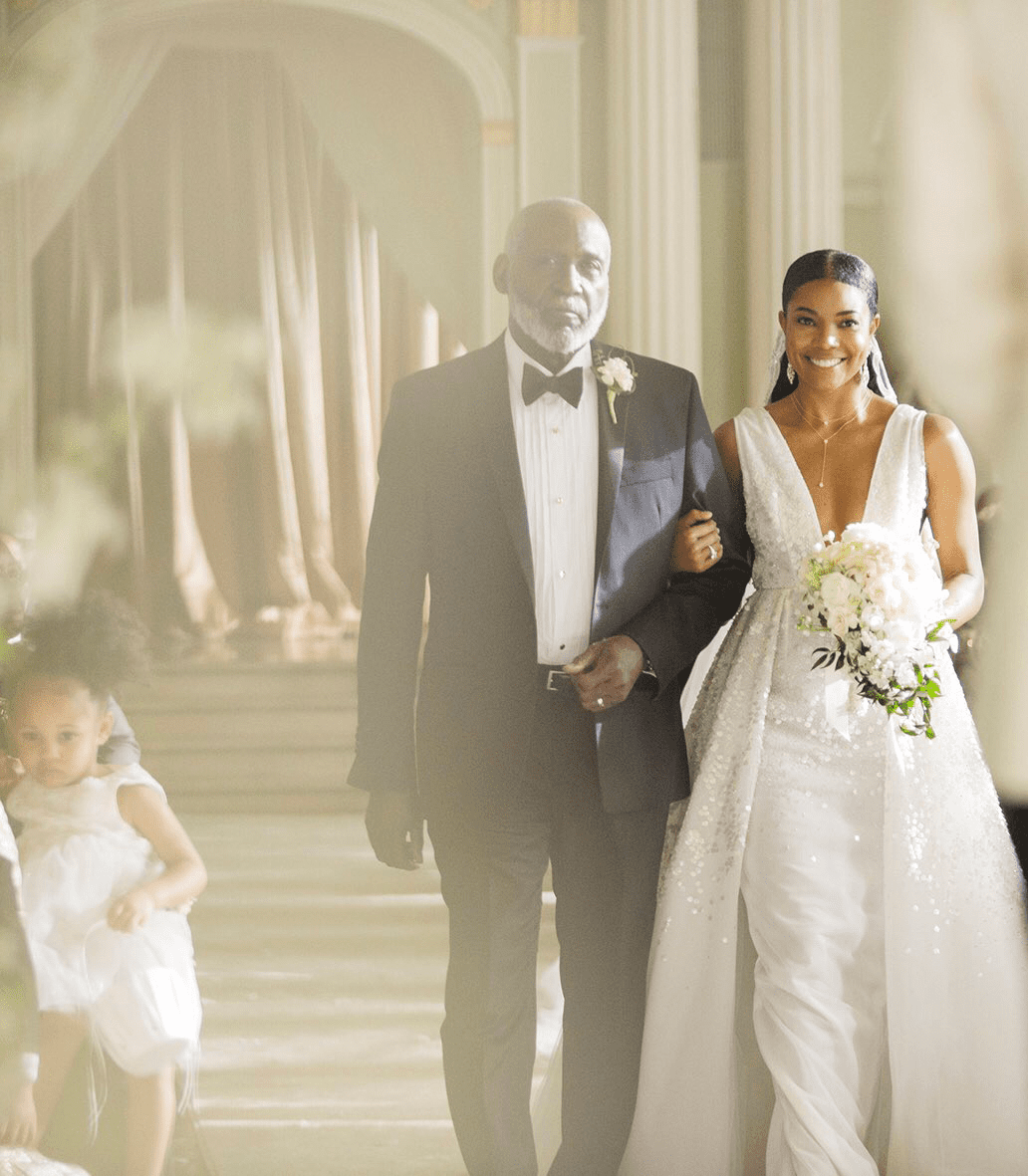 The neckline, glittery embellishments, and cheap silk material all combine into one hideous dress that looks better suited for a costume party than a prestigious wedding gown. The design team definitely let down Mary Jane and the fans of the show.
Not Fit For a Princess
If you watched the second installment of The Princess Diaries series, you know that Mia Thermopolis wore a questionable gown to her wedding. The top is very elegant, as one would expect from a royal wedding gown…but the bottom? It's a no from us.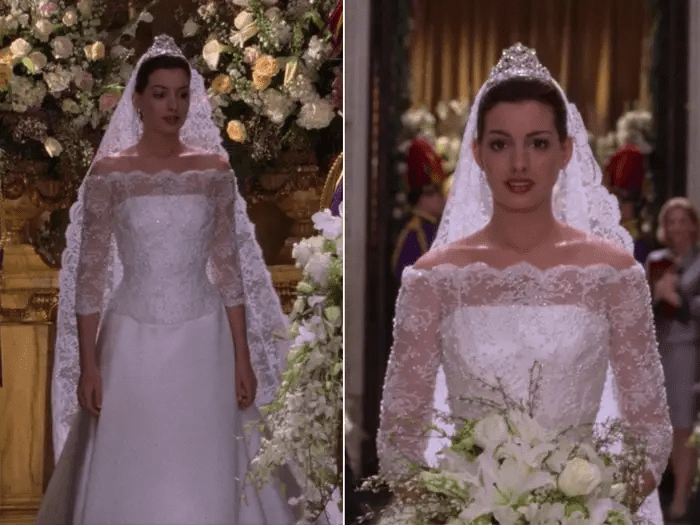 It looks like the seamstress wasn't in her best state when she added the skirt to the beautiful top of the dress. You would expect a royal tailor to do their best job when making a wedding gown, but it's clear that wasn't the case for Mia.
Crazy Dress
If one is a character in the movie Crazy Rich Asians, they have to go to crazy lengths to get the best dress of the wedding season. However, one should keep in mind that there are limits to everything – extravagance included.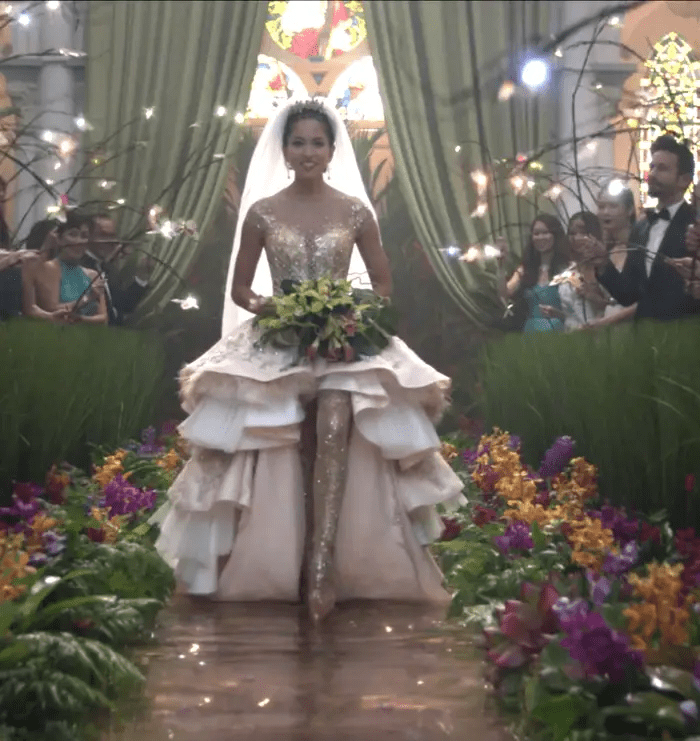 Rachel's dress in the movie may be haute couture – but we're not afraid to say it's just too much. The glittery legs? They don't make sense at all! She'll certainly be the talk of the town after the wedding, and we're not sure we mean that in a good way.
All Those Options
We were so disappointed to see Jane's boring dress in 27 Dresses. With that title, one could definitely expect to see multiple amazing dresses, but it seems like that wasn't the case at all. You have 27 dresses, and none of them look good? How unlucky!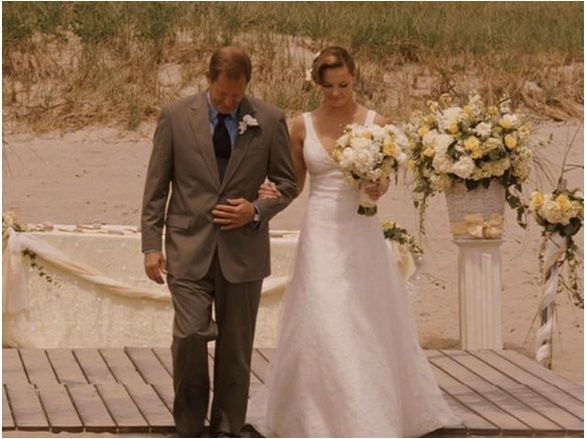 The character spends the majority of the movie as a bridesmaid, and when it is finally her time to shine, she simply doesn't. There's nothing wrong with the dress – it is just totally underwhelming. In her defense, we would pick boring over ugly any day.