Dress Demolition: 40+ Women Who Brought New Meaning To "Trash the Dress"
By Aileen D June 8, 2022
---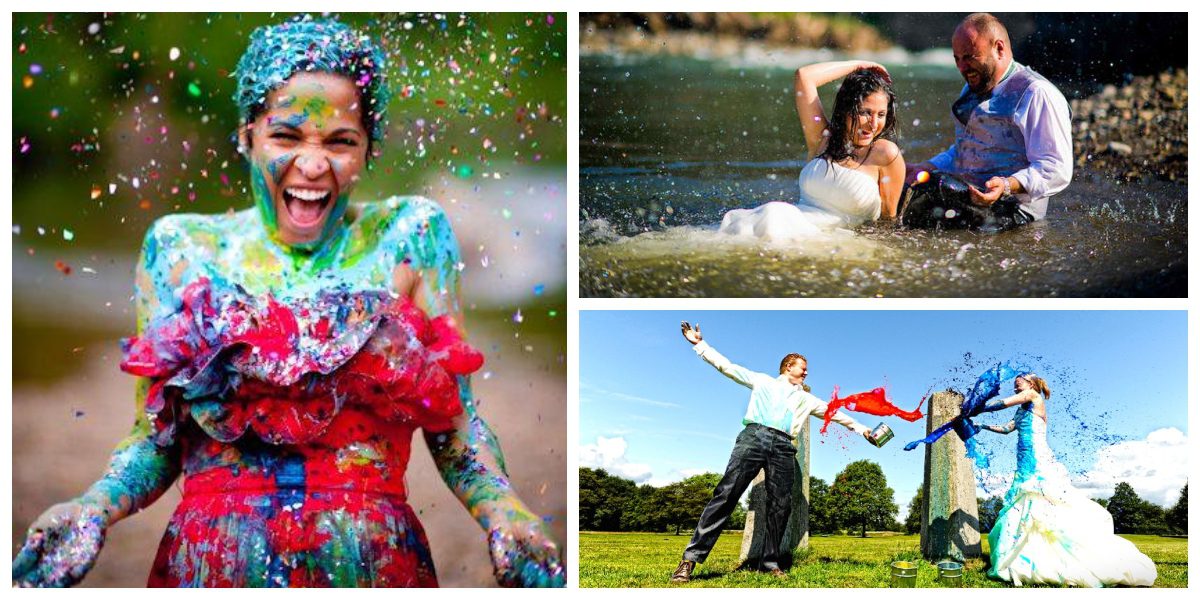 It's one of the most momentous experiences in your lifetime. So might as well make it count. Write and rewrite until the words speak the cadence of your emotions. Invite as many guests as you want, all of whom will spend this momentous occasion with you. And ditch the routine marriage traditions! Get married in Vegas, wear a simple bridal dress, or better yet, trash it as these brides did. Drag the hem of your dress through the mud, soak it in saltwater or rip it apart. It's one of the most satisfactory methods to relieve yourself of the marriage pressure. No matter what, you will always have the support of your partner, one who will hold your hand through and hopefully ruin that dress with you!
Great With the In-Laws
Don't you wish you had a swell relationship with your in-laws? Well, Reddit user mind_into_matter does. Her in-laws adore her, and she feels pretty much the same way about them. So when she proposed the idea of trashing her dress, her mother-in-law even went so far as to volunteer to take the shots.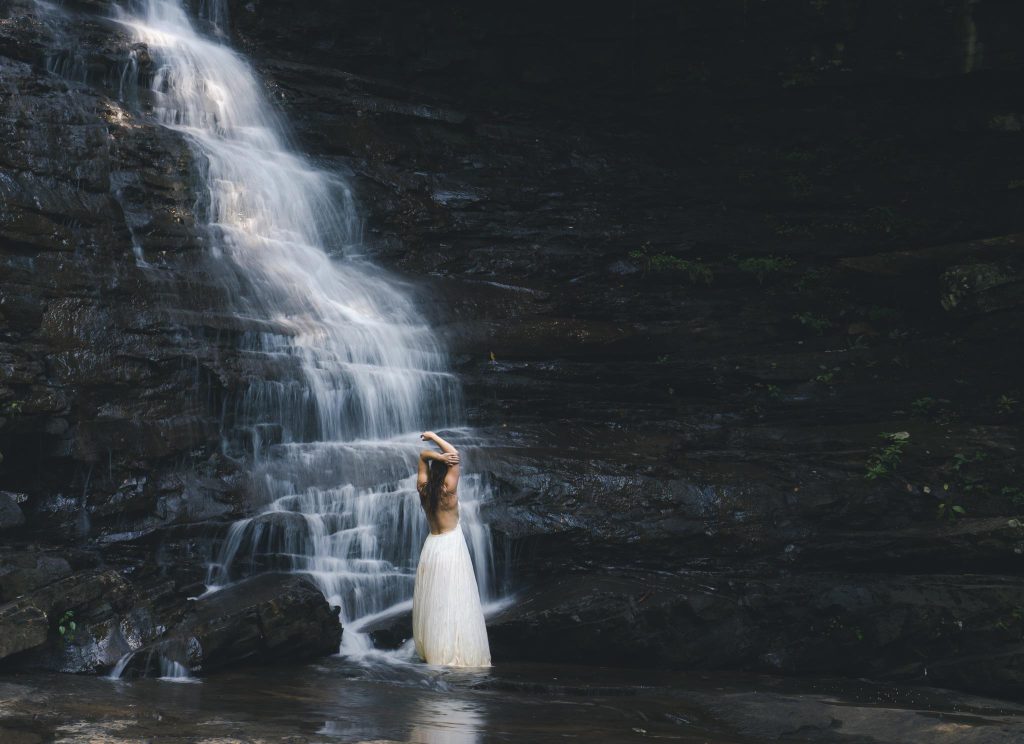 Reddit user mind_into_matter did her hair and make-up, not that she needed much coverage, to begin with. Then she proceeded to the base of a waterfall, where water pooled around her feet. It was every bit as breathtaking as you can imagine, and the picture is proof of it!
Child's Play
These two have an unconventional family. They raised their kids long before getting hitched. The two decided to have a church wedding when they were financially stable. It didn't take them too long. And instead of having her bridesmaids trash her dress, this gorgeous mum had her kids play the part.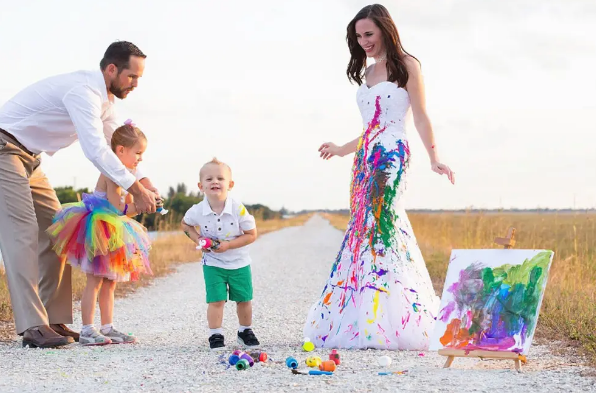 As you guessed, it was all child's play. This mum twirled as her kids painted and dabbed at her dress. She pointed out spaces they had missed and then applauded them for the artwork. It almost seems like we have two Picassos in our midst. Would you look at that? She and her husband decided to frame the dress in their home.
Semplicemente Delizioso
Guess how this woman lured her man. She won him through his stomach. See, she's Italian. That should explain why she makes the best authentic Italian pizzas in town. Instead of having caterers to provide food, she even managed to bake pizzas for everyone who came to the wedding!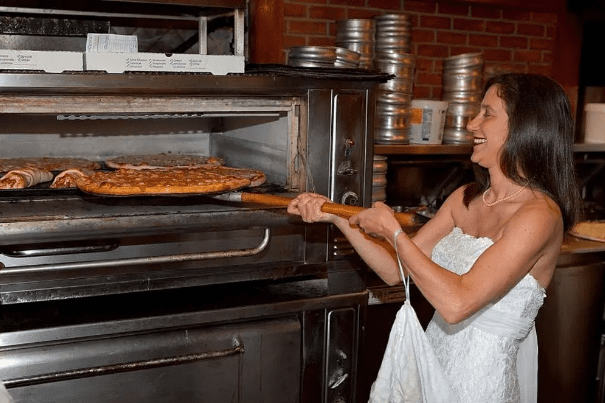 She didn't mind trashing her dress with tomato sauce. It made her seem all the more attractive in her husband's eyes. He clasped her hand and asked that she sit with him. She nodded. On cue, someone took over the baking so they could both enjoy their special day.
Beat You To It
Nobody knows how these two had managed to keep the relationship intact. After all, they were both competitive people who just had to get their way. They were so competitive that they even decided to race to the finish line. Both wore their goggles, gripped their ski poles, and then braced themselves.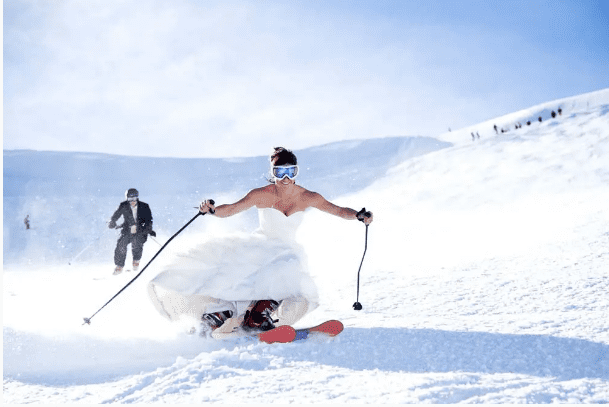 On cue, both effortlessly glided down the terrain. He let her lead the way. He didn't mind losing to her so long as he made her happy. And now and then, she would look back to wait for her husband. Everyone could understand how they were able to last that many years and decide to marry each other.
That's A Home Run
Ever wonder how these two met? They went to watch baseball after being ditched by friends. With hotdogs and a soda in tow, they found themselves a seat and cheered for their teams. He introduced himself to his future bride just before the second inning. And the rest was history.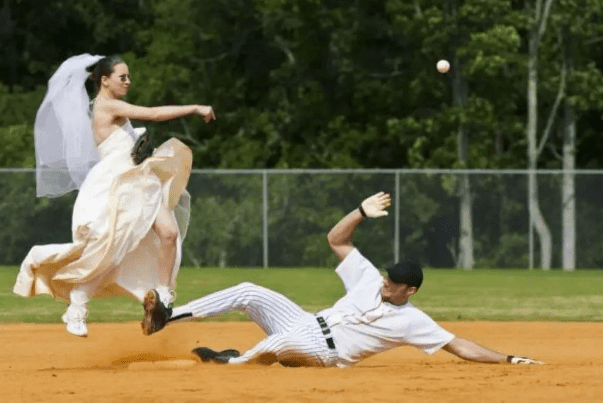 The two chose to spend their wedding day taking inspiration from their shared love of the sport. She changed into rubber shoes, and he ditched the tux. You can tell that she threw a quick cutter. But that wasn't enough to keep her man from scoring a home run!
Girls Just Want to Have Fun
This woman had been very focused on her career. She was driven and ambitious, and you could even say that she bested everyone in the company. But that changed when she met her partner. She learned how to let loose now and then from then on.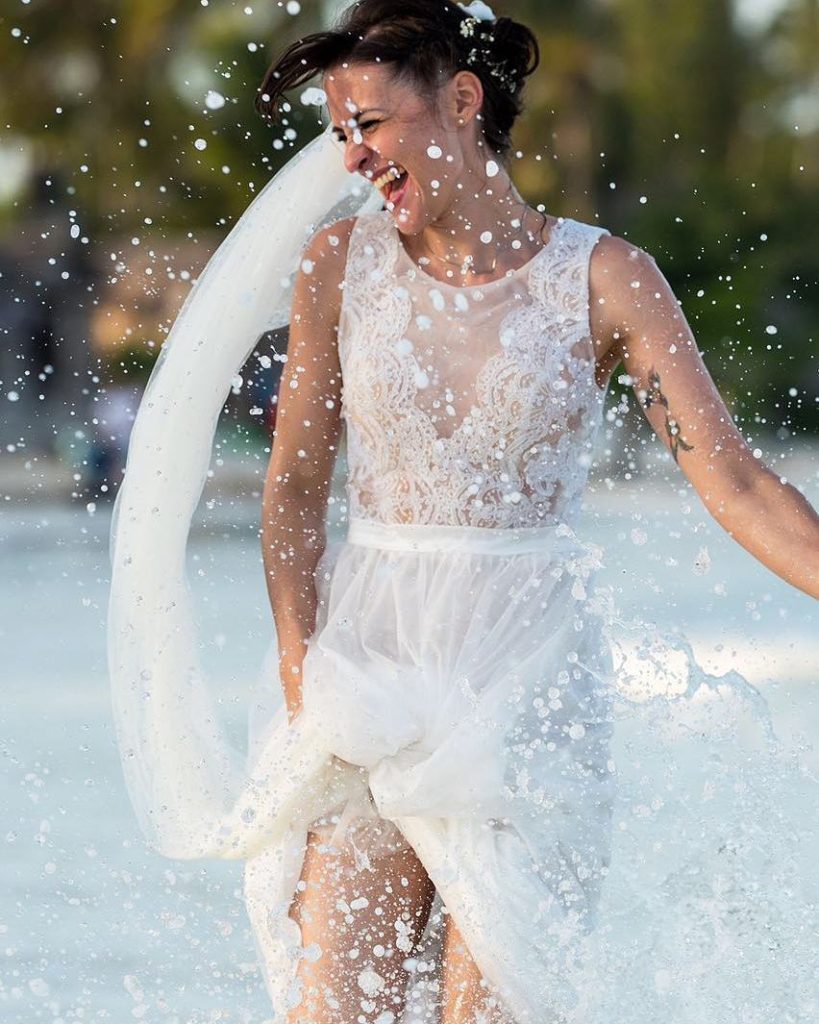 Everyone noticed the drastic change in her attitude. Whereas before, she was the stoic boss, now she was the light-hearted CEO. She conveyed a sincere warmth that caused everyone to gravitate toward her. And you can tell just how magnetic she is with one glance at this picture.
'Tis the Season
It wasn't a secret that this bride was expecting a child. She was still in her early trimester, and she thought of playing a trick on her husband on their wedding day. She had everyone throw different shades of confetti and paintball at her. And her grin only grew wider as she saw her husband quizically wondering what sex their kid was.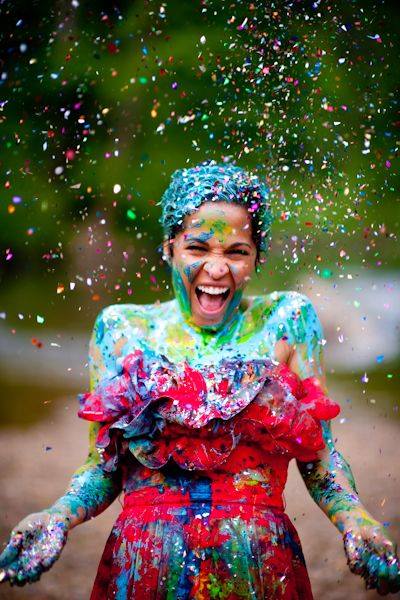 Oh relax. She drew him near and then invited everyone to color him the same hue. Everyone obliged. They were giggling in no time, failing to cover each other from the onslaught of paint coming from all sides. Everyone had a blast making these newlyweds' day colorful.
Attaboys
If you want in on the fad, then you should customize the photoshoot to your interests. Wing it like this bride. She had been a professional dogsled racer. And she could imagine herself on the sled, being pulled across the icy terrain with her furry pack of huskies.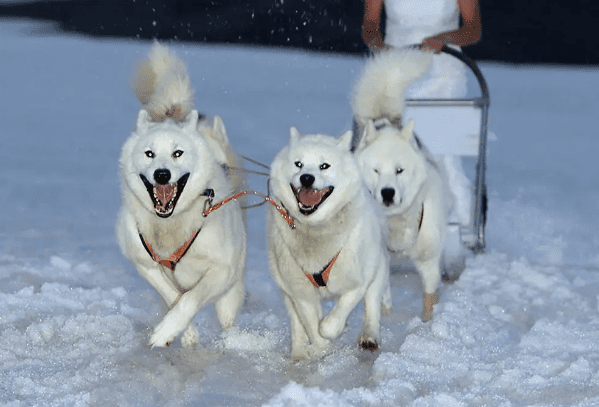 The big day came, and everything materialized into being. She wore her dress, which kept her sufficiently warm during the dogsledding, then she whistled these dogs into position. With one shrilling pitch, they sprinted to nearly 30 mph. As you can imagine, they were quite a sight to behold.
Needing Some Thrill
Some people dislike having to use huskies for transport. Alternatively, you can opt to do sledding by water skiing. You don't have to be an expert skier to enjoy the ride. All you need is a good core strength and a need for adrenaline. Would you ever care to try this with a wedding gown on?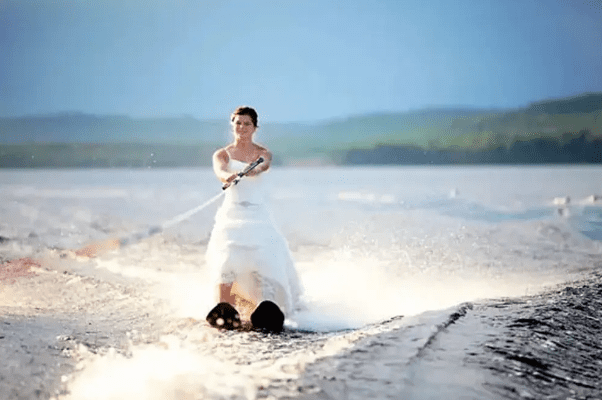 We can only hope that she took off the heels. It would be highly improbable, if not impossible, to balance her weight while wearing them. Because she was wearing her dress, the driver was careful to drive at a speed fast enough to plow through the water, but slow enough to keep this bride from tripping over.
Round and Round We Go
This couple has had their ups and downs. There were days when they threw in the towel and nearly walked out the door. But they couldn't imagine a future without the other. That's when they knew that their partner was the one.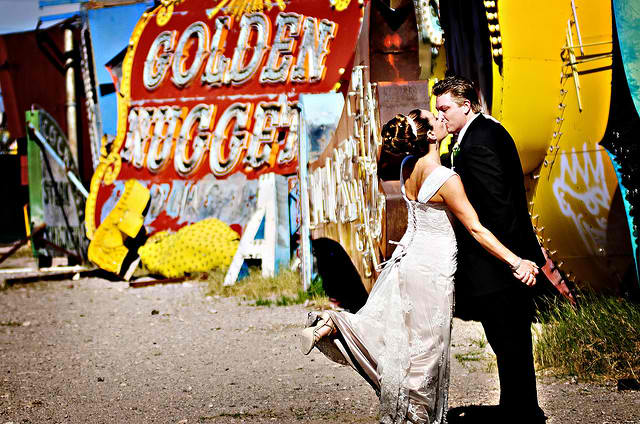 What better way to celebrate their honeymoon than to go on rides at the theme park? They had always been adrenaline junkies. They couldn't tell whether their love for each other could rival their passion for entertainment and excitement. On this particular day, they got to have both!
Left Adrift
Don't let the photographs deceive you. Just because everyone is smiling doesn't mean that planning the wedding was a breeze. Many brides claim that they felt a flood of emotions from the moment of engagement until after getting married, and it wasn't all good!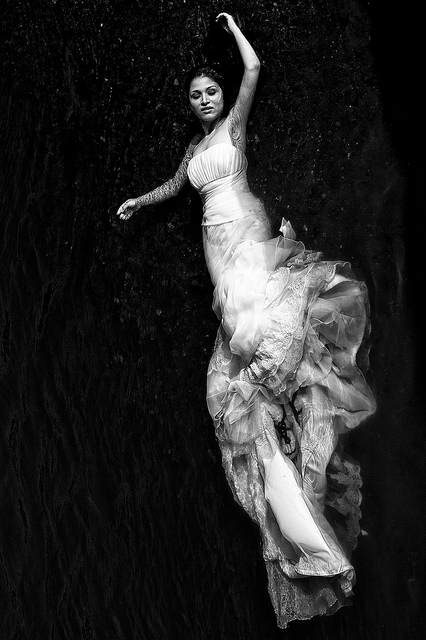 For the shoot, this bride thought that lying adrift in the ocean would best encapsulate the tide of emotions she felt during the whole event. She had attempted to manage the situation with finesse and hoped that the same would show during the shoot. It did!
Cut from the Same Cloth
This woman hadn't been successful at dating. Men would describe her as too opinionated. And she almost imagined her life as a singleton until she laid eyes on this handsome, young lad. They went out on a date, and then she discovered that women thought the same way of him as men thought of her.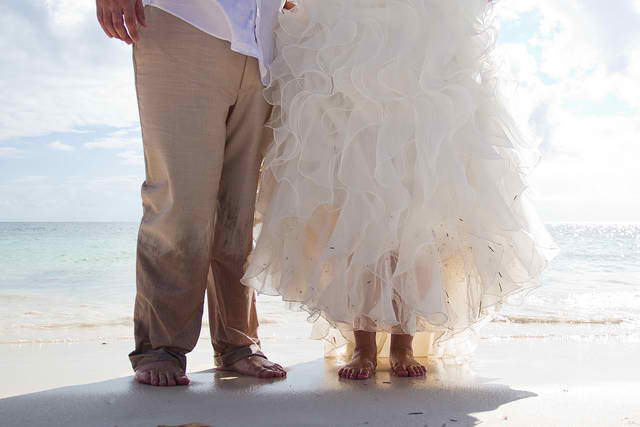 Cut from the same cloth, everyone commented. They had many similarities – political beliefs, sports, rugby teams, and even shared values. It was a match made in heaven, and both didn't waste a moment's notice about getting hitched by the beach. Afterward, they ran towards the water, holding each other's hands.
Head Over Heels
Do you remember how you found love? Ask these two, and they will tell you all the details as if things happened only yesterday. They remember where they met, what they were doing, and what the other was wearing. The other recalls what music was playing while the other knows what color the traffic light was when they laid eyes on each other.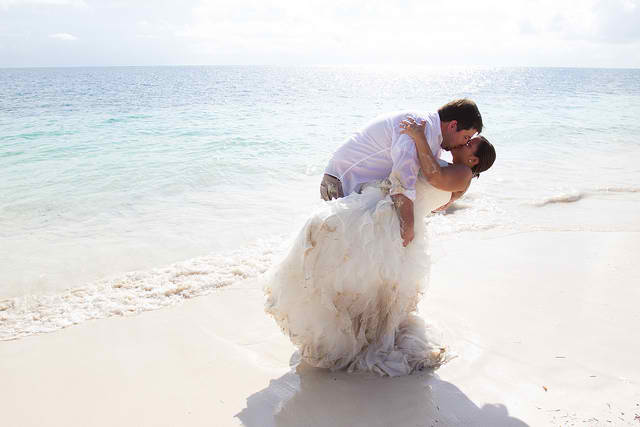 To date, they are infatuated with each other. Their attraction for each other only sizzled over the coming years. And unlike other relationships where both stars were doomed to crash and burn, these two serve as a reminder that relationships can last with the right person.
Just A Step
She let go of her husband's hand and gingerly made her way past the narrow pathway—just one foot in front of the other. You have got this. She reached the end of the rock and turned to face the camera. Then she gave the photographer a big wide grin before taking the plunge.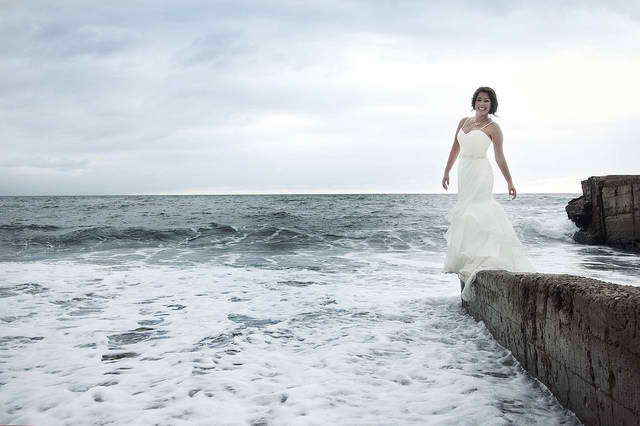 She felt wisps of her hair fly by the sides of her face when she heard the splash of water enveloping her feet. She closed her eyes and shrieked. Then she felt the surge of the water welcome her into an embrace. That was a leap of faith you took there. Wanna try again?
One Last Goodbye
This bride knew that she would complete one phase and start another. She would be starting a family with her life partner, and she would have to move out of the house and say goodbye to her parents. She decided to have her picture taken in the old barn, where she used to look after the horses she rode when she was a kid.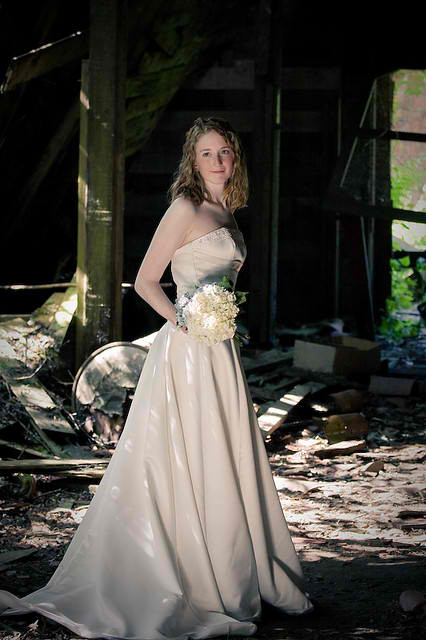 Her parents couldn't help but well up. Her mum dabbed at the corner of her eyes and then embraced her daughter tightly. They both glanced at each other before letting go of each other's hold. Then the bride turned around and walked towards her groom who was waiting at the opposite end of the room.
Lay You Down on a Bed of Roses
You don't have to trash your dress as drastically as the women on this list. This bride just wanted to walk around in her bridal gown. Dragging the length of her dress across the pavement was enough trashing for her. Behind her, the groom stood perfectly still until they got the perfect shot. With the right angles and lighting, they could take a photo of the bride looking perfect for a vinyl record cover.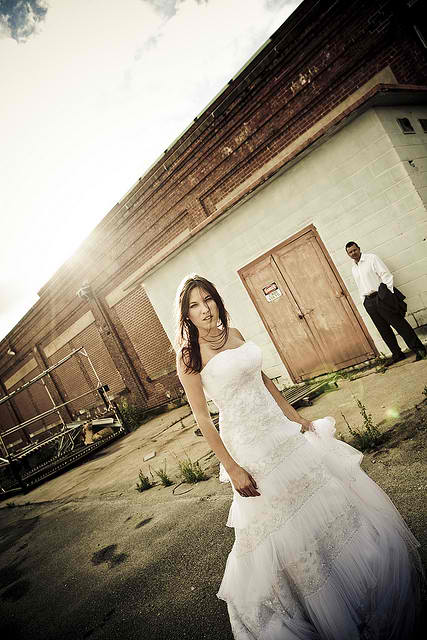 This groom had always been patient, to begin with. But having to stand in the uncomfortably hot weather was too much for him to take. To distract himself, he hummed a song to which the bride sang the lyrics to. I wanna lay you down on a bed of roses. She flipped her hair, looked at him, and coyly smiled, in a bit.
Feel the Heat
Brides look stunningly gorgeous in their wedding gowns. But many have complained that the dress is too hot to wear. So this bride couldn't wait to let loose after stating her vows in front of the churchgoers. She was only concerned about having fun while her husband loosened his tie and took off his shoes.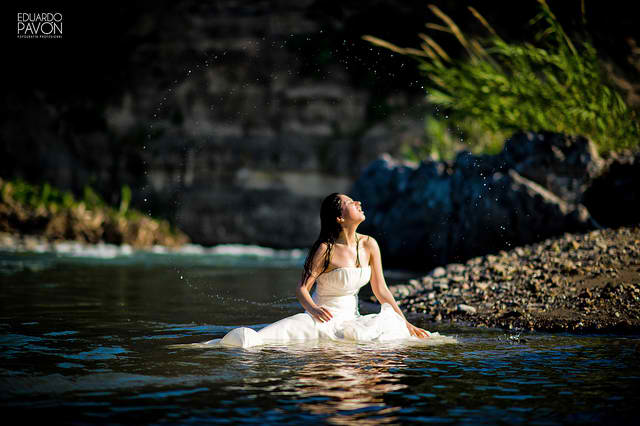 Come in the water with me! She waved her husband to come nearer. He tentatively kicked at a pebble but took one step towards her. He shifted to glance at those behind him, who nudged him with a smile. He tugged at his tie and ran straight to the water to carry his bride.
Never Too Late
This bride's month was booked with appointments. She had to get her nails manicured, her wedding gown fitted and adjusted. And she needed to check that everything had been attended to before the big day. But this bride had forgotten to get that perfect tan.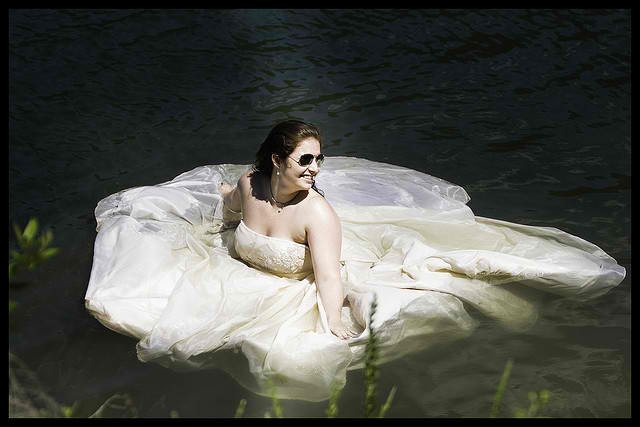 She didn't worry one bit. She knew that the wedding ceremony would last over two hours, at which time she would be coated under the sun and effortlessly get that natural tan. She was right. Everyone couldn't help but coo at how radiant she looked as she walked down the aisle and out into the open field.
Two More Laps
When she's not home, this bride is out in the pool doing some laps. She wants to beat the world record for breaststroke, but she often falls a couple of seconds behind. On her special day, she decided to portray her love for the sport and her passion for her partner by posing in the pool like this.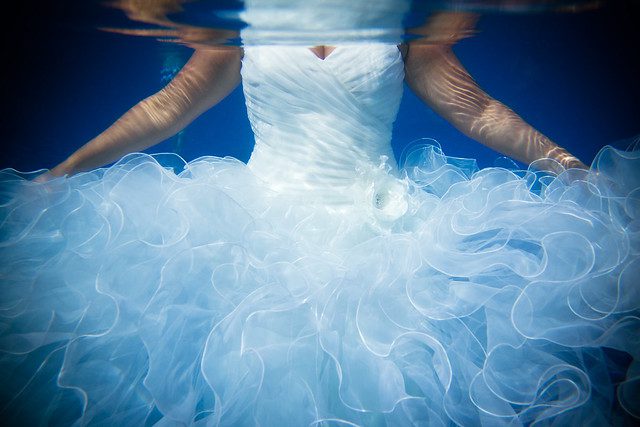 We can't imagine a better way to show the volume of that dress. She didn't need to jump or sway too much. All she had to do was let the water do its job and then kick gently to stay afloat. Every so often she would hold her dress wide open to help get the perfect shot, and in no time, they did.
Together Forever
To be honest, there isn't much trashing when you have your marriage officiated by the beach. Despite everyone's good intentions, they can't help but stare at the crystal blue water lapping at the shore. Everyone feels the sea salt mist on their faces and smells the fishy, tangy odor of the water.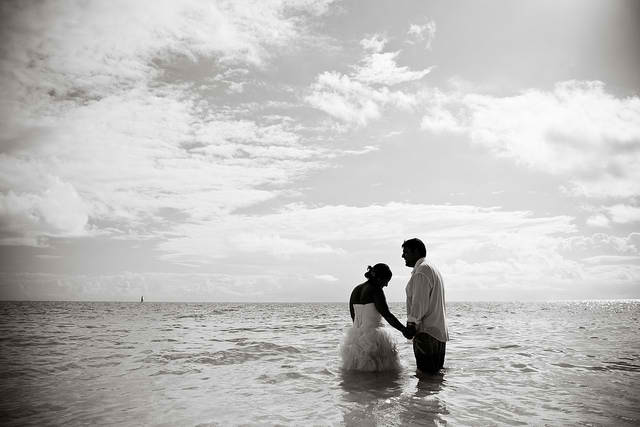 After the marriage rites, men find themselves folding their khaki pants, and women lift their dresses. They stroll towards the ocean and then tap the water with the pads of their feet. After they feel the warm water, they walk further into the sea.
With Family
This bride had heard of the latest fad. Women all around her were trashing their gowns to break free of the norm. She had seen several posts of brides wading in the water or even plunging into a pool. She didn't feel like this best suited her – so she asked for a little bit of help from friends and family.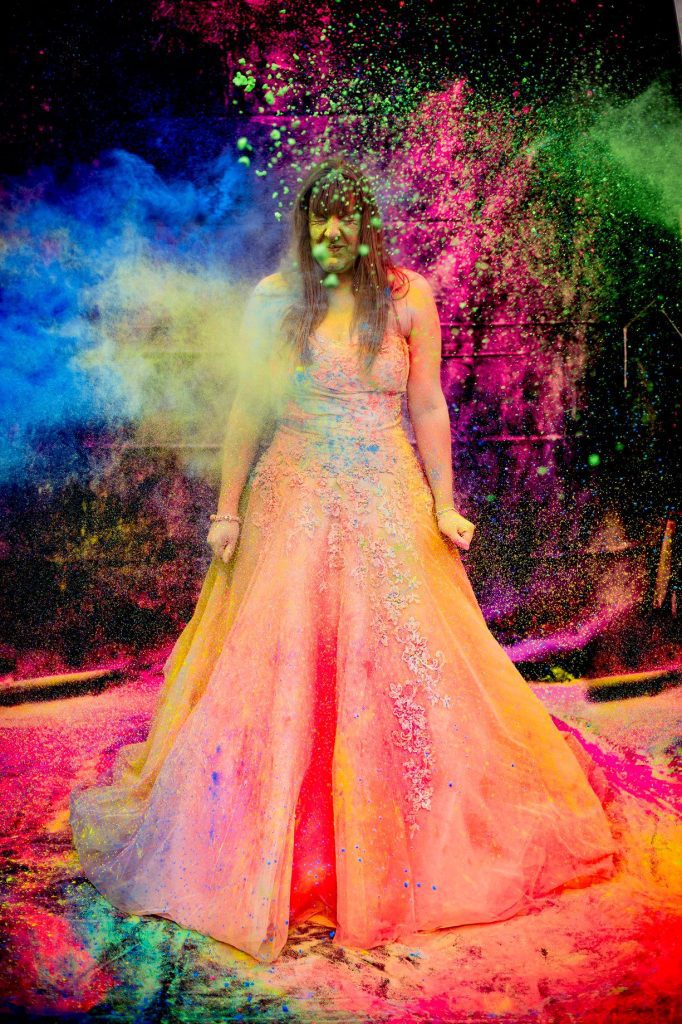 Knowing her to be a vibrant woman, they threw different hues and colors of paint at her, all of which were within the color palette of her personality. This bride closed her eyes and shrieked at the onslaught of colors, twirled around, and danced, knowing that her gown would look perfect the moment she looked at it.
Needing Refreshments
This couple thought it best to get married just hours before lunch. But they were behind schedule as they shook people's hands and hugged close friends and family members by the altar. Both were feeling parched and asked how far away the reception was. They thought about making a quick stop somewhere.
Both ran towards the pond and kicked at the pool of water at their feet. Isn't that divine? The bride knelt, then sat by the shallow end. Then she brought cupped hands filled with water to her face and cooled herself down. Does anyone feel like taking some refreshments?
Lovely in White
It had been raining unexpectedly this season. Everyone couldn't help but notice the long face this bride drew on at the church altar. Miraculously, the rain stopped just after the wedding ceremony. And on their way to the beach, they saw this magnificent rainbow framing this newlywed bride.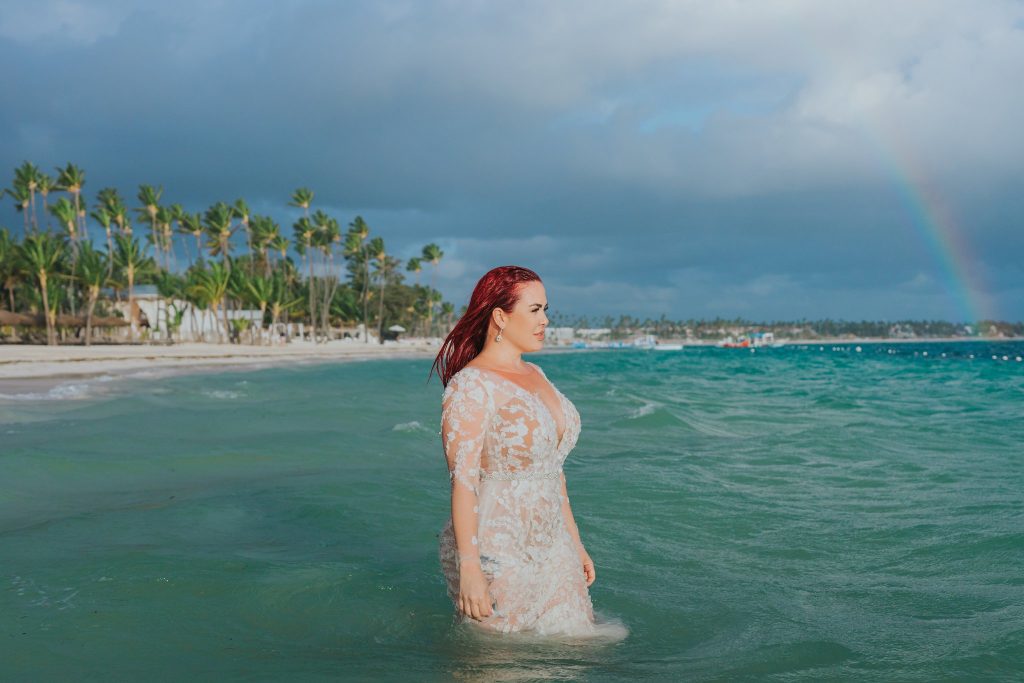 She knew she had to take a picture in the water. Change of plans, everyone! We're going to the beach! No one could understand at first, at least not until she yanked the steering wheel right and parroted beach, beach, beach! It was then that everyone understood what this bride had in mind.
Muddied Clothes
If you're not feeling the beach vibe or don't want to be doused in paint, you could play it cool as this down-to-earth bride did. She trashed her dress by walking on the muddied ground wearing heels and a full-length gown. There was a mix of horror and amusement on everyone's faces. But she just kept at it.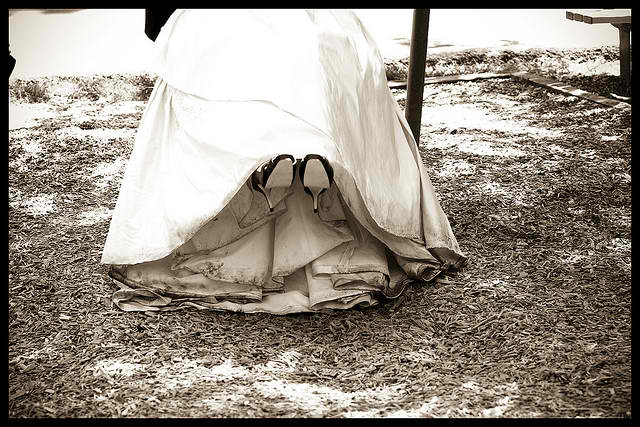 What? The more her parents frowned at her, the more she trod in the mud. It's my wedding dress. She smiled mischievously and then went back to exploring the property. She and her husband had bought it just a couple of months back, and she could imagine the family they would raise there.
Model Wanted
Leo Oriolo has gained acclaim as a photographer for his beautifully candid shots. Lately, he had heard of this concept- brides trashing their dresses, and he thought he could jump in on the fad. All he needed was a model. Try as he might, he couldn't find the right one, at least not until this bride booked his services.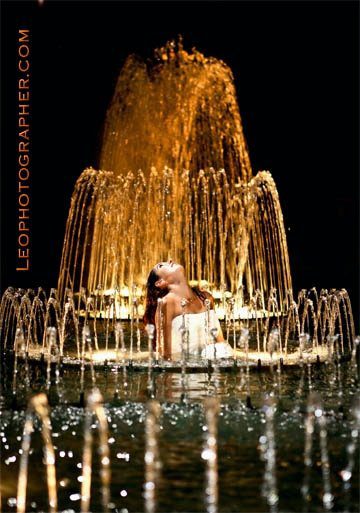 She was gorgeous! He couldn't believe his eyes. He had to explain to everyone that she was indeed the bride, not some model he had employed. And they had come up with the perfect location for the shoot – by the city fountain, where she would amaze and delight everyone who walked by.
Kids at Heart
Of all the things these two loved about each other, they most treasured that the other was a child at heart. They could easily forget misgivings, lose track of time, remain grateful about the simplest things, and share a laugh about the most idiotic stuff. Plus, they loved to paint!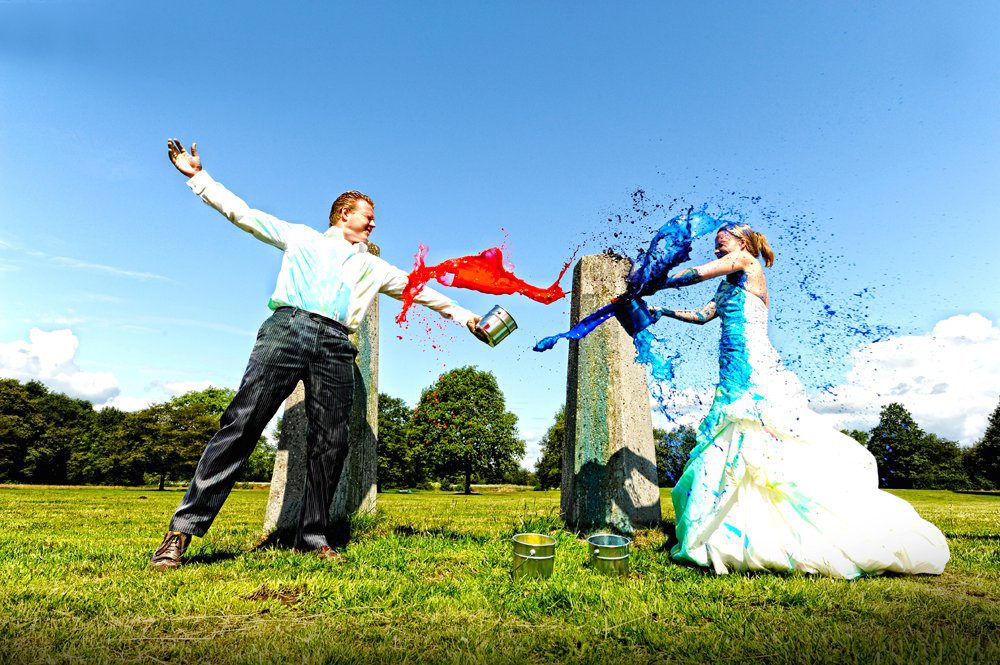 So on their wedding day, they decided to douse each other in their favorite colors. She chose red while he chose blue. If you thought that this was the last of it, you were wrong. They had a line of paint buckets awaiting discharge. The one heavily covered in paint was the loser.
Gone Wild
Here is another case of a jilted bride. It had come as a shock – learning that her fiance had left her at the altar. But her bridesmaids wouldn't have any of it. They tugged her arm, then told the driver to proceed to the nearest paintball battleground. They turned to her and yelled, oh we're just starting to have fun!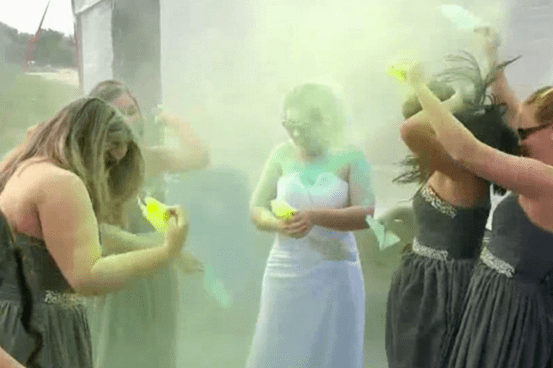 Someone played music on their phone, and everyone forced this jilted bride to dance to the beat. In no time, she found her rhythm, and the crowd went wild. They only reinforced what she had always known to be true – you only need yourself and your girlfriends to be happy.
On The Count of 3
These two have always been adrenaline junkies. They can't tell who was more hooked on it. So they placed a bet on their wedding day. The person who would let go of the other's hand would have to do the dishes for a month. Guess what they both had to.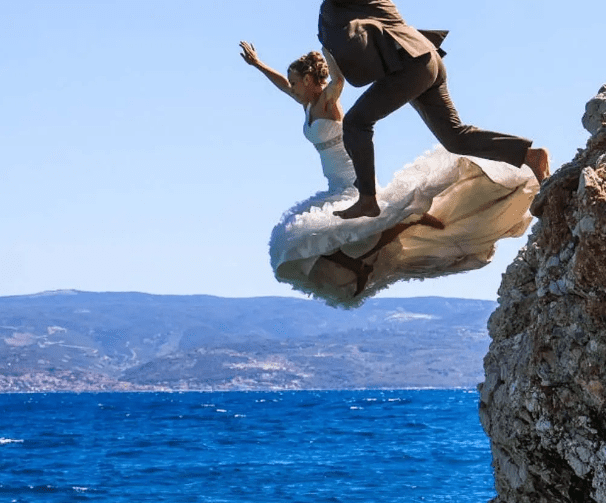 They dared each other to jump off the cliff. Ultimately, both decided that they would do the dishes together. They held each other's hands, took a deep breath, counted to three, then took the plunge. As if getting hitched wasn't enough of an adrenaline rush, these two had to top it off with this daredevil stunt!
Down and Dirty
We're the low-maintenance type. So instead of jumping off the clip, scuba-diving, or tandem-jumping with our partners, we would rather choose this instead. This bride was ready to get down and dirty on the mud, feeling the warm dirt coat her skin and taint her dress a warm hue.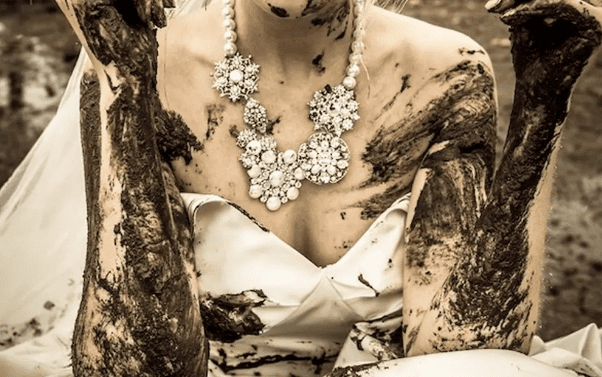 It might look like child's play, but she moved through the mud with such poise and elegance that it was hard to look away. She would pose at the camera, but she was busy coating every inch of her dress with mud.
Playing Sand Castles
Let us pray our marriage never gets to this. This princess had been courted a fairly long time, and she thought she knew her groom inside and out. But she saw this glint in his eyes that she had not seen before. As they proceeded to the reception, she was dismayed to find that the promised fairy tale did not exist.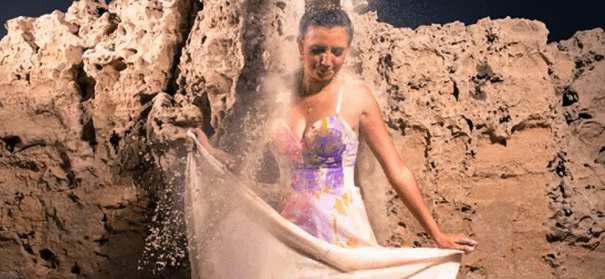 She was met with sand castles. She looked at her husband and asked him to explain, what's all this? She kicked at the sand at her feet. He shrugged his shoulders and gave him his hand. It's just a different kind of bridal shower, that's all. You'll get used to it in time.
Princess Fiona in the Flesh
This woman had always been upfront about who she was and where she was raised. It was common in Louisiana to fish to pass the time or bond with the family. So this woman thought it best to trash her dress in the Atchafalaya Swamp close to home.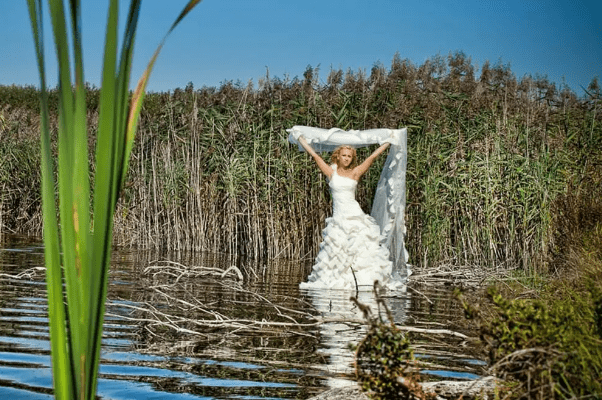 Princess Fiona spun around and made sure that her dress was drenched until mid-thigh. It was a nice contrast to the heat she felt this time of the year. She heard the triplets making a fuss, and she decided to step out of the swamp and head to the outhouse.
Taking their Vows Seriously
You can do so much with time and a load of creativity. When asked what concept they would like for their wedding shoot, they told the photographer that they felt like immortalizing this event as a work of art. See, the two have a shared fondness for graffiti.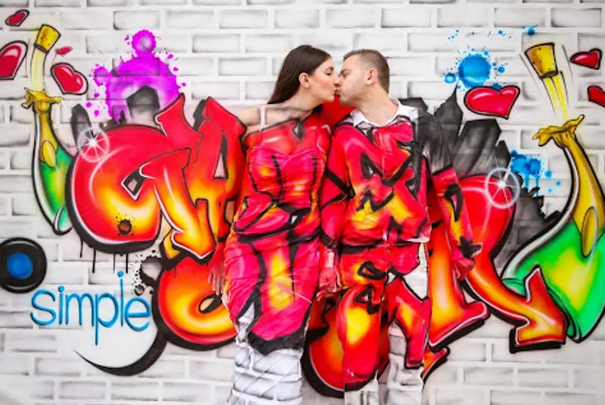 They stood still for nearly two hours. But that time only felt like a moment with hands clasped and with the other by their side. Finally, they chose to lean over for a smooch. This picture has two works of art: attention-grabbing graffiti and well-shot photos.
Need A Wrench?
These two lovebirds are the practical bunch. They invested their time and energy in putting up their own car shop, especially since they're both superb mechanics. They used the money they scrimped from their business for the wedding. Everyone congratulated the two love birds who couldn't stand being apart.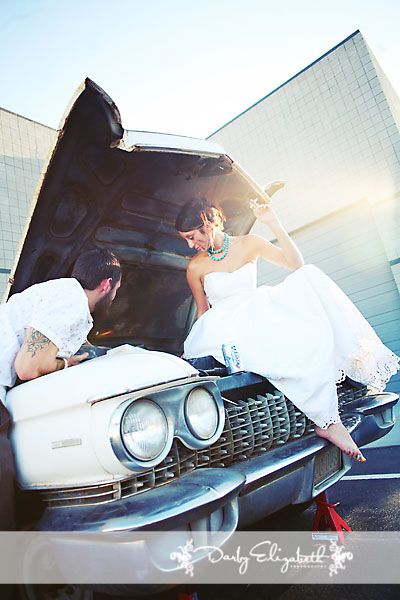 He popped the hood, and then she posed by the edge to hand him the tools. We hadn't considered trashing the dress with oil and some gear fluid, but if our wedding pictures look as chic and classy as this, we wouldn't mind learning how to troubleshoot basic car problems.
Pretty In Punk
You might expect light, classical music to be played at this wedding, but you would be met with disappointment or even surprise. This couple has a shared love for metal rock, post-punk and punk rock. Both were inspired to have a steampunk- kind of wedding.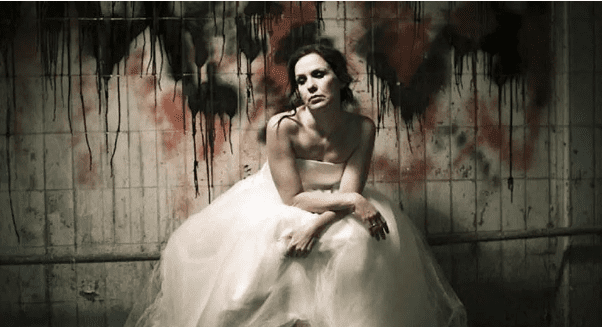 What can we say? This bride looks pretty in punk. This bride rocked the shoot with dark eyeliner, smudged eyeshadow, nude lipstick, and a somber face. We can't imagine anyone else doing a better job than she did, not even Dita Von Teese.
Going Free-diving
In the past couple of years, free-diving has gained traction as a failsafe way to explore the ocean and view fish in their natural habitat. That is how this bride and her husband met each other. Both wanted to try their hand at line training and met each other on the trip. Ever since then, they couldn't part from each other.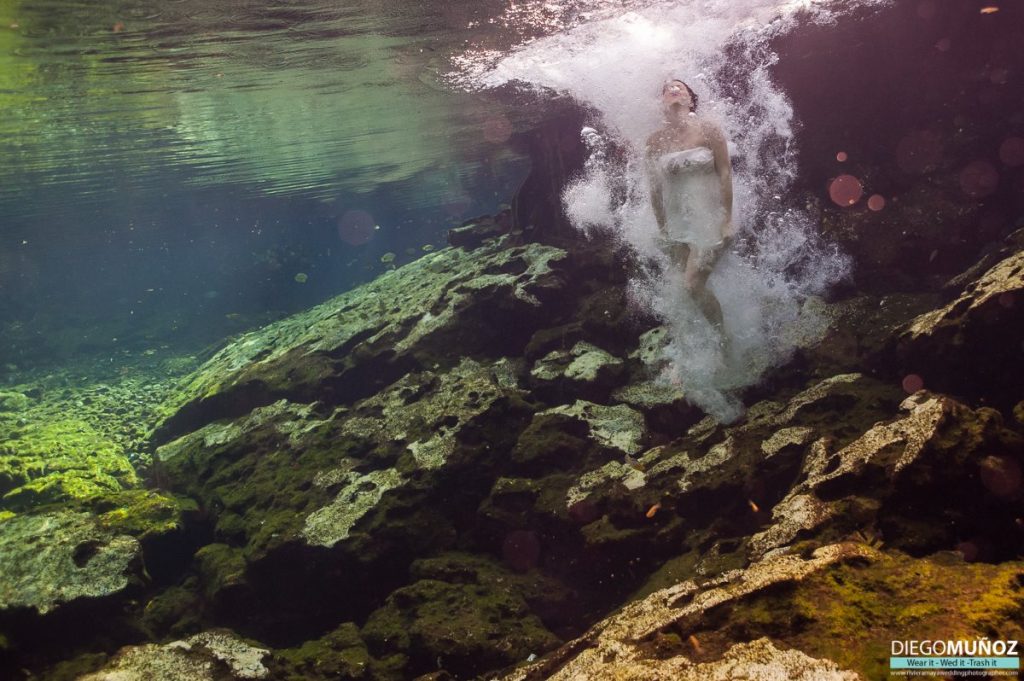 This woman thought of free-diving on their special day with her gown on. It had been difficult, and it took them more than a couple of shots before they got the perfect picture. But all in all, these newlyweds believed that it was worth the effort. What do you think?
Doing a Deep Dive For Each Other
When asked why they love scuba-diving, this couple said they could be alone together. Diving deep into the ocean offers them both tranquility and adventure. After each session, they feel like having grown closer together, and they couldn't think of any other activity with which to spend their honeymoon on.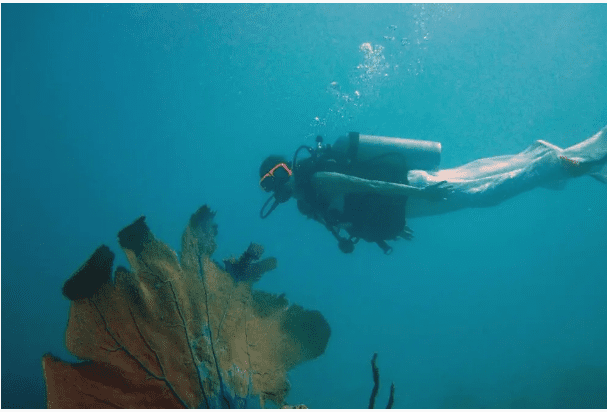 Other divers would have found it difficult to scuba dive with a dress on, but this bride makes it look so effortless. She has gone on so many adventure dives that it's nearly akin to breathing for her. But just like we would have, she ditched the heels for a pair of fins. Seems like a sensible choice!
Team Effort
Determining who to wed is one of the most critical life decisions. You get to decide if this person will help you nurture a family based on shared values and save you from lapses in judgment from time to time. Your partner should help uplift you in times of trouble…kind of like this.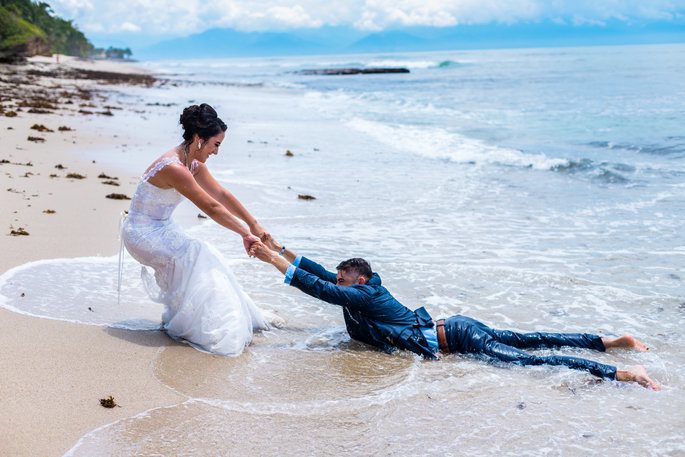 Occasionally, you might want to join in on the fun. It's a great way to relieve stress and bond with your partner. After all, we learn more about ourselves during tension and play moments. So how about getting that shovel and bucket and building ourselves an empire made of sand?
Old London
This bride has a love for the rough and the rugged. She pairs it with the antique. So it hadn't come as a surprise to everyone that she dressed in old-fashioned London- style attire. With liquid eyeliner, some rouge, and lipstick, she could beguile everyone, especially her husband.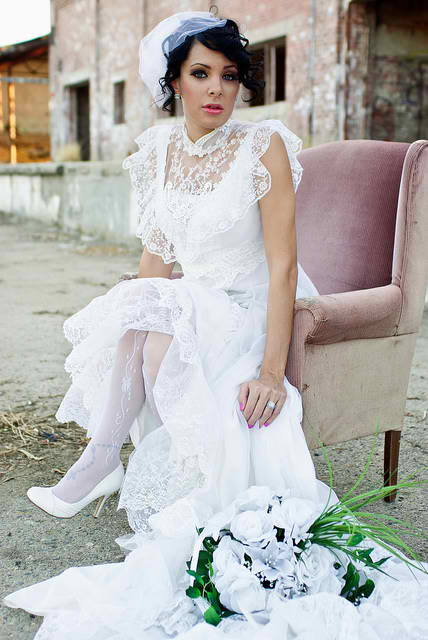 Sure, she wanted to trash the dress. But she didn't want to wade in a pool or by a lake. It was enough for her to walk around the pub, hands clasped in her husband's, and crack a couple of nuts while watching baseball. She would be trashing the dress's midsection if she drank enough, right?
Let Loose
Despite their good intentions, your family could drive you crazy. That's exactly what this woman felt as her wedding day drew nearer and nearer. Her in-laws would make last-minute changes to the wedding details that reflected what they wanted instead of how the couple felt for each other.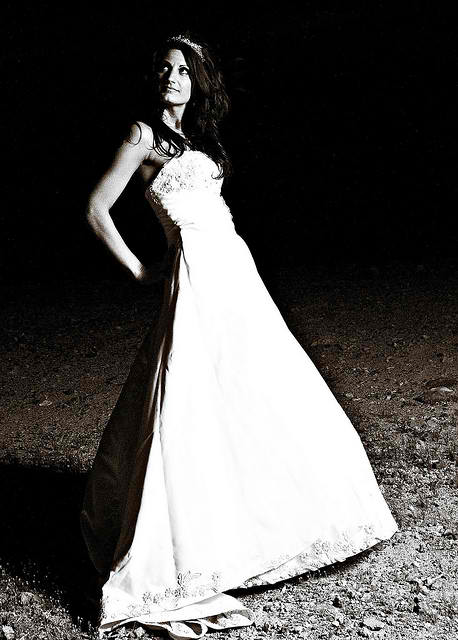 Fortunately, this bride got the final say during the wedding shoot. She had always been a model and felt that she needed to express her emotions through art. With some light and exposure, the photographer captured this priceless moment where she bared her soul in front of everyone.
Done with the Pretense
Although she loved her dress, this bride couldn't wait to get out of it. She had gained a couple of pounds in the past week. And she was struggling to hold everything in to look fab in the wedding pictures. But after saying their vows, she and her man decided to let loose by the riverside.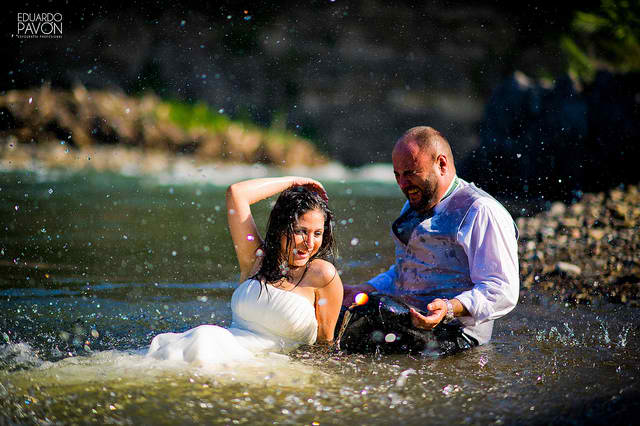 She had him unzip a part of the dress so she could get more room to breathe. Then she lay next to the bank and kicked. The hem of her dress rose to her knees and then sank back down again. Then she asked her husband to unclasp the pin that held her hair.
'Til Death Do Us Part
You don't have to expend much on a wedding to make a marriage last. You just need a couple of hundred bucks to buy a dress, say your vows in front of loved ones and friends and then have a beach after-party. Savor the moment because these things (ideally) only occur onetime in your life.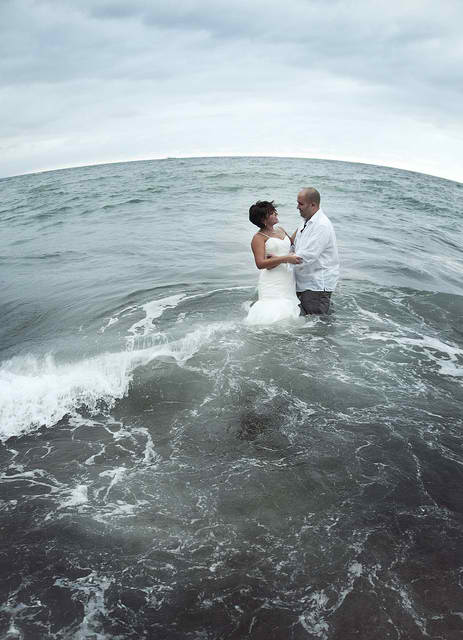 Kick those heels off and then run to the water. You might shudder, but it'll only be for a little while. It might be due to the excitement or the cold. But your partner should be with you every step of the way, making the experience all the more enlivening.
Ready for the Summer
So many brides opt to trash their dresses by going to the beach. Water is very cathartic. And who doesn't want to feel the ocean water lapping at their feet? Brides wouldn't have to worry about wearing heels or having their nails painted a particular hue. All they need to do is to enjoy their time at the beach.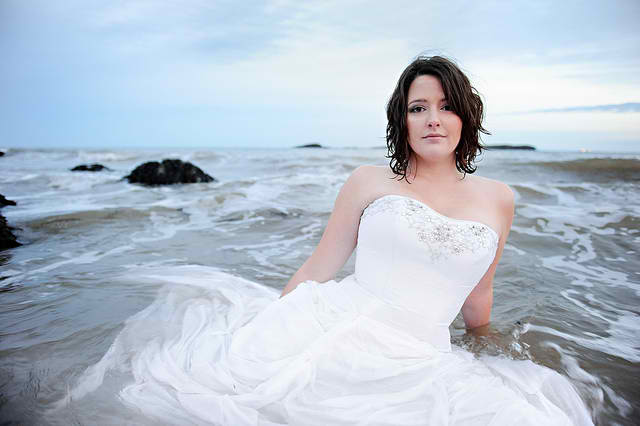 This bride carefully sat by the seashore and spread the dress around her. The water did the rest of the job. It pulled and pushed the fabric to draw attention to the bride. The hem whirled around her and then stuck to the skin of her thighs as she stood up. Now, her gown tugged at every curve of her body like a silhouette.
On the Count of We
It's hard to find someone that has identical desires and dislikes as you. You might find someone you are attracted to but might not necessarily be compatible with them. Likewise, you may find someone you're compatible with but discover that you're best keeping them as a friend.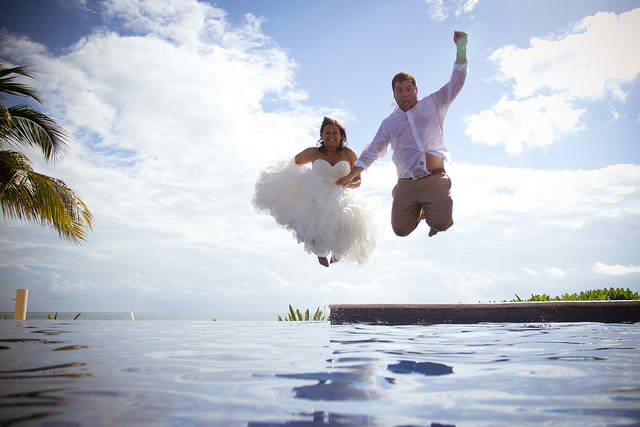 Fortunately, these two love birds found both attraction and compatibility in each other. Both have served to push the other to become a better version of themselves. And while neither is perfect, both are content to let either one's shortcomings slide to keep the relationship intact.