Indulge In 35 Unforgettable And Iconic Celebrity Weddings From The Past
By Ruby M July 28, 2022
---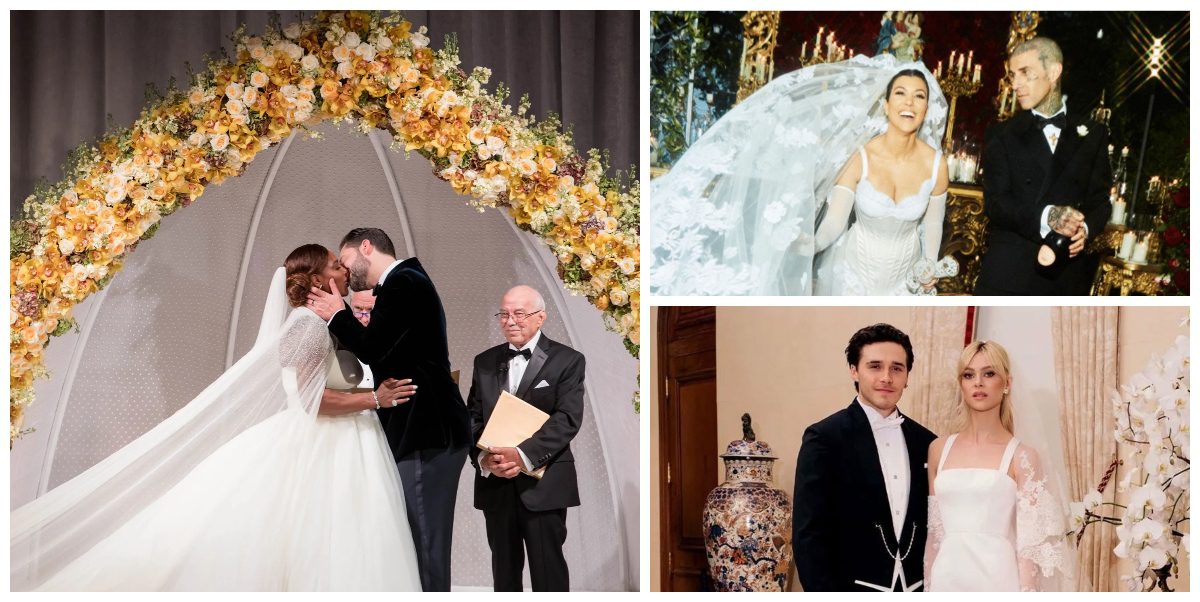 Weddings are undoubtedly special, memorable occasions, but let's be honest – there are some weddings that may stick out in our minds more than others. When it comes to celebrities, this is especially the case. Some celebs choose to get married in secret, whilst others go all-out and throw lavish extravaganzas that can even last days – and we're here to document it all, even if the said couple is no longer an item.
If you're looking for inspiration for your own very special day or are simply curious about the wedding events of the rich and famous, then get your hot cocoa and face mask ready because this is a must-read! Here are 40 celebrity weddings that no one will be forgetting about any time soon – even the ones from before some of you were born.
Guy Ritchie and Jacqui Ainsley
These two said their "I do's" by holding a lavish three-day extravaganza at the luxurious country mansion Ashcombe House, England, which was once the home of famous photographer Cecil Beaton. Using the hashtag, 'jaxguyjuly,' the newlyweds shared the lavish event with their followers.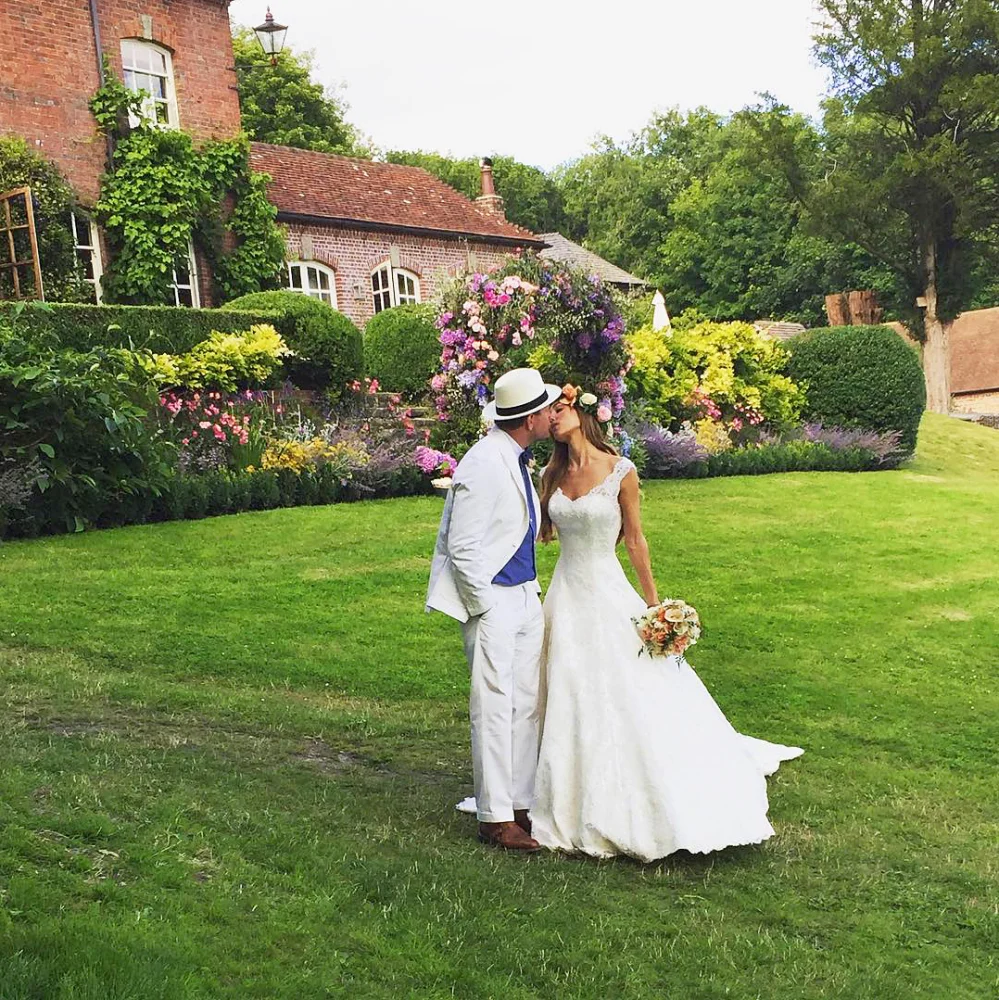 Seven days after their wedding, the couple celebrated the director's new film, The Man From U.N.C.L.E, and still appeared to be floating on cloud nine. The couple started dating in 2010 and tied the knot five years later in 2015.
JJ Watt and Kealia Ohai
The 11-year NFL veteran and his wife, Kealia Ohai, started dating in 2016 and tied the knot in February 2020 at The Ocean Club, a Four Seasons Resort in the Bahamas- it was probably one of the last huge events before the international lock-down.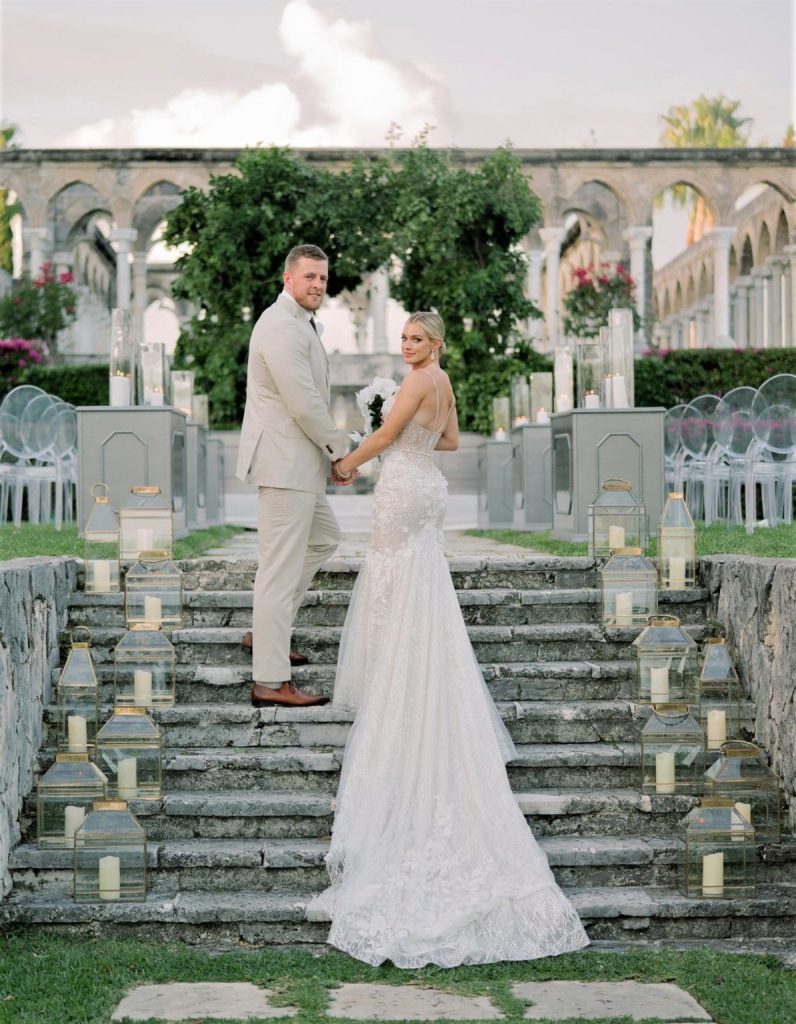 He posted photos of the luxurious affair on his Instagram, announcing that it was "the best day" of his life – and despite the fact that they had to honeymoon in quarantine, the couple made the most of it by training together and spending quality time in their Wisconsin home.
Tim Tebow and Demi-Leigh Nel-Peters
After meeting in 2018 and connecting instantly, Tebow knew that Nel-Peters was the one. They tied the knot in January 2020 at La Paris Estate in Franschhoek, Cape Town – a city well-known for its spectacular and gorgeous vineyards.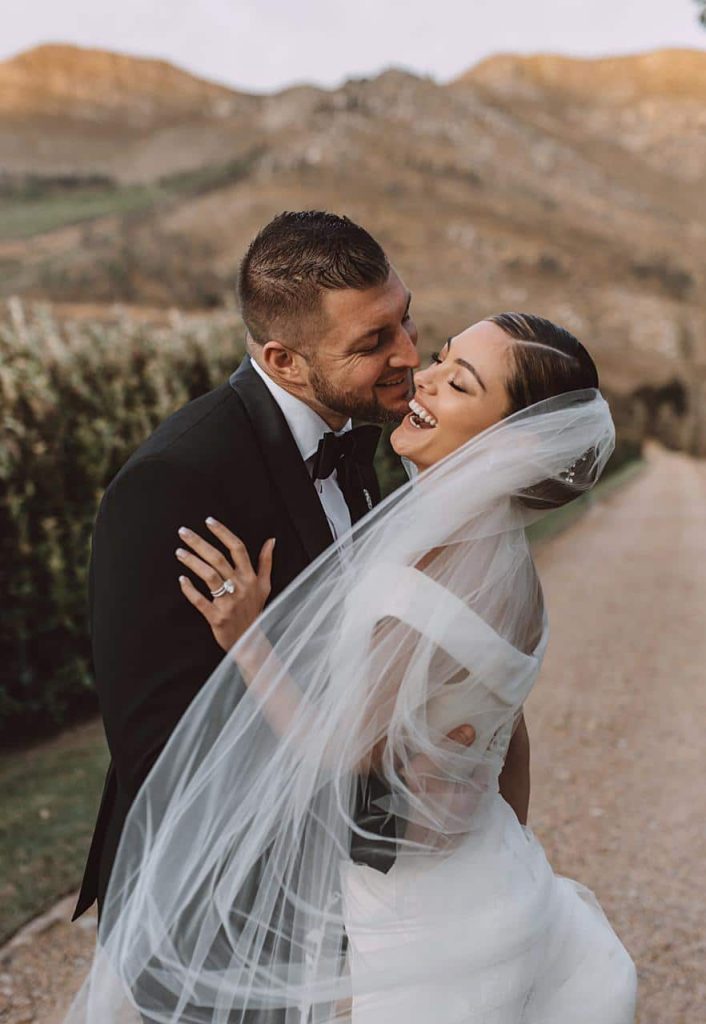 The location for their wedding was sentimental, as the province was where the bride grew up. In an interview, she stated, "South Africa is very special to me. I wanted to honor my homeland during my wedding while showing all of our guests what my country has to offer."
Pamela Anderson and Jon Peters
This "marriage" was compared to a "bizarre theatrical lunch" by Anderson – the two split up a mere 12 days after their secret wedding ceremony in Malibu – and according to Anderson, the two were never legally married. Something is suspicious!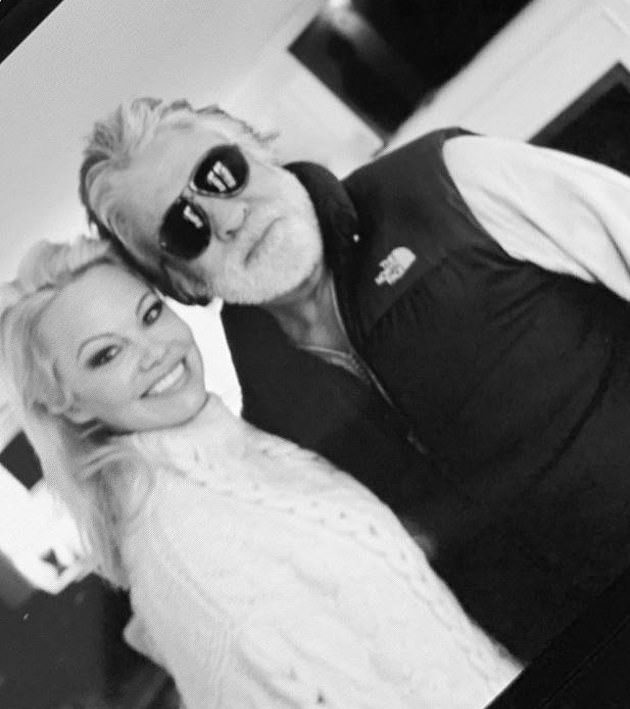 Although their relationship dates back to the 1980s, Anderson told the press that there were "no hard feelings" and that Peters was a dear family friend. Allegedly, Anderson was the one who proposed to Peters in a text message – but they were never meant to be after Peters paid off her debts.
John Legend and Chrissy Teigen
This power couple chose to get hitched by jetting off to idyllic Lake Como, Italy, in 2013. Their wedding took place at Villa Pizzo and is still fondly remembered by guests and even the paparazzi who snuck their way in!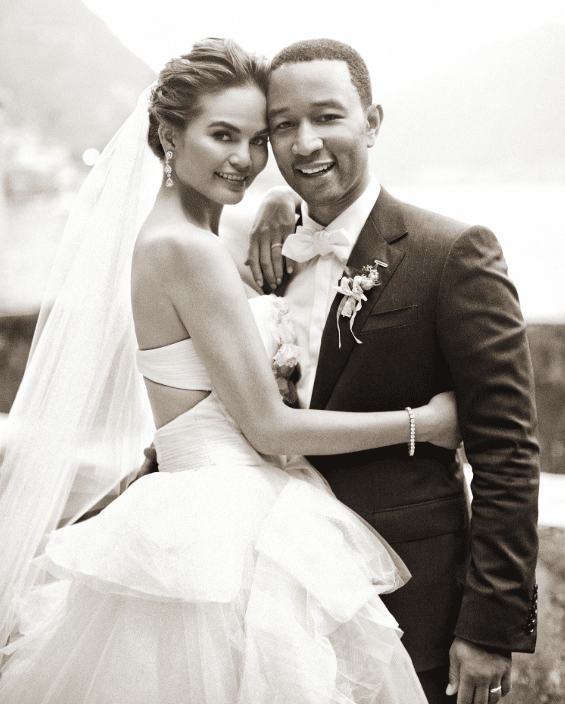 Despite their separation while Legend was on tour, Teigen told the press that she "let him be himself for a while," even if that included other women draping on his arm at various big events throughout his tours. How supportive!
Sofia Vergara and Joe Manganiello
These two lovebirds tied the knot in a fabulous wedding ceremony under an extravagant floral arch in Palm Beach, Florida, in 2015. The $3 million wedding (yes, you're reading that correctly) hosted 400 guests, which included some of her Modern Family co-stars, of course.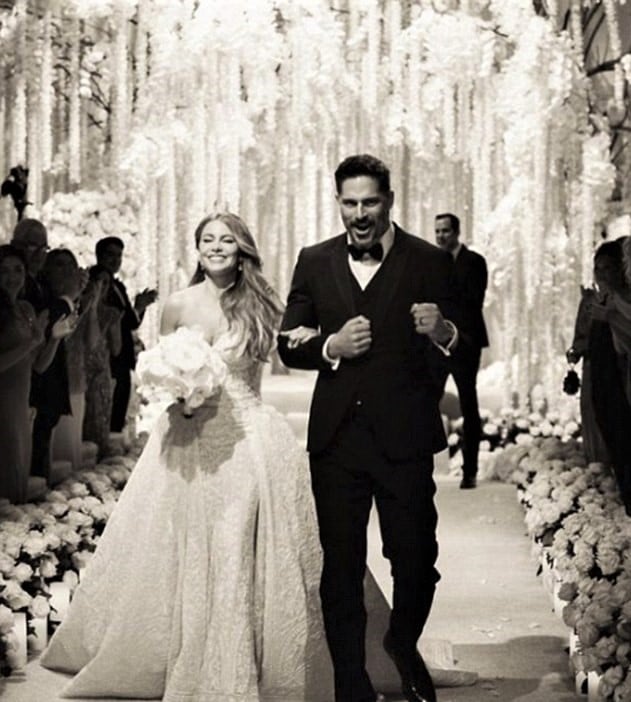 Vergara and Manganiello first met back in May 2014, while Sofia was engaged to another man (how scandalous!) – but allegedly, nothing happened between the two of them until months later when the Modern Family star was single and ready to mingle.
Mandy Moore and Taylor Goldsmith
Lovebirds Mandy Moore and Taylor Goldsmith tied the knot in a very pink and romantic backyard ceremony in Pasadena, California, in 2018. The event was filled to the brim with pink feathers, flower arrangements, and decorative candles.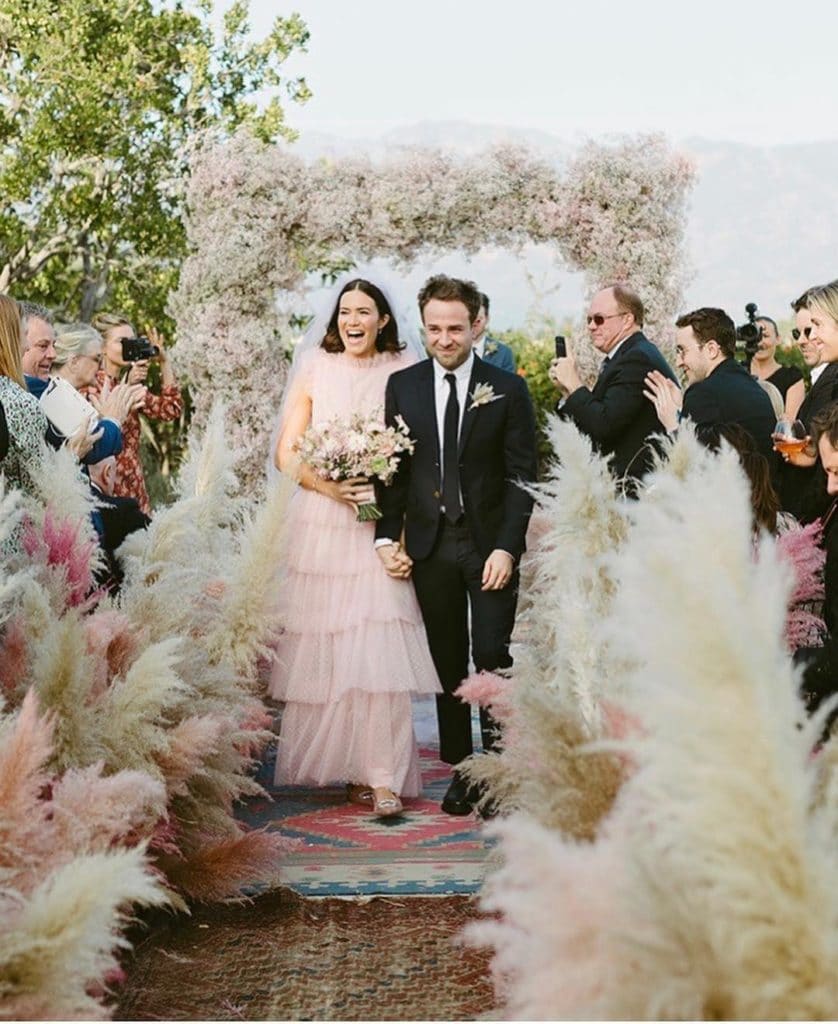 The entire ceremony matched Moore's Rodarte dress, which she wore instead of the traditional white wedding attire in a dusty ballet pink color. In February 2022, the couple celebrated their son's first birthday and appear to still be going strong as a loving couple.
Kathy Griffin and Randy Bick
Griffin and marketing executive Randy Bick had been in a relationship since 2012. Although the two briefly separated for about 5 months in 2018, the two got back together in April 2019 and decided to get hitched at her California home in 2020.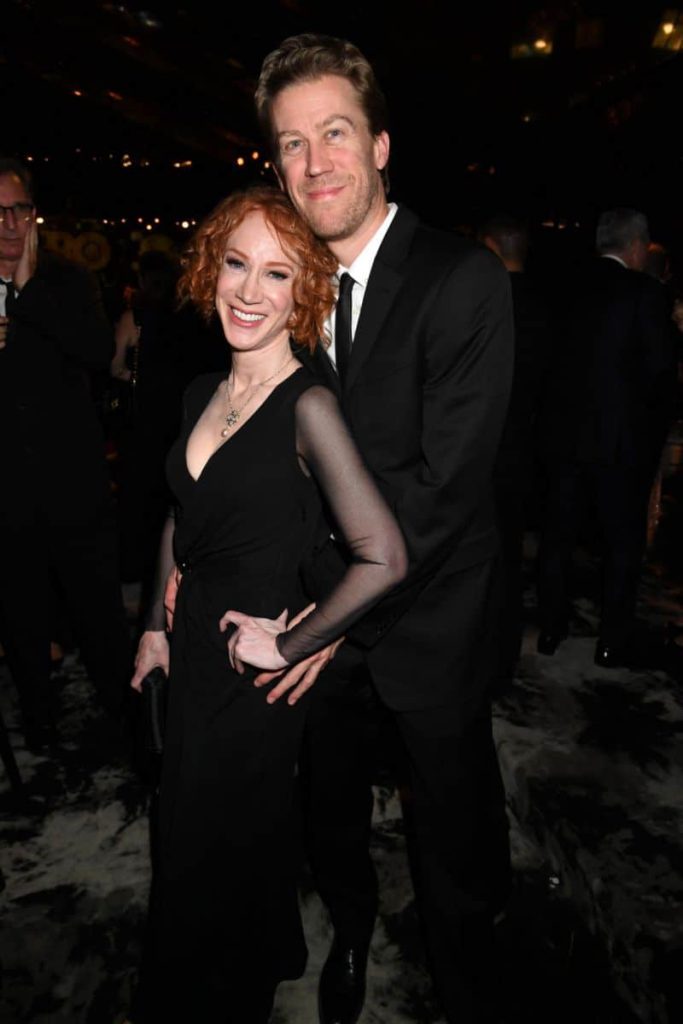 The couple announced their surprise wedding on New Year's eve by posting a video on their social media telling fans that they would be tying the knot in the early hours of 2020. A couple of hours after midnight, she posted an update, writing, "… We promised you atypical. We are in love, and we cannot stop laughing."
Vanessa Morgan and Michael Kopech
CW's Riverdale star married the Chicago White Sox pitcher Michael Kopech in an intimate yet extravagant setting at the Historic Walton House in Homestead, Florida, in 2020. However, marriage isn't for everyone, it seems – much like most of Hollywood.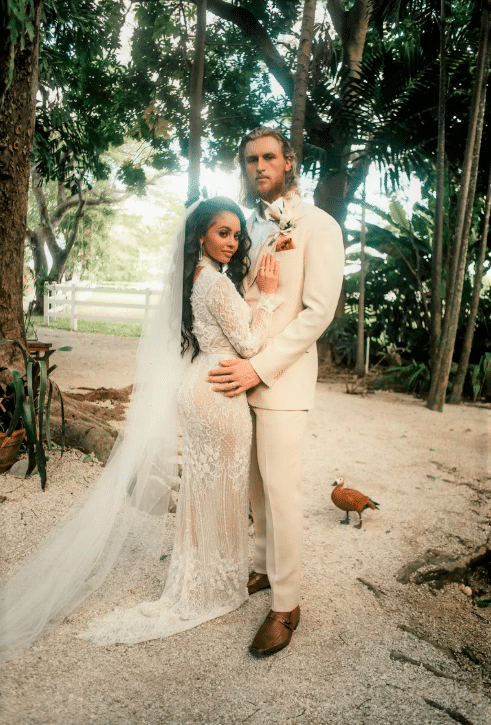 Despite her words when interviewed after their wedding, "I can't wait to spend the rest of my life with him," and falling pregnant with the MLB player's child shortly after their nuptials – the couple announced their separation after a mere six months of marriage.
Michael Jordan and Yvette Prieto
Michael Jordan's $10 million dollar marriage (did your jaw just drop to the ground? Ours did!) to Yvette Prieto was definitely one for the books. The sports legend tied the knot for the second time in 2013. The luxurious, star-studded ceremony at The Church of Bethesda-By-The Sea in Palm Beach, Florida.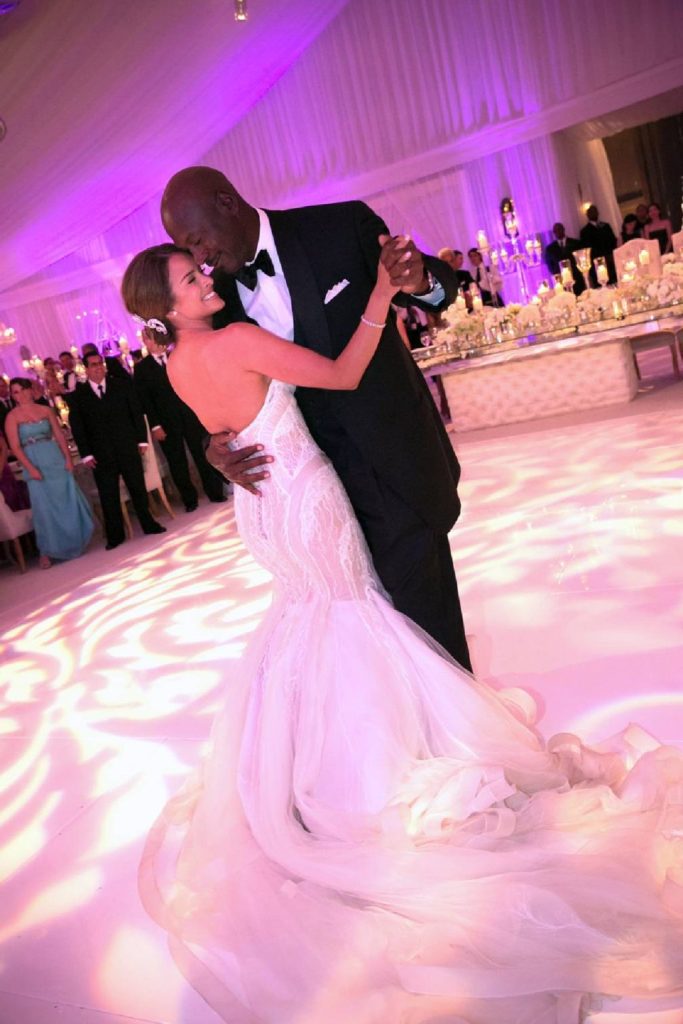 It didn't stop there. After the wedding ceremony, the couple held their reception at the Bear's Club in Jupiter, and the tent that the lavish affair was held in has been documented as the largest in history – being five thousand square feet larger than the celebrity's own house.
Justine Timberlake and Jessica Biel
Justin Timberlake and Jessica Biel had been together since 2007, and despite a very public break-up in 2011, the two went on to tie the knot with a very intimate wedding of 100 people in Puglia, Italy. Although their wedding was described as being a "total dream" by guests – their relationship has undergone quite a few rumors.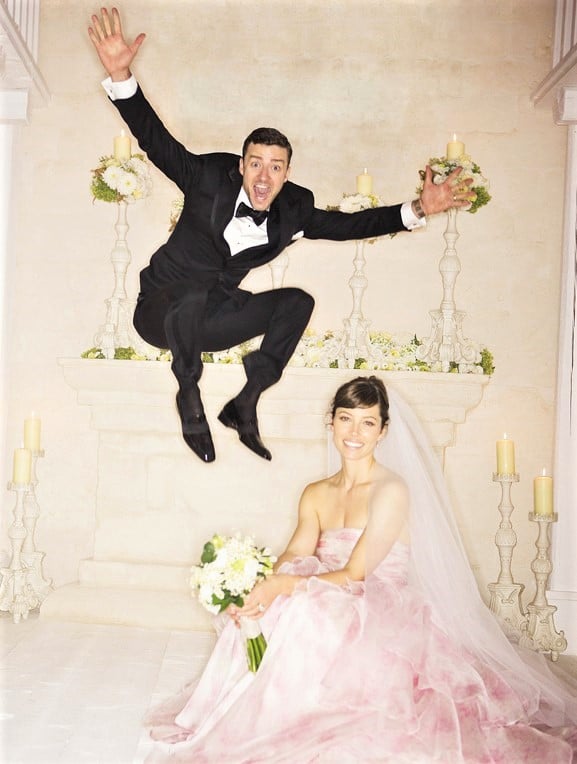 Including a proven-true cheating scandal where Timberlake apologized for a "true lapse in judgment" for becoming a little bit too intimate with his co-star Alisha Wainwright. Despite this, the couple seems to be going strong and will be celebrating their 10th wedding anniversary in October this year.
Amy Schumer and Chris Fischer
This comedy star and her beloved partner and tasteful chef (hehe) tied the knot in a secret nuptials ceremony in 2018 in Malibu, California. Shortly afterward, in 2019, they welcomed their son Gene into the family a year later.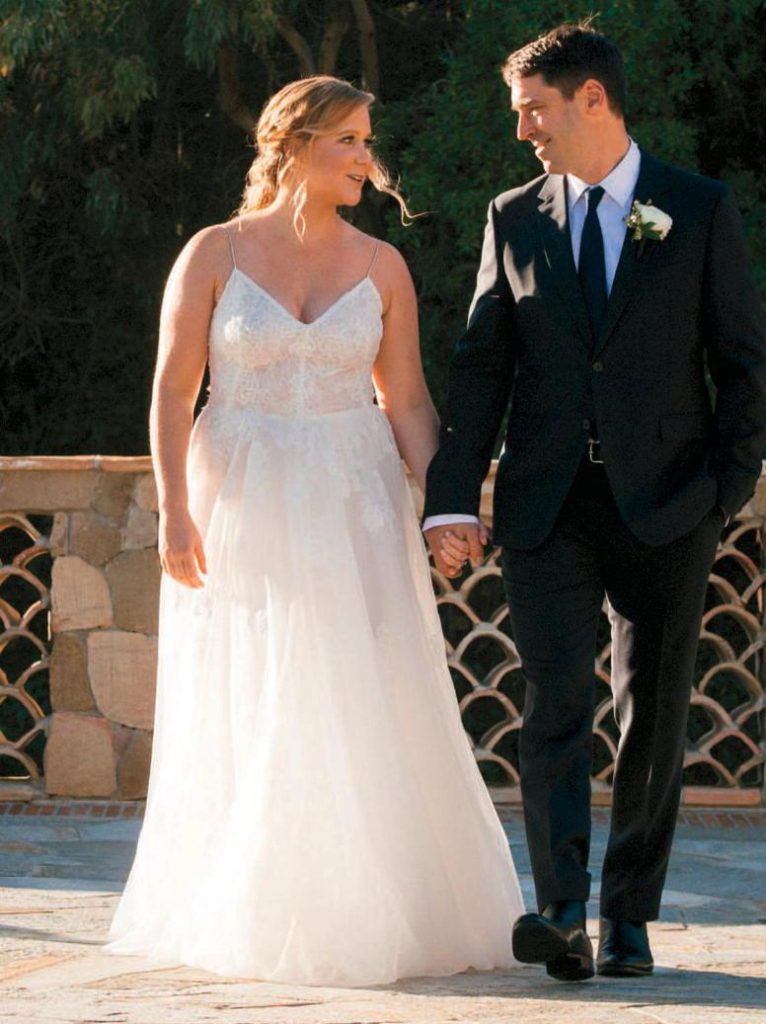 After her first child, Schumer had to undergo surgery to have her appendix and uterus removed due to suffering from endometriosis, a painful uterine condition that cannot be cured. Schumer stated that her doctor found that 30 endometriosis spots had spread from her uterus to her appendix.
Kourtney Kardashian and Travis Barker
Possibly one of the most controversial couples on this list, each on their own merit, Kourtney Kardashian and Travis Barker officially tied the knot (legally) at a courthouse in Santa Barbara, California, in May. However, they had three celebrations in total.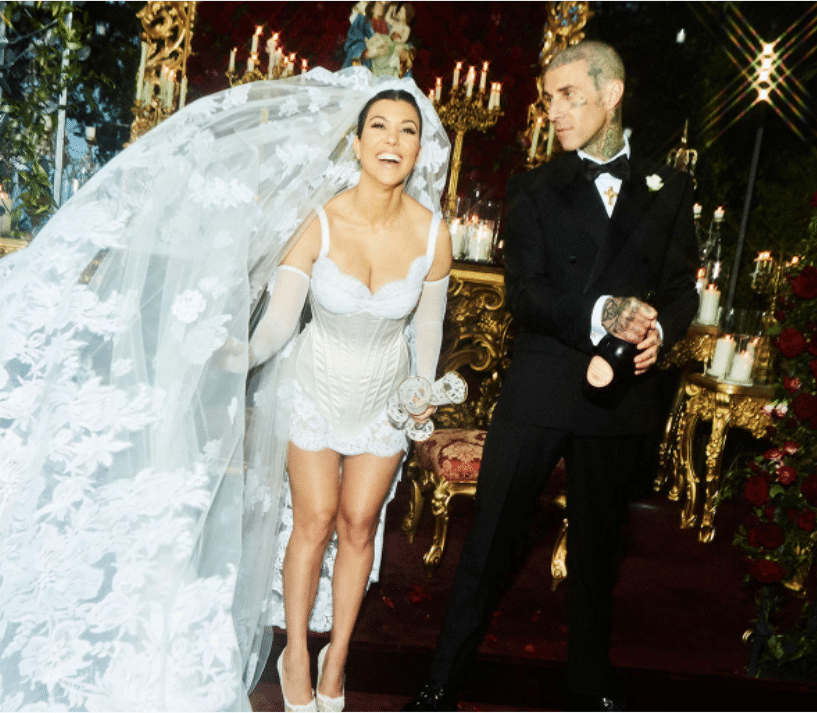 They first wed in an unofficial (and very intimate) Las Vegas wedding the April prior. Their third and final shindig took place in Portofino, Italy, where they had an extravagant celebration with their family and friends – however, Kris Jenner allegedly chose not to invite Kourtney's children from her previous relationship.
Brooklyn Beckham And Nicola Peltz
David Beckham's son, Brooklyn, and his wife Nicola Peltz got married at what some might say is quite a young age for Hollywood- 27 and 22. Contrary to the norm of taking the man's last name, Beckham chose to take Nicola's surname.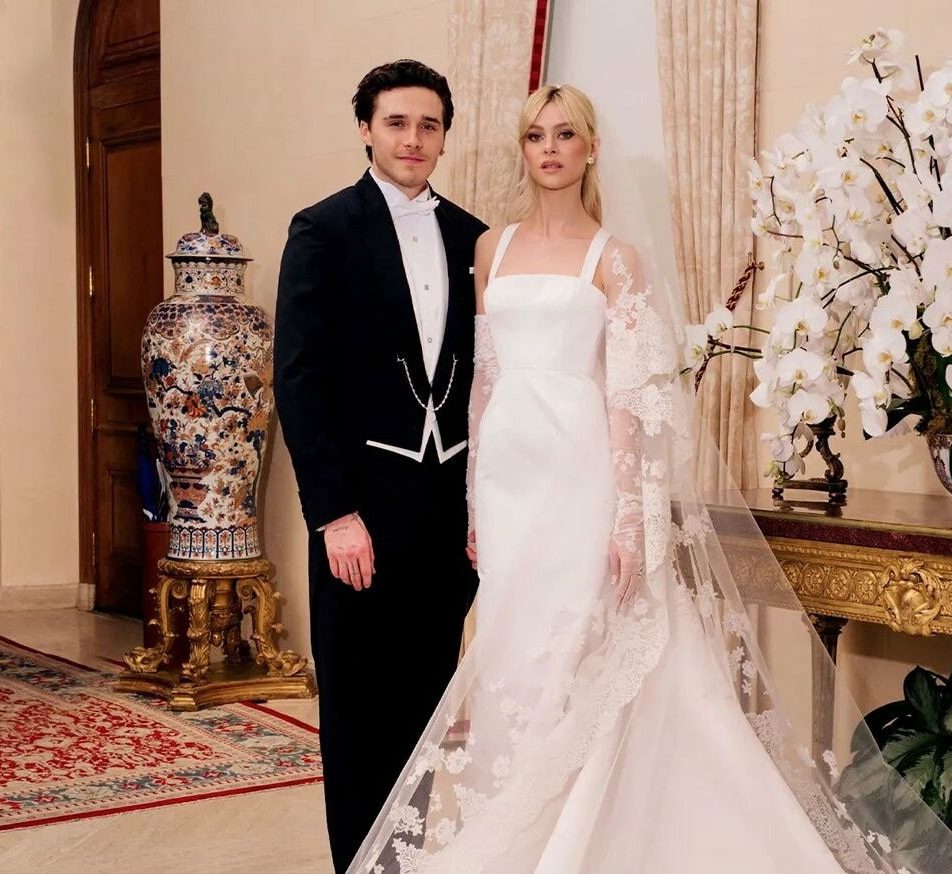 Their wedding took place in April 2022 at Peltz's billionaire father's Palm Beach estate. They held a Jewish ceremony followed by a lavish 3-day celebration with 500 guests. The bride wore a custom Valentino dress which had a personalized note from her mother stitched into the gown using blue thread.
Mariah Carey and Tommy Mottola
According to Wikipedia, this extravagant celebration in New York City costs a jaw-dropping half a million dollars. If anyone knows Carey – she likes things over the top on an average day, so of course, her wedding had to match that.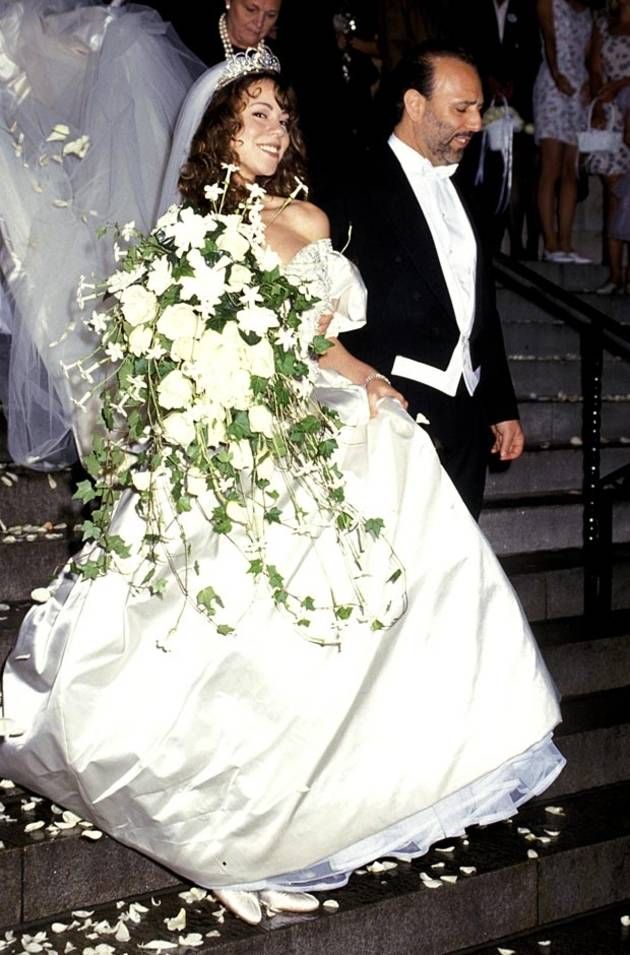 The 1993 wedding took place at Saint Patrick's Cathedral and was reportedly inspired by Princess Diana and Prince Charles' wedding – she even wore a Princess Diana-inspired (and exorbitant) dress which was estimated to cost $25,000. Despite the over-the-top wedding, however, the couple parted ways in 1997.
Elvis and Priscilla Presley
When they first met, Priscilla was only 14. In May 1967, Elvis (33 at the time) and 21-year-old Priscilla tied the knot in an intimate Las Vegas ceremony. With only a handful of guests, the superstar couple exchanged vows at the Aladdin hotel.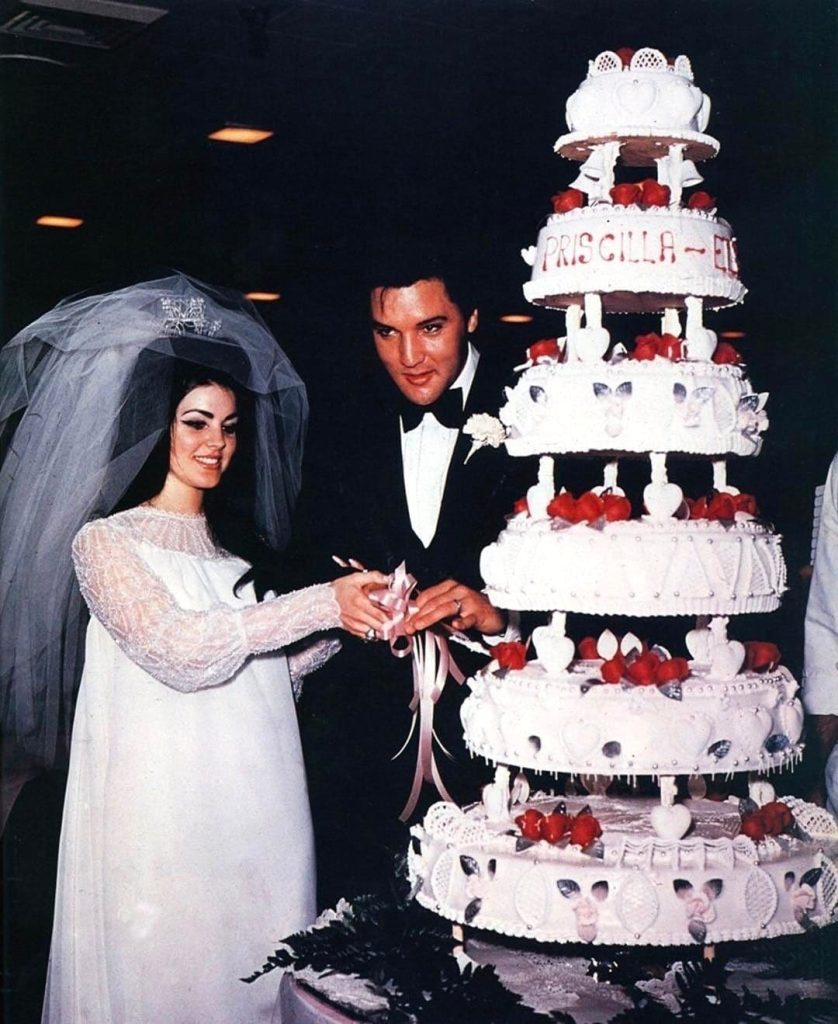 After their morning nuptials which lasted a mere eight minutes, the couple escorted their guests to a banquet of a breakfast meal. Their wedding cake alone cost $22,000 in today's money – back then, it was a whopping $3,200 (which was nothing to laugh at).
Anne Hathaway and Adam Shulman
These lovebirds got hitched in an intimate outdoor sunset ceremony in Big Sur, California. The ceremony was Jewish, and the wedding was allegedly inspired by nature. It featured over $100,000 worth of flowers and decorative branches, and the menu was totally vegan.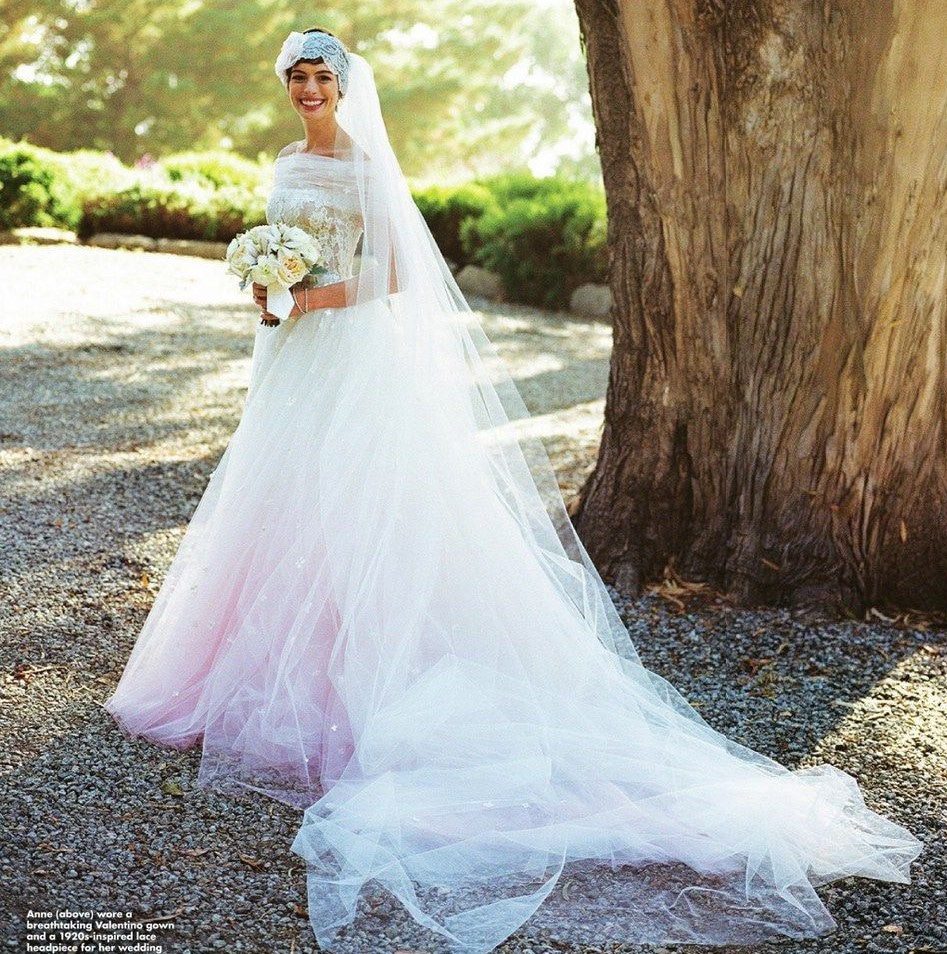 According to Hathaway, she knew she'd marry him when she first saw him. Since their marriage in 2012, the couple is still going strong – and have two children together. Shulman designed her emerald-shaped diamond ring, which is said to be valued at $150,000.
Ashton Kutcher and Mila Kunis
Kutcher and Kunis first met on the set of That 70's Show but only got engaged in February 2014 after dating for two years. They got married in a Secret Garden Wedding Party in Oak Glen, California, over the fourth of July weekend.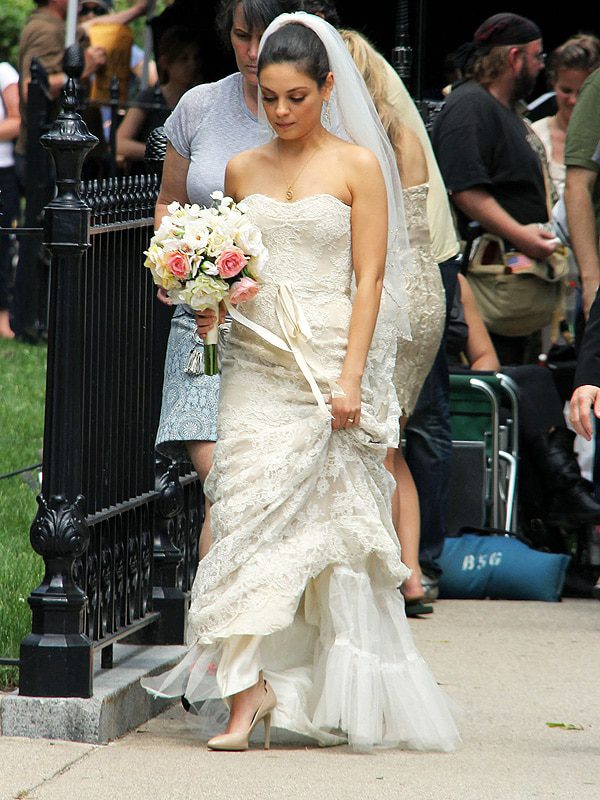 Little is known about their ultra-private ceremony but what we do know is that it was luxurious and that the couple enjoyed their honeymoon on an RV drive across California. The two now have two kids together and are still happily married.
Neil Patrick Harris and David Burtka
This LGBT couple held their nuptials in a private wedding ceremony in Perusia, Italy, in 2014. Of course, there were fireworks and magic tricks due to Harris's love for all things magical, and their family friend, Sir Elton John, was the main act.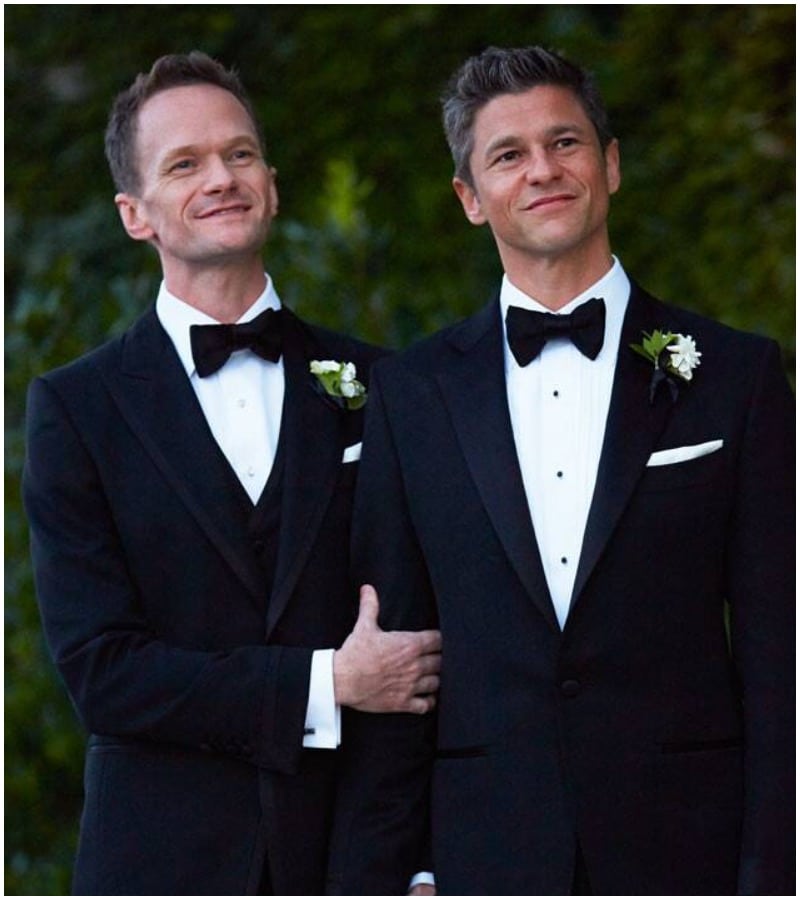 The couple's three-year-old twins were involved in the ceremony and handed out oranges at the ceremony – to make sure that nobody went hungry during the extravagant event. The couple officially got engaged in 2011 when New York legalized gay marriage but had proposed to each other five years prior.
Solange Knowles and Alan Ferguson
The beautiful wedding ceremony between Solange Knowles and Alan Ferguson took place in 2014 at the Marigny Opera House in the bride's hometown of New Orleans. Unconventionally, the entire wedding party wore white, including Solange's superstar sister Beyonce.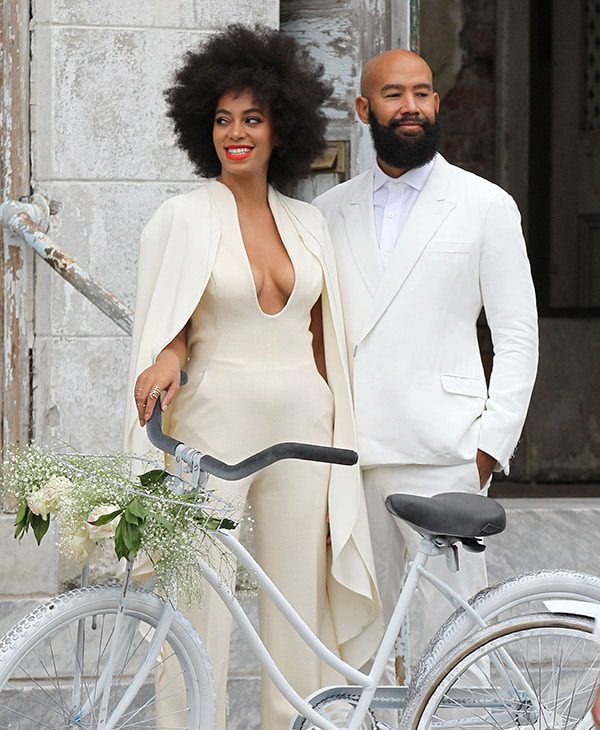 The loving couple made their memorable and unique entrance by riding in on two white bicycles. Knowles decided to further break from tradition by wearing a cream jumpsuit and cape ensemble as opposed to a traditional wedding dress. Sadly, the pair split after only five years into their marriage.
Jennifer Lopez and Ben Affleck
After breaking off their last engagement back in 2004, the couple reconciled last year, in 2021, and finally tied the knot at A Little White Wedding Chapel in Las Vegas earlier this month (July 2022). The world was quite shocked at this turn of events.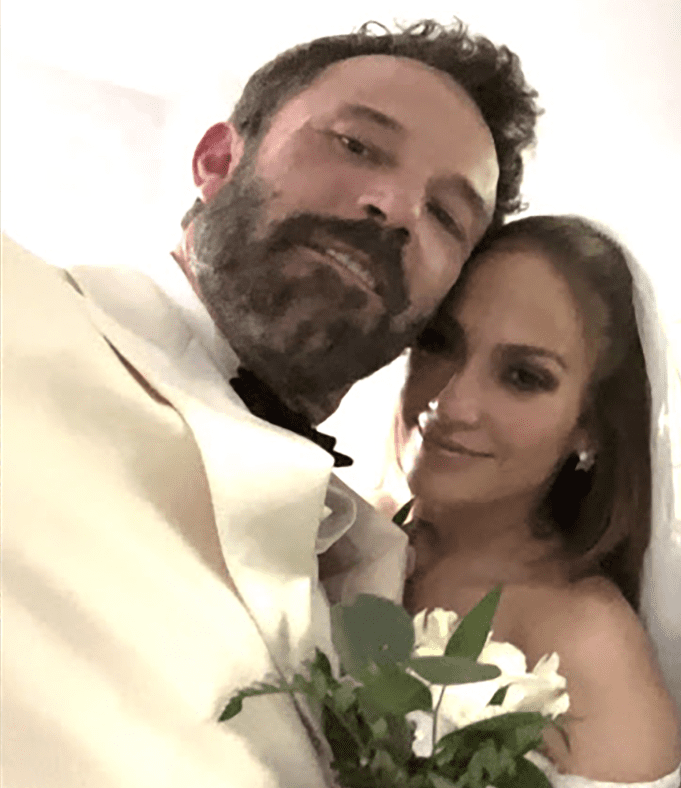 Lopez shared details of their special day in her newsletter, describing how they flew to the wedding capital of the world to declare their love for one another. The newlyweds jetted off to Paris with their children for their honeymoon.
Dwayne "The Rock" Johnson and Lauren Hashian
After 12 years of being together, Johnson and Hashian finally said, 'we do' on the Hawaiian island of Kauai. The couple exchanged self-written vows in August 2019 with their two daughters right by their sides in a beautiful beach-side wedding that was for the books!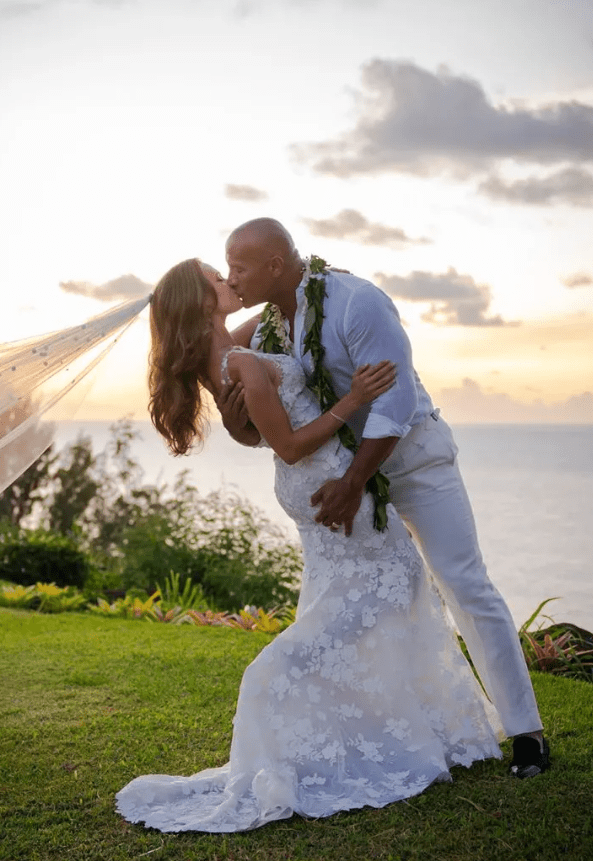 The beautiful Hashian dedicated the song Step Into a Love Like This to her groom, the single that was born from the couple's romance. Johnson had a deeply emotional reaction to the ballad and has shared that he still becomes emotional when hearing it.
Ellen DeGeneres and Portia De Rossi
Shortly after the same-sex marriage ban was overturned in 2008, the TV host and Arrested Development actress's girlfriend got engaged. The wedding took place later that year in August at their Los Angeles home. Their relationship has been under scrutiny every since, however.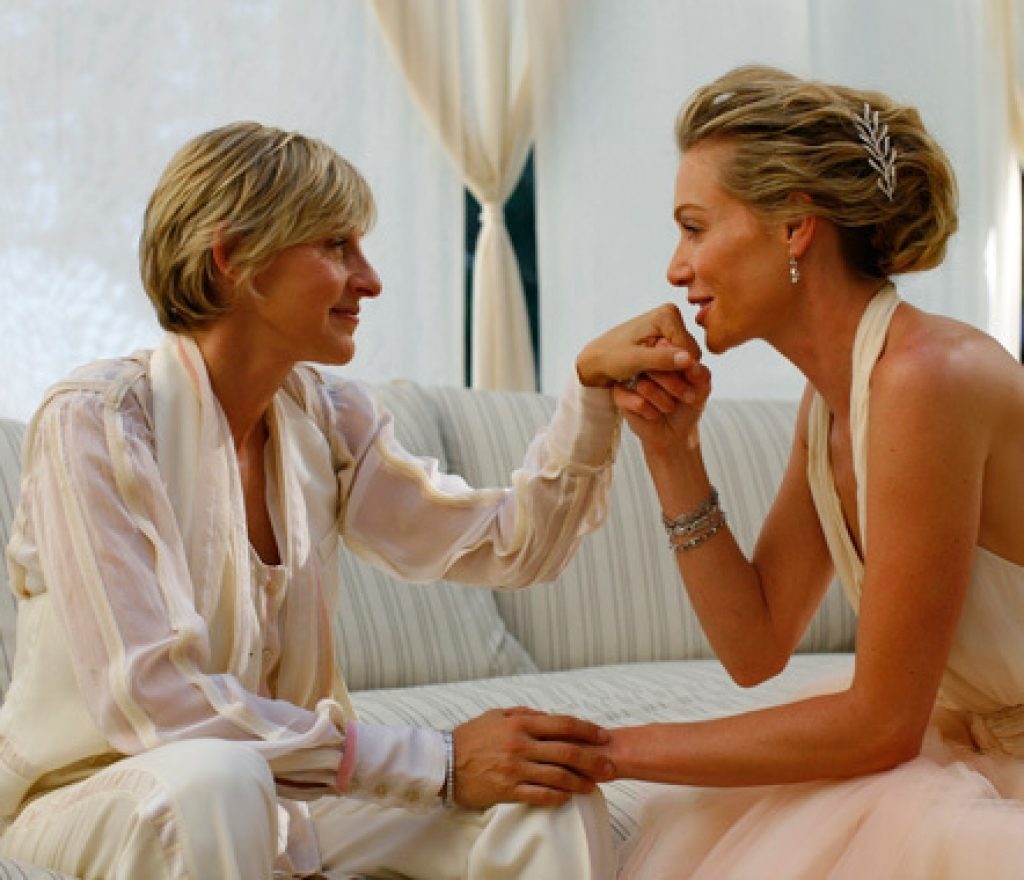 Both brides wore custom Zac Posen creations, with pink embellishments on De Rossi's gown mirroring the color of her engagement ring. The lovebirds ended off the festivities with a vegan, red-velvet cake by baker Sweet Lady Jane. They both looked ravishing
Gwen Stefani and Blake Shelton
The two iconic pop and country singers were officially wed on July 3, 2021, at their Oklahoma ranch. The jean-clad country singer and Holla Back Girl exchanged vows in front of 40 loved ones, including Stefani's three sons. The whole ceremony looked like so much fun!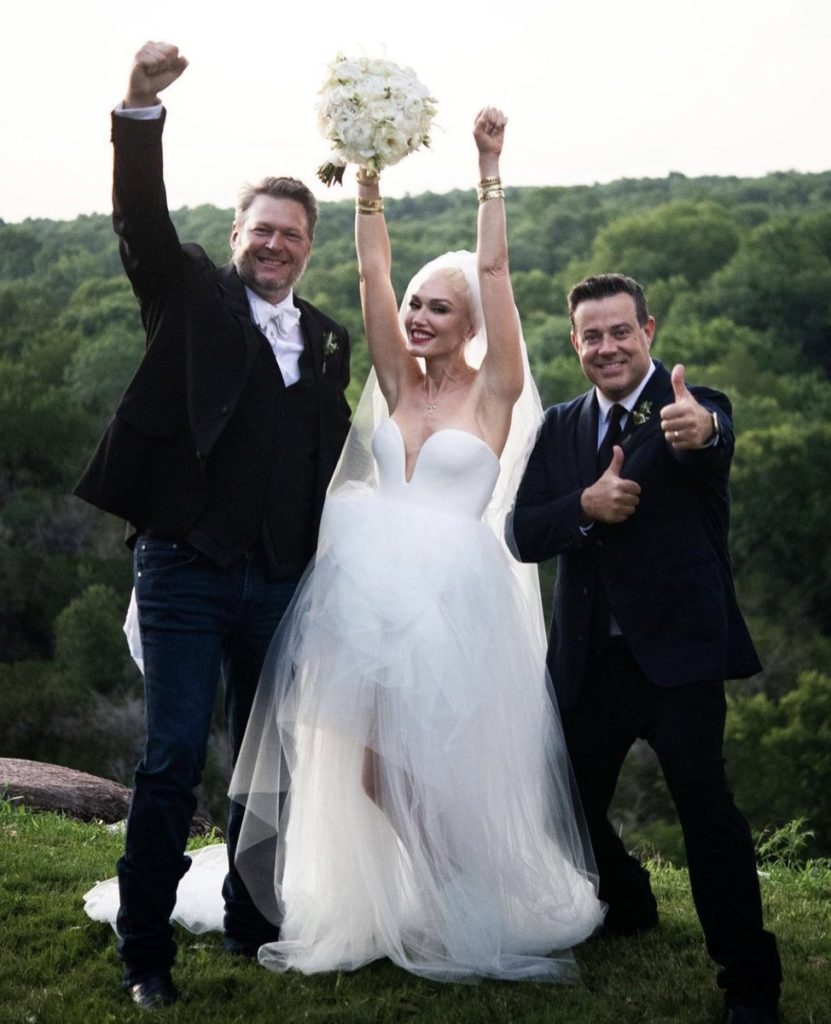 The new husband and wife cut into their five-tier wedding cake before dancing the night away to a playlist made for them by DJ Lucy Wrubel. Due to the busy careers of the pair, they decided to forgo a honeymoon.
George Clooney And Amal Alamuddin
In September 2014, the actor wed the human-rights lawyer in Venice, Italy. The bride arrived in a bespoke Oscar de la Renta gown, while the groom donned a classic black Giorgio Armani tuxedo and white gold Omega watch. The ceremony is iconic to this day.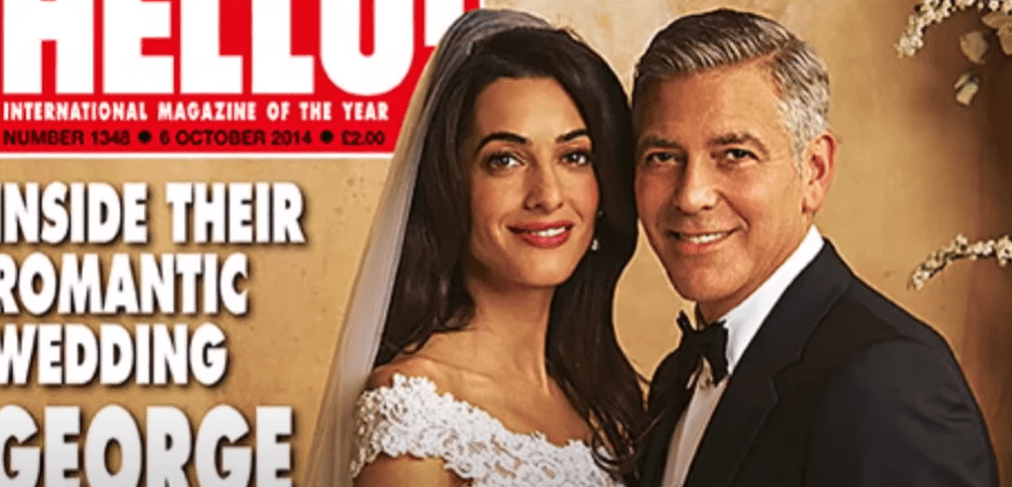 The famous pair were wed by their close friend and former Rome mayor Walter Veltroni. The reception was hosted at the Aman Canal Grande, where the newlyweds cut into a four-tiered art deco cake topped with a decorative sugar piece.
Lauren Conrad and William Tell
The Hills star wed the musician and Lawyer at a luxurious boutique winery within California's Santa Ynez Valley in September 2014. Fittingly, guests were welcomed with bottles of wine as gifts. The two chose to tour Italy for their honeymoon, which they apparently ate their way through.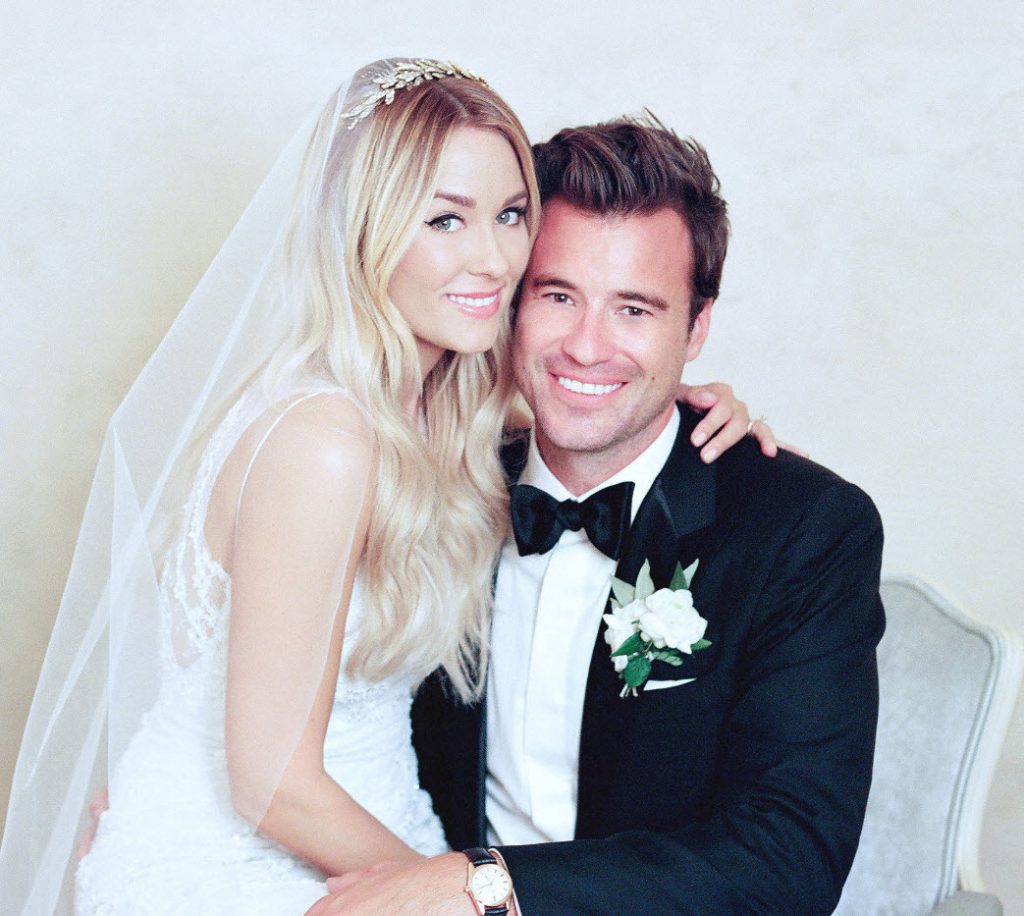 The fashion designer bride had nine bridesmaids, including Lo Bosworth and her sister, Breanna Conrad. Former co-stars Stephen Coletti and Frankie Delgado were also on the guest list. This beautiful pair is reportedly happily married, and two years ago, they welcomed their second child into their family.
Nick Jonas and Priyanka Chopra
This celebrity couple got engaged after several months of dating. The singer proposed to the Quantico star on her 36th birthday while they were in London together – and if her $2,00,000 ring was giving anything away – it was that their wedding was going to be even more extravagant.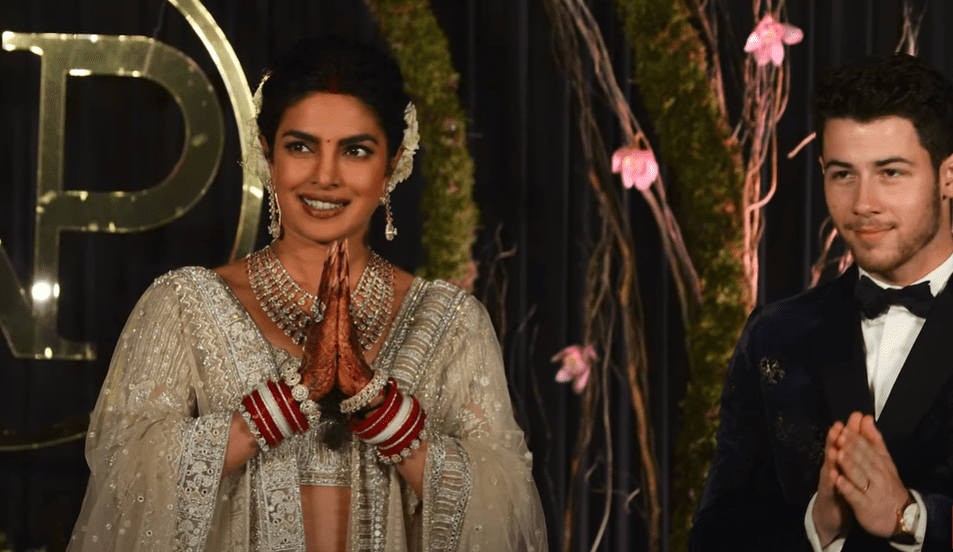 The couple had a massive wedding celebration that took place over four days in Jodhpur, India. The palace venue was packed with celebrity guests, many outfit changes, and a luxurious 75-foot train. In January 2022, the still very in love couple happily announced that they had welcomed their first child via surrogate, daughter Malti Marie.
Lindsay Lohan and Bader Shammas
This was definitely the wedding of the year for us! If you were born in the 90s, then Lindsay Lohan is a household name. She is one of the most talented actors to ever hit Hollywood, and just recently, she got secretly hitched to Bader Shammas.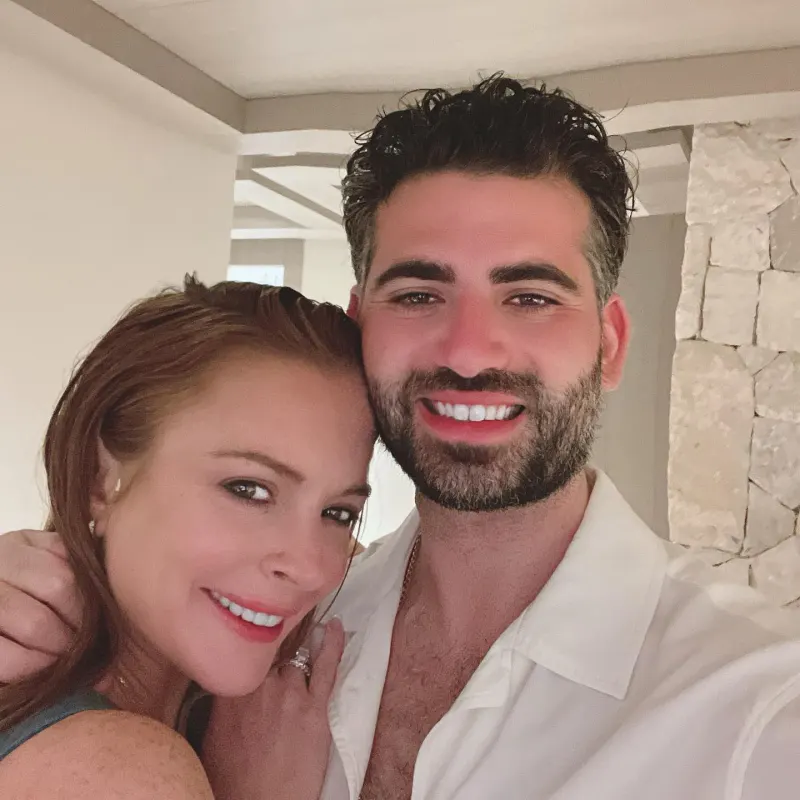 Mean Girls Star confirmed that the two had secretly tied the know just one year after getting engaged. Now, we know there is no white dress and ceremony, but the thought of Lindsay Lohan making strides and taking the leap makes us so happy, and we are here for it!
Nicky Hilton and James Rothschild
This trillion-dollar wedding between the hotel heiress Nicky Hilton and banker James Rothchild took place at Kensington Palace in London in 2015 after being together since 2011. The fairytale wedding was praised by all who attended the lavish affair.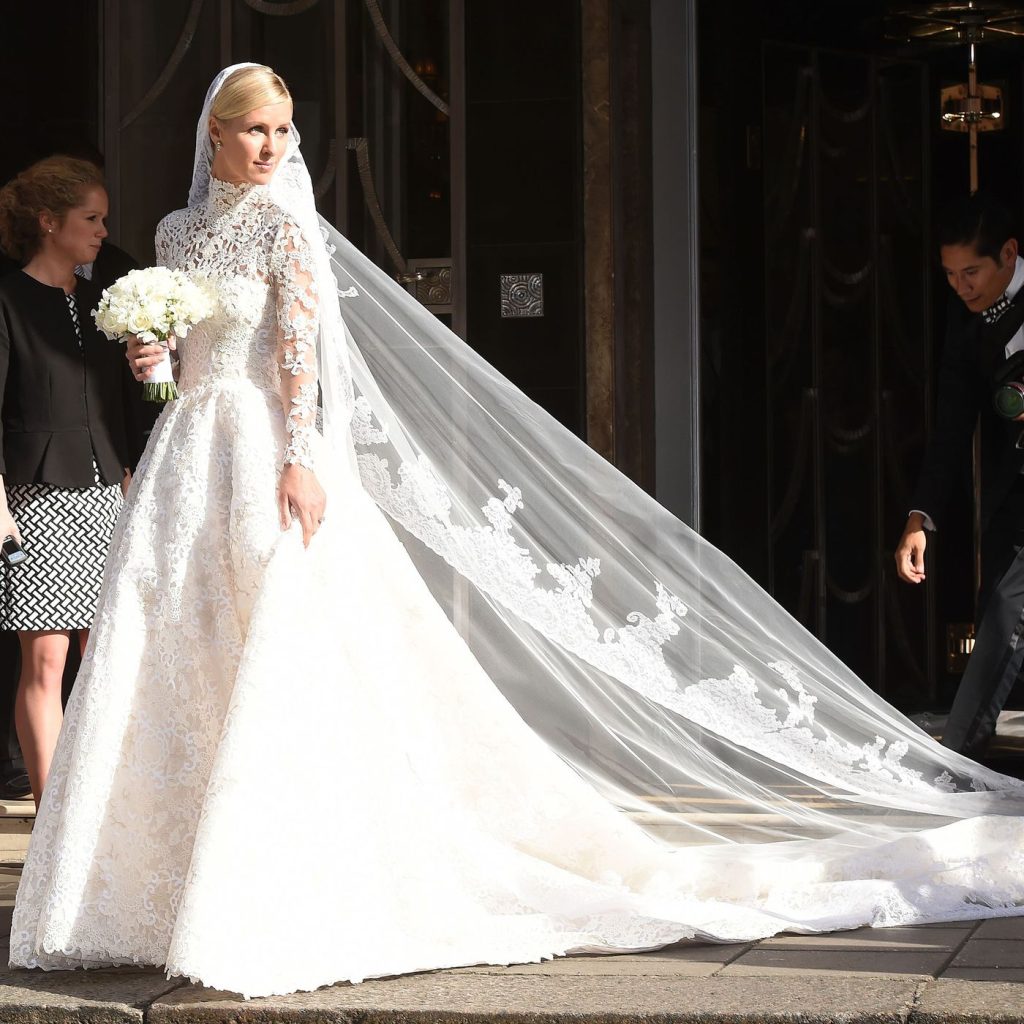 The 31-year-old bride wore a Valentino Haute Couture gown laden with crystals, of which there were, of course, tons of photos posted by Nicky's sister Paris Hilton, who was the maid of honor. In one of her Instagram posts, she stated that she was "so happy that [her] sister found the man of her dreams."
Nikki Reed and Ian Somerhalder
These two vampire stars (from different origins) became man and wife in an intimate wedding ceremony surrounded by their closest family and friends. The union took place on the 26th of April 2015, outdoors at Topanga Canyon in California.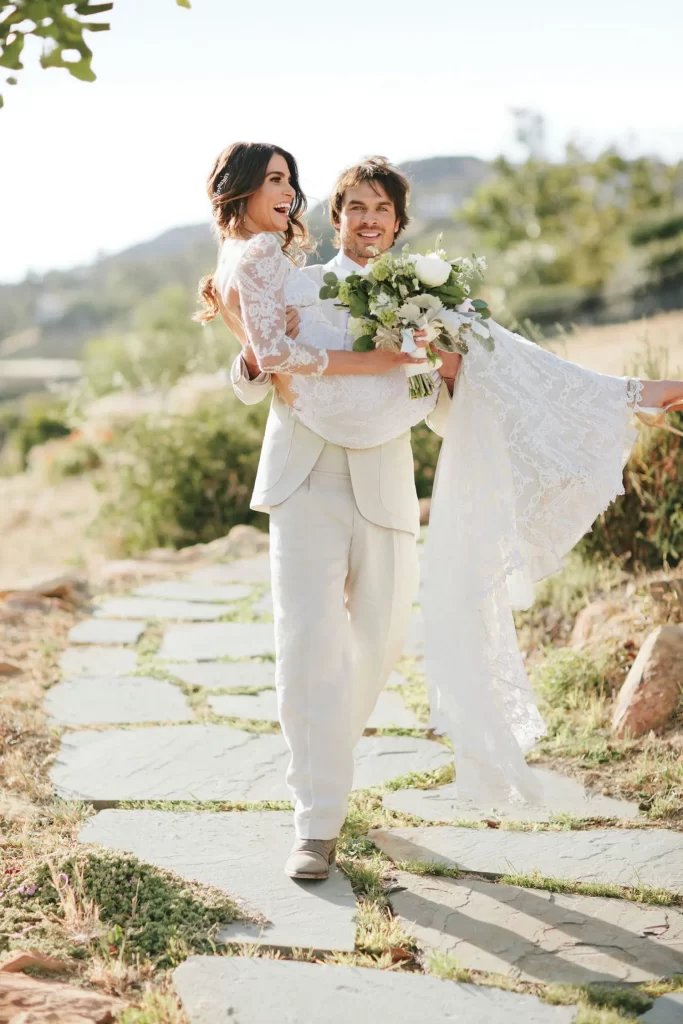 The wedding was such an intimate affair, in fact, that the guests attending had no idea that they were attending a wedding. Reeds' something blue was also a little less traditional as she chose a blues band to fulfill the tradition. The couple is still going strong and welcomed their daughter, Bodhi Soleli, into their little family in 2017.
Joe Jonas and Sophie Turner
"So nice they did it twice." Singer Joe Jonas and Game of Thrones star Sophie Turner met in 2016 and tied the knot in Las Vegas following the May 2019 Billboard Music Awards. This pair's ultra-secret wedding took place in the South of France at the Château de Tourreau in 2019.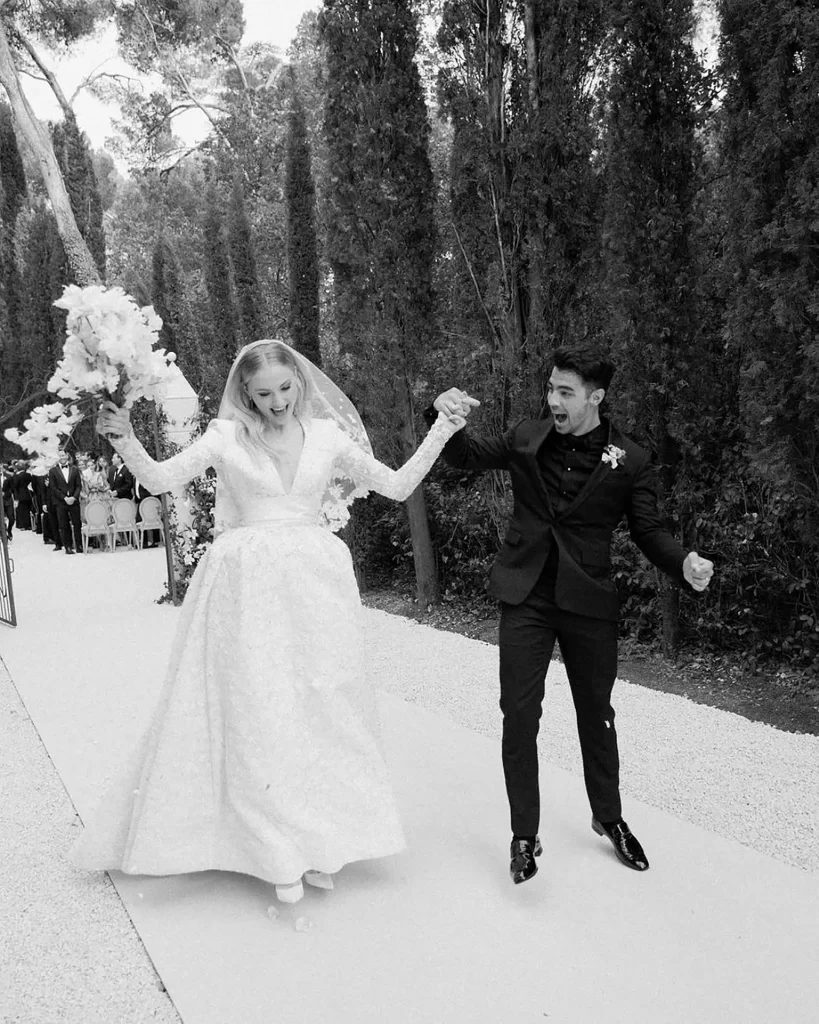 The 30-year-old bride walked down the aisle towards the love of her life in a lace, long-sleeved Louis Vuitton dress, and Joe Jonas was photographed serenading his bride with the help of his brothers and band mates, Kevin and Nick. 
Kate Moss and Jamie Hince
Supermodel Kate Moss wed her guitarist partner, Jamie Hince, at St Peter's Church in Southrop, Gloucestershire, England. The wedding party – including a succession of sixteen bridesmaids, including daughter Lilla Grace, arrived in six Rolls Royce's on the memorable day.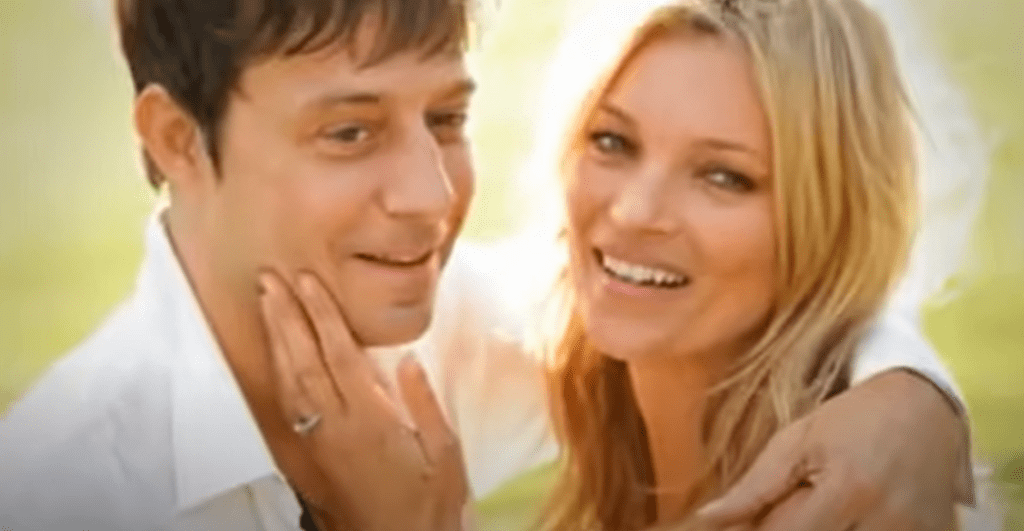 The bride wore not one but three separate looks on her special day. The wedding was described by many as being very Kate and Jamie – from the fashionable outfits to the very chic decor, and will definitely be remembered fondly by all who attended.
Kim Kardashian and Kanye West
Now, we know that this couple parted ways in 2021 after nearly seven years of marriage – but that doesn't take away from how memorable their romantic wedding weekend in 2014 was. The extravaganza started off in Paris, where they enjoyed a lunch at Valentino's French chateau, followed by a rehearsal dinner in Versailles.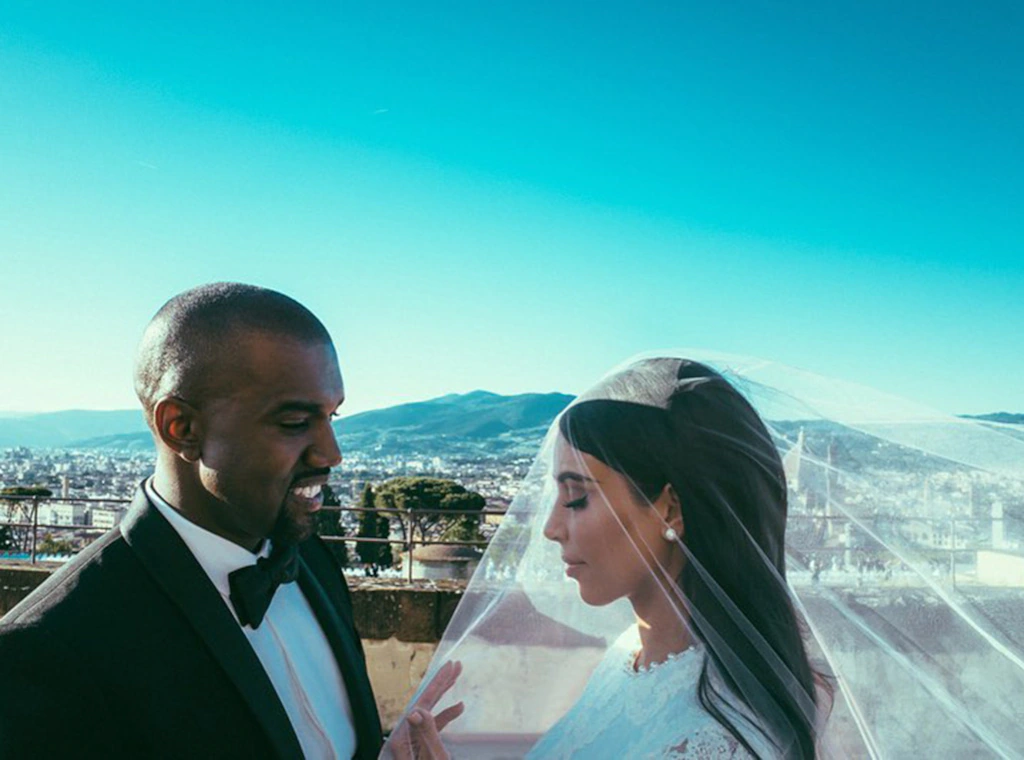 On the morning of their wedding, the couple flew their guests to Florence, Italy, where they held their wedding ceremony at Fort di Belvedere – a sentimental spot for them as this is where their daughter North was reportedly conceived. The weekend was estimated to cost a whopping $2.8 million – which is no surprise given the celebrities' incomes.
Serena Williams And Alexis Ohanian
Tennis superstar Serena Williams tied the knot with Reddit co-founder Alexis Ohanian in November 2017 at the Contemporary Art Center of New Orleans. The couple's decor was Disney-inspired, complete with a gold arch of flowers at the end of the aisle.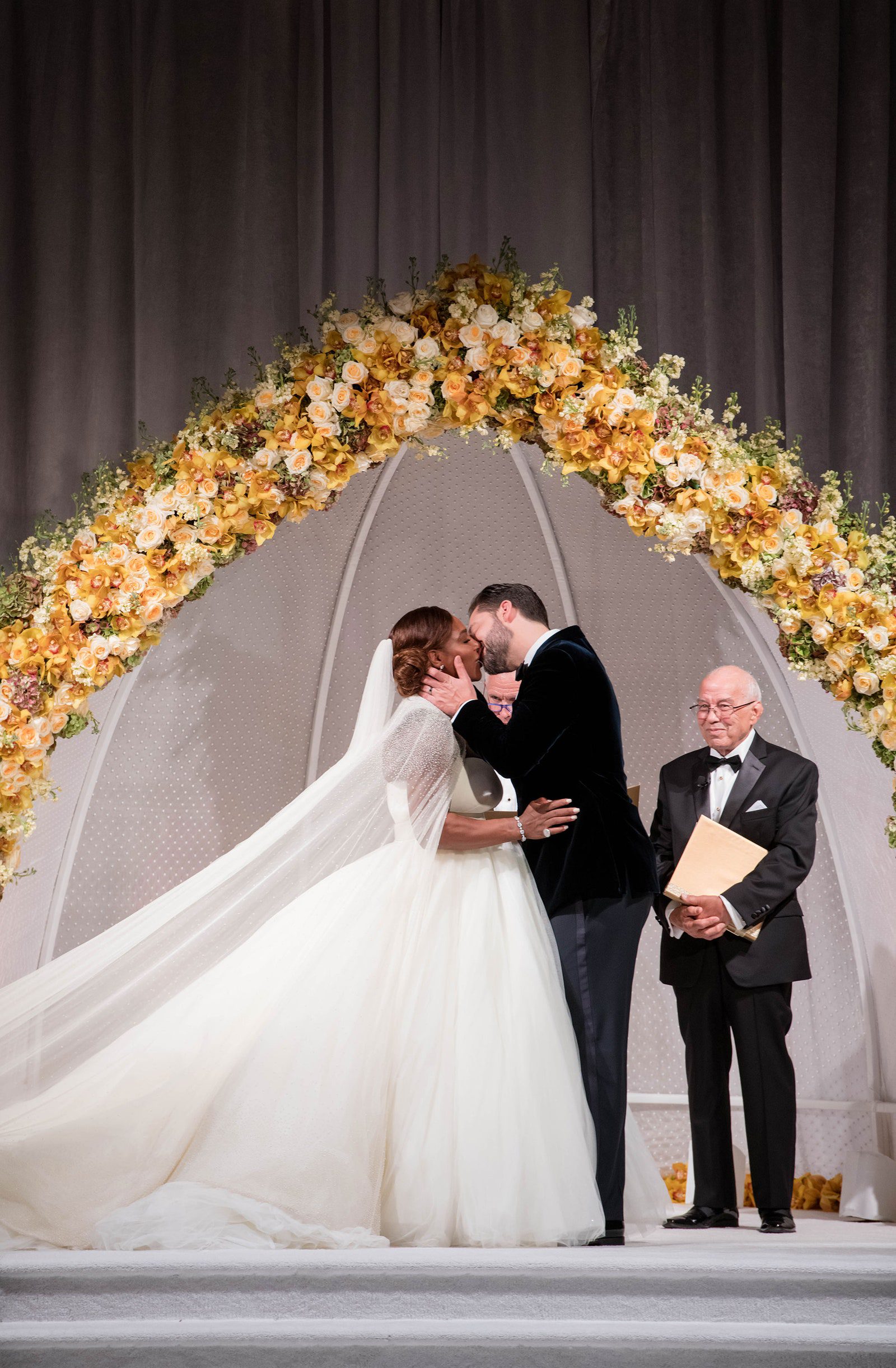 The blushing bride wore a regal ball gown fit for a queen, designed by Sarah Burton from Alexander McQueen. Donning a casual $3.5 million worth of XIV Karats jewelry, Serena walked down the aisle towards her groom, who was wearing a luxurious Armani suit. The couple is still very much in love. Their daughter Alexis Olympia Ohanian Jr is soon to be 5 years old.
Jillian Michaels and DeShanna Marie Minuto
We all are probably familiar with Jillian Michaels as the super intense celebrity trainer that seemed to be involved in anything that had to do with working out and reality in the mid-2000s. Well, she has decided to settle down recently.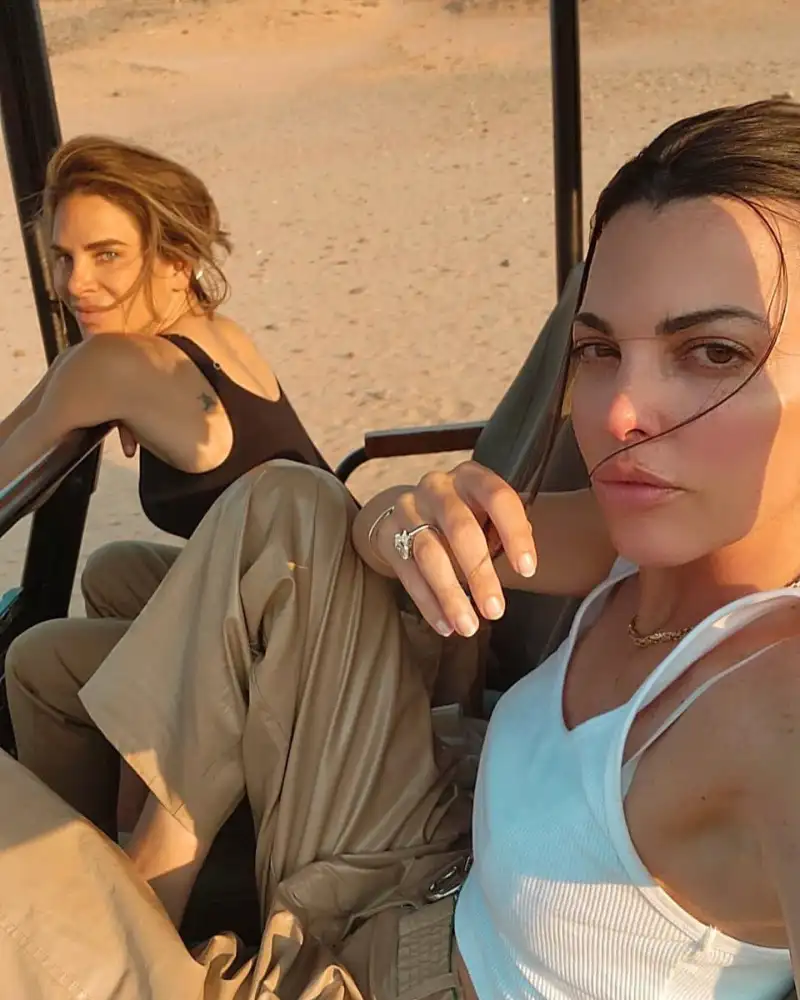 On July 22 on Instagram, Micheals poured her heart out, saying, "It's an honor and an adventure saying I do to you," and, "Finding you… my person… and eloping in Africa together has been one of the most magical and transformative chapters of my life."