Cheap But Chic: 40+ Brides Who Struck Gold With These Affordable Wedding Dress Finds
By Anni K January 25, 2023
---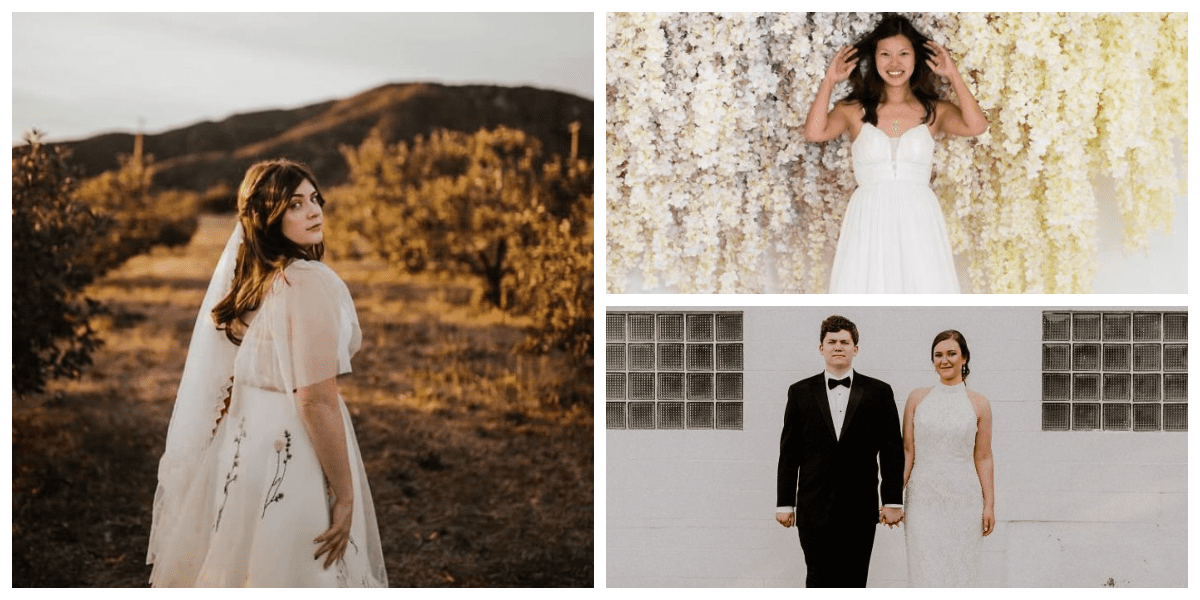 Many people regard their wedding day as one of the most important days of their lives, and for many good reasons. It is a day to celebrate finding your perfect match and celebrating the love with your closest friends and family.
But whilst we would love to say it's not about the wedding dress for most women, we would be lying. Of course, most brides would like to look their best, and that calls for a wedding gown as the first choice for many brides.
However, prices for a wedding dress are usually nothing short of a fortune. For a lucky few, though, they managed to somehow grab the perfect wedding dress for under $1000. From second-hand, bargain websites and even handmade, these are some fortunate finds. 
Sample Happiness
Most of us would be excited to find a discount tag of 30% off, but this bride was so lucky that the sample dress fit her so well and suited her taste because she got it for a whopping 87% off.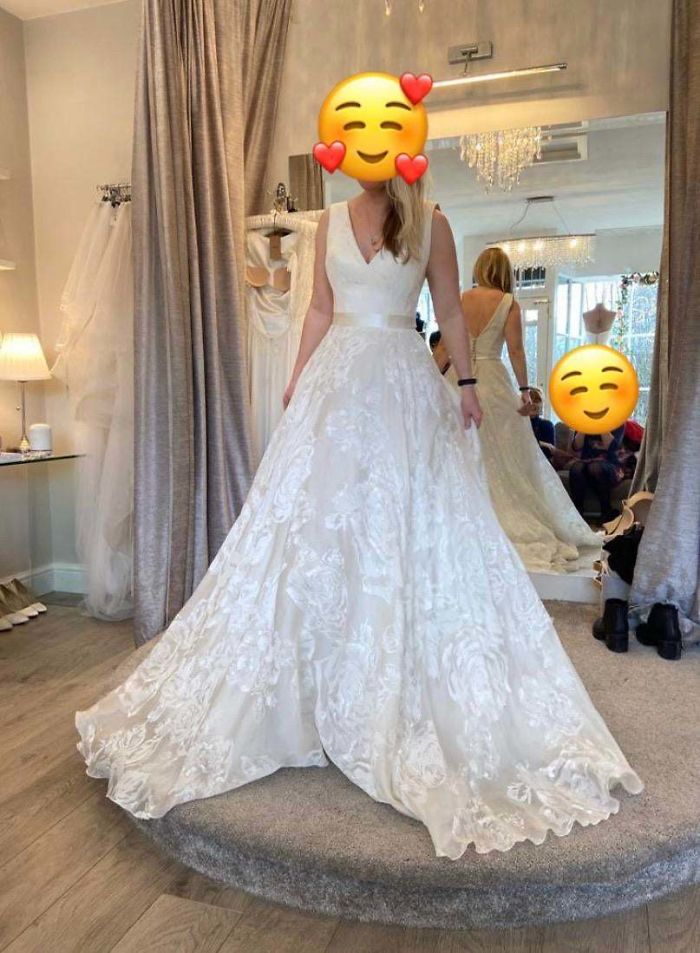 She doesn't say what the final price was for this dress, but even if it were $5000 initially, she would still have a bargain on her hands at 87% off. Just look at that gorgeous dress and how well it fits her.
Fairytale
Weddings are often synonymous with fairytales because not only do you feel like it is too good to be true that the day finally arrived, but your own version of the quintessential happily-ever-after becomes a wonderful reality for you to enjoy.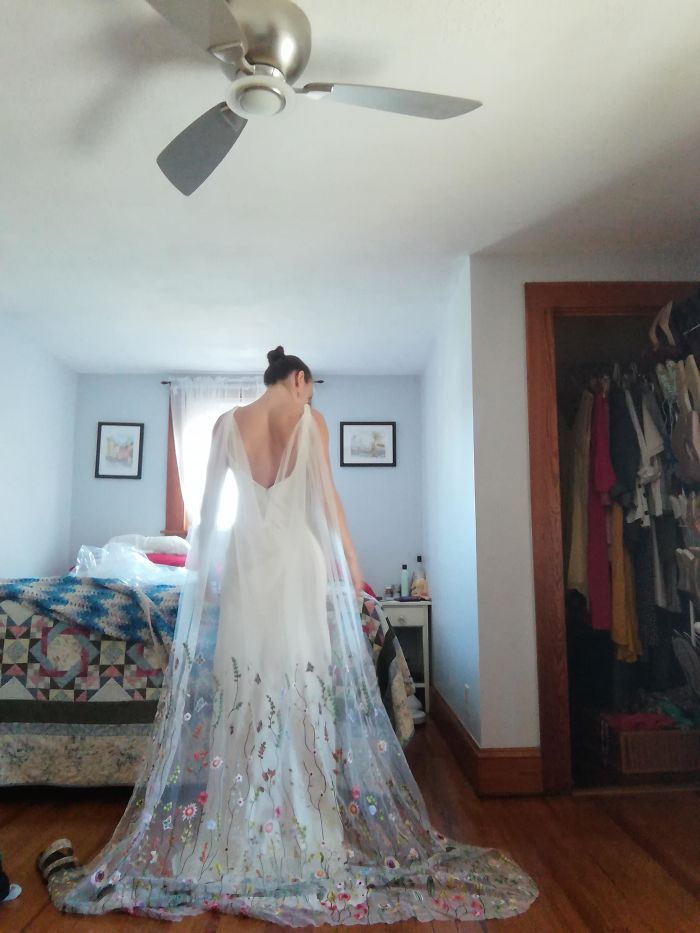 This dress and gorgeous veil look like they should be straight from a fairytale. The outfit was handmade for under $550, which is a massive win and a bargain, in our opinion. Usually, handmade dresses are either low quality or cost a fortune. 
Online Win
You might have seen a few disaster stories floating around on the internet, where people order something like a dress or pair of shoes from the internet, and it either looks like a horribly cheap knock-off or it is a miniature-sized item.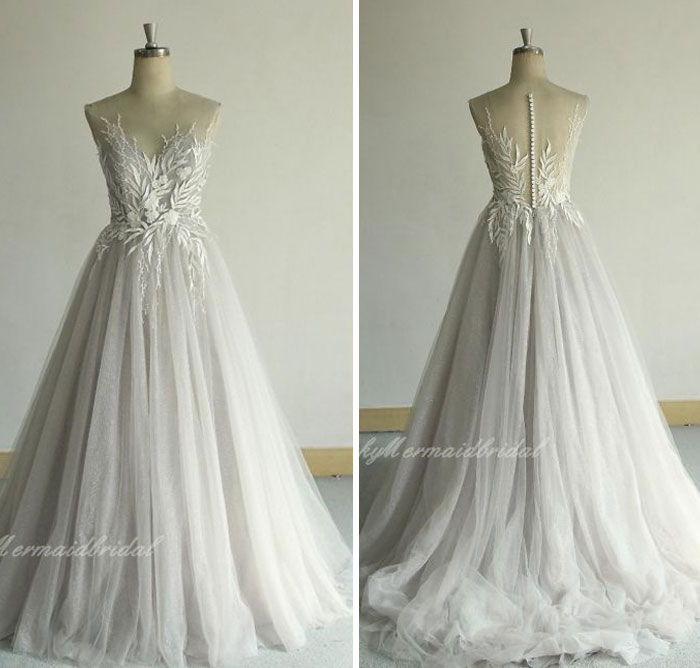 Taking a risk on a cheap wedding dress only adds to your stress as a bride. There's a lot to think about; you want to have a gorgeous dress, and you're planning a million things and trying to make your budget work. Luckily this bride didn't need to buy a backup since this dress was pretty much perfect. 
Thrift Shop Score
Thrift shops are one of our favorite places to find treasures. However, we have to admit; we haven't ever been lucky enough to find a wedding dress that looks incredible and isn't riddled with some suspicious stains or ripped to shreds.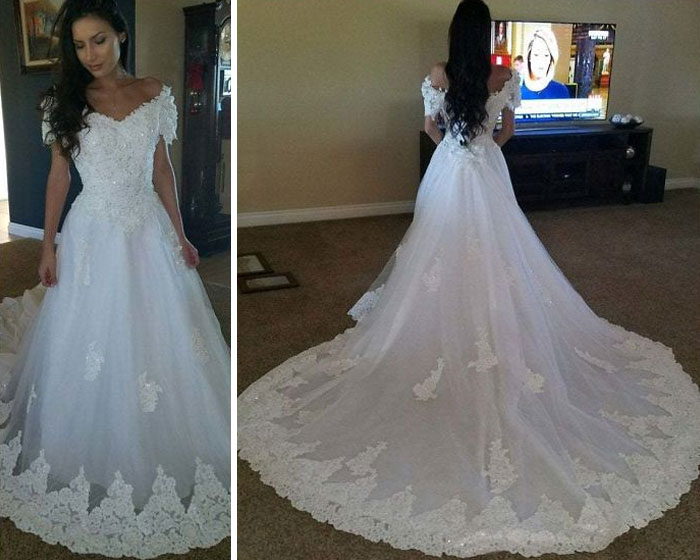 This bride looks like she scored a perfect bridal gown for only $70 at the thrift store. We are no experts, but it looks like it could be a designer dress. Whoever gave this wedding dress away didn't know there was a huge market for second-hand dresses.
Plus Sized Score
Being a plus-sized bride makes it slightly more difficult to find the perfect dress since most affordably-priced wedding dresses are made in a limited size range or in unflattering designs. This really shouldn't be an issue you have to deal with anymore.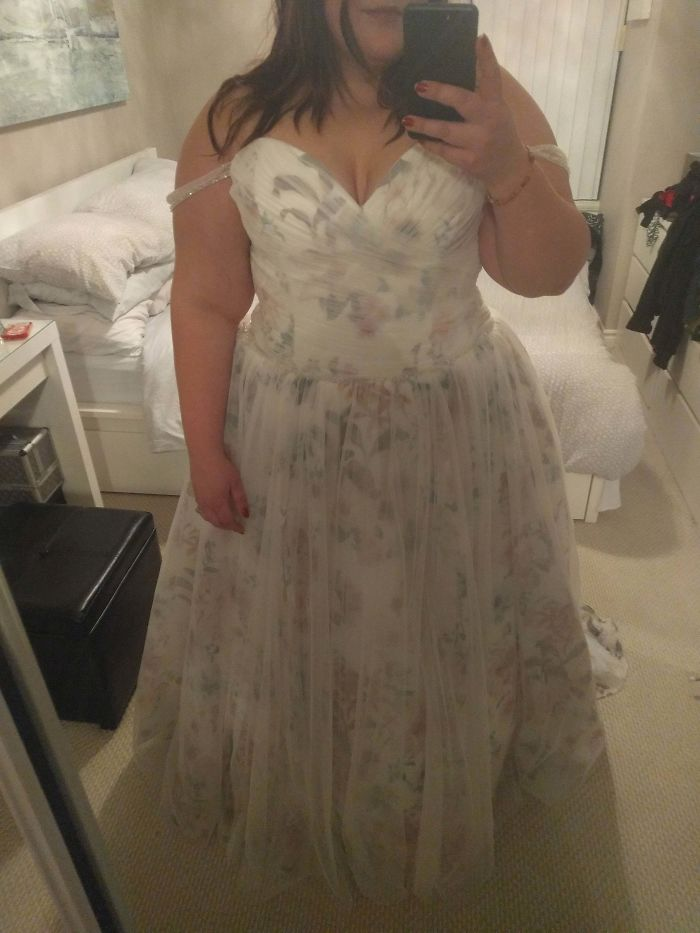 So usually, you end up spending more because you need the dress tailored to fit and flatter you just right, which is very unfortunate. This bride took a chance on a floral print dress for only $250, and we think her risk paid off very well. 
Vintage Bride
Vintage dresses are usually either hundreds to thousands of dollars, or they are hand-me-downs that you really don't want to wear even though your mother and grandmother are forcing you to wear them, and you can't break their hearts by saying no.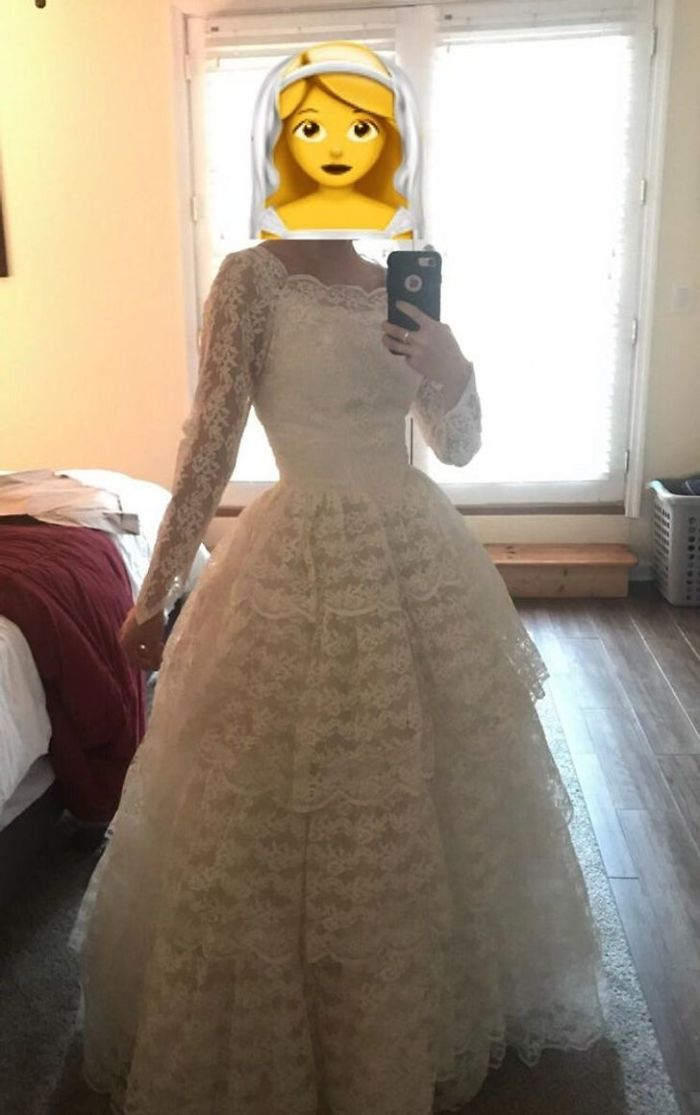 But for this bride, she struck gold! She found this vintage gown on Etsy for only $170, and it is from the 1950s. It fits her perfectly without any alterations made to the dress. We can only dream of how vintage and beautiful her wedding theme was. 
Great Price
We can see just from the background of this bride's photo that this store must be super expensive to buy a wedding gown from. In addition, the dress she is wearing looks like it is supposed to cost over $2000.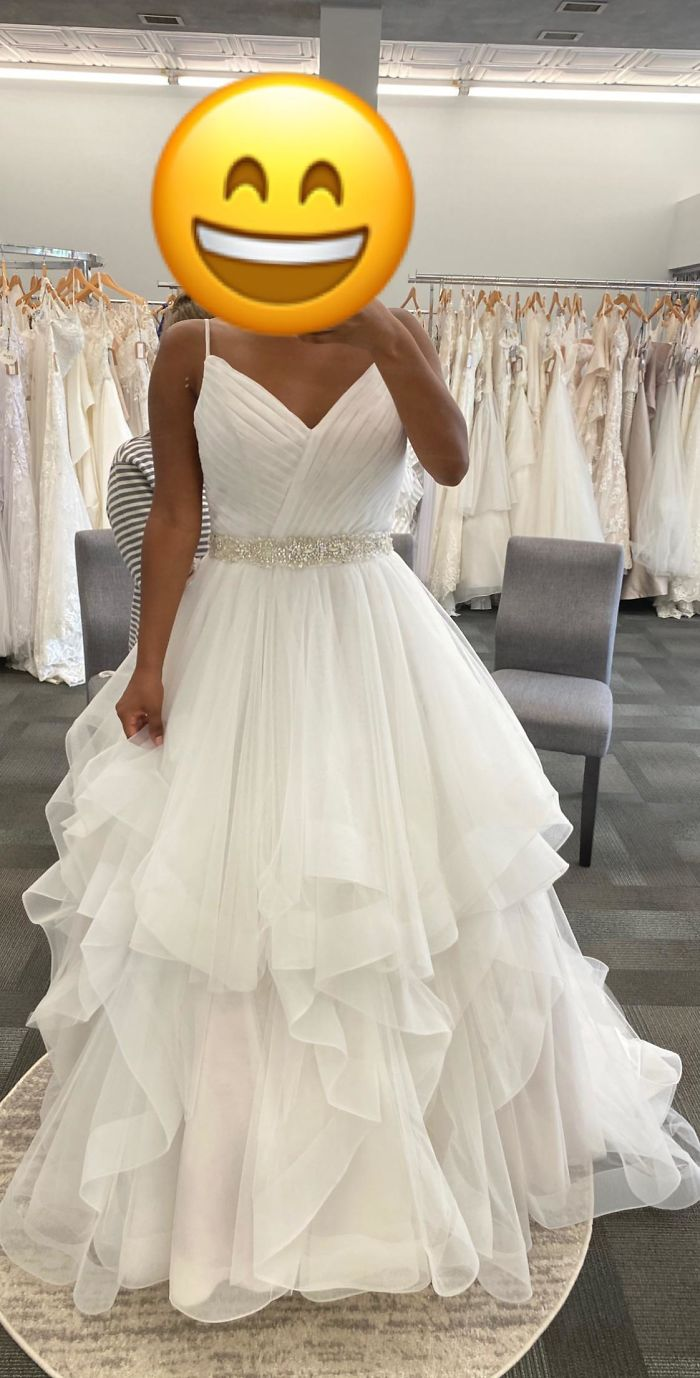 This bride was super lucky to get this dress for a mere $200. We can't help but think that maybe they made an error when tagging this dress, or there must be something wrong since this is too pretty for such a low price—and it is brand new!
Pockets
If you ever wore a dress or most women's pants, you know that there are just not enough pockets or they are far too small to fit anything of meaning. Most women carry a handbag which counteracts this problem, but what do you do on your wedding day?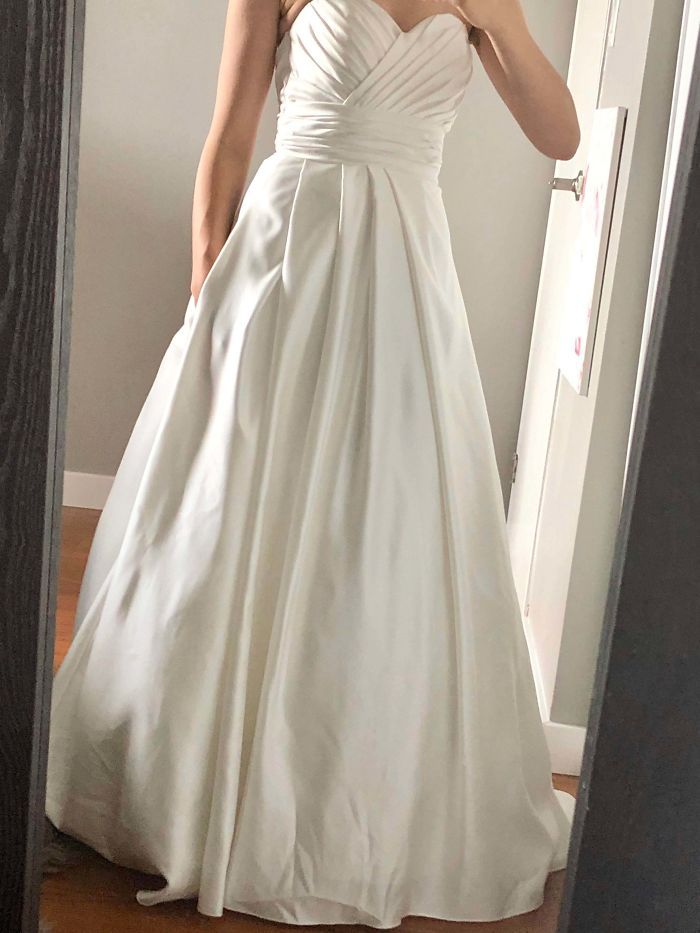 This dress was not only perfectly fitted to this bride's body, but it has pockets. She can conveniently keep a small item or two in them, such as lip gloss for the odd touch-up, tissues for some happy tears, or, if you're feeling peckish, a small snack. We give this dress a 10/10!
Salvation
Salvation Army is a sort of charity shop where you donate unwanted goods, and you buy things other at a great price—including wedding dresses. This romantic-styled wedding dress costs way less than you might think. We would guess $100, but the actual price tag was only $20.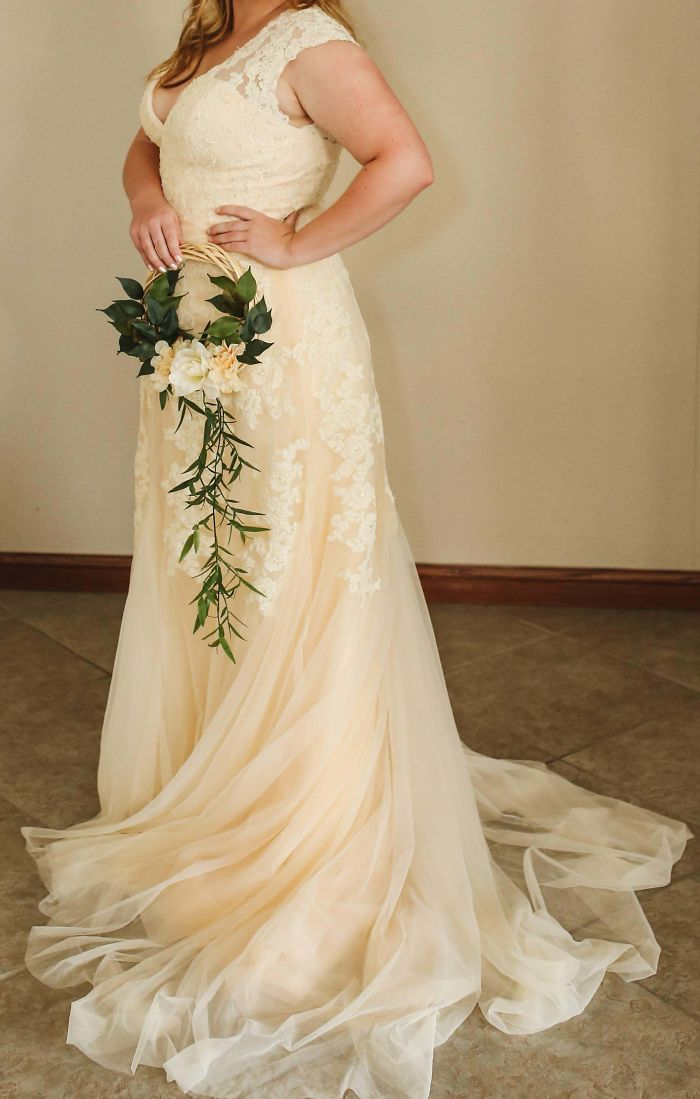 Yes, you can get a gorgeous wedding dress if you look hard enough for under $50. The bride apparently made her bouquet for only about $3. She is definitely thrifty. In fact, she should teach classes on how to achieve the look without breaking the bank.
Last Minute Dress
This bride got this stunning dress off of Etsy for only $311, including express shipping. We understand that weddings are a big deal to plan and get things done, but when you forget about your dress, surely you would go into a panic.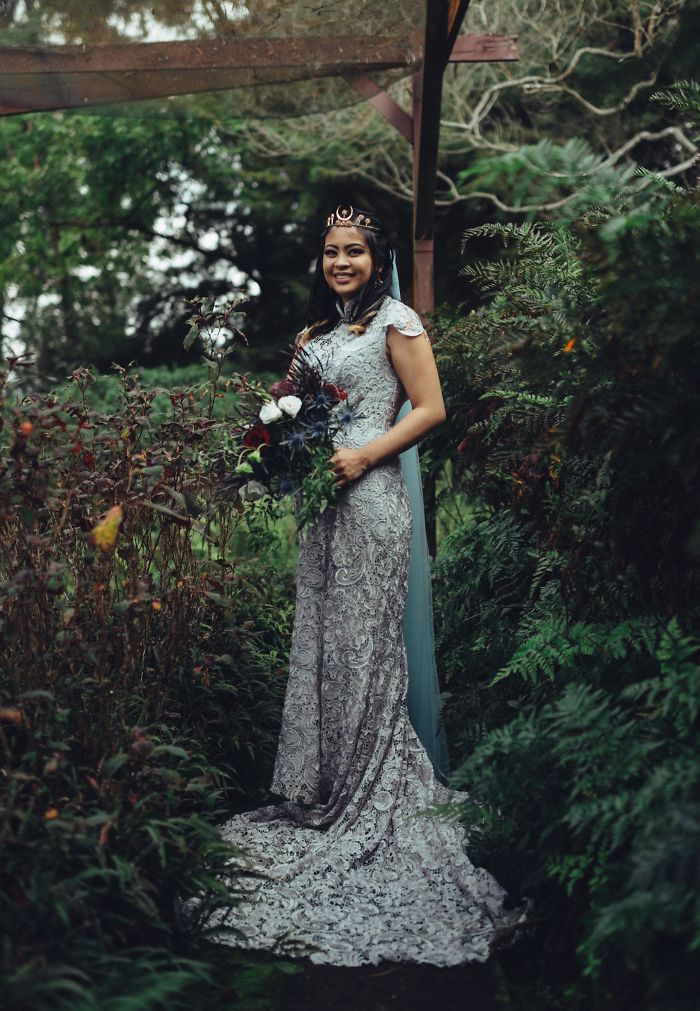 This bride got her dress shipped to her in a rush, and we can imagine the relief she must have felt after looking for the perfect wedding dress at the last minute for her Halloween-themed wedding. It matches the theme perfectly. 
Budget Cuts
There is a trend that seems great and awful at the same time where you not only have one wedding dress but two. You have a main wedding dress that is the showstopper that you wear to say your vows…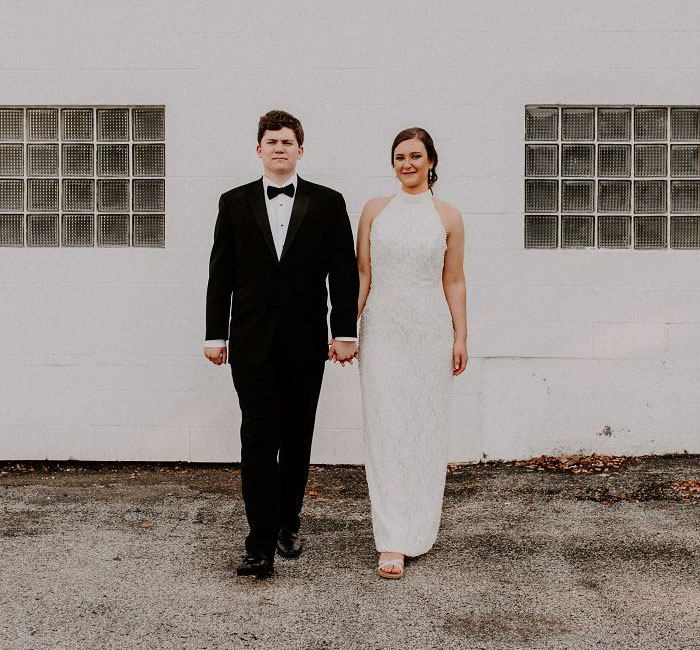 …and then you have a reception dress which is usually still gorgeous but much more comfortable to dance and party in. It is great because you don't ruin your super expensive dress. However, you have to buy two expensive dresses! This bride was smart and thrifty and got her reception dress for only $25 at Goodwill.
Poshmark
If you haven't heard of Poshmark yet, it is a platform where you can easily sell the clothes you no longer need, or you can browse what others are selling. It's a fantastic way to go thrift shopping online. No more hassle of wading through mountains of clothing.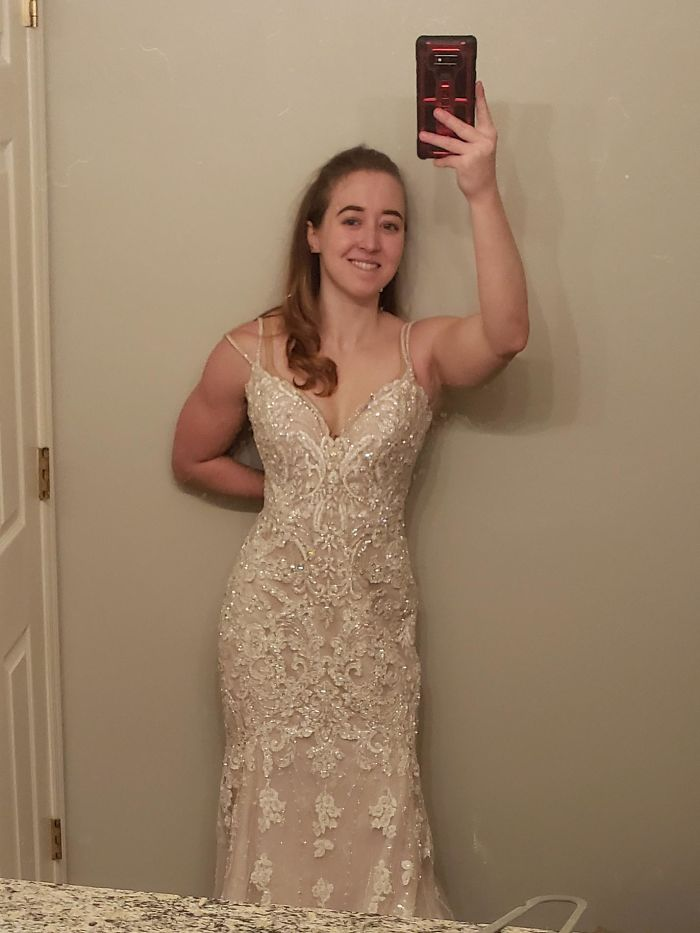 This bride found a designer dress (Martina Liana) on Poshmark that is valued at around $3000 for a mere $500. Of course, you can see she is elated about the fact that she got a designer gown for a fraction of the price—we would be too.
Bridal Store Sale
Sometimes, it is fun to go into expensive boutiques just to try on clothes that are way over your budget to feel and look good for a short moment. When this bride went to a boutique that she'd been eying, she wasn't disappointed.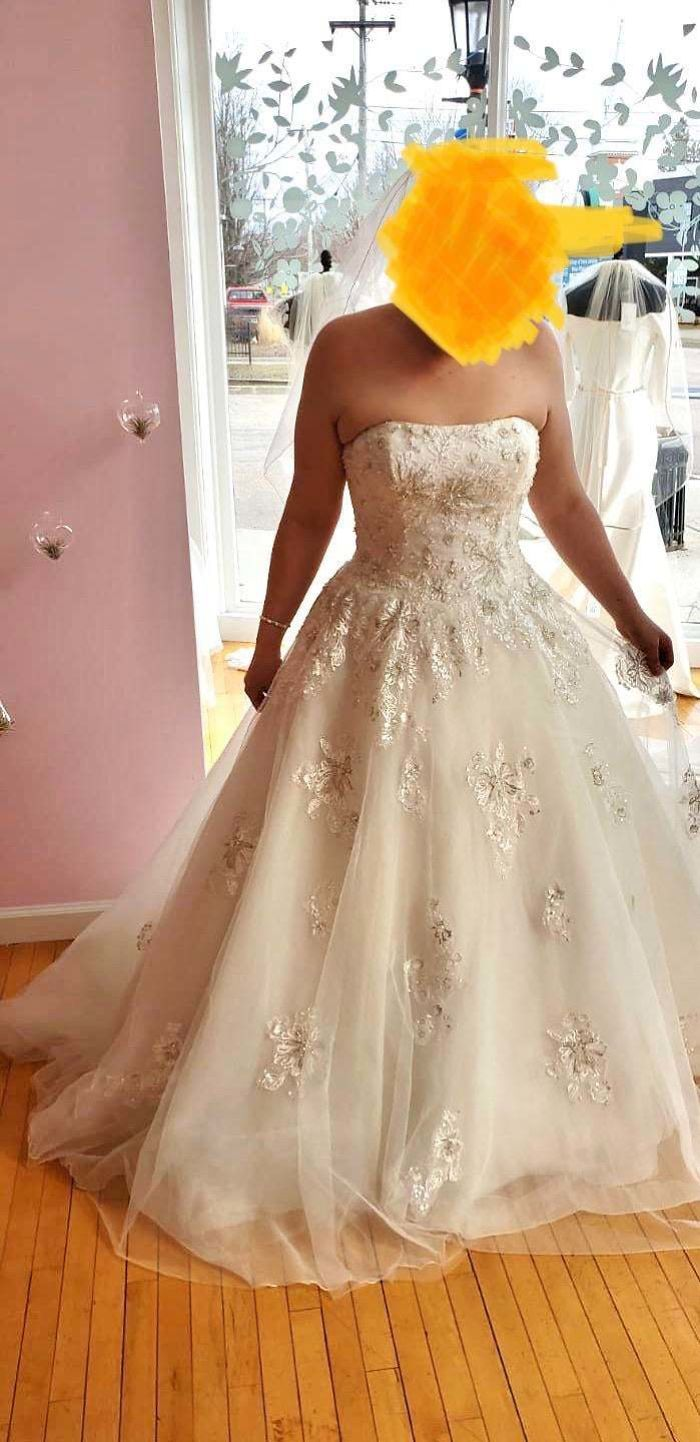 She had a strict budget of only $600, which is already a lot of money, but the store said their dresses start at $1000. Lucky for her, the sales consultant found an older dress for $400 in the basement, and it fits perfectly. It was meant to be.
Retail Bargain
ASOS, where this bride bought her dress, is an online retailer that sells clothing and cosmetics in the UK and is comparable to companies like Fashion Nova. There's no brick-and-mortar store to go to and fit your dress before buying it.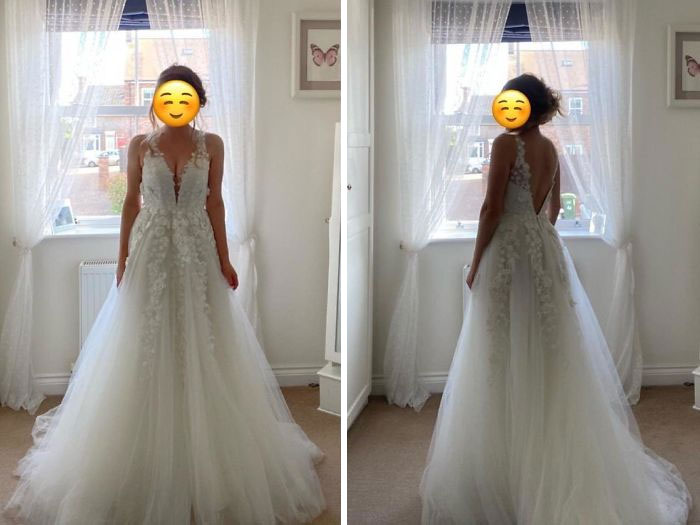 This bride took a chance at online shopping for her wedding dress and only paid about $370 for it. The dress looks like it would cost her thousands if she bought it from a bridal boutique. We are so glad it worked out in her favor. 
Simple and Stunning
Every bride has some sort of idea of what they want their wedding dress to look like. When you are able to snatch your dream dress up for only $25, we're sure it feels even better to wear it down the aisle.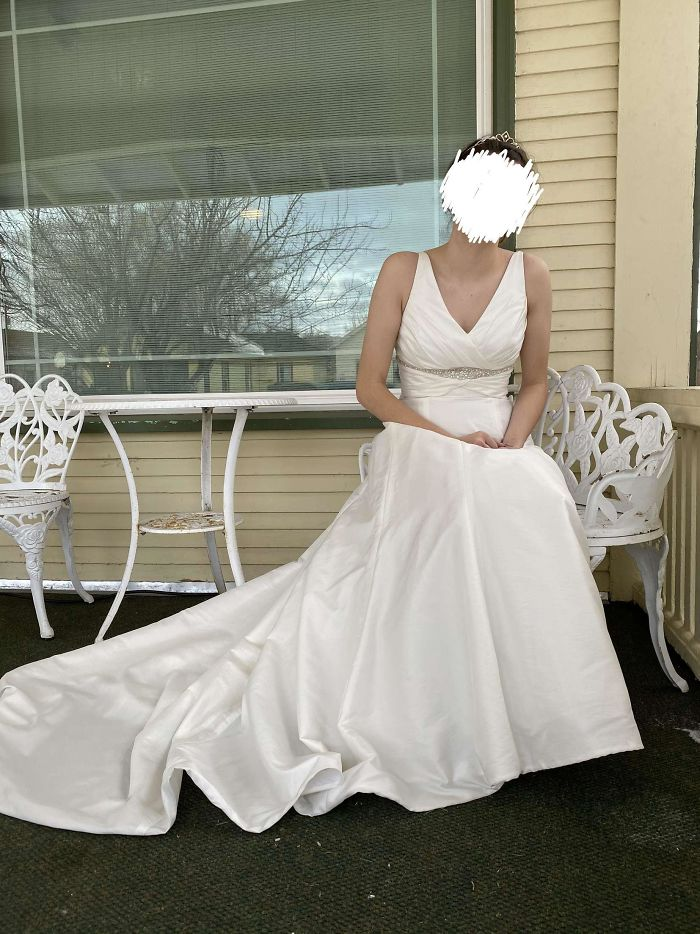 $25 is pretty much a coffee and a bagel, so when that is all that you spend on your wedding dress, you know your budget and wallet are thanking you. Why are wedding dresses priced so outrageously anyway? We need to talk to whoever is in charge of pricing.
Designer Dupe
This bride was excited to share that she scored this quality dress that looks very well-tailored from Amazon for only $94. We can hardly believe that it is possible to actually find affordable wedding dresses that look so high quality.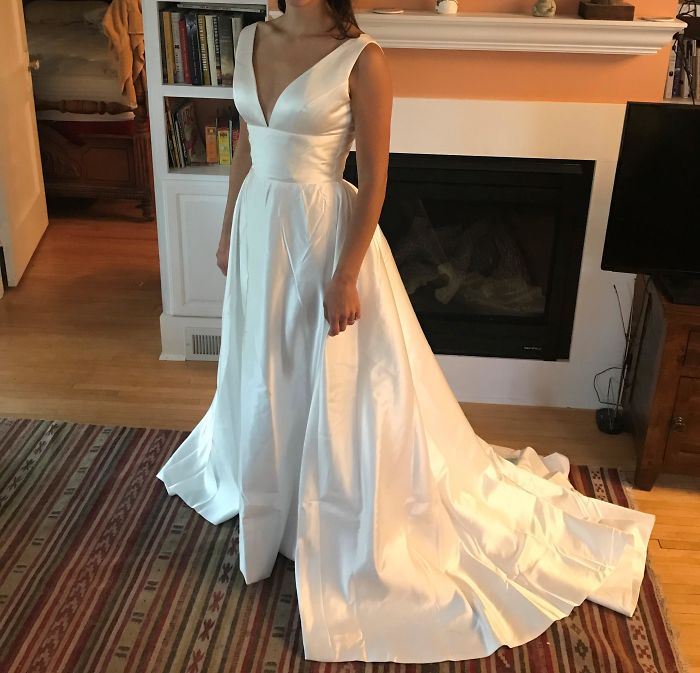 So, now the secret is out, you don't have to pay thousands and get yourself into debt for a wedding gown. You can have it shipped to you the next day for less than $100. Would you order your wedding dress on Amazon?
Picture Perfect
Take a look at this bride's ensemble, and guess what you would pay for the dress and everything else that goes along with it. Would you be shocked to know that the dress, veil, jewelry, and bouquet are all for less than $150?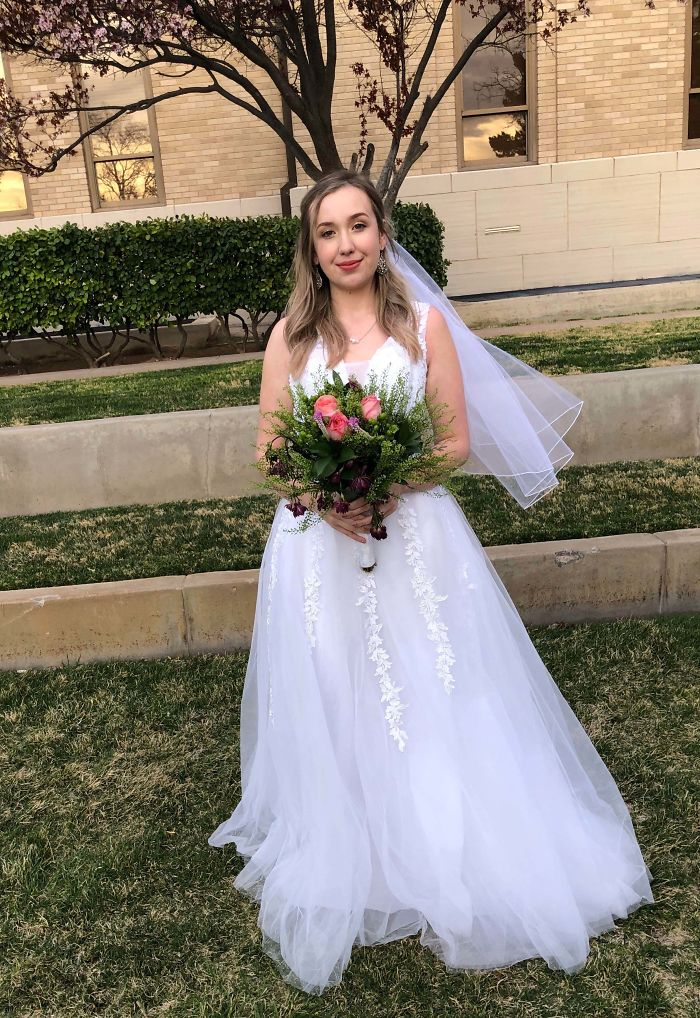 Usually, one can pay $150 for just the bouquet. This bride, however, said she got her dress for $100 from Amazon. She got her veil for $10 also on Amazon and bought her jewelry and flowers for $27. We love a frugal queen!
Go Big
This bride said that she was going to get married in the courthouse and didn't want to go big, but like many others, she said you only get married once (if you chose right the first time around) and decided to go big on a dress.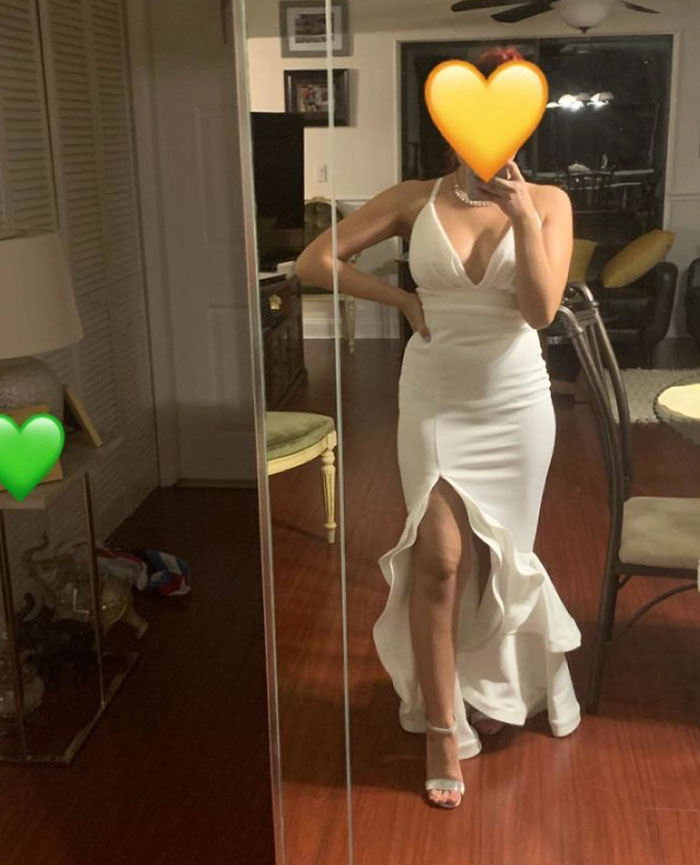 She planned to spend more but found a gem of a dress for only $53, and we think it fits her perfectly. In the end, she wanted to go big, and she did, but for a very affordable price. Good for her!
Double Discount
This bride shared that she had a wedding dress ready to go that she bought for only $80 from Lulus but went on to say she returned it and got an even cheaper dress from Amazon—and the dress looks great!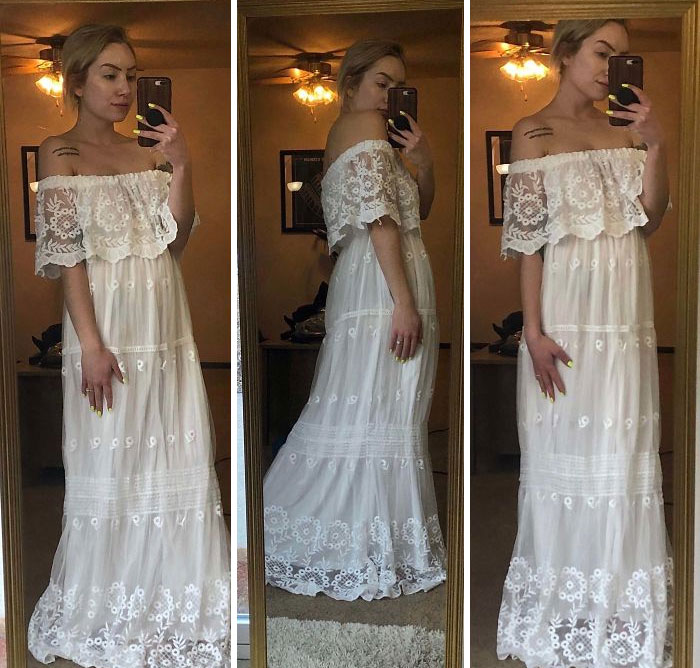 She ended up paying only $48 for this dress from Amazon, and it looks ideal if she is going to have a bohemian or summer beach wedding. We're just jealous that she had two bargains back to back when it came to wedding dresses. 
Under $20
You would expect to get a T-shirt or pair of flip-flops for under $20, but if you said to anyone you paid $12 for your wedding dress, we are pretty sure no one would believe you—especially if your dress looks like this one.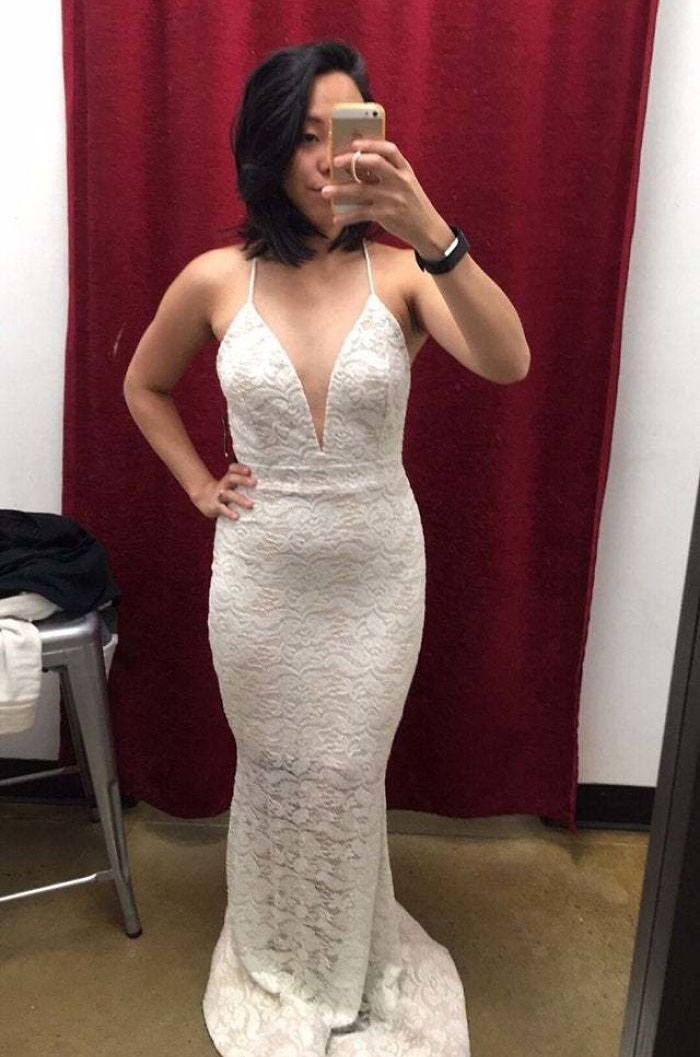 This thrifty bride found her dream wedding dress for $12 at a thrift store, and it seems like she won't even need alterations since it fits her so well. We are not only in awe of this dress, but we are seriously jealous, too!
Reasonable & Kind
This bride found her wedding dress at a store called Brides for a Cause, where not only are the dresses reasonably priced, but the profits also go to charities to help those in need. What a fantastic initiative! We need more stores like these.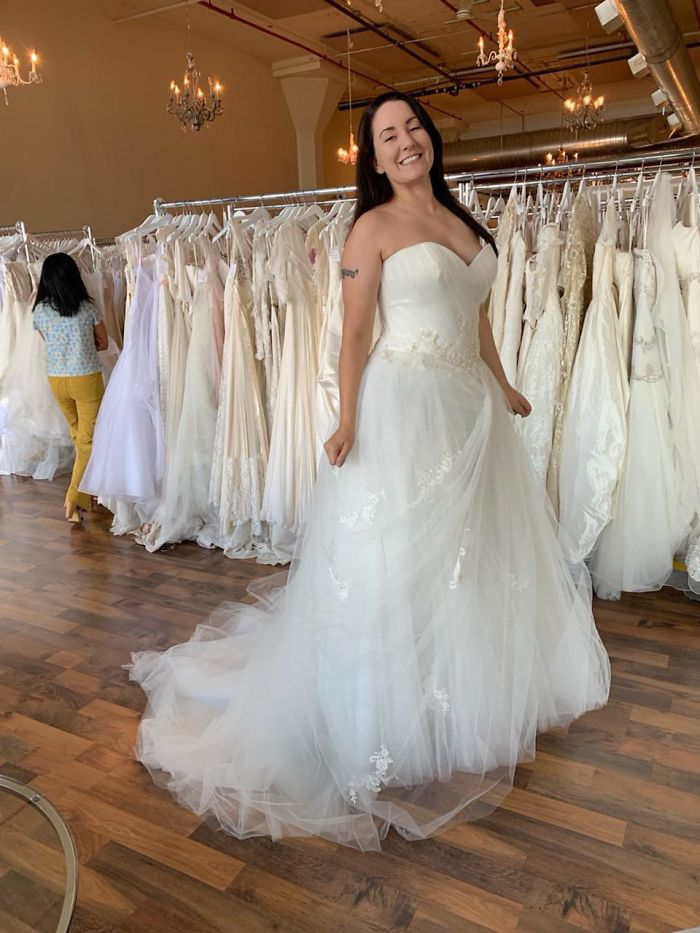 The bride said she would donate her dream wedding dress back to the store after she had her wedding so another bride could look and feel as beautiful as she did. How sweet! What a great cause and great prices too. 
Second-hand Score
This bride is wearing a dress that looks like it is tailored to fit her body perfectly. She shared her secret: you shouldn't rule out second-hand dresses since she saved over $1000 by shopping second-hand instead of buying a brand-new dress.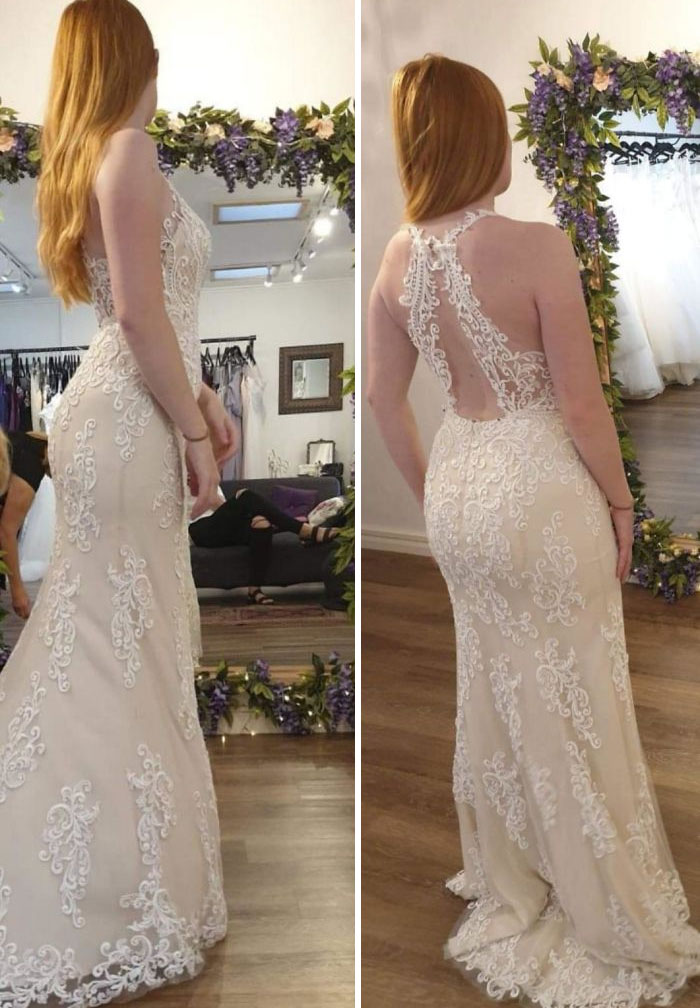 Although she doesn't disclose exactly how much this dress cost, with a saving of over $1000, that is pretty wild to us. Plus, if you know you're saving $1000, then surely that means it's been listed at a well-known store, so well done to her. 
Prom Queen
This smart bride got a prom dress on sale that worked perfectly as a wedding dress. In fact, we are not sure how people didn't market this as a wedding dress in the first place. It seems too bridal to wear to prom.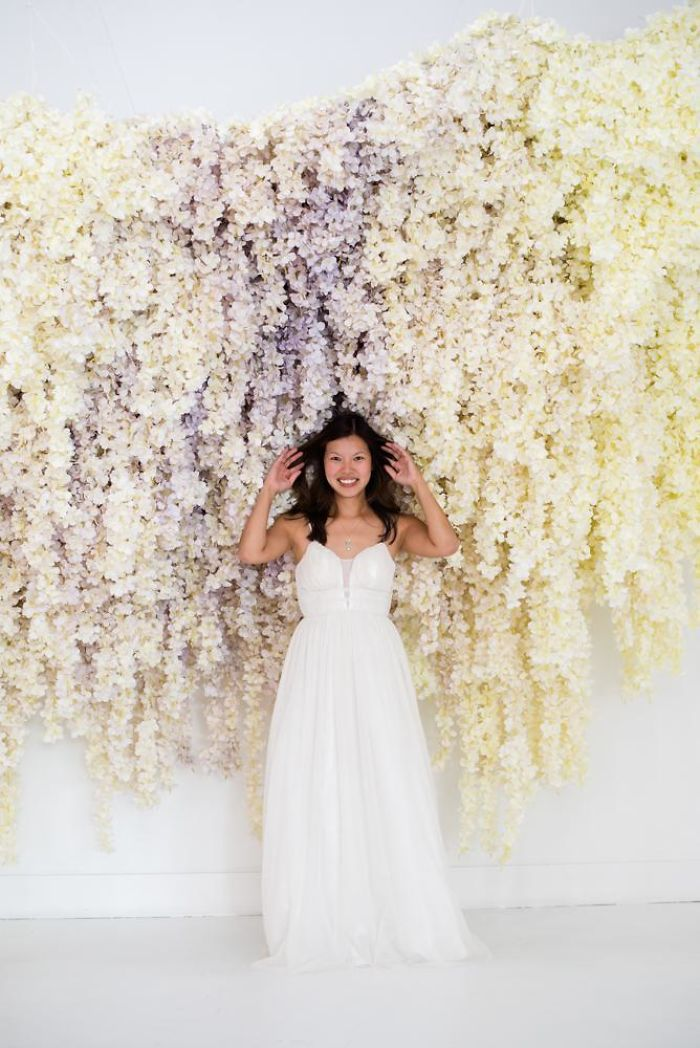 But luckily for this bride, she didn't have to pay the bride tax on this dress. In fact, she paid just $26, including sales tax. It seemed to be comfortable and well-fitting, and she seemed super happy in this photo. 
Hand-Me-Down
The problem with hand-me-down dresses is that if it is a hand-me-down from the 80s, it is not stylish by today's standards. So, we would be a little horrified to have to wear it or break our mother's hearts and tell her no.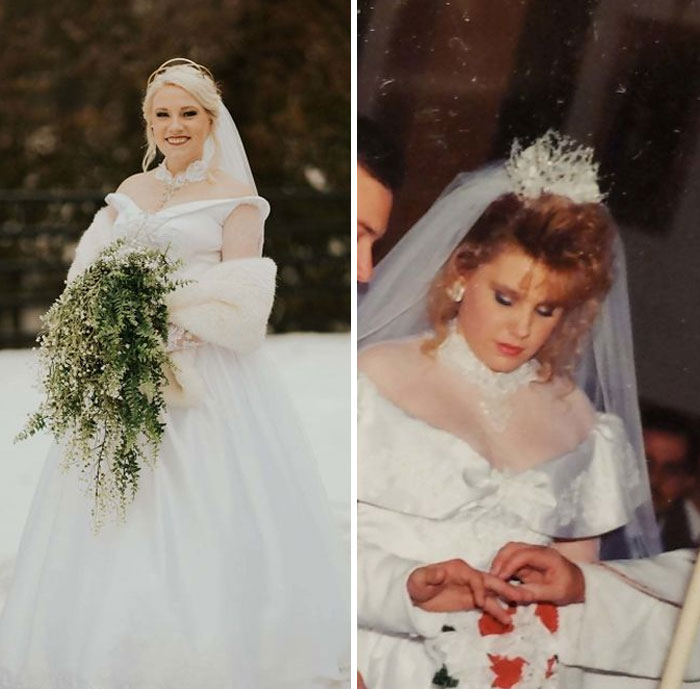 But this bride got lucky and altered her mother's old wedding gown to fit her well and updated it a little. She did it for only $300, which isn't too bad considering it has a lot of sentimental value to both women. 
Second-Hand Steal
This gem of a dress was found on Poshmark for a mere $150. It fits the bride like a glove, and that means no extra cash will be needed to make alterations to this dress. What an incredibly lucky find.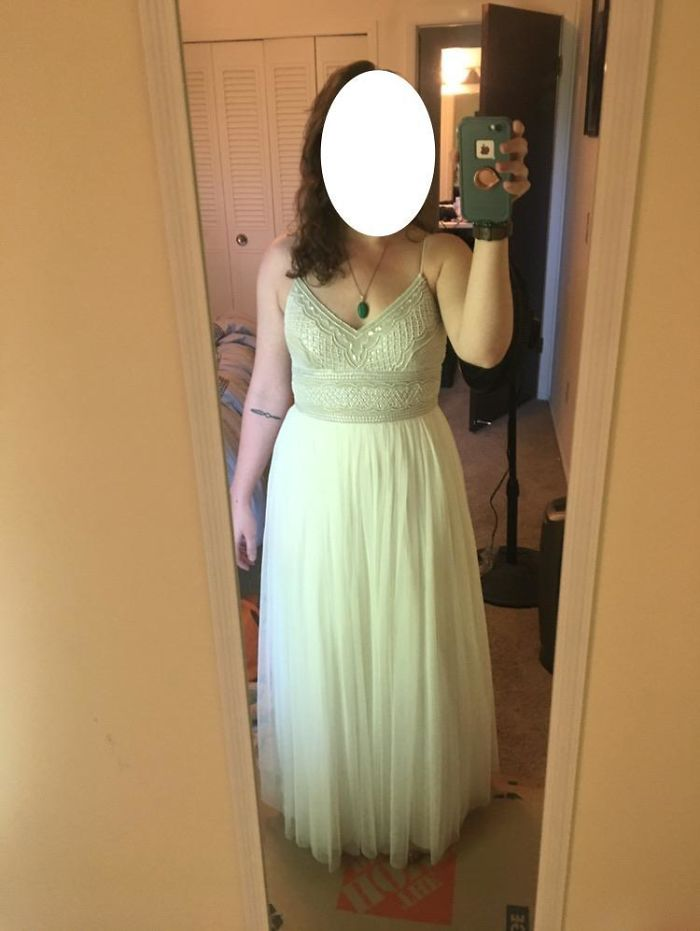 Beaded tops on dresses usually make the dress ten times more expensive because beading is something that usually needs to be added by hand, not by machine. So, getting an intricately beaded dress that looks this good for $150 is a miracle!
Chic and Cheap
This bride is over the moon with her wedding dress from Lulus for only $82! It looks super comfy but so elegant with the lace top. If she is having a vintage-inspired wedding or something more bohemian-inspired, this will be perfect.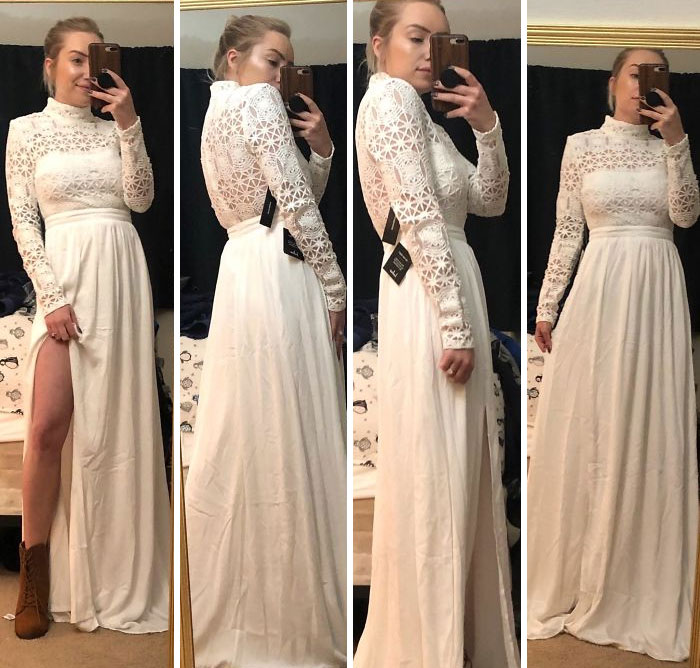 Honestly, next time we are looking for a dress, we'll skip the bridal boutiques and see what sundresses are available in white or cream. It certainly worked out so well for this bride. She must have looked like a dream walking down the aisle.
Discounted Deal
There is nothing like finding your dream wedding gown and then realizing it is over $1000. This bride's ideal dress originally cost $1300. She had to consider whether she was going to take it or try to save some money.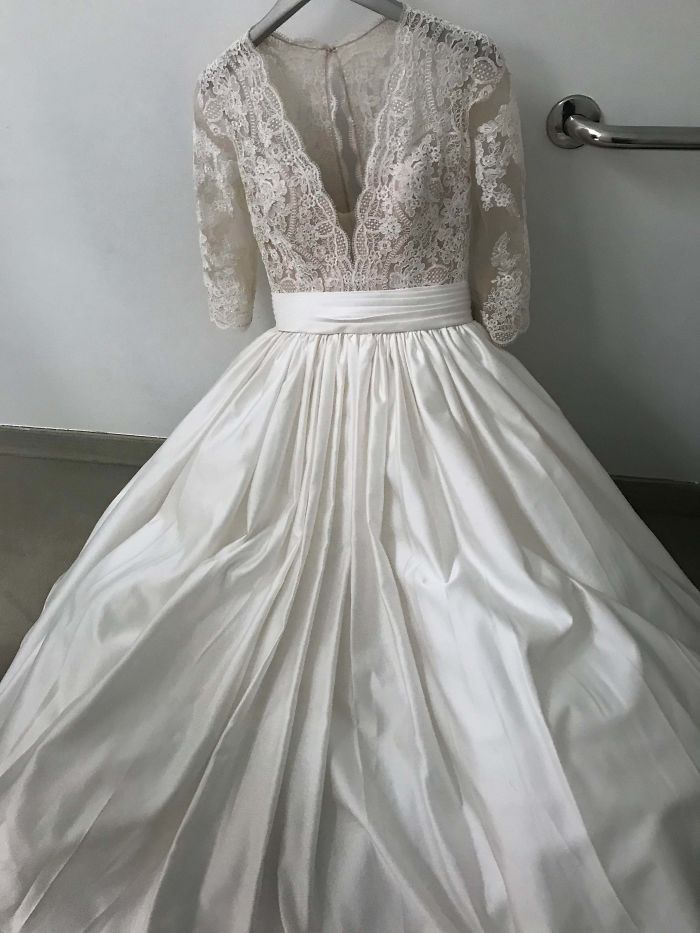 But lucky for her, it was marked down to a more affordable $400, which is a massive saving. We could not be happier for her. However, now we are wondering why it was $900 more expensive to begin with. Seems a bit suspicious.
Op Shop is Tops
This bride shared that she found this simple and well-fitting wedding dress at an op shop for only $20. That is so affordable. These days, there is not much you can buy for $20. The fact that she got a wedding dress for that price is insane.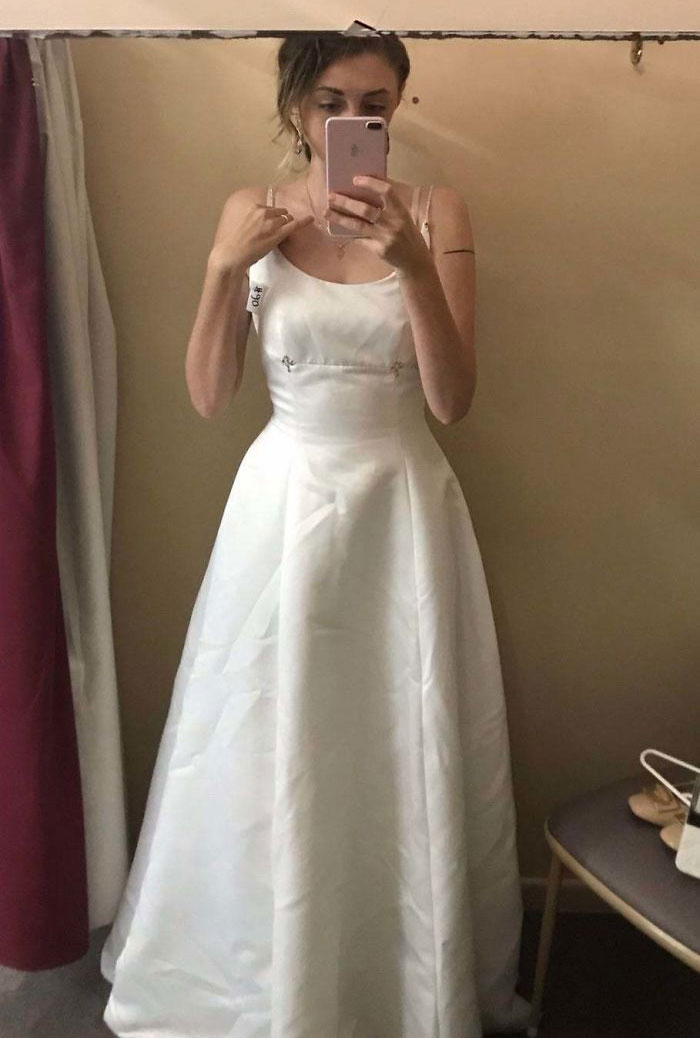 Although it is on the simpler side, it still looks well-tailored, and like it is way more expensive. Plus, you can pay for this dress with actual cash. Maybe some loose change that you might have in your wallet. It is crazy to think about, right?
Silky Smooth
If you know anything about textiles and what they cost, you might know that real silk is super expensive because it is so labor-intensive to make and is quite challenging to work with. However, this next bride got very lucky.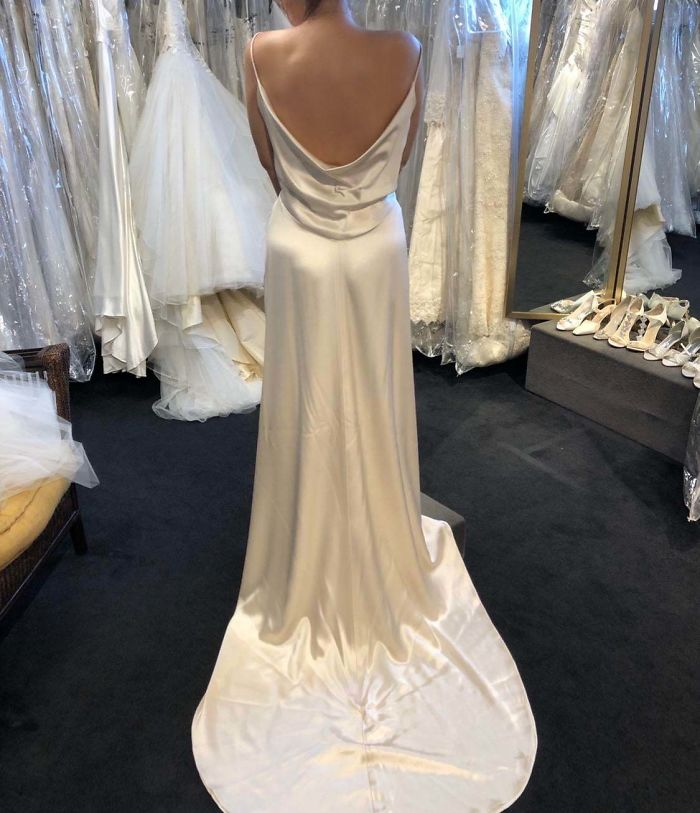 She describes this dress as "being so me," and she nabbed it for a mere $200 for this vintage silk. It is made very well, and we cannot imagine how lucky she felt when she spotted this dress. This is a real bargain, even at $200. 
Sample Sale
Sample sales are standard in bridal shops. Bridal shops typically won't let you fit just any dress; they have a few designated samples that are for fittings. So, every once in a while, they sell those at a discounted price to make some space for new styles and items.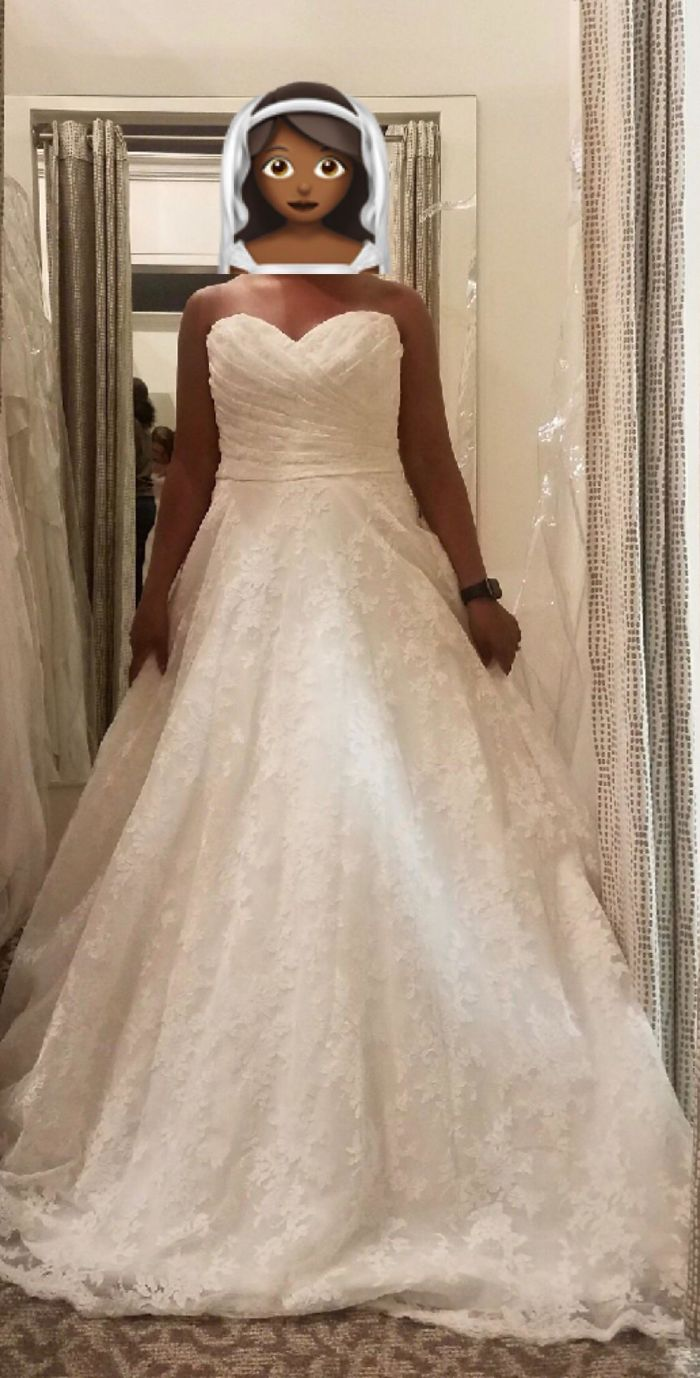 This bride found her dream dress at a sample sale from the famous White Room bridal shop for only $300. We wonder what the original price was, but we are glad she got away with no more than $300 for this very well-made dress. 
First Time Lucky
If you have ever gone wedding dress shopping or had a family member or friend that got married, you know that it is no easy task, and it is not uncommon to try on close to a hundred dresses. Although it might be a bit extreme, brides will do anything to find their perfect dress.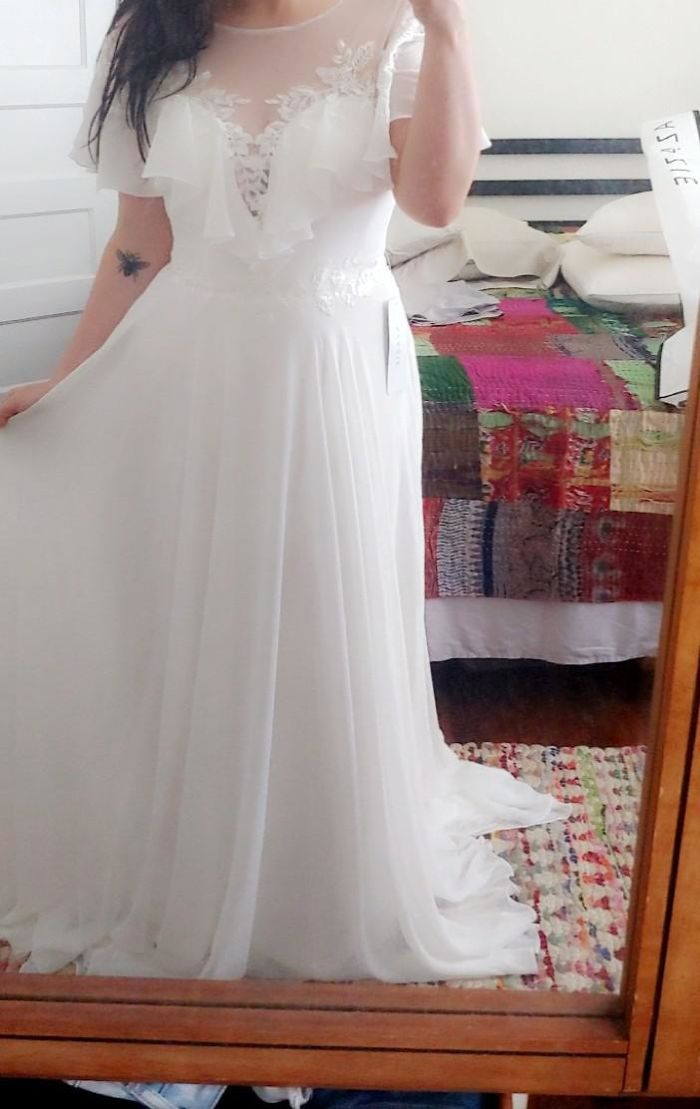 And if you don't buy a dress from the store, you get one especially made for you. This bride is different, though; she tried on one single dress and fell in love—plus it was a super bargain at only $250!
Awesome Asos
We really did not think you would find dresses like this on Asos. Usually, you find some fast fashion items, some classics, and a whole lot of accessories and cosmetic products, but we are pleasantly surprised. Perhaps ASOS will become our go-to store.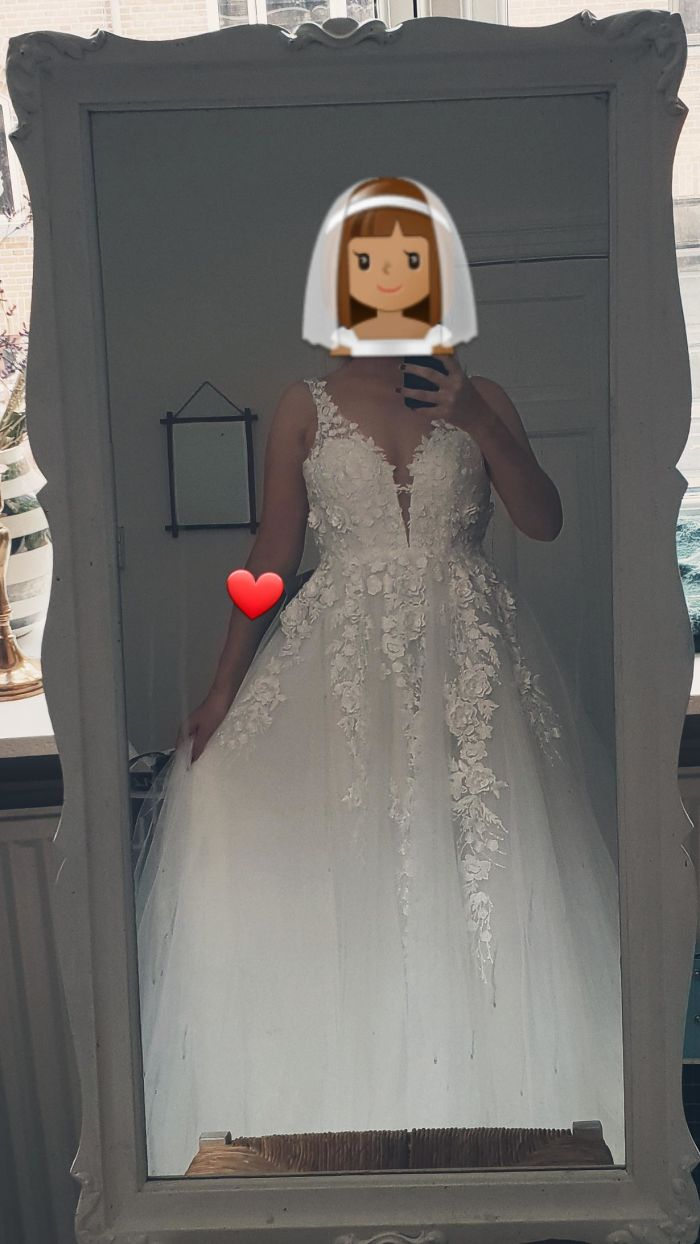 This dress really looks like it is made by a well-known designer or fresh off the runway, and all that for only just over $400. From the lush fabric down to the super fine details in the lace, this is an absolute win for this bride!
Quick Thinking
Pop-up shops are usually shops that are only around at a particular location for a few months or weeks. During that time, the shop sells popular goods. The best example is flower shops around Valentine's or Christmas decor shops during the December holidays.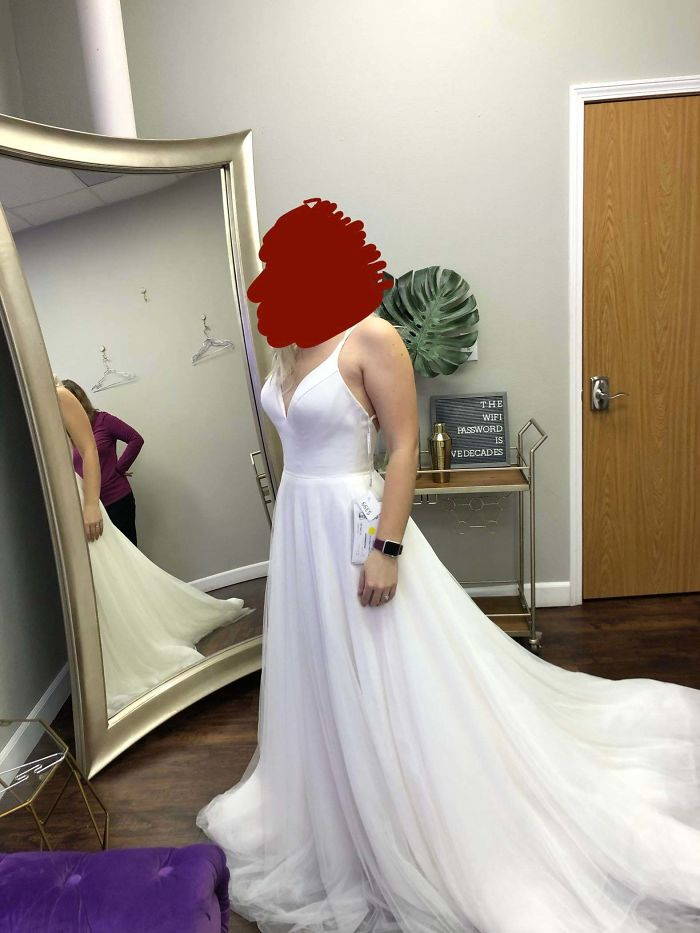 Pop-up shops might not align with wedding seasons since some brides prefer specific dates. This bride got very lucky when she found her dream dress for only $319 at a discounted dress pop-up shop. It was initially priced at $1400. 
Modcloth Madness
Modcloth is comparable to ASOS or Fashion Nova in the sense that it is an online-only retailer that specializes in women's clothing. The difference is that Modcloth specializes in vintage and indie-inspired trends. Their prices are affordable, and their garments look superb.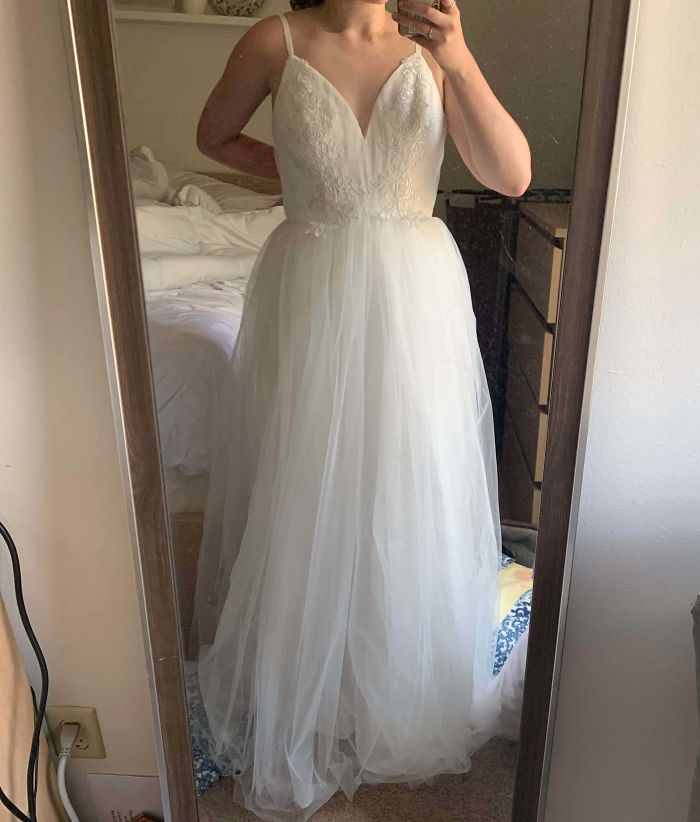 This simple and elegant dress, with a remarkable amount of tulle for an online store, was grabbed by the lucky bride for only $70. With a few alterations, this dress will fit like a glove. Even with alterations, she'll still only pay under $200.
Dream Dress
This bride expressed her joy when she found her dream wedding dress at a resale store for only $500. Whilst that might still sound pricey comparing it to some of the other bargains, you have to factor in that these dresses go for thousands of dollars.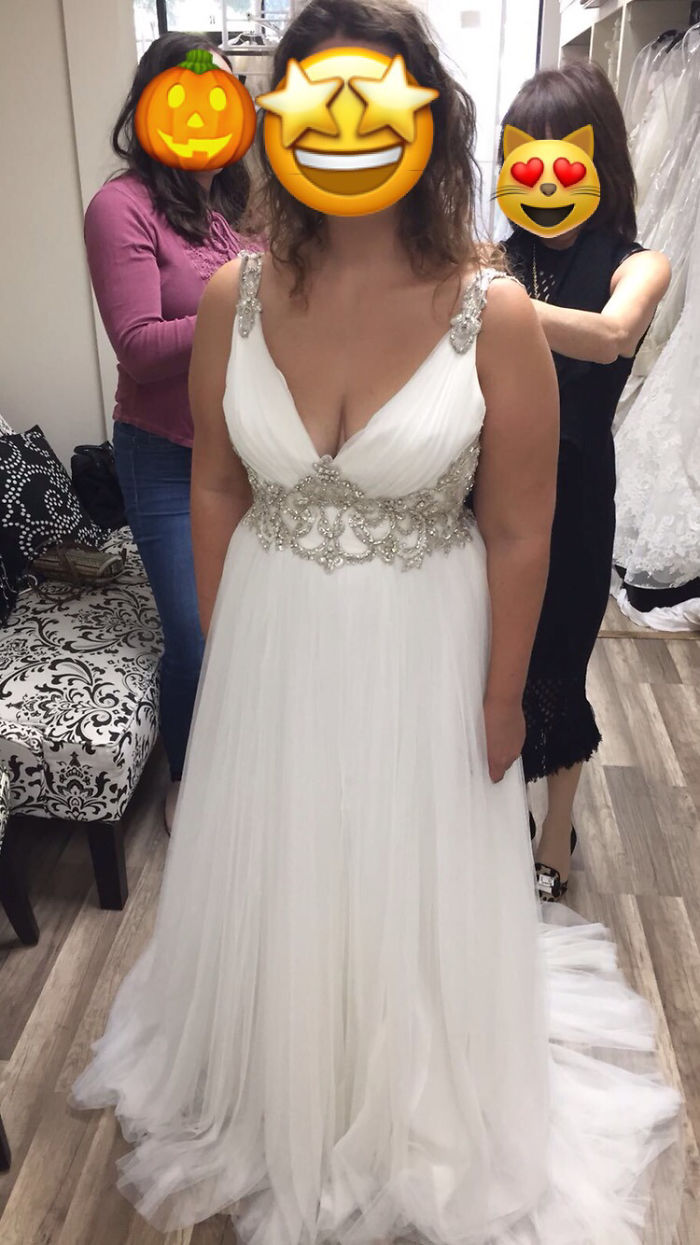 You can see that this dress looks like it should cost way more, especially with that intricate and fancy beading on the bodice of the dress. We're very happy that this bride found a fabulous dress for a great price. 
Yes, to the Dress
If you look at this dress, you might either think it is over $500 just because it is a wedding dress. Despite it being relatively plain, wedding dress boutiques charge outrageous prices for regular dresses. Given how pretty this dress is, it is probably not cheap.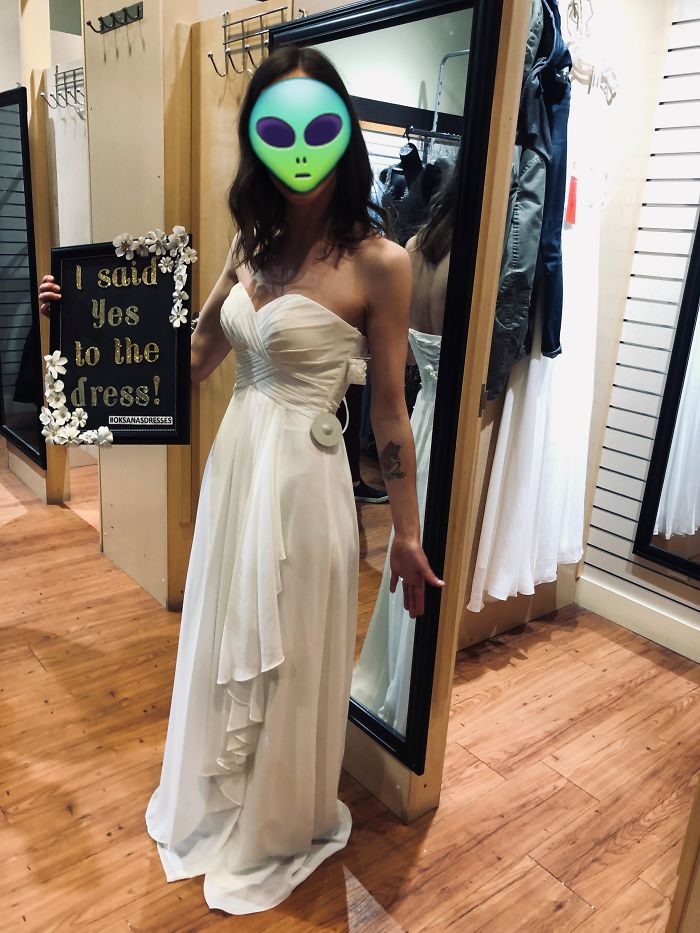 Luckily, this bride only paid $230 for this dress which we think is pretty reasonable considering the work put into it. It fits her so well, and we can imagine how pretty she looked when her hair was done, and some jewelry was added to the look. 
Beautiful Beadwork
You might have seen some dresses that are pretty much covered in intricate beading work, and we can almost justify paying thousands of dollars for them since all that beading will have to be done by hand and takes days, if not weeks, to complete.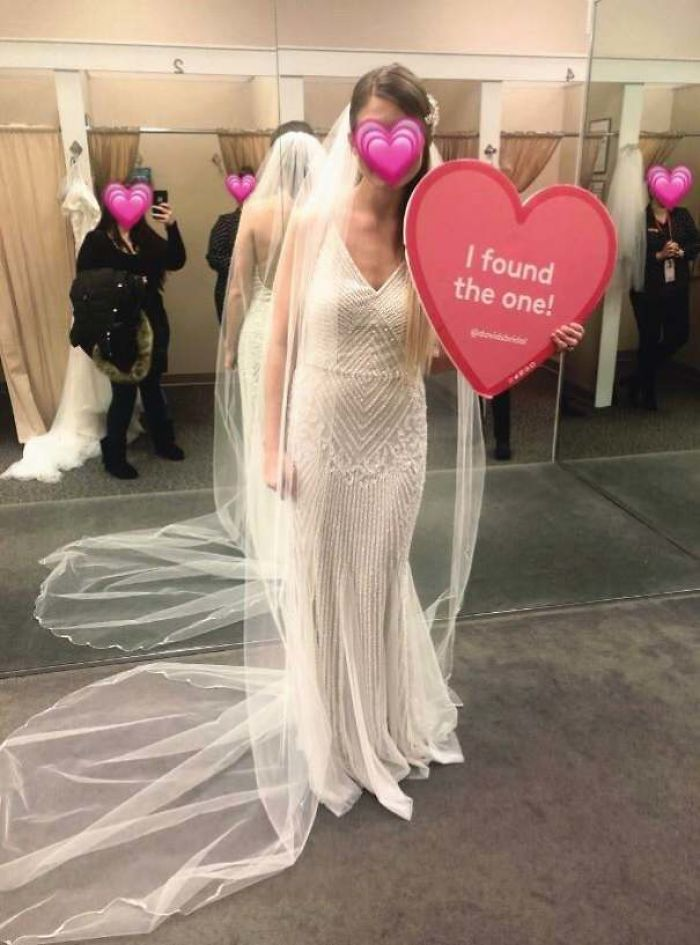 So, this bride, with her beautifully beaded dress, had a major win when she got the dress for under $500; in fact, it was $399. This is a showstopper dress, and it is incredibly well-priced for the amount of work that went into it. 
Extra Discount
We love that amazing feeling of joy you get when you not only find a dress for a great price but you get to the register and find that it is actually discounted even more, saving you lots more money.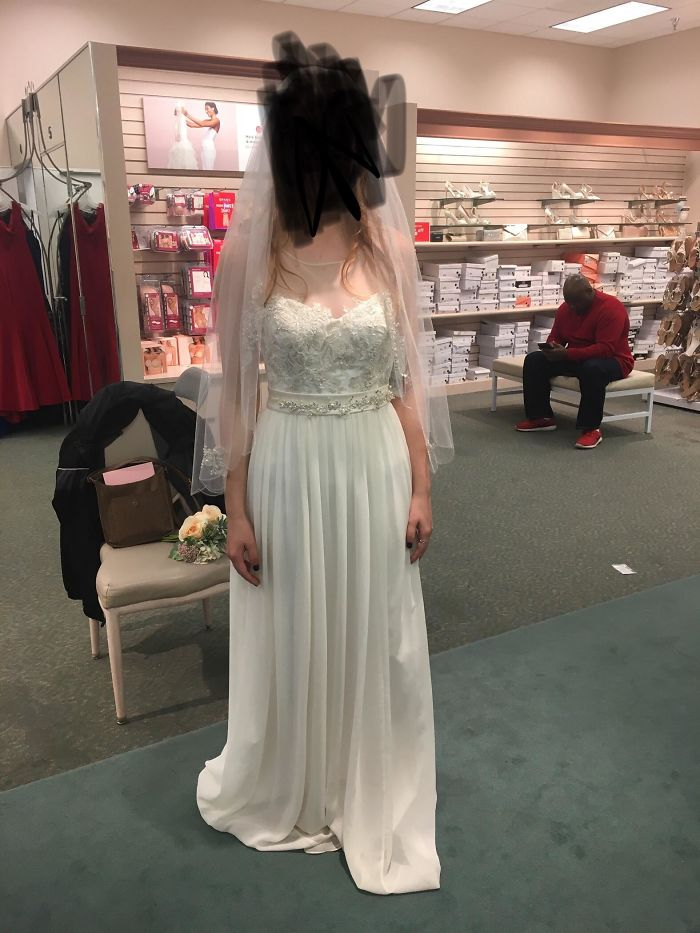 That's what happened to this bride. She found a lovely dress for only $399, which is a really good price for the dress, but when she got to the front register, she got another surprise since the dress was marked down to only $99! 
Trendy
This bride has a very trendy dress that is super flattering for her figure. With the perfect amount of lace, beading, and some lovely tulle, if we had to guess, this dress surely had to be well over $700, right?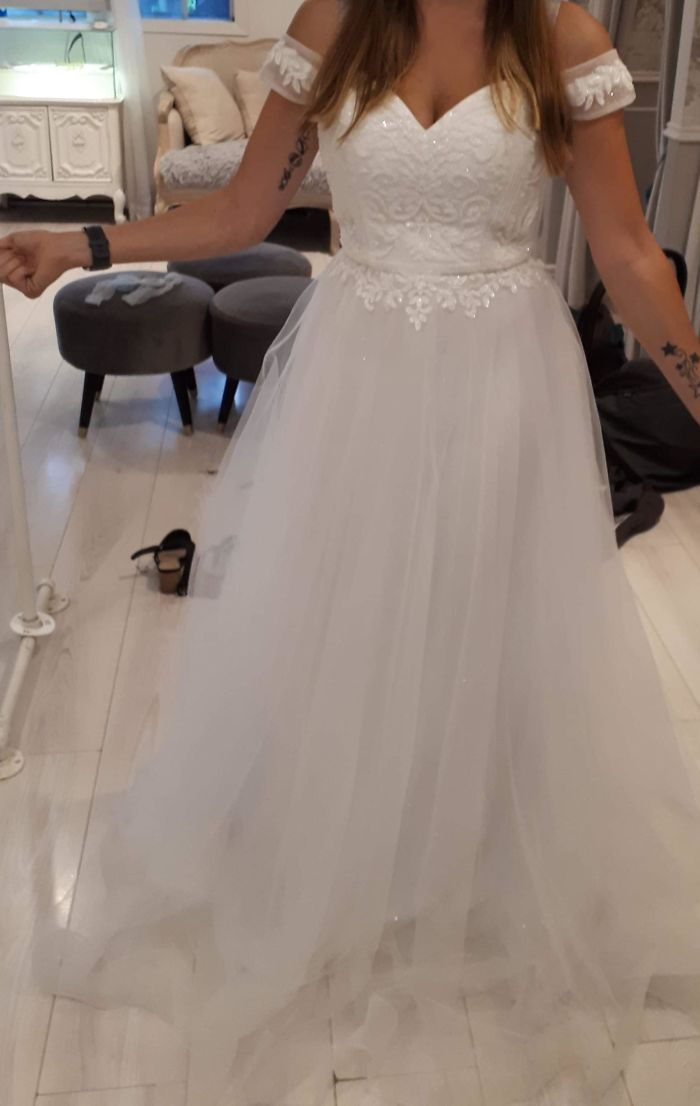 This bride had a great deal when she saw the dress was only a mere $300. We are just as excited about her dress as she is. It looks and fits well and seems like it should be much, much more expensive. She'll be a showstopper at her wedding, for sure. 
Mermaid Dress
This mermaid-style dress with intricate beading makes it look like elegant scales are on the dress. With how absolutely gorgeous this dress is, you would not think it would be affordable or even on sale, but this bride struck gold.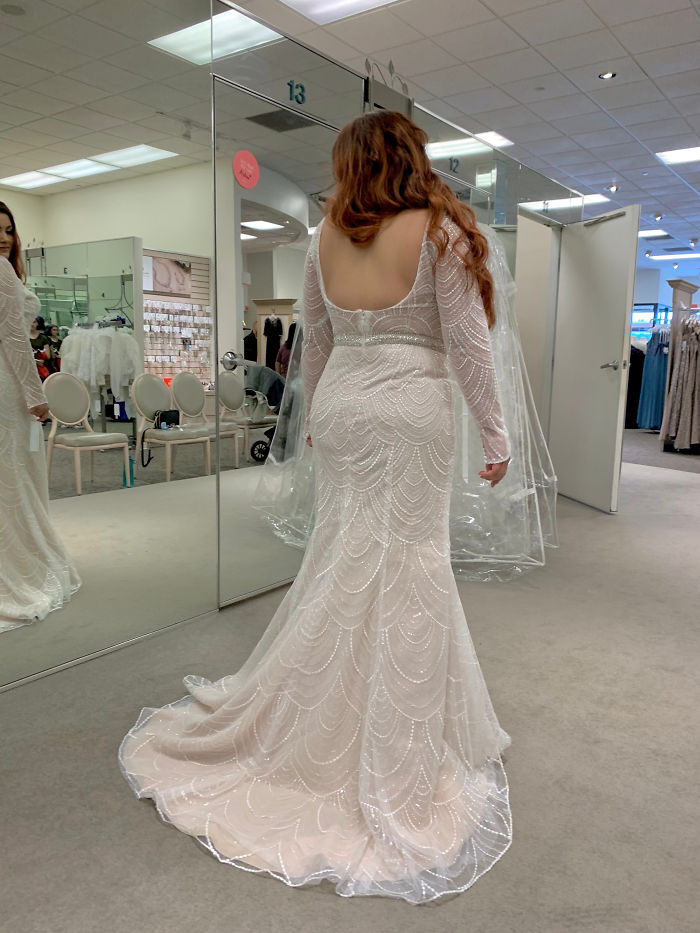 She got this dress on clearance at a well-known bridal store for only $499. It also fits very well, so no alternations and extra money are needed. We would count that as a win in our books any day of the week. 
Zulily
Zulily is an online retail company that was founded back in 2009. It offers affordable clothing for women and kids. In fact, the site is more aimed toward kids, but it seems like, on this day, it was meant for this bride.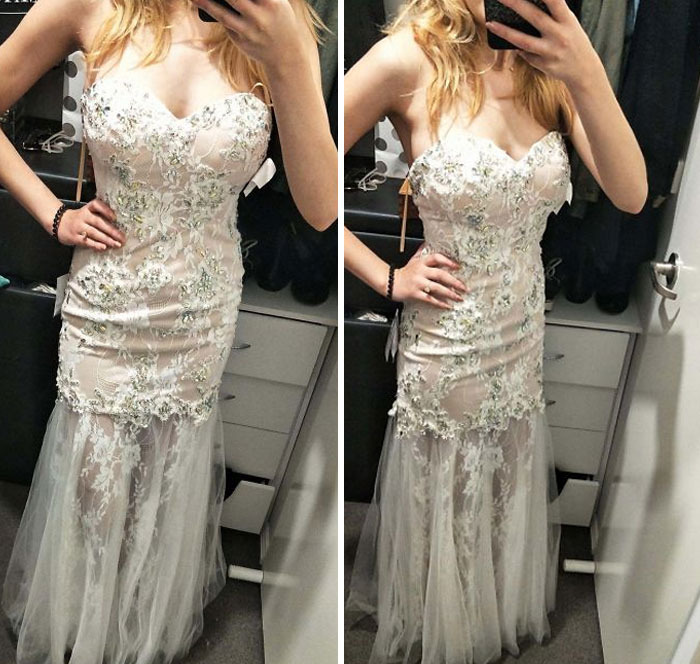 She found a floral lace dress that would work well as a wedding dress for only $40 on the site, and it fits her so well. It's not the first place we would look for dresses, but now that we know, we'll add it to the list!
Nordstrom
Nordstrom is a luxury store chain that has some beautiful clothing items, but it is on the more expensive side. We would definitely recommend you have a peek at this store because look at the gorgeous dress this bride found.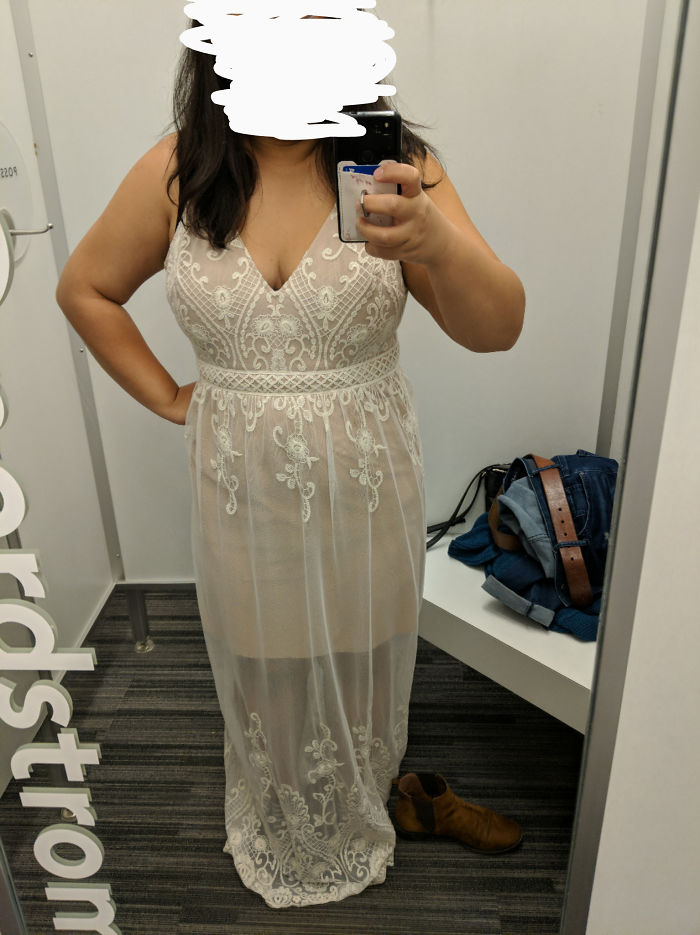 The store is more affordable than a bridal boutique, and we were shocked when we heard this dress was only $29. The bride mentioned she has never felt so pretty and feminine, and we agree that she looks absolutely fantastic! 
Fairy Dreams
This is an absolutely stunning dress, and we would actually pay a lot of money for it. Just look at the fine details in the flowers, the structured bodice, and the sheer material. We are in love with this dress!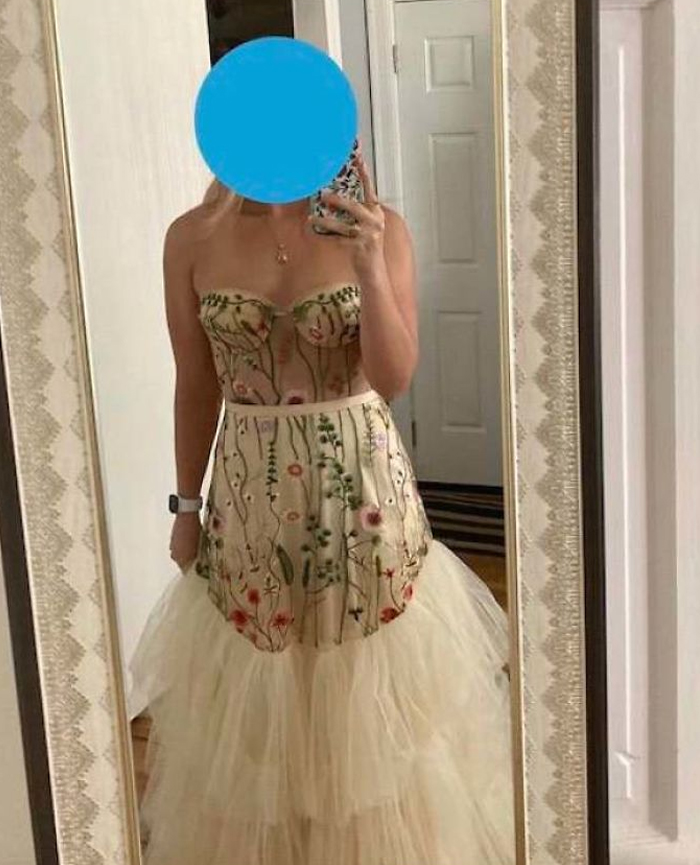 The bride got this from Etsy, so it is handmade with lots of love for only $590. We would agree that this dress is way better than any traditional-looking wedding gown for this lucky bride. We want to see some wedding pics!
Off The Beaten Track
This bride said she said yes to a dress she never thought she would have, and we understand why. We love that she took the risk. This isn't a traditional dress but is instead a beautiful top separate from the skirt.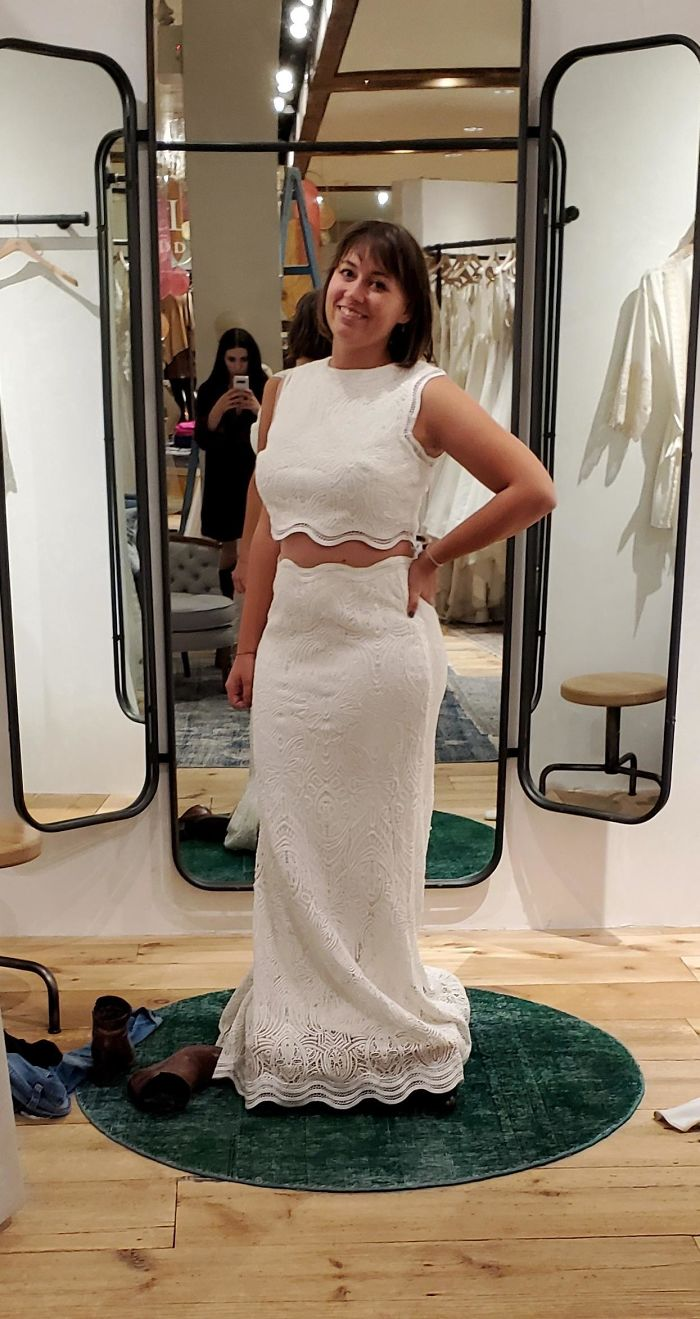 It looks super flattering on her, and she looks very happy to be in this dress. Who says you have to wear a puffy dress? Look at how great this bride looks in the 2-piece outfit that she scored for only $250. 
DIY Queen
This bride took a relatively normal-looking dress she found at the famous David's bridal for only $250 (it's already a steal, we'd say!) and, with some creative sewing, made it into a super stunning dress that no one else has.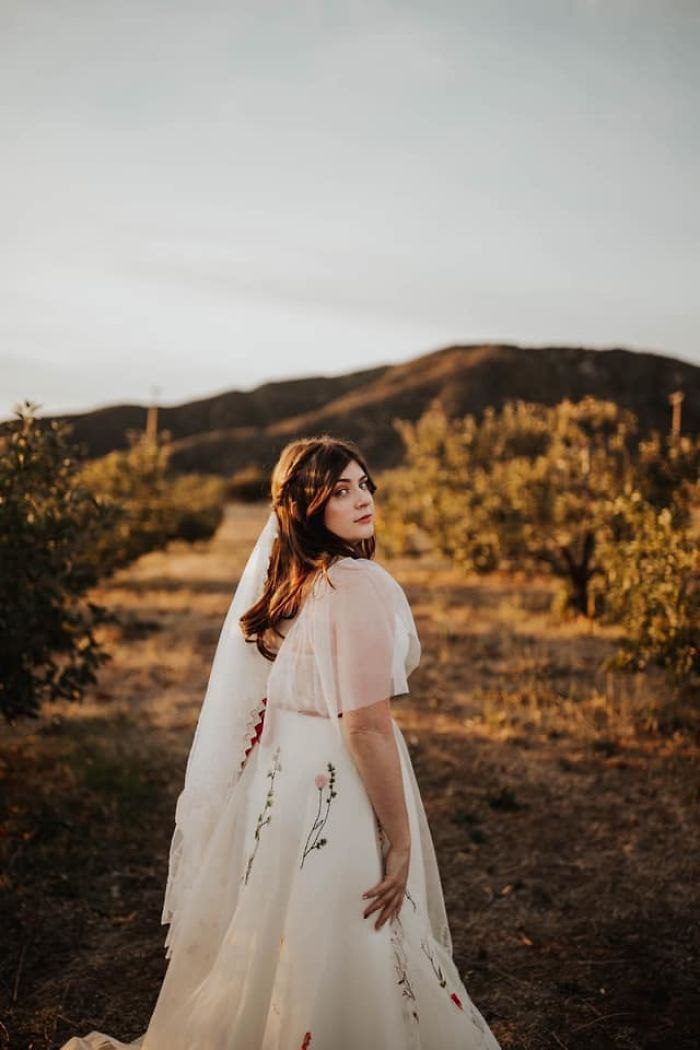 She found some embroidered tulle on Wish (an online fast fashion company) for only $10 and made her plain dress into something that looked like it came straight from a fairy tale. All for $260? Can we place some orders?