The Good, Bad, And Everything In Between: Wedding Dresses From TV We Can't Forget
By Farah J June 27, 2022
---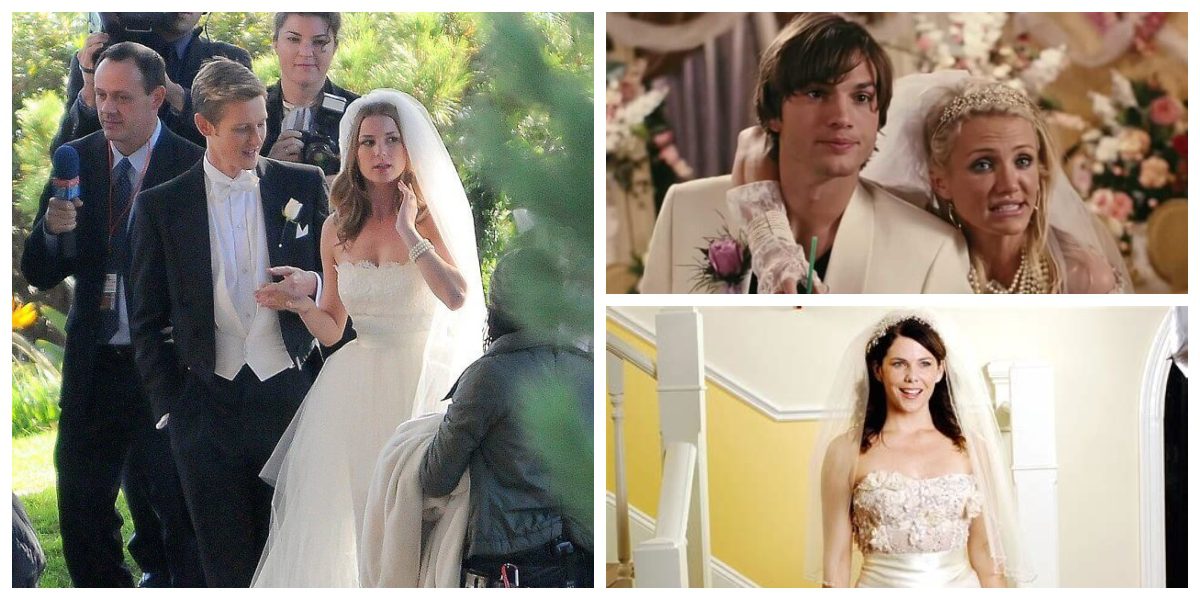 From trying on different gowns and tuxedos, planning a theme, writing down vows, and sending invitations, wedding planning has always been a dream of almost every person. Well, at least movies and TV shows don't hold back when it comes to happily ever afters! Monogamous marriages, spousal relationships, the union of the two people, call it whatever you want, the film industry is a big cliché for wedding bells and romance. We wouldn't hesitate to say that this thing has gone to such an extent that it almost feels like societal pressure. But who doesn't like happy endings? The part where the trouble comes in is when film industries fail to choose a pretty white gown for the bride! It's almost as if they do it on purpose! Sure, a few shows and movies manage to dress up a bride flawlessly, but what did the other 60% do to deserve such a crappy wedding wardrobe? Well, let us find out!
Bridesmaids
Okay, let's start with the ugly wedding gowns, because why not? This overly ruffled piece of clothing doesn't even look like a wedding gown! Well, in their defense, this ugly wardrobe was intentional. The plot was to dress Lillian ugly when trying on gowns!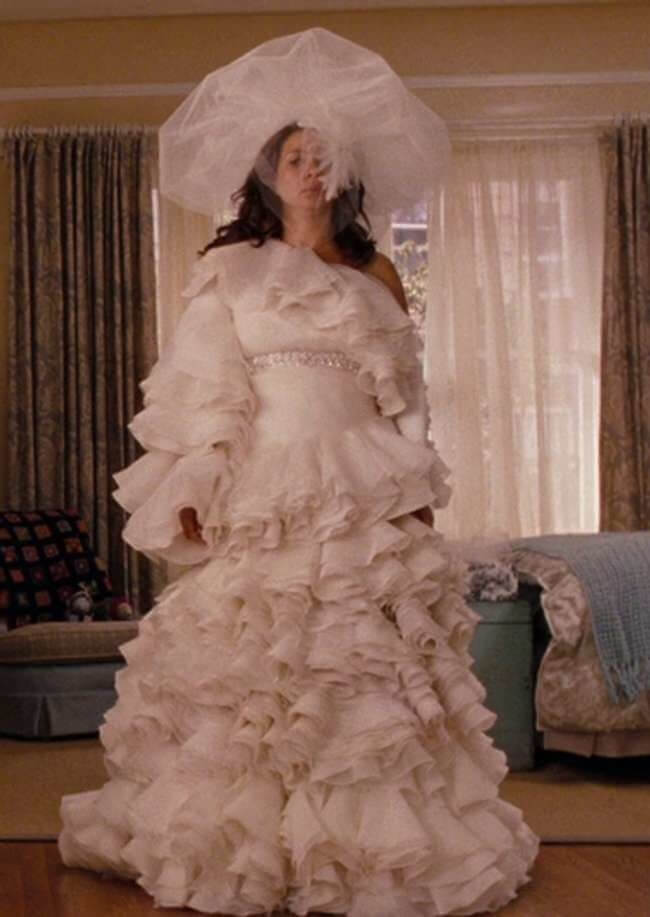 Whoever's watched Bridesmaids knows that this dress was supposed to be ugly. The costume designer and wardrobe assistants put effort into finding a perfect ugly bride's dress. Poor Lillian. Well, at least she didn't have to wear it to her wedding. It was just one scene!
Betsy's Wedding
All we want to say to the makers of this movie is that if you wanted to name a film Betsy's Wedding, you could've at least tried to make Betsy's wedding look like a wedding. Yes, we are talking about the ungodly wedding gown!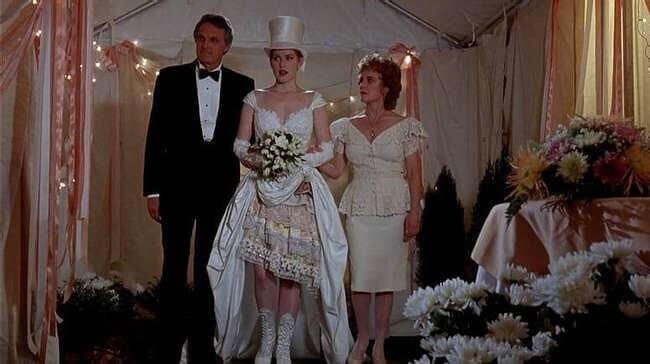 They did the bride so bad that we wouldn't even come out of our room after this movie's premiere if we were her. Ever. There are so many things wrong with this "dress" we can't decide what to point out first. What in the Lord's name is that color scheme?
Golden Girls
Golden are the girls – and everybody else – who has seen this classic sitcom. The entire sitcom runs smoothly. But how is it possible that the sitcom industry can let the good remain good till the end? Nah. They got to ruin something, so how about a wedding dress?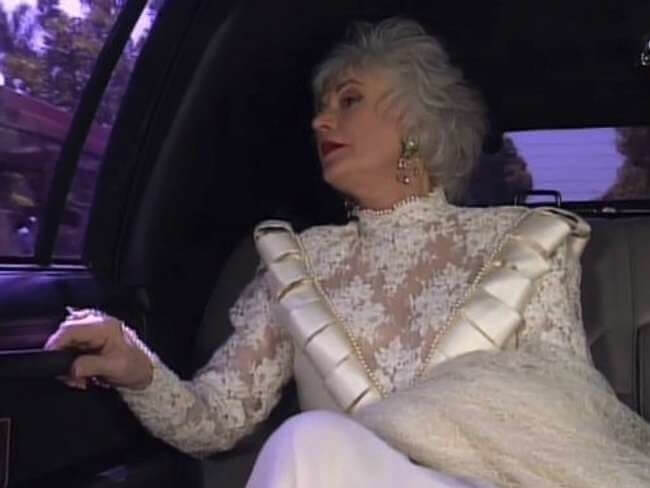 Dorothy's wedding dress is elegant, with the lacy arms and a V-chest top. But the ribbon neckline of some sort ruined the whole look! When Dorothy finally decided to marry Lucas, the wardrobe manager flopped! What was the original designer of this wedding dress thinking?
The Hottie and the NOT-tie
We believe that the word 'horrible' was invented after Cristabel's wedding gown in The Hottie and the Nottie. This dress is like a mixture of a dozen ugly dresses. Like, what is even up with this fashion? Wait, it's not even considered fashionable.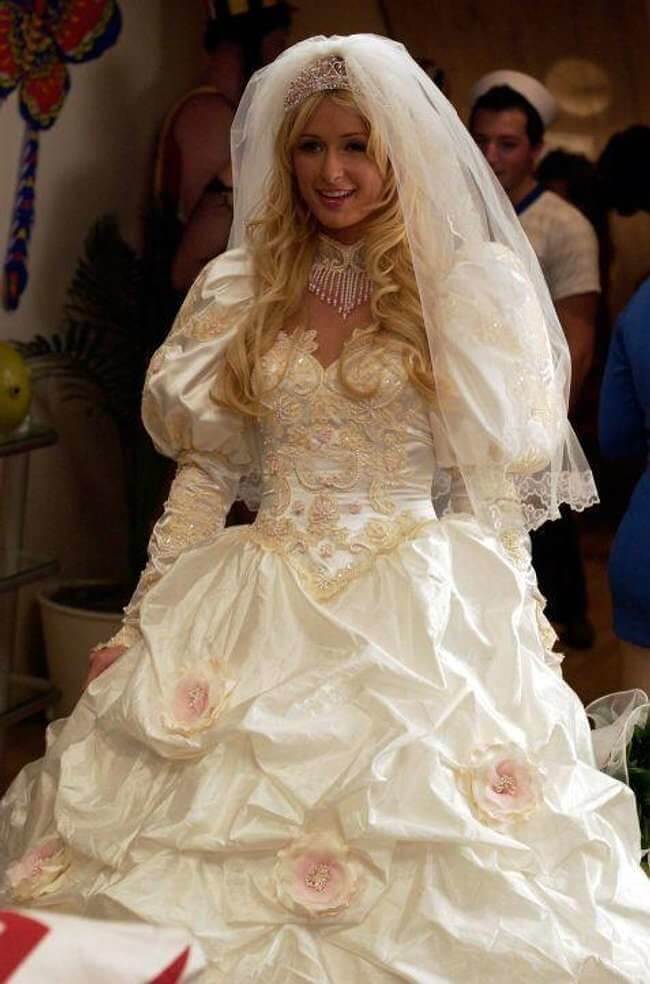 When Cristabel showed up with this one mess of a gown that was supposedly so pretty, everybody couldn't stop looking at her, and we were crying at this dreadfulness. The puff sleeves, the spaghetti look-alike embroidery, the unpleasant ruffled skirt with flowers vomited on it. This is an all-around no.
Sex and the City
We are not kidding when we say that we believe that this nightmare of a gown was why Carrie didn't get married on this day. Like, who wears a freaking bird and its nest look-alike veil on their head on their one and only wedding day?! There is too much cloth for the gown too.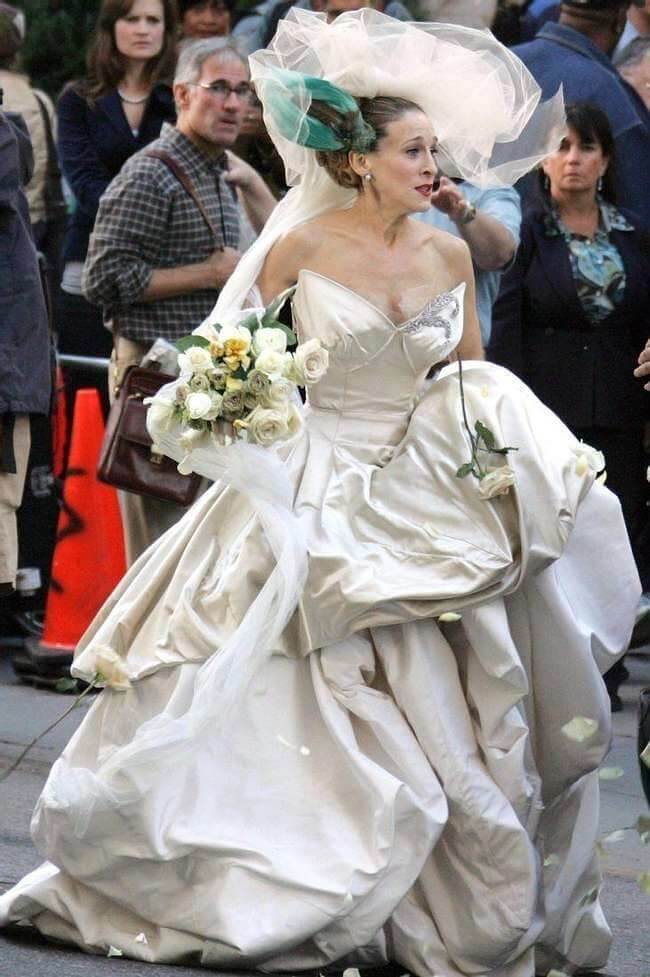 Whoever was doing wardrobe for the wedding scene must've gotten fired after suggesting this wedding look for Carrie in the Sex and the City. This is a disaster we are never getting over. As much as we like the movie, this scene makes us cringe! Every time!
My Best Friend's Wedding
Let's just say that Cameron Diaz isn't one of the lucky few who are very reputable when it comes to movie bride's wardrobe perfection. We don't know why, but it looks like Hollywood doesn't like making Cameron a perfect bride in movies.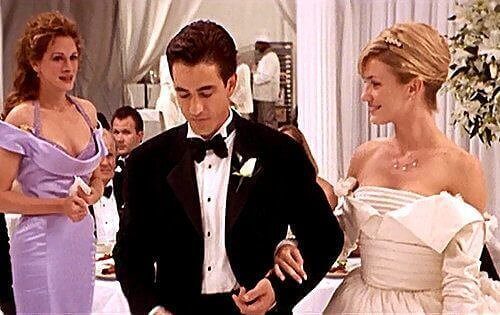 This is just one example of a bridal gown disaster in Cameron's movies. Even this movie is a whole lot of…something, and that something is not good. Talking about the unfortunate wedding gown, well, we don't know what to say. The horrific bridal dress says it all.
The Proposal
Imagine Sandra Bullock having a bad wardrobe. You can't. Yes, she is THAT queen. But the crew of The Proposal did Sandra so wrong when they decided to dress her up in this dreadful thing piece. We don't think we can call it a bridal gown. It's more like silky trash.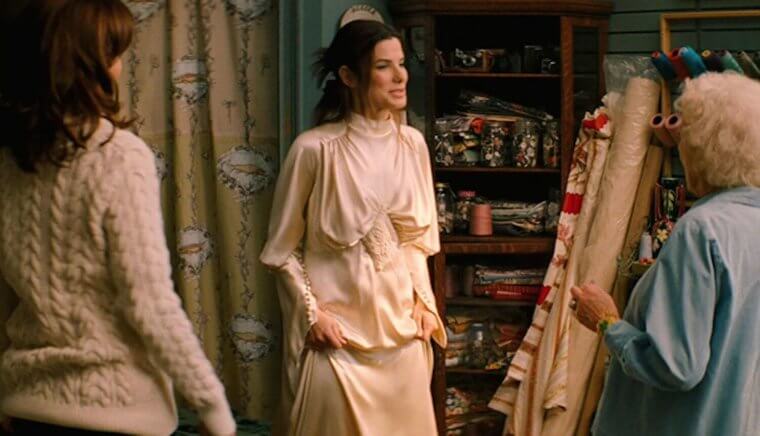 We were so happy when Sandra's character Margaret Tate decided to get married. But little did we know that we were going to get a shock of a lifetime when she chose this piece of wiggly silk, turtle-necked, dolman-sleeve, diamond-shaped nightmare!
My Big Fat Greek Wedding
A snow beast? Sorry, no, this is Toula's character in My Big fat Greek Wedding in an ugly, overly white wedding dress! Well, it's not only us. Even the character herself feels the same thing. Whoever has watched the movie knows why we call her a snow beast!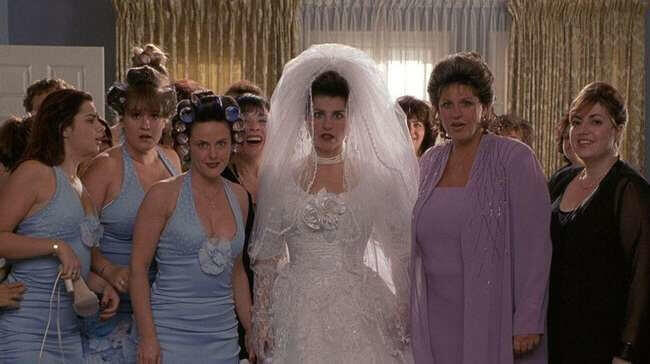 But in their defense, the movie is pretty goofy and comedic, and the humor is so on point! The plot required this character to dress up like this on her wedding day: a snow beast! And they did a pretty great job making the bride look like that, too!
Les Misérables
This movie was a wonder in itself, truly. If any two people could pull it off and have it in the Oscars' nominations, they were Hugh Jackman and Anne Hathaway. It executed a superb French plot. It was a masterpiece for a musical, too.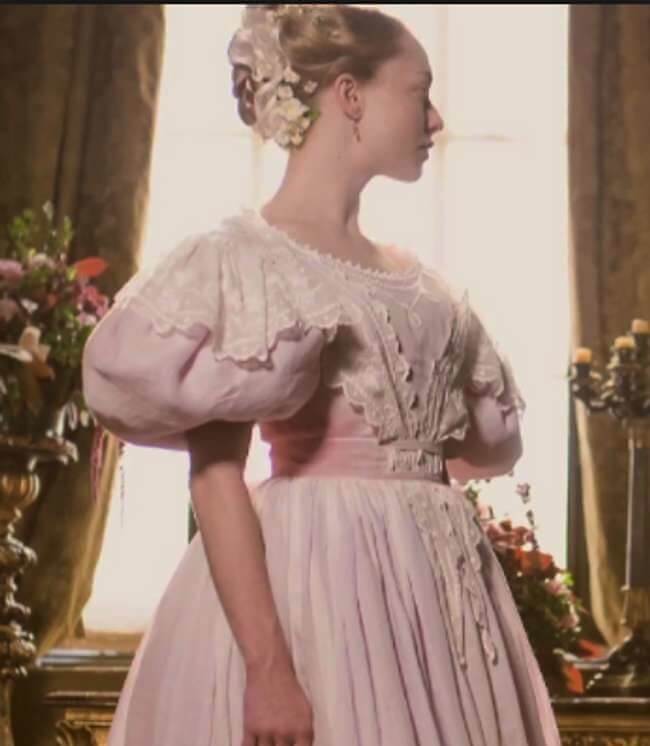 But this doesn't defend the fact that in the 19th-century French era, which is when the movie takes place, Cosette's wedding dress was not the perfect match for the time she was living in. It features huge puffed shoulders, an unflattering skirt, and an ugly lace sewn in the front. Come on!
Love Actually
This movie was and still is one of our favorite rom-coms. It's our comfort, go-to romance movie when we've got nothing to watch and want a good laugh. This movie is the one that leaves us longing for love like Juliet and Peter's.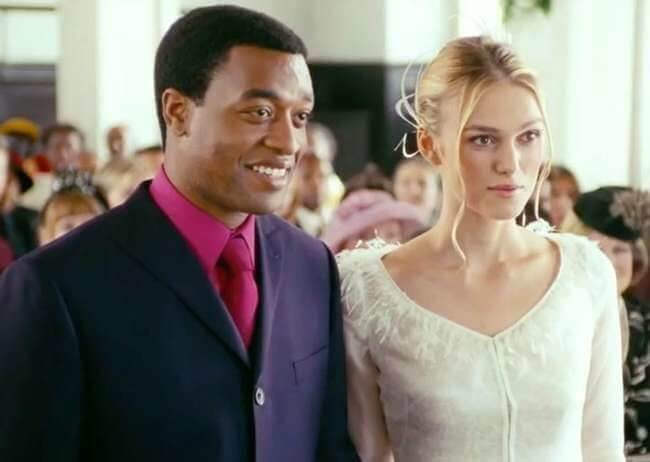 But let's be honest here, who else got slightly disappointed when Juliet entered the hall in her white silhouette furry-neck wedding gown? We did. They chose this out of all the pretty and elegant white bridal gowns? The wardrobe manager hasn't got excellent taste. Not.
Mirror Mirror
Who doesn't know the story of Snow White and the Seven Dwarves? Well, someone who lives under a rock, literally. Several movies have been based on this forever-loved fairytale. And every time, the evil queen is the best of them all.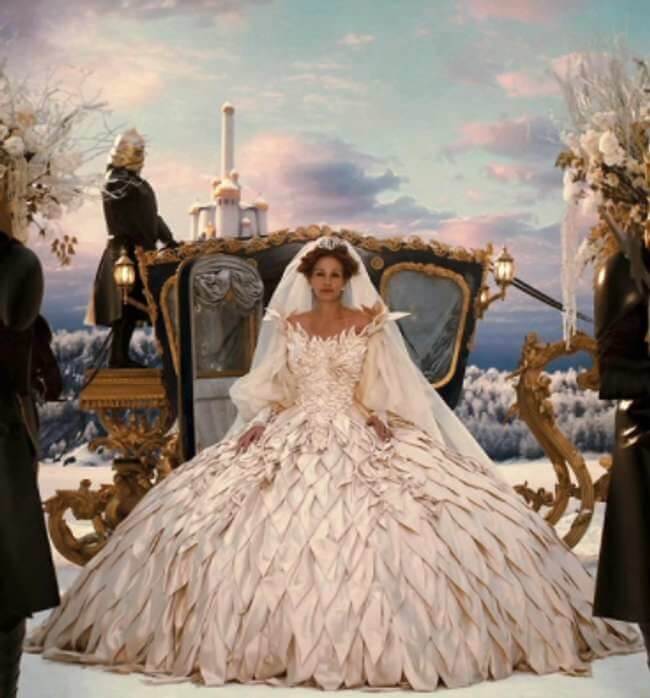 Well, not in this case, though. This evil queen, Clementianna, played by Julia Roberts, got robbed of the glory when they decided to make her wear this wedding dress made of feathers. We know that the dress implies the wickedness of the queen, but this isn't very evil-ish and more like hideous.
Gilmore Girls
We find it annoying about Gilmore Girls: First, it finished. Isn't it possible that good shows keep airing forever? Is that too much to ask? Second, Lorelai's wedding dress. This flowery top and unflattering skirt just didn't give us the feels we were expecting.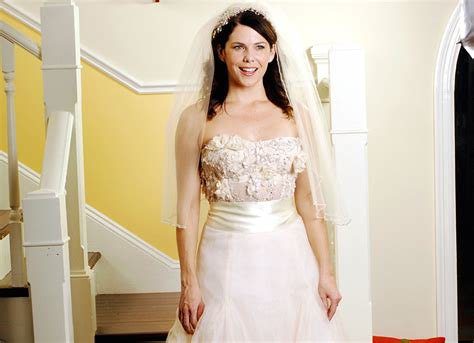 Lorelai is the character that deserved every bit of happiness, and she got it—but ruining her wedding outlook with an ugly and unflattering bridal gown? Not fair. Especially for the fandom. They, including us, will remember this horrendous deed.
What Happens in Vegas
This is one of the most adored romantic comedies, and for a good reason, too. It's the Cameron and Ashton duo, people! Of course, this movie became a comfort movie for rom-com lovers and hopeless romantics. At the end of the film, the only thing that left us hurting was…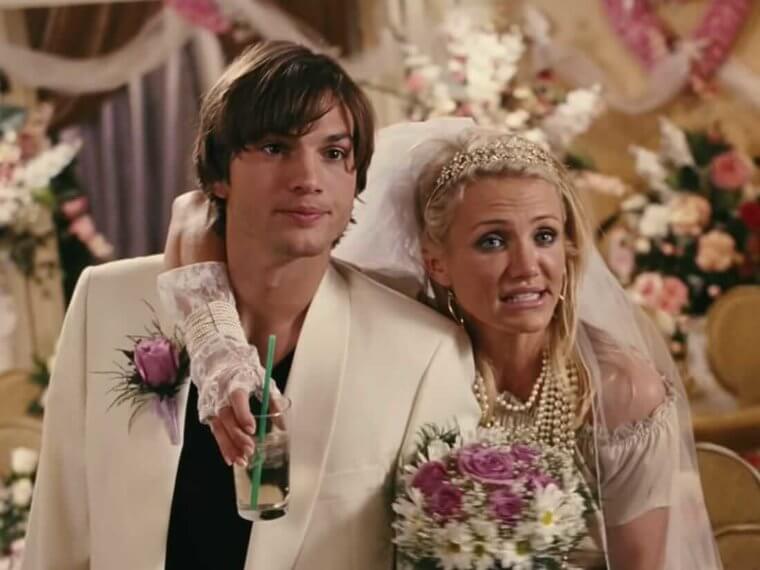 Yes, you guessed it right: the wedding gown. Again, Cameron is one unlucky movie bride with a crappy wedding wardrobe. But, well, as we love this movie, we'd like to defend it by saying that Cameron's character was drunk when she got married in Vegas. Cut her some slack, guys!
Girls
Do these crew members, specifically the wardrobe managers and costume designers of the movies, ever consider personality when suggesting wardrobe changes for the characters throughout the entire thing? Or do they just blindly pick one outfit for each character to get it over with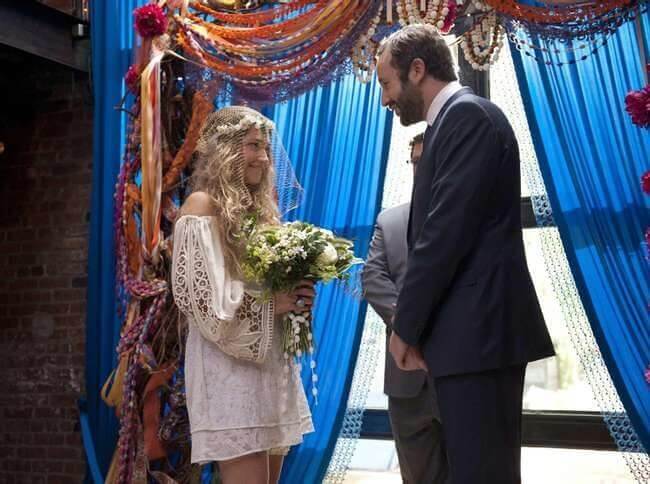 Because it seems that way in this case with Jessa in the show Girls. As bold and boho Jessa is from the very beginning, we were expecting her wedding dress to match her personality. But imagine our disappointment when we saw her in this shriveled piece of clothing on her wedding day.
Castle
Kate Beckett is the hotshot detective that makes you rethink your sexuality in Castle. But things start to get a little less spicy and fruity when she turns into the same ol' character that has to choose between marriage and career. It's getting so old, Hollywood!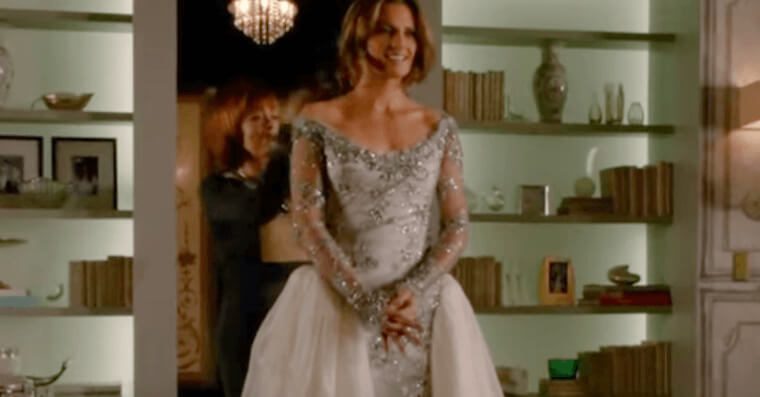 At one point, she has to wear three wedding dresses because of the situation. And let us tell you, the first choice was NOT the best. The French dress, which was supposedly her mother's, with silver sequins in the front, was a bit on the ugly side.
Pretty Little Liars
We all know how Aria used to give off the energy that she didn't care much about fashion rules, and she wore whatever she pleases and felt herself in. She was the kind of person who was sure of herself and had a confident vibe.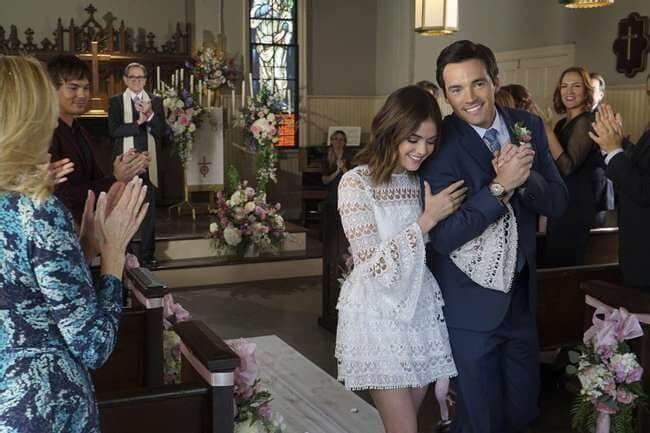 But we guess it was all a pretty little lie. Her dress for her wedding with Ezra in the season finale was not like "her" exactly. The bell-shaped sleeves and plain lacy dress confuses us. In our opinion, she used to wear better clothes on regular days. This dress just wasn't giving off her vibe!
How I Met Your Mother
You know the disappointment when you have seen a character in a show or movie get associated with a particular hobby or something that it becomes a significant part of them. Still, they cannot put up with it when the time comes, and you are left wondering what went wrong.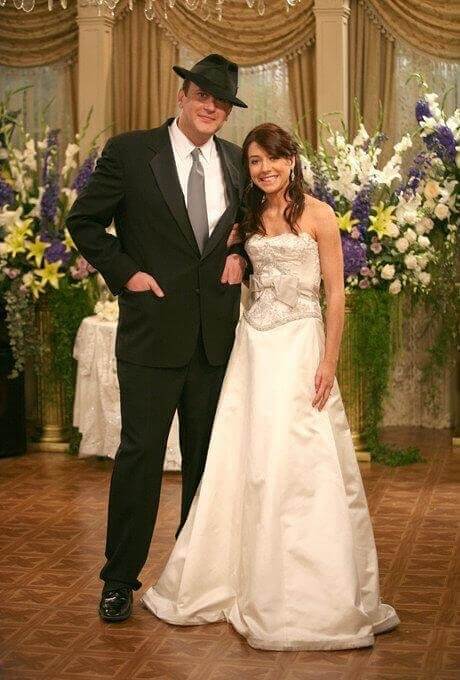 This is the disappointing feeling we were left with in the case of Lily Aldrin in HIMYM. We learned that she was a fashion simp and had a shopping addiction throughout the show. But when it came to choosing her wedding dress, she chose an oversized, ugly dress that didn't even fit her well!
Hunger Games: Catching Fire
Although it's not a wedding movie or a wedding gown, Katniss wearing a white gown at the opening ceremony of the next hunger games has us want to comment on the not-so-eye-catching dress. Well, to be honest, it doesn't suit her style either. This dress just isn't for her.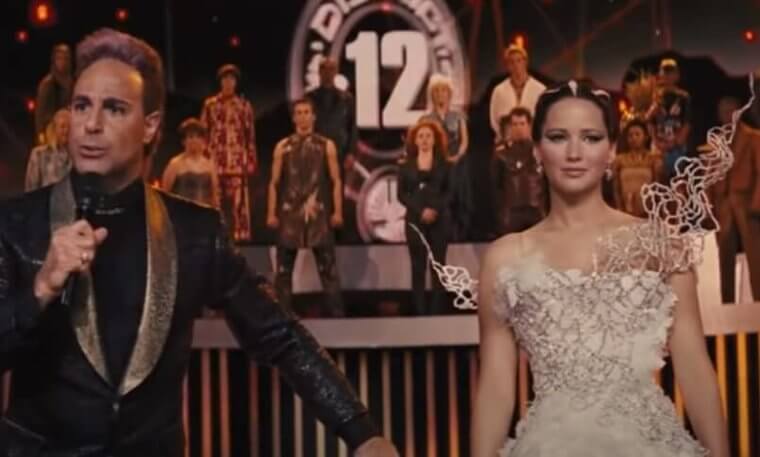 The trademark spin where the ends of the dress catch fire really lifted the spirits of the dress. But when the camera moved upwards, the top left us feeling sour. Plus the wiry embellishments – even though it looks like the designer tried, it just didn't do the job it was expected to.
The Office
Okay, don't get us wrong. We think that Pam looked radiant in this episode, and the dress looked nice, too. But this wasn't the right dress for her, that's all. You know when you see something that looks amazing, but you know that it wasn't made for you?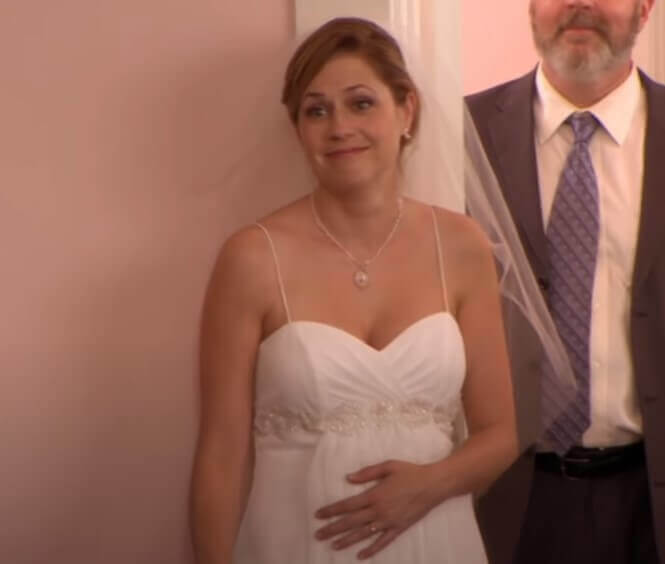 Yes, that. The dress isn't so bad, but it's not very flattering either. A so-so dress on The Office fandom's favorite character was a little degrading. Sure, they perfectly accommodated the baby bump, but this wrinkled A-lined dress wasn't a very great choice for Pam and Jim's wedding.
Gossip Girl
Again, we are going to say it only one more time: check the character's personalities before putting them in their wedding dresses! All white bridal gowns aren't for anybody! They need to suit the characters' personalities, too! Match them to the vibe, people!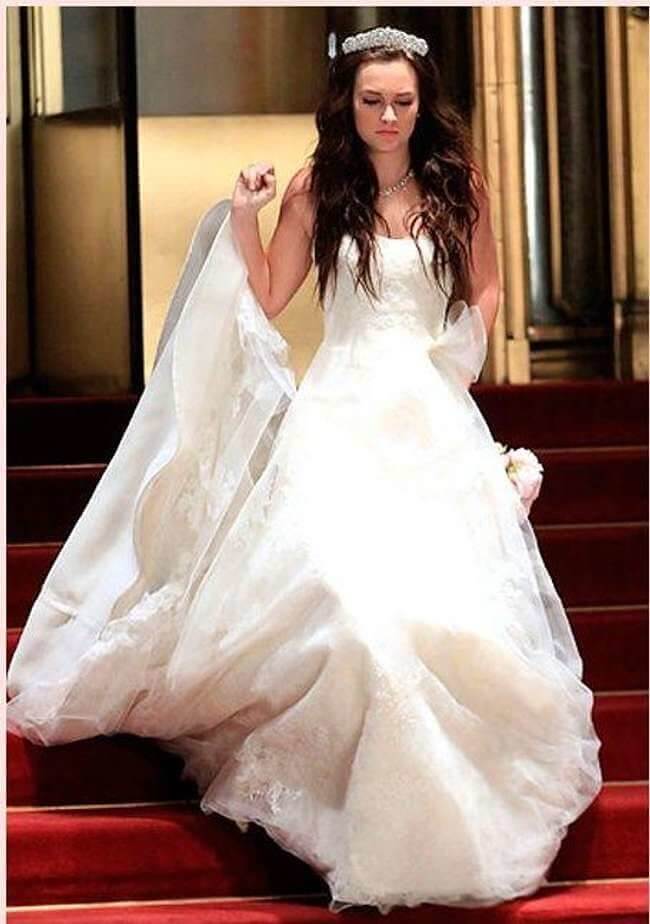 They did it again with Blair. And no, her wedding gown isn't all bad. The flair, volume, and elegance are really showing off. But it does NOT match the character's style or personality. This dress ruined her entire vibe they built up in the past seasons of GG!
Reign
Okay, so we've roasted and degraded quite a few wedding dresses in movies and tv shows, and man! That was fun. Hollywood is going to be so mad. How about we seek their forgiveness by admiring the choice of wedding gowns in some other movies and shows?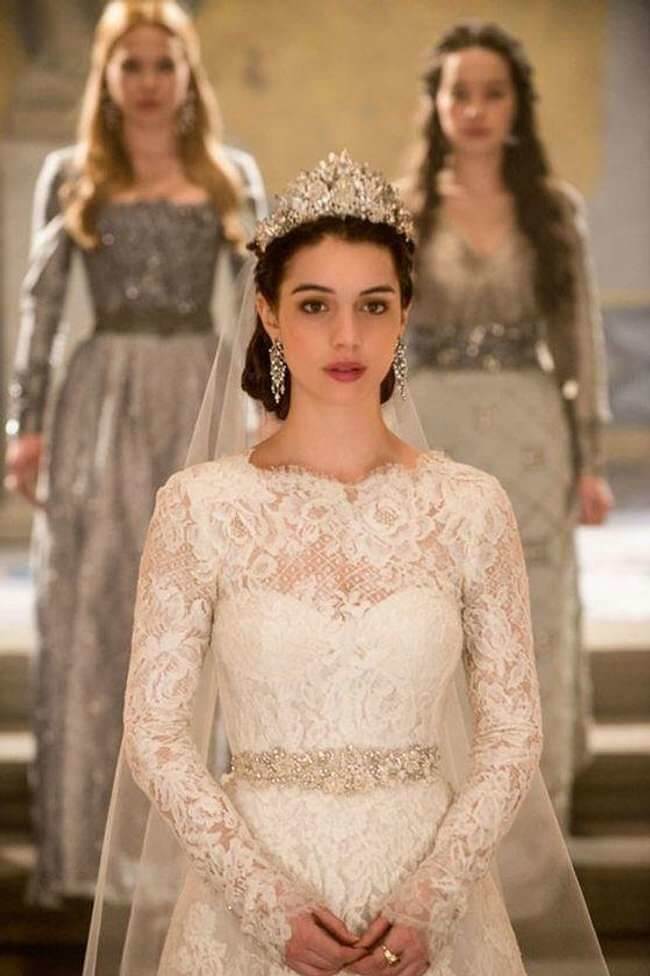 Starting with Reign, when Queen Mary Stuart showed up for her royal wedding in that flawless, lacy beauty. Now that is what you call a gorgeous wedding gown. If Prince Francis didn't cry with happiness when he saw Mary enter the hall wearing that thing, we're willing to cry in his place!
Outlander
To be honest, we were so relieved when this magical show didn't disappoint us with horrible costume design, especially when it came to Claire Fraser's wedding. The teeny-tiny details, the perfectly shaped corset, the delicate but fitted sleeves, the perfect fall of the skirt…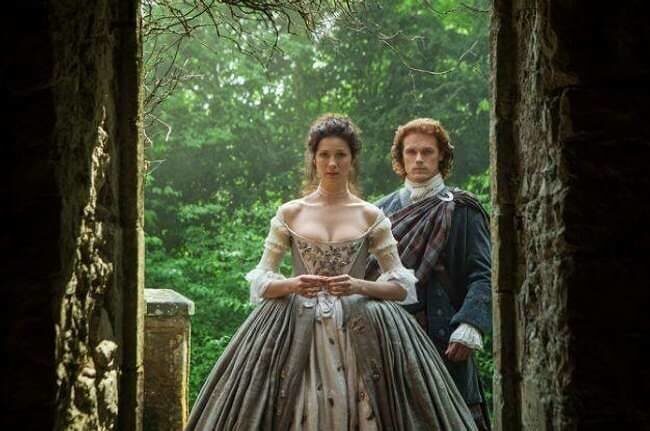 We would count everything about this dazzling dress that is on point, but between us, we know that all of us are on the same page even without pointing out the very obvious perfections of the dress! Whoever designed this gown originally definitely made it for Claire!
Bones
Oh, how long we'd waited for this wedding. We still have the smiles and joyful feelings in our hearts when Booth and Bones finally decided to exchange vows in season nine and make it official! Even if all didn't go well as planned, the dress Temperance wore was quite memorable.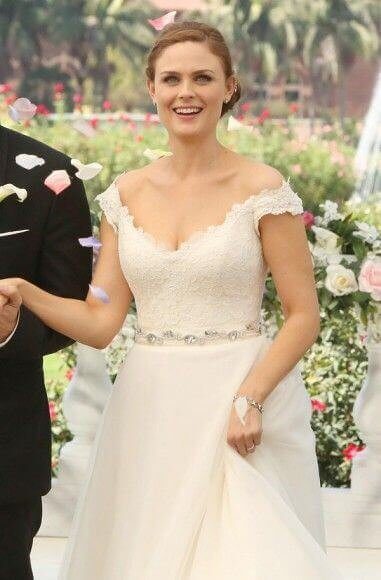 The easy fall, the elegance in the front top embroidery, the off-shoulder touch, the silvery waist belt, and pretty much everything was so stunning about this dress! We are willing to forgive the film industry for giving the lovely couple a perfect wedding in that perfect dress.
Castle
Hey, we know we mentioned Castle before for having a poor wedding dress choice. But whoever has watched the show knows that Beckett wears three of them throughout the show. Well, it's in the plot, and the reason isn't all bad either.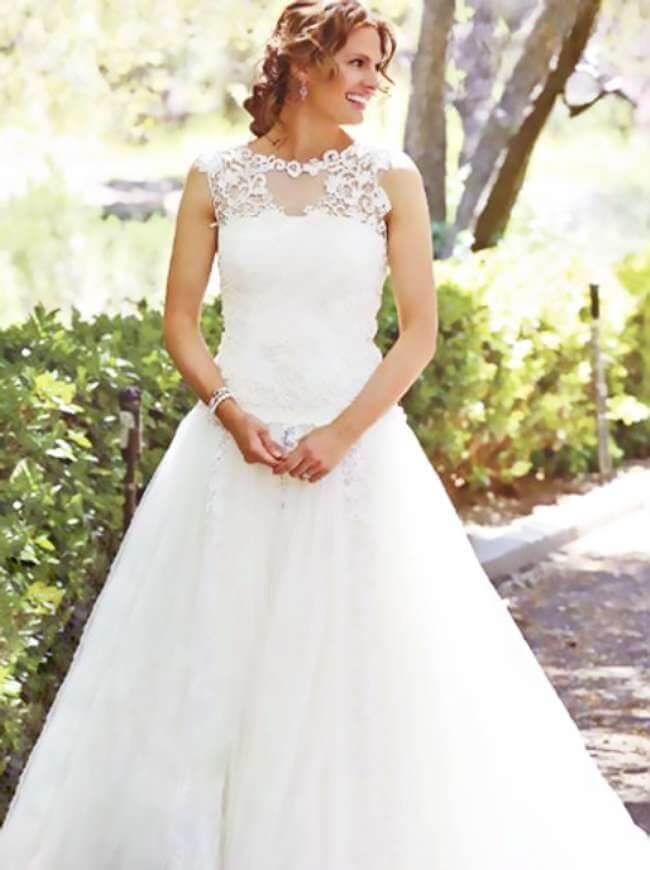 Well, this was the second gown she wore, but sadly, it never made it to the altar. It simply got ruined by getting dragged through the mud. But before all that happened, the dress was simply exquisite! The elegance in the lacy shoulders was enough to make us go "wow."
Revenge
It's a shame when a character build-up is all about fashion and outfit choice, but they ruin it when choosing wedding dresses. But Emily Thorne was the one character that didn't disappoint us like this! She was all about impressing others with her clothing choice.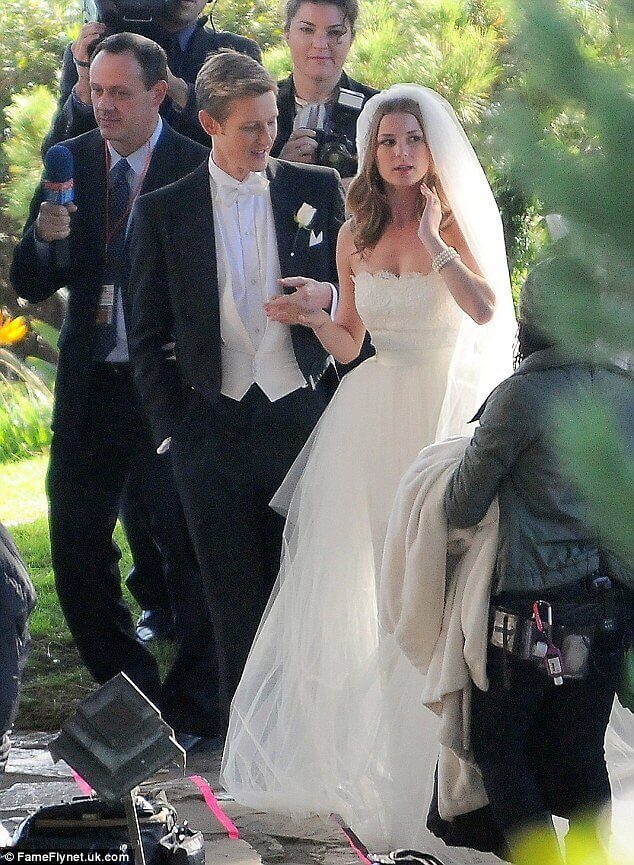 And she did! Her wedding gown choice was impressive as heck, too! It is a significant joy when the film industry puts effort into character build-up maintenance. The breathtaking white bridal gown was the season's highlight, even though the wedding was not all love and romance.
Grey's Anatomy
Even if you haven't watched the longest-running medical show, you probably know enough about the characters and their life stories, especially April Kepner's. This character went through so much (of course) and had a major glow up along the way. Her romantic life wasn't so bad either.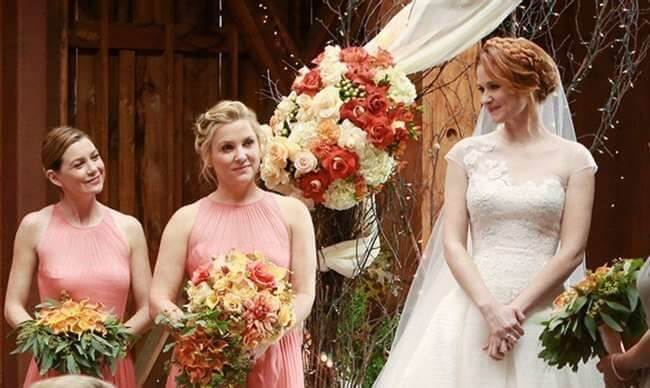 When it came to April and Matthew's wedding, even though this exactly didn't happen, at least she got to run away with her real lover (the ship we all were rooting for) in this dreamy white dress. This gown looks like it was made for April! The elegance, the boldness!
Sex and the City
Charlotte York started with having a perfect marriage with Trey. But well, she didn't get to have a happily ever after with him. However, her happiness that we were all anxiously awaiting for returns when she decides to marry Harry, the love of her life!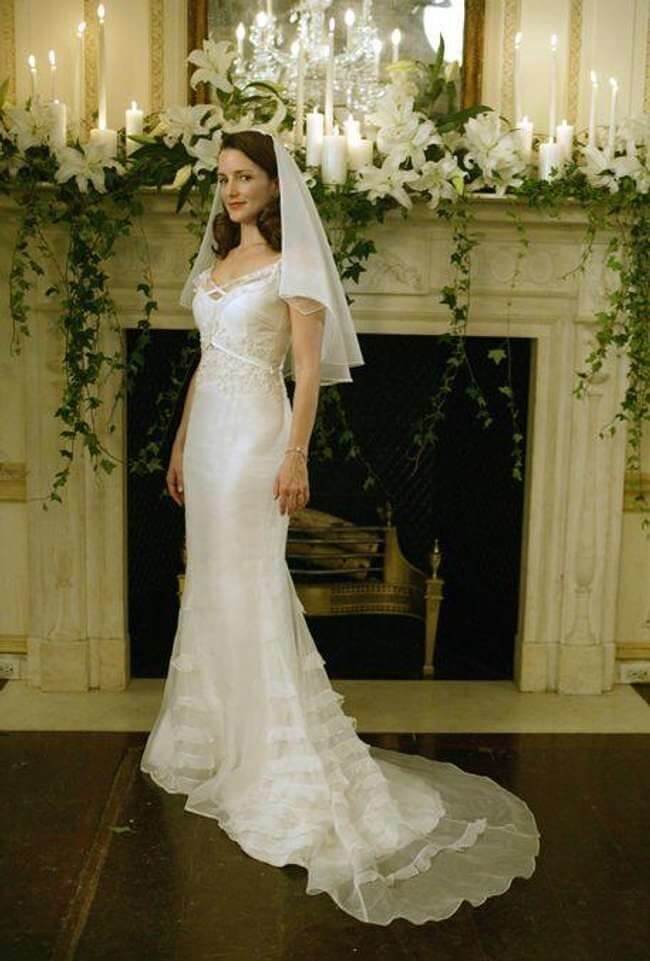 And above that, she gets to do the whole wedding thing all over again! And this time, her vintage-inspired, fishtail long silhouette white wedding dress was a beauty we can't ever get over! Even she knew she was rocking this dress; her confident posture says it all.
Jane the Virgin
We're going to be straight up here: Jane Villanueva is the only character in the entire Hollywood industry who was able to rock this traditional white wedding down (if you know, you know, if you don't, you don't). Her confidence in her magical dress is radiating.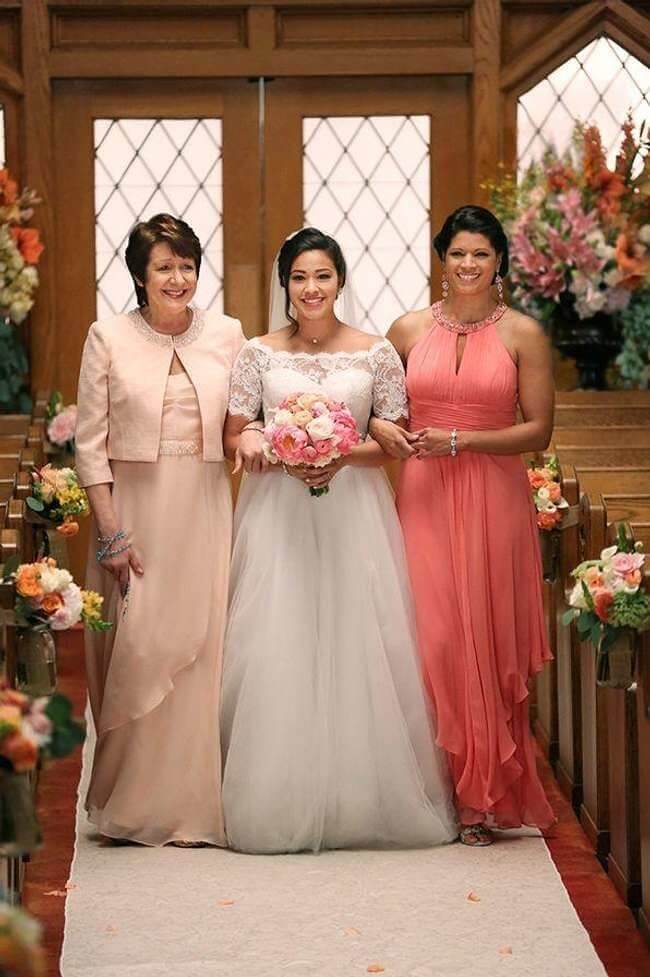 Jane looked like an absolute angel in that white gown, and we all know it. The character's glow up highlighted the wedding dress even more. We are relieved that Hollywood isn't all about bad choices. They've got some good taste of fashion, too!
Friends
Who doesn't love Phoebe? It's not a question; it's a statement. Everybody loves Phoebe. Especially her confusing clothing style and her unapologetic, confident self. She knows she's a queen. But we were not expecting her wedding dress to look like this.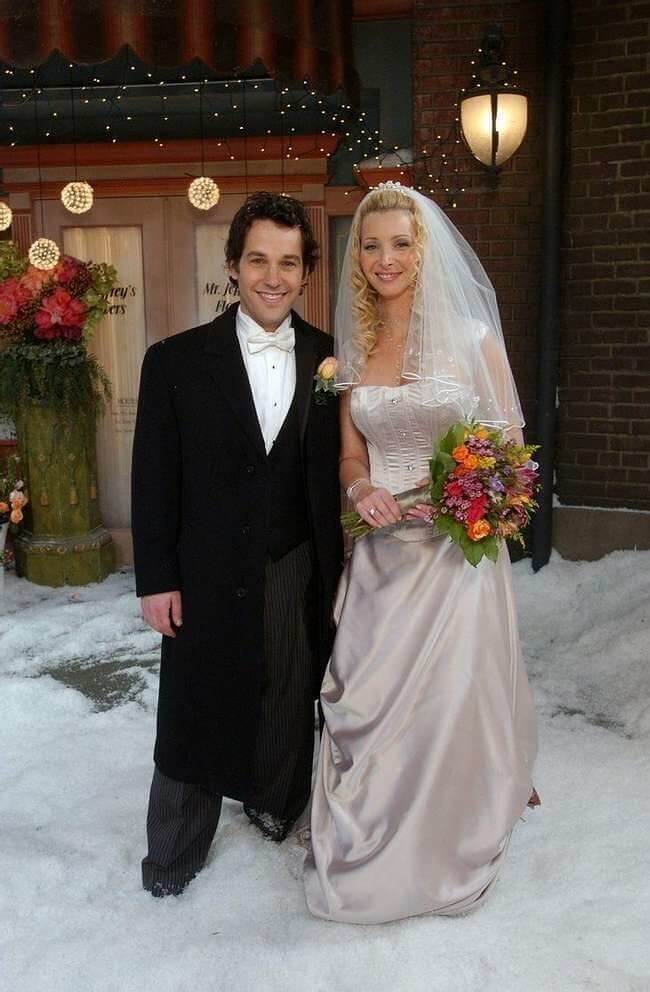 And we don't mean it in a bad way. Her outfits have always been significantly extra and different, and we were expecting to see something like that on her wedding day, too. But when she showed up in that white beauty, you can bet our mouths were left open. Mike was a lucky guy!
Boy Meets World
Topanga gave us exactly what was expected of her: a perfect wedding with Cory. The show was incredible from the start, but they did us even better when they let Topanga wear that lacy beauty on her special day!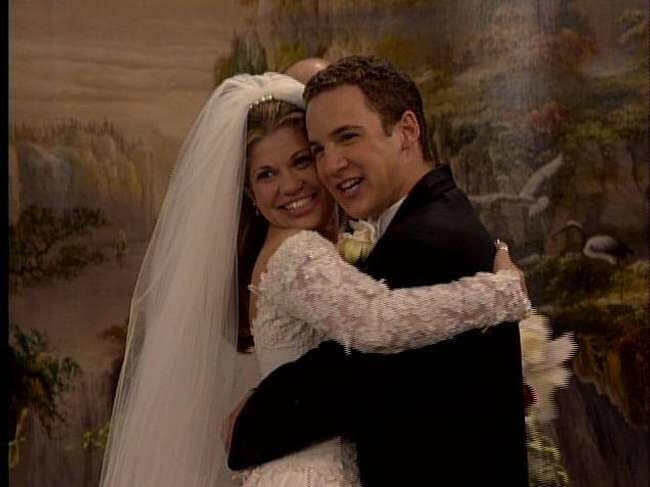 What a sight she was to behold! The long fitted lace sleeves of the gown took the dazzling look way up. The bar got too high after Topanga wore this bridal gown. Also, the long net veil was a cherry on top because it complimented the bride like nothing else ever would've done.
The Big Bang Theory
Probably one of the most oddly adorable relationships in Hollywood's television history is Penny Hofstadter and Leonard's relationship, and we're totally up for it! Not to mention that part where the adorable couple eloped without their families and friends involved.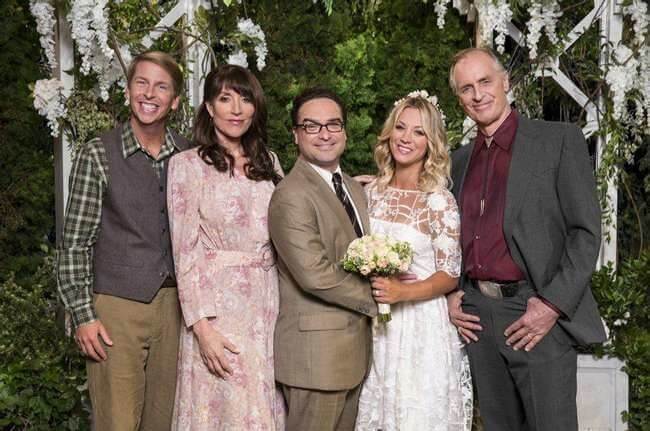 The first wedding ceremony wasn't the greatest, but then the couple decided to host another ceremony just for the sake of their loved ones. How wholesome is that? Another beautiful thing was when Penny wore the lovely knee-high white, detailed lacy dress at the ceremony!
Grey's Anatomy
Where are the Greys? Raise your hands, those of you who loved Cristina Yang. Yes, we all did. She was the cardio savant everybody worshipped. Yang gave life to this show, and our souls were ripped apart when Sandra Oh left the show. Just like this stunning dress was ripped by Mer after that disastrous wedding.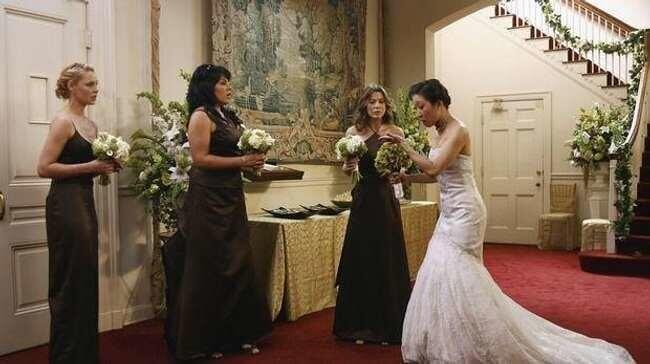 Well, we are not complaining about why Burke and Yang didn't get married. We are thankful for that, and the choice of white bridal gown Yang wore to the altar. We all can agree that she looked ethereal in that tight upper silhouette dress!
Downton Abbey
Royal weddings have always been so majestic, especially in shows and movies. Royalties bring out the queens in us. Just like it did with Lady Edith Crawley in this show. Her royal wedding white dress was a sight to behold! She is our queen!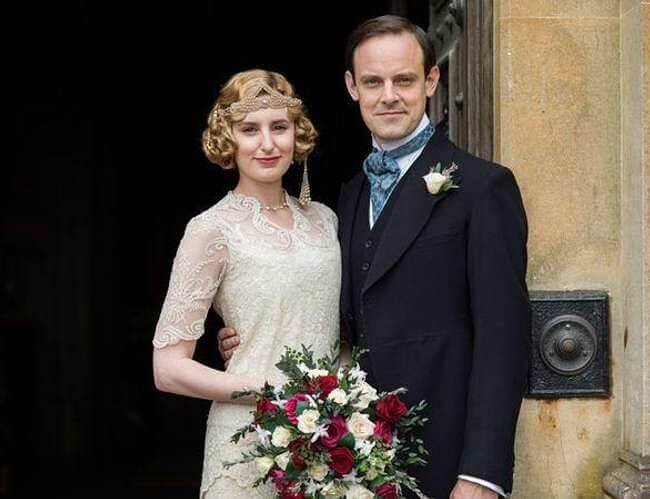 And Lady Crawley from Downton Abbey didn't leave us hanging when she chose an astoundingly stunning dress and headpiece for her happy ending with the lucky Bertie. Bertie certainly turned out really lucky, having to see this beauty up close. Wow.
Friends
We all remember this iconic character as a runaway bride wearing an iconic white gown in this iconic scene from an iconic first episode in an iconic 90s show. Yes, we know we used the word iconic way too much. But the first appearance of Jennifer Aniston as Rachel as she runs into the café was pretty iconic, don't you think?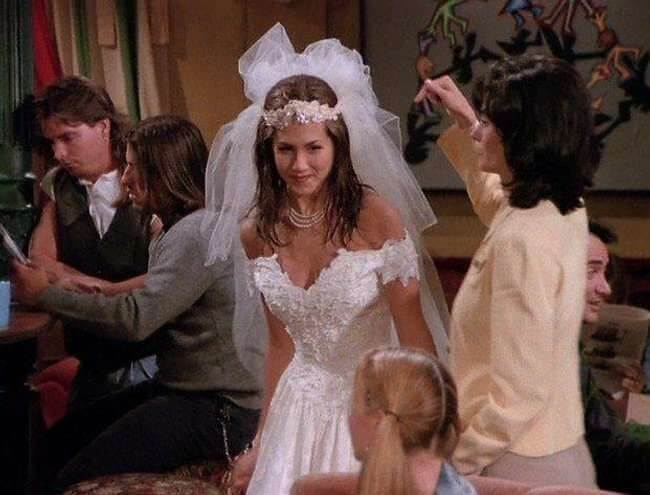 Also, the dress she was wearing didn't let us down either. Even though she looked hustled and messy, she looked amazing in that perfect white lace bridal gown. Only Rachel could've pulled this dress off, and she did. Barry missed out, for real.
Will and Grace
Did any of you ever think that Grace Adler would never get married in Will and Grace, or were we the only ones? We are not going to lie; it did look like she would spend most of her time thinking about her BFF Will? You can't blame us for thinking that!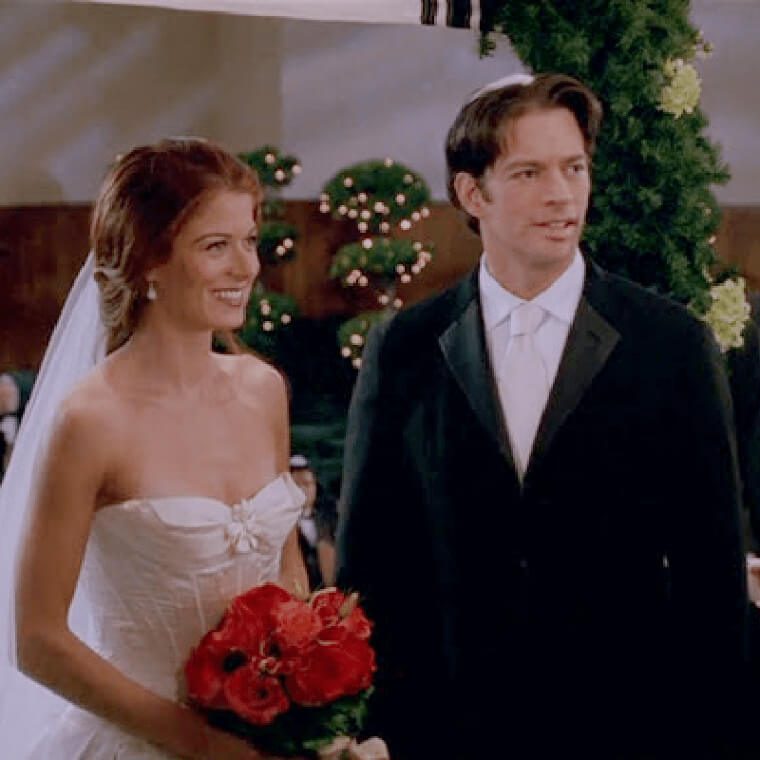 Thankfully, and finally, Grace found her home in the arms of Leo, her love and partner, although she only knew him for a short time. And when they eventually got their happy ending, she looked so pretty in her unique white gown. Good for her!
Games of Thrones
The fact that this incredible show got awards after awards for costume designing and best wardrobe for every character doesn't even surprise us. This show had some really amazing costumes; its wardrobe management was the cream of the crop, and they are highly talented.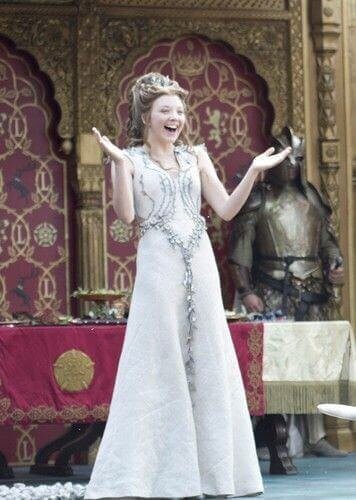 Just like when Margaery Tyrell marries Joffrey, she couldn't have looked more elegant and graceful. Her dress was genuinely radiating magical vibes. It was a relief when that horrendous guy got poisoned at the reception, though—saved by the poisonous bell, or rather a grandmother.
New Girl
Who else thought CeCe and Schmidt were perfect for each other? We did, and for a good reason too. They had great chemistry, and they understood each other's goofiness better than most couples do. We all expected their wedding day to be exciting and fun.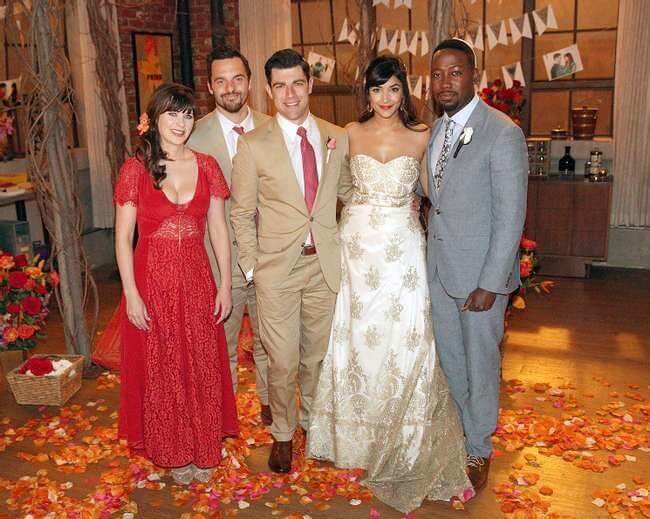 Although, in the end, the groom ended up missing the big party, at least they got to have an intimate ceremony surrounded by their closest friends. That's pretty great. CeCe, of course, wore a dress designed by her friend, which she looked marvelous in!
Friends
Well, it looks like all three iconic characters got to wear their wedding dresses at some point in the show. Monica's most awaited wedding with Chandler was a dream come true for all of us. They were great for each other, and they were super adorable, too!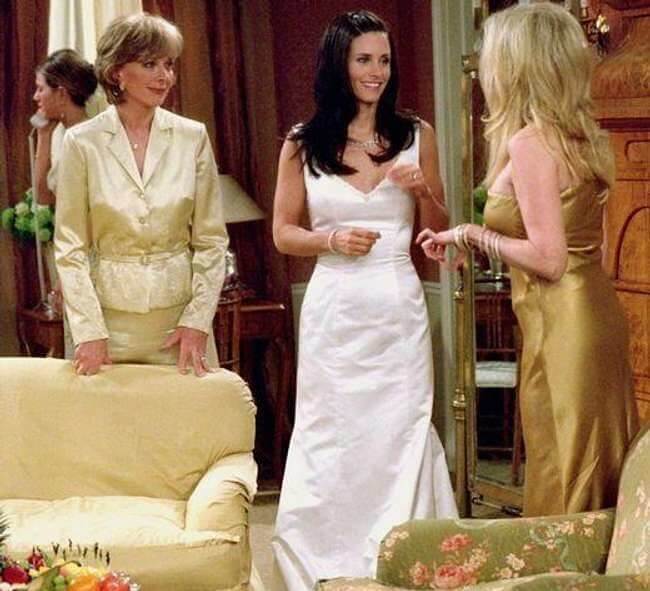 Monica's flawless plain white gown was just perfect. The radiating elegance and grace were not something anybody could miss. It all looked so real that we almost forgot we were watching a show at one point! She was such a dreamy sight to look at.
Grey's Anatomy
To end with this incredibly loved show, we present to you our all-time favorite, Izzie Stevens. However, her wedding wasn't exactly as she'd always dreamed, with her cancer and all. But it was the closest thing to it, and her happiness said it all.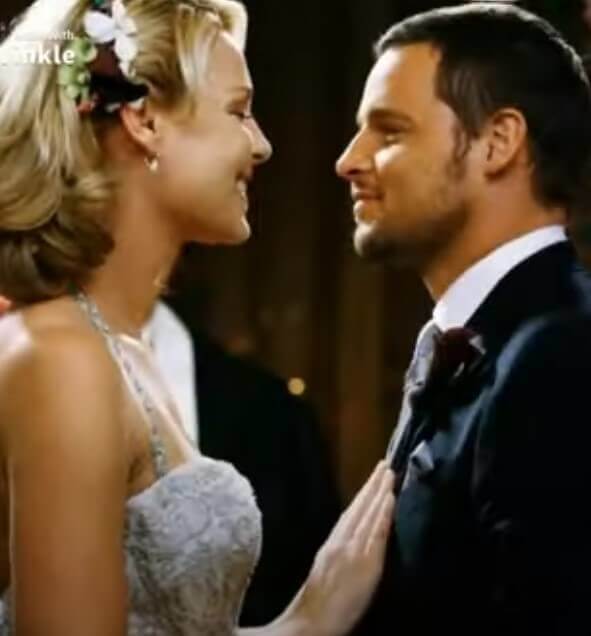 Alex was a lucky guy to have Izzie looking like "Dr. Supermodel." Her stunning white dress was a wish come true for both Izzie and all of us. We couldn't NOT cry at this 'McDreamy' wedding ceremony! (Get it?)