Blooms of Elegance: The Finest Purple Flowers for Your Wedding Bouquet
By Glory O October 30, 2023
---
Your wedding bouquet is more than a mere accessory; it's a reflection of your style and a key component of your bridal look. It's also one of the most photographed elements of your big day. If you're considering adding a pop of color to your ensemble, purple flowers are a captivating choice that can complement various wedding themes. From the soft and gentle lilac to the drama-filled anemone, here are some of the best purple flowers to incorporate into your wedding bouquet.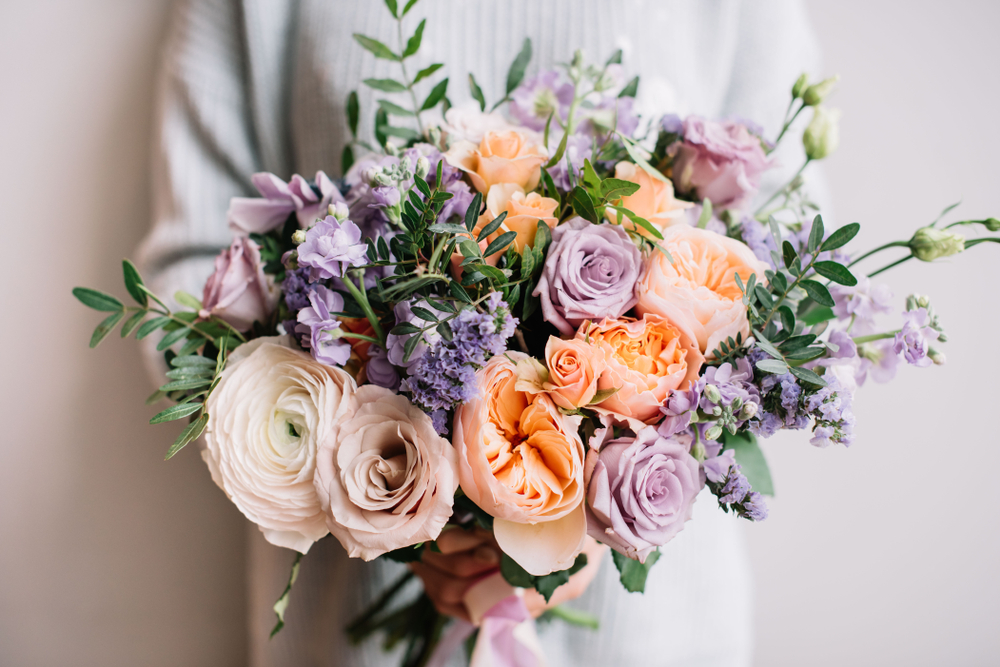 Lilacs
Lilacs are synonymous with grace and elegance. Their soft, pastel purple hues create a romantic and timeless bouquet. Perfect for springtime and summer weddings, lilacs add a touch of fun and sophistication to your ensemble.
Garden Roses
Garden roses in shades of lavender and deep plum are a classic choice. They exude an air of refinement and pair beautifully with various floral varieties. Adaptable for any style of wedding, from the vintage retro feel to a sleek modern affair, roses are the perfect flower.
Sweet Peas
For a bouquet that's both fragrant and visually stunning, consider sweet peas. Their delicate petals and lovely scent make them an enchanting addition to any arrangement. Sweet peas in shades of purple can infuse your bouquet with a sense of enchantment.
Hydrangeas
Hydrangeas are known for their lush, full blooms. Their deep purple varieties can add depth and volume to your bouquet. Perfect for creating a bold and moody vibe, hydrangeas are a versatile choice for any season.
Clematis
Clematis vines produce unique, star-shaped blooms that can lend an ethereal quality to your bouquet. They work wonderfully as cascading elements or as focal points. Clematis in shades of purple can evoke a sense of whimsy and charm.
Tulips
Tulips come in various shades of purple, making them a versatile choice for your bouquet. Their graceful, long petals add a touch of refinement to any arrangement. Whether you prefer a soft lilac or a deep violet, tulips can accommodate your vision.
Scabiosa
Scabiosa, also known as the pincushion flower, offers intriguing spherical blooms. Their unique texture and deep purple shades make them a captivating addition to a bouquet. Scabiosa can add a touch of the unexpected to your arrangement.
Anemones
Anemones are a popular choice for brides seeking a bold and dramatic bouquet. Their striking dark centers contrast beautifully with their delicate petals. If you're aiming for a rich and moody feel, anemones in deep purple are an excellent choice.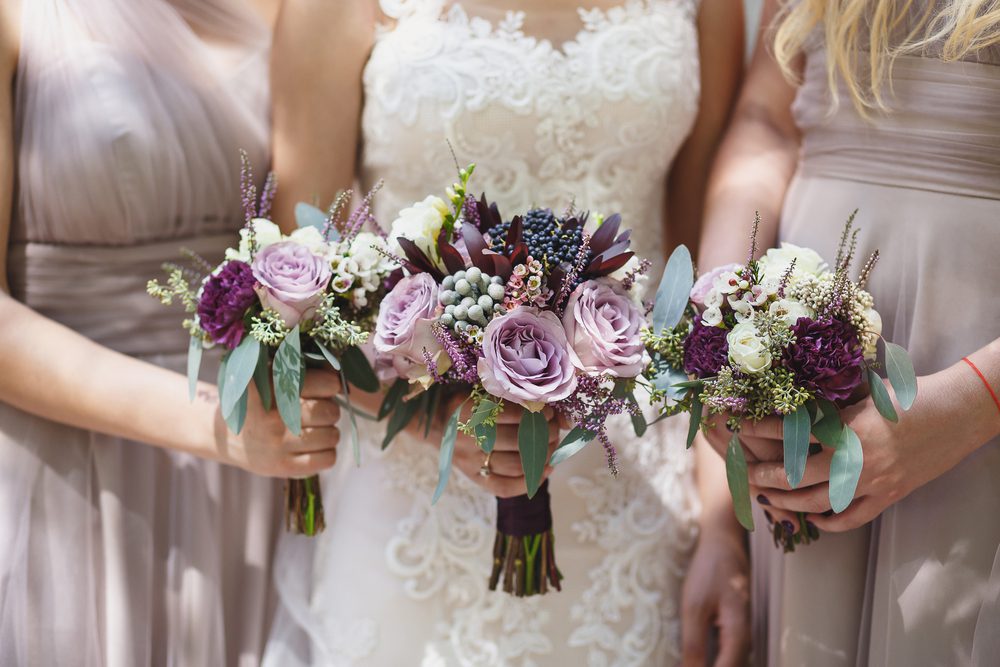 Mixing purple flowers into your wedding bouquet is a fabulous way to add color and personality into your bridal look. Whether you're going for a soft and romantic ambiance or a bold and dramatic statement, these purple blooms offer endless possibilities for creating a stunning arrangement that reflects your unique style.