40 Celebrity Mother And Daughter Duos That Could Pass As Doppelgangers
By Jhoana C November 19, 2023
---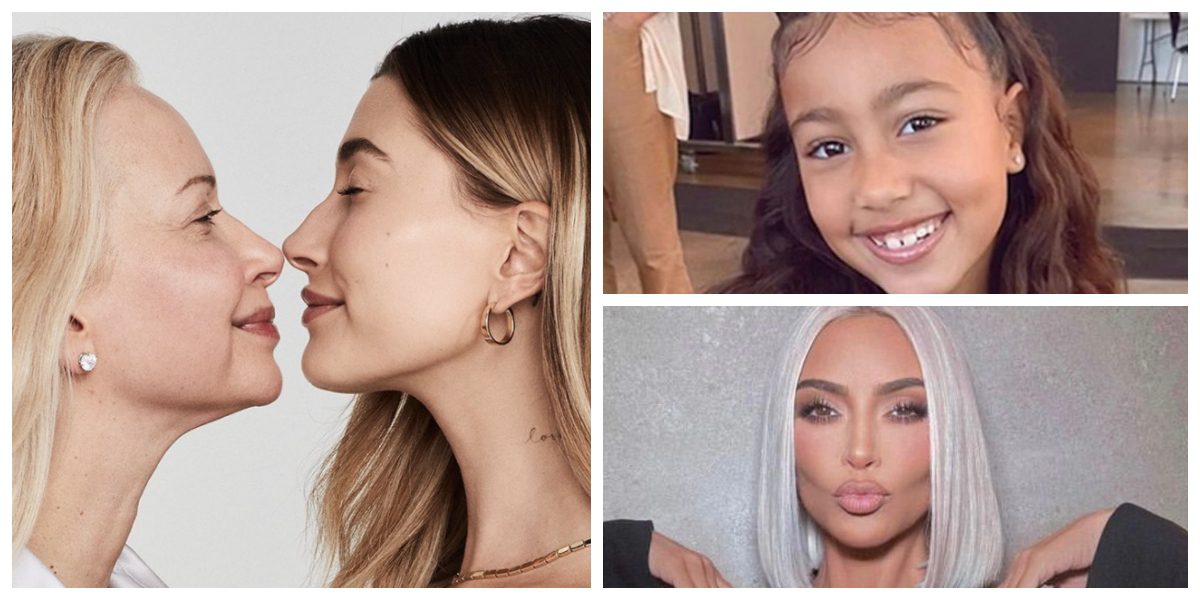 Some celebrities had to wait tables or fold clothes before they landed their big breaks and were catapulted into stardom. However, others had the spotlight thrust on them from the beginning, especially those who are children of well-known actors. At such a young age, cameras were always in their faces, and stories were often scattered throughout various tabloids.
It's not unusual for children to follow in their parent's footsteps. Usually, the children of celebrities often become famous themselves, and if you compare them to their mothers at the same age, you'll find that they not only look completely alike, but they also like doing similar things. In line with that, here are 40 celebrity mother and daughter duos that could pass as doppelgangers, not only in appearance but in personality, too.
Madonna and Lourdes Leon
When most of us didn't know what direction to take in life, Madonna was already on the verge of a successful singing career. Today, she is known as one of the most recognizable and respectable names in the music world.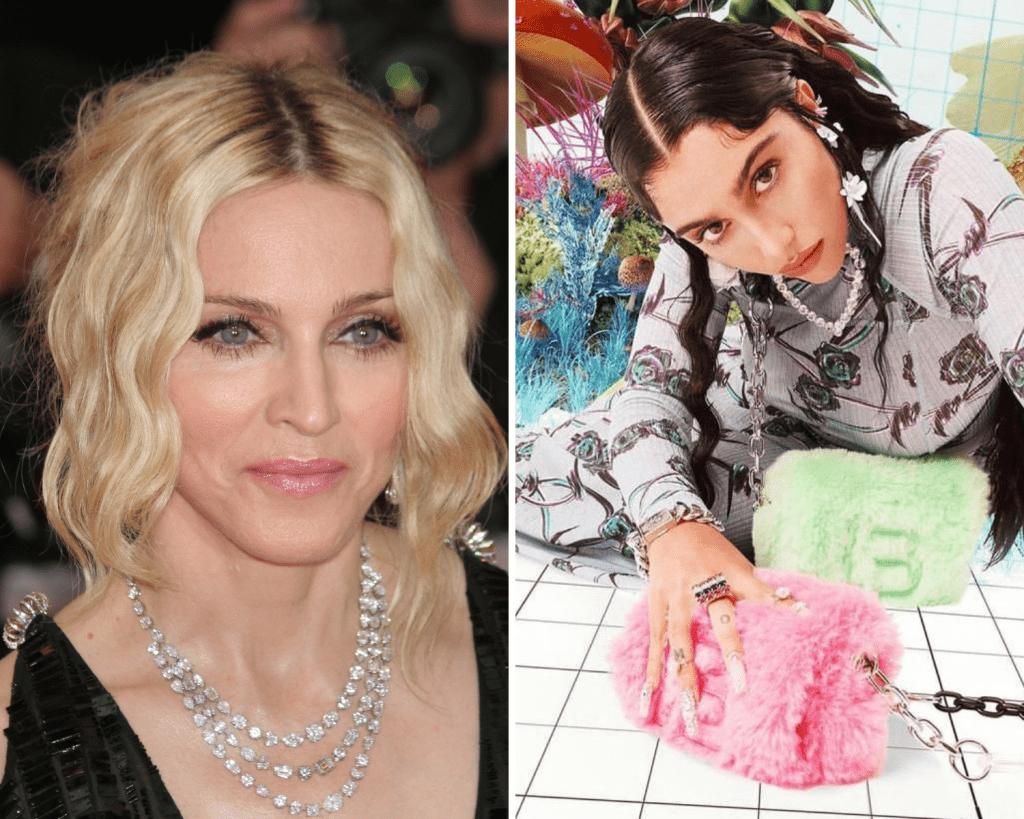 At the age of 22, her daughter Lourdes Leon is the spitting image of her mother, but she isn't as famous as her, although she is slowly making a name for herself. She is a model and had just recently landed her first big gig with Miu Miu.
Christie Brinkley and Sailor Brinkley Cook
Christie Brinkley was one of the most popular and beautiful models in the 80s, and it's only normal that someone as gorgeous as her would also have a daughter that's a head turner too. Sailor Brinkley Cook, just like her mother used to, is now gracing the covers of Sports Illustrated.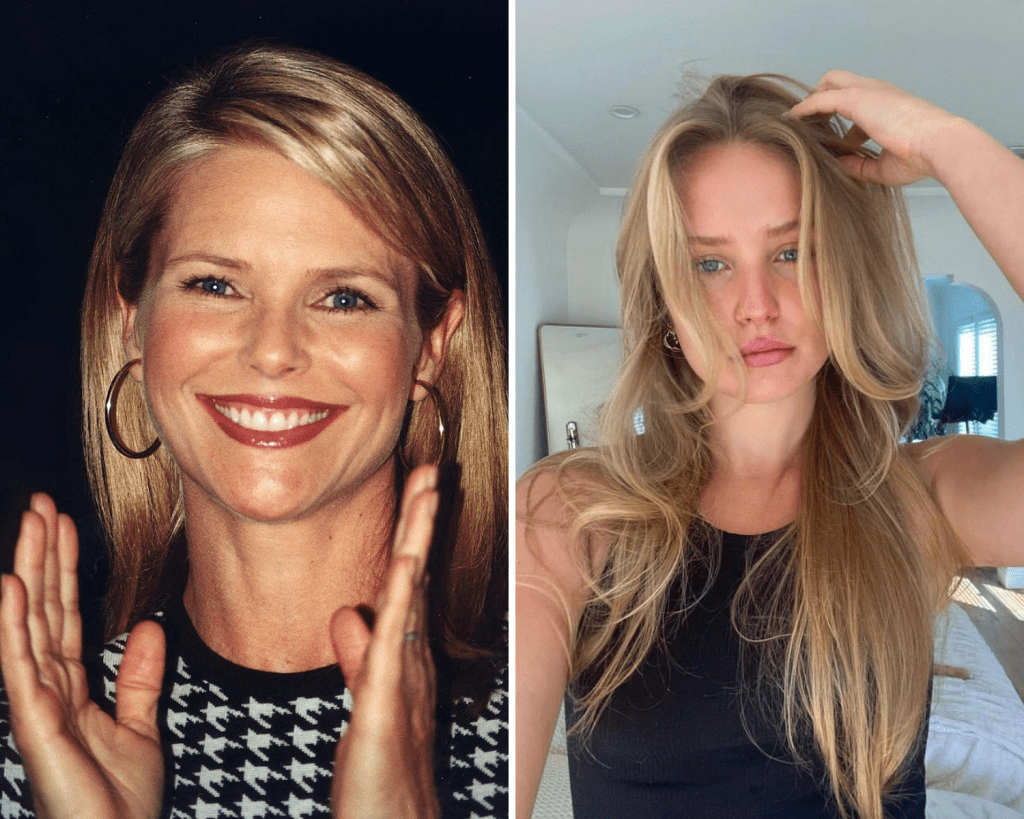 In the year 2017, she was on the cover twice, and we know only a few selected models are given that big of a privilege. If this happens to you, you know you've made it. She is also active on social media, particularly Instagram.
Demi Moore and Rumer Willis
Demi Moore is one of the most recognizable actresses in Hollywood, and her body of work is the envy of young actresses who want to make it big in the biz. From action to romance, she has starred in it all, and one of her most memorable movies is St. Elmo's Fire.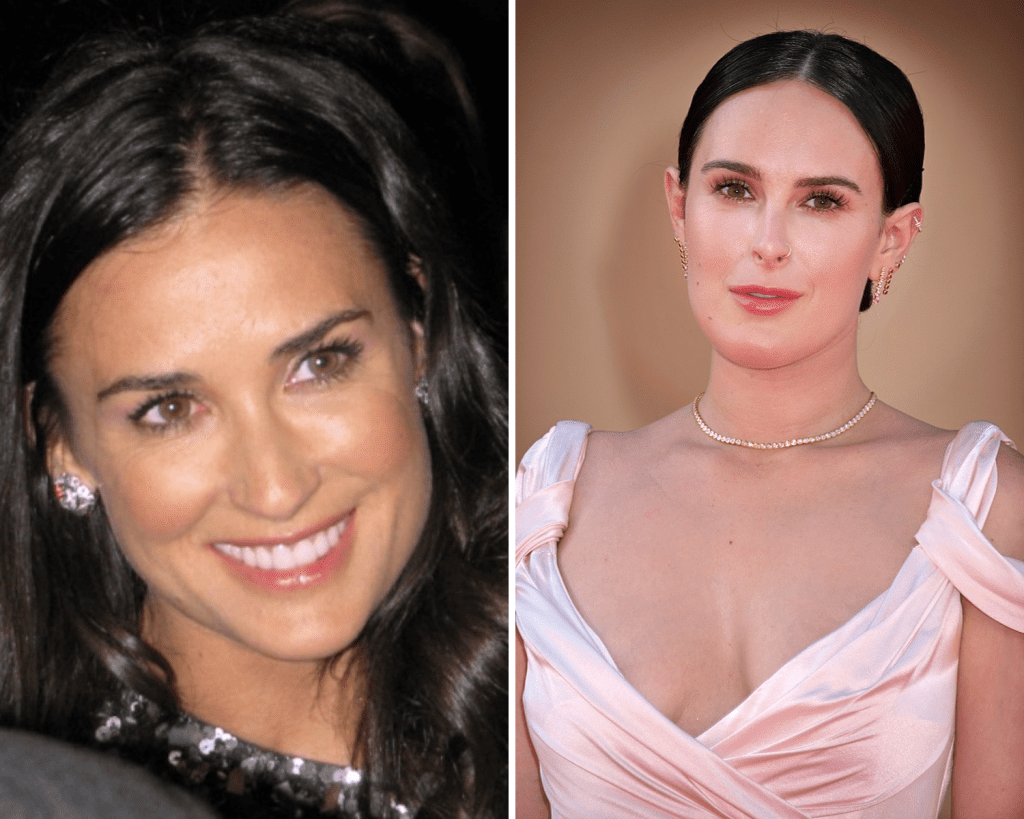 Her daughter Rumer was born in 1988 when she was at the peak of her career. Rumer has been influenced by her famous parents and also dabbled in acting. Though she might not be as popular as either of her parents, she has 31 acting credits under her belt to date.
Drew Barrymore and Frankie Barrymore Kopelman
Coming from the acting powerhouse clan of the Barrymores can easily put pressure on anyone, and Drew has been through a lot, not only in her acting career but also in her personal life. She first stole the heart of millions at the age of seven as the unforgettable little girl in the movie E.T. The Extra Terrestrial.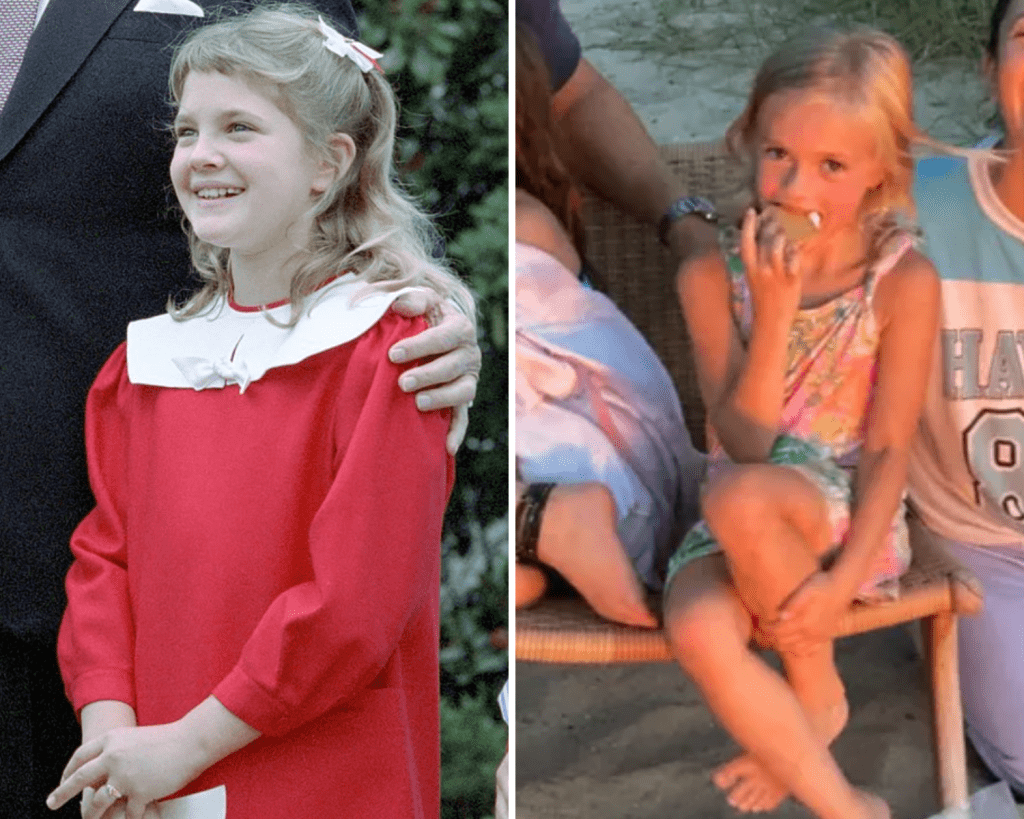 Here in the photo, you see her at the age of seven, and on the right is her daughter Frankie at the same age. She looks like her mother, and we think that Drew is going to be very protective of her little girl and won't allow her to be subjected to the pressures that she went through.
#5 Kennya Baldwin and Hailey Bieber
Kennya Baldwin, Hailey Bieber's mother, was only 22 and was working as a graphic designer for two months before she met actor, director, and producer Stephen Baldwin. The two got married, had Hailey, and the rest, as they say, is history.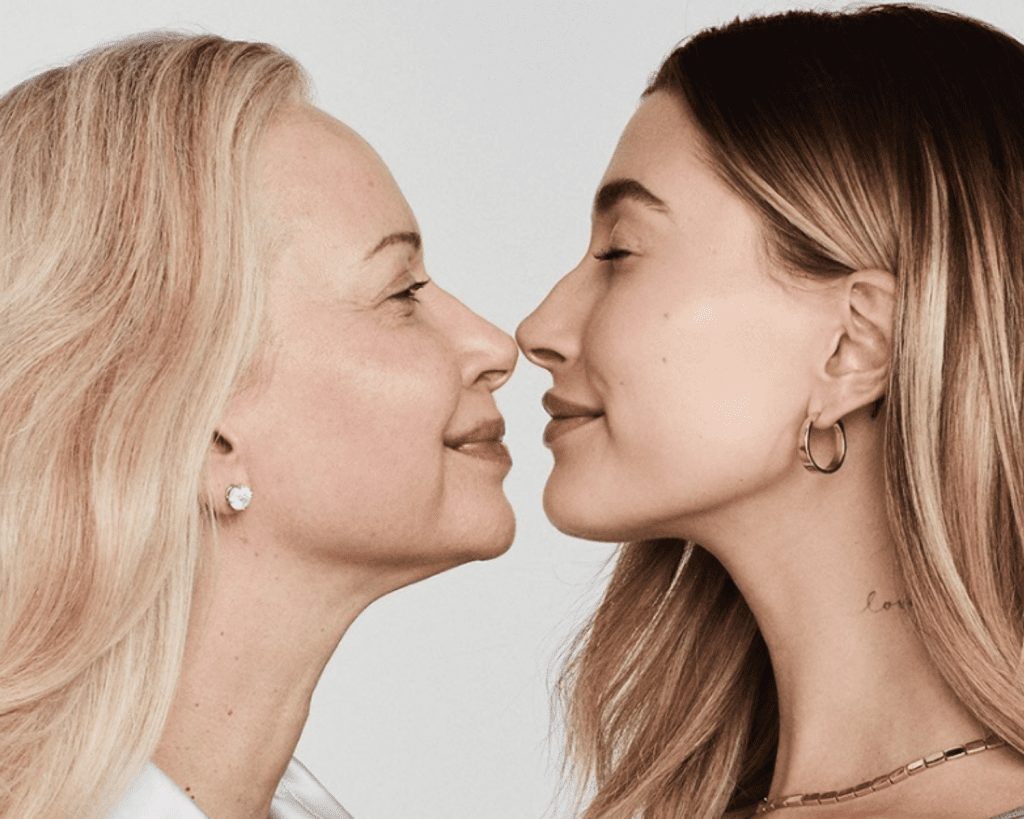 At the same age, Hailey is one of the most sought-after influencers and models in the biz. She has modeled for some of the biggest brands and participated in some of the most sought-after campaigns. Without a doubt, she has achieved more than her mother at the same age.
Cindy Crawford and Kaia Gerber
Another big name in the modeling world in the 80s was Cindy Crawford. Her distinct beauty mark, which she refused to have removed, set her apart from the other girls in the industry. Cindy got her first modeling gig when she was only in junior high.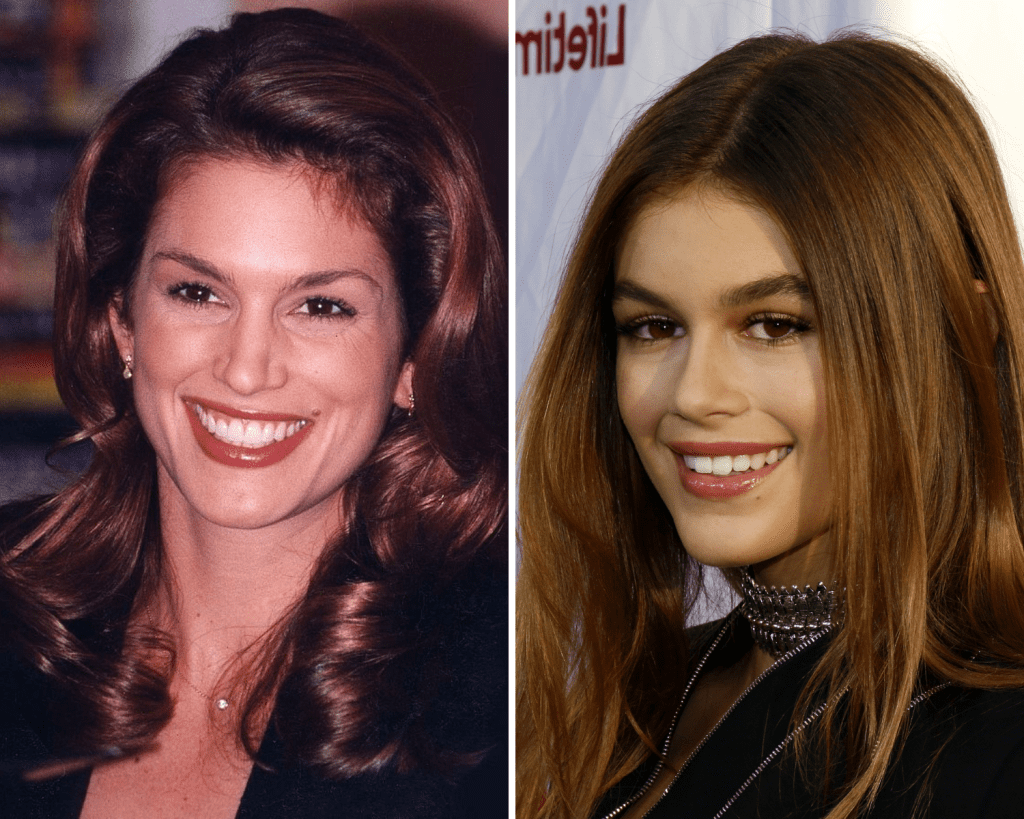 Her daughter, Kaia, is just like her mother, proving that the apple doesn't fall far from the tree. She also began her modeling career when she was only a teenager and has appeared in campaigns for big names such as Versace and Chanel.
Goldie Hawn and Kate Hudson
Another mother-daughter duo that is well-loved in Hollywood is Kate Hudson and Goldie Hawn. The two blondes have similar careers, starring in several romantic comedies. Goldie Hawn has won an Academy Award for her performance in the movie Cactus Flower.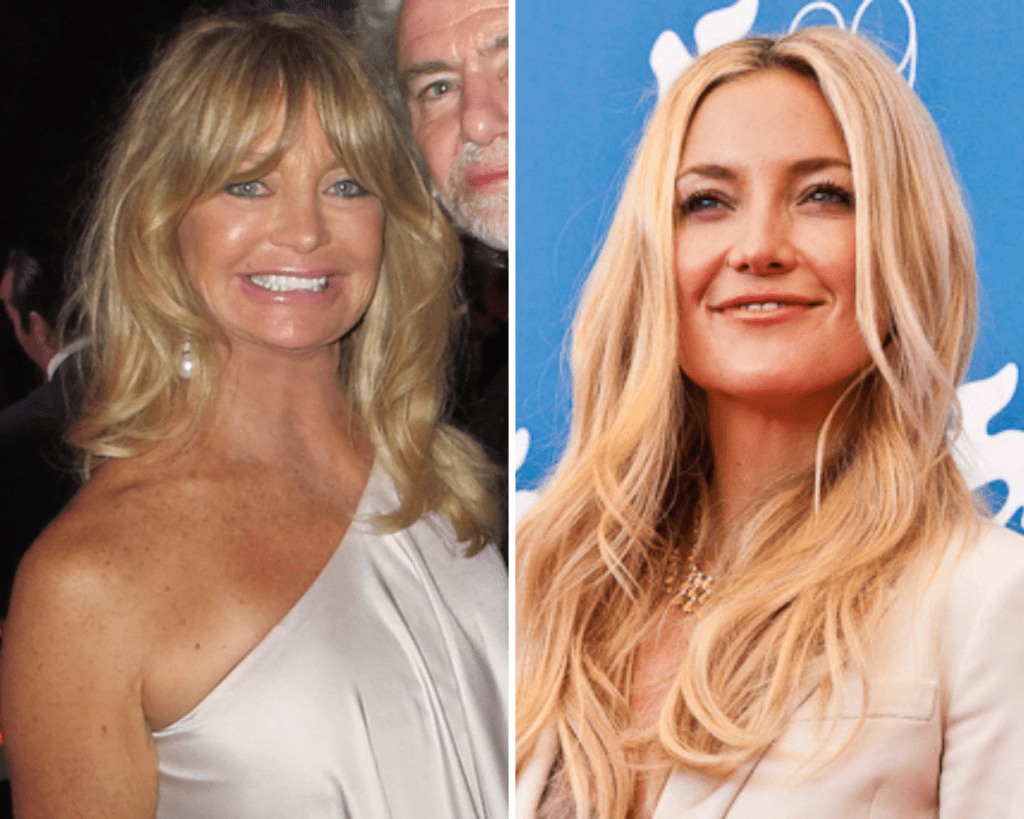 Kate Hudson is also a familiar name in Hollywood, having starred in a variety of romcoms such as How to Lose a Guy in 10 Days. Just like her mother, she is the recipient of numerous awards too, including a BAFTA and a Golden Globe.
Heather Locklear and Ava Elizabeth Sambora
Being cast in the hit TV series Dynasty gave Heather Locklear the break she needed in Hollywood. She was only 20 years old when she won the part of Jo Dean Carrington. In 1994, she got married to Bon Jovi guitarist Richie Sambora, and three years later, the couple was blessed with a daughter whom they named Ava Elizabeth.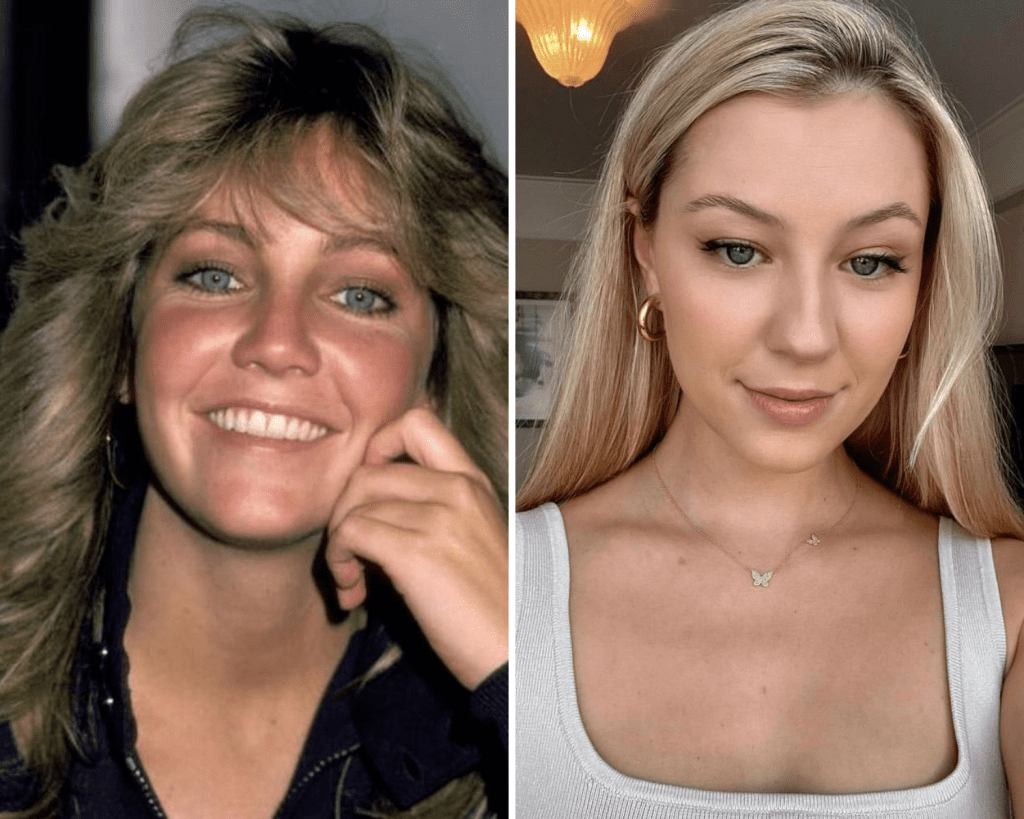 Fast forward 20 years later, and Heather's daughter is also trying her hand at acting. She landed her first acting role in the movie This is 40. Children really do what their parents do, not what their parents say. We'll be looking out for this promising young lady.
Jada Pinkett Smith and Willow Smith
At the age of 19, Jada Pinkett was on the cusp of breaking out in Hollywood. She was in a few made-for-TV movies before she got a role in A Different World. Since then, she has starred in countless movies, including the Matrix films, The Nutty Professor, and Set It Off.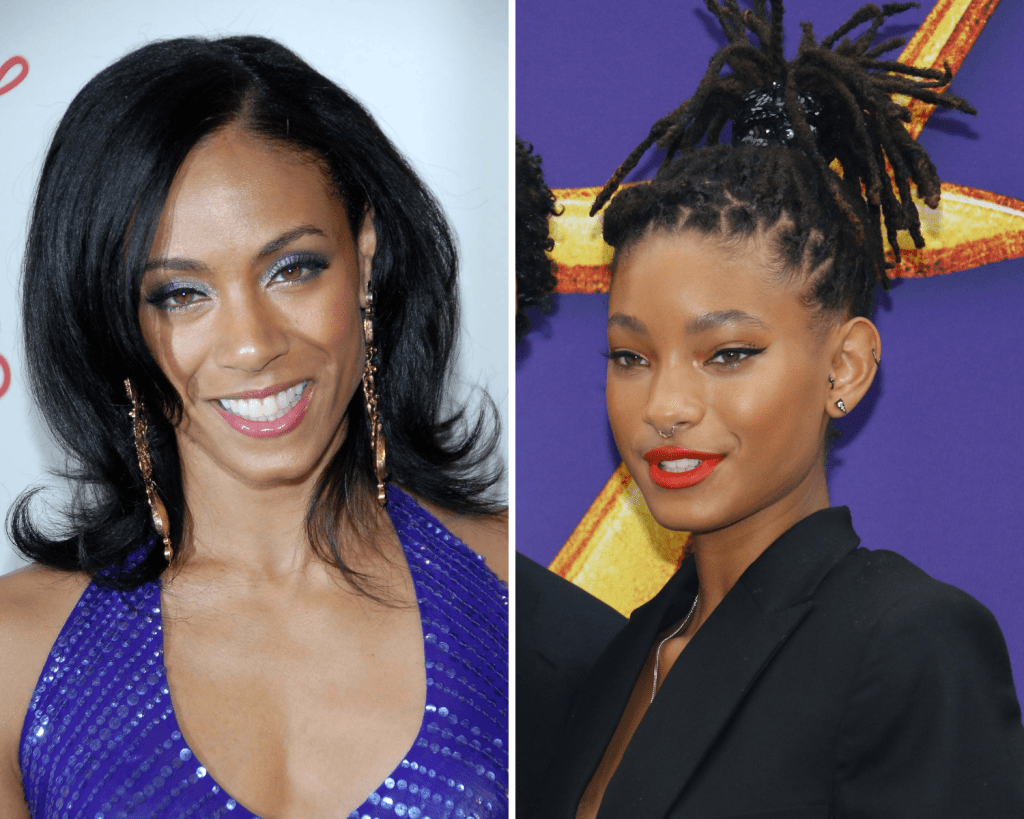 Her daughter with Will Smith, Willow Smith, isn't following in her mother's footsteps. Instead, she has a successful music career. Aside from that, people are interested in what she's wearing and what she has to say, so they tune in to her mother's YouTube series, Red Table Talk.
Lisa Bonet and Zoë Kravitz
Although not active in movies and television as she used to be, Lisa Bonet began her acting career in The Cosby Show as Denise Huxtable. It catapulted her acting career, and to this day, she is best remembered for her role in the TV show.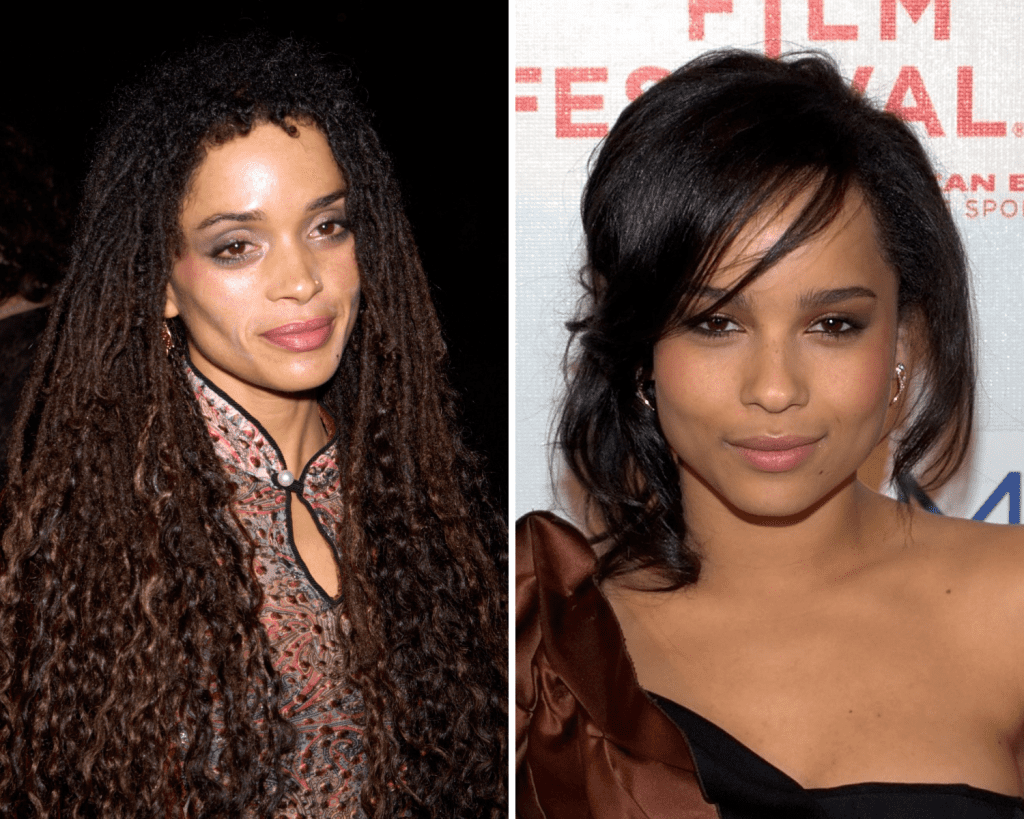 She met musician Lenny Kravitz and, after getting married, gave birth to their daughter Zoë who is now also an actress, just like her mother. She has starred in various projects, including Big Little Lies and the movie Batman where she played the Catwoman.
Courtney Love and Francis Bean Cobain
Courtney Love was only starting her music career at the age of 17. She would only gain fame years later as the lead singer of the band Hole and as the girlfriend of Kurt Cobain. At only 17, we didn't know what we wanted to do yet and were most likely always out with friends.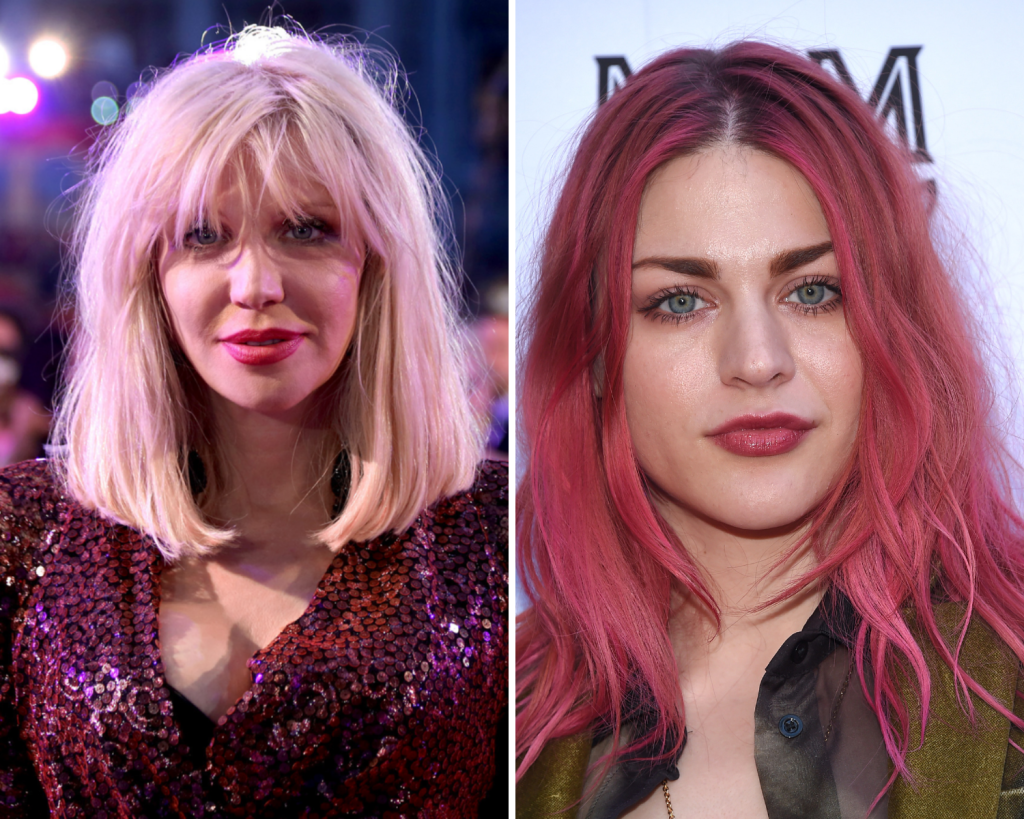 Courtney's daughter with Kurt, Francis Bean Cobain, has always been in the spotlight since she was born. After all, she was the daughter of two famous people. She doesn't dabble in music but is into visual art. The stunning young lady is also a model.
Peggy Lipton and Rashida Jones
Peggy Lipton became famous for her role on The Mod Squad as Julie Barnes. Aside from acting, she also modeled, and by the time she was in her 40s, she was married to Quincy Jones and had a daughter they named Rashida.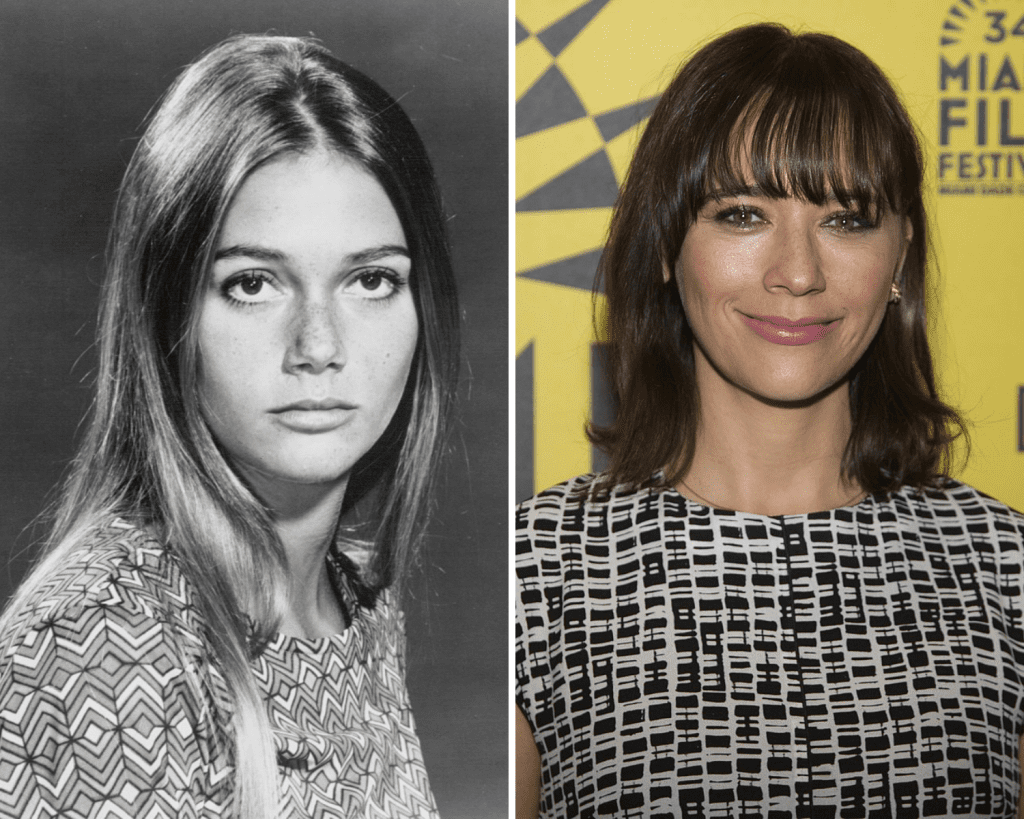 At 40, Rashida Jones is also an actress just like her mother and got important parts in two of the most beloved sitcoms today, Parks and Rec and The Office. Aside from acting, she also writes and produces. Looks like talent runs in the family.
Robin Wright and Dylan Francis Penn
By the time she hit her late 20s, Robin Wright was already a household name, thanks to parts in well-loved films such as Denial and The Princess Bride, but her most famous role was in the movie Forest Gump opposite Tom Hanks.
After marrying fellow thespian Sean Penn, they had a daughter whom they named Dylan Francis, who looks a lot like Robin. She is not so much into the acting world. Nowadays, Dylan is also involved in a little bit of acting and has had modeling campaigns with the Gap.
Priscilla Presley and Lisa Marie Presley
Despite the controversy of her underage relationships and eventual marriage to the King of Rock, Priscilla Presley was a devoted mother to her children. Although her relationship with Elvis fizzled out after six years due to a variety of reasons, the two remained friends.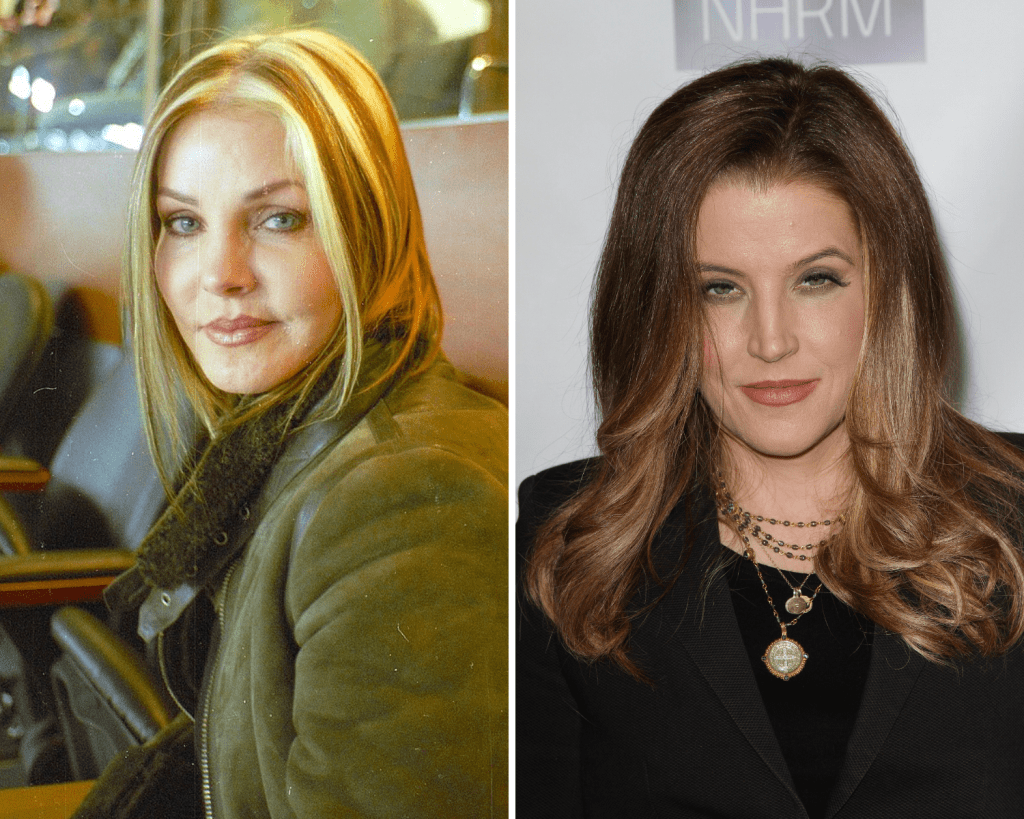 Lisa Marie, just like her mother, also married young at the age of 20, but when it comes to the talent department, she takes more after her father. She sings and writes songs and has released three albums so far.
Debbie Reynolds and Carrie Fisher
Debbie Reynolds started acting at an early age, and she had a career that spanned seven decades. She first got people's attention for her portrayal of Helen Kane in the movie Three Little Words in the 1950s. Her performance in the film earned her a nomination for the Golden Globe Award for Most Promising Newcomer.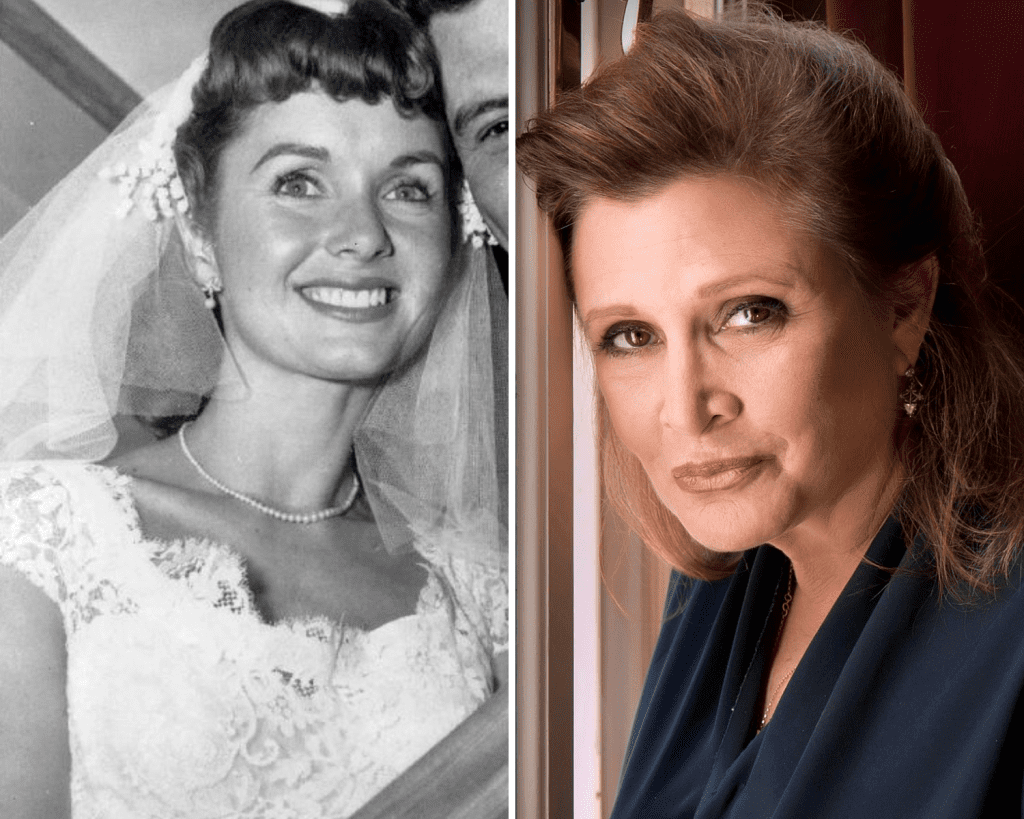 Her daughter, Carrie Fisher, acted in films just like her and will always be remembered as Princess Leia in the hugely popular Star Wars franchise. She wasn't a slacker, and just like her mother, she also garnered nominations for her body of work.
Vanessa Paradis and Lily-Rose Depp
Before turning 20, French stunner Vanessa Paradis was already an established model, musician, and actress. Her first claim to fame was her song Joe El Taxi which was released when she was only 14 years old. Wow, at 14, we still didn't know what we wanted in life.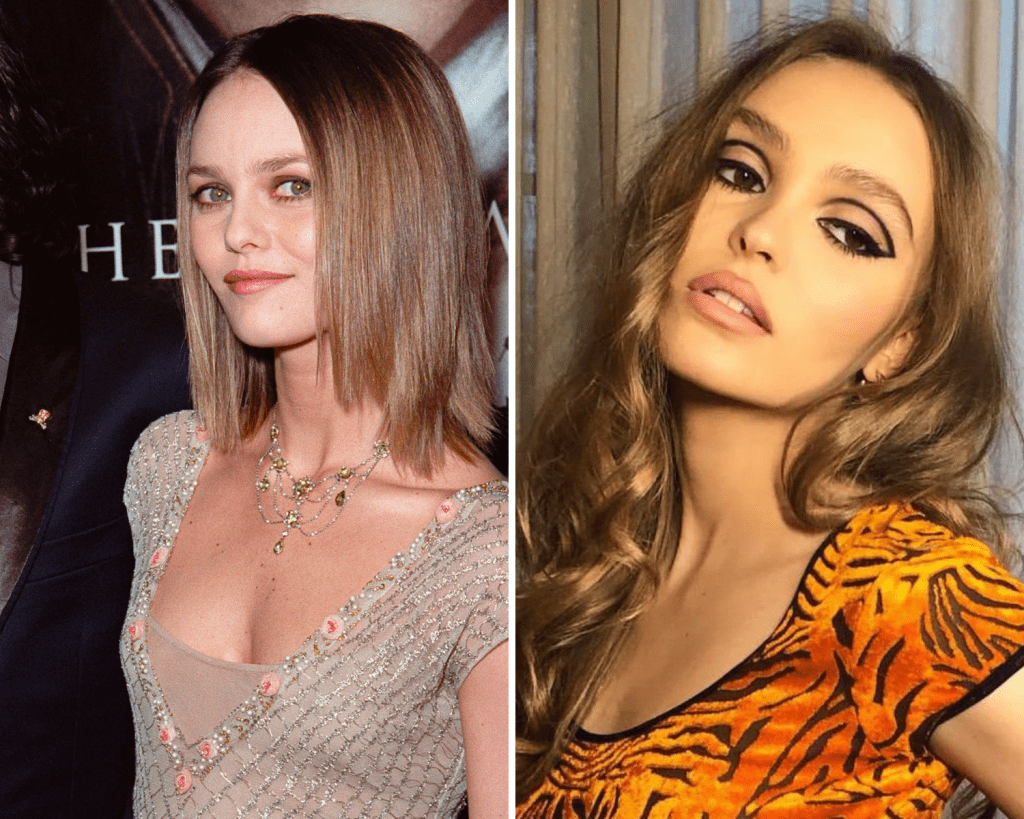 She had a daughter Lily-Rose Depp with longtime partner Johnny Depp along with a son. Lily-Rose Depp is an actress and model, just like her mama. At age 15, she was already featured in the film Tusk, and she has been the face of Chanel for years.
Jerry Hall and Georgia May Jagger
At the age of 24, when most of us were struggling with our careers after having just graduated from university, Jerry Hall was already a famous model. In the 70s, she was one of the most popular names, and she transitioned into acting.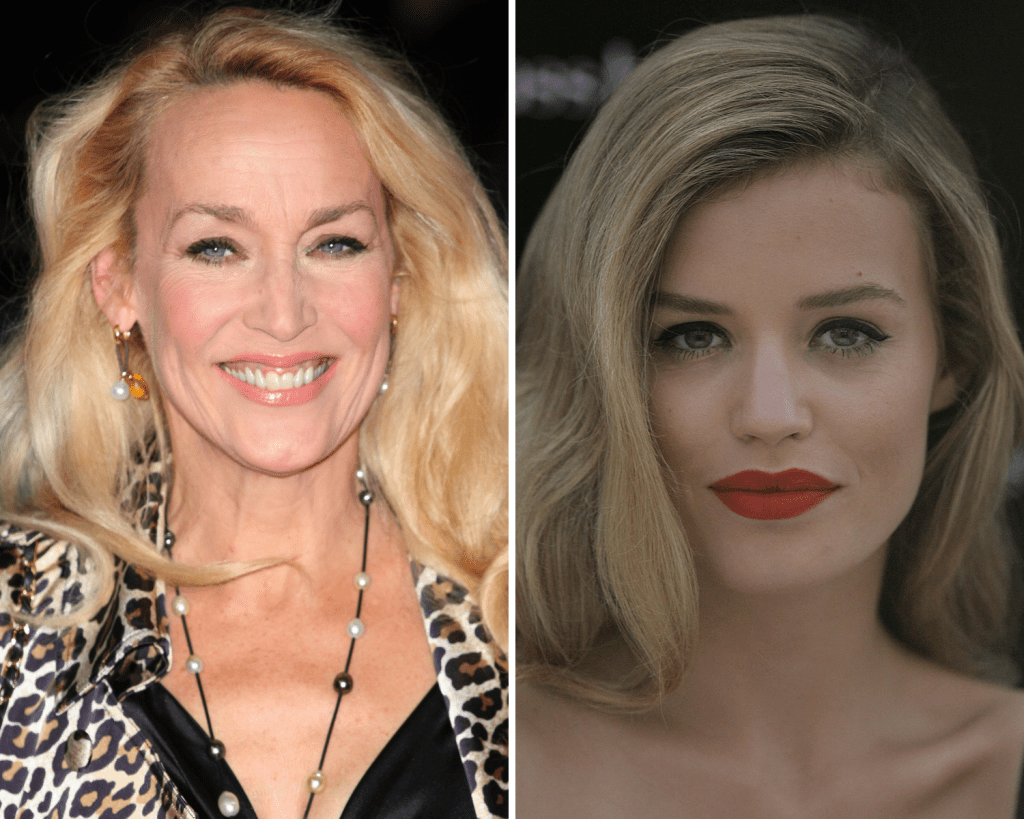 She married Mick Jagger, the vocalist of one of the most popular rock groups in the world, The Rolling Stones. Their daughter, Georgia May Jagger, is following in her mother's footsteps. She started modeling at the age of 16 and has appeared on the covers of various magazines all over the world.
Andie MacDowell and Rainey and Margaret Qualley
Andie MacDowell gained fame when she was cast in the role of Dale Biberman in the highly-acclaimed movie St. Elmo's Fire. She was only 29 years old when she first got a taste of stardom. She has gone on to star in countless movies.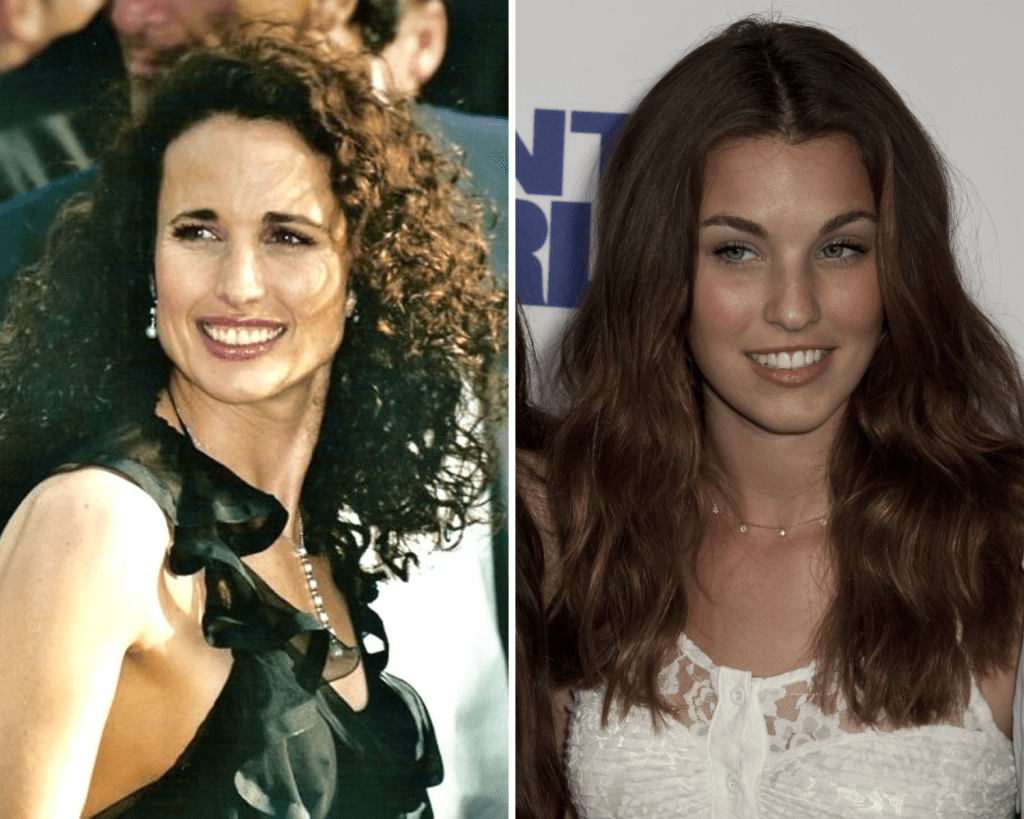 She gave birth to two daughters, Rainey and Margaret, who are now both in their early thirties and late twenties. Not only do the sisters look a lot like their mother, but they are also into the arts, too. Aside from acting, Rainey is into singing, and Margaret loves dancing.
Diane Ladd and Laura Dern
As an actress, director, author, and producer, Diane Ladd has appeared in more than 100 hundred films and television shows. She won the BAFTA Best Actress in a Supporting Role for the 1974 film Alice Doesn't Live Here Anymore. She has also been nominated for the Academy Award for Best Supporting Actress.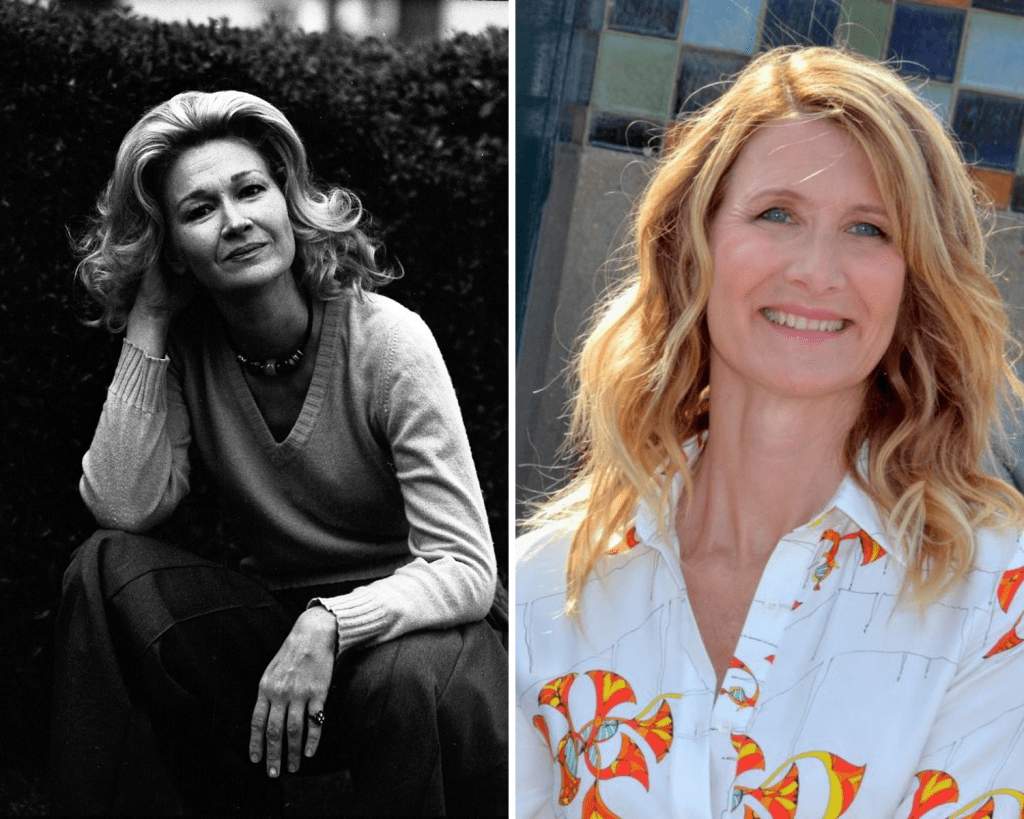 Seeing as her mother is an actress, it's not unusual for Laura Dern to show an interest in acting too. Dern began acting in the 80s and is now in her 40s, she has won the Golden Globe Award for Best Supporting Actress for her role in the movie Marriage Story. The mother and daughter duo have been quite successful in their 40s.
Yolanda Foster and Gigi and Bella Hadid
Gigi and Bella Hadid are two of the most popular duos in the modeling world today. Their faces have graced a variety of magazine covers, and their faces are all over huge billboards, music videos, and commercials. It's safe to say that the two have hit the big time.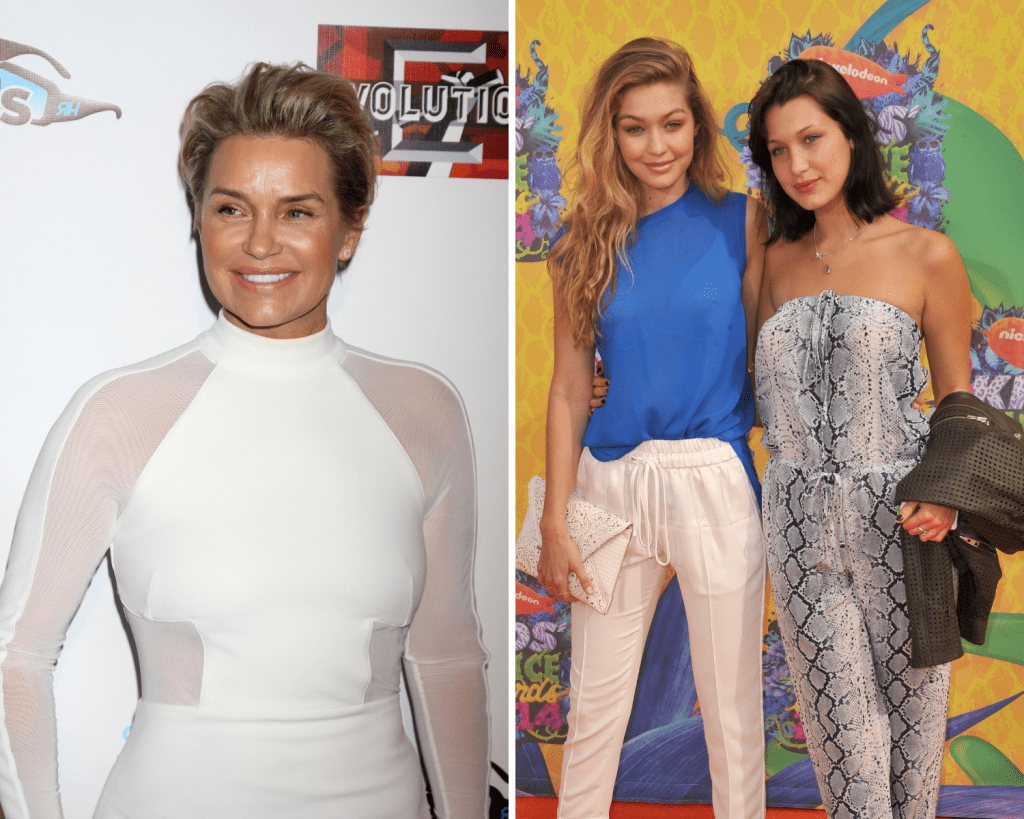 Did you know that their mother, Yolanda Foster, was once the wife of renowned musician David Foster and was a model too? You must have figured it out. After all, great genes run in the family. In addition, Yolanda was featured in The Real Housewives of Beverly Hills.
Kim Basinger and Ireland Baldwin
Once upon a time, Kim Basinger and Alec Baldwin were one of Hollywood's power couples. However, their marriage ended in an acrimonious divorce, but not before they had a beautiful daughter named Ireland. Before she became an actress, Kim Basinger was a model, and she worked with many popular brands such as Miu Miu.
Ireland, just like her mother, is a sought-after model too. Now in her 20s, the young woman has walked the runways of some of the biggest fashion houses, and as the icing on top of the cake, both mother and daughter are currently signed by the same agency.
Kris Jenner and Kim Kardashian
Momager Kris Jenner raised eyebrows and got people talking while she was getting her entire family on the road towards stardom. Before she was the reality TV personality that she is today, she was once the wife of famed lawyer, Robert Kardashian and then Olympian Bruce Jenner. She sure knows how to pick her men.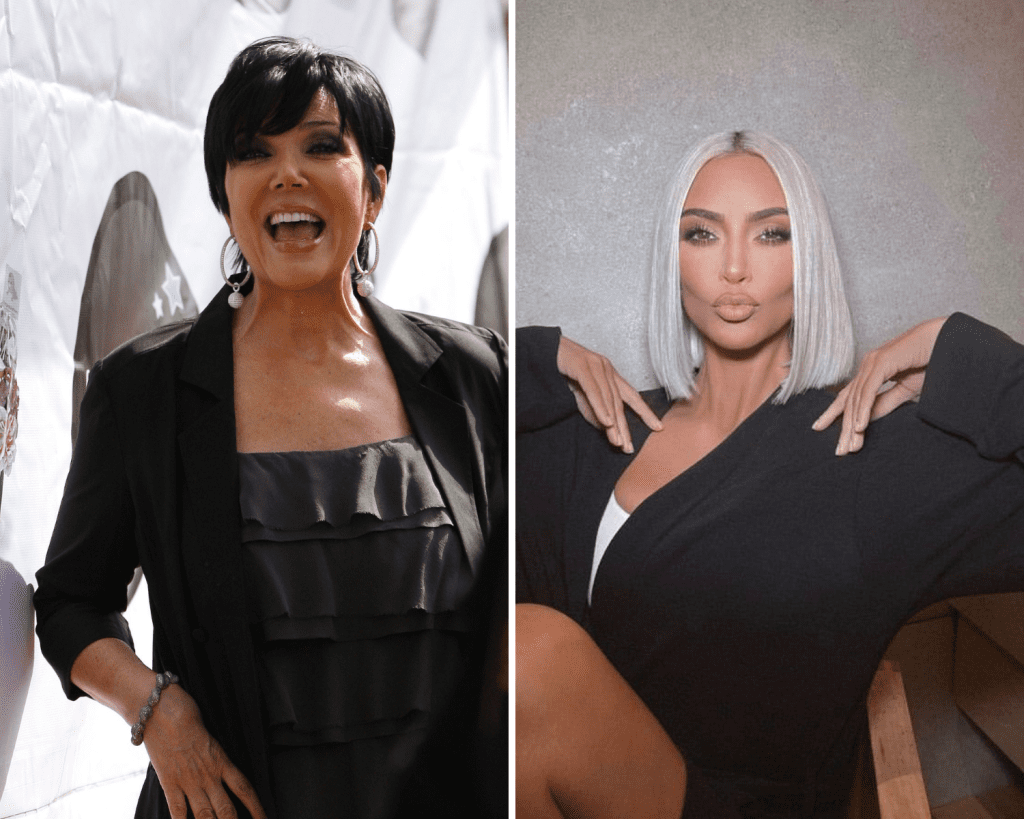 Kim Kardashian not only got her mother's looks but her business savvy-ness, too. From being Paris Hilton's BFF and assistant, she has successfully carved her own path in Hollywood and is now a businesswoman. Her brand Skims is earning millions annually.
Meryl Streep and Mamie, Grace, and Louisa Gummer
Meryl Streep is a respected actress whose films and roles are the envy of many in Hollywood. From playing the acerbic Miranda Priestley in The Devil Wears Prada to the singing mother Donna Sheridan in Mamma Mia, she nails it all the time.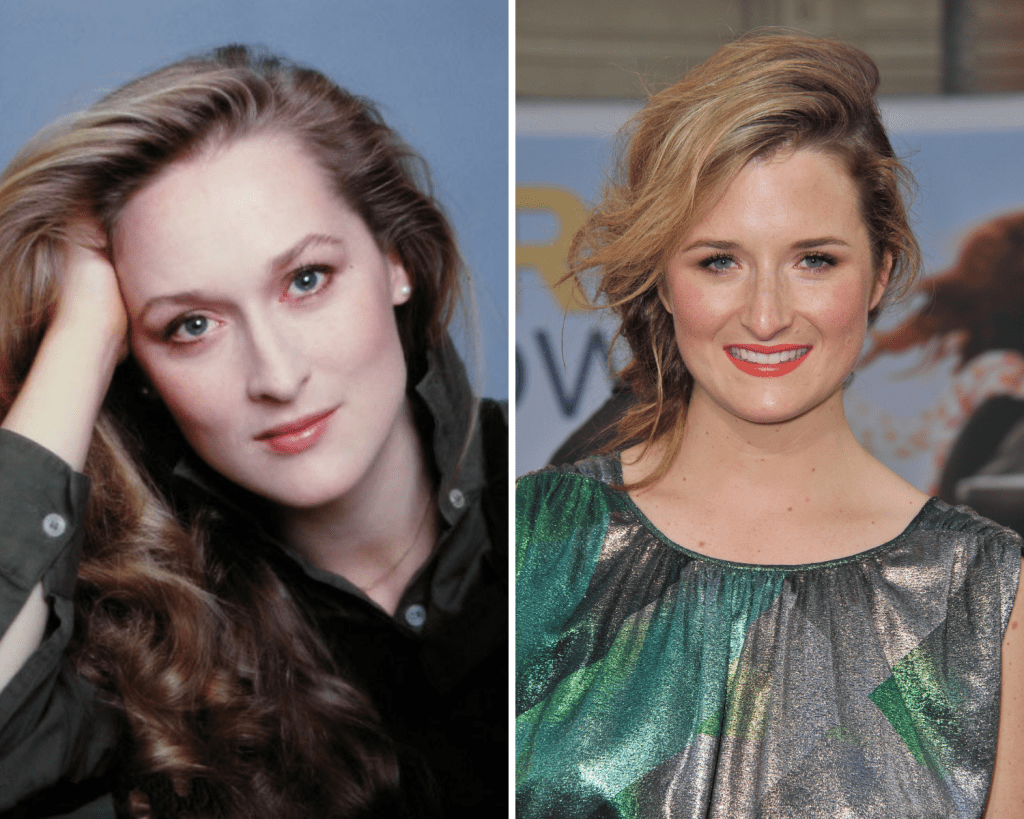 She has three daughters who have inherited her looks: Mamie, who is the eldest at 38, Grace who is 35, and Luisa, who is the youngest at 29. Mamie and Grace are pursuing acting, while the youngest, Luisa, is into modeling.
Diana Ross and Tracee Ellis Ross
A renowned singer and entertainer, nobody can talk about classic music without including Diana Ross. As the lead singer of one of the most famous and successful groups of all time, she and the rest of The Supremes paved the way for others, such as Destiny's Child.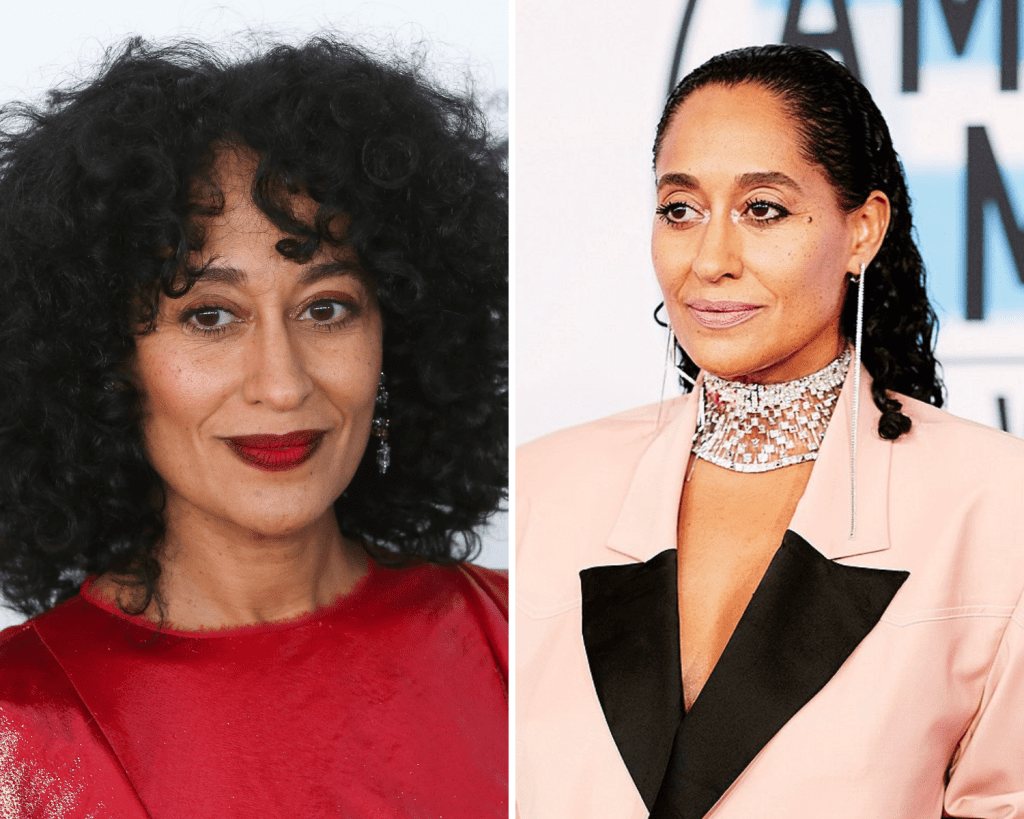 Tracee Ellis Ross, Diana's daughter, established herself as an actress at a similar age when her mother became an established singer. The actress, comedian, and producer is known for her lead roles in Black-ish and Girlfriends.
Kathy Hilton and Paris Hilton
One of the most recognizable names and brands in the hotel industry is Hilton and Paris is one of the most recognizable Hiltons today, along with her sister, Nikki. Despite her unfortunate start in show business, she has made a name for herself and has built a brand around her name.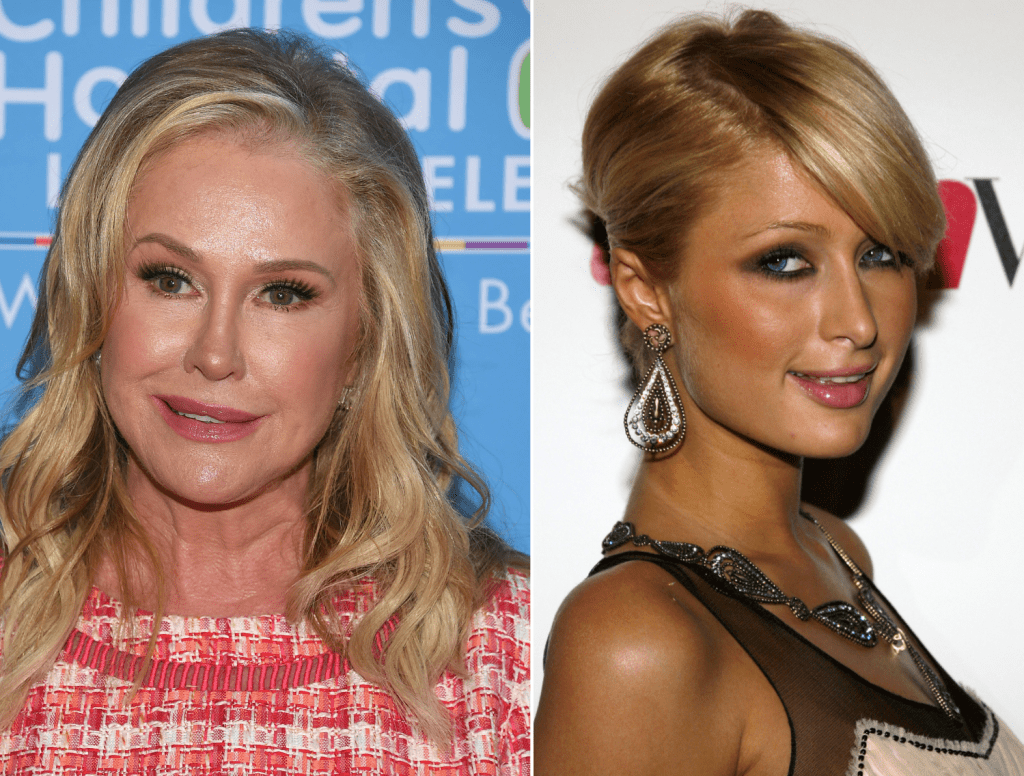 Her mother, Kathy, who had Paris and her sister by the time she was 26, is as beautiful now as she was then. She married businessman Richard Hilton in 1979, and the two are still together today. The two are not only entrepreneurs but are also philanthropists.
Lori Loughlin and Olivia Jade Giannulli
Before all the college admissions scandals and prison time, Lori Loughlin was a young lady who broke into Hollywood when she was only 18. She shot to stardom with her role as Rebecca Katsopolis in Full House, a much-loved sitcom.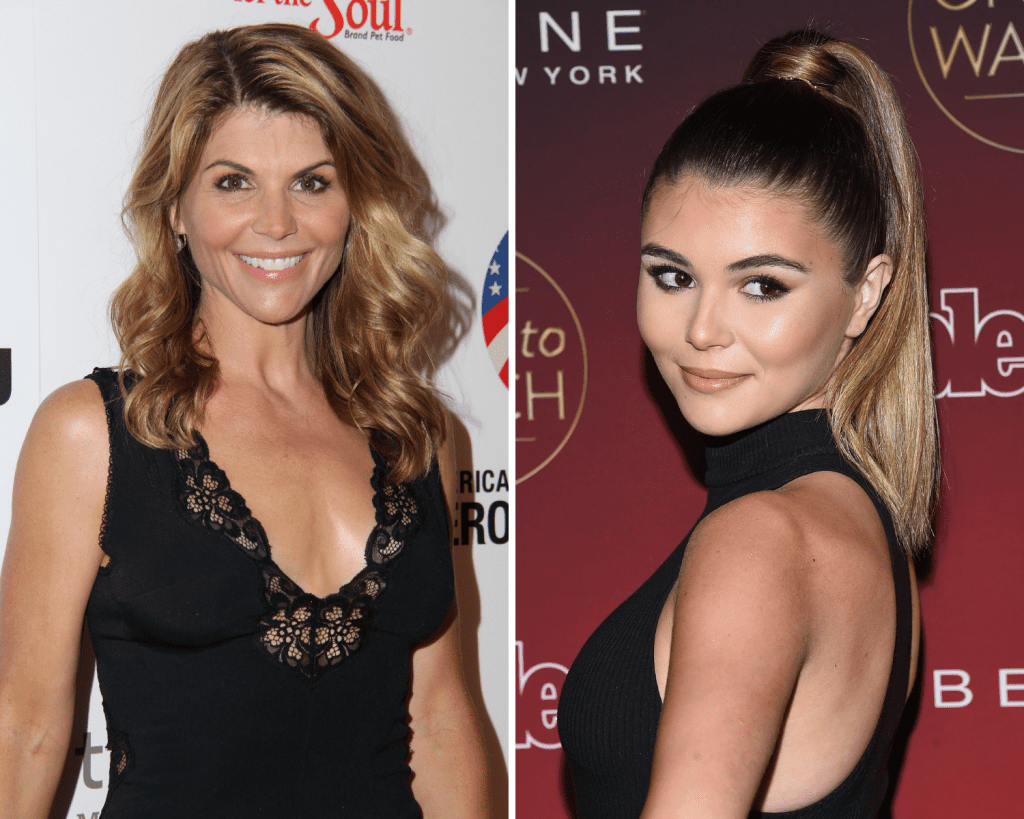 At 18, her daughter Olivia Jade received unwanted attention because of the controversy, but the beautiful influencer with more than a million subscribers on her social media account continues to talk about the things she loves most on her podcast.
Blythe Danner and Gwyneth Paltrow
By the time she was in her late 40s, Blythe Danner had been acting for more than two decades. She had also won two Emmys, both for Best Supporting Actress for her role on Huff and a Tony for her performance on the Broadway show Butterflies Are Free.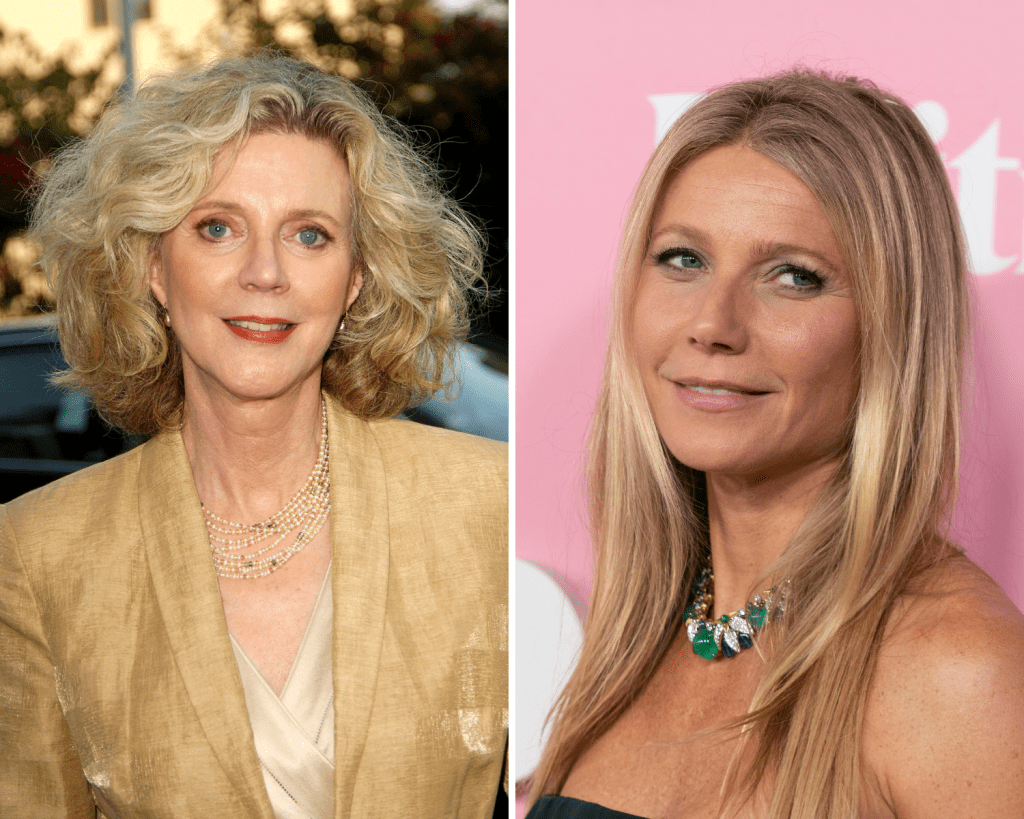 Gwyneth Paltrow, her daughter, is an accomplished actress herself and is now also in her late 40s. She had been working in the industry for three decades. Aside from her successful acting career, for which she has an Oscar for Best Supporting Actress, she has a successful business, too.
Candace Cameron Bure and Natasha Bure
Candace Cameron Bure started acting at the tender age of seven, and by the time she was of legal age, she had been acting on television and on the legendary show Full House as D.J. Tanner for 11 years. Imagine that!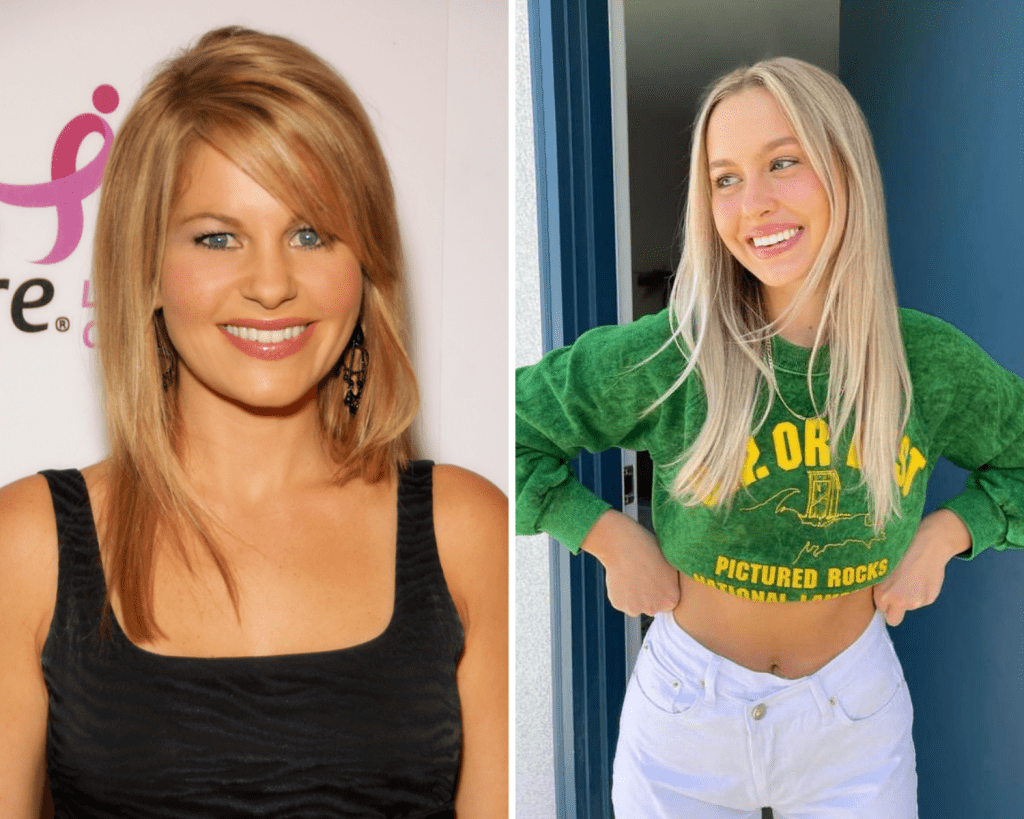 Natasha, her eldest daughter, began acting a little later than her mother, at the age of 13, still quite young. She has been featured in a few movies, however, she seems to like music more. She was featured in The Voice when she was only 18.
Lisa Rinna and Amelia and Delilah Hamlin
Lisa Rinna will always be remembered for her role in the daytime TV soap Days of Our Lives. She was only in her 20s when she starred in the TV show. She married Harry Hamlin and later on had two daughters, Amelia, who is now 18, and Delilah Belle, who is now 21.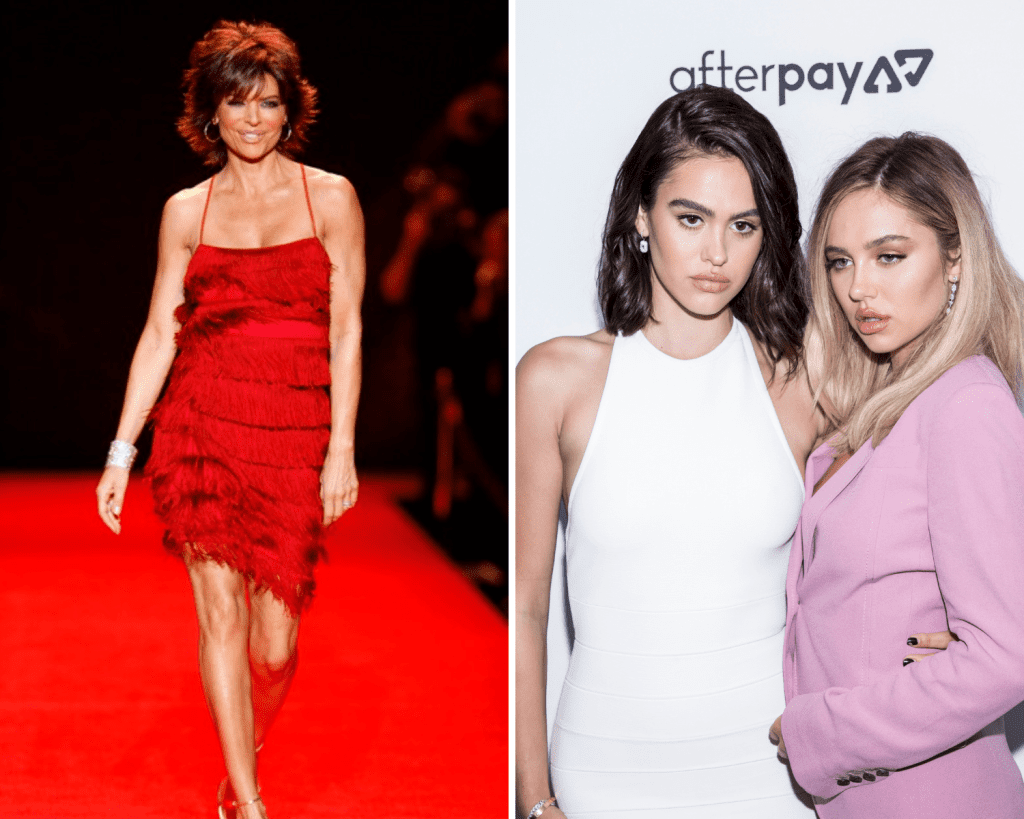 The two girls have a unique look and are now both pursuing modeling instead of acting. They have participated in various campaigns and have walked multiple runways. Each of the two girls has more than a million followers on Instagram.
Janet Leigh and Jamie Lee Curtis
No one will ever forget the shower scene on Psycho. For days people couldn't be persuaded to go in their showers for fear that some villain is lurking there, waiting for the opportunity to plunge a knife into their bodies. That's how good Janet Leigh was.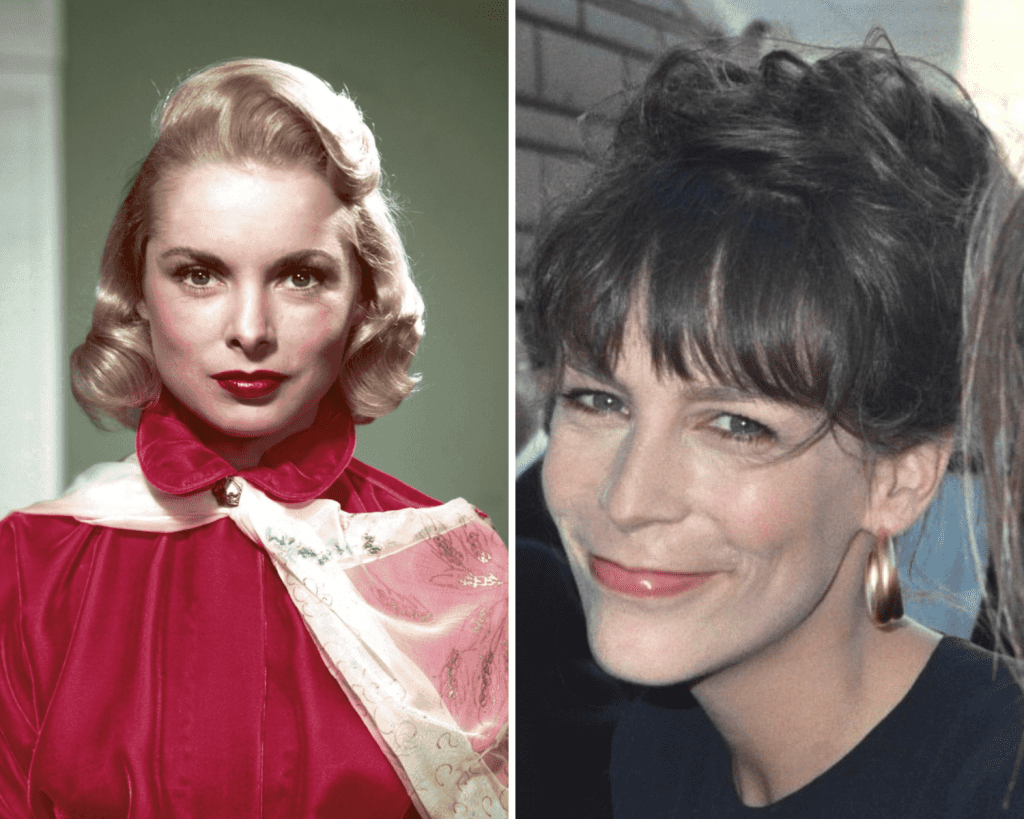 Janet married Tony Curtis, and they had a daughter named Jamie Lee Curtis. Just like her mother, Jamie Lee was catapulted to fame after starring in the horror film, Halloween. Jamie has a star on the Hollywood Walk of Fame and has two Golden Globes under her belt.
Carrie Fischer and Billie Lourd
It seems that acting is in the genes of this family, from Debbie Reynolds to Carrie Fisher and now to Carrie Fisher's daughter, Billie Lourd. By the time she was 26, Carrie Fisher had already starred in two Star Wars movies.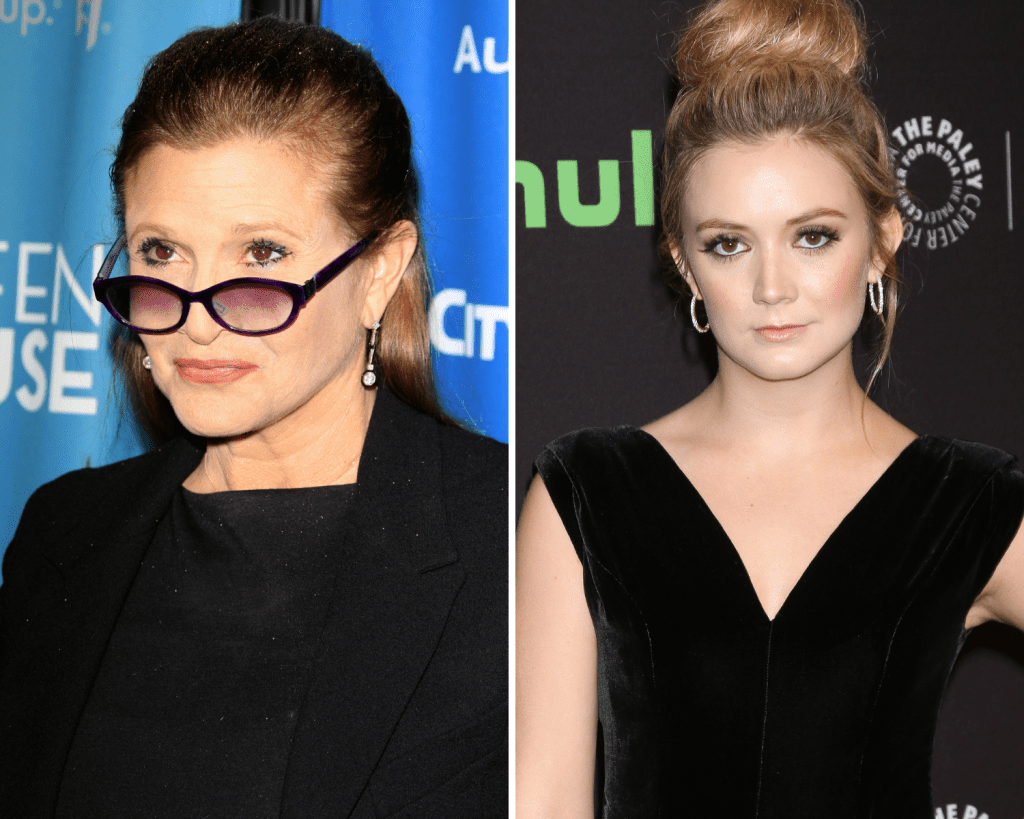 At the same age, Carrie's daughter, Billie Lourd, was featured in the dark comedy Scream Queens, a creation of the legendary Ryan Murphy. She also appeared in a few Star Wars installments as Lieutenant Connix. We're sure that wherever her mother is, she is proud of what Billie has accomplished.
Minnie Riperton and Maya Rudolph
At the age of 28, Minnie Riperton achieved what most people could only dream of. The singer-songwriter from Chicago was known for her four-octave D₃ to F♯₇ soprano range. Because of her voice and singing style, she was given the moniker 'Queen of the Whistle Register.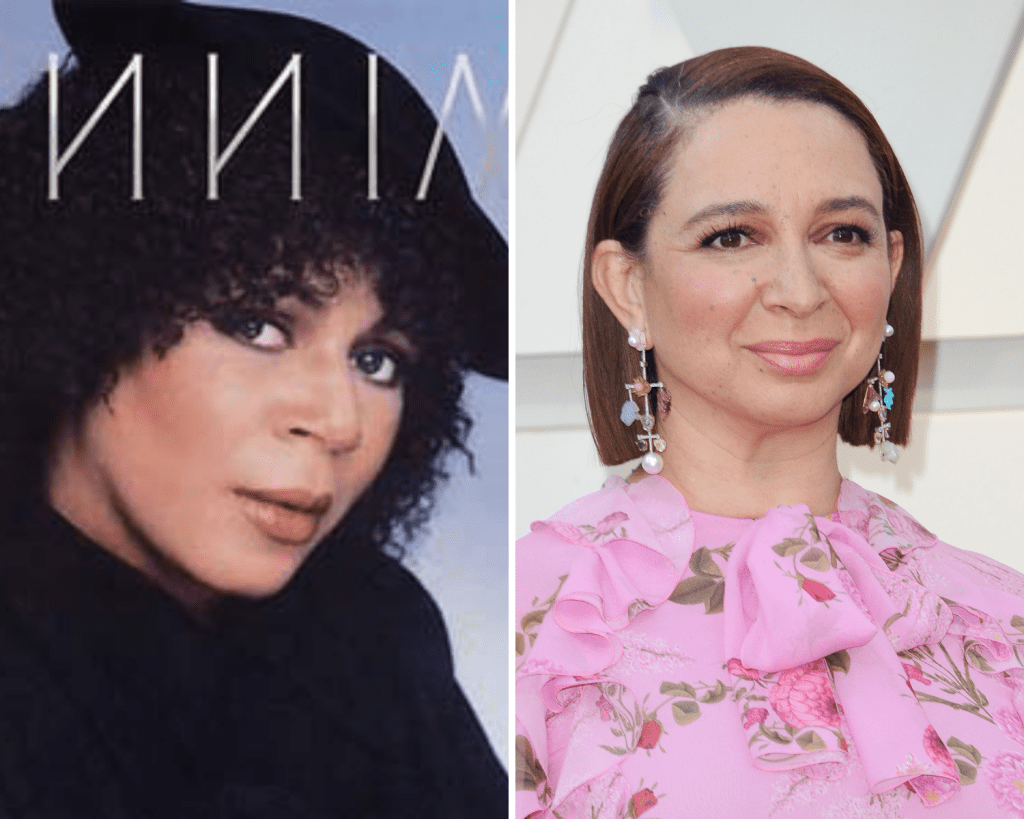 Her daughter Maya Rudolph isn't a singer like her mom, but she is an actress, and they received their big breaks at a similar age. Maya shot to fame as a comedian when she was cast in the long-running show Saturday Night Live.
Kyra Sedgwick and Sosie Bacon
The epitome of a modern A-list couple, Kevin Bacon and Kyra Sedgwick have been married since 1988, and they have two children. Kyra has starred in a variety of films and TV shows and even won two awards for her role in The Closer.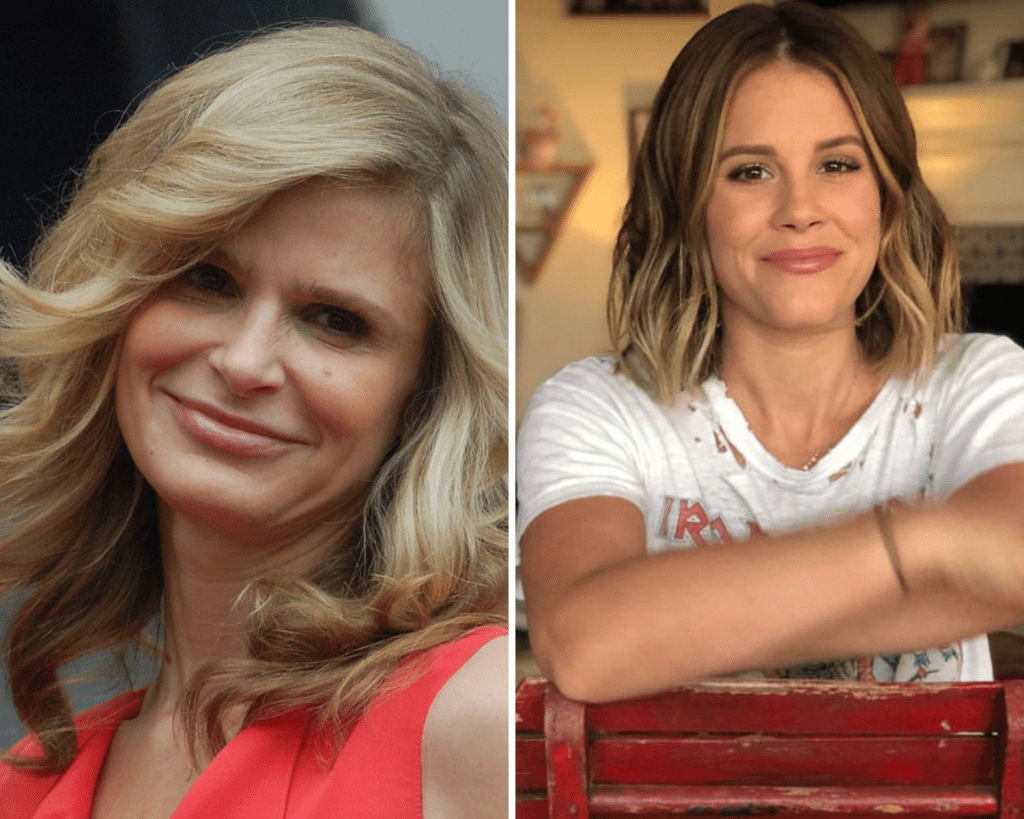 Her daughter Sosie seems to have inherited her love for acting from her parents. Her big break happened when she got the part of Skye Miller on the Netflix hit teen drama 13 Reasons Why. We have a feeling we're going to be seeing her more often.
Susan Sarandon and Eva Amurri
Without her role as Janet Weiss in The Rocky Horror Picture Show, people would've known Susan Sarandon. Her performance in that movie was what set her course in Hollywood. Since then, she has starred in a slew of other films.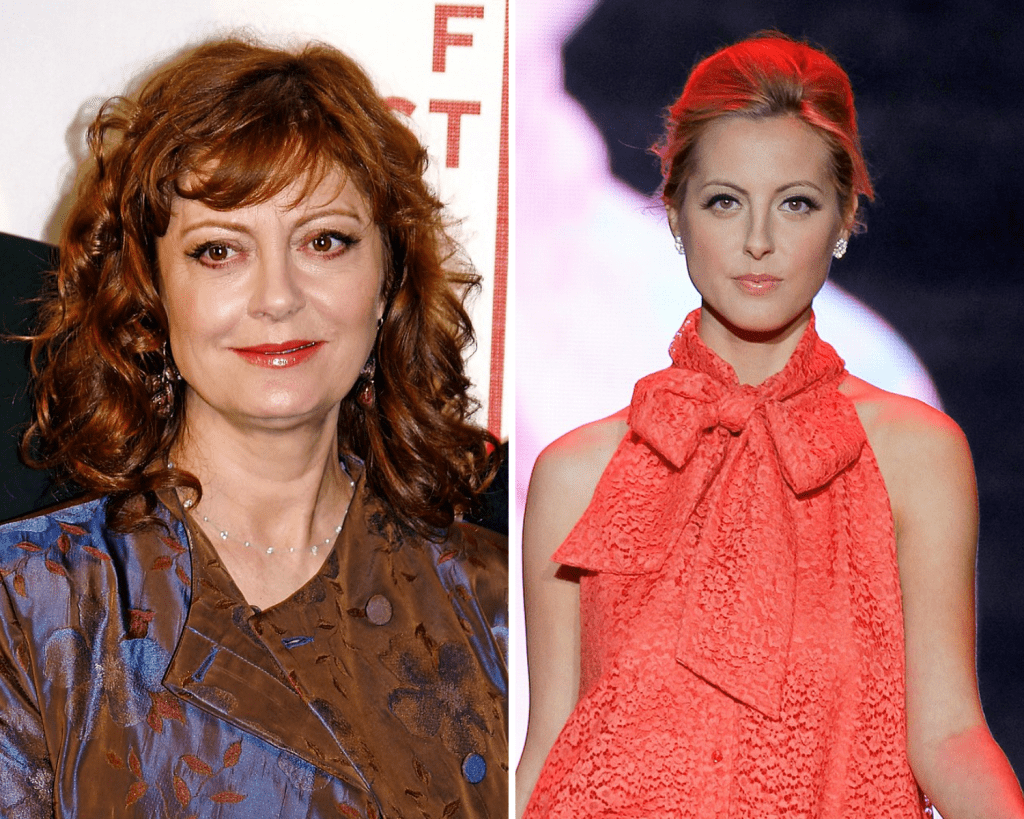 Her daughter, Eva Amurri, has been hot on her mother's heels and has set to prove herself to Hollywood too. In her early thirties, she has various films under her belt and is active on social media too. Her posts are often about raising children and wellness.
Phylicia Rashad and Condola Rashad
The first black actress to win the Tony Award for Best Actress in a play was Phylicia Rashad. She not only acts, but she directs and sings too. Her most famous role on TV was that of Clair Huxtable in The Cosby Show.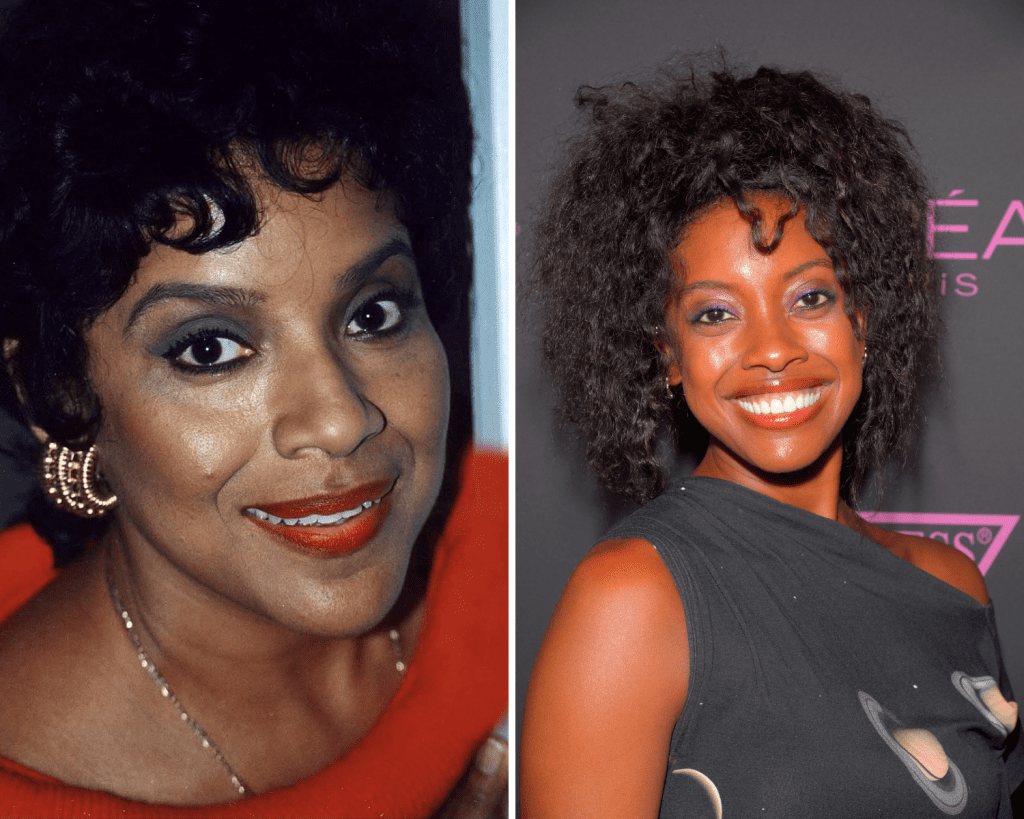 Her daughter, Condola Rashad, wants to step out of her mother's shadow and make her mark in Hollywood. She prefers the stage more than television and starred in the play Ruined as Lynn Nottage. She might not beat her mother's record, but she is on her way to stardom too.
Melanie Griffith and Dakota Johnson
Melanie Griffith might be known more as an actress, but she started her modeling career earlier, at only nine months old! She made her movie debut in the horror movie Night Moves when she was only 19 years old and has starred in various films since then.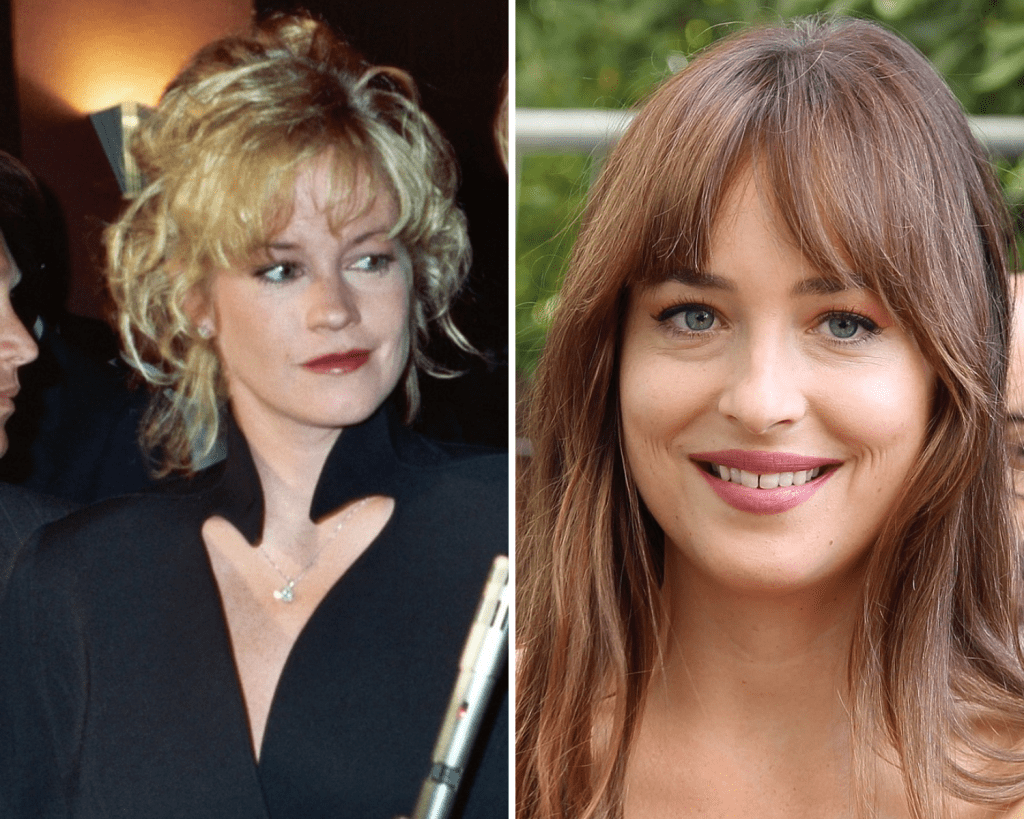 Most people might remember her daughter Dakota Johnson for her role as Anastasia Steele in the Fifty Shades movies, but she has starred in various other films too, such as Bad Times at El Royale and How to Be Single.
Linda McCartney and Stella McCartney
At 26, Linda Eastman married one-fourth of the most popular band in the world, The Beatles. Although a musician and a photographer, her claim to fame was being Paul McCartney's wife. Together, they had a daughter whom they named Stella.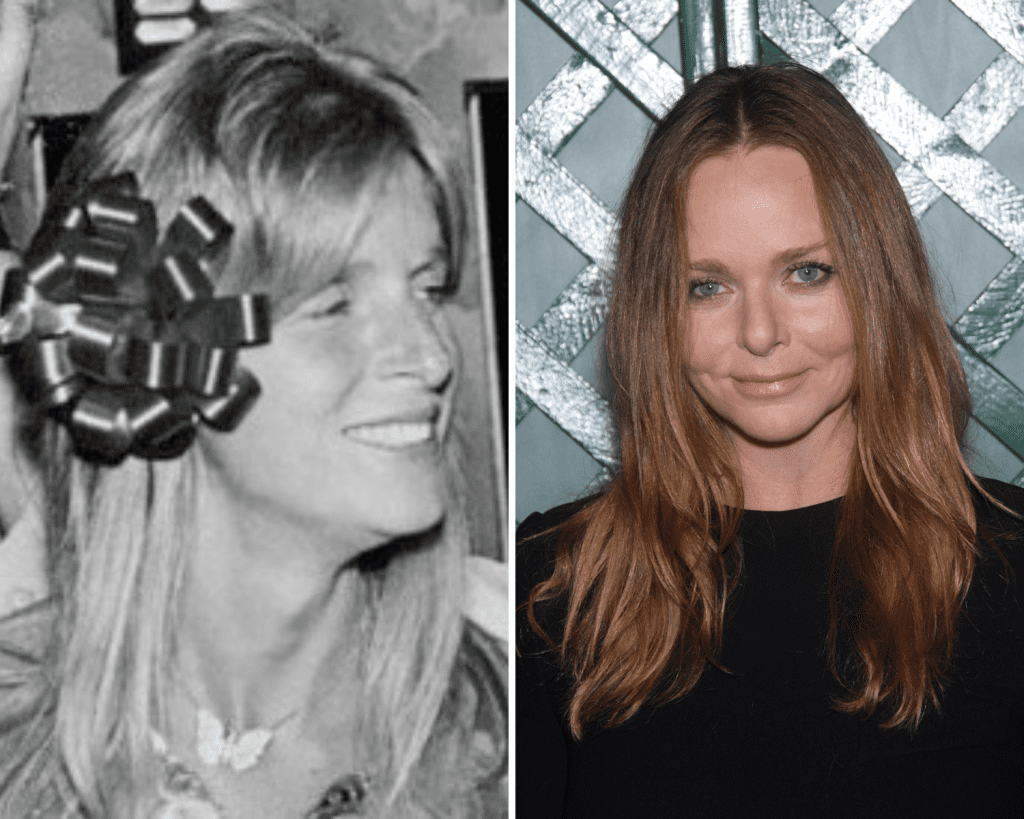 Unlike her father and mother, Stella wasn't artistically inclined. Instead, she channeled her energy into fashion, and she began her illustrious career when she was 13 by designing her first jacket. At the age of 26, she received the Elle Style Award for Best New Designer.
Reese Witherspoon and Ava Phillippe
Reese Witherspoon started acting when she was just in her teens, but it took her years to establish herself as a premier actress. Thanks to movies such as Legally Blonde, Cruel Intentions, Sweet Home Alabama, and Walk the Line, she is now one of the most in-demand actresses in Hollywood.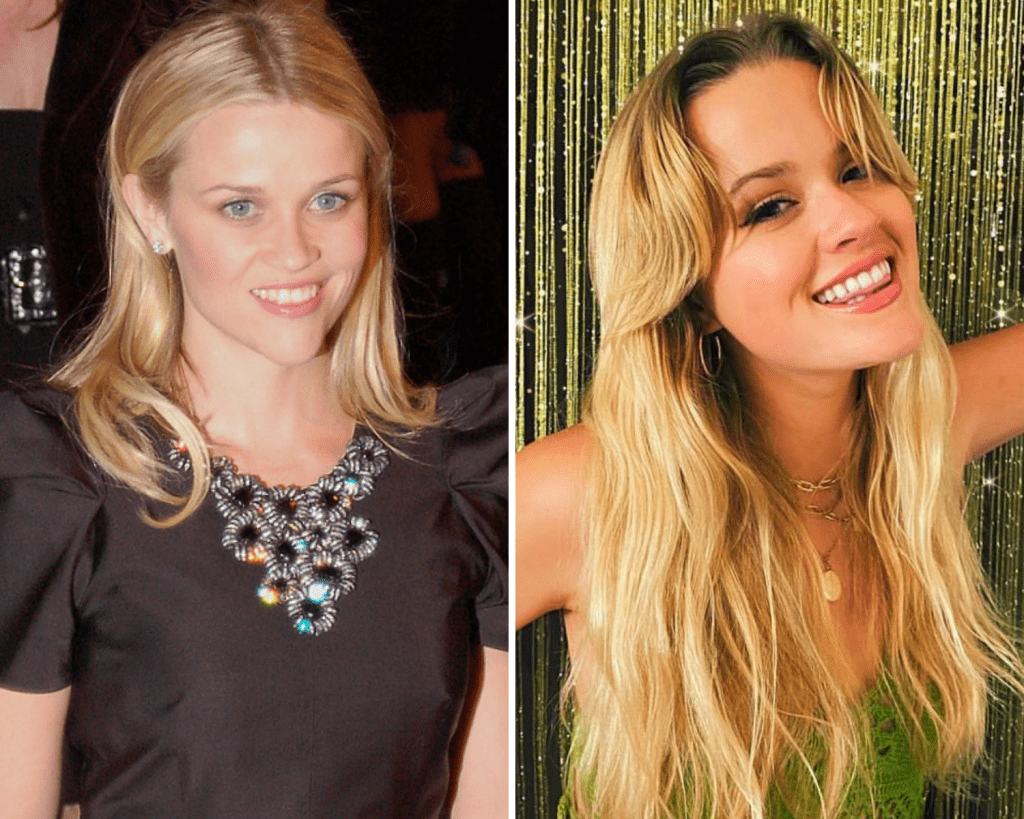 Her counterpart and daughter with her then-husband, Ryan Philippe, Ava Philippe did not grow up in the spotlight. She spent most of her childhood in privacy, but at 18, she began her modeling career and was noticed by people in the industry for her work in the Rodarte Fall 2018 lookbook.
Jayne Mansfield and Mariska Hargitay
Jayne Mansfield was someone men and teenagers alike fantasized about in the 50s and 60s when she was a Playboy playmate. During her time as a sex kitten, she also signed with 20th Century Fox and had film roles in Too Hot to Handle and A Guide for the Married Man.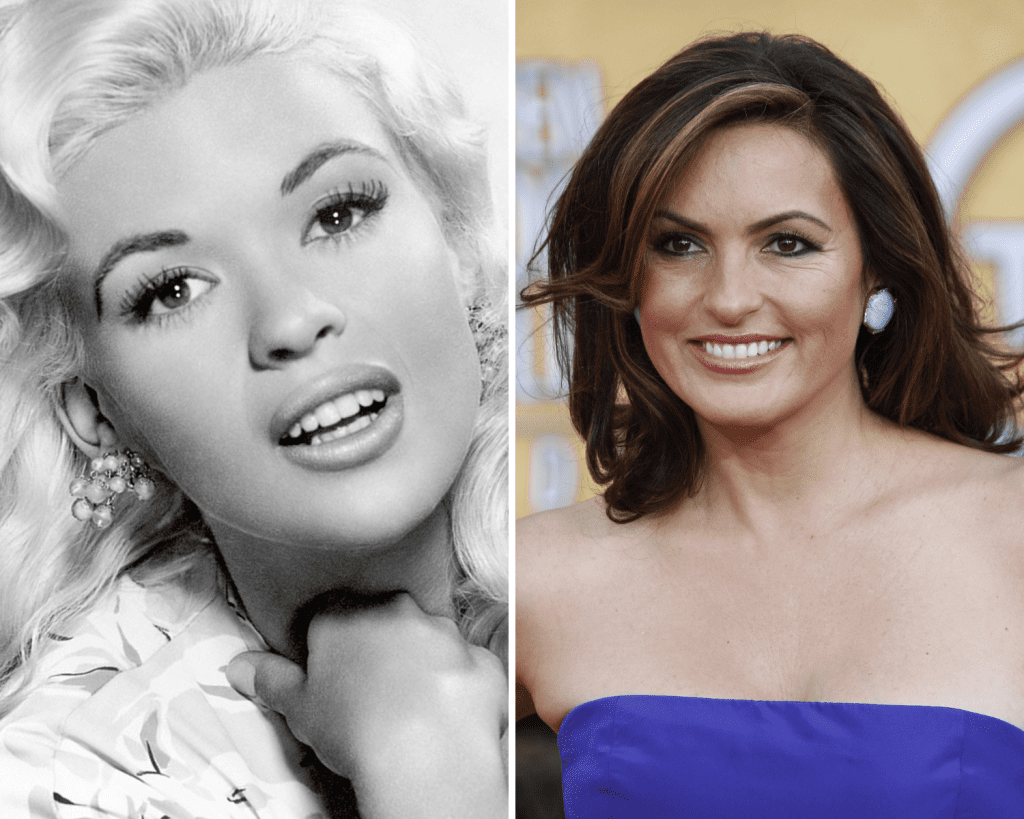 She gave birth to five children. One of them is daughter Mariska Hargitay. Mariska was only three years old when Jayne died in a car accident. Though not a sex symbol like her mother, she has been acting on TV and is one of the casts of the hit show Law and Order: Special Victims Unit.
Kim Kardashian and North West
Being born into a prominent family, Kim Kardashian did not know another life outside of Hollywood. Her parents were good friends with OJ Simpson and his wife, and her father was even part of his defense team. Kim, herself is friends with Paris Hilton and was married to rapper Kanye West.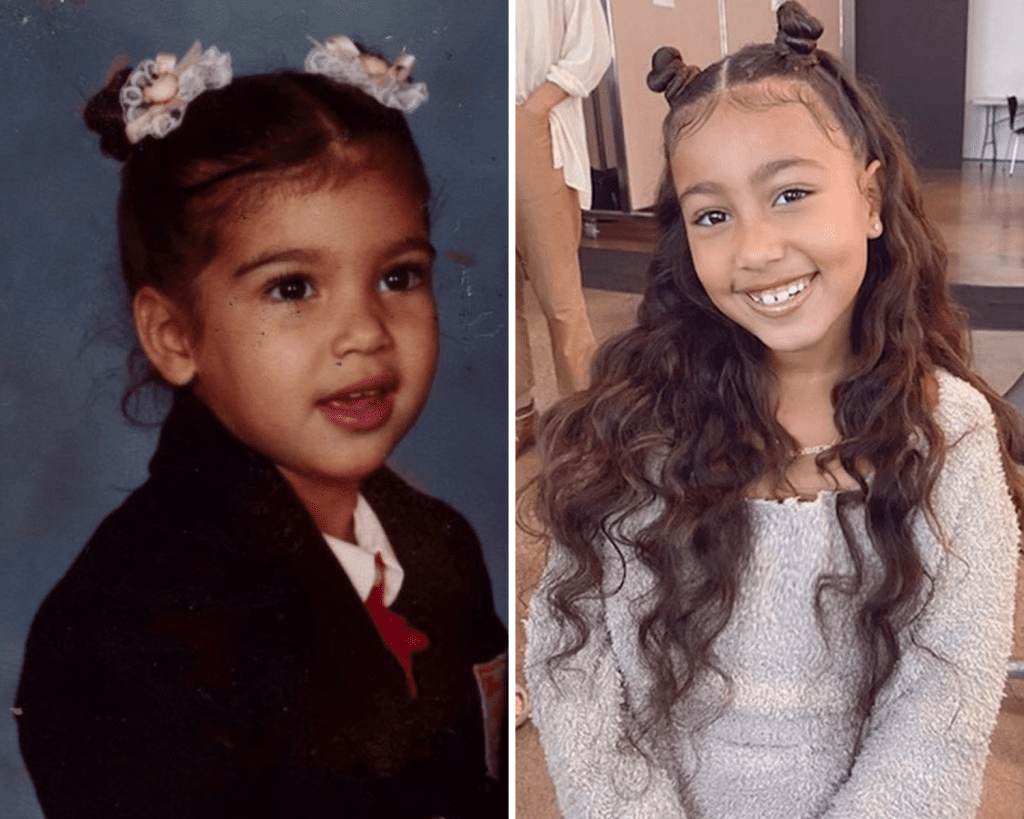 Together, the two had several children, including daughter North, pictured above. North grew up in the spotlight and is always followed by paparazzi. At such a young age, not even in her teens, she had already appeared on the cover of Vogue, not once but twice.