Picture-Perfect I Do's: 30+ Couples And Their Perfect Wedding Photographers
By Anni K January 15, 2023
---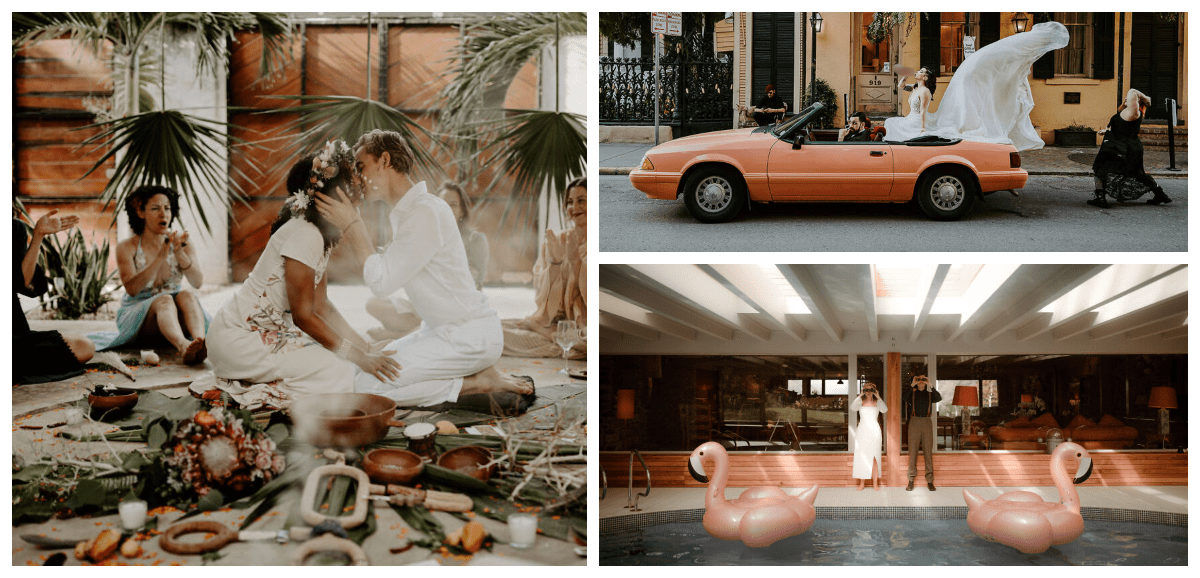 Photography is an extraordinary skill to have because, while anyone can pick up the most expensive camera, only photographers are able to capture a moment. Most of us amateurs can take a picture of a person and maybe some scenery, but some photographers are able to capture photos where you can almost feel the air on your skin or the warm sun rays on your face. That's why engaged couples try to book only the top photographers to attend their weddings and capture their most special day in the best way possible.
Every year, there's a wedding photography competition, run by junebugphotography. These are just a sampling of best photos submitted from a pool of 8,000 photos from photographers all over the world. Some of them really look like a piece of art. We are just wowed by the talent these photographers have.
Tree of Life
The photographer picked the perfect angle for the newlyweds to sit on the trail. It looks like they are sitting on a thick root that, when it escapes the hard soil, grows and opens up to a wonderful and green world above.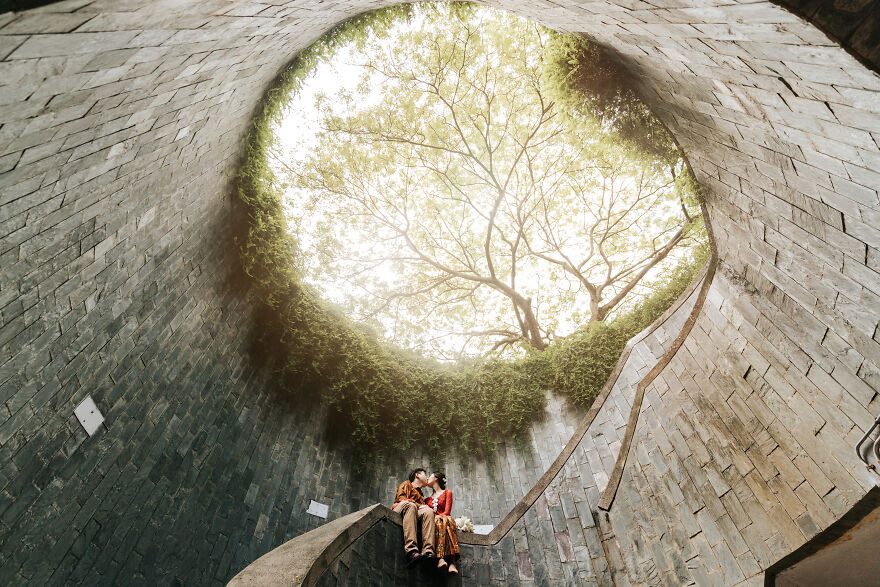 This was napped in Fort Canning Park in Singapore. It's a small and beautiful hidden treasure for photographers, and Feng Jing Chua did an incredible job with the composition of this photo of the newlywed couple sharing an intimate moment.
Simplicity
Sure, it's lovely to have your wedding photos taken in a beautiful landscape with trees, animals, or a clear blue sky as the backdrop, but we appreciate the simplicity that this photographer, Feisal Sumra, used to enhance the special two people.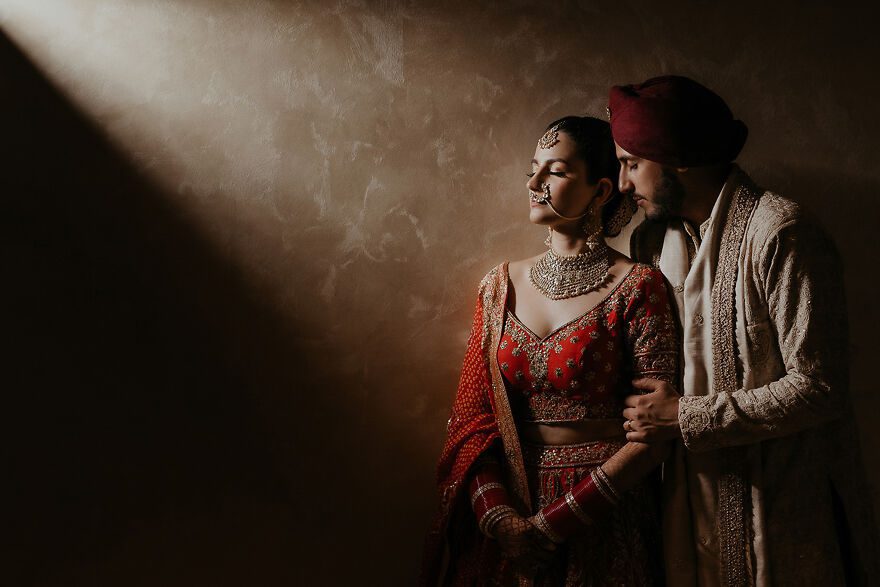 The natural light makes them glow and it's such an intimate and beautiful photo, which is a refreshing take on traditional wedding photos. The warm colors on such a romantic day also is a great choice for both outfits and backgrounds.
Sea, Sun, and Fun
We love a good photo that represents a fun-spirited couple. Not every wedding photo has to be serious and perfect for a magazine cover. Sometimes you just want to remember the fun time you and your partner had on your special day.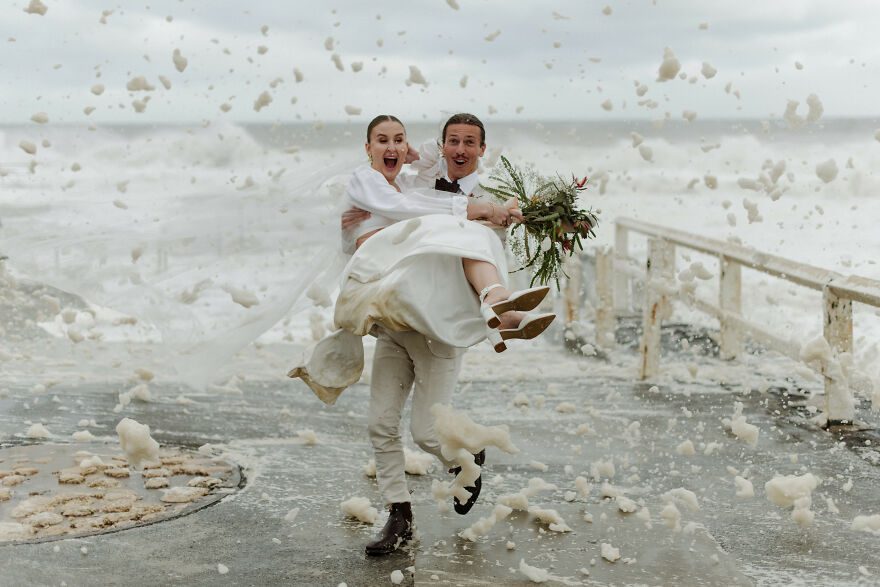 Ben Sowry caught this moment in Newcastle. He saw a golden opportunity to capture a precious memory of the happy couple making a break for it, rather than running away from the rushing seafoam that had the newlyweds bolting in the first place.
Quick Kiss
You usually spend months planning your perfect wedding only to realize it passes in the blink of an eye. So capturing special and small moments like this would probably mean the world to the couple when they get to flip through the photo album months later.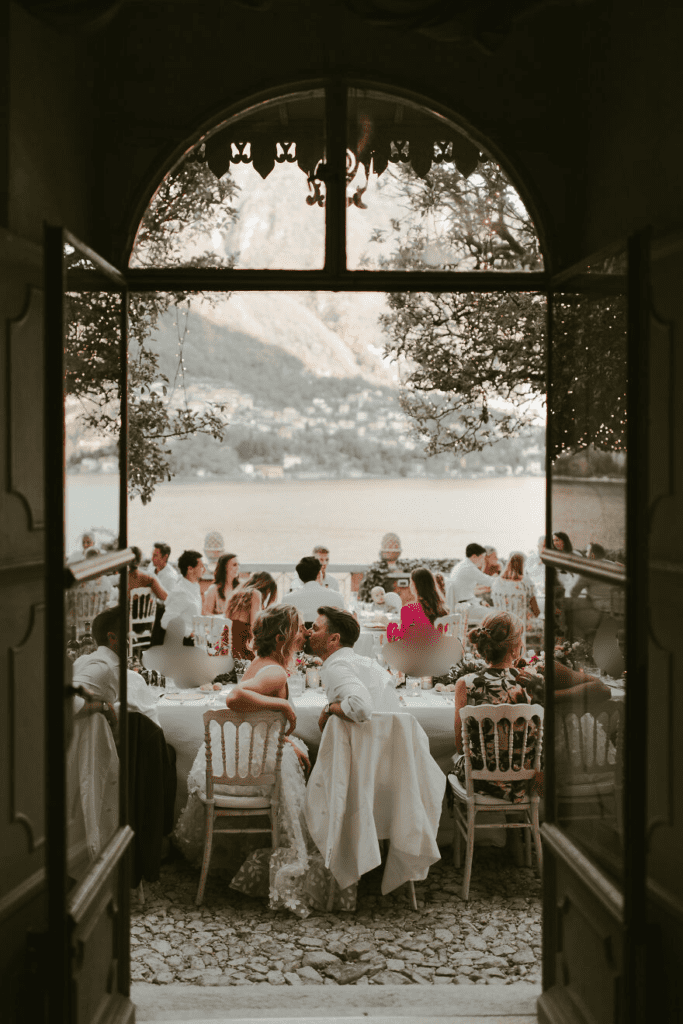 You can see the happy couple, perfectly framed through the doorway, with their friends and family laughing, smiling, and having fun in the background as they share a quick kiss. It's memories like these that count and truly last a lifetime.
Bronze Beauty
The photographer really managed to capture the love between these two people in such a simple and beautiful way. Not only is this entire photo flawless in color with hues of bronze, gold, and white, but the positioning of the couple is also perfect.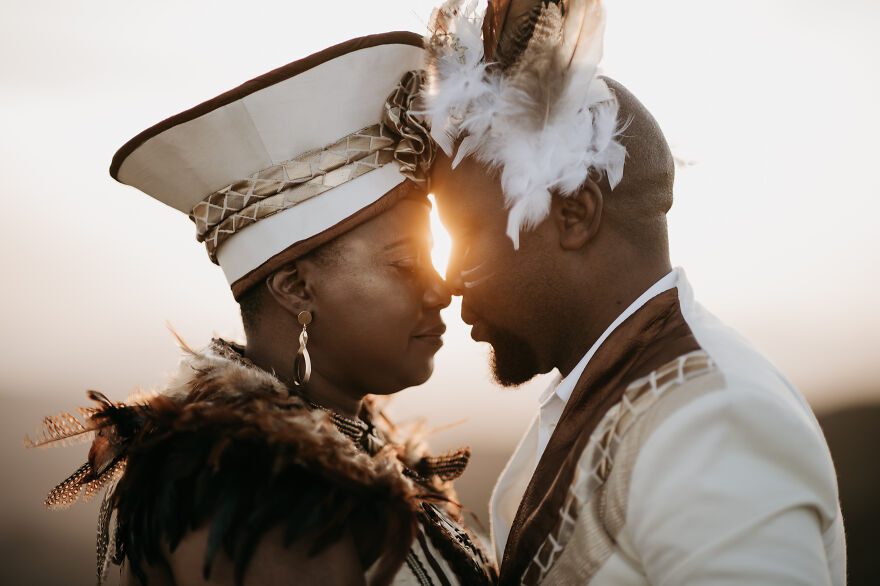 The sun sets very quickly, so in order to get a shot where the couple and their expressions are perfectly aligned while the sun is setting between them is a difficult shot to master. But for June Richards, it seems like it was a walk in the park.
True Happiness
The photographer, The Ferros, captured this stunning young couple running in Venice, Italy, after exchanging vows and promising to be there for each other forever. We love this photo because it is not a posed photo; it's just a newlywed couple laughing and running.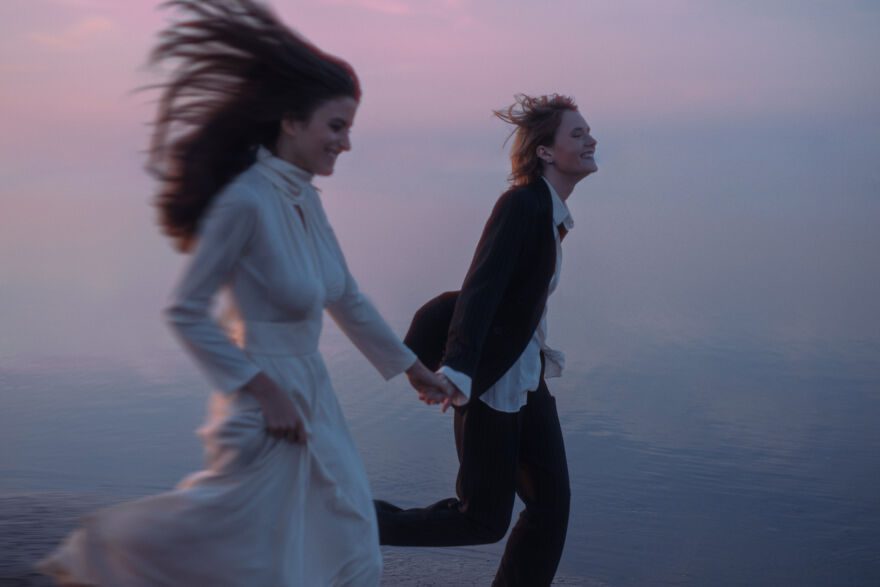 It truly looks like this couple's photo is a movie still taken from a rom-com or a Hallmark film. That's what makes it even better—it's simply an ordinary couple, fiercely in love and happy, and of course, a very talented photographer.
Run Away
There's so much going in this photo, between the sunset, the sea, and the misty mountain, but Amber Spits' flawless composition makes sure the happy couple is the center of attention. Even their footprints don't trail too far, making it look like the world is truly revolving around them.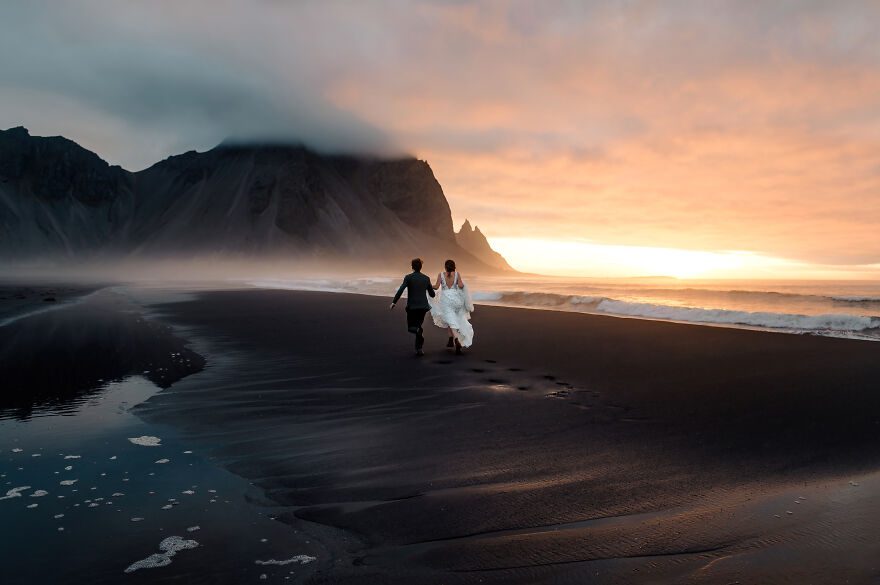 We love the textures that you can almost feel in this photo—from the soft, fluffy clouds above, to the sharp scraggly mountain ahead and the soft but firm wet sand under your feet. It's a fairytale come true, and we're sure that's how the couple felt in the moment.
Perfect Pose
We got to hand it to not only this photographer, who captured this shot so perfectly, but the couple as well. They had to climb on those rocks, strike a pose, and hold it while the photographer worked his magic.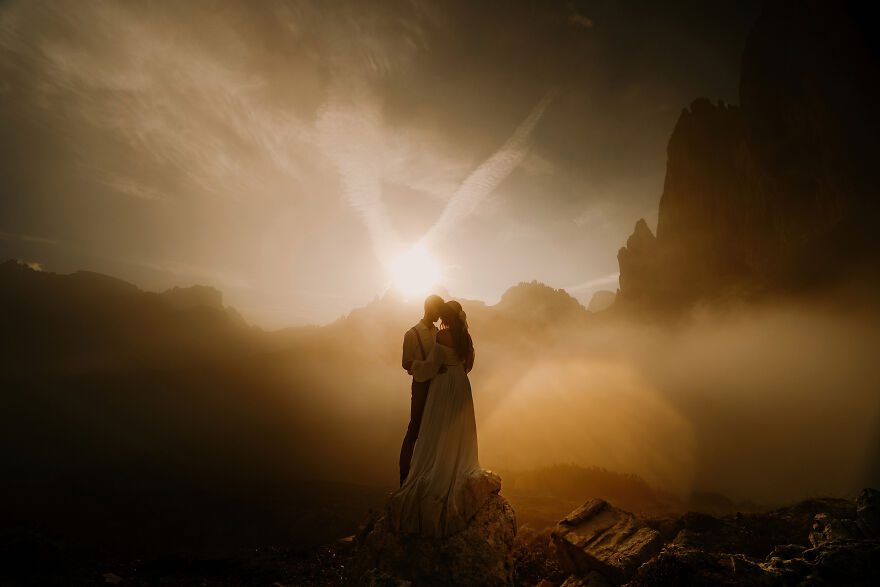 The golden hue that the sun gives this misty mountain backdrop is stunning and seems like a once-in-a-lifetime shot for a once in a lifetime event. It makes you dream about conquering a quest with your loved one when looking at this photo, doesn't it?
Pure Joy
We are not sure how this photographer managed to perfectly position a prism-like object to refract a rainbow just over this couple's eyes, but we simply love that it almost emphasizes the love in their gaze in a magical way.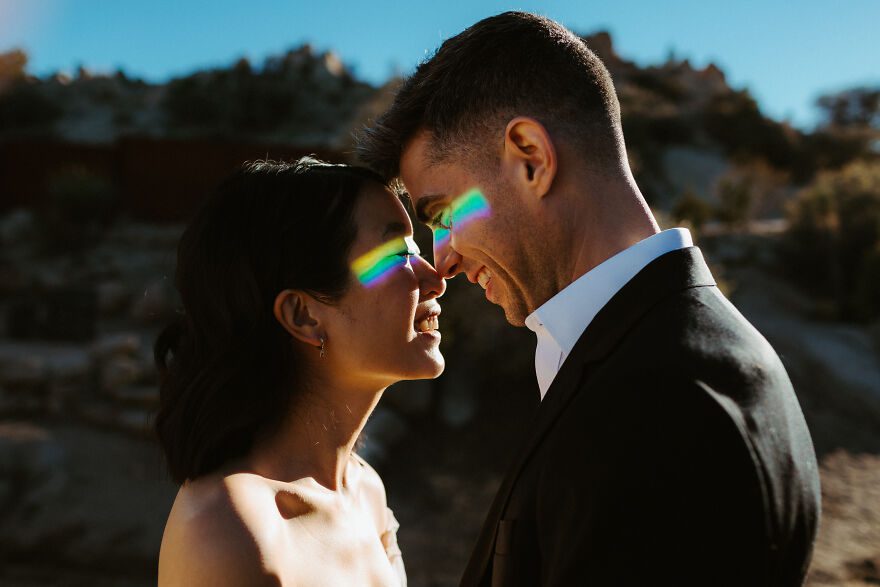 Sarah Hendry really did a wonderful job in taking an otherwise simple but beautiful photo and elevating it with the placement of the rainbow and the light shining on the couple. This magical moment was captured in Joshua Tree National Park.
When It Rains
When it rains on your wedding day, you will have a long and rich life together in your marriage. At least, that might just be what people say to make you feel better about the fact that it was raining when you wanted an outdoor wedding.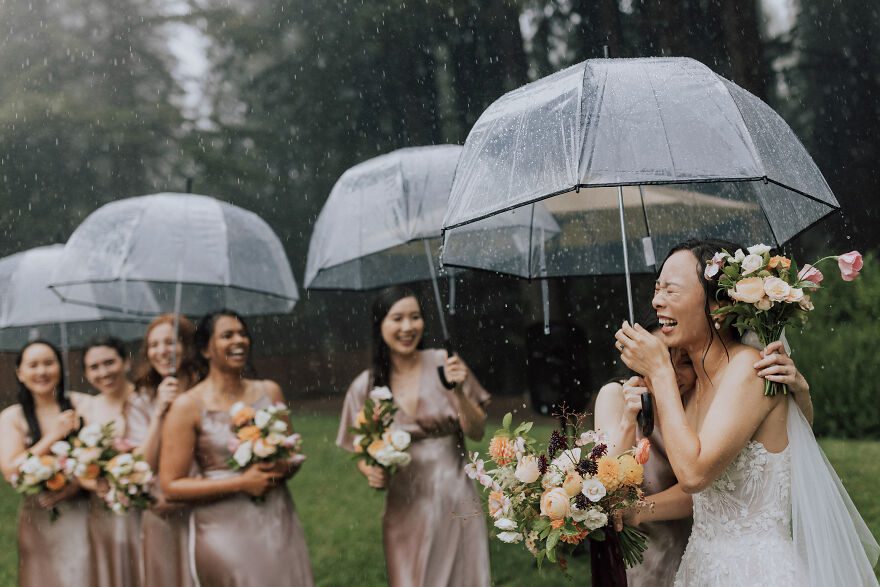 This bride is making the most out of it, and with the matching umbrellas, it was likely anticipated that it would rain that day. A quick burst of laughter caught on camera is a cute memory to look back on years after you're married.
Moody Magic
Everything in this picture screams romance and beauty—from the loving look the couple is caught sharing, to the perfect ombre the night sky makes as the sun finally dips below the horizon, to the glowing lights of the city below.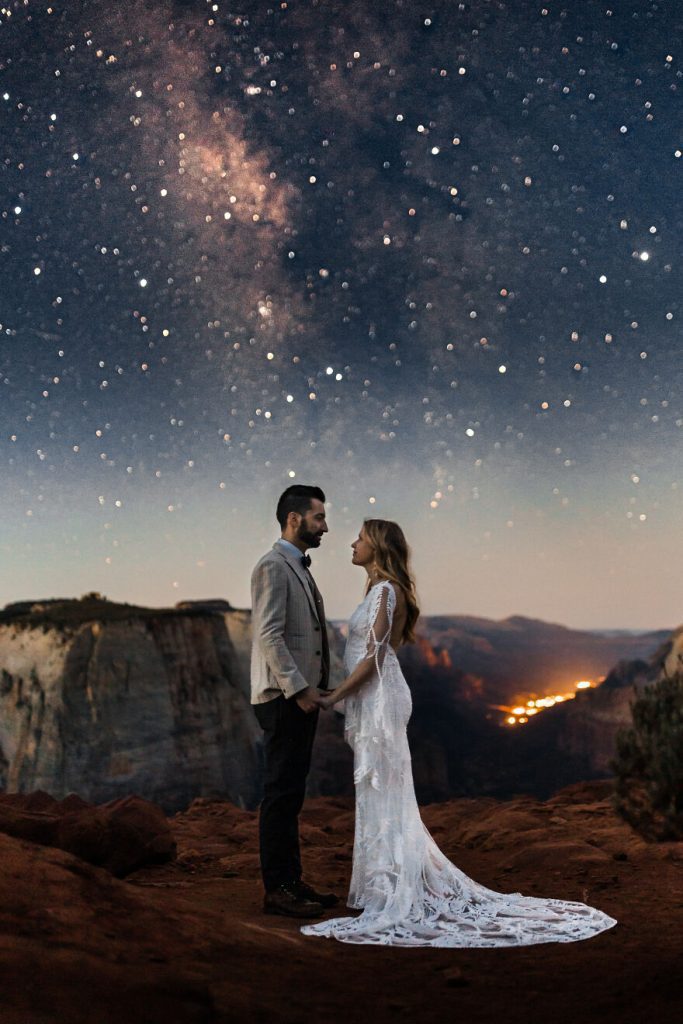 The contrast between the bride's dress and elegantly draped train and the dark starry night is beautifully captured by the photographer, Aimee Flynn. Meanwhile, the husband's outfit seems to fit into the landscape around him without blending in entirely is completely stunning.
Roaring Love
If you have ever been close to a waterfall, you know it is a loud, and wet experience. However, these brides don't seem dismayed by their soaked dresses; they're absolutely enjoying every moment, and we're sure their excitement and joy are as intense as the water crashing.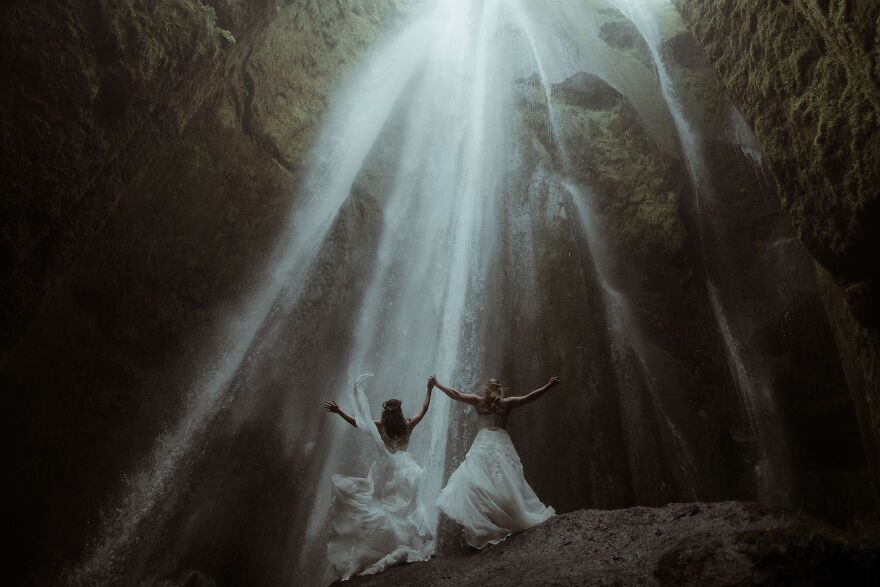 Jane Iskra did a great job of capturing a fun and exciting moment for these newlyweds in Gljufrabui, Iceland. It looks like a scene from a movie where they found the fountain of youth, but it's just an ordinary waterfall and a couple madly in love instead.
Two More Stars
Of course, a part of being a good photographer is knowing some excellent editing skills to make a magical photo like the one below into a reality. For anyone who has ever tried capturing the night sky on camera knows it's not an easy job.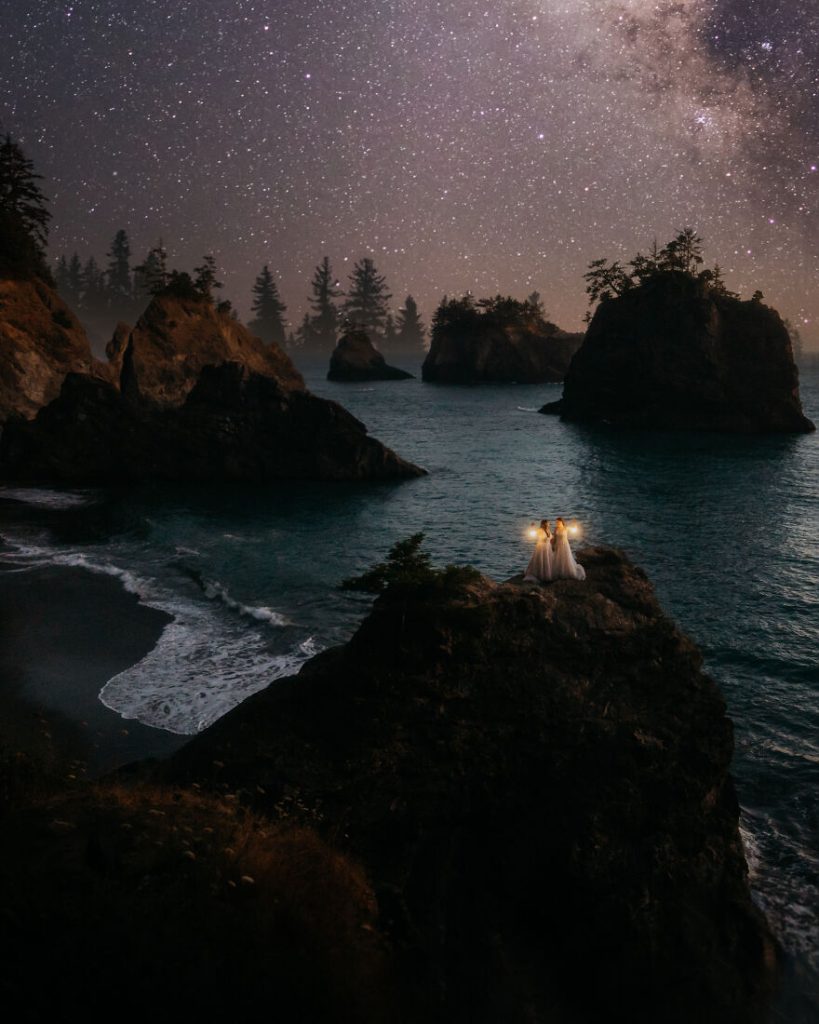 Henry Tieu not only captured this wonderful landscape perfectly, but he also managed to capture the two brides holding bright lanterns, another common photography obstacle. The Oregon coast has never looked so good! We can almost smell the salty sea air through this photograph.
Celebration
Weddings are events with a lot of emotions, but most of all, it is a massive celebration of two people starting their lives together. So why not have a massive party with some gorgeous fireworks popping off in the background?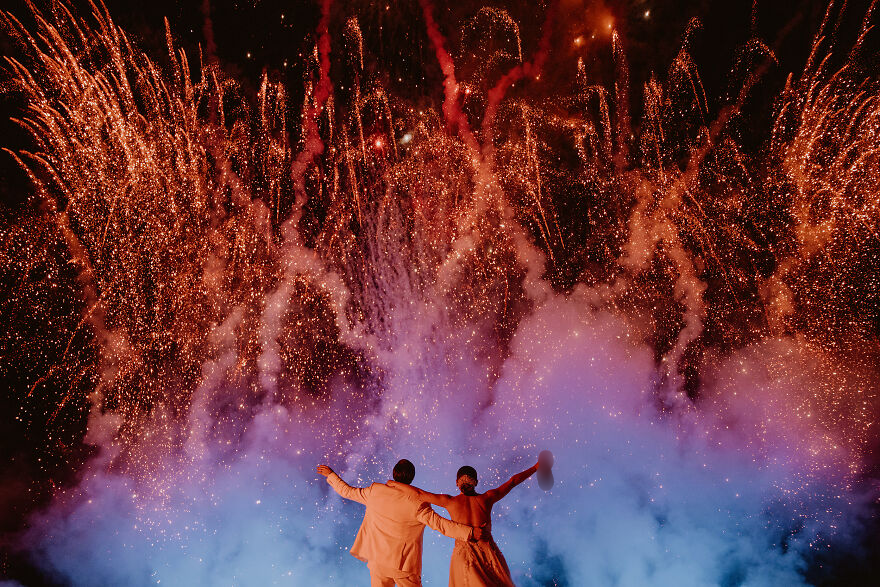 Ana Hinojosa made the task look easy to capture this couple celebrating a drink in front of a massive, smoky display of fireworks. We could never make fireworks look so good on camera, never mind having to capture a couple in front of it, too.
Main Character
The moody weather, along with the muted green colors of the backdrop just makes this newlywed couple pop in a gorgeous yet understated way. We feel like they deserve to be the main characters of a show for a day with this photo.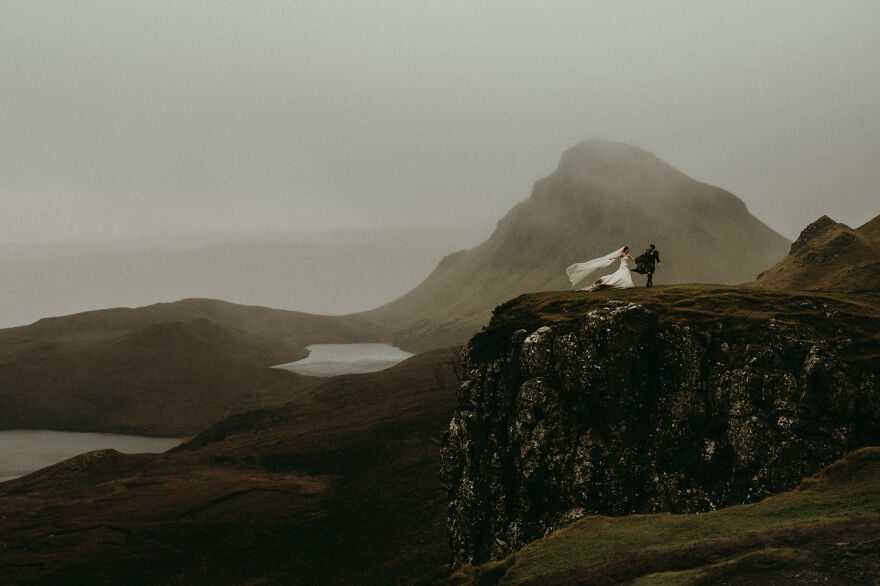 This moody photo was taken in Isle by the talented photographer Andrew Rae. Now, we're wondering: did they run to catch up with the photographer, or because there was a storm approaching? Even though all the colors are muted, we can almost see the glow coming from the happy couple.
Vintage
This photo by the talented Skillie Jacques Botha from Kikitography was shot in Stellenbosch, South Africa, and gives us a dose of nostalgia. The vintage car was a stunning addition to the photo, but the focus remained on the happy couple.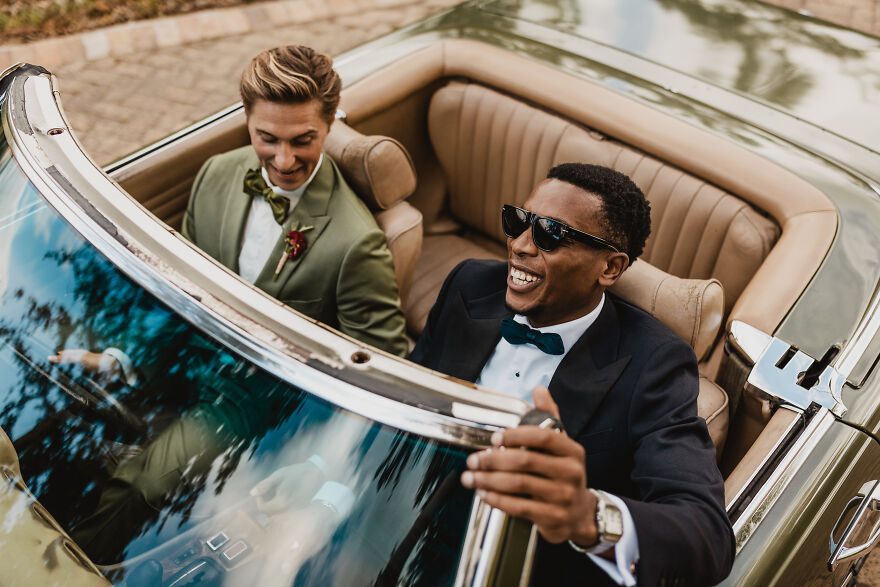 Even the reflection of the trees on the windshield was perfect. How could you even start to plan this? We really respect photographers and the amount of effort they put into making a photo into a beautiful memory to keep forever.
Pride and Joy
Photos like these just melt our hearts as it truly captures the innocent pride and joy that this parent or guest expressed at this couple's wedding. There are no calculated posing or facial expressions; it's all pure and beautiful bliss.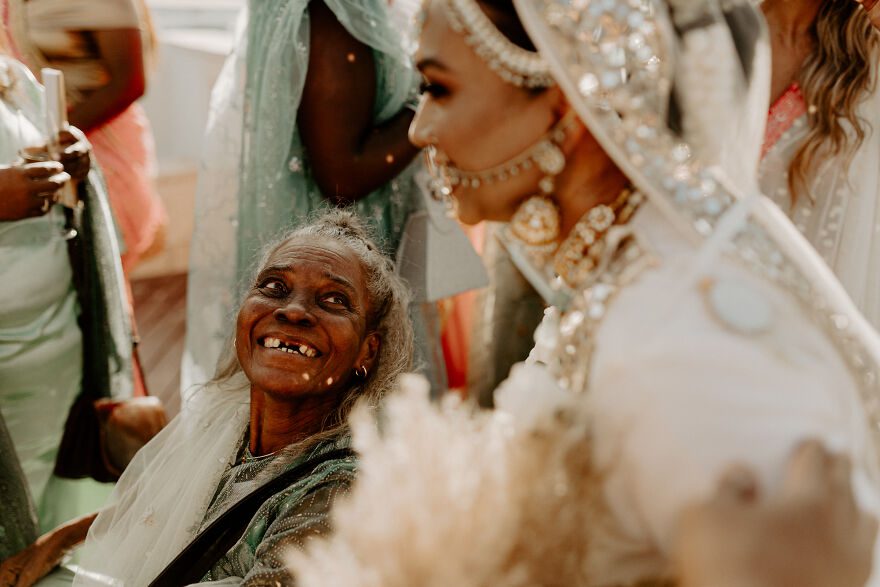 We are sure that this bride would have been very happy to see this photo pop up of their beloved family member between their usual wedding photos when they got their wedding photos back from the photographer, Beata Szabone Racz.
Dreamy
With a combination of skill, the couple's outfits, and the foggy weather, which is what likely caused the slight blurriness, it looks like the photographer captured a happy moment from hundreds of years ago on a 21st-century camera. It is amazing what these photographers can do.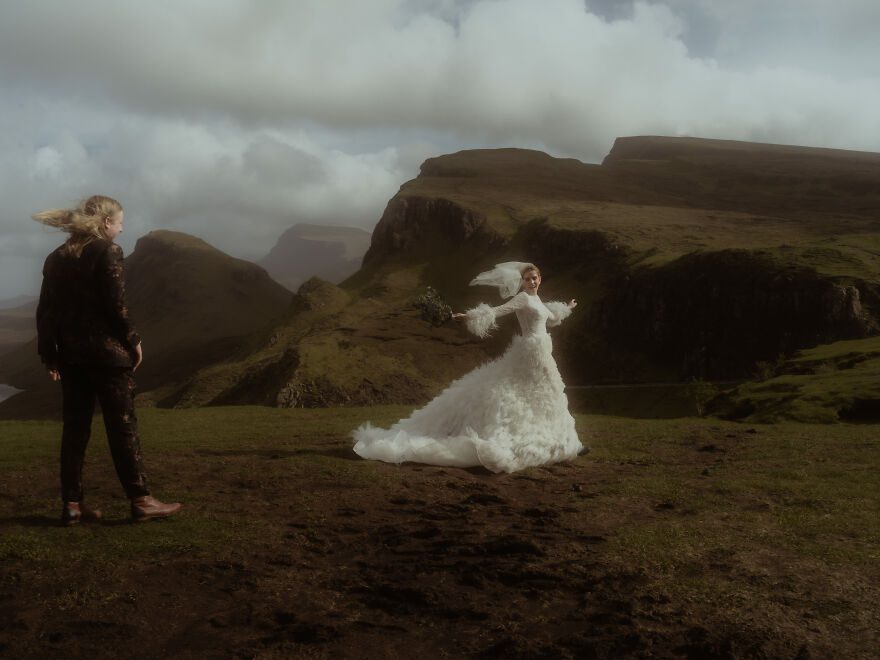 The bride's dress is almost enhance by the dreamy effect the photo has, and we love that she is putting on a little dance show for her new husband. Becy Stabler from Belle Art Photography snapped this shot in Isle of Skye.
Teary Eyed
Tears will flow at almost every wedding, and women especially struggle with it because one swipe of the eyes and their makeup is ruined. This overjoyed guest or family member couldn't hold back, nor should she have. Nina Twardowska saw this opportunity to get the perfect snapshot.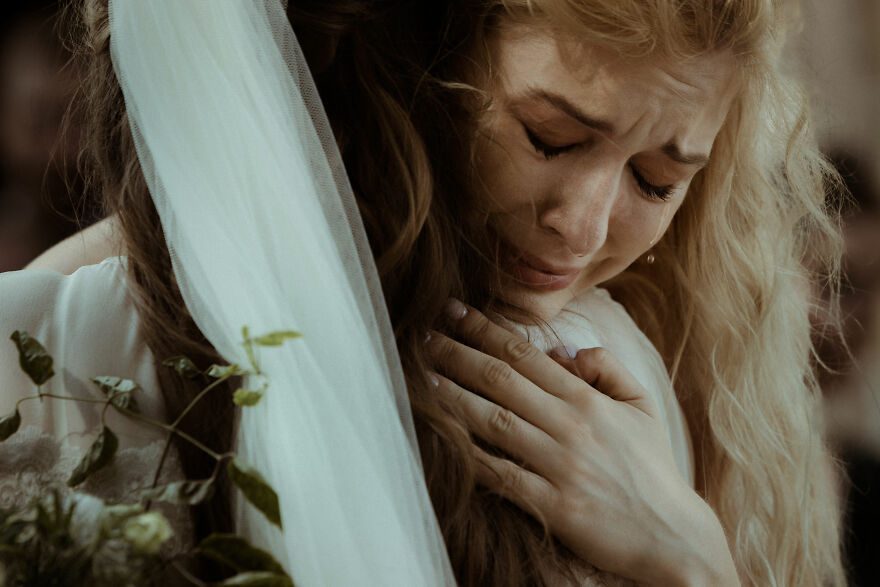 The filter on this photo adds to the emotions you feel when looking at it, but the best part of this photo is the single tear that was captured as it fell from this woman's cheek. We hope the bride appreciates this photo as much as we do!
Counting Dogs
Are we seeing one dog being captured multiple times in one shot, or did this couple have six extraordinarily well-trained dogs that jumped in one straight line as they shared a kiss? It is probably just editing, albeit excellent editing.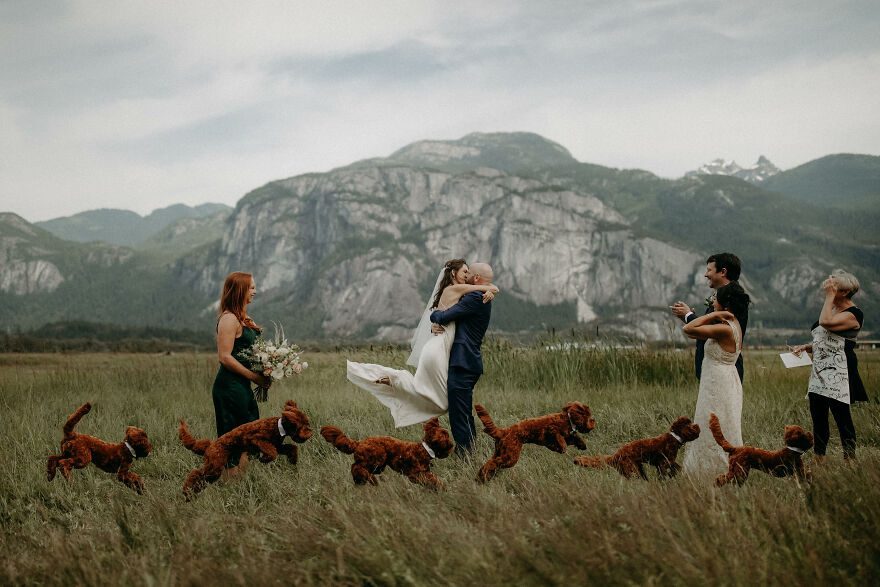 Candice Keenan captured this couple's beloved dog on camera as he happily skipped in front of the couple, sharing a kiss after they had just got married. We have to admit, the background and couple are beautiful, but the show stopper in this one is the doggy.
Contrast
Paola Lattarini outdid themselves when they captured this incredibly intimate but stylish photo of a newlywed couple in Canary. The contrast of both the bride and groom's light colored attire works so well against the black rocky ground beneath them.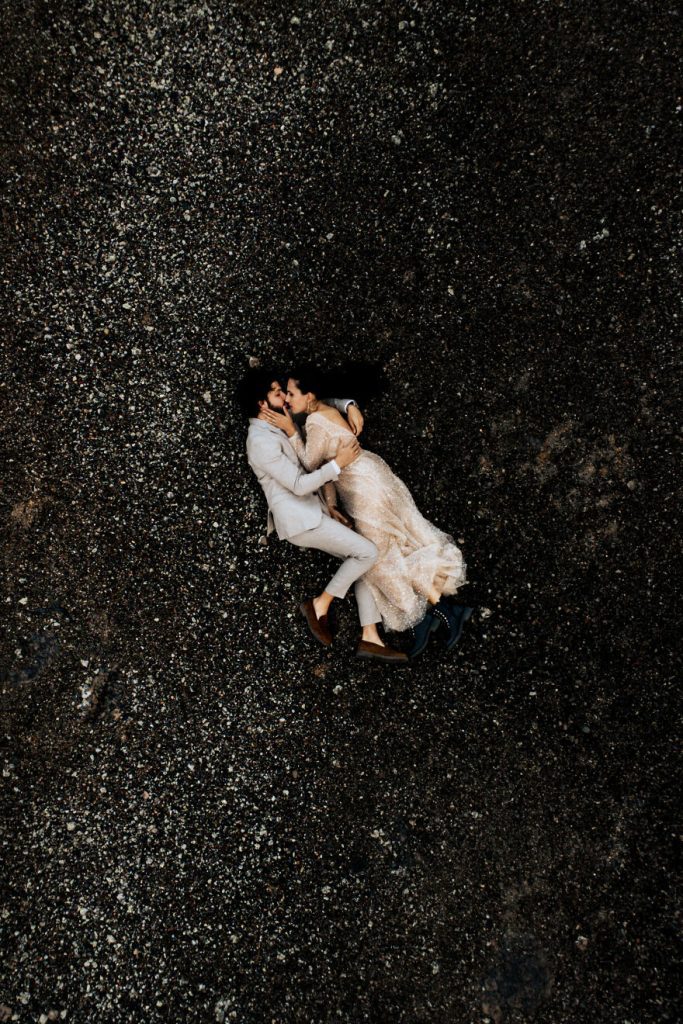 Surely this photo must have been taken with a drone camera, and it is such a creative pose for this couple who nailed it. We love the chunky boots against the bride's soft dress and the love between the two that you can feel through your screen.
Overjoyed
No one likes it when you take a picture of them crying, but crying will happen at a wedding, and it's usually a good thing. We're sure this bride wouldn't be upset but rather be happy when she sees this pretty photo taken of her.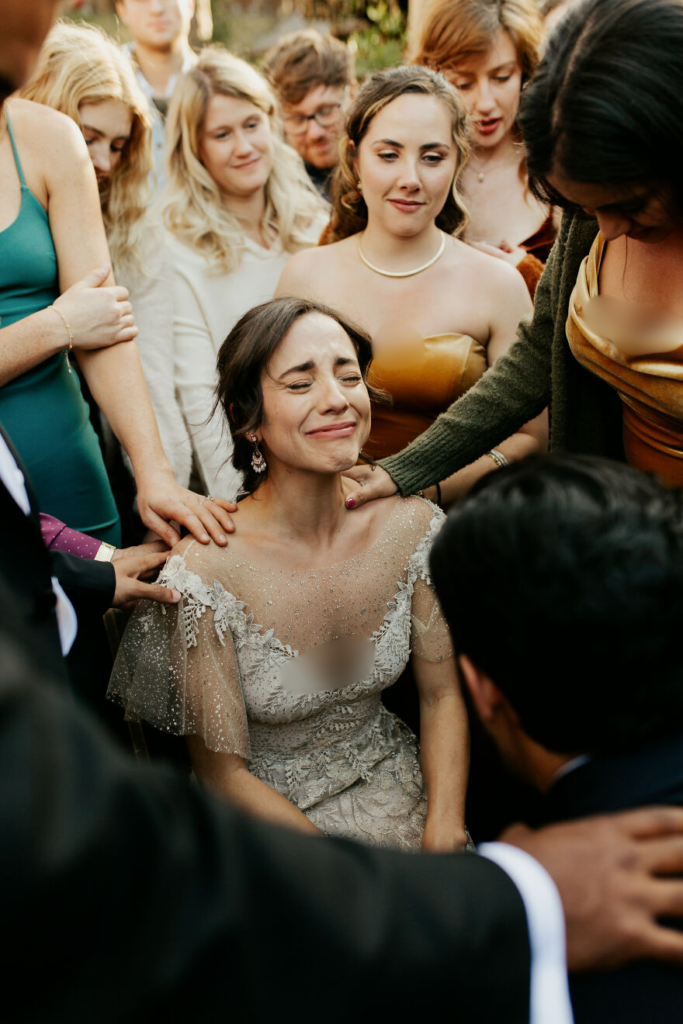 It seems like all her guests formed a ring around the couple and prayed for their marriage, resulting in the bride being overjoyed and shedding some happy tears. Dani Purington captured the special moment of a bride and her guests being overjoyed by a beautiful moment.
Light Work
Where do we even start with this photo? Everything about it is just whimsical. The slight glow on the couple from beind, the bold and bright light painting captured behind them, and then the soft twinkling night sky above them are all stunning.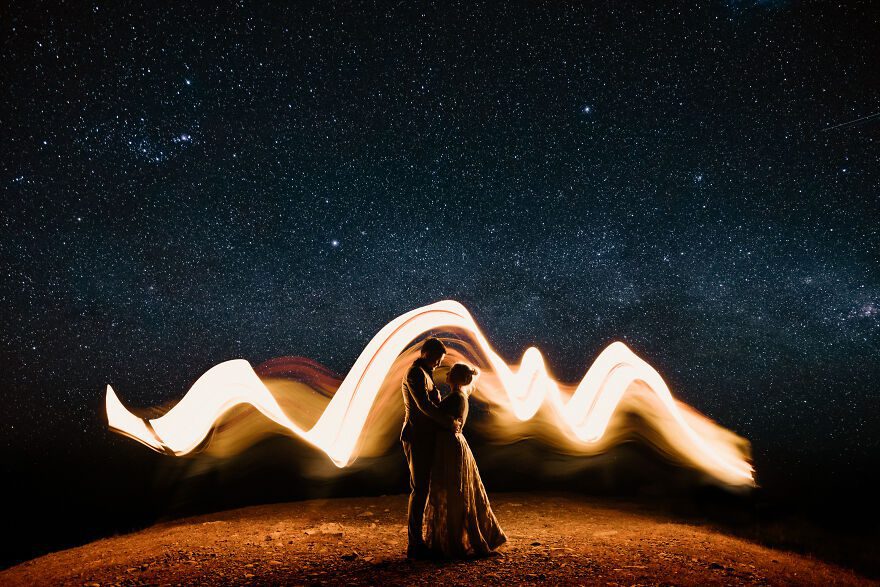 This ethereal photo was taken by Sirjana Singh in New Zealand. We wonder how many shots it took for the person running in the background to get the pattern so perfectly. We're sure the couple didn't mind staring into each other's eyes lovingly for a while as the assistant danced behind them.
Innocent Reactions
When you were a young child, your understanding of marriage was probably basic. For kids, it's what happens when two people love each other so much that they invite everyone over in fancy outfits to celebrate them kissing, laughing, and cutting cake.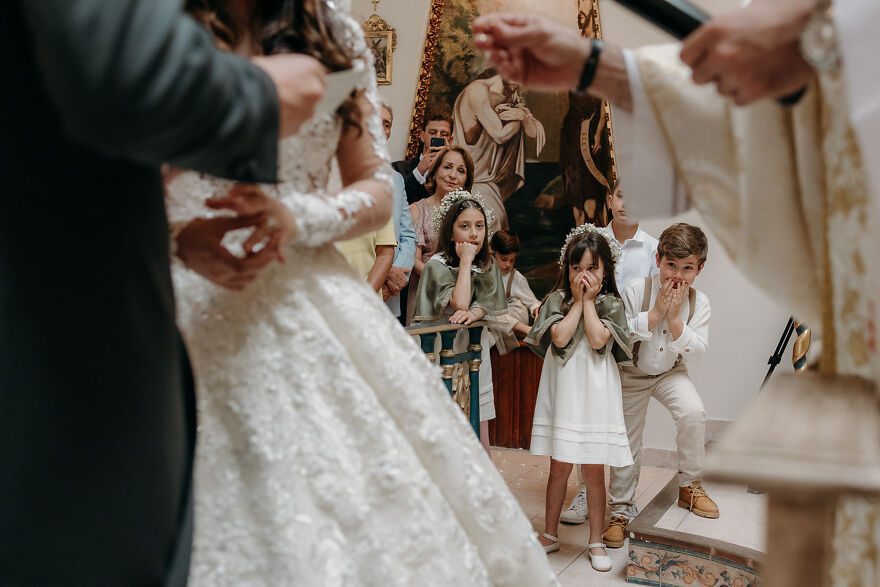 Adriana Ortiz captured a delightfully sweet and innocent reaction of the small children witnessing the couple's wedding ring exchange and it is too sweet for words. They seem so excited and are eagerly waiting for the first kiss. The "bored" girl in the chair emphasizes the other kids' delight.
Elegance
This photo by Justyna Bedford was taken when the bride had finished dressing and getting ready for her wedding. It is essentially the last photo taken of the bride as a single woman before walking down the aisle, and it is executed so well.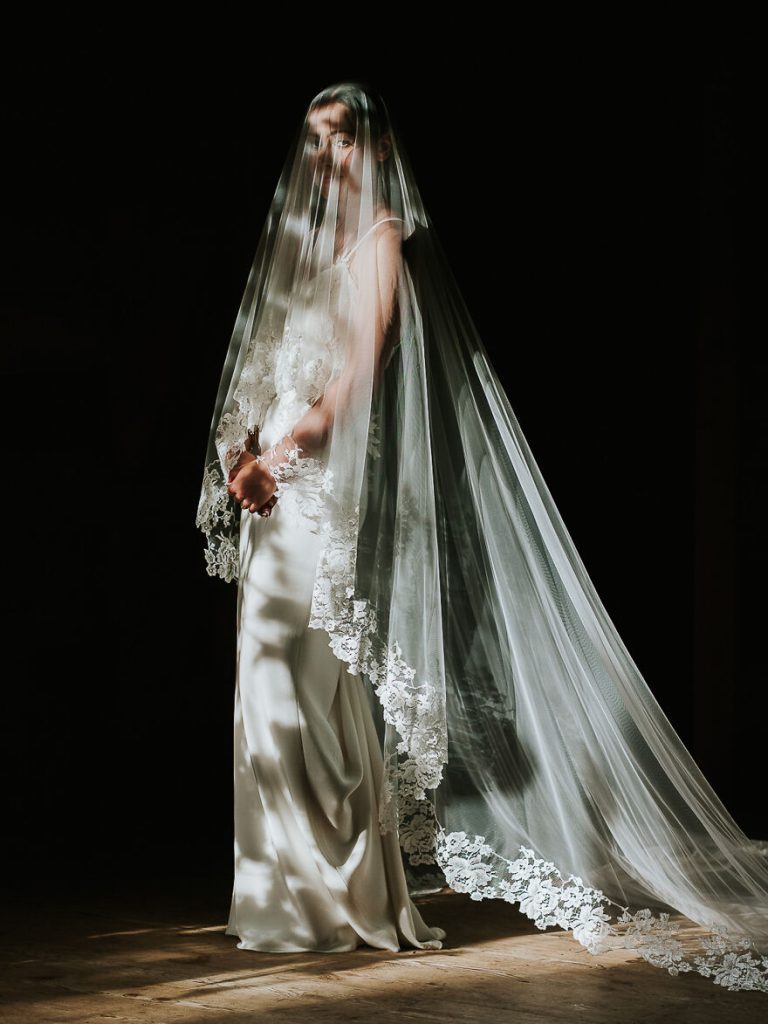 The veil, scattered shadows, and pitch black background all add up to make a stunning and moody photo. The contrast is great and the flowing lines are whimsical. You can't help but wonder what the bride is thinking with that Mona Lisa smile.
Just A Normal Day
We love this photo because it reminds us that what might be a normal day for us, is someone's most magical day in their life—their wedding day! This couple took to the busy streets of Galway and captured people around them going about their lives as they shared a kiss.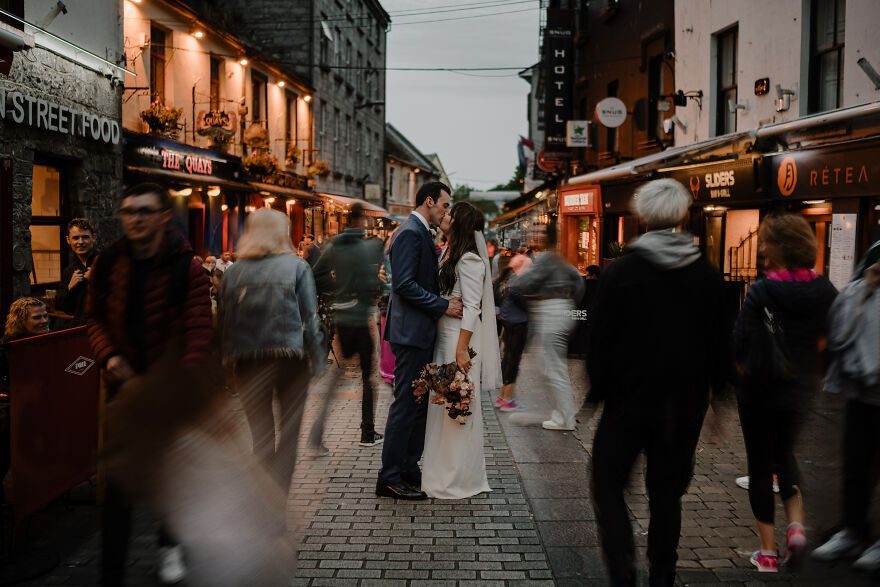 We also like the few people that you can see turned around in the photo to see who is capturing the happy couple, as they all have some happy faces, sort of celebrating the bride and groom's special day along with them.
Tiny Tired Guests
We cannot say anything about this child being exhausted or bored at a wedding. They don't understand what weddings are and how can you expect a small child to sit through a reception and ceremony without falling asleep or getting bored?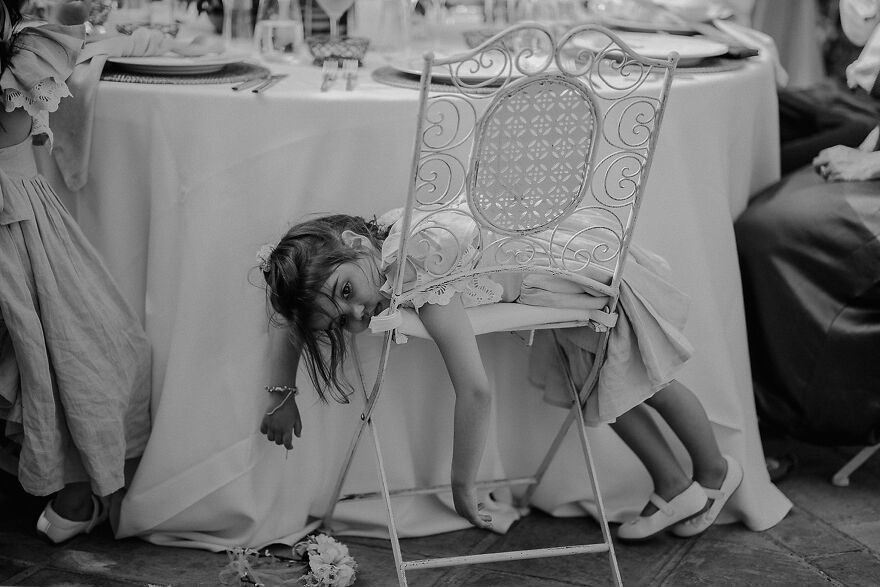 The sweet memory was captured by Sabrina Kolotylo. It will surely bring giggle to the couple as they page through their photos of their wedding day, and to this little girl when she's older and looks back at her childhood photos. Hang on, little girl, and the snacks will be served soon!
Ceremonial Love
Different cultures have different wedding traditions and this is one of the more unique wedding rituals we have seen. Aron Szabo took this snapshot in Aqua Viva. We love the pose the couple is in when they share their first kiss.
The placement of smaller details in this otherwise busy photo is what captured our eye—from the palm leaves being perfectly behind the couple as they share their kiss to the small candles surrounding them in their circle full of trinkets.
Shadows
This gorgeous photo was captured by the highly talented photographer, Jeff Chang, and we cannot get over how much detail this low-light photo brings to the table. With the least amount of light, you get the most emotion from this photo.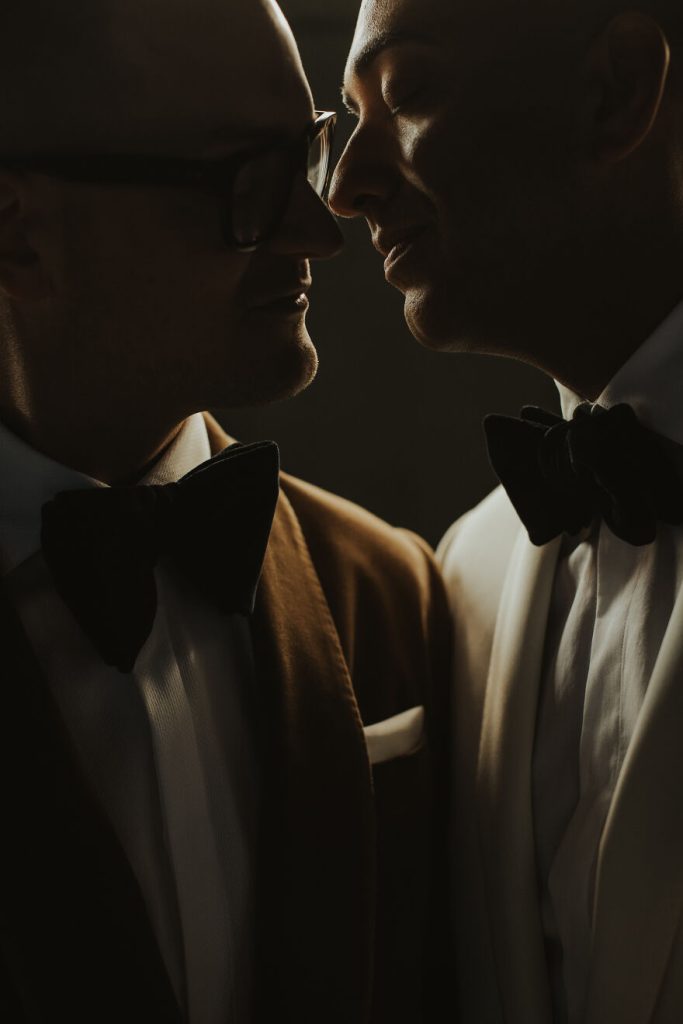 It is as if the photographer is demanding you to look at the finer details, as they are the only things visible. The subtle smiles, the loving eyes—even though they're closed—and then just the beautiful natural curves of a human face are all perfect!
Fun and Colorful
We love the fun colors in this photo and cool pose this bride struck after the couple just got married. However, we would like to see a cropped or edited version where her assistant was out of the picture as she threw the veil in the air.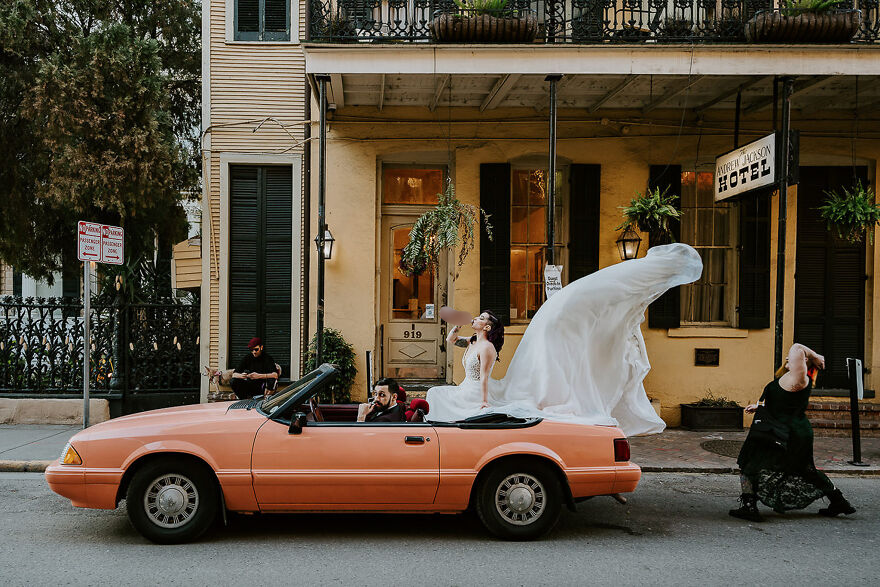 It looks a bit like someone is hiding under the bride's veil, about to fall off, but we appreciate the fun and interesting photo that Linka Odom took of the happy couple. Plus, that's a pretty cool vintage car, isn't it?
Candid yet Framed
It's not often that you find a photo that seems to be both candid, and still so perfectly framed within the surroundings, but Lauren McCormick did an outstanding job capturing two beautiful brides enjoying each other and dancing on their wedding day.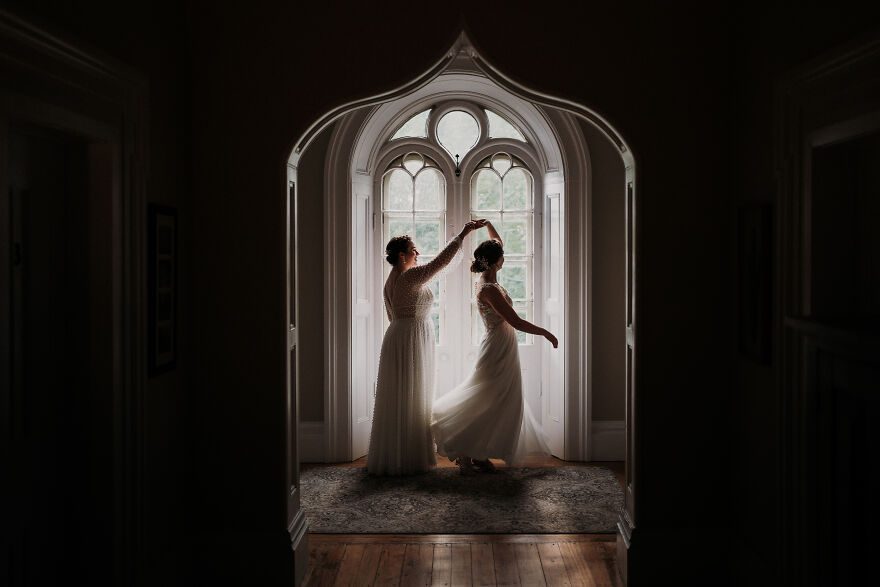 We also appreciate how the two brides are the most highlighted subject in all of this photo—as it should be—and then the perfect gradient as it fades to almost black where the photographer would be standing, which just makes you want to stare at them having fun.
Carved From Stone
Photographers really go above and beyond for their clients when capturing their special day, like this photographer, Traci Edwards, did at the Adventure and Vow wedding venue in Arizona. Once you realize the photographer is rather far away in this rocky landscape, you get goosebumps.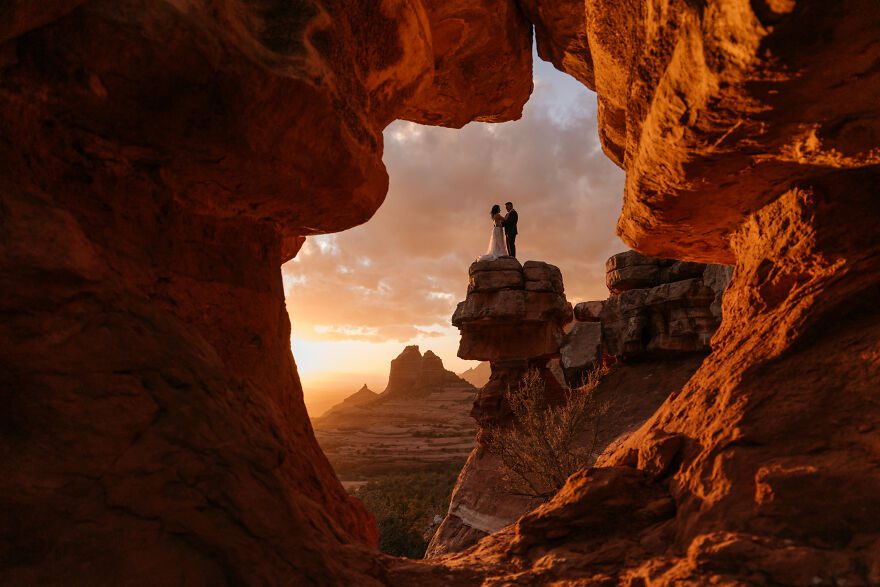 We've seen plenty of pictures of photographers in weird positions as they try to capture the perfect shot, but we're just as concerned about the couple. Her dress still looks immaculate! With the bronze lighting matching the rocks, it truly feels like the "golden hour."
Intimate and Small
We are not entirely sure if this couple had guests or whether they simply had a wedding for two, but the calmness and romance captured in this photo make us want to fall in love and get married right away.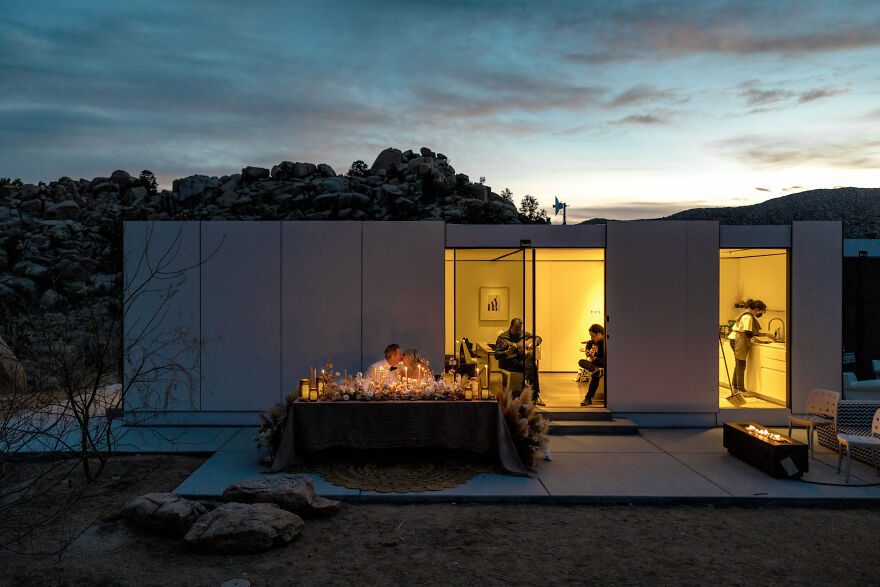 Although the focus is slightly more on the musician and staff in the background, the subtle glow of the candles in front of the bride and groom makes you want to look a little longer and harder at the happy couple enjoying a romantic evening.
Don't Mind Us
Of course you would want to be the center of every photo on your wedding day, especially with a talented photographer like Flora Gibson, but there is a whimsical element if you just very simply start to fade into the background of this beautiful nature scene.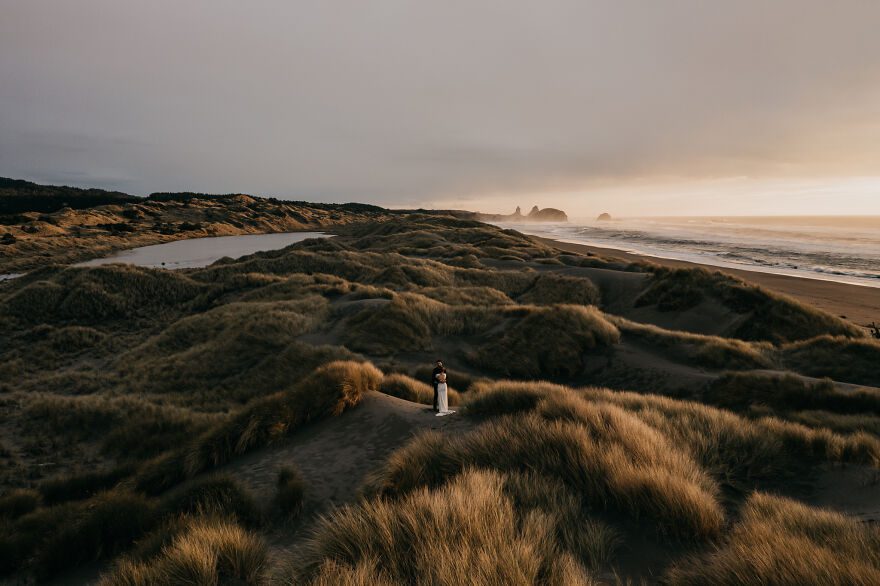 The soft rolling hills have no sharp lines, and it is just about the coastline that leads your eyes slightly further back into the picture. But yet somehow you come back to see a couple, simply embracing each other and just enjoying the moment.
Wedding Party
Have you noticed how we don't often see the actual waiting line of the wedding party right before they enter the chapel or go down the aisle? This is a refreshing yet still quite intimate look at what happens seconds before the ceremony starts.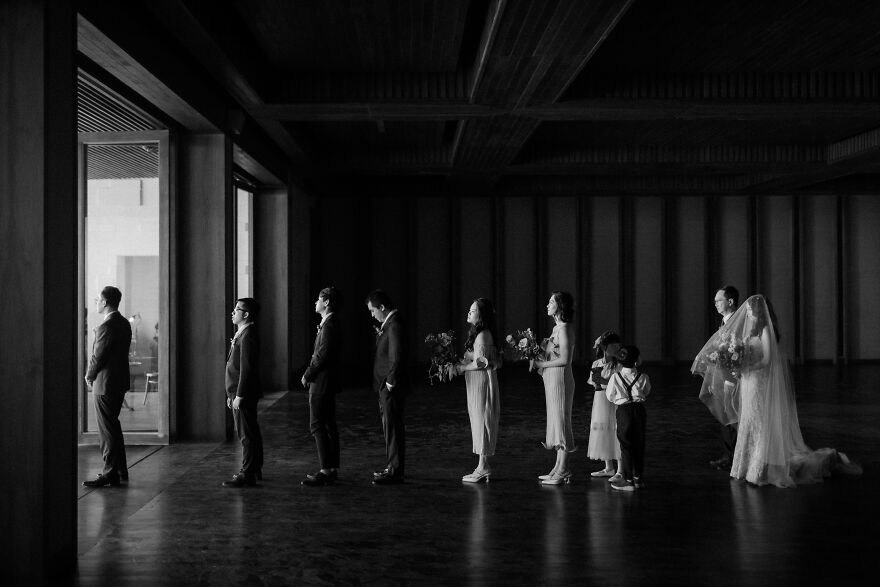 The dramatic monochrome filter on this photo by Mikhhael Andarias adds a hint of suspense, which is probably what's going through everyone's minds before the bride finally makes her way down the aisle to her partner. The kid's last-minute look at the bride as a single woman is so wholesome.
Nostalgia
Whether it is the oversized flamingo pool floaties, the low ceiling or the fact that there is an indoor pool, this photo gives us a bit of '60s nostalgia, but with modern-day quality to it, and it is so stunning!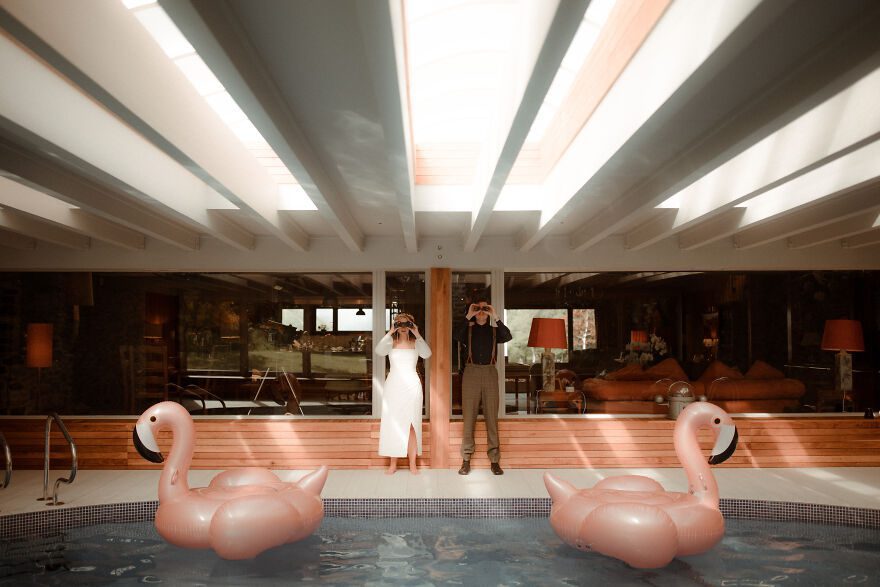 This artsy, possibly Wes Anderson-inspired photo was snapped by Rachel & Tonie, in Loch Sween Scotland. We just know this couple had a very fun wedding and will be a lot of fun to hang out with. Just what are they looking at? Are they spying on their guests before meeting up with them?
Loving Looks
There is, hopefully, going to be a lot of love at a wedding, not only between the couple getting married but from every guest there. It is a celebration of love, after all. Either way, Kelsey Converse happened to snap a very pure moment between this couple.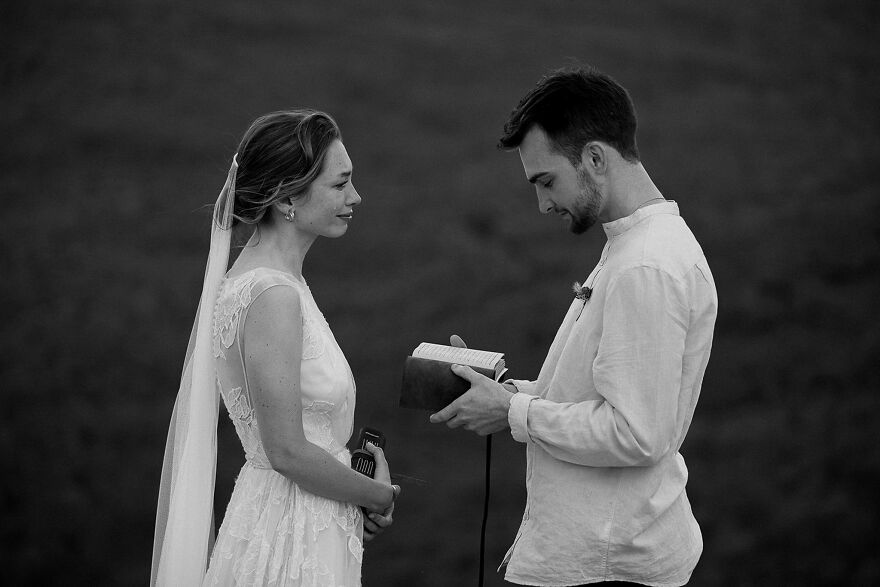 As they were reading their vows to each other, you would expect a lot of intimate details of their love revealed and promised to each other, and this bride soaked it all in when her new husband shared some words of affection with her, and Kelsey snapped a perfect shot of them both.
Runway
This dramatic and beautifully detailed photo was taken by Gary Evan from All Seasons Photo, and it looks like a scene from a drama or modeling set. The aisle looks like a high fashion runway and the main subject, don't you think?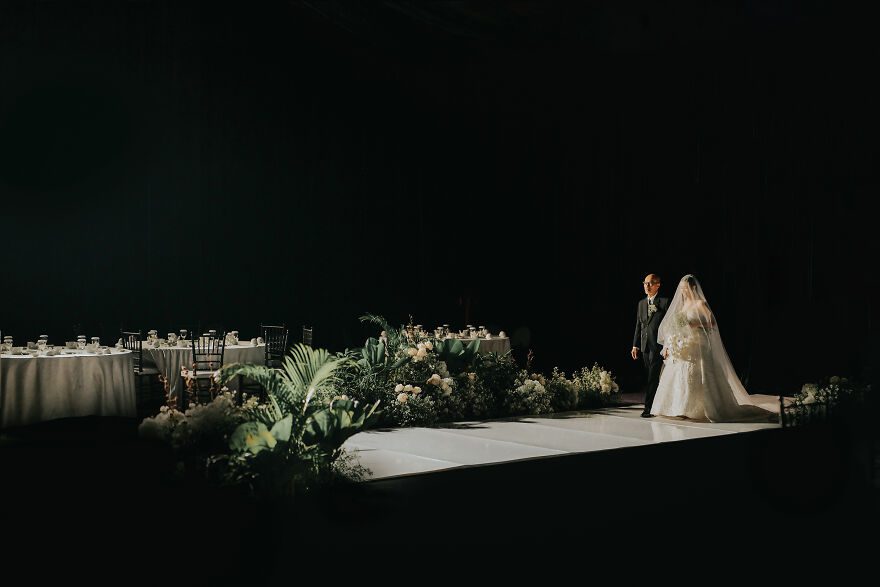 We hope there are some guests further down the aisle to look at the stunning bride, but we appreciate the dramatic scene that the empty tables add to this photo. We wish we could see more of this bride at her wedding!
Different Perspective
Aerial photos of the wedding aisle aren't something you see often, but we are happy we did. It is a completely different take on it, and of course. The aisle is where your life together starts, so of course you should take a photo there to remember it.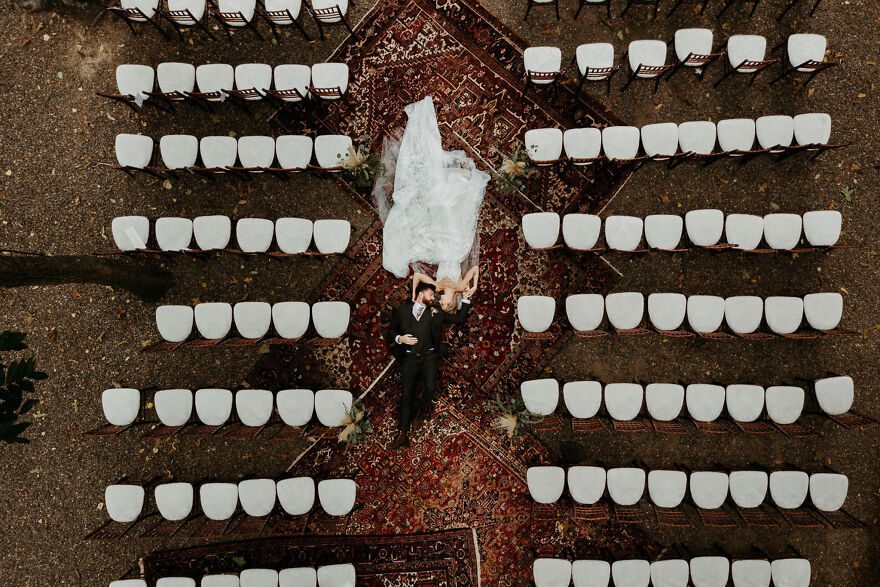 Luke Lambertson is the photographer behind this pretty photo, and we love that he edited the couple just a little brighter than everything else. We're not a fan of the one chair that is missing, but hey, who are we to nitpick this photo?
Splash
It's not uncommon for the bride and groom to get their outfits wet. Splashing champagne, spontaneous rain, and seaside walks are all pretty standard. Still, we can't imagine willingly jumping into a pool and likley ruining their outfits in the process.
Each to their own, as the saying goes, but jumping in a chlorinated pool with a dress that is thousands of dollars, ruining your hair and makeup—that seems like a big no-no to us. Regardless, it makes for a really, really cool photo, so they might deem the jump worth it.
Moody Beachside
It seems like this couple had a little more than just a little rainy weather on their wedding day. The weather seems to be full on moody, wet and cold, but they decided to make the best of it and take some candid running photos by the beachside anyway.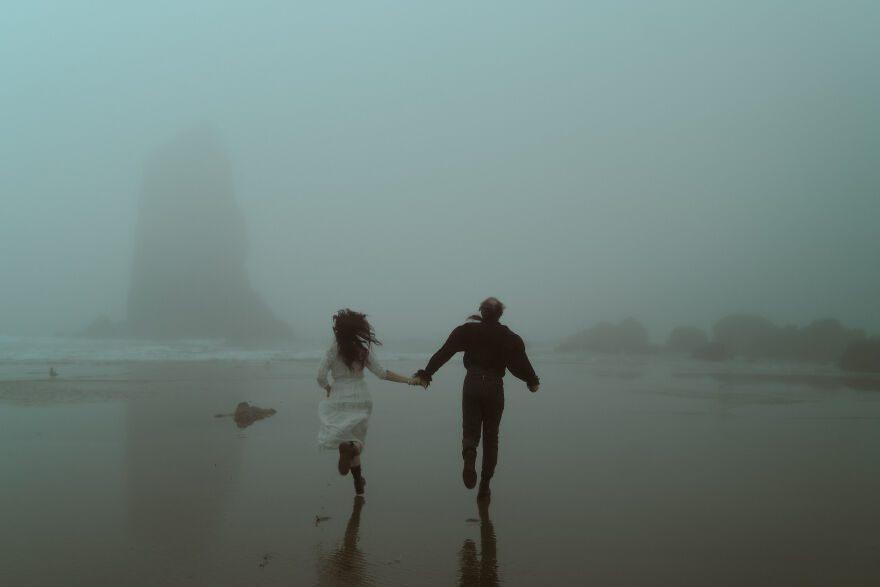 Milly Baine snapped this photo in Cannon Beach and we are sure everyone had a good time laughing while running through the foggy air along the water. The ominous large rock ahead adds some much needed drama to this photo.
Dancing for Joy
A wedding dress is a very special garment for a bride. It is something most dream of as a little girl and let's be honest, it's what everyone wants to see when they attend your wedding, so it seems like this bride was overjoyed when she looked at her dress on that special morning.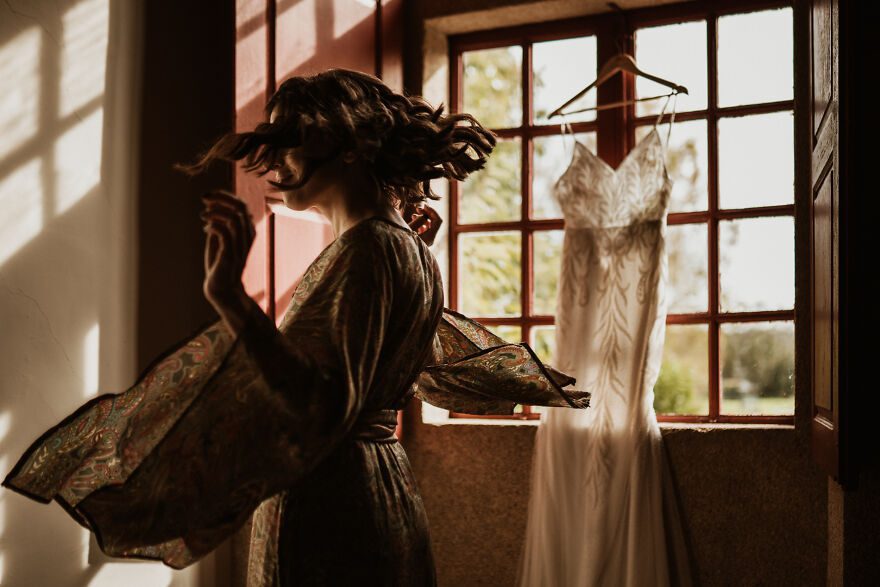 We love the colorful, flowing dressing gown the bride is wearing before she slipped into the Pièce de résistance. Susana Rios, the photographer, captured her spinning and dancing in front of her exquisitely detailed white wedding dress. This photo was taken in A Coruna in Spain.
Small Glimpse
What could this husband have shown his wife to cause such a reaction? Whatever it is, it just makes us smile to see them both seem so happy and elated. It's a small glimpse into their personal lives, moreso than the wedding itself.
And much like some of the other candid shots, it is something that the couple will treasure seeing after such a busy and exciting night that passes in the blink of an eye. Mike Vallely is the one to thank for this gorgeous photo.
Elation
Reaction photos are always a treasure, and usually, you can't help but smile or feel the same emotions when they are of such high quality as this photo snapped by Alex Olguin. If you imagine hard enough, you can almost hear the bride laughing with joy.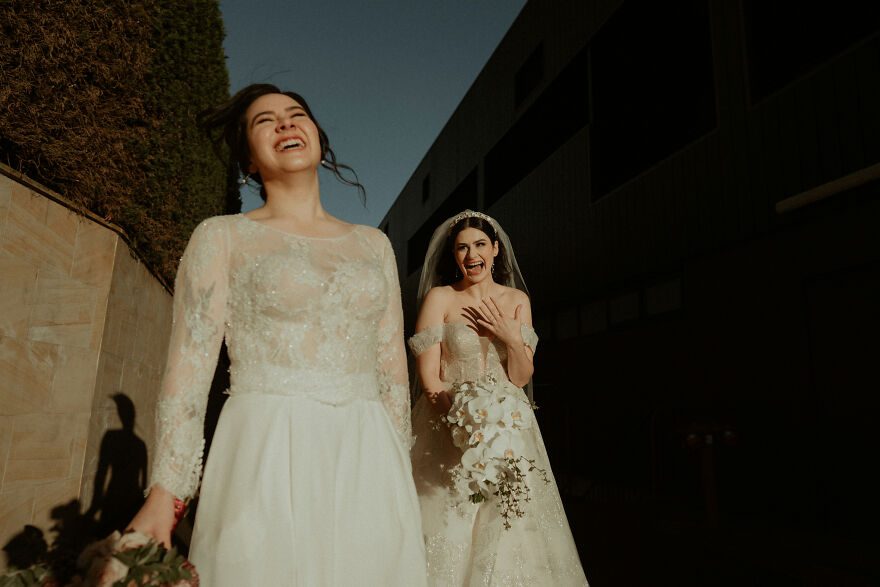 While this candid photo of the two brides is nothing to compare to perfectly stylized photos you would usually see in wedding photography, it really captures the true and honest emotions of the brides and how happy they were on that day, which is just as special.
Danger Zone
Iceland is known to have some active geysers and volcanos, and this couple decided it would be a great idea to go shoot some wedding photos down where an active volcano recently had erupted. There certainly is beauty in danger.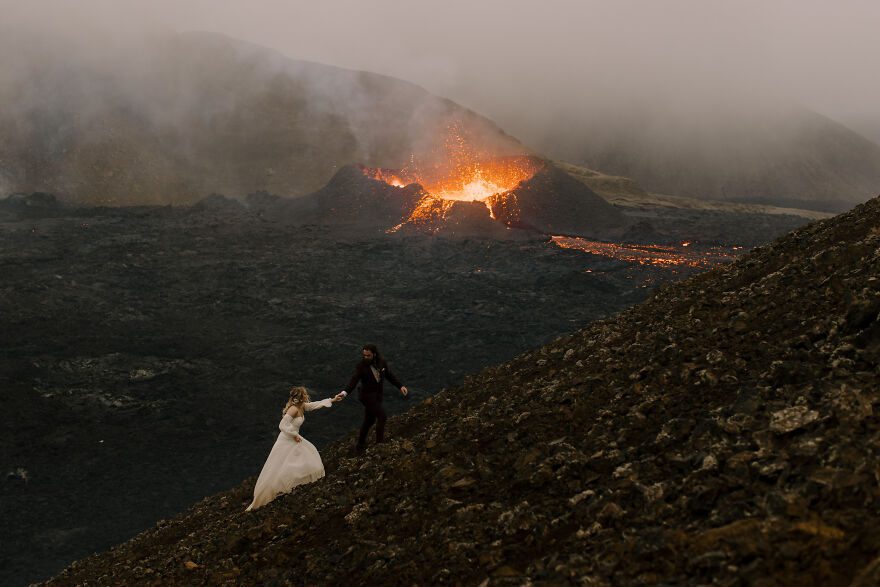 But the fact that they didn't pose in this photo, makes this snapshot look like something from a fairy tale where the bride and groom ran away from danger using their power of their love! Too cheesy? Well, Styrmir Kári Erwinsson just has a talent to spark our imagination then!
Colorful Statement
This photo would be just as beautiful with or without the guests dressed in bright colors. The dramatic and bold background really makes this photo as pretty as it is, and it was taken by the very talented Cat Ekkelboom-White at Wild Connections in Austria.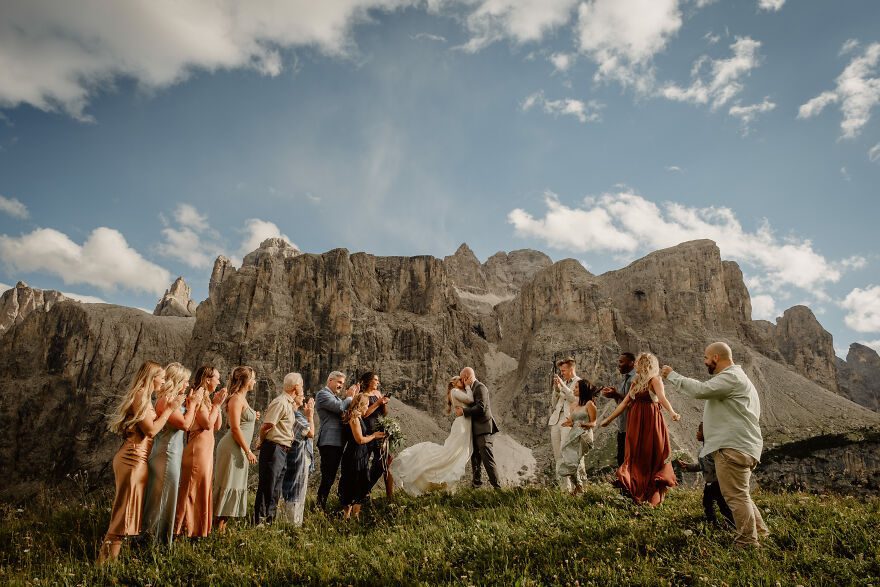 The wind is blowing the bride's wedding dress in a dramatic way, which is complemented by the harsher, straighter lines of the rocky landscape in the background. The bright colors of the guests also add to the contrast in this photo.