The Barbie Bride: 35+ AI-Generated Wedding Dresses Inspired By Legendary Barbie Dolls
By Aileen D July 12, 2023
---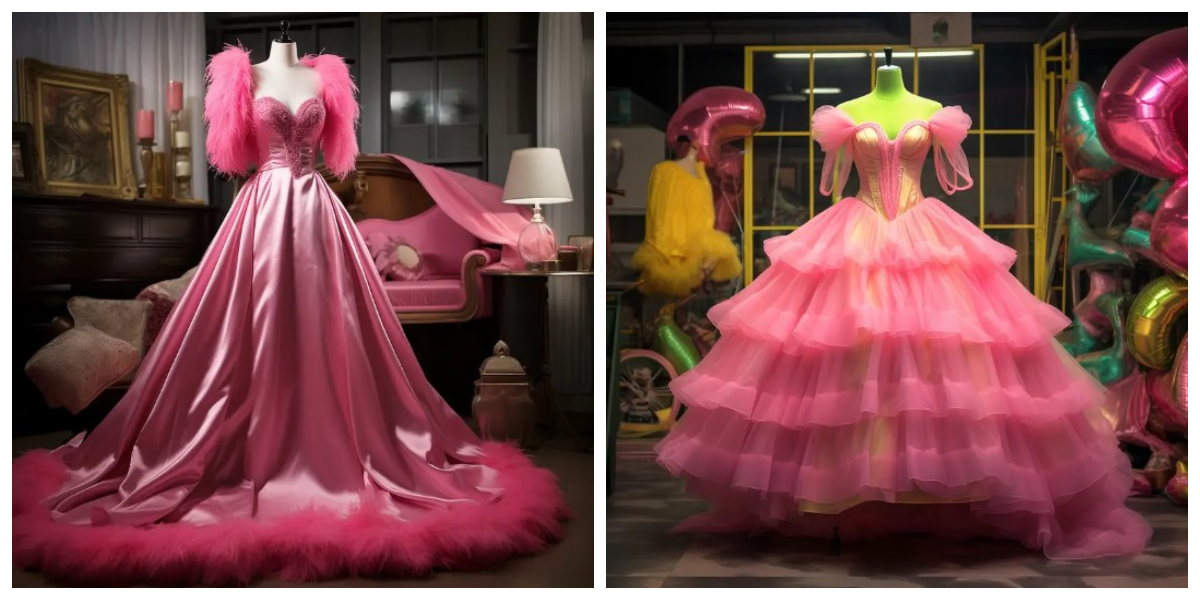 Let's take a trip down memory lane and talk about a cultural icon who has had a profound impact on little girls around the world for decades: Barbie!
Ever since her debut, Barbie has captured the hearts and imaginations of countless children, serving as more than just a doll. She became a symbol of empowerment, creativity, and, of course, a fashion inspiration.
For decades, Barbie has not only been a playmate but also a style icon. Her extensive wardrobe and ever-evolving fashion choices have sparked the imaginations of young girls, encouraging them to experiment with different styles with regard to casual wear, official and even wedding dresses.
Today, we have compiled a list of Barbie wedding gowns inspired by the most popular Barbie dolls, and get this… they're crafted by AI! They are all courtesy of the artist Sara Thompson who works with BuzzFeed to create fun AI content using Midjourney.
Going on A Picnic (Picnic Barbie)
The ultimate fashionista steps out of her glamorous city life and heads to a delightful picnic in the woods. Surrounded by the serene beauty of nature, Barbie embraces the laid-back charm of the outdoors with her signature style. Who said wedding dresses can't be inspired by outdoor wear?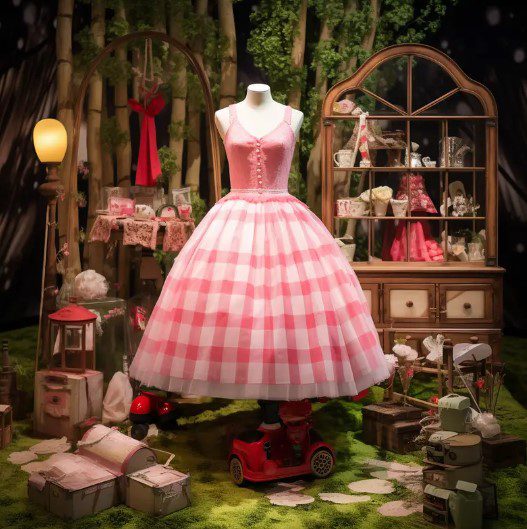 With this, she's ready to explore the hidden trails and enjoy a relaxing day under the shade of tall trees. With a basket filled with delicious treats, Barbie's gingham picnic dress is a delightful blend of fashion and glamorous ease. It's a refreshing escape from the fancy delicate fabric she's used to.
Not Easily Ruffled (Diva Barbie)
Imagine a stunning Barbie wedding dress that exudes elegance and glamour, adorned with an abundance of luxurious boa feathers. This feathered masterpiece is a true fashion statement, capturing the essence of sophistication of all Mattel dolls. If only it were lifesize!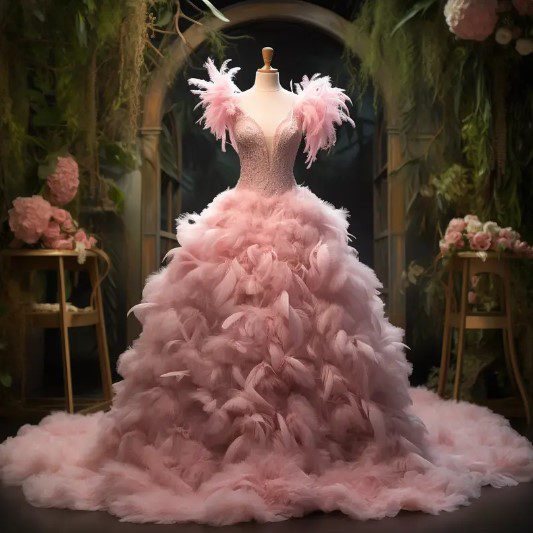 Each feather sways delicately and catches the light, creating a mesmerizing effect as "Diva" Barbie twirls at a glamorous event. The dress, with its feathered layers and intricate detailing, embodies a unique blend of opulence and grace. It's a showstopper, alright!
Music is life( Pop star Barbie)
Here's another show-stopper dress, this time inspired by Barbie, the pop star. She makes a grand entrance in a stunning pink gown that embraces her vibrant personality. This red carpet-ready dress is the perfect blend of glamour and glitz. The flowing silhouette is adorned with intricate lace detailing, making hearts stop and cameras flash!
The vibrant shade of pink radiates confidence and energy, perfectly reflecting Barbie's stage presence. This Barbie gown is a statement piece that proves pop music and glamour were always meant to be together. It's a look that's as unforgettable as her chart-topping hits.
Ethereal (Ballerina Barbie)
This enchanting gown, designed with flowing layers of tulle, captures the essence of ballet's ethereal beauty. The sleeveless design allows Barbie to showcase her graceful arms, bewitching reporters. They wish Barbie could do a releve in this dress, knowing it's made for movement.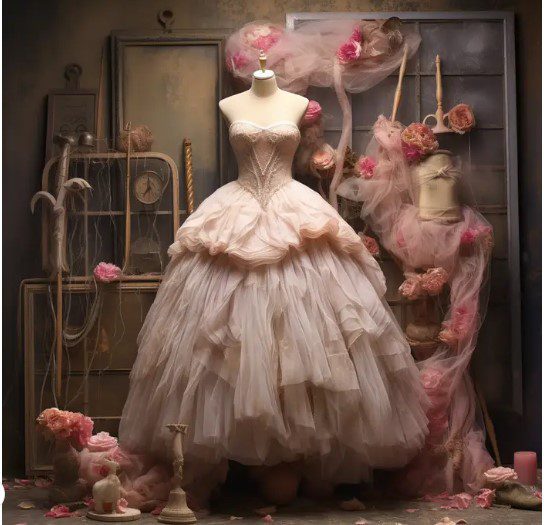 Delicate embellishments of sequins and crystals add a touch of sparkle, reflecting the stage lights as she glides through the crowd. The photographers can't get enough of her. The gown's elegant silhouette, accentuating Barbie's poise, effortlessly combines the worlds of ballet and high fashion.
Innocent and Carefree (1900s Barbie)
We have to tell you about this dress that would make even Queen Victoria herself green with envy. Barbie, our ever-dashing stunner, is ready to make her way to the isle of Victorian society. This exquisite gown, a masterpiece of lace and silk, hugs her tiny frame with delicate precision.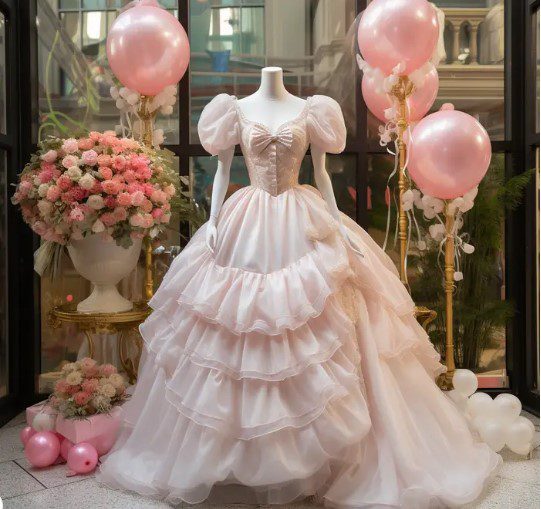 Layers upon layers of ruffles cascade down like a waterfall frozen in time. The bodice, adorned with intricate embroidery and shimmering beads, cinches at the waist, accentuating Barbie's hourglass figure. It's a dress fit for a fairy tale transporting Barbie back to a time of whispered secrets and arranged marriages.
Debutante (Pretty In Pink Barbie)
Listen up, fashionistas! We've got the deets on a showstopper gown designed specifically for Barbie's dazzling debutante party. This is a sleeveless wonder that screams elegance. The plunging V-neck adds a modern twist, while the figure-hugging silhouette flatters Barbie's every curve.
The gown's fabric? Oh, it's like liquid silver, cascading down her legs with every graceful step. The back reveals a daring open design, leaving everyone breathless as Barbie glides through the room. Forget the presents. It's Barbie we have our eye on!
Wish Granted (Fairy Barbie)
What if Barbie were an enchanting fairy princess in a gown that would make even Cinderella jealous? This magical masterpiece comes complete with ethereal wings that shimmer and sparkle as if touched by moonlight. It'd make anyone wish that Barbie would come to visit!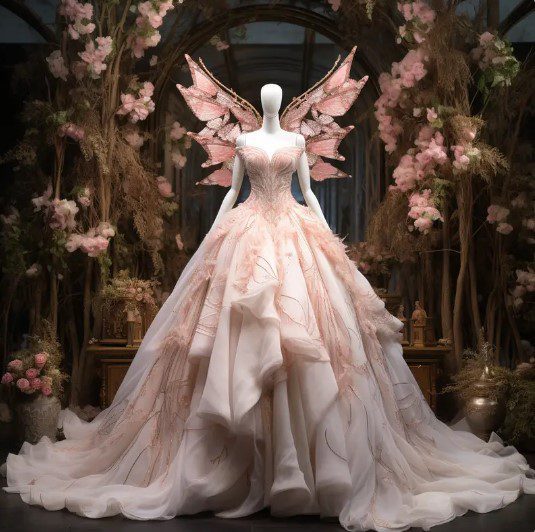 Delicate lace and intricate beadwork adorn the bodice, while the skirt billows with every flutter of Barbie's wings. It's a gown that captures the essence of a fairyland, where dreams take flight and wishes come true. Just imagine what the other pixies are wearing.
Victorian Era (Princess Barbie)
In the next one, Barbie steps into a time machine and lands right in the heart of 1800s London. She's about to embark on the grandest romantic adventure of her life, and what better way to make an entrance than in a gown that captures the essence of the era?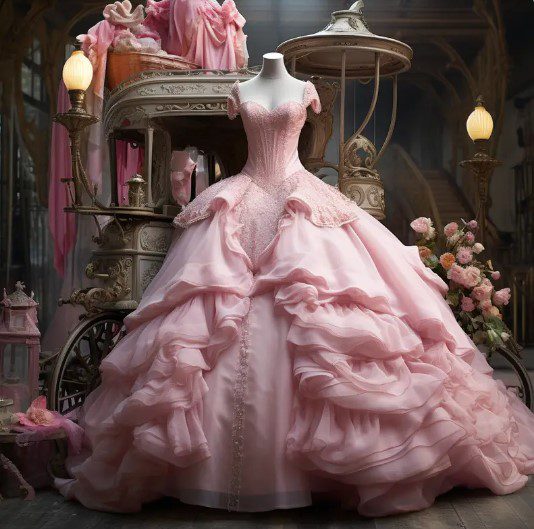 This is a regal creation, crafted from the finest silk in a shade that would make even the most beautiful rose blush. It had taken months to create this masterpiece, and yet again, Barbie is the envy of every woman present.
Naturally, the Stunner (Disco Barbie)
Our stunner is dripping with Swarovski diamonds, sparkling like a galaxy of stars. But that's not all! The sleeveless, low-cut design of this gown adds a touch of sultry elegance, showing off Barbie's collarbones and well-toned arms. She's totally unaware of the bewitching effect she has.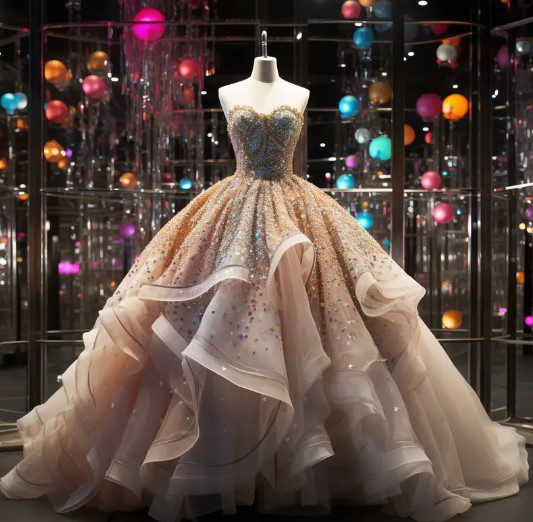 With this gown, she'll be the center of attention, turning heads as she glides through the ceremony. It's a masterpiece of glamour and sophistication, designed for Barbie to make a jaw-dropping entrance and leave a trail of admirers in her wake.
The Bachelorette (Fashionista Barbie)
Ladies, it is time to raise a glass and celebrate because Barbie is hosting the ultimate bachelorette party! And let us tell you; she's doing it in style. She plans on donning a jaw-dropping gown that oozes sophistication and fun. What a catch!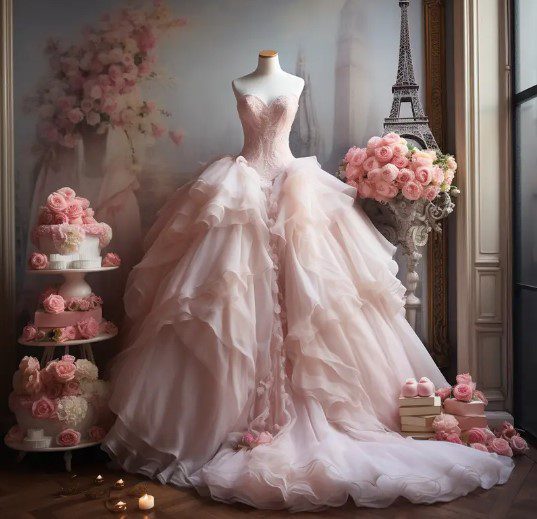 With every step, she reminds us that bachelorette parties are all about celebrating love and friendship and having the time of our lives. She gracefully receives each gift, puts it on a pile of items by the side of the room, and then thanks the sender.
Having Fun (1950s Barbie)
Get ready to groove, friends, because Barbie is taking inspiration from Cyndi Lauper's Girls Just Want to Have Fun hit song! Instead of being traditional and wearing white for her big day, she decides to mix things up a bit.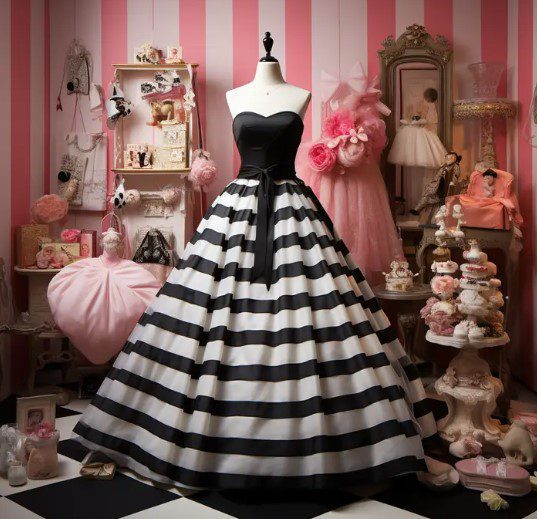 Here, Barbie embodies the free-spirited essence of the1950s, spreading love, positivity, and the message that girls just want to let loose and enjoy life. With her infectious energy and killer smile, she proves that she's not just a doll but a symbol of liberation.
Ready to Headbang (Rockstar Barbie)
Hold on to your mohawks because Barbie is about to unleash her inner rebel as a punk princess! She's trading in her pink gowns for black corsets, studded leather jackets, and combat boots. But that's not all— Barbie's taking her musical journey to the next level by learning hard metal rock!
With her electric guitar in hand and a fierce determination in her eyes, she is mastering those power chords and screaming vocals for her big day. Barbie proves that she can break all stereotypes, shattering the notion that princesses can't rock out. Turn your volumes up, and get ready to headbang!
The Skillful Art of Sewing (Flowermania Barbie)
Let's dive into Barbie's fascinating journey as a young adult, where she discovered the art of embroidery and unlocked a world of creativity. Picture her sitting at a vintage wooden table, needle in hand, surrounded by vibrant threads and delicate fabrics.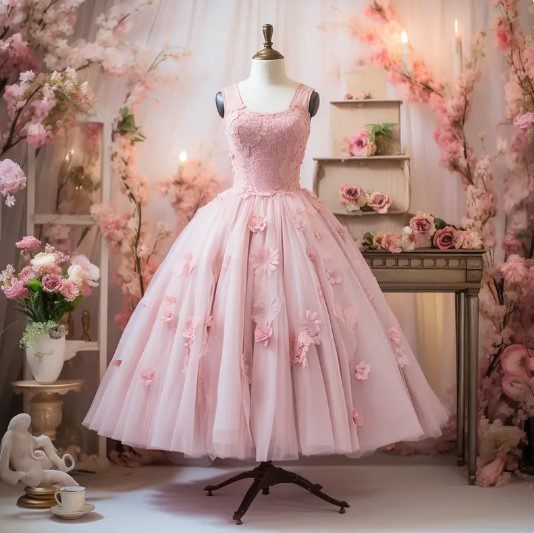 With each stitch, she weaves stories and memories into intricate designs. The rhythmic motion of the needle becomes her meditation. Seeing as she is a pro at the craft, she doesn't find it hard to stitch her own wedding gown. And as you can see, it was a magnificent creation.
Jeans upon Jeans (Denim Barbie)
Get ready to travel back in time to the raddest decade of all: the '90s! Barbie is rocking the ultimate fashion statement with a denim gown that screams "girl power." As expected, she wears a floor-length stunner crafted entirely from denim, adorned with patches, rhinestones, and grunge-inspired accessories.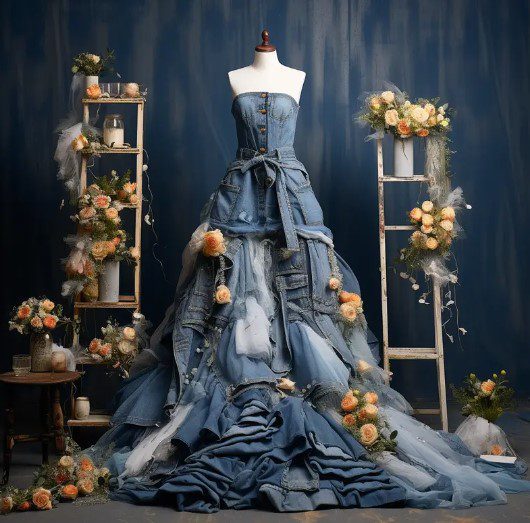 It is the perfect blend of casual and chic, embodying the rebellious spirit of the era. Barbie struts her stuff, channeling her inner pop diva as she dances to Spice Girls hits and belts out Britney Spears tunes. You can bet those are the kind of songs lined up for the reception afterward!
Jaw-dropping Pink (Rollerblade Barbie)
Get ready to witness Barbie turning heads at her wedding with a jaw-dropping pink frill dress that's pure enchantment! This gown is a playful delight, with layers upon layers of frills cascading down, making her look every part the dazzling bride.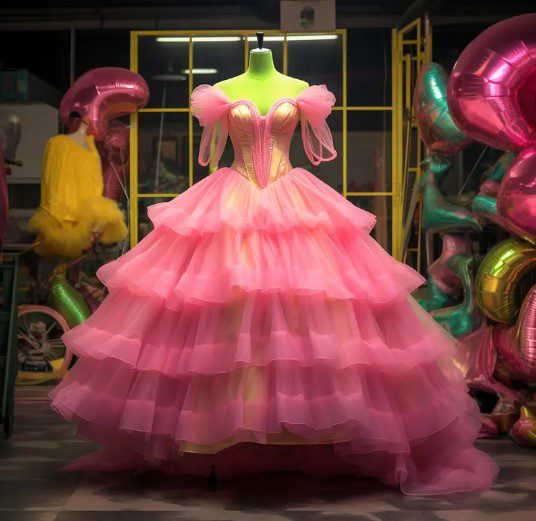 The corset cinches her waist, accentuating her fabulous figure and making her shine like a golden goddess. With this dreamy ensemble, Barbie is ready to dance the night away, leaving everyone in awe of her, especially her dream man, Ken!
The Lone Nymph (Garden Barbie)
Step into a mystical realm where Barbie embraces her inner nymph and becomes one with the enchanting forest. This dress goes well with a delicate flower crown, her flowing hair reflecting the sunlight filtering through the trees. She's almost unreal.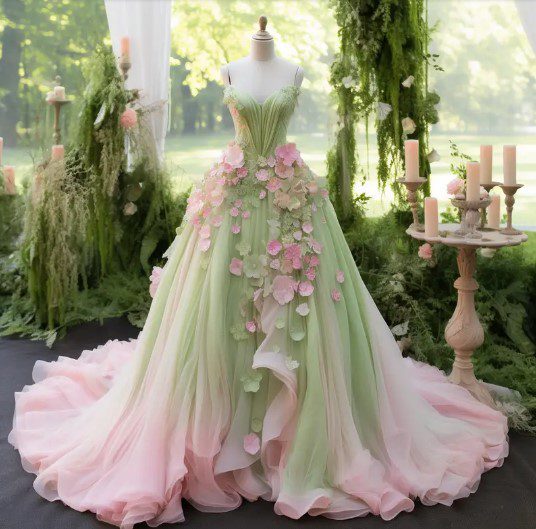 In her ethereal gown, the colors of nature come alive, blending seamlessly with her surroundings. As a nymph, Barbie dances among the woodland creatures, her graceful movements echoing the rustling leaves and gentle breeze. She exudes an aura of magic and serenity.
Off to the Alps (Ski Barbie)
Pack your bags because Barbie is taking us on an unforgettable adventure! She's heading to the majestic Alps for a wedding weekend of a lifetime. For the ceremony, she's rocking a pink gown that defies the norms. Best believe that she'll glide gracefully down the slopes, her pink gown flowing behind her.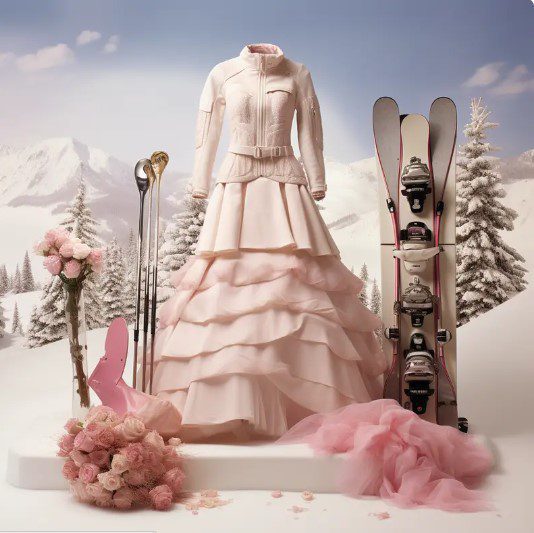 It leaves a trail of pure fabulousness. As she conquers the snow-capped peaks, Barbie proves that even in the wildest of landscapes, she can bring a touch of glamour and sparkle. Plus, this dress and its accompanying coat were meant for this kind of weather.
Youthful Grace (Dreamhouse Barbie)
Picture Barbie, the talented seamstress, stitching her way into a world of beauty and creativity. And what has she created that's catching everyone's eye this time? A stunning pink floral gown that encapsulates the essence of innocence and youthful grace.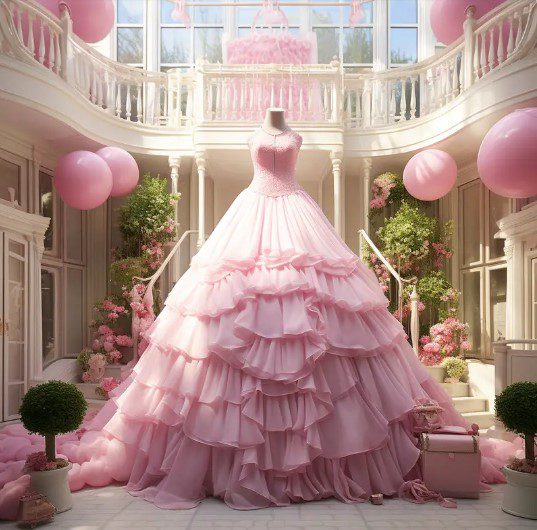 The gown is a masterpiece of craftsmanship, featuring intricate embroidery and exquisite lace trim. As she drapes it over her killer figure, she envisions the joyful smiles it will bring to those who see her in it. She can't help but admire how aptly she nailed the aesthetic she was going for.
Running Mate (President Barbie)
This is a floor-length gown so exquisite it could make the Mona Lisa blush. Its fabric, woven from moonlight and stardust, shimmers with otherworldly elegance. But here's the kicker: it's not just any wedding gown; it's made for Barbie, the president and undercover heroine!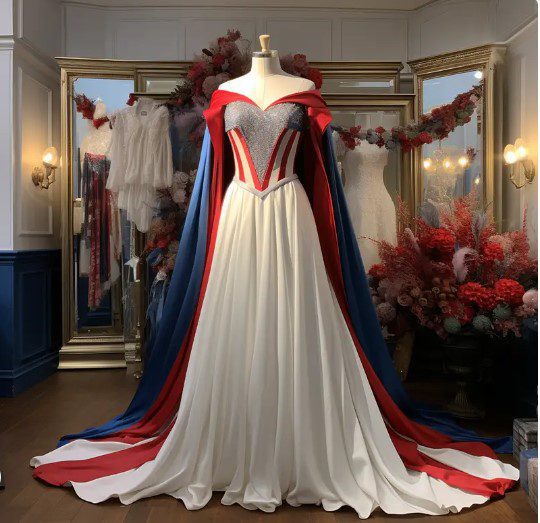 This stunning ensemble conceals her true identity as an undercover superheroine, delivering eloquent speeches by day and fighting crime by night. Who says a Barbie can't break glass ceilings and villains' bones while rocking a killer dress? Talk about a style statement with a purpose!
The World Beyond (Space Barbie)
Hold onto your telescopes because Barbie is trading her stilettos for a lab coat and becoming the world's funniest astronomer! She defies the norms and questions her colleagues' theories about the galaxy. She spends most of her time in her lab, studying the stars and the planets.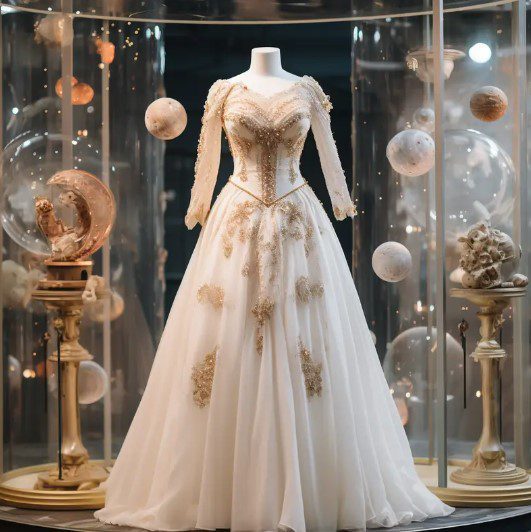 Armed with her trusty telescope and an insatiable curiosity, she unravels the mysteries of the cosmos. With each discovery, Barbie's excitement is contagious. She eagerly shares her newfound knowledge with the public, who devour it just as excitedly. Onward to greater heights!
Russian Royalty (Gold and Lace Barbie)
Hold onto your Matryoshka dolls because Barbie is about to take the Russian royalty scene by storm! In a few minutes, she will be draped in extravagant jewels that would make the Tsars gasp. With her regal poise and crown, she can blind you with her innate sparkle.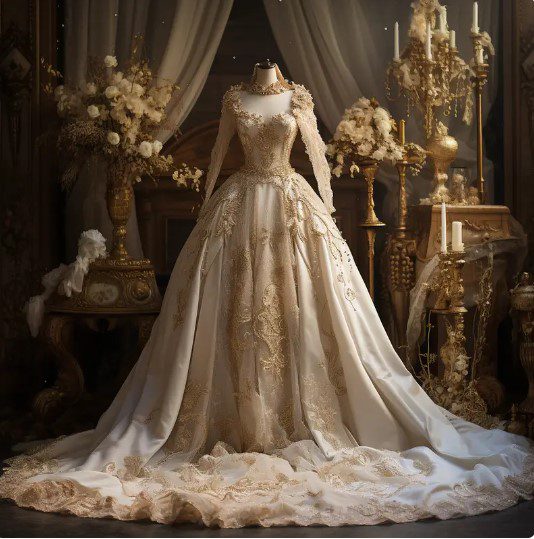 She sips her tea from a Fabergé teacup while playfully attempting to balance a nesting doll on her nose. Oh, the trials and tribulations of royal life! Barbie, the comical Tsarina, brings a touch of lightheartedness to the court and wins the public's hearts!
Vibrant Tapestry (Spring Blossom Barbie)
In the next one, Barbie grabs her flower basket and heads on a garden adventure to gather some fresh flowers. With a skip in her step, she wanders through a vibrant tapestry of blooms, humming along with the buzzing bees, or shall we say dragonflies?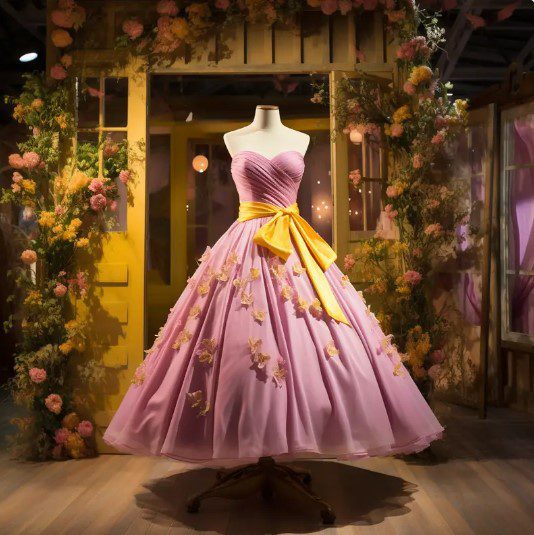 Armed with a wicker basket, she carefully selects the most beautiful blossoms, delighting in their fragrant scents. When she is satisfied that the flowers she has in her hand will go perfectly with her spring-inspired wedding gown, she heads back to the house to start getting ready.
Saddle Up (Cowboy Barbie)
Saddle up, partners! It's time to join Barbie in the dusty trails of the old Wild West as she transforms into the sassiest cowgirl in town. In a couple of minutes, she will be donning a fringe-trimmed leather jacket, a dainty-looking hat, and boots that could kick up a storm!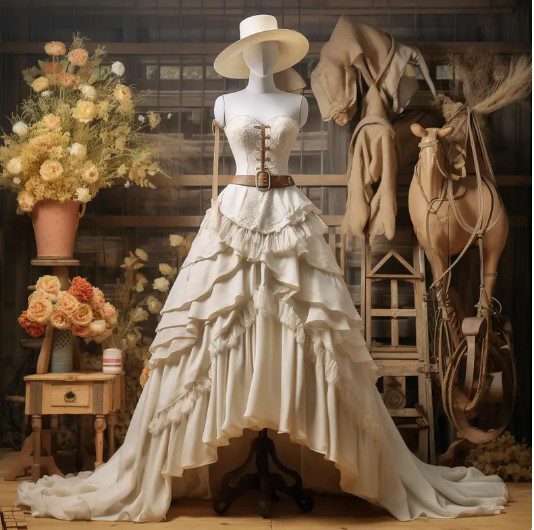 With her trusty horse by her side, Barbie gallops across the open plains, fearlessly roping cattle and singing campfire tunes. She's quick on the draw, and her wit is sharper than a cactus needle. Barbie, the cowgirl extraordinaire, embodies the spirit of adventure.
To Superhero Stardom (Superhero Barbie)
Get ready to witness Barbie's meteoric rise to superhero stardom as she packs a punch and embraces her destiny. She navigates the treacherous path of crime-fighting, leaping tall buildings and saving the day with her enviable agility and superhuman abilities.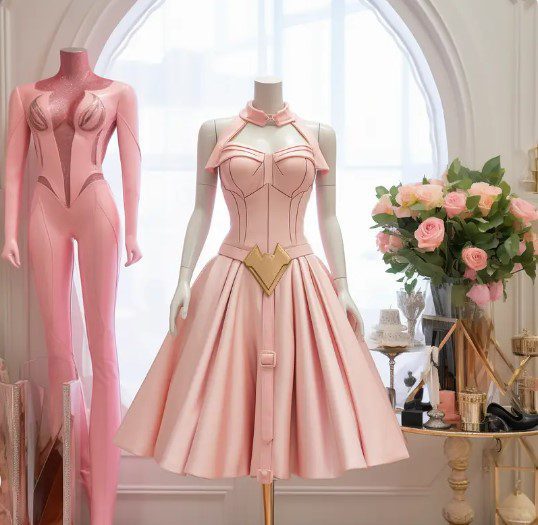 Barbie's charm and unwavering determination capture the hearts of fans everywhere. From thwarting evil villains to inspiring young dreamers, Barbie's journey to superhero fame reminds us that anyone can be a hero with a little determination and a fabulous outfit!
The Dark Side (Goth Barbie)
Prepare to enter the realm of darkness and elegance as Barbie embraces her inner goth princess! She reigns with an air of mystique, clad in a black laced corset that accentuates her figure and adds an alluring touch to her ensemble.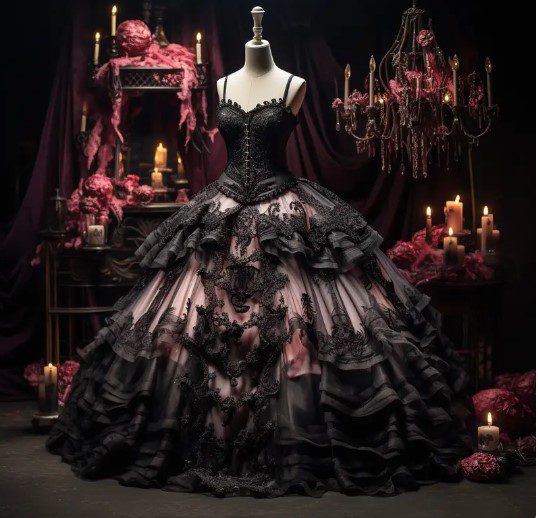 Black fringe laces trail down her skirt, swaying with every step like whispers in the night. Barbie, the goth princess, embraces the beauty of shadows, channeling romantic and mysterious energy. Witches and vampires can't help but be beguiled by her in this unforgettable gown.
Classic Starlet (Superstar Barbie)
Lights, camera, action! Barbie steps into the spotlight as a young Hollywood starlet, stealing hearts and capturing the silver screen with her undeniable charm. Since she's often spotted wearing dazzling dresses that scream glamour and style, she chose to keep up that energy for her wedding with this gown.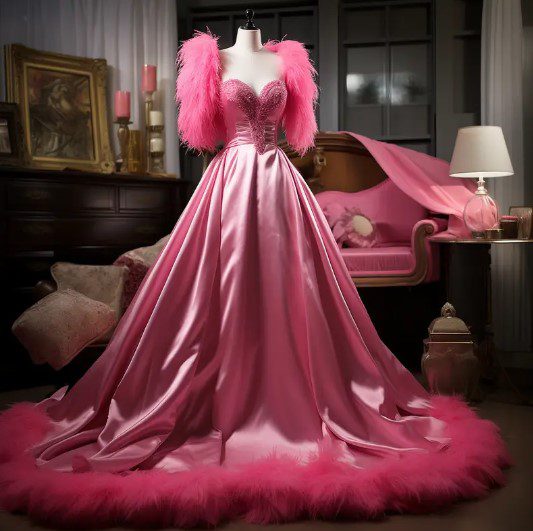 With each role she takes on, Barbie brings characters to life, captivating audiences with her talent and magnetic presence. Behind the scenes, she juggles scripts and rehearsals, all while maintaining a contagious enthusiasm and a down-to-earth spirit. This starlet is one we're certain will never burn.
Turning a year older (Birthday Barbie)
Get ready to indulge in the finest cakes and treats as Barbie hosts a lavish birthday party. This space is littered with beautiful balloons and elegant floral arrangements. Barbie, dressed in her finest gown, welcomes guests with a graceful curtsy.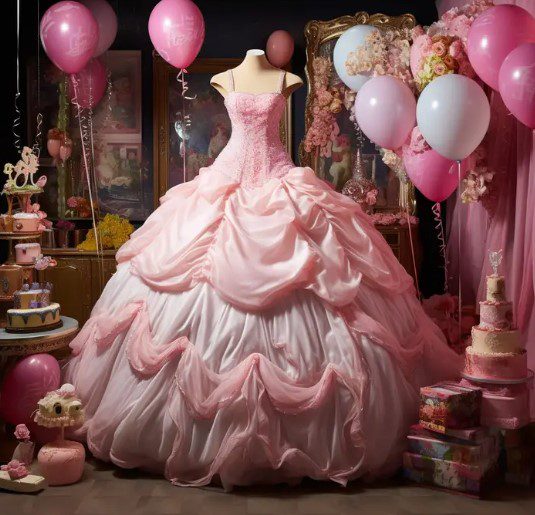 The air is filled with laughter as friends enjoy delectable treats and sip on aromatic teas. The room buzzes with chatter and merriment as Barbie's home becomes a haven of joy and celebration. Whose gift are they going to unbox next?
Free and Flowy (Surfer Barbie)
Prepare to be amazed because Barbie is rocking a floor-length gown that channels the elegance of a flamingo and the comfort of nightwear. The fabric, as light as a feather, drapes beautifully around her figure, with shades of pink that mimic the flamingo's captivating hues.
This gown reminds us that style should never sacrifice comfort. Barbie effortlessly glides through the room, exuding a serene aura reminiscent of a flamingo in its natural habitat. It's a stunning fusion of fashion and nature and one we'd like to see more often.
Ice Queen (Holiday Barbie)
Brrr, get ready to feel the chill as Barbie takes on the role of the mesmerizing Ice Queen. This gown shimmers like freshly fallen snow, with intricate frost-inspired patterns dancing across the fabric. All that's missing is her majestic cape billowing behind her.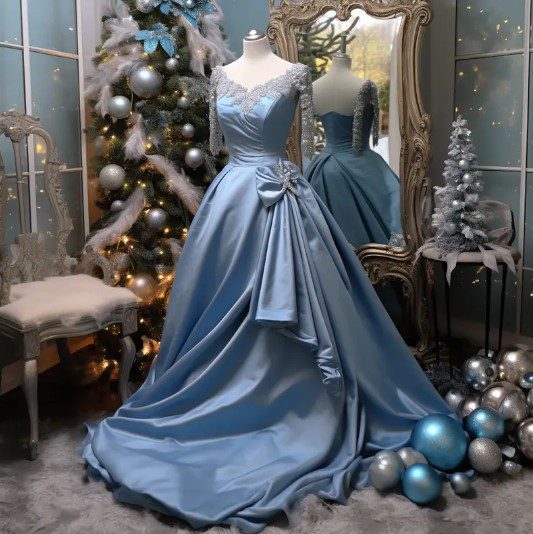 Barbie's gaze is icy yet captivating as she commands the frozen kingdom with an air of regality. With every step, a glacial aura surrounds her, leaving a trail of wonder in her wake. Barbie, the Ice Queen, reminds us that even in the coldest of realms, beauty and grace can coincide.
Treats (Tea Party Barbie)
Get your sweet tooth ready as Barbie dons a knee-length pink dress and gets down to business in the kitchen. With an apron tied around her waist, she's pulling out the measuring cups and is about to whip up a batch of mouthwatering cupcakes.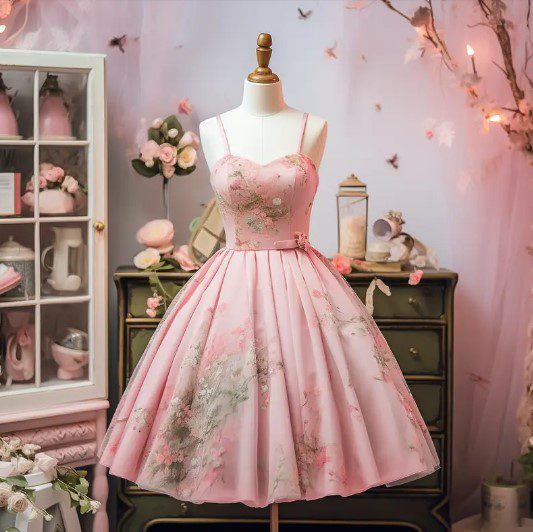 Flour flies, sprinkles sparkle, and the scent of vanilla fills the air. As she carefully scoops batter into the cups, she knows these treats will bring joy to everyone who takes a bite. The secret ingredient to a perfect cupcake is a sprinkle of her magical charm.
Old Hollywood (Hollywood Barbie)
Ladies and gentlemen, the cameras roll as Barbie steps into the role of an Old Hollywood starlet ready to act out a breathtaking getaway scene. Dressed in a glamorous gown, she stands before the crew, her eyes shining with anticipation.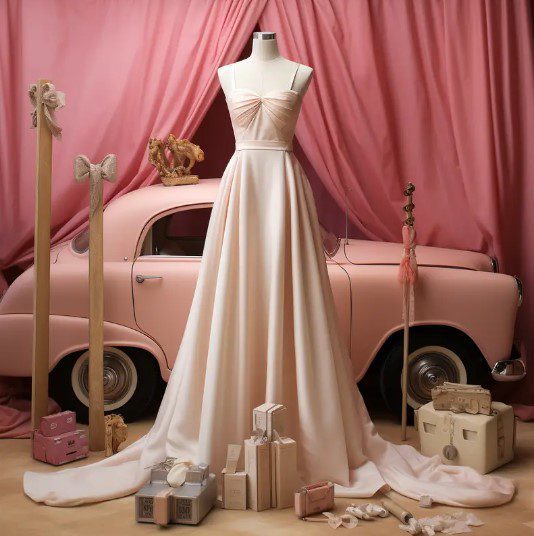 The director shouts, "Action!" and Barbie effortlessly transforms into her character. With a swoosh of her gown, she gracefully runs beside the car, luggage in hand, evading a lovestruck fiance. Her every move exudes the charm and allure of a bygone era.
Rebellious '80s (Vegas Barbie)
Get ready for a flashback to the fabulous '80s as Barbie channels her inner Madonna, breaking hearts and watching movies from the backseat of her Cadillac! Picture her, with her big hair and bold fashion choices, cruising through the neon-lit streets.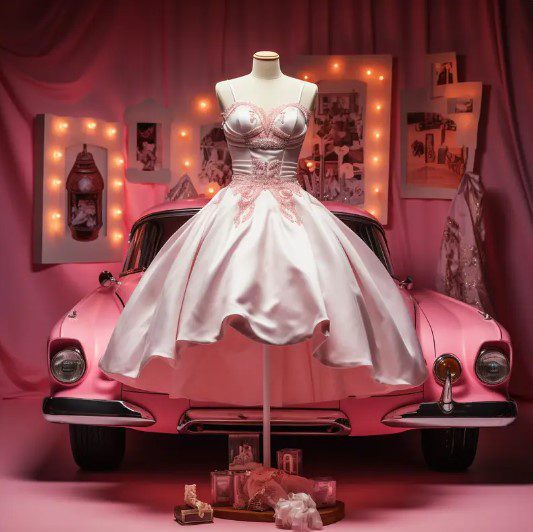 The car's speakers blast The Queen of Pop's hits, and Barbie exudes carefree confidence as she sings along. With a mischievous glint in her eye, she leaves a trail of starry-eyed admirers in her wake. In case you couldn't tell, this gown is reminiscent of her badass era!
Reading Frenzy (Classic Barbie)
Get ready to be captivated because Barbie is on a reading frenzy, devouring book upon book in her cozy library! Here she is, nestled in a plush armchair, a stack of books towering beside her. With every turn of the page, her imagination soars to new heights.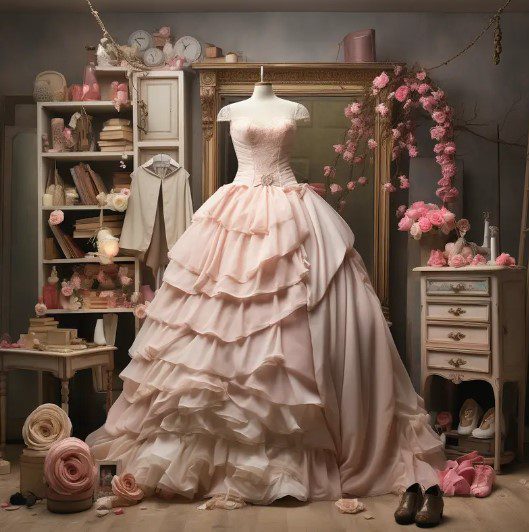 From thrilling adventures to heartwarming tales, Barbie immerses herself in a world of knowledge and wonder. She dives into stories of love, mystery, and self-discovery, savoring each word like a delectable treat. Barbie, the bookworm extraordinaire, reminds us of the joy of escapism.
Freedom in the Wild (Horse Barbie)
Hold onto your riding helmets because Barbie is redefining equestrian elegance! She dresses in a stunning white dress, gracefully astride her magnificent white steed. Barbie's attire, though unconventional for the stables, exudes a timeless grace and captures the spirit of a free-spirited equestrian.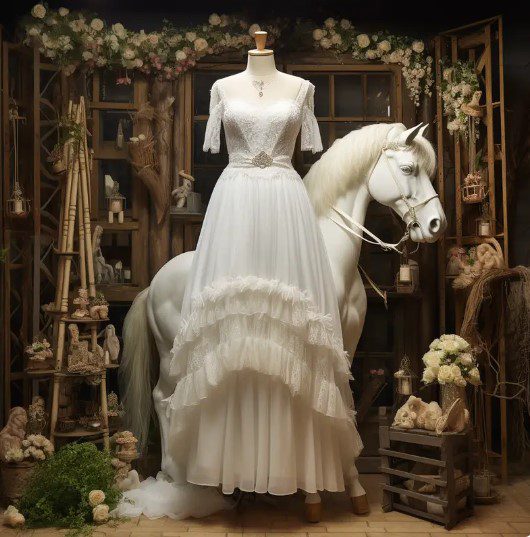 As they traverse fields and jump over fences, Barbie's connection with her horse is undeniable. Together, they inspire awe and prove that even in a white dress, she can conquer any hurdle. So, saddle up and join Barbie on this majestic ride.
Butterfly Queen (Butterfly Princess Barbie)
Prepare to be amazed as Barbie takes flight as the mesmerizing Butterfly Princess! She takes one long look at herself in the mirror, eyeing the details of her dress before she steps down the platform and walks into the garden.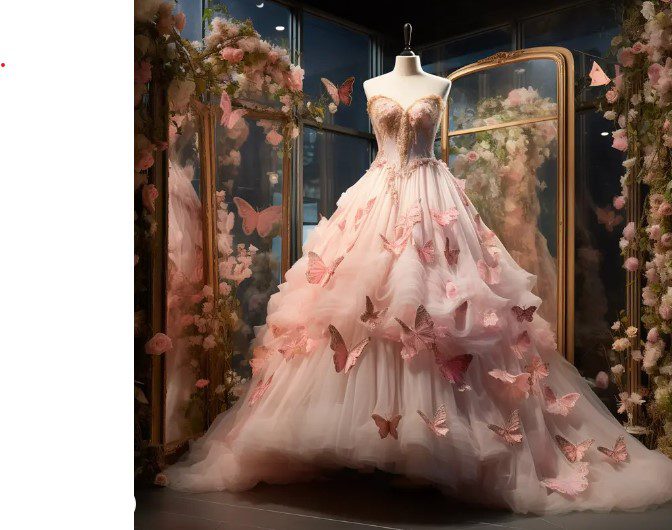 Barbie's transformation is complete as she delicately spreads her own shimmering wings, ready to bring a touch of magic to the world. As she floats through meadows and gardens, butterflies dance around her in a symphony of colors, crowning her the queen.
Ice skating Beauty (Ice Skating Barbie)
Step into a winter wonderland as Barbie transforms into the enchanting Ice Skating Princess. Even outside the rink, she exudes a magical aura that captivates all who see her. Picture her gliding effortlessly on a frozen lake, her shimmering gown sparkling in the moonlight.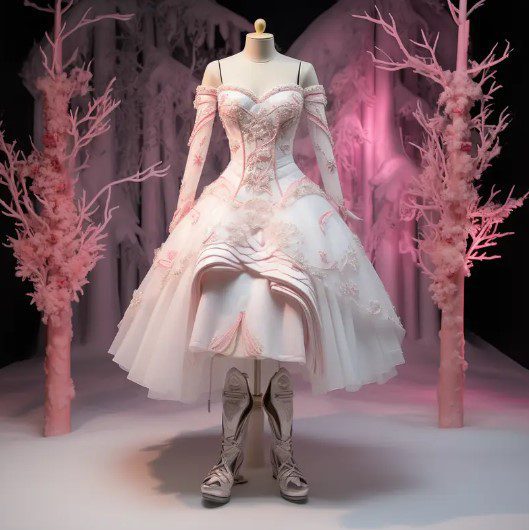 She leaves a trail of delicate snowflakes in her wake. Barbie, the Ice Skating Princess, embodies the spirit of grace and elegance, her presence reminding us that even in ordinary moments, a touch of magic can transform the world around us.
The Perfect Bride (Wedding Fantasy Barbie)
Prepare to witness Barbie's timeless elegance as she slips into a transcendent white gown, preparing to walk down the aisle as the radiant bride-to-be. The gown, translucent and ethereal, drapes around her figure with delicate grace. Ken is one lucky man, indeed!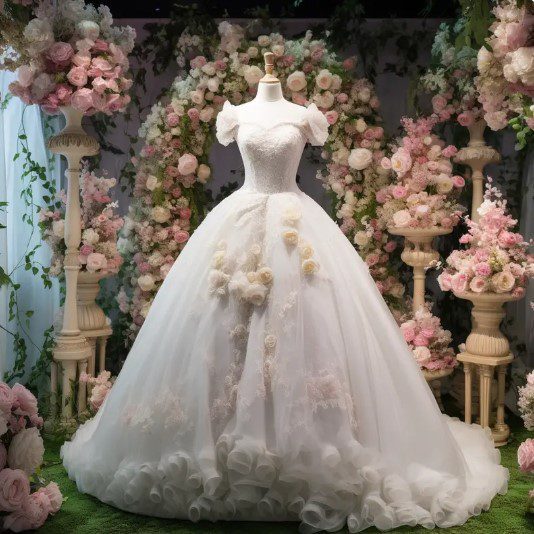 Embellished with subtle lace and intricate embroidery, it captures the essence of her undeniable beauty. Barbie's presence exudes an air of serenity and confidence as she dons her bridal ensemble. Barbie, the epitome of a timeless bride, reminds us that elegance is never out of fashion.
Off to New Adventures (City Barbie)
Welcome to Barbie's new adventure in the bustling city! After leaving the tranquility of the countryside, she finds herself determined to make ends meet in this concrete jungle. With a determined spirit, Barbie dives into the hiring section of the newspaper to land herself a job.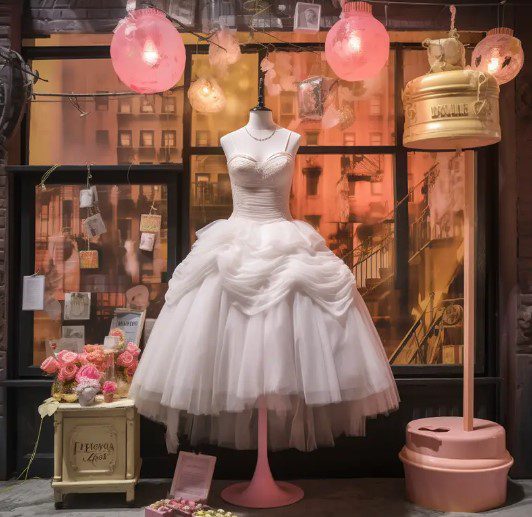 She embraces odd jobs, from dog-walking to barista gigs, always with a smile on her face. Despite the challenges, she navigates the crowded streets and noisy subways, adapting to the vibrant energy around her. Barbie's journey reminds us that even in chaos, dreams are worth pursuing.
Crazy Rich (Island Barbie)
Get ready for a pink extravaganza because Barbie is hosting the most lavish, ultra-rich party of the century in a tropical paradise! You'll be swept in a current of pink hues and shimmering accents. Dressed in a stunning pink gown, she welcomes her guests with a sparkling smile.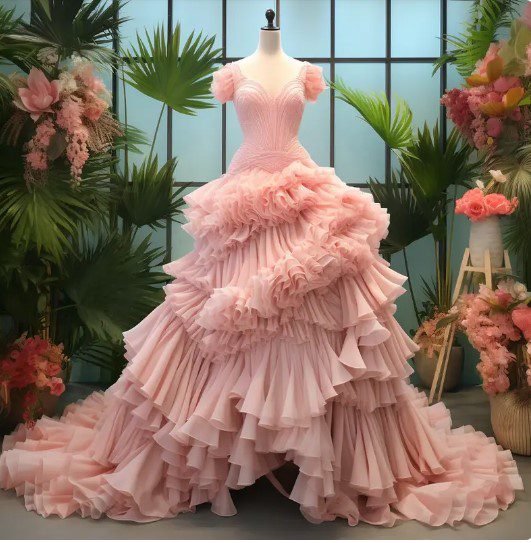 Champagne flows as they indulge in gourmet delicacies, all while surrounded by opulent decorations in various shades of pink. From the elegant table settings to the extravagant floral arrangements, every detail screams luxury. How about another glass of expensive champagne?
A Dose of Vitamin Sea (Malibu Barbie)
Hold onto your sun hats because Barbie is about to bring some serious elegance to the beach! As she strolls the seashore, she glides effortlessly in a dress that exudes sophistication. While others opt for swimwear, Barbie brings a touch of class to the seaside with her flowy, knee-length dress.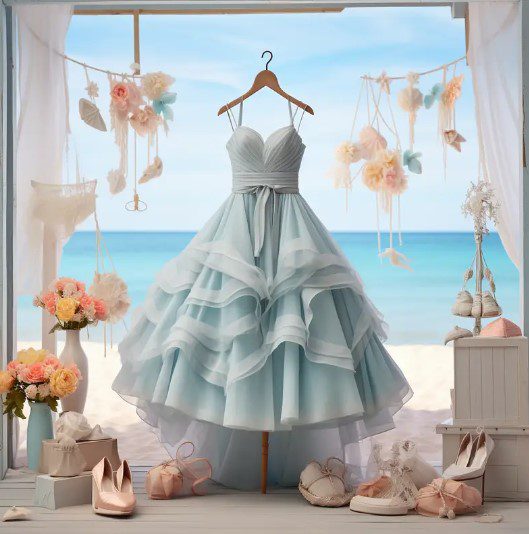 Its vibrant color and lightweight fabric create a perfect harmony with the ocean's hues. Barbie radiates confidence proving that you can get your Vitamin Beach with a classy ensemble. Simply embrace your unique style and make a splash of elegance wherever you go!
Indoor Oasis (Celebration Barbie)
Step into Barbie's indoor oasis, where tranquility blooms in the midst of her lush garden. You will be surrounded by vibrant shrubbery and delicate flowers. With a watering can in hand, Barbie tends to each plant with love and care, her fingers tracing the leaves with gentle reverence.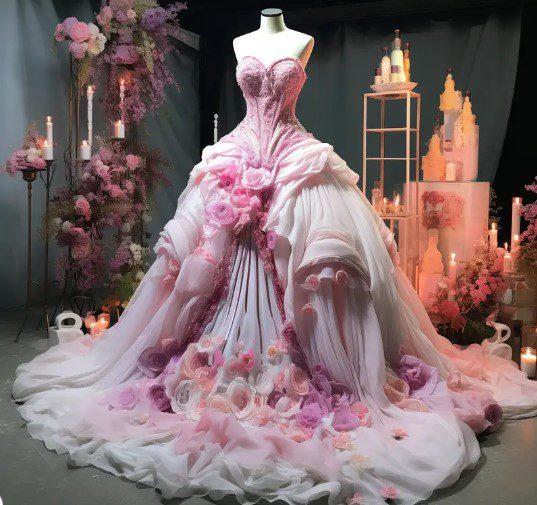 As she sits amidst the greenery, the worries of the world melt away. It's a sacred space, a sanctuary where she finds solace and rejuvenation. In this intimate garden, she nurtures not only the plants but also her own spirit.
'Til Death Do Us Part' (Mermaid Barbie)
Hold onto your stitches because Barbie is ready to elope into the night with none other than Jack Skellington! As the moonlight casts an enchanting glow, they exchange vows amidst the eerie silence of the night. It's a union of beauty and darkness.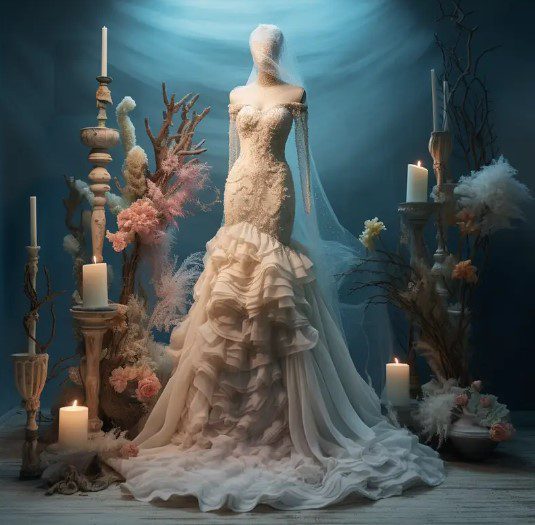 Barbie and Jack's love transcends the boundaries of their different worlds. They are a match made in a spooky paradise, reminding us that love knows no bounds. Not even in the realm of ghouls and ghosts. (Say, was it just us, or did we just see Ken's tombstone?)
Steady Determination (Peace and Love Barbie)
Get ready to hop on board the groovy train because Barbie is joining the hippie movement to spread love and peace. She climbs down the vibrant, flower-adorned van, her dress swaying with each step. With a peace sign in hand and determination in her voice, she rallies the group.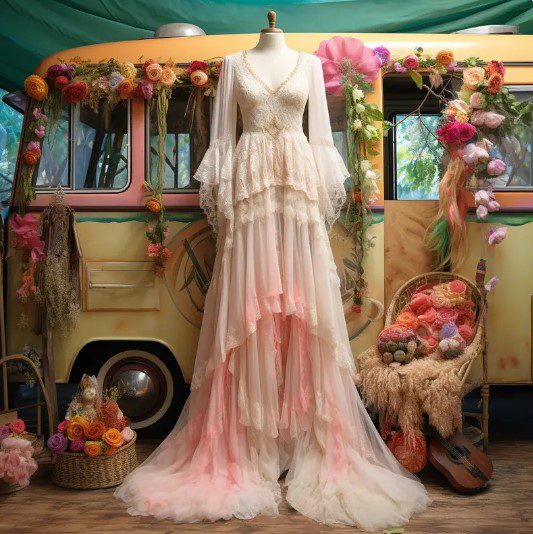 She urges them to protest against injustice and embrace harmony. Her words resonate, touching the hearts of all who listen. Barbie, the voice of compassion and unity, reminds us that we have the power to make a difference and create a world where love triumphs over conflict.