Think Pink! 35+ AI-Generated Wedding Photos That Celebrate The Essence Of Barbiecore
By Jana I August 16, 2023
---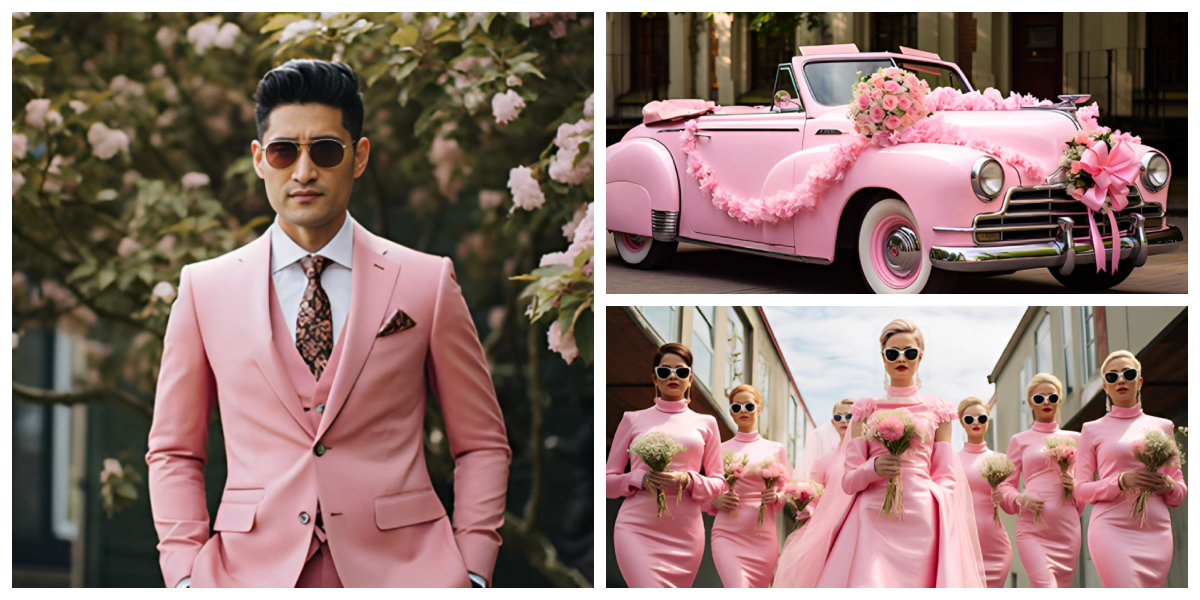 Get ready for the Barbie frenzy! The long-anticipated launch of the latest Barbie film has triggered a flood of online excitement, confirming that we're truly immersed in a Barbie-themed era, or as everyone like to call it now: Barbiecore.
We have since seen AI-generated Barbies from all fifty states of America, as well as their respective residences. It was a fantastically-pink adventure! However, it seems like the emergence of Barbiecore is now making waves in the wedding realm, seamlessly blending nostalgic touches with contemporary flair.
There are rings, venues, bridesmaids, transportation, and so much more! We've curated an AI-crafted picture collection to spark your imagination courtesy of Peter Manka Jr from Ben Garelick. Strap in, dear reader, and let's explore this creative journey together!
Wedding Invitation 1: An Elegant Envelope
Every wedding ceremony starts with a beautiful wedding invitation. That's why we decided to start our list with one. Elegantly adorned in a delicate, soft pink hue, the Barbie wedding invitation envelope exudes charm and grace. We wouldn't think twice about using this at our own ceremony.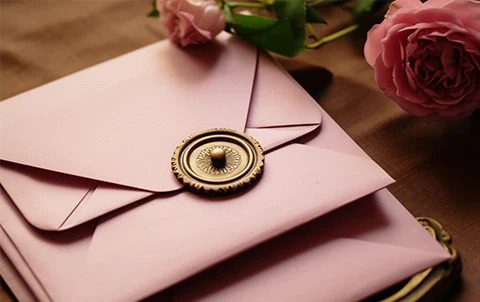 Its gentle shade radiates an air of sophistication, creating a truly enchanting first impression. The envelope captures the essence of beauty and refinement, reflecting the spirit of the upcoming celebration in the most delightful way. It's so pretty we could frame it!
Wedding Invitation 2: Girly Yet Timeless
Our next Barbie wedding invitation card is crafted in a vibrant shade of bright pink, infusing the design with a sense of youthful exuberance and femininity. The centerpiece of the invitation is a graceful butterfly symbol that adds an enchanting touch!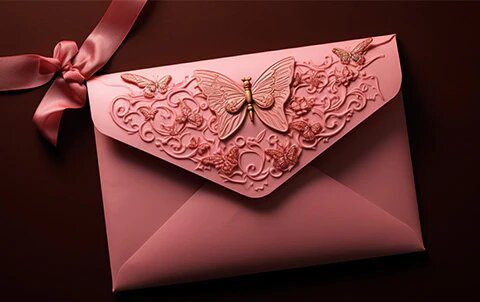 The combination of the bold color and the delicate butterfly motif creates an invitation that is both eye-catching and sophisticated, capturing the essence of the upcoming celebration in a truly distinctive and memorable way. Also, don't you just love the whimsy vibes it gives off?
Wedding Invitation 3: Intricate and Charming
This Barbie wedding invitation features a soft and delicate shade of light pink that effortlessly evokes a sense of romance and elegance. The design is adorned with intricate, embroidery-like drawings that gracefully form the shape of flowers and other pretty patterns.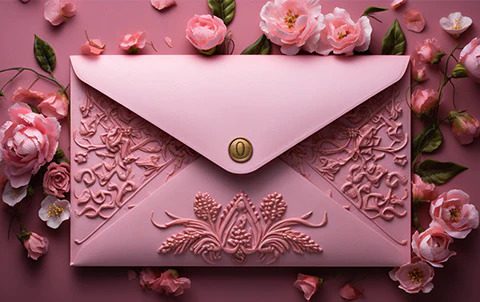 The gentle color palette and delicate floral motifs come together to create an invitation that encapsulates the beauty and grace of a Barbie-themed wedding. If we got an invitation like this, we would go all out with the gown because this just tells you the couple didn't come to play!
Wedding Venue 1: The '70s are Calling!
Once you order the invites, it is only natural to look for the venue. Therefore, we are moving to that next! Our first Barbie-themed wedding venue captures the essence of the '70s with a delightful blend of retro vibes and contemporary elegance.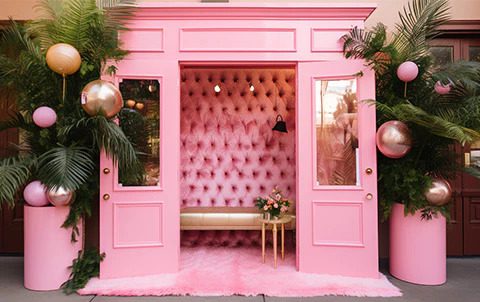 The space is adorned with a mesmerizing palette of pink, rose gold, and gold accents, creating a harmonious symphony of colors that exude glamour. The design elements pay homage to the era's iconic styles, featuring chic geometric patterns, plush textures, and sleek lines.
Wedding Venue 2: Romeo and Juliet With A Happy Ending
Step into a Barbie-themed wedding venue reminiscent of the iconic "Romeo and Juliet" balcony scene. This enchanting setting transports guests to a romantic world where elegance and whimsy co-exist harmoniously in perfect unity. It almost gives us wanderlust/vacation vibes.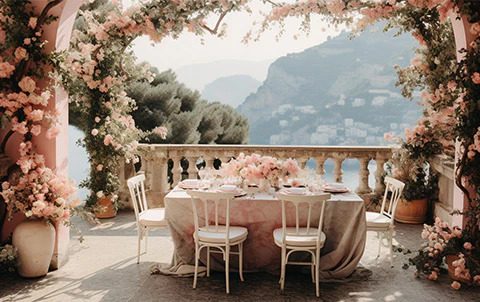 Against the backdrop of the balcony, an exquisite table is set, adorned with an abundance of pink flowers that cascade and overflow, creating a mesmerizing floral wonderland. The delicate petals and lush blooms infuse the space with a sense of romance and enchantment.
Wedding Venue 3: The Victorian Era
Immerse yourself in the timeless elegance of a Barbie-themed wedding venue that radiates Victorian charm. The grandeur of the era comes to life as guests step into a magnificent dining hall adorned with tall, intricate windows that allow sunlight to filter through and illuminate the space.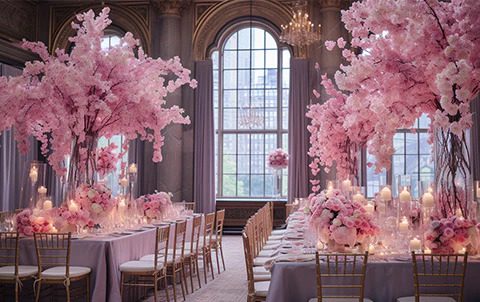 The centerpiece of the venue is the opulent dining area, where long tables adorned with delicate lace runners stretch out, inviting guests to partake in a lavish feast. Being a guest at this wedding is something worth putting in your CV! Just saying!
Wedding Venue 4: Barbie Hogwarts Dinning Hall
Imagine yourself in a whimsical and enchanting Barbie wedding venue that draws inspiration from the grandeur of Hogwarts' iconic dining hall. It is a world where fantasy and romance intertwine, and the elegance of Barbie meets the magic of wizardry.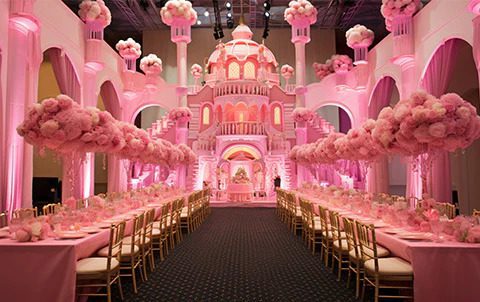 Long tables stretch across the hall, each one lavishly decorated with pink and gold accents. At the head of the room, a majestic table awaits the newlyweds, adorned with ornate details and an array of exquisite flowers. Eating here would be like a dream come true.
Wedding Venue 5: Barbiecore Candyland
Step into a whimsical wonderland of love and enchantment at this all-pink Barbie-themed wedding venue. It's as if you've entered a dreamy Candyland brought to life, adorned with a rich palette of romantic pinks that ignite the senses and spark the imagination.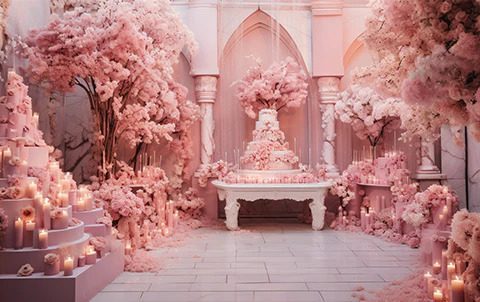 The venue is a feast for the eyes. The space is bathed in the warm glow of countless candles, casting a soft, romantic light that dances across the room. At the heart of this candy-coated haven is a meticulously crafted table crowned with a tiered cake.
Wedding Cake 1: Flowery Delight
Let's stay on the topic of cakes, shall we?! Behold a centerpiece of elegance and romance — a Barbie-themed wedding cake that's as enchanting as a fairytale. Adorned in the softest shade of pink, this three-tiered masterpiece is a vision of love.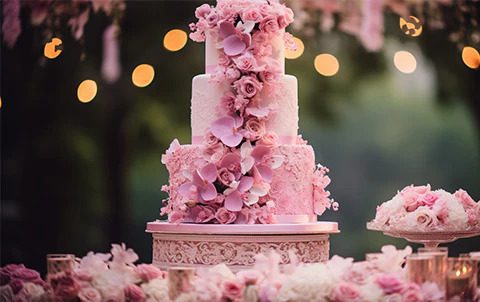 The cake stands tall and regal, each layer a canvas of delicate flower patterns that seem to come to life against the soft pink backdrop. Every petal, every swirl, and every detail is a testament to the craftsmanship that goes into creating a confectionery work of art.
Wedding Cake 2: Barbiecore Extravaganza!
Prepare to be dazzled by a wedding cake that radiates pure glamour and extravagance. This is a Barbie-inspired confection that's impossible to ignore. This vibrant creation stands tall with five tiers, each layer bathed in a brilliant shade of bright pink, bordering on magenta.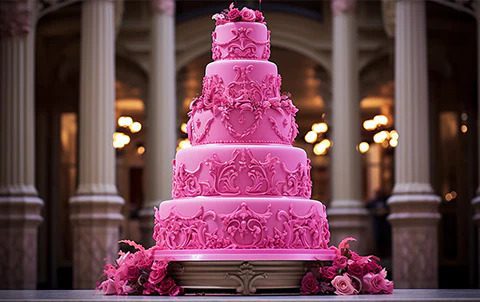 At the pinnacle of this sugary masterpiece, elegant roses stand proudly, their petals expertly crafted to perfection. These blossoms embody the essence of romance, adding a touch of natural beauty to the opulent design. Placed on a pedestal, it is an eye-catcher no one can ignore.
Wedding Desserts 1: Caramel Heaven
Get ready to satisfy your sweet tooth in the most enchanting way possible with a delectable array of Barbie-inspired wedding desserts. As you enter this confectionery wonderland, you'll be greeted by a mesmerizing display of treats that mirror the elegance and beauty of the occasion.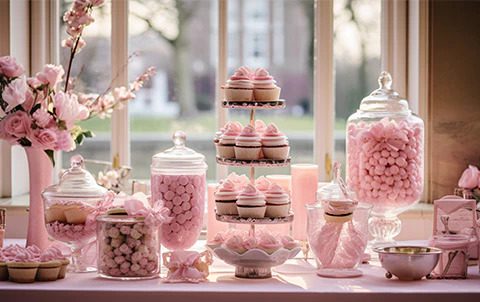 Glass jars filled with pink caramels serve as tempting treasures, offering a playful twist on traditional treats. These little delights capture the Barbie world's affinity for all things delectable. It's where elegance meets a touch of whimsy and a place sugar rush calls home!
Wedding Desserts 2: Princess Barbie is Getting Married!
In this dessert wonderland, cupcakes take center stage, each one a miniature masterpiece meticulously crafted with intricate designs and delicate details. Adorned with edible flowers and graceful embellishments, these cupcakes are the epitome of sinfully sweet treats, and we can't wait to take a bite!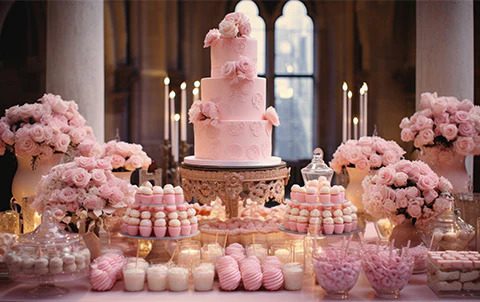 Layers of tender cake and luscious frosting come together to form a canvas for edible artistry. Delicate flowers cascade down the tiers, reminiscent of a royal garden in full bloom. The soft pink palette weaves an atmosphere of warmth and romance.
Wedding Desserts 3: A Flower Donut
Introducing the pièce de résistance of Barbie's enchanting wedding dessert spread: a mesmerizing creation that is sure to captivate both your eyes and taste buds. It is a stunning display of donuts meticulously arranged to form a larger-than-life giant donut!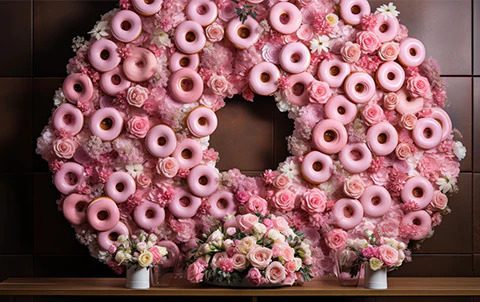 This delectable work of art combines the sweet allure of donuts with the beauty of blooming petals, perfectly bringing to life the most delicious wedding dessert you've never had! Each individual donut is adorned with vibrant and delicate edible flowers. Is this what they mean when they say eye candy?
Wedding Desserts 4: Donut Wall!
As you approach this enchanting display, you'll be greeted by a mesmerizing wall adorned with an assortment of delectable donuts. Each donut is a masterpiece in itself, boasting a variety of flavors and colors that add to the vibrant and celebratory atmosphere.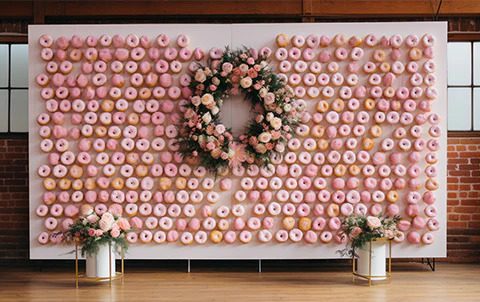 At the heart of this captivating arrangement sits a breathtaking flower wreath that exudes an aura of romance and beauty. The wreath is meticulously crafted with an exquisite selection of blooms, carefully curated to complement the overall aesthetic of Barbie's wedding celebration.
Wedding Decoration 1: Table Centerpiece
In the heart of Barbie's enchanting wedding venue stands a centerpiece that captures the essence of her romantic and whimsical celebration—a magnificent pink tree that exudes both grandeur and charm. Yes, it's not a bouquet of flowers; it's a whole tree!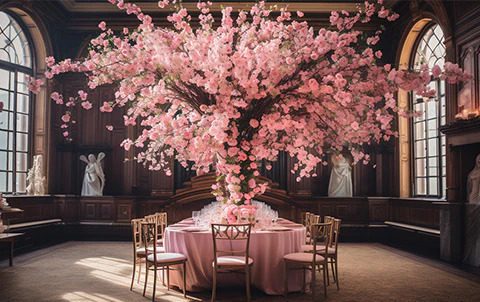 This extraordinary centerpiece rises tall, its branches adorned with delicate pink blossoms that cascade downward gracefully. Each bloom carries with it a touch of elegance and a whisper of fairy-tale magic, transforming the tabletop into a scene of captivating beauty.
Wedding Decoration 2: Guests of the Round Table
This Barbie wedding table is a vision of elegance and romance, adorned with the delicate beauty of pink flowers and crowned by a majestic tree at its center. As guests gather around the round table, they're greeted by a scene that transports them to a magical realm.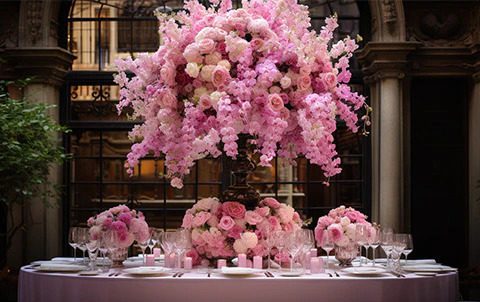 The table is draped in soft pink linens, creating a backdrop that perfectly complements the blush tones of the flowers and the natural beauty of the tree. Pink rose bouquets are scattered delicately across the table, adding a touch of enchantment.
Wedding Decoration 3: Flower Creeper
Our next wedding venue is a botanical wonderland. Elegant rose creepers gracefully ascend the walls and archways, enveloping the space in a dreamy, romantic ambiance. The delicate beauty of the rose petals mingles with the lush greenery to create a stunning scene.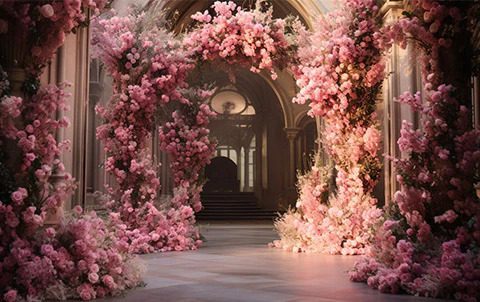 Hugging the arches with intricate rose creepers, the bushes have tendrils that weave a tapestry of natural beauty that seems straight out of a fairy tale. Soft hues of pink and blush adorn the petals, casting a warm and inviting glow throughout the venue.
Wedding Decoration 4: Terrace Orchids
At this Barbie wedding, the flower decorations on the intimate terrace create a breathtaking scene that overlooks a serene lake and a mesmerizing sunset. The terrace is adorned with a delicate balance of floral elegance and natural beauty that is simply enchanting.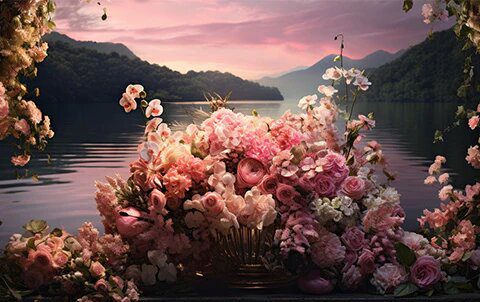 As the sun begins to set, the sky transforms into a canvas of warm hues, casting a golden glow over the landscape. The terrace, adorned with a plethora of soft-hued flowers, complements the ethereal colors of the sky, creating a seamless transition between the natural world and wedding decor.
Wedding Ring 1: White Gold Barbiecore
This Barbie-inspired wedding ring features a captivating light pink round gem set on a delicate white gold band. The elegant design combines timeless beauty with a touch of modern sophistication, making it a symbol of everlasting love and enchantment. Simply exquisite.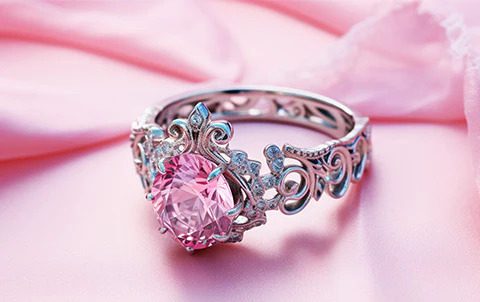 Its soft hue radiates warmth and tenderness, perfectly complementing the purity of the white gold setting. The round shape of the gem represents eternal unity, with no beginning or end, symbolizing the couple's unbreakable bond. This one certainly says 'forever.'
Wedding Ring 2: For the Brave and Bold
The next wedding ring features a vibrant and captivating pink gem at its center, with a bold and almost magenta hue that radiates confidence and passion. Flanked on either side are smaller gems that add a touch of elegance and symmetry to the design.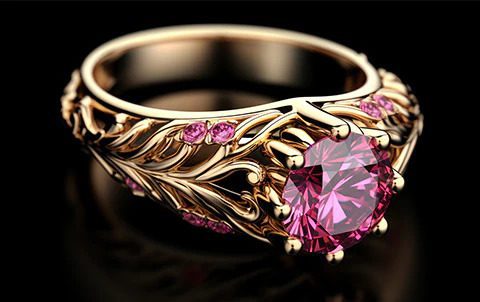 The prominent pink gem serves as the heart of the ring, symbolizing the deep and enduring love shared between two individuals. Its intense color captures the essence of emotion, conveying both strength and tenderness. Two things you'll certainly need in a relationship.
Wedding Ring 3: A Whimsical Bond
At this ring's center, a resplendent pink gem sparkles with a soft and enchanting hue, symbolizing the depth of love and passion shared between two hearts. The captivating gem is carefully set within a golden band, which adds a touch of opulence and timeless beauty to the design.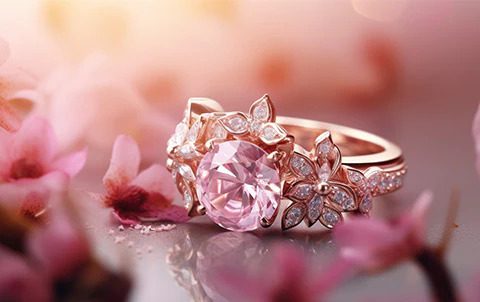 On the sides of the ring are delicate white crystals arranged in the form of graceful flowers. These intricate floral motifs enhance the ring's allure, infusing it with a sense of femininity and charm. The blossoming crystals are a representation of a love that continues to bloom.
Wedding Transportation 1: A Barbie Convertable
For a Barbie-inspired wedding, the mode of transportation of choice is nothing short of iconic—a charming pink convertible. This vintage-inspired convertible has always been Barbie's go-to, and on this day, it invites the couple and their guests to embark on a journey filled with love and happiness.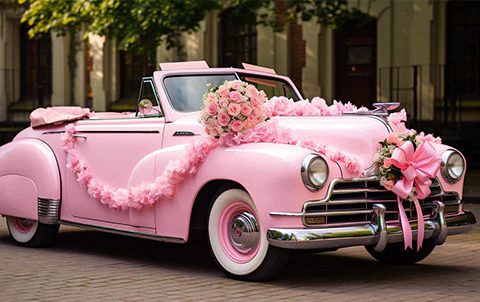 The soft pink exterior of the convertible perfectly complements the wedding's theme, radiating a sense of romance and sophistication. Its sleek lines and classic design evoke a sense of nostalgia that captures the timeless beauty that mirrors the couple's love story.
Wedding Transportation 2: Cadillac Dreams
For the ultimate Barbie wedding, nothing less than a glamorous pink Cadillac will do as the chosen mode of transportation. This iconic symbol of vintage luxury and sophistication perfectly encapsulates the spirit of the day — elegance, joy, and romantic charm.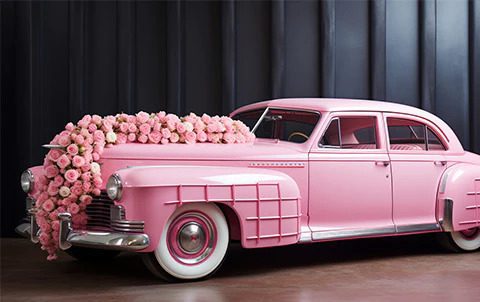 As the bride and groom step into the plush interior of the Cadillac, they're transported to a world of pure luxury. The soft, sumptuous seats and the classic Cadillac emblem on the steering wheel evoke a sense of nostalgia while exuding modern-day glamour.
Wedding Transportation 3: The Barbie Limo
The sight of a pink limo rolling up to the venue is bound to elicit smiles and admiration from all who witness it. Its vibrant pink exterior, adorned with playful details and the unmistakable Barbie logo, sets the stage for a wedding day like no other.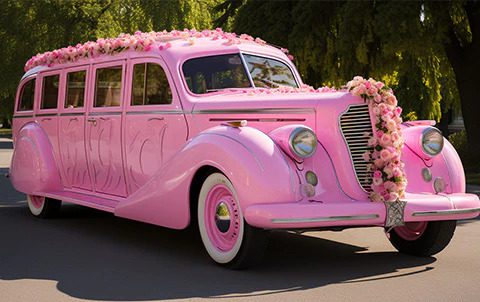 Cruising around town in this ride is a delightful spectacle that adds a touch of showmanship to the festivities. Passersby will undoubtedly catch a glimpse of the wedding party, spreading joy and brightening the day of every person they encounter.
Wedding Transportation 4: In a Camper Until Death Does Them Part
Picture a delightful pink Volkswagen camper as the chosen mode of transportation for your wedding. Too much? Okay. This iconic vehicle adds a touch of nostalgia, adventure, and undeniable fun to the celebration. It's perfect for a day filled with love and happiness.
As the pink Volkswagen camper pulls up to the venue, it immediately captures the attention and hearts of all attendees. Its vintage design, decked out in a stunning shade of pink, decorated with flowers and intricate details, will capture the hearts of many!
Groomsmen 1: Pink Suits 4Ever!
The groomsmen in this wedding embody elegance and style as they don dashing pink suits that exude a sense of modern sophistication and pure class. These handsome companions complement the wedding's vibrant theme while adding a touch of their own charisma.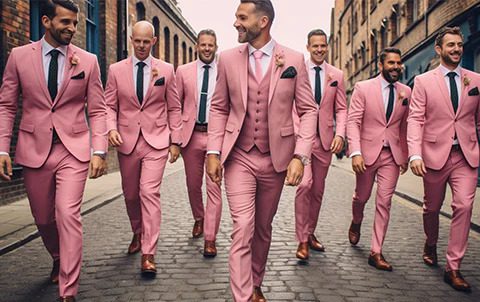 The pink suits, carefully selected to match the occasion, create a cohesive and visually stunning ensemble that perfectly complements the overall wedding aesthetic. These guys are ready to showcase their will to go the extra mile to make Barbie's wedding even more memorable.
Groomsmen 2: Floral Men Unite!
These fashionable ensembles capture the essence of a wedding's vibrant and joyful atmosphere, creating a visually striking contrast against the backdrop of all the festivities going on. Admit it; there is nothing quite as attractive as men in floral designs!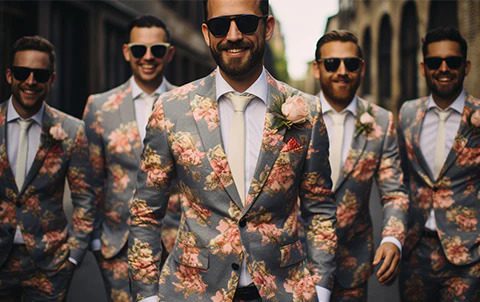 As they don their sunglasses, the groomsmen exude an air of sophistication and confidence that perfectly complements their trendy outfits. The glasses add an element of modernity and playfulness to their overall look, making them stand out as both stylish and effortlessly cool.
Groomsmen 3: Hipster Vibes
In true hipster fashion, each groomsman here showcases a unique sense of style, with the floral-patterned suits serving as a canvas for their bold fashion choices. The intricate floral designs add a pop of color and creativity to their attire, reflecting their appreciation for artistry.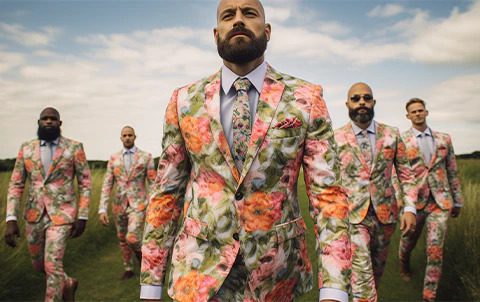 With their charming beards and confident attitude, the groomsmen radiate an aura of authenticity and handsomeness. Their attire reflects not only their dedication to supporting the couple on their big day but also their commitment to celebrating the power of love!
Bridesmaids 1: A Contemporary Spin-Off
The bridesmaids for this wedding exude elegance and grace in their carefully selected attire, which embraces a soft, nude pink color palette. Their ensembles are a harmonious blend of sophistication and contemporary style. You can tell someone planned this quite deliberately.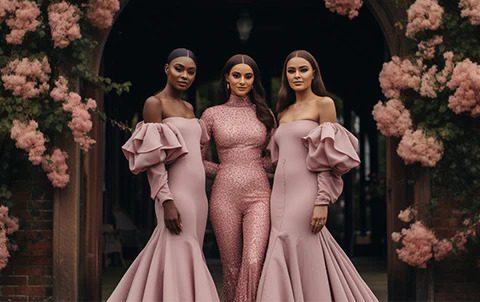 In a stylish departure from tradition, one of the bridesmaids opted for a chic jumpsuit instead of a dress. This choice showcases her individuality and modern sensibilities, adding a contemporary twist to the bridal party's overall appearance. This must have been a classy wedding!
Bridesmaids 2: Indian Heritage, Barbie Style
The bridesmaids for this other wedding are a stunning embodiment of tradition and culture as they don traditional Indian wedding attire, all elegantly adorned in shades of resplendent pink. It is a traditional Indian wedding, Barbiecore style! Just look at those smiles.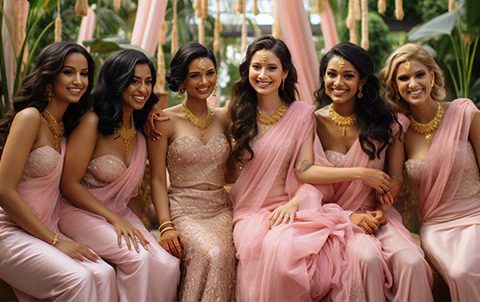 This exquisite choice of attire pays homage to the rich heritage and vibrancy that Indian weddings are renowned for, infusing the celebration with an enchanting blend of color and meaning. The lustrous pink hues effortlessly bring out an easy-going happy vibe.
Bridesmaids 3: Pink-Pill Matrix
Our next group of bridesmaids wears such cool attire consisting of sleek, tailored pink dresses that channel a contemporary and edgy aesthetic. Their ensembles are carefully selected to highlight their individual personalities while maintaining a fantastic cohesive, and captivating look.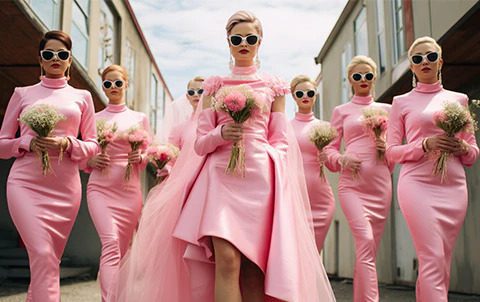 In embracing the Barbiecore theme with a nod to The Matrix, the bridesmaids not only showcase their fashion-forward sensibilities but also contribute to the vibrant energy of the wedding. The whole energy captured in the picture is such a vibe!
Bridesmaids 4: Sassy, Yet Classy
For the next one, Barbie's wedding party elegantly embraces tradition with its timeless and classic ensemble choices. Dressed in all-pink mermaid-style dresses, their gowns exude an air of sophistication and grace that pays homage to the traditional bridesmaid aesthetic we all know.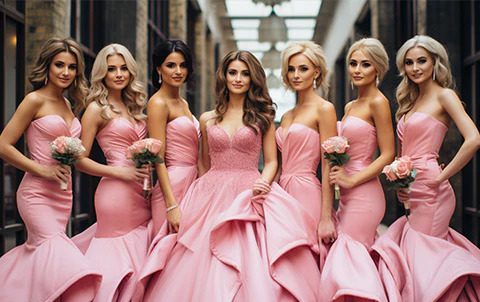 The bridesmaids' dresses feature the enchanting silhouette of mermaid gowns, gracefully hugging their figures and flaring out at the hemline. This classic design choice adds a touch of elegance to their overall appearance, creating a sense of regality that befits the occasion.
Bridesmaids 5: Girls Can Wear Suits, Too!
The bridesmaids for this next wedding adopt a striking androgynous aesthetic. Clad in tailored all-pink suits, their ensemble exudes an air of confidence, elegance, and formality, making a bold statement that challenges traditional gender norms. Also, peep those badass poses!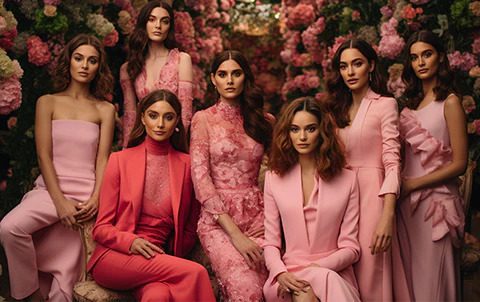 The choice of suits as bridesmaids' attire adds an element of uniqueness and empowers these ladies to embrace a style that resonates with their individual personalities. The suits feature exquisite tailoring, ensuring a flawless fit that highlights their figures beautifully.
Groom 1: Art Deco Stud
This dapper Barbie groom exudes an aura of suave sophistication. With a touch of modern flair and a dash of classic charm, he embodies the essence of the Barbiecore wedding aesthetic. Knowing Barbie's standards, we didn't have any doubts about her man!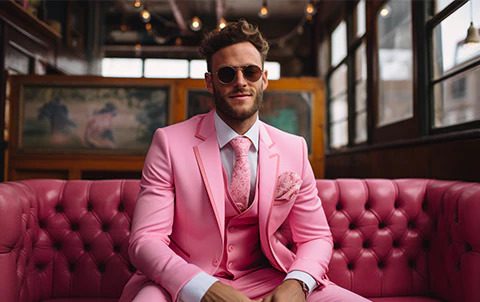 Sporting sleek sunglasses that lend an air of mystery and style, this groom's choice of accessories adds an element of intrigue to his overall look. The shades not only shield his eyes from the sun but also contribute to his effortlessly cool demeanor.
Groom 2: Cowboy Barbie-fied
Our next groom strides into the scene with a touch of modern charm, donning a pink fedora hat that adds a distinctive flair to his ensemble. As an African-American gentleman, he brings a unique and vibrant energy with this unforgettable suit.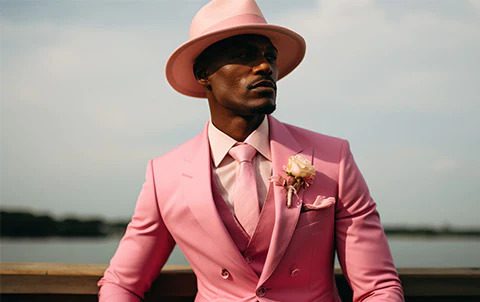 Perched atop his head, the hat serves as a bold statement piece that captures attention and reflects his playful spirit. Its vibrant hue harmonizes seamlessly with the wedding's pink theme, infusing a sense of unity and excitement into the celebration.
Groom 3: Suave and Swagger!
Meet the charming and cheerful Ken, a figure of pure delight as he takes center stage on this special day. Sporting a more robust physique, his confidence radiates through his broad smile, showcasing his genuine happiness to be a part of this joyous occasion.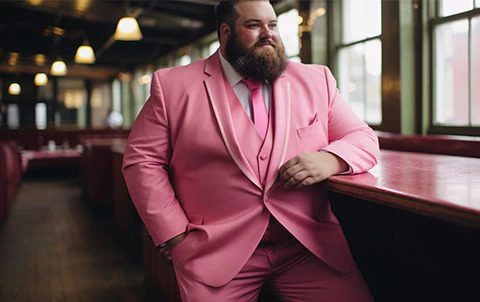 A long, well-maintained beard adds character to his appearance, enhancing his charming and mature demeanor. As lifetime members of #BeardGang, we think it adds a unique feature that complements his overall style, making him stand out as an individual unafraid to embrace himself.
Groom 4: Embrace the Patterns!
Introducing the 'swagger' groom, a suave and stylish figure who adds a touch of sophistication to the festivities. This charming groom, an Asian man, exudes an air of confidence and grace as he stands alongside his bride on their special day.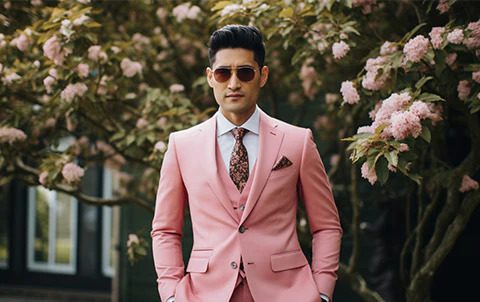 A tie with a floral design, matched with a coordinating handkerchief, gives his look an elevated sense of style. The floral motif not only adds a touch of nature's beauty but also represents the growth and blooming of love as he and his love embark on this new journey together.
Bride 1: Empowered Womanhood!
Presenting the radiant Barbie Bride, a symbol of beauty, empowerment, and inclusivity. In a celebration of diversity and self-confidence, this plus-size Barbie is a vision of elegance and grace on her special day. Adorned in a stunning gown, she embodies femininity and strength.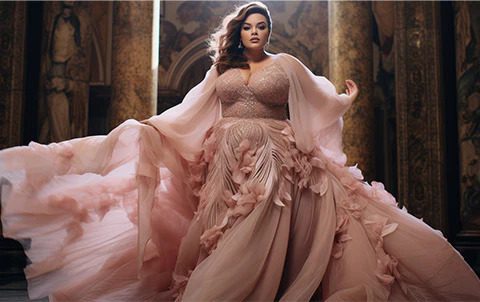 The gown, a flowing masterpiece in soft nude pink, accentuates her natural beauty and complements her curves. As the gentle breeze dances through her hair and dress, she exudes a sense of empowerment and joy that we can't help but admire.
Bride 2: Barbiecore – Girl Next Door
Dressed in a simple yet enchanting pink gown, this bride embodies a sense of timeless beauty. Her dress, adorned with delicate details, complements her style. The soft pink hue reflects her genuine personality, and the relaxed silhouette adds to her approachable allure.
Her hair, styled in a loose and relaxed manner, frames her face with natural grace. The breeze plays with her hair, lending an air of whimsy to her bridal look. This down-to-earth hairstyle perfectly complements this bride's evident girl-next-door vibe.
Bride 3: Asian Appreciation
Presenting the exquisite Asian Barbie bride adorned in the elegance of tradition and cultural grace on her wedding day. Her attire pays homage to her heritage with a stunning pink turtleneck dress inspired by traditional Asian designs. Pure class is how we'd described it.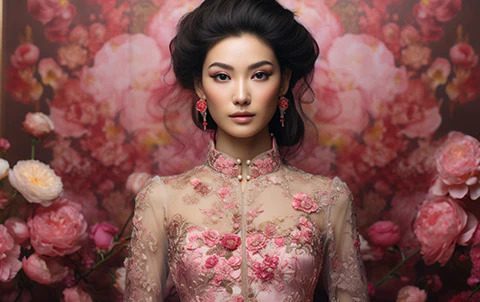 The turtleneck neckline, a symbol of modesty and refinement, frames her face with a regal air. The dress flows gracefully, celebrating the beauty of simplicity while showcasing the artistry of exquisite Asian craftsmanship. She is a gorgeous one this one.
Bride 4: Pink, As All Things Should Be
Behold the enchanting vision of Barbie as a radiant bride, gracing her special day in a captivating bright pink princess gown. Every detail of her attire is a celebration of timeless beauty and fairy tale elegance. This is the epitome of a Barbie gown if we've ever seen one.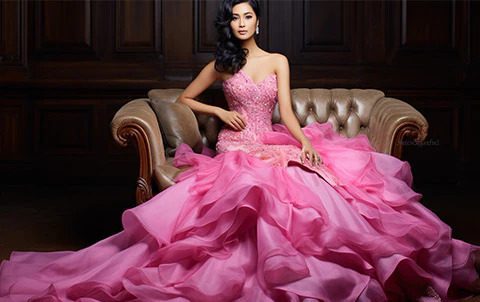 With exposed collarbones and neck, her neckline exudes grace and allure. Her delicate earrings, shimmering like precious gems, frame her face and add a touch of sophistication to her bridal look. Her hair cascades over her shoulder, gorgeously complementing her elegant vibe.