Timeless Weddings: 45 Budget Decor Ideas That'll Never Go Out Of Style
By Navkiran K May 2, 2022
---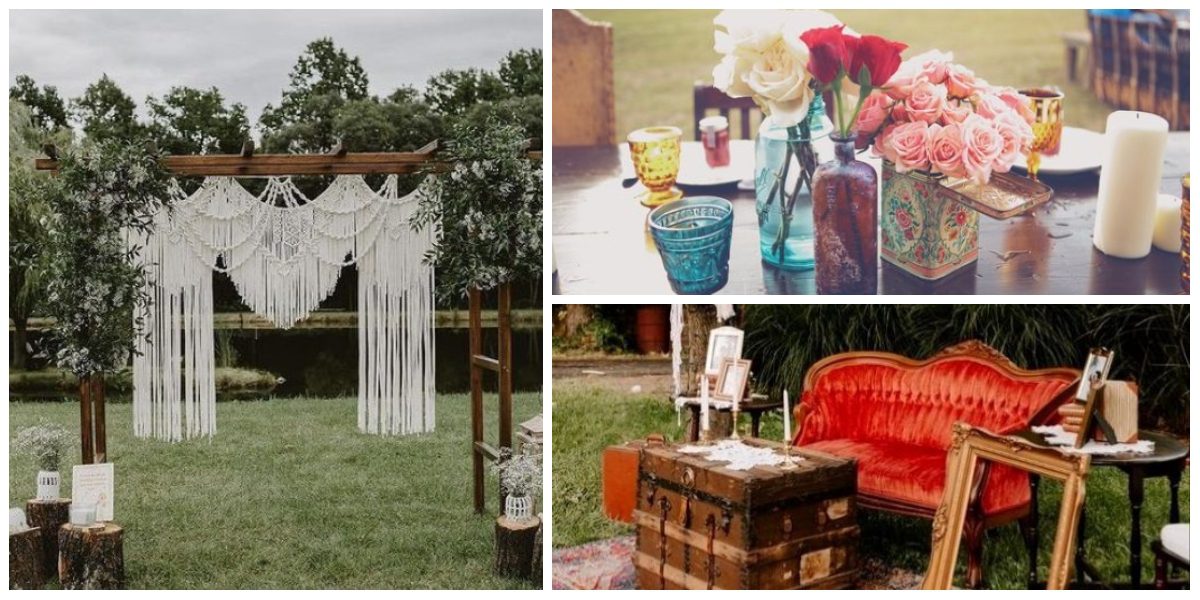 Weddings are events that couples and family members want to recall for the entirety of their lives. Beautiful and timeless wedding decor can make it even more special. You desire everything to go flawlessly at your nuptials, but there are many different aspects to consider. Pre-wedding planning includes choosing and theme. It can be daunting to think of the decor, even more so if you are on a budget. Don't worry! We have you covered. We've gathered a list of 45 budget ideas for timeless wedding decor. From using vintage items to DIYing your own decorations, there are many ways to conserve cash and have the wedding of your fantasies. These ideas will make "something old, something new" come alive and reflect in your wedding decor. So, cheers to a timeless-inspired wedding that's both budget-friendly and beautiful.
1. Antique seats for the new couple
If you want to add a touch of luxury to your wedding decor, consider using some antique seats for the bride and groom to sit on. You won't need to buy anything in particular as these vintage chairs can be rented easily.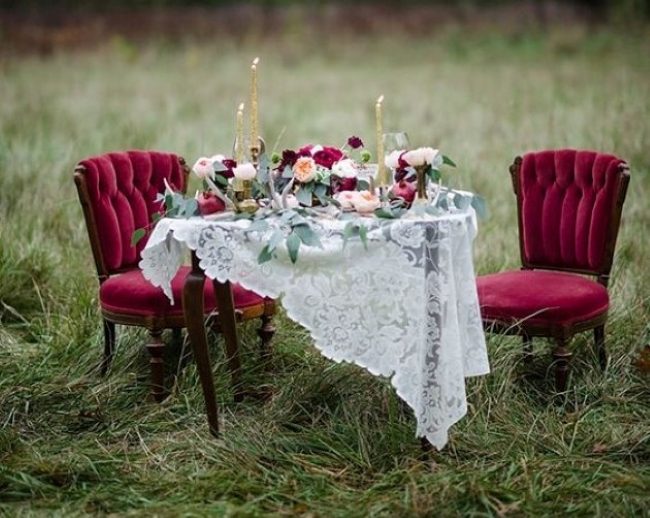 You can even add some flowers and ribbons or use the chairs to add some color to the setting. For example, if you are hosting a garden party, add some vibrant colored flowers to the chairs for a more dynamic look.
2. Let the brass trays make a comeback
Brass trays are a great way to display your wedding cake or cupcakes. They can even be used as trays or as a base for your centerpieces. Brass trays are elegant, and they will surely add a timeless charm to your wedding decor.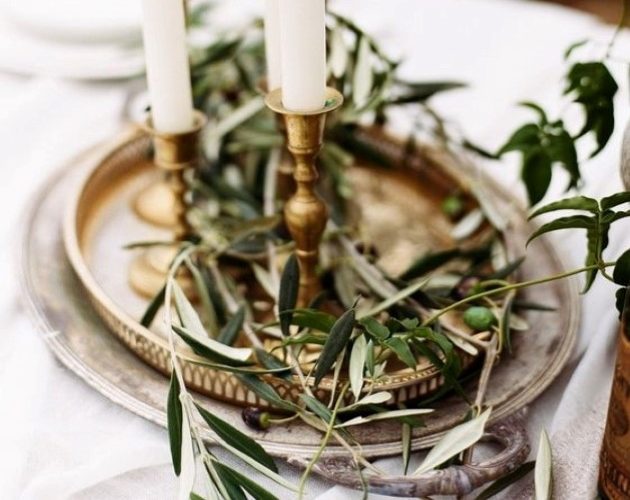 You can grab brass trays at any church bazaars, estate sales, or yard sales for a budget-friendly price. If you don't want them as serving trays, hang them on the wall with some greenery or flowers and use them as decorative elements.
3. Hand-me-down brooch in bouquets
This is the perfect way to add some personal meaning to your wedding day and save some money. You can ask your mom, grandma, or aunt to pass on their favorite brooch to you before your wedding. You can also use them in the boutonniere of the groom.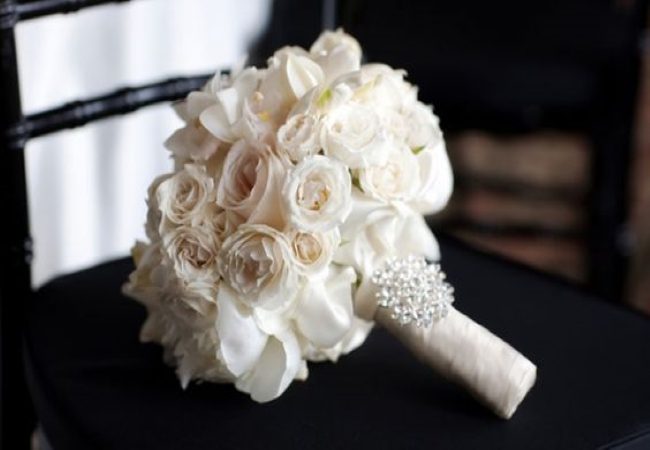 You can honor the "couple of the day" by making a floral arrangement, and the passed brooch will be added as a beautiful detail. This will make the day even more unique, and the gesture will surely touch your guests.
4. Nosegay to slay the flower decor
Nosegays are small bunches of flowers, and they are a beautiful idea to decorate the place settings. You can put them at every spot at the table or on the back of the chairs. If not, place vases or teapots with flowers to adorn every inch of your wedding.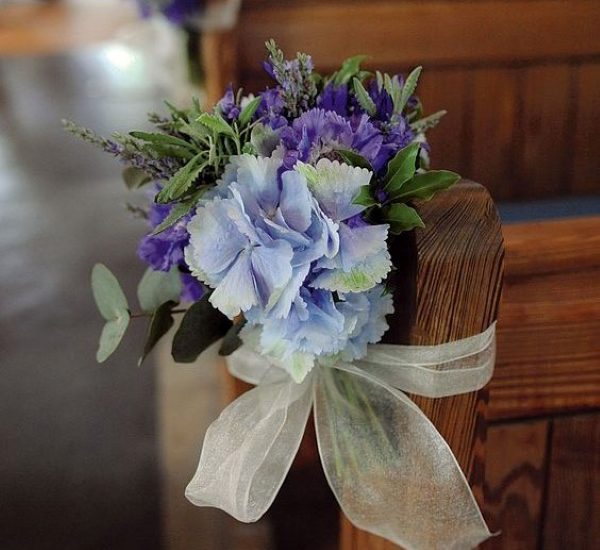 Using nosegays will save you money and give a vintage vibe and a pop of color. You can make your nosegays with the help of family and friends to cut down on the cost. This mini flower arrangement can leave a everlasting imprint on your guests.
5. Candelabras And Vintage Candlesticks For Intimate Setting
Candles are a great way to create any ambiance you desire, and you can take it up a notch with vintage candelabras or candlesticks. They are available in brass, silver, and pewter and can add some glamour and old-world elegance to your wedding decor.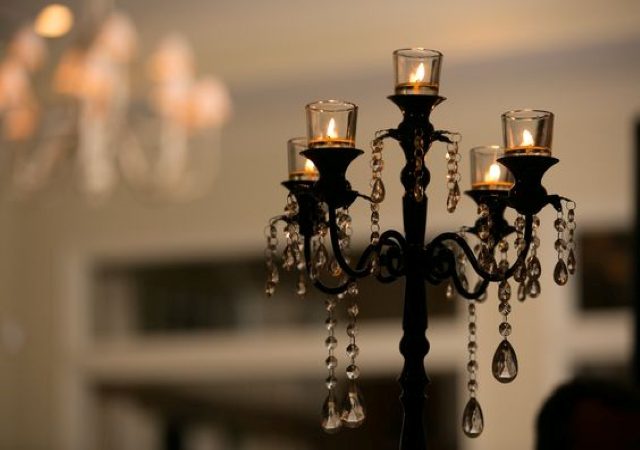 Having these antique-style candelabras or vintage candlesticks at your wedding can make the entire atmosphere more beautiful and romantic. They can be used for added lighting around your reception space and give you a beautiful background for your wedding photos.
6. The Barrel Table
Sounds fun, right? It is! If you don't want to go for a simple table, try using barrels instead. You need a couple of barrels and a door to place on top, and ta-da, you've got yourself a brilliant DIY dessert serving table.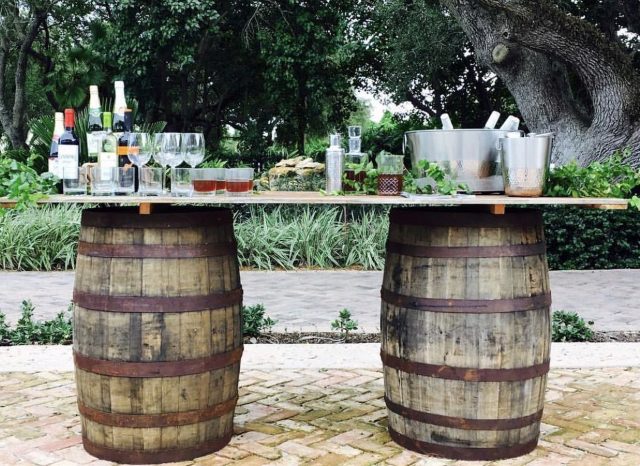 Get wooden barrels to create a dramatic backdrop for your dessert table if you want to add a rustic vibe. It'll be a unique section of your wedding that the guests will love! The barrel table will be affordable and not to mention an interesting way to start a discussion.
7. Make Your Card Table Fun With Vintage Suitcases
If you want to add a personal touch to your wedding decor, why not use vintage suitcases at the card table? They are stylish and elegant, and you can also use them to create a unique display of your wedding favors.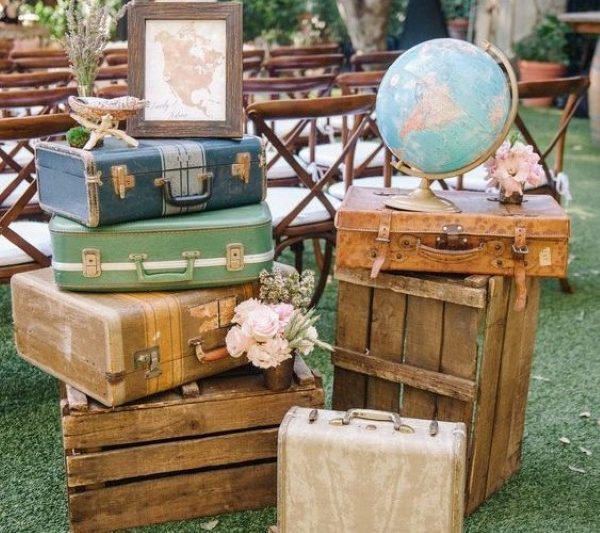 Simply stack them up, add some fun signage like "Send Us Packin," and let the guests drop in their wishes and monetary gifts. You can also use them to display images of the couple at various phases in their lives.
8. Mismatched Plates – Inexpensive And Unique
Use mixed plates if you long to add a whimsy touch to your wedding decor. They will be a decorative element and will also save you funds. Plus, this will be the time for your vintage plate collection to shine.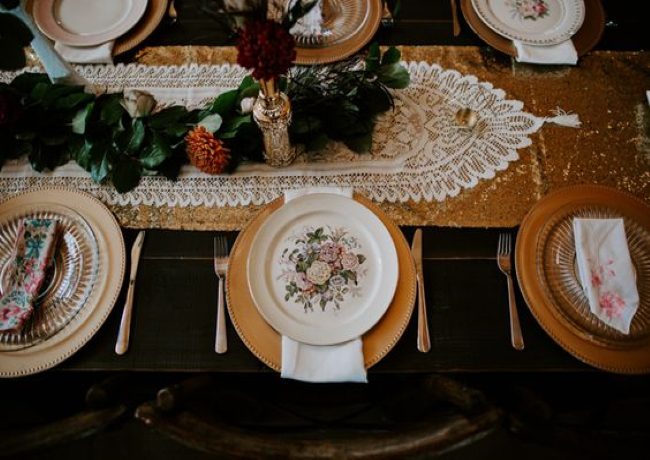 You can use them as centerpieces by placing a votive candle or a potted plant in the middle. Or you can use them as charger plates and add some greenery or flowers around them for an interesting look. They will surely add a unique personality to your tablescape.
9. Edison Bulbs For Style And Light
Do you know what will elevate the lighting? Edison bulbs! Frame up the bulbs with some greenery or use them as part of the aisle decor. You can also pair them with other lights and make your wedding decor unique.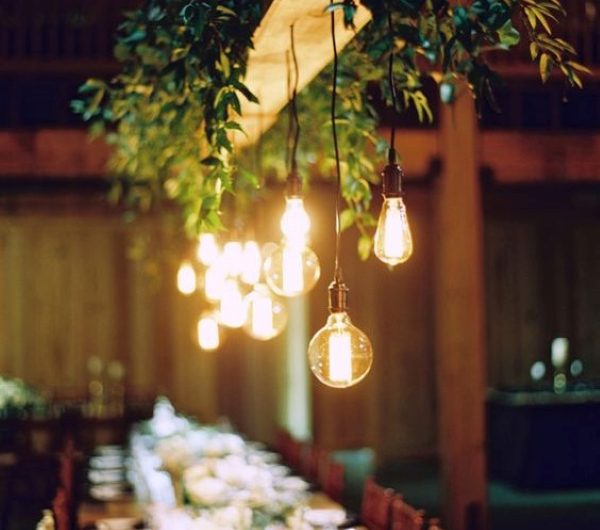 Whether indoor or outdoor decoration, you can use these bulbs to create a beautiful and romantic atmosphere. Their moderate lighting makes them suitable for accent lights or lighting up the dance floor. They are affordable and will help you add character to your vintage decor.
10. Let The Porcelain Jardinières Take It Away
Porcelain jardinières are fun vintage decoration elements that you can add to your wedding. They come in various dimensions, forms, and shades, making them suitable for any wedding. You can use them as vases or place them as eye-catching decoration pieces around the venue.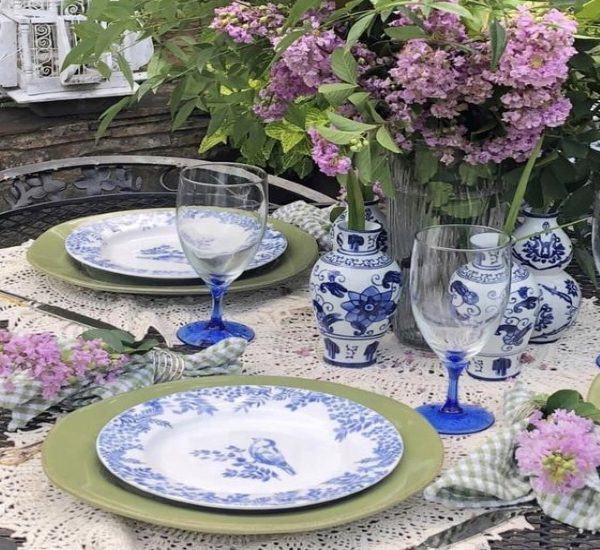 From gift tables to wedding favors, there's a lot you can do with porcelain jardinières. You can try some DIY ideas to enhance the look or simply add fresh flowers for a pop of color. Their vintage appeal and flexibility make them perfect for your wedding day.
11. A Chandelier To Make The Vows Special
Vintage weddings need unique and elegant lighting, and a chandelier can provide just that. You can use it to light up the space above the couple as they exchange their vows. You can choose chandeliers with ornate designs or antique brass finish for a more vintage look.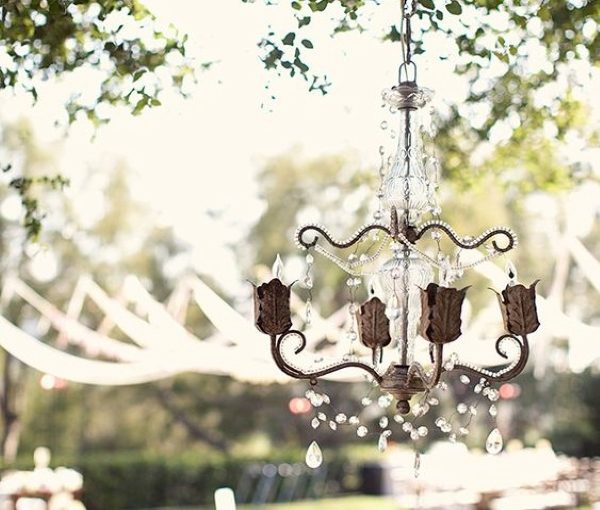 The proper lighting can elevate the mood and your wedding decor. You can rent out a chandelier if it is not in the budget for you to purchase. This will save you a lot of money, and you'll still be able to create the perfect wedding atmosphere.
12. Use Blue And White – The Evergreen Combo
White and blue is a classic vintage combination that never goes out of style. You won't mess up with this mixture, and your guests will never get enough of it. By mixing different shades of blue and white, you can achieve an ethereal decor look.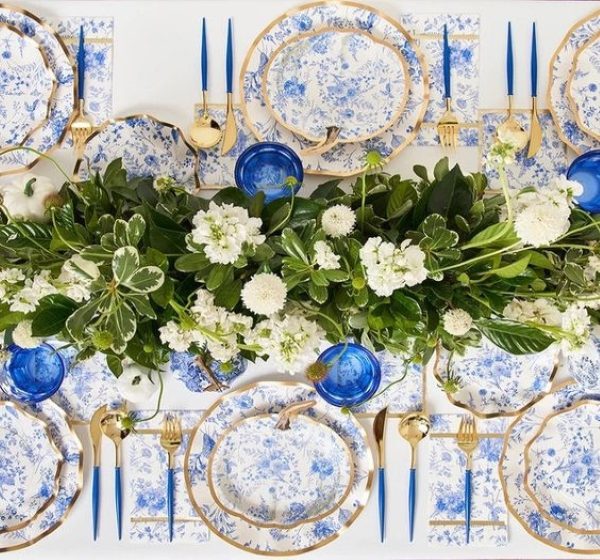 If you want to be more picturesque, use a dark shade of blue for the table cloth. This will look stunning with white plates and big white flowers. It's effortless and inexpensive to source white and blue items. You can also use family heirlooms to create a more personal touch.
13. Add Glassware To The Playful Mix
Don't forget glassware if your wedding decor revolves around a vintage or shabby chic style. Hit up any thrift store or flea market, or take out the glassware from your cupboard to find unique pieces for less. You can use these glasses in several ways.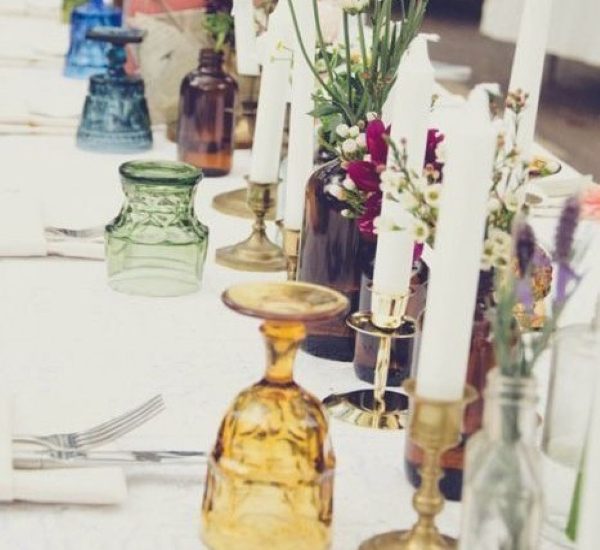 Making mismatched pairs by color, shape, or size can add a fun and eclectic touch to your vintage wedding decor. Whether you're looking for something shiny, colorful, or textured, mixing and matching different glasses can instantly upgrade your wedding scenery.
14. The Magic of Macramé Wall Hangings
Try this idea to add some artistic feel to your wedding decor. Macramé wall hangings are elegant and can be used in indoor and outdoor decoration. They are perfect for a vintage-style wedding because they bring in a bohemian touch.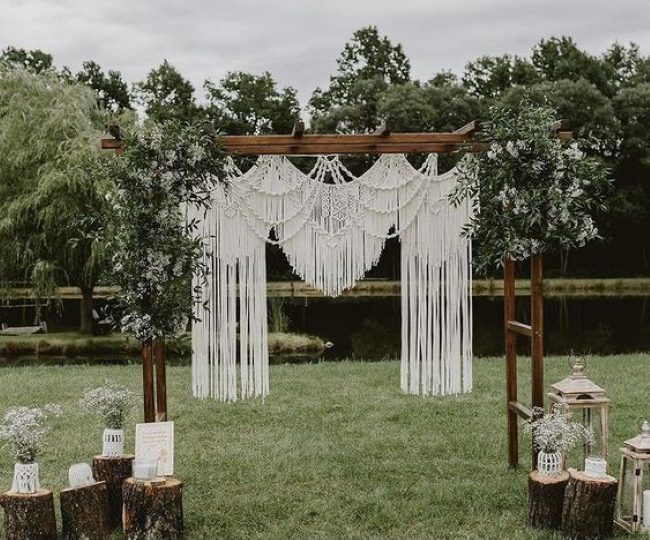 From aisle decoration and photo backdrop to table decor, macramé wall hangings put forth plenty of possibilities. Moreover, you can use them as ceiling decoration, and they will look drop-dead gorgeous. You can find some beautiful and affordable macramé wall hangings at yard or estate sales.
15. Include Copper Pitchers In The Decor
Copper tinware is a classic vintage touch, and you can use it to add color to your wedding. Pitchers make great vases, and you can use them to hold flowers or as table centerpieces. You can also use them to provide beverages to the guests.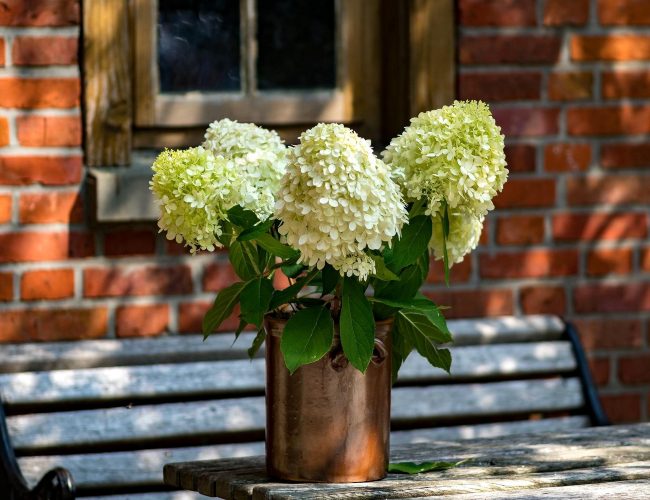 They would be a style statement on their own on your wedding day. Pitchers are inexpensive and if you don't want to buy them, simply borrow a pitcher or two from a friend. This way, you can add the vintage element without spending anything extra.
16. Coupe Glasses For The Classy Touch
Coupe glasses are a timeless classic that will surely add some vintage elegance to your wedding reception. You can use coupe glasses for champagne, wine, and water glasses for a level of sophistication that will do your wedding decor justice.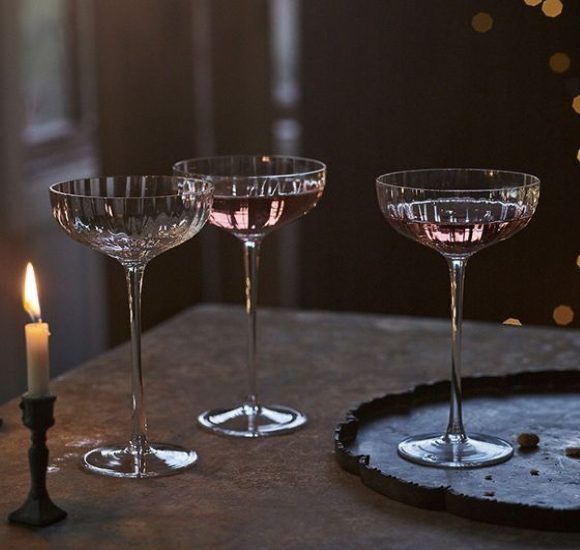 These glasses are a great way to complement your vintage wedding decor, and they will also create a gorgeous display of your signature cocktail. You can check out flea markets or antique stores to find these glasses in different sizes and shapes.
17. Bring The Seasonal Vibe Inside
When it comes to vintage weddings, you can enhance the theme through the use of seasonal decor. For instance, fall weddings can use leaves, pumpkins, and gourds to create stunning scenery. Likewise, winter weddings can use pinecones, berries, and pine branches to create a magical decoration.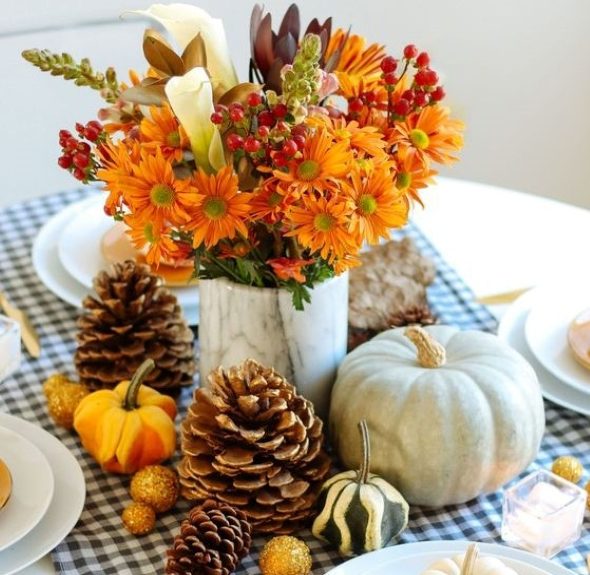 There are plenty of other ways to use the season's charm in your wedding decor. For example, you can use some vintage lanterns and fill them with fresh flowers. This will give your decor a magical touch, and your guests will appreciate the effort.
18. Personalize The Cake-Cutting Ceremony
Cake-cutting is one of the most important events at a wedding, and you can personalize them with the choice of plates. Use unique dishes and an antique cake server to make a statement. You can also DIY and match them with the color scheme or the wedding's theme.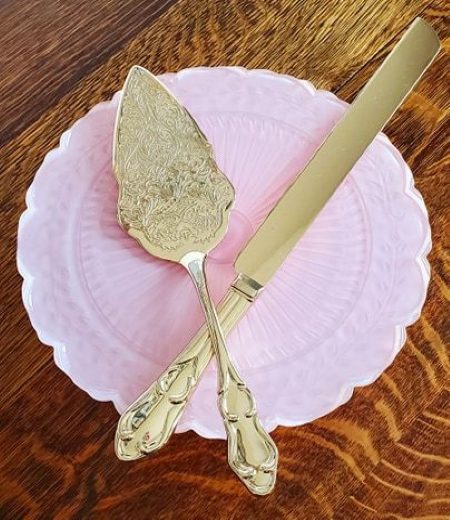 This will demand time and effort, but it will be worth it in the end. Your guests will surely be impressed with your attention to detail, making the cake-cutting ceremony special. Not to forget, you will be able to save a lot with this DIY approach.
19. Shiny Impression With Gold Flatware
Your centerpieces and table settings should hold to the theme if you are going for vintage wedding decor. Gold flatware is a great way to add shine and glamour to your wedding decor. They work like a charm, quite literally, with an all-white color scheme.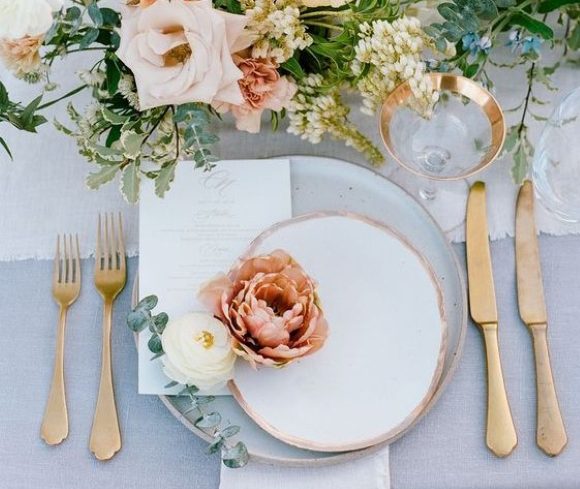 You can easily find gold flatware at estate sales, vintage yard sales, or thrift stores without spending a hefty amount. This will add a luxurious feel to your wedding decor. You can also use them for your future dinner parties as they are always stylish.
20. Let your creativity run with the containers
You can get creative with containers and use them in several ways. If you have any antique or vintage jars, bowls, or tins, put them to good use on your big day. They can be used as vases or hold candles, flowers, or other decoration pieces.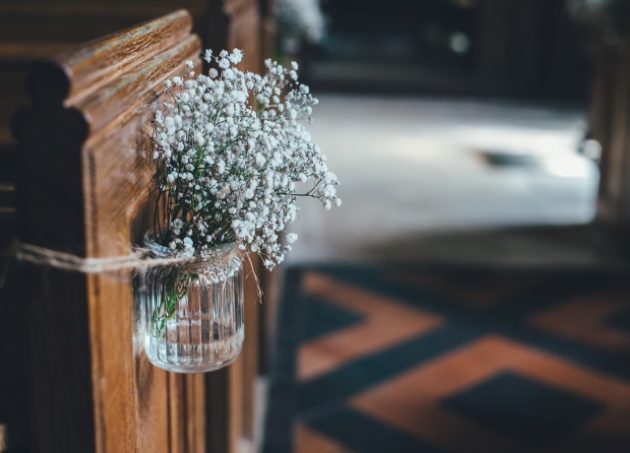 You won't even need to buy many containers if you get creative with them. Rise above the standard vase and look for ways to reuse things and create unique decorations. You'll be rewarded with a one-of-a-kind vintage wedding that your guests will love.
21. An Old Wheelbarrow As The Gift Table
Doesn't this instantly sound creative and fun? Instead of opting for a traditional gift table, use an old wheelbarrow as the centerpiece of your gift-giving area. This is an inexpensive way to add rustic charm to your wedding decor, and it's also a great conversation starter.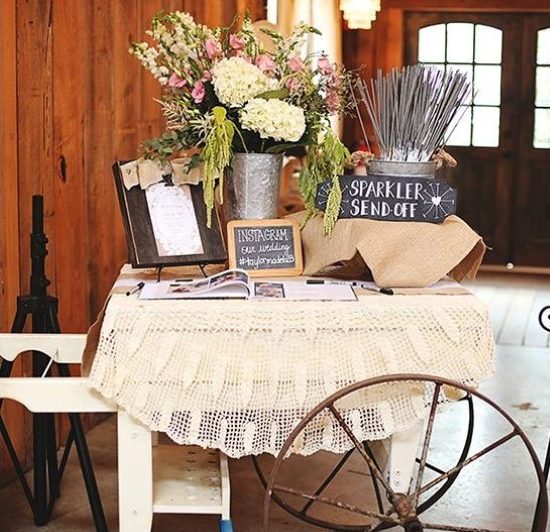 You can also decorate and fill the wheelbarrow with flowers and let the couple roll out to the getaway car. A vintage tea cart will also do the trick, and it can easily be repurposed as a bar cart after the wedding.
22. Bring Out The Old Containers
You can use old tins, teapots, and other similar containers to create a unique table for the wedding. They can hold flowers and candles, display wedding favors, or place cards. It's an inexpensive idea that will add a vintage touch to your wedding.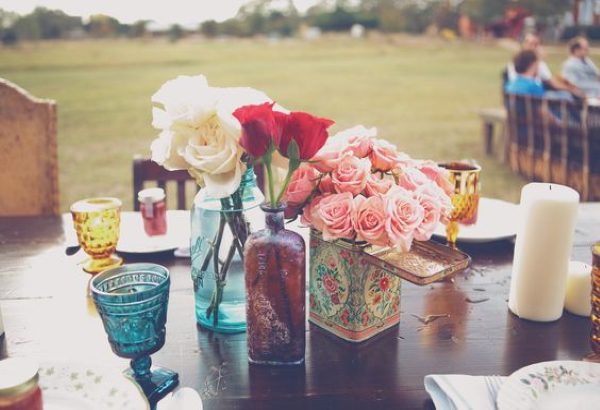 You won't get a better opportunity to recycle old containers. Whether you get them at a thrift shop or find them in the attic, repurpose them for your vintage wedding. Go all out with your DIY spirit and create unique decor elements.
23. Decorate the dining table with rainbows
The colorful spectrum is the perfect way to add playfulness to your wedding decor. Place a set of rainbow combination plates on the table, and it will transform it into a dazzling display. If you don't have a complete set, just mix and match whatever you possess.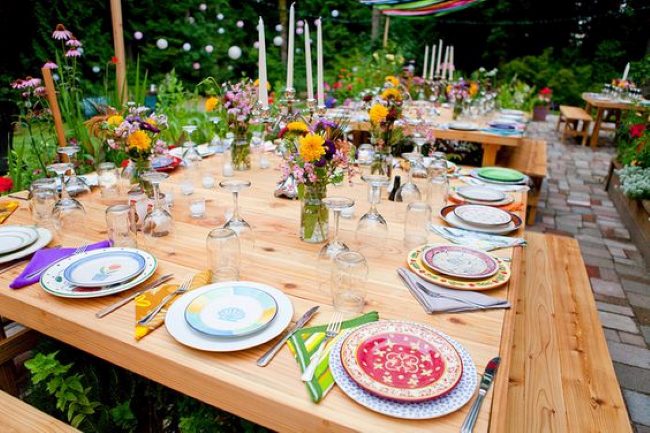 Have fun with the colors and tableware, and your guests will be amazed by your creative approach. You can use the same combination in your bridesmaids' bouquets and table settings. Paying attention to small colorful details will make your wedding decor genuinely unique and memorable.
24. Vintage Wine Goblets For A Magical Impression
Nothing against flute glassware, but they are pretty common nowadays. Opt for vintage wine goblets instead to add a rustic touch to your wedding decor. They will definitely add some country charm to your wedding decor and make your tablescape more interesting.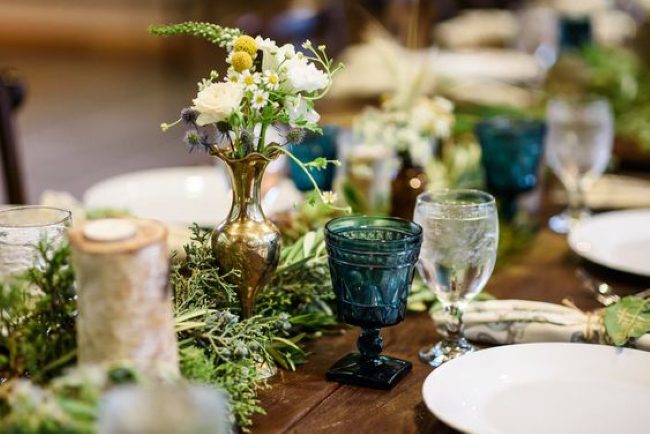 You can find these goblets at an antique store or flea market. These unique additions to your wedding will leave your guests in awe of your style. Apart from using them for drinks, you can place flowers and votive candles in these goblets for a magical effect.
25. Ditch The Standard Vase And Do Something Interesting
Flowers are a must at any wedding, but the vases they go in don't have to be boring. Get creative with your vessels and use old glass bottles, jars, antique tins, or even teacups as vases for your floral arrangements.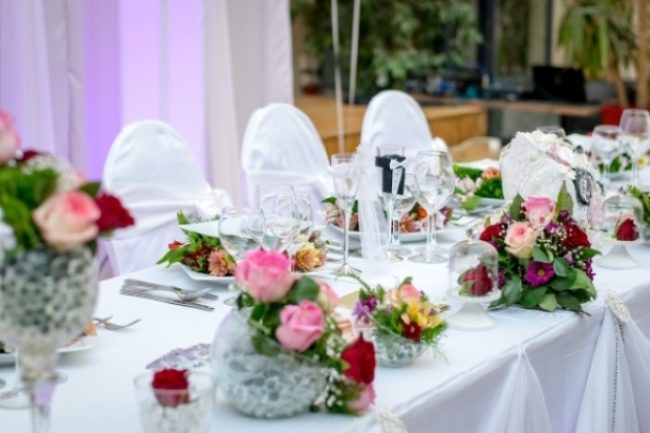 You can play with these options and place them strategically around your reception space to achieve a unique look. These can work incredibly well with any color scheme and will add a touch of vintage charm to your wedding decor.
26. Antique Frames For Signage
Use old frames as signage, and it will look amazing on the wedding day. These can be used for your gift table, guest book, bar, favor table, or buffet. Even better, if the frames have a design or text, they will add to the old-fashioned vibe.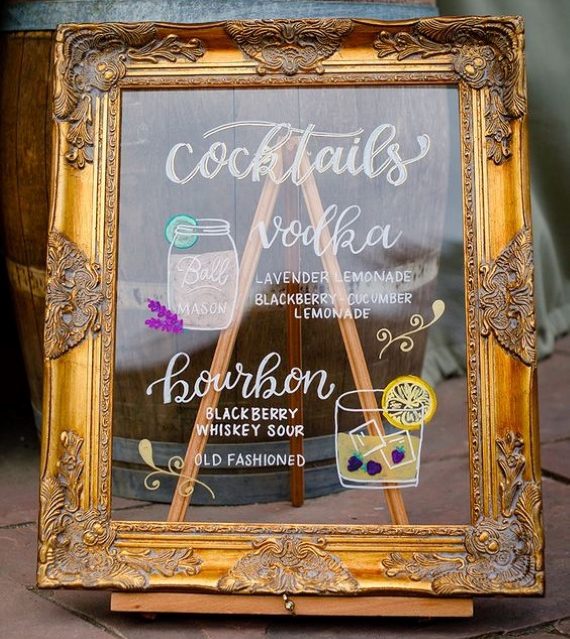 You can find pretty frames at yard sales or thrift shops or even borrow some from friends. Decorate with flowers or lace material to make your sign more attractive. You can also use them as directional signs to guide your guests around the venue.
27. Let Contrast Rule The Day
If you are having a vintage wedding, it's essential to let the theme unfold itself in every aspect of your decor. Using the contrast of rustic and refined elements gives more room for creativity. It also allows you to be more budget-friendly.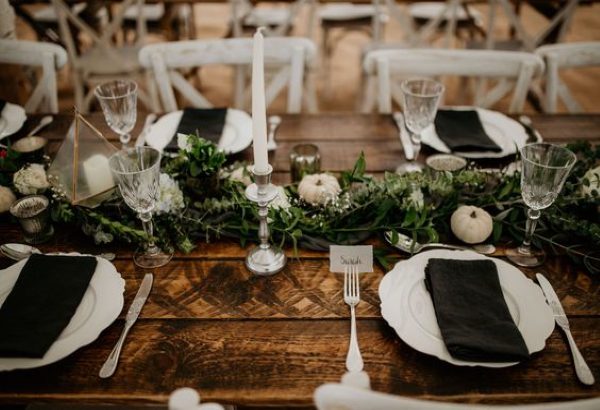 Combine the vintage and modern features so that they complement each other. For instance, you can use an antique mirror as your backdrop and decorate it with fresh flowers. This will add a touch of elegance and romance to your decor.
28. A DIY altar for a personal touch
Try creating a vintage altar if you are not up for renting an architectural altar or want something personalized. All you need is an old door or window frame. Just add some flowers and greenery to make it look even more beautiful.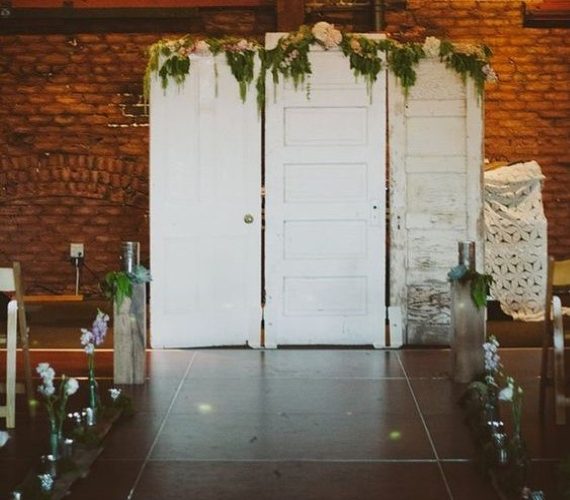 You can use other items like boxes with pillars and vintage chairs. These are readily available at a yard or antique sale and are not expensive. Mix and match your old furniture, and who knows, you might create the vintage altar of your dreams.
29. Unique random table decorating elements
There is no set rule about what you can or cannot use to decorate your tables when it comes to vintage weddings. Stroll the marketplaces or take a trip to the flea market to source some unique and exciting items. You can also find some in your home.
Adding these random elements to the table is an easy and affordable way to make a significant impact. This can also include some photographs of the couple. It will give everyone something new to talk about and make the day more memorable.
30. Make centerpieces with an old gravy boat
Who says you have to limit yourself to vases for centerpieces? You can use an old gravy boat or teapot to hold the flowers. This will give your wedding decor a more vintage vibe. Not to mention, it will be affordable and unique.
You can fill the old gravy boat with flowers or other decorations like stones, tea lights, fruit, etc. Be creative and use these items in combination to create stunning centerpieces. A gravy boat can also serve as a metaphor for the couple starting the sail of their married life.
31. Vintage cart decor for the vintage charm
Some carts can make a stunning backdrop for your wedding decor. This is especially true if the cart has a rustic look to it. You can use it to display some flowers or even some family photographs. Plus, you can also use these carts to serve refreshments.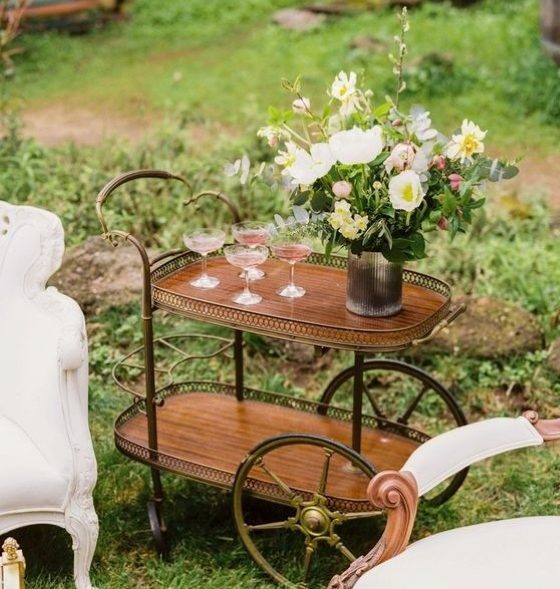 If you want to keep the decor simple, here is a great idea. You can place some small vases on the cart and add flowers to them. This will make the cart look more inviting and a great conversation starter.
32. Outdoor accent furniture as decor
Vintage decor doesn't have to be limited to the inside of the venue. Take advantage of the beautiful outdoors and create an eating area with some vintage accent furniture. This will help your decor stand out, and you'll have ample serving space.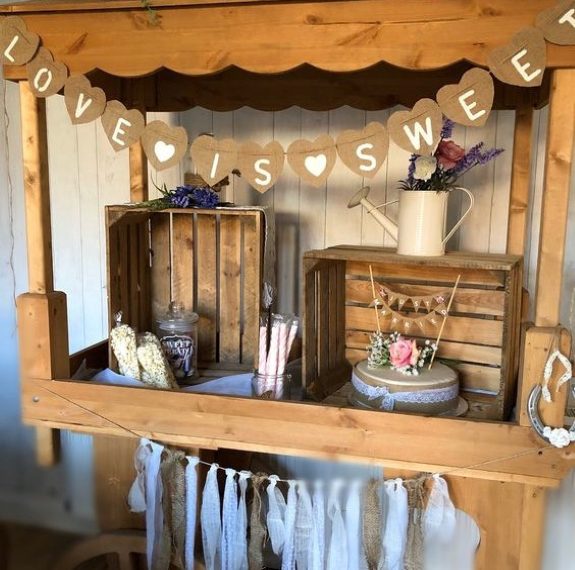 There are many ways to use outdoor furniture as decor. You can even use it as a part of the ceremony. For example, you can set up a beautiful altar with some antique chairs, a vintage cart loaded with flowers and some accent furniture as the backdrop.
33. Organize your centerpieces
Weddings are all about having fun with the family and serving the guests well. It's essential to organize the centerpieces to help make your wedding day hassle-free for you and your guests. Place things within reach and incorporate elements like cornucopia, baskets, and compotes.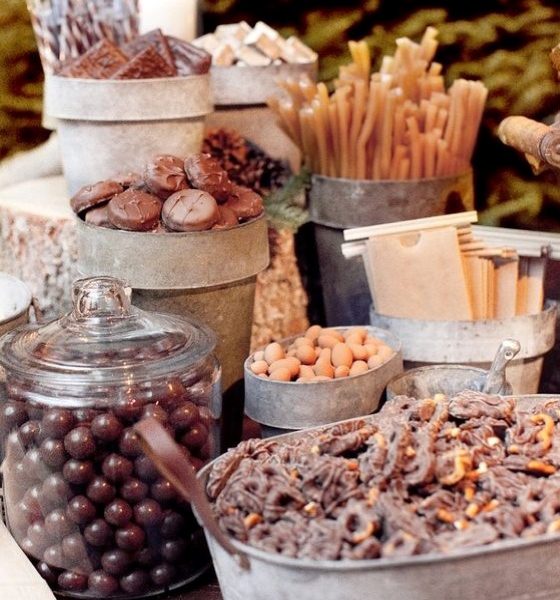 Also, you can use vintage stacked servers and footed bowls to organize and display all the eatables according to your taste. Your guests won't have to leave their seats for dessert, and you won't have to run around looking for things.
34. Coupe candles for a romantic touch
Candles are undoubtedly a great way to create a romantic touch, and vintage weddings are no exception. Gather up some brass candlesticks with glass votives and let them adorn the tables. These candles can be placed on the tables or even used to line the aisle.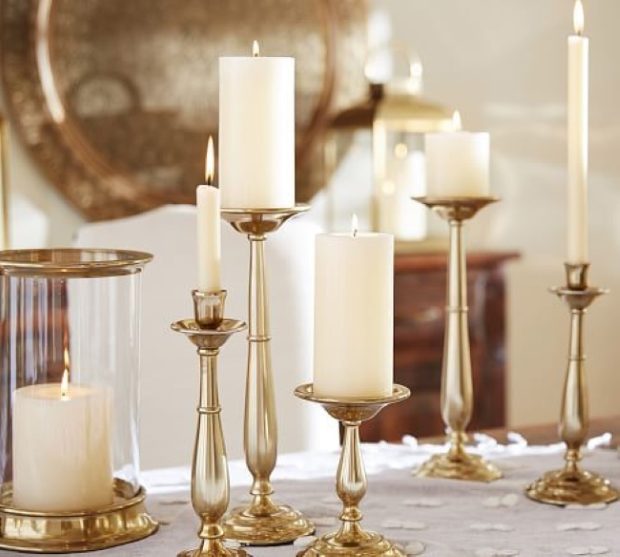 You can also opt for different heights and colors for candlesticks and make the decor more attractive. The best part about them is that you can use them to create a genuinely stunning ambiance, even if your wedding decor is minimal.
35. Antique salt-shakers as mini vases
Just thinking about this idea will make you go 'aww.' Not only are salt shakers adorable, but they also make great additions to your vintage decor. Just remove the cap and contents, and they are ready to be used as mini vases.
Whether decorating the tables or the aisle, these will surely be an adorable element. Fill them with flowers and place them as centerpieces. Just make sure they don't overshadow the rest of your decor if you use them in combination with other mini vases.
36. Make the ceremony special with an architectural altar
If you want your wedding ceremony to have a vintage vibe, then an architectural altar will be perfect. You can rent one with old columns, pillars, or a door frame and decorate the aisle with flower vases. This will be the focal point of the ceremony, as it should.
Just imagine exchanging vows in front of a beautifully decorated altar. This will make the ceremony even more special and intimate. Plus, the altar can serve as a backdrop for family photographs. You will get lovely pictures, and the memories will stay fresh for years.
37. Vintage items to make stunning photo backdrops
Wedding photos are a great way to remember your big day, and you can create unique backdrops using vintage items. For instance, you can use an old door or window frame as the backdrop. Get creative, explore a little, and find nearly endless options.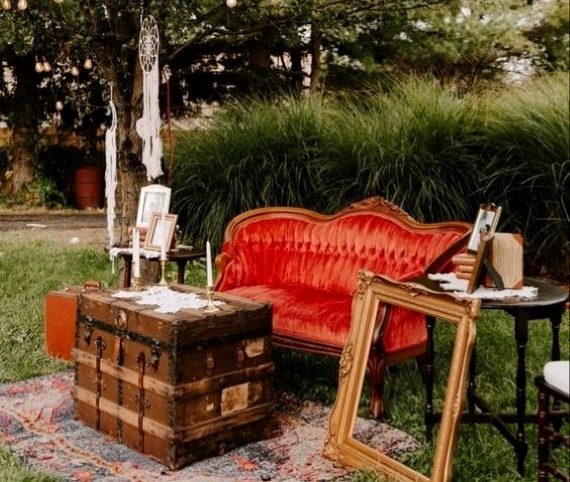 You can use a vintage car, antique mirror, chair, or even bicycle to create unforgettable photo backdrops. Moreover, you can use these items to make a photo booth and let your guests enjoy the fun. You'll get beautiful pictures that you'll cherish forever.
38. Randomize the chairs of your seating
It's not compulsory to have all the chairs at your wedding in one style. You can use different style chairs for seating to have a unique flavor. The mismatched seating will add to the charm, and the guests will have the option to select their favorite chair.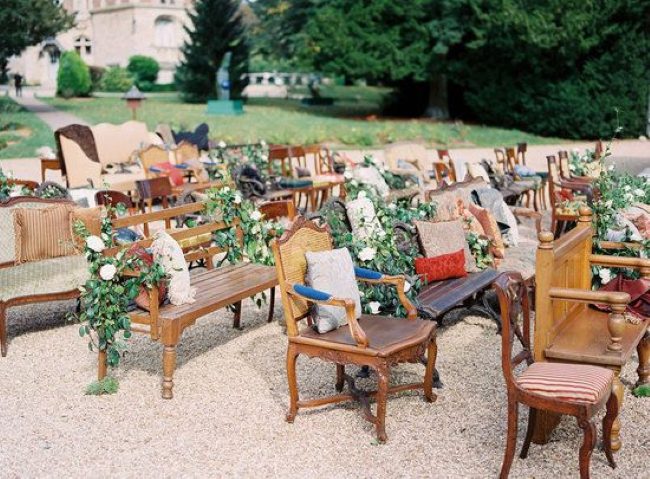 This is one of the easiest and most effective ways to bring in a vintage vibe. You can use chairs from your home or even rent them. You will have a different wedding from anything else your guests have seen before without spending a fortune.
39. Vintage table linens!
Table lines are one of the best ways to add vintage flavor to your wedding decor. You can find beautiful table cloths, runners, and napkins at yard sales, not very expensive. Even better if you inherited some from your grandmother.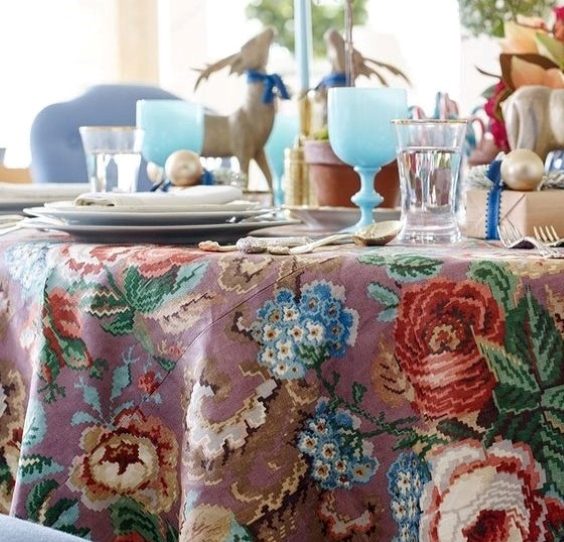 You possess the freedom to choose different colors and patterns for your tables. Go for bold colors like red, green, and mustard with contrasting designs to keep with the vintage theme. This budget-friendly option allows you to achieve a desirable wedding color theme.
40. Vintage handkerchieves to spread color
Using old handkerchiefs is another fantastic DIY idea to make your wedding even more vintage. These can be used as tablecloths or runners and require only a little creativity. You can tie them around table legs or use them as napkins.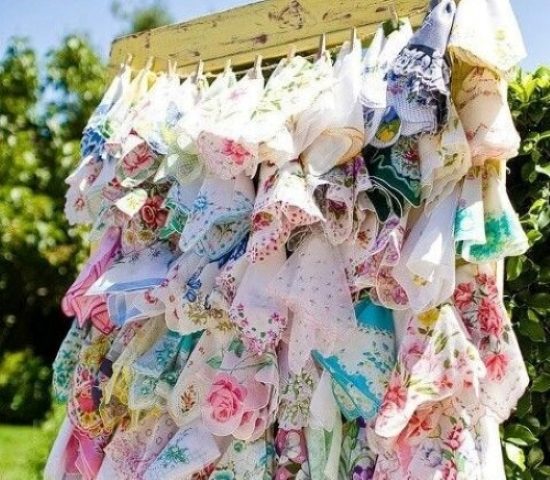 You will find pretty vintage handkerchieves in these colors at yard sales or estate auctions. These are also readily available online and will add a nostalgic touch to your special day. Handkerchiefs are a unique way to incorporate color into your wedding decor, and it doesn't cost much either.
41. Unique doilies for the win!
Doilies are very inexpensive and can be found at any craft store. They are used as underplates to catch any spills or crumbs. You can also use them as napkins or table runners. The best part about doilies is that they serve as a functional and decorative feature.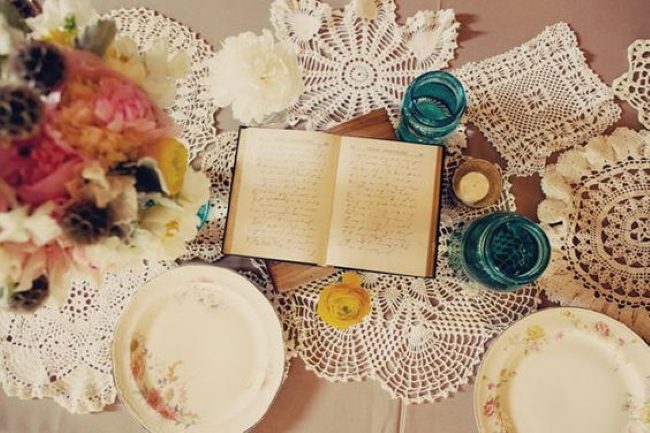 Doilies are a great way to incorporate coloring and prints. You can find them in lace material or paper with different designs that you can mix and match for added interest. They are cheap, and you can throw the paper ones after use.
42. Add a dose of sweetness to the centerpieces
Centerpieces are your creative playground, so let your imagination run wild. You can group containers like sugar bowls or old apothecary bottles on the wedding tables and a few votive candles. You can also include vintage teacups to place the flowers or cards.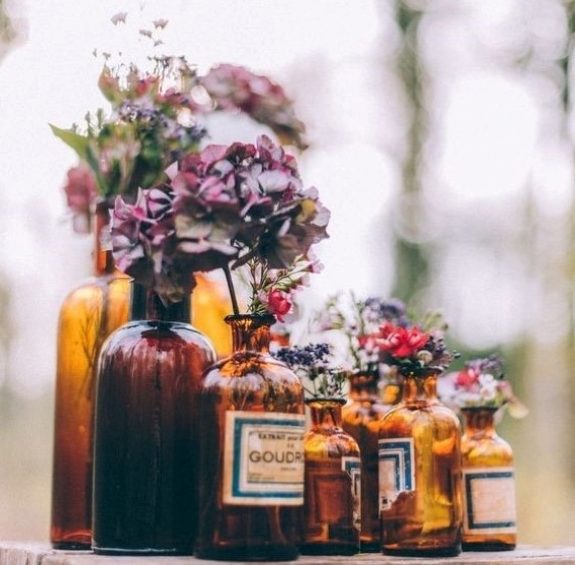 You can fill these containers with fragrant flowers or sweet treats like candy or cupcakes for the touch of sweetness. This will enhance the look of the tablescape and make it more fun and memorable for the guests. You can score these items from home, so it'll be inexpensive.
43. Vintage place cards to save seats
Place cards are primarily used to reserve seats and tables for the guests, but they are not limited to that. You can use decorative place cards to adorn the tables and draw attention for a vintage wedding. There are many things that you can do to achieve a unique look.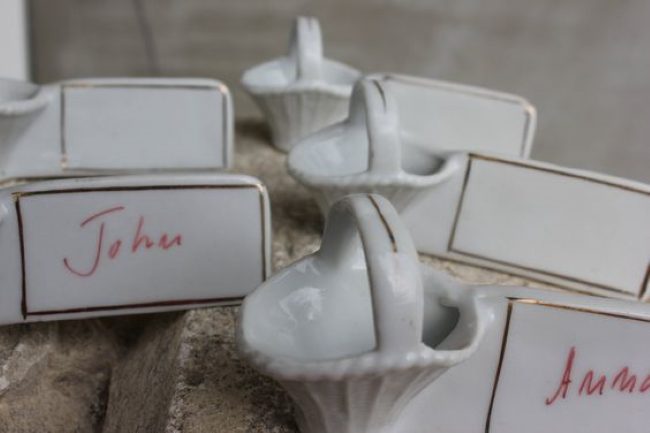 You can personalize your place seating cards by using old photos or your favorite pictures. Check out the second hand shops and lawn sales to find super cool porcelain place cards. These place cards can be repurposed for further events which makes them a double win.
44. Barnwood for the timeless feel
It's a wonderful manner to include rural features into your wedding. You can use barn wood furniture or boards as serving stations or a photo backdrop for a vintage wedding. Barn wood adds a timeless touch, but it's also affordable and easy to find.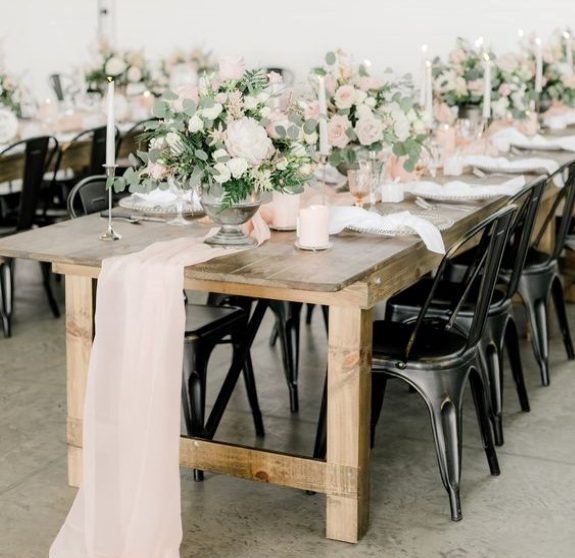 Explore the local salvage shops or online stores to find barn wood that you can repurpose for your wedding day. This will not only lend a hand in adding the vintage feel, but it will also be an inexpensive way to do so.
45. Toast in true vintage style
If you are doing everything vintage style, there's no point in having a standard toast. So, ditch the typical flutes or coupes and go for elegant stemware. And if you want to have some glimmer, use gold or silver paint to give them a makeover.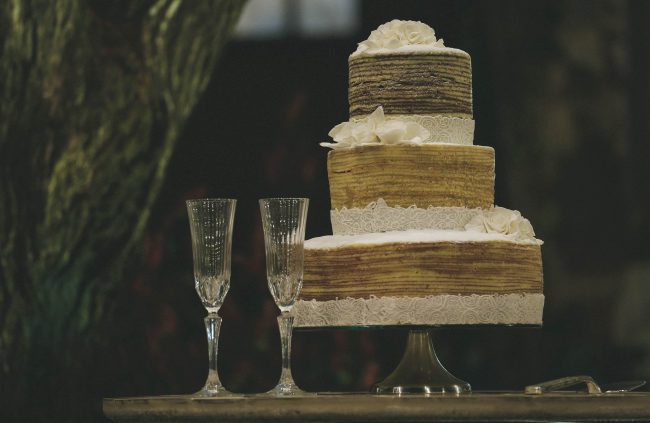 Raise the glass in style with some creative stemware. You can find these items at a flea market or online, and they'll add a touch of elegance to your wedding. So, make a toast to your new life in vintage style!